SMS marketing is the way to go when it comes to reaching out to your audience in a quick, personalized way.
But before you can start sending engaging texts, you need a contact list.
An SMS marketing list is the first step to getting the ROI you're looking for—be it more sales, donations, or just more engagement with your brand. You build a list of contacts who are interested in you and engage them in conversations that build a rapport/relationship.
This post will show you how to build an SMS marketing list for your campaigns.
Buying a list vs. getting contacts to subscribe
As a business or an organization that is starting SMS marketing from scratch, it might seem easier to buy a list of contacts from a vendor, rather than get people to subscribe to your text messages. But that would be ill-advised.
Why go through the process of getting people subscribed, rather than buy a list?
You stay compliant
For one, you need to be compliant with the texting regulations in your region.
In the US, The Telephone Consumer Protection Act (TCPA) has laws in place for organizations to follow when collecting contacts or sending text messages.
Key point to note from the TCPA:
You need to obtain prior consent from individuals before sending them text messages. This applies even if your organization has a prior relationship with the individual and already has their phone number.
In the vast majority of cases, text marketing requires explicit consent from individuals before you can send messages.
Note: Tax-exempt nonprofits are free from the Opt-In and "do-not-call" requirements of the TCPA.
You get better ROI
The other reason is that you are much more likely to get a response if you send a text message to contacts who are expecting them. Even if you are an organization that can send texts without an opt-in (or you're sending texts manually, through peer-to-peer texting for example) it's a good practice to get permission first.
To further that point, the spam rate for text message marketing is just 1%.
We discuss other compliance best practices further in this post.
Advertising your SMS list
Here are the most effective ways to build your contact list:
SMS opt-in
Website forms
During a call or in person
Let's take a look at them in detail.
SMS opt-in
Sending a text message is convenient for prospective subscribers, especially if they see the call to sign-up while on their phones.
350.org used CallHub SMS opt-in tool to get supporters to sign up at their climate protests. Of 6000 attendees, 2919 attendees opted in by SMS on the spot.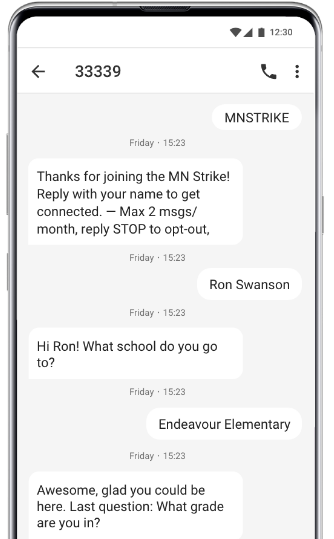 Getting people to opt-in through SMS
Start by advertising your opt-in shortcode and keyword in places where potential contacts are most likely to be.
Put up posters and signage at events to prompt people to sign up.
Advertise your opt-in campaign on social media—through your profile and posts.
Display your keyword and shortcode on your website.
Include a CTA to opt-in in your emails for those contacts not in your SMS list.
Best practices for SMS Opt-in
Choose a relevant, memorable keyword. For example, an e-commerce business might choose the keyword DISCOUNT if they plan to send offers through SMS.
Collect data for future, targeted outreach using automated text follow ups. You can even personalize your next follow-up based on the data you receive from contacts.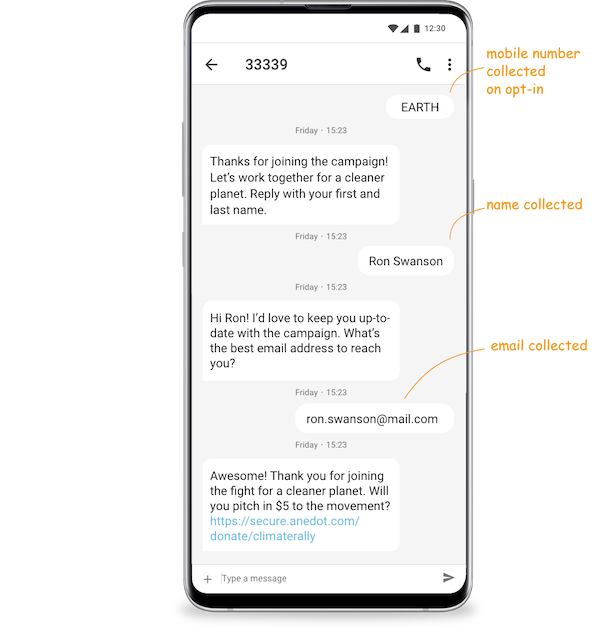 Website forms
If you find that prospective contacts tend to engage with your website, a website form is the way to go.
You can gather all opt-ins from your website in a CSV file and upload it into your texting software.
If you're using a texting provider like CallHub that gives you API access, you can create a Web Form on your website and add subscribers/contacts directly to your contact list. You might need a little help from your web designer to use API at the back of the webform. 
There are two ways to add a new contact to a CallHub contact list:
You can use the Zapier integration to create a new contact in CallHub. Check out an example here.
You can use our contact creation API to create a contact in CallHub. Check out our API here.
Best practices for website forms
Limit the number of additional form fields. In a study, replacing a 11-field contact form a 4-field version, increased form completions by 160%. That means only gathering the information you deem absolutely necessary to reduce load on prospects.
For the same reason, use autofills to limit the time that people need to type to complete your form.
During a call or in person
For calling campaigns, use a call center tool that lets agents get an opt-in on the call and sync the mobile number to your contact list.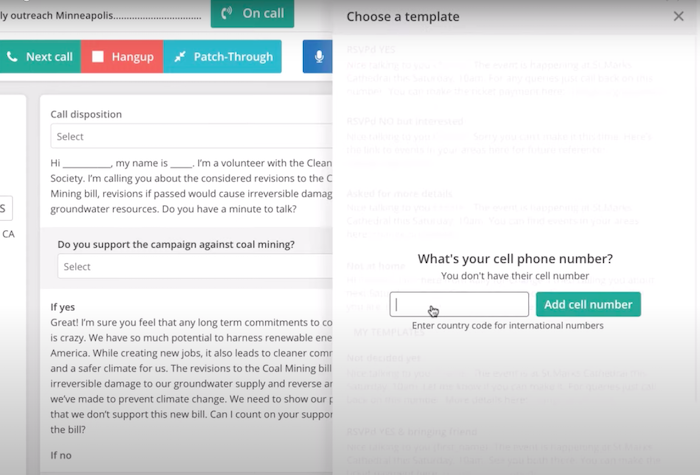 Pen and paper sign ups are still a common way of getting people opted into your SMS marketing lists.
Best practices
Make getting opted-in to your SMS marketing list a part of the on-boarding process. For example, schools and universities collect opt-ins during enrollment, along with other paperwork. Cashiers for commercial businesses collect phone numbers from customers during check-out.
Check-ins at events are also a great place to include a CTA to sign-up.
SMS tool features that help when building a list
Here are some CallHub features that make it easier to build your SMS marketing lists:
Shortcodes
Keywords
Nudges
Data sync with CRM
Shortcodes
A shortcode is a 5-6 digit number that you can use to broadcast text messages and collect text message opt-ins.
That means your prospects don't have to worry about memorizing a long, complicated number to opt-in to your text messages.
Keywords
A keyword is a unique code that contacts send to your number (shortcode or long code) for SMS opt-in. You can set up multiple keywords to add contacts to different lists.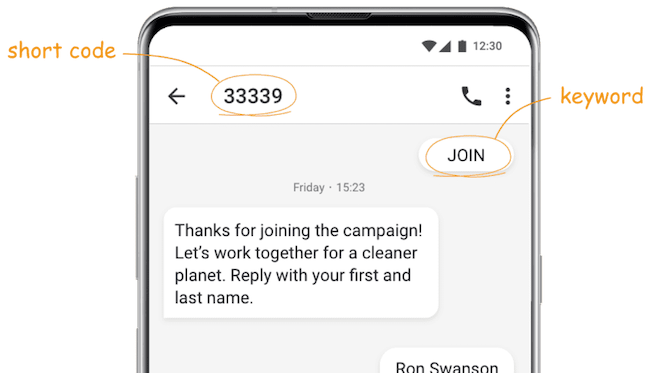 Learn how you can rent a short code and keyword from CallHub here.
Nudges
If you're collecting additional information from contacts during SMS opt-in, a nudge can serve as a reminder for contacts that drop off during the process.
You can schedule this message to go out hours or even days after your last one.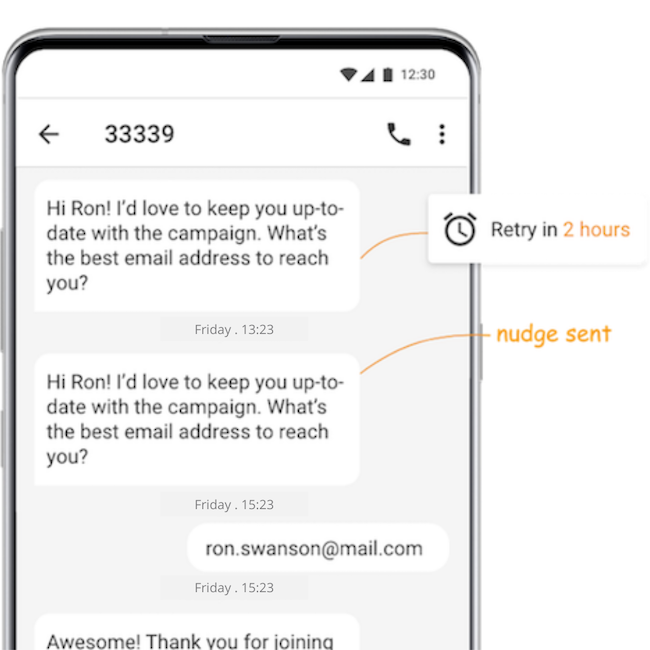 Data sync with CRM
Our integrations allow you to sync your lists and import data back to your CRM.
Check out our list of integrations. If you can't find one that works with your preferred CRM, you can even use our Zapier integration to connect your tool to CallHub.
What makes an effective CTA?
Staying compliant with regulations
According to TCPA guidelines, your CTA should let prospects know what they are signing up for:
The reason for collecting the number: Tell your potential contacts what kind of messages you will be sending. Ex. Make it clear if you will be sending them promotional text messages or updates on a donation.
The message frequency: Give an estimate of how often the contact will be receiving messages from you. Setting expectations in their minds of how many texts they will get in a week or a month will reduce inconvenience.
Data rates: Unlimited plans are common, but some contacts may still have to pay a fee for text messages they receive. Your CTA should inform them of any charges that may be incurred.
Terms and conditions: Provide a link to your terms and conditions as well as your privacy policy in your CTA.
Here's an example of a compliant CTA from Simply Java Cafe: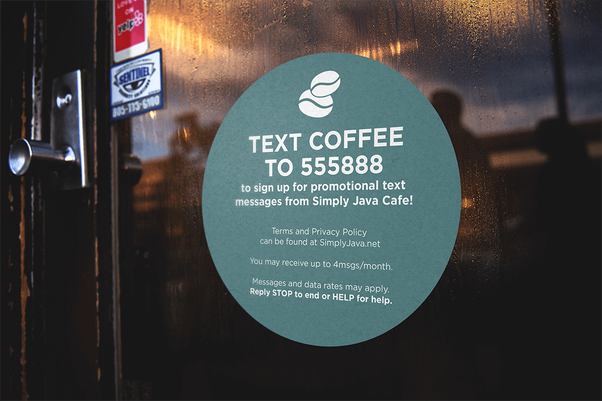 Offering incentives (discount codes, etc)
Not everyone is going to want to receive texts just because they know and trust your brand. This is especially true for businesses.
Offer contacts something they want, in addition to what you want to send them. This can be in the form of:
Discount codes
Sweepstakes
Charity impact updates
Here's how AAA collected opt-in by providing an incentive at a baseball game.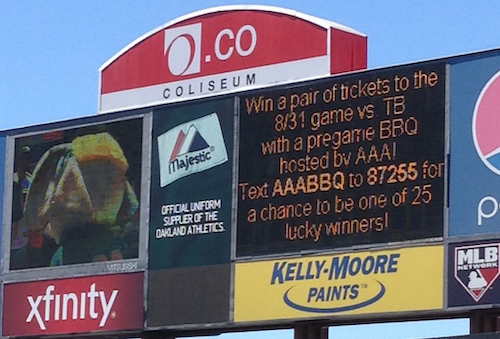 Build up to the ask to subscribe
Someone visiting your website or seeing your social media feed for the first time is not likely to subscribe to your texting list.
It's important to lead in to a subscription ask.
For example, if a prospect comes to your blog, you can initiate a conversation by asking them what topic they would be interested in reading (ex. Through a chat bot).
Once they are engaged, the chances of them opting in are higher.
Once you have your list of contacts in hand, you're ready to start sending them text messages.
Read our guide on SMS marketing to get started.