COMBINE THE REACH OF CALLS AND TEXTS from one call center dashboard
Call Center SMS: Send texts from your calling dashboard
Increase reach and convert more prospects by combining the power of phone calls and text messaging. Instantly drop an sms for unanswered calls or follow-up with additional details for people you talk to.
Get your message across and make conversion simpler
Don't miss out on prospects because they didn't pick up the phone. Send them an SMS to let them know you called and how to get back to you.
Introducing yourself over a text improves the chances of a pickup during the next call.
Convert positive phone conversations to tangible action by sending an sms with an appropriate call to action right after your call.
Trusted and loved by customers worldwide

I have continued to use CallHub for several years and have appreciated the improvements I've seen over this time. I used the Voice Broadcast feature in various ways, from inviting people to events to in one case, contacting almost every household in a small province to generate leads for people wanting more information about a plebiscite that was taking place.
Jordan Bober, Director of Development and Election Readiness, Green Party of Prince Edward Island
Very easy to use. I compared it to several other services and am very happy that we have chosen to do business with them. The team is so friendly, easy to work with and assists wherever they can. It is a joy to work with them!
Leslie S, Insurance Media Services
Very helpful, when making a lot of calls. I have never made so many calls in my life, nor would that have been possible without the help of CallHub.
Ashley C, Special Assistant, Political Organization
A lot of our folks are volunteers, a lot of them are retired, they are often anxious with technology and they were able to use CallHub easily. It's empowering for volunteers who don't see themselves as very tech-savvy to be able to pick up a new piece of software and a new program and just use it, so that was great.
Celine Trojand, Organizer, Organizing for Change
I must say CallHub is very easy to use. I've run several call campaigns with much success and been able to reach over a thousand contacts in less than a week which would have taken much longer without CallHub
Allen Dawson, Founder, Lead Leopard Consulting
I love this product. It's so easy to use with a very clean user interface. The price is the most economical I've seen in the industry and last but not least is the wonderful customer support. They answer all questions very quick.
Ronald Hart, Marketer, The Cloud Marketers
What I really enjoyed was the relation we had. Every time anything had to be improved, we had a great correspondence with the CallHub team and they were very reactive; so every time we felt there was need to improve the tool to change something, they developed it quite quickly. It was very interesting, very stimulating, because we could go further every time we had what appeared to be an issue about CallHub.
Anthony Samama, Digital and Innovation Manager, Nicolas Sarkozy Presidential Primary
Send automated SMS follow-ups
Let agents focus on phone calls that get picked up by automating sms messages that go out to everybody else. Improve the productivity of your team members by providing them with multiple messaging channels for outreach from one dashboard.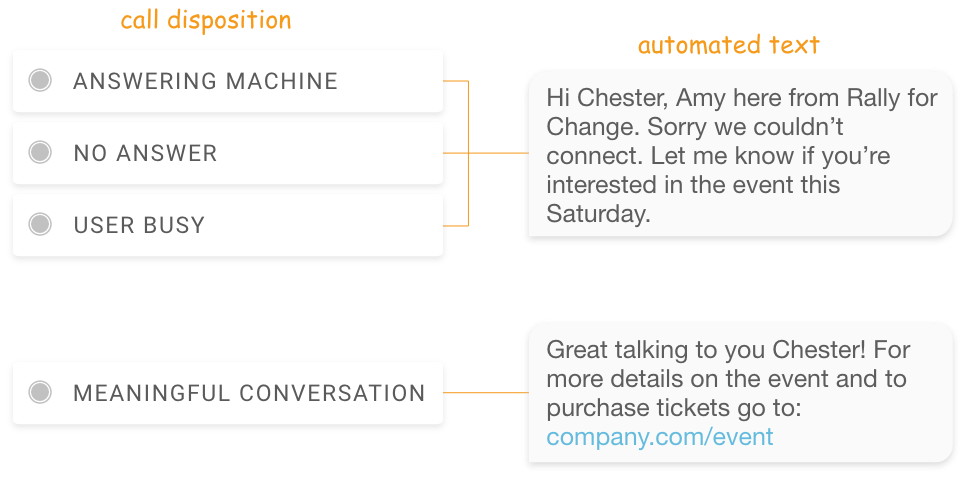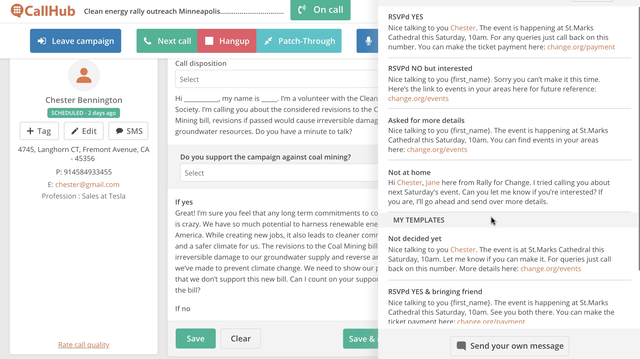 Faster text messaging with templated responses
Depending on the conversation (or lack thereof) agents can choose the right response from a list and shoot out a personalized SMS.
Some of the world's biggest organizations trust CallHub for engagement




Expand your reach with call and SMS working together
Try it free. No credit card required. Instant setup.
Frequently asked questions about texting from call center
What is texting from call center (or call center SMS)?
CallHub's texting from call center is a feature that provides you with the benefits of both SMS and calling in one dashboard. It allows agents to send a text message while on call (or after it) right from the calling dashboard.
What happens if we're calling a landline number?
With the call center SMS feature in CallHub, you have the option to either send the text to the number you called or add a new number. So even if you've called a landline, you have the option to add a mobile number to send the text to.
What is the cost of call center SMS?
There is no additional cost for using this feature. Please refer to our pricing page for more details.