Introducing Calling and Text Marketing Campaigns with Blackbaud Luminate Online powered by CallHub
November 12, 2019 - 10 minutes read
It's finally time to shine a light on our new integration. 🥁*drum roll*
CallHub now integrates with Blackbaud Luminate Online!
What is Luminate Online?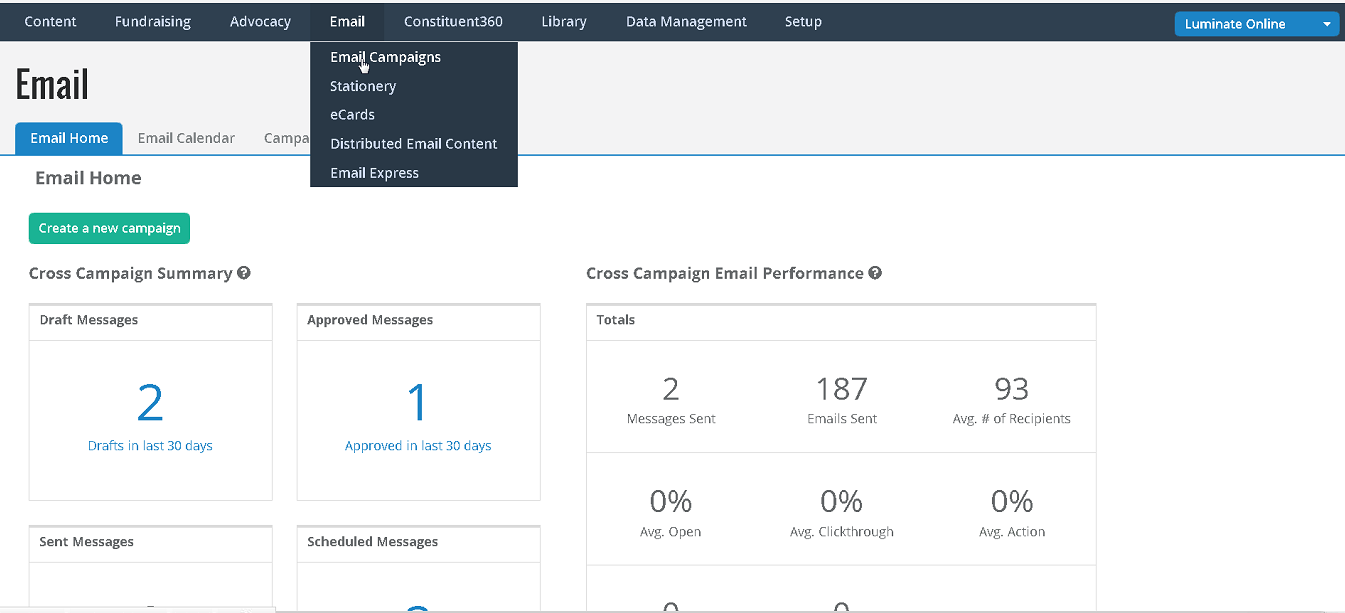 Luminate Online is Blackbaud's online fundraising and marketing automation platform. Nonprofits around the world are using Blackbaud Luminate Online to build lasting relationships with over 25 million supporters.
Connect Blackbaud with Callhub
Run high performing calling & texting campaigns targeted towards your constituents
The Luminate Online platform lets nonprofits take care of all aspects of their organization's fundraising and marketing, including
Email campaigns with A/B testing and comprehensive reporting
Online donation forms
Customizable web pages for fundraising
Constituent management with constituent360
Now, with our brand new integration, users have even more options to communicate with supporters. CallHub lets Luminate Online users run calling and texting campaigns to their constituents.
Let's take a look under the hood:
How does it work with CallHub?
Here's a breakdown of how your data from Luminate Online corresponds with your data in CallHub.
Each Constituent in Luminate Online is imported as a Contact in CallHub.
Groups are imported as Phonebooks in CallHub. One imported, you can send voice and text campaigns to these groups.
Interests in Luminate Online are Tags in CallHub. When agents mark Contacts with Tags based on their conversations, those Tags will immediately reflect as Interests in Luminate Online.
Interaction data, like notes, call recordings and messages sent and received for each constituent across your CallHub campaigns are reflected as Interactions in Luminate Online.
The events created in Luminate Online will be imported into CallHub. That means you can collect data like RSVPs as part of your calling and texting campaigns.
To start using the integration, all you need to do is connect to your Luminate Online account from CallHub.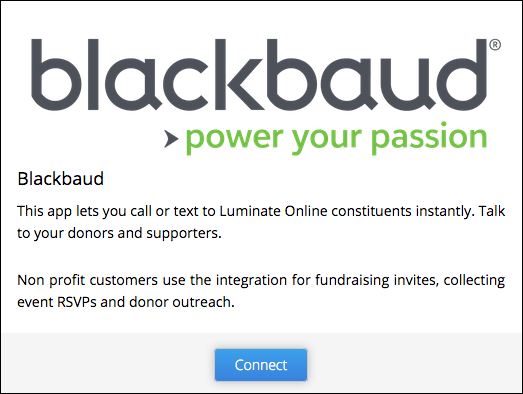 Learn more about integrating your Luminate Online instance with CallHub and importing groups in this article.
The integration works with all our outreach campaigns:
Peer to Peer text messaging is the best way to have personalized conversations through texting. Use this method to send out event invites, solicit donations, and generally get your constituents to take action.
Send bulk texts to all the constituents in a group at once. SMS Broadcasts are best suited for sending quick updates, event reminders, and to collect RSVPs.
Set up an SMS Opt-in campaign to gather opt-ins and details from new constituents and send it back to Luminate Online.

With the Voice Broadcast campaign, you can send pre-recorded voice messages to all the constituents in your group at once.
Voice broadcasts can be used to send quick updates and even request feedback with press 1 campaigns.
Automated and manual dialers to reach out to supporters/donors quickly to have 1 -1 personal interaction over the phone. Best suited to reach large groups with information you want to share (invitations, event reminders, progress updates, and alerts.)
Are you as excited as we are? Here are some ways the new integration can be put to use:
Invite supporters to events
It's easier than ever for Luminate Online users to have personal conversations with supporters.
Want to invite your supporters to an event?
Just import the group of people you want to contact from Luminate Online to CallHub.
For this use case, the group could consist of people who have donated to your nonprofit or have attended previous events.
Choose a Peer to Peer texting campaign or a Call Center campaign in the CallHub dashboard and choose your Phonebook.
In the Script section, you have the option to choose Luminate Online Events. Here you can map tags to answers.

Volunteers can then choose these options based on their conversation, which add tags (Interests in Blackbaud) to constituents.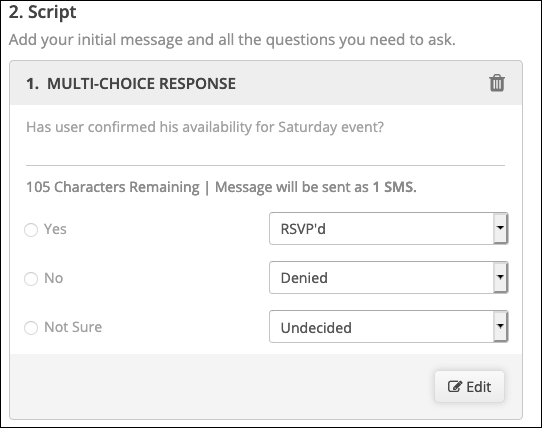 For example, if a supporter says yes to attending an event, your volunteer can choose Yes in the multiple-choice options. This adds the "RSVP'd" Interest to Luminate Online. You can then take additional actions like sending an event reminder to the people with this Interest.

Notes of the conversation will flow back to a constituent as Blackbaud Interactions based on the chosen Interaction types during the campaign creation flow.

Learn more about sending SMS campaigns with the integration here.
Get valuable feedback after events
We all know how important feedback is. Constructive feedback can vastly improve the experience you provide your supporters at your events. With CallHub, one way to collect feedback is through a calling campaign.
The first thing you would need to do is import the group of supporters that that attended your event to CallHub and create a Voice Broadcast campaign.
You (the campaign manager) can create multiple transfer options, for example, Press 1 to talk to an event organizer or Press 2 to record feedback.
You can set a Tag that will be synced back to Luminate Online as an Interest when the receiver answers a call and presses a number to transfer.

The link to the recording will be synced to Luminate Online as an Interaction, as well as emailed to the campaign manager.
Learn more about sending Voice Broadcast campaigns with the Luminate Online integration here.
Keep donors in the loop
You will want to keep your donors updated after your fundraising campaigns. Our integration makes sending updates easy to constituents easy.
Create an SMS broadcast campaign targeting the group of constituents that donated.
You have the option of adding Interests (Tags) to constituents when a message is sent or received.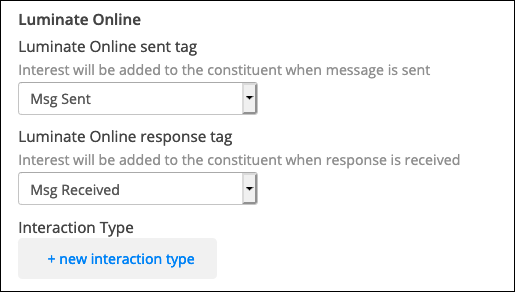 Set up a message, for example: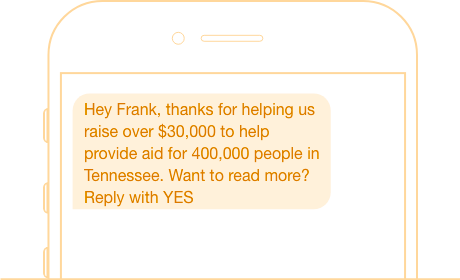 Set a trigger keyword, like YES to trigger an email from Blackbaud, that can contain more details about your successful fundraising event. You will need to set this up in Luminate Online.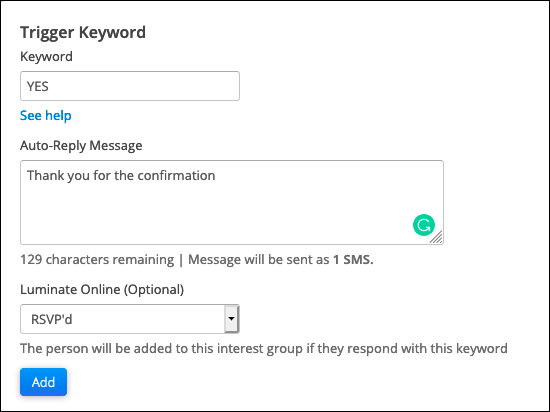 Every message sent and received will flow back to a constituent as Blackbaud Interactions based on the chosen Interaction types during the campaign creation flow.
Try CallHub with Luminate Online
It takes 5 mins to set up your account and it's free to try
Connect citizens with their leaders
CallHub lets you run Patch-through calling campaigns, allowing you to connect constituents to their representatives.
Here's how you can add patch through numbers to CallHub.
Just import the group of constituents you want to reach out to from Luminate Online to CallHub and start a Call Center campaign.
Your agents can then instruct interested supporters and patch them through so that they can leave their message.

During the conversation, your agents have the option of adding tags to each constituent; these tags are then synced back to Blackbaud as Interests.
Learn more about setting up a Call Center campaign here.
Collect new supporters
Collecting and transferring new constituent data from CallHub to Luminate Online is simple through SMS Opt-in campaigns.
Just start a new Opt-in campaign through the CallHub dashboard.
You can add Interests for your SMS opt-in campaign, which will be synced back to Luminate Online for each new constituent record.
For example, if you are running an opt-in campaign to get consent/Opt-ins from new donors, users who interact with you to be a part of the event will be marked with Interest "Donor" in Luminate Online.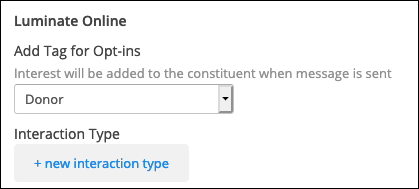 Rent a long code(10 digit number) or a shortcode & keyword (VOLUNTEER/DONATE/EVENTS/UPDATES) and promote it through your existing engagement/marketing channels (email, social media, events, etc.)
Learn more about Shared Short Codes with CallHub here.
SMS opt-in campaigns are great for:
Initiating existing users over a more instant and personalized channel.
Driving SMS opt-ins from new supporters that are not already on your CRM or you have no way to reach personally.
By getting opt-ins, you can engage supporters in different stages of their journey.
And much more!
Those are just some of the ways you can use the Luminate Online integration to interact with your constituents.
Our robust integration makes using Luminate Online with CallHub and syncing data between the platforms super easy. That means you can focus on having more personal conversations and building meaningful relationships with your customers.
Tags:
blackbaud
,
crm
,
Integrations
,
new product
,
nonprofits