Grassroots movements are being touted as the future of politics – movements that are harnessing the power of the masses to bring about political change.
By tapping into public sentiment, these movements can create community engagement and scale-up without relying on large donor funding.
While political activism has always involved grassroots strategies, the role of a grassroots approach has drawn much more attention of late. Small donor fundraising, text messaging, phone calls, social media posts, petitions, protests, and rallies all form a part of this approach.
Here we list the top four grassroots advocacy movements that captured our attention and offer a takeaway for other movements to emulate.
Who are they?
Indivisible works to ensure that voters are aware of the actions of their representatives throughout their time in office.
It offers resources and guidelines to voters on how to engage with their representatives so that the reps abide by the collective interests of the constituency.
The Indivisible movement began with a 23-page guide posted on Google Docs by a group of current and former Congressional staffers.
The guide outlined ways citizens could lobby their representatives, which included attending town halls, calling congressional officials, visiting their offices, and showing up at public events.
The guide has expanded to form the Indivisible Movement with a website that holds further resources on how to use it and also set up local branches of the movement.
For instance, the latest in US politics is the impeachment of President Donald Trump by the House. Indivisible encourages supporters to speak up on this issue and put pressure on their Representatives to see this through.

They also organize events and rallies throughout the country (via various branches) and inspire supporters to participate.
What they've achieved
The Indivisible movement outlined a way for ordinary citizens to partake in the political process and make sure that their voices were heard.
Thousands of Indivisible local branches have sprouted in congressional districts across the country and empowered tens of thousands of liberals and progressives to take action.
Indivisible celebrated its most recent victory on July 28, 2017, with the US Senate's rejection of the bill to repeal Obamacare.
Indivisible groups across the nation had worked together with other grassroots movements and organizations to put constituent pressure on representatives to vote against the repeal of Obamacare.
Campaigning takeaway
Oftentimes, voters lack basic information. They are left unaware about:
a) how their representatives stand on issues,
b) how they vote on the issues
c) and the supporter's role in the larger picture
Indivisible is tackling this knowledge gap by breaking down each important event in the US into consumable information. The event could be a vote taking place in the congress or how the various democratic candidates stack up.
Regardless, they ensure that the voters have access to this information and also outline guidelines on how they can participate in the process (by holding their reps accountable).
Their campaigning approach takes into account that people are unfamiliar with the political process. So it doesn't just barrage voters with the latest information.
Instead, it highlights specific actions that should be taken to get results. This could mean specifying what questions should be asked, enabling phone calls to be made to reps, and providing details of town halls to attend.
As a result, it specifies exactly how individuals can effect change in politics and gives them information that they can act on!
Like Indivisible, your campaign or cause should be built on top of an underlying pain point for the voter.
Read Next: Grassroots Mobilization: Enabling ordinary people to effect extraordinary changes: Here's how It works
Who are they?
Knock Every Door is a volunteer-led organization created in the wake of the 2016 US presidential elections. The movement organizes and trains volunteers for door-to-door canvasses across the US.
It was formed by a group of Bernie Sanders campaign alums and led by Becky Bond, former Senior Advisor for the Bernie Sanders presidential campaign.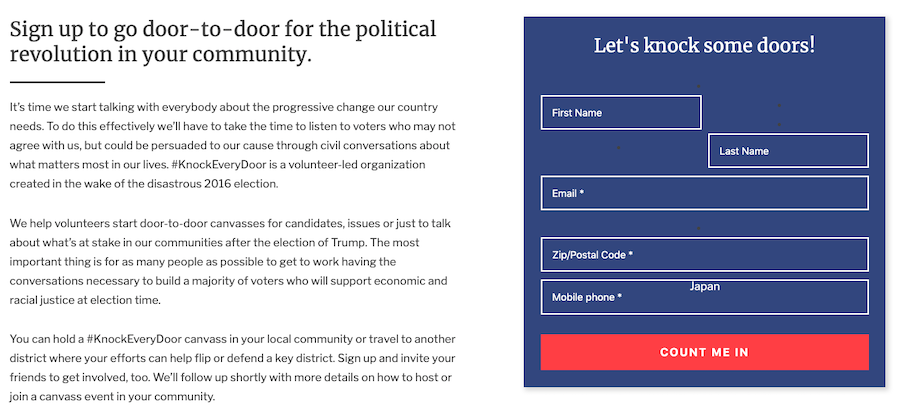 However, the objective of their canvassing is different. Unlike regular canvassing efforts, they do not focus on swaying the voter's support to favor a specific candidate.
Instead, Knock Every Door encourages its volunteers to have open-ended conversations with voters. The goal of this conversation is to understand what they think about current politics and see what their immediate concern with issues are.
Research suggests that such long, open-ended conversations can actually change people's minds. All volunteer scripts are based on the "deep canvassing" methodology piloted by the Leadership Lab of the Los Angeles LGBT Center.
What they've achieved
Knock Every Door has helped organize volunteers across 37 states. They've also partnered with grassroots organization, Swing Left, to educate Swing Left volunteers on employing deep canvassing techniques across marginal states.
Campaigning takeaway
Knock Every Door takes heed of results from studies on deep canvassing to engage voters in open-ended conversations. So their strategy is data-driven, instead of blindly knocking on doors to convince people.
Since the focus of this canvassing is to have a conversation, it has changed the way canvassing works in two very crucial aspects.
Volunteers do not rush through neighborhoods to just rack up "knock numbers". The effectiveness of the ground game is no longer determined by how many doors were knocked on.
Because the volunteers take the time to have an honest conversation with the voters, the voters feel more involved in the process. Instead of feeling like they've just viewed a campaign ad, they share their concerns about the latest political issues
Both the above changes resulted in the success of their grassroots movement. It also highlights that campaigns have to continue to reinvent themselves to adopt new (read: effective) strategies to engage the constituency.
At a time when more people are feeling alienated from the political process, it is essential to experiment with new ways to get people to voice their opinions and get out to vote.
Read Next: Grassroots organizing 101: The Worst Pitfalls and The Best Tactics You Must Know About
Who are they?
Swing Left organizes progressive volunteers from 'safe' congressional districts and connects them to the closest 'swing' districts to support progressive candidates.
(Swing districts are places where the winner of the last House of Representatives elections was determined by a thin margin. Safe districts are where one party has an overwhelming majority.)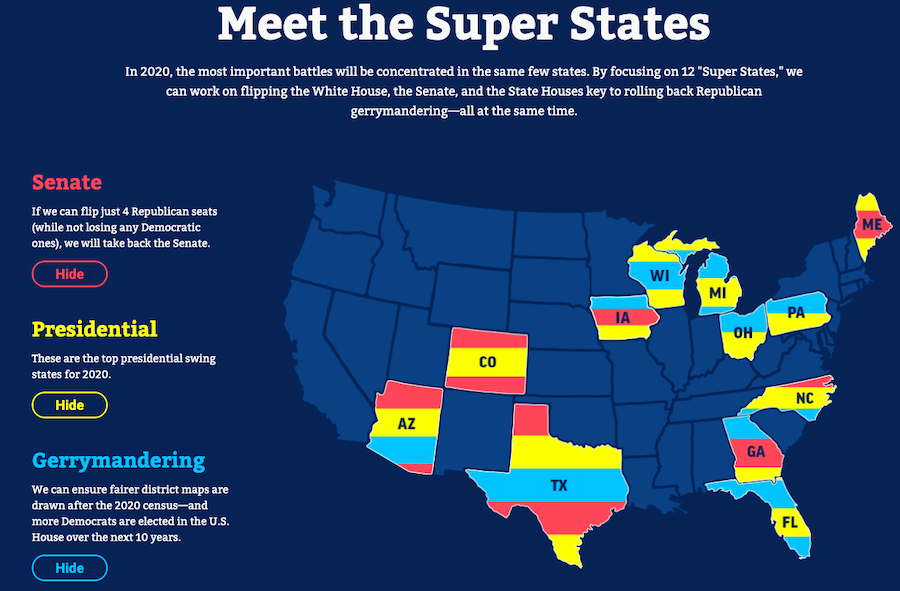 This grassroots movement was started by Ethan Todras-Whitehill, Miriam Stone, and Josh Krafchin, a group of friends coming from diverse industries with little political background.
Here is why they started Swing Left in the first place:
"Voters in "safe" districts tend to feel powerless about their impact on local elections that have national repercussions. At the same time, House midterm elections, including in Swing Districts, tend to receive less attention than other races. We formed Swing Left to provide a simple way for voters living both inside and outside of Swing Districts to come together and channel their time, resources, and ideas to help progressives prevail in these critical races."

SWING LEFT
In short, they wanted everyone to be more involved in critical races, regardless of what district they came from.
What they've achieved
Swing Left's grassroots movement was a resounding success. Thus far, they have organized more than 300,000 volunteers in swing districts. They have also raised a whopping $2.9 million dollars from 41,096 individual donors to support Democratic candidates.
Campaigning takeaway
Swing Left successfully used the recent bump up the progressive cause received following the results of the 2016 US presidential elections. In normal circumstances, a cause that doesn't directly affect constituent lives has a hard time creating empathy with them.
But Swing Left capitalized on the surge of popularity for the progressive movement. They were able to organize people from safe districts to work on behalf of swing districts to advance the progressive cause.
Like Swing Left, your campaign doesn't always have to build up rapport from the ground up. If your cause fits into an overall cause that has already garnered public support, you can harness that energy to advance your movement.
Who are they?
Momentum is a political grassroots advocacy group that focuses on mass mobilization of activists across the UK to support the Labour Party.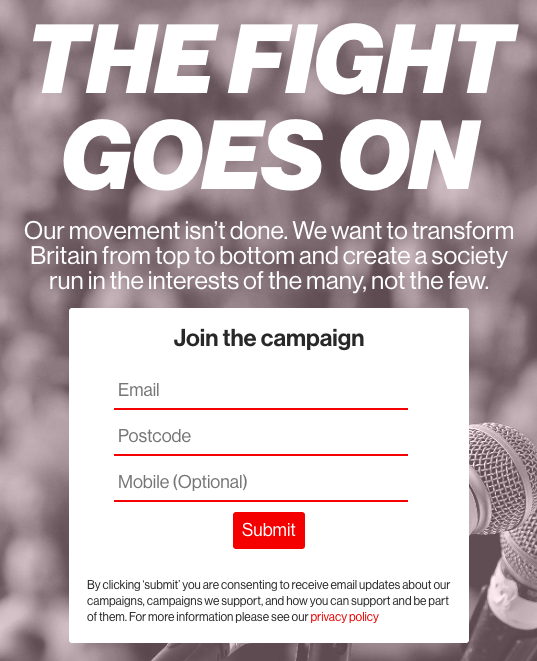 This grassroots movement grew out of the Jeremy Corbyn Labour Party leadership campaign of 2015. The group has a grassroots campaigning network of over 24,000 members, 150 local groups, and 200,000 supporters.
What they've achieved
Momentum mobilized more than 24,000 members on a shoestring budget for the 2017 UK general elections. Over the course of the elections, Momentum ran 50 campaign weekends. They mobilized tens of thousands of activists to knock on doors in key marginal districts.
The movement took the help of organizers from the Bernie Sanders campaign to provide assistance in the form of lessons and the introduction of new digital tools. The new tools include:
The phone-banking app, Calling for Corbyn. This allowed volunteers to sign in and make contact with other Labour members from the comfort of their homes.
Peer-to-peer texting to organize volunteers and drum up support
My Nearest Marginal is a website that allowed members to find their nearest marginal seat. This enabled the supporters to collaborate with others to canvass there.
Campaigning takeaway
Momentum stayed ahead of the Tory campaign by making canvassing more accessible to thousands of people.
They connected with voters who were new to the Labour party. They inspired supporters who were new to campaigning and often new to politics.
The success of the movement was also because they implemented technology that had never before been used in the UK general elections.
That includes a phone-banking app, peer-to-peer texting, and a tool to find the nearest marginal seat.
Their get-out-the-vote efforts had 35-40% of volunteers coming from outside the state to help out, with volunteers knocking on more than 1.2m doors on election day to make sure Labour voters cast their ballot.
Momentum's Digital Hub brought together people from all walks of life. Analysts, developers, and designers all volunteered a couple of hours during the week.
The volunteer skill matching employed by Momentum helped match the volunteer with tasks so that each volunteer contributed in the best way they could.
With very few paid staff, Momentum relied on volunteer numbers and their skills to scale up campaign efforts.
Momentum shows us that the effectiveness of a campaign needn't rely on the amount of funds raised.
Rather, it depends more on how passionate your volunteers are about the cause and how effectively the campaign organizes and uses those volunteers.
How can you replicate their success?
The success of these grassroots campaigns is not because they picked the 'right' cause. But because the organizers tackled it with effective communication.
The information they sent inspired their supporters to take action. They were able to mobilize the support received online to on-the-ground movement – it could be attending a rally, or calling a representative.
More importantly, they encouraged supporters to not just participate, but become volunteers for the cause and take it further.
What is their secret?
Well, let me give you a clue. Here is Indivisible's website sign-up form for supporters who are looking to act on Trump's impeachment.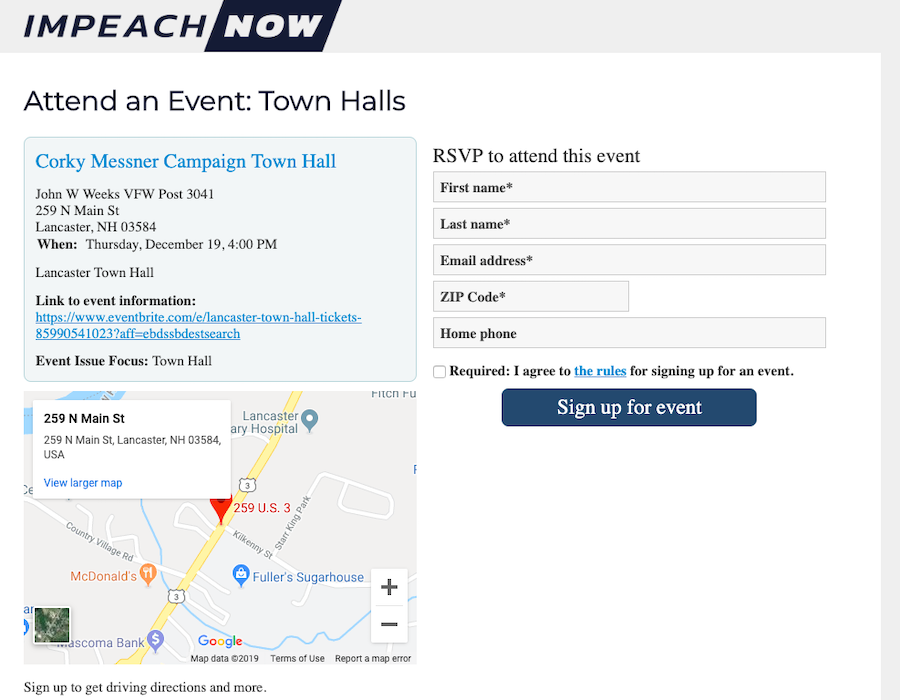 Notice that in the form, they are asking for the Home phone number of the supporter. Grassroots movement Momentum, on the other hand, goes in for the kill and asks for the supporter's mobile number.
And those are just two examples. If you go back to check the signup forms for Knock Every Door and Swing Left, you will notice the same – they have a mobile number field.
This detail is important because all these movements realize that communicating with their supporters via their phones is the most effective means to reach them.
That is their secret – they have nailed the perfect channel for communication. Phones are extremely personal! Not only do you have a higher chance of reaching your supporter, but you also have an excellent opportunity to get a response from them!
So capturing the phone numbers of your supporters right from the get-go is crucial. You can send them updates on venues for Town Hall, send them the latest information about the cause, or even call them to see if they are interested in voicing their opinion to their representative.
What communication options do you have?
Once you decide to reach your supporters via phone, there are two things you should remember:
They might not welcome a call from you at all times
You do not want to be intrusive, and 'interrupt' them
A simple way to solve this problem is using text messages! SMS is a huge advantage because while being personal, it is also unintrusive. As an added plus, it has higher open rates than emails!
Here are the SMS options you can choose from.
1. Opt-in SMS
Supporters can text to your shortcode with a keyword to show their willingness to support your cause. Eg. "JOIN" to 33339. Here JOIN is the keyword and 33339 is the shortcode. Once they text in with the keyword, they automatically get added to a separate list.
Opt-in SMS is an excellent way to grow your list of supporters. Since the keyword and shortcode are so easy to remember, your supporters can easily text in to show solidarity.
You can also use it to drive more momentum during your rallies and events. For instance, you can request those supporters who attend an event to make a small donation (of say $10) towards the cause (by texting "DONATE" to 33339).
To those supporters who text in, an automatic response goes out with a link to the donation page.
These are just a couple of examples of opt-in SMS. You can use it however it works best for your cause – be it growing your supporter list or getting event RSVPs.
2. Broadcast texts
Another excellent way to engage your supporters via text is using broadcast (or bulk) SMS. Essentially, these are texts that go out to an entire list of supporters at the push of a button.
They could be reminders to events or rallies, they could be thank-you texts for showing support, or they could simply be informative text with a link to your webpage showing your supporters what they have accomplished.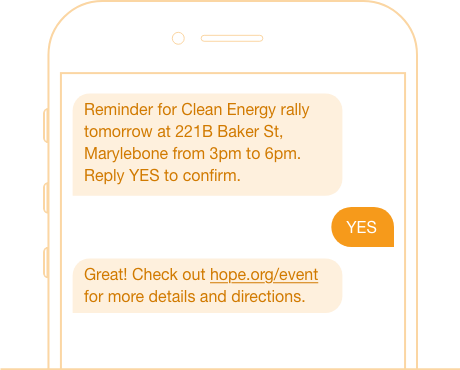 The advantage of a bulk SMS is that it does not take up a lot of your volunteer's time. You can choose to handle responses automatically so that a volunteer does not have to spend time answering queries (if any).
You May Also Like: Measure Audience Engagement on your SMS Campaigns with CallHub's Link Shortener and Tracker
3. Peer-to-peer texts
As Knock Every Door boldly claims in their Deep Canvassing post:
" Peer-to-peer texting is another vehicle for personal back and forth conversations."

– Deep Canvassing 101, Knock Every Door
So unlike bulk SMS (or even opt-in SMS), in a peer-to-peer texting campaign, your volunteer engages with supporters. He sends out an initial message to every supporter on the list. Based on the responses he gets, the volunteer replies with a separate text.
Since each of the replies your volunteer sends is customized to how the supporter responds, it becomes an actual conversation. The volunteer can give the supporter more information (if he requests it), clarify his doubts, and give a genuine response to each of his texts.
Because peer-to-peer texts are so personal, it has a significant impact on your supporters. They would be more willing to hear you out, respond to you, and be interested in participating. It is the perfect channel to make the 'high-barrier' asks typically is difficult to get a response to.
So you can use peer-to-peer texts to inspire supporters to take action. You can message your most loyal donors with a request to attend an event. Or you can even text your loyal supporters to see if they could step up and be volunteers for your cause.
What next?
Set up a campaign in CallHub to see how SMS (or calls) work for your movement. If you already have an SMS list, then send out your first campaign and see the impact it has over other forms of communication.