TELEPHONY SERVICE THAT INTEGRATES WITH YOUR CRM
Cloud Contact Center Software
Make outbound calls to contacts through multiple automated dialers, have authentic conversations using personalization features, and monitor call performance from a dashboard.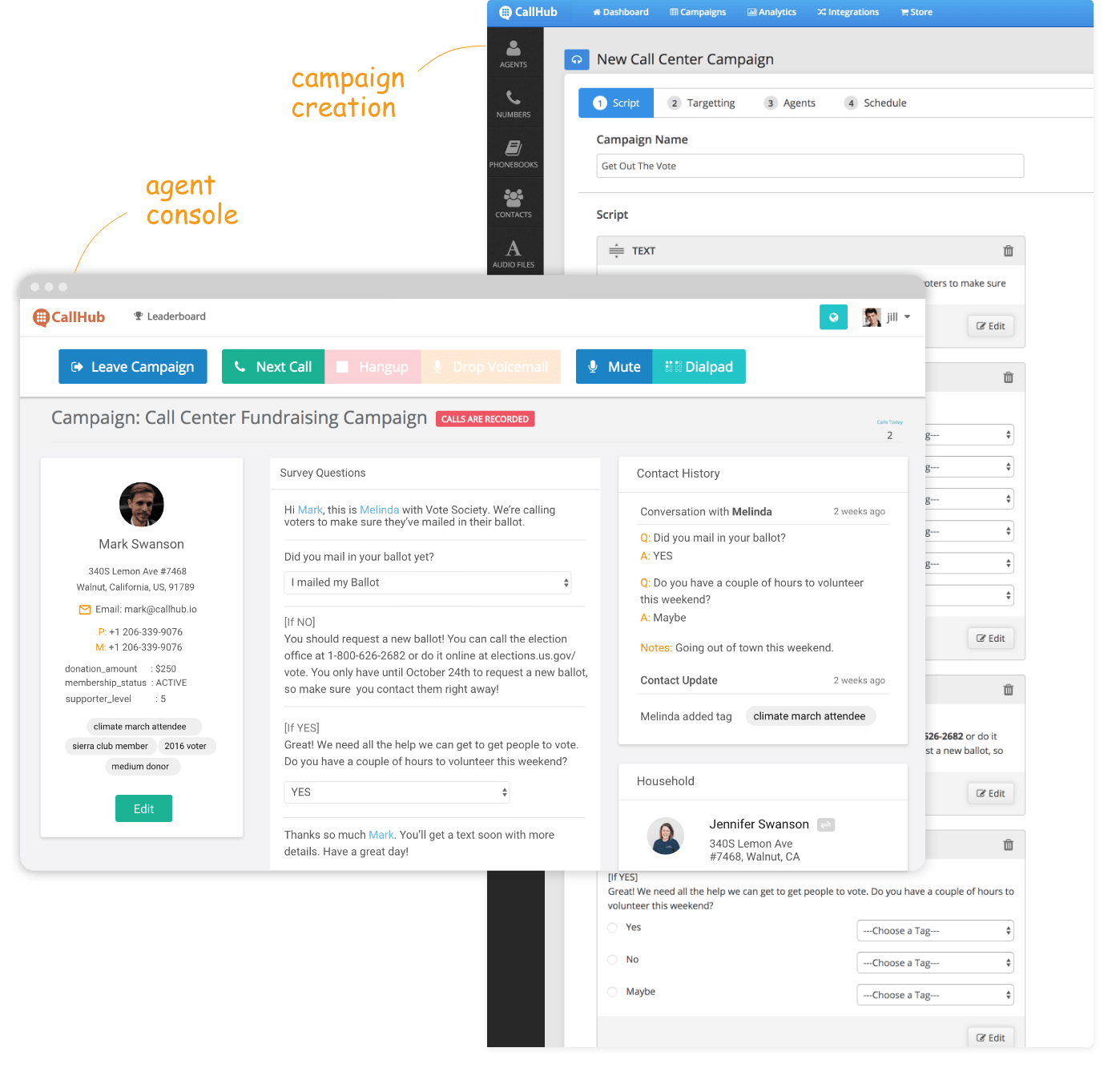 Why use a cloud contact center tool?
Run outbound calling campaigns, letting agents make calls from anywhere (even their homes!) with CallHub's cloud-based calling solution. You can manage your campaigns remotely, and optimise call time with automated dialers
Cloud contact center vs traditional contact center
Cloud contact centers overcome some common issues that organizations face with on-premises alternatives.
Cost
Large upfront costs that come with setting up calling hardware (phones, headsets, servers, computers) are avoided. Since cloud contact centers are hosted off-site, you don't need to worry about setup.
Security
Onsite Call centers leave more room for human error and malpractice. Cloud contact center providers are dedicated to staying ahead of security risks, and better equipped to provide downtime redundancy than on-site IT staff.
Reliability
Hardware can break down or become phased out, which means they will need constant upkeep. With a cloud contact center, as long as agents have a decent internet connection, they will face no problems with call quality, and organizations can leave upkeep to the dedicated provider.
Scalability
Remote agent access means you don't need to add new phones or modify hardware whenever new agents are added. Scaling up or scaling down is easy. This is especially beneficial for businesses or other organizations that engage in seasonal outreach campaigns.
Increase agent productivity
Agents spend less of their valuable time dialing calls and more time in conversations, with the help of automated dialers.
Provide context for each call
With data collected from previous conversations and personalized calling scripts, agents can make each call authentic and personal.
Collect data for future personalization
Personalize future outreach with surveys and call dispositions. Use app integrations to sync surveys and events from your CRM.
Add as many agents as you need
A cloud contact center allows you to add as many agents as you need to your outbound calling campaigns at no additional setup or cost.
Reach your calling goals by making data-driven decisions. Compare agent performance, track calling activity and measure how many calls convert into action.
With Callhub's cloud contact center, you can choose between a pay as you go pricing or a subscription plan.
Use the mobile app and cut down device cost
In addition to eliminating the on-site set up, now eliminate the need for extra devices. All your volunteers need is their smartphone to join your campaigns. With better volunteer onboarding and an easy to use app, get the best out of your campaigns.
Choose from multiple dialers
The Power Dialer is perfect when the cost of not reaching a contact is high, like fundraising calls or sales calls to warm leads. You set the speed at which calls are made. At normal speeds, a single call is dialed when an agent becomes available (1:1). For a list with a lower pickup rate, set the ratio of the calls made per click to 2:1 or 3:1 for a higher connection rate.
Predictive Dialer is your option if you want to quickly go through a large contact list.
The dialer predicts how many calls to dial ahead of time, by taking into account the number of agents, average talk and ring time, and drop rate.. As soon an agent hangs up, there will be another contact lined up to talk to.
With the Predictive Dialer, give agents the time to research a contact before placing a call. Agents can view detailed contact profiles with interaction history. Once the calling agents are ready, they can select a contact to call and automatically place the call via the Preview Dialer.
No agents needed. You can send out voice messages to all your contacts simultaneously without waiting for free phone lines. The Robo Dialer calls every person on your list and plays a pre-recorded audio message.
Try our cloud-based contact center software.
Cloud contact center features
Answering Machine Detection
Automatically detect and skip Answering Machines or drop a voicemail with AMD. Let your agents focus on having real conversations with contacts. Unlimited
Phone Number Verification
Outdated numbers are removed and landline and mobile numbers are segmented automatically.
Do Not Call lists
DNC can be enabled on your cloud contact center campaigns to ensure compliance. You can import your own DNC list to CallHub.
Text from Call Center
Agents can send predefined text message follow ups (or type their own) to contacts after having a conversation, right from the calling interface.
Remote Agents
Agents can join calling campaigns with their browser, from anywhere in the world using a standard internet connection.
Call dispositions
Make segmentations and targeting for future outbound calling campaigns easy by setting call dispositions for contacts.
Create Teams
Segment your agents into teams and assign teams to calling campaigns instead of manually assigning individual agents.
Control staff permissions
Delegate as much or as little control as you'd like with different permission levels for agents, managers and other staff.
Patch through calling
Allow agents to call contacts and then patch them through to another line. This is great for advocacy campaigns.
Ensure great call quality
Call recording and monitoring
Record calls for future reference. Campaign managers can join live calls for quality assurance and to guide training sessions.
Reports and Analytics
Live analytics and daily call reports let you analyze the performance of your cloud call center campaigns.
Scripts and Surveys
Add personalized calling scripts and surveys for every campaign. Recorded responses are synced directly into your CRM.
Improve your call pick-up rate
Schedule Callbacks
For busy or otherwise unavailable contacts, agents can schedule a time in the future to call them back. CallHub automatically dials them at the scheduled time.
Rent a local number
A local number can increase call pickup rates. Rent a local number or use Dynamic Caller ID so contacts see a local number on their screen no matter which part of the world you call from. Local numbers are available in 150+ countries.
Drop a Voicemail
Get your message to contacts who don't pick up by having agents drop a pre-recorded voicemail when they reach an answering machine.
Sync your cloud contact center data with app integrations
You can keep your contact lists, surveys, custom fields and tags synced through CallHub's integrations with popular CRM software like NGP VAN, NationBuilder and Salesforce.








Trusted and loved by customers worldwide

"We can make calls at about 5x the rate that we would with a manual dialer, getting through a list of 100 calls in just over an hour. This has been a huge capacity saver in our organization."
Amanda Destefano, Leadership Organizer, United Workers
"I really love your team. You are just super responsive and super friendly and nothing's too difficult! It's been a really good experience."
Shaun Murray, Senior Organizer, GetUp
"A lot of our folks are volunteers, a lot of them are retired, they are often anxious with technology and they were able to use CallHub easily. It's empowering for volunteers who don't see themselves as very tech savvy to be able to pick up a new piece of software and a new program and just use it, so that was great."
Celine Trojand, Digital Organizer, Organizing for Change
"I love this product. It's so easy to use with a very clean user interface. The price is the most economical I've seen in the industry and last but not least is the wonderful customer support. They answer all questions very quick."
Ronald Hart, Marketing, The Cloud Marketers
"Solid dialer, responsive support, and awesome CRM integrations!"
Django Merope Synge, Campaigns Director, GetUp
"CallHub made my marketing program easy and also affordable. I love the dialer, the SMS marketing program and the voice broadcasts. The CallHub team is doing a wonderful job!"
Wendy Mathis, Global Quest Services
CallHub has become my go-to platform for affordable phone canvassing campaigns, voice broadcasts and text message blasts. In particular, text message blasts are the single most useful tool for volunteer mobilization that I have used in recent years.
Jordan Bober, Director of Development and Election Readiness, Green Party of Prince Edward Island
Try our cloud contact center software with free credits.
Try it free. No credit card required. Instant setup.