With so many issues competing for attention, it can be difficult to break through the noise and get lawmakers to take action. Traditional methods of communication, like emails and letters, can easily get lost in the shuffle.
That's where patch-through calling comes in.
It connects supporters directly with their lawmakers via phone calls.
"The difference with calls is that staffers and lawmakers don't have an option but to be responsive to that constituent and listen," said Carson Eades, director of legislative advocacy at the California Charter Schools Association (CCSA).
In June 2020, CCSA launched a campaign named "Restore Funding for Growing Nonclassroom-based Schools" which urged supporters to make phone calls to the California legislature about the state budget. The campaign was sent to CCSA's supporters, and they were prompted to submit their phone numbers on a form for a patch-through call.
More than 8800 people responded, making 3792 calls (patch through calls), which led to about 100 hours of phone calls between supporters and lawmakers. The campaign was shared on Facebook more than 500 times.
The phone banking campaign resulted in a policy victory and over 5000 new advocates for CCSA.
CCSA's advocacy strategy has shifted since then, and they now prioritize calls over other forms of communication. When launching campaigns, CCSA now gives advocates only one option: to call their lawmaker.
This significant impact demonstrates that patch-through calling can be a game-changer for advocacy campaigns. In this article, we'll explore the various use cases for patch-through calling and how it can be a game-changer for your advocacy efforts.
How does patch through calling work?

A volunteer initiates a call to a supporter or a contact on behalf of an advocacy campaign. Once the contact picks up the phone, the volunteer informs them about the campaign's cause and asks if they would like to speak with a decision-maker, such as a legislator or a corporate representative. 

If the contact agrees, the volunteer transfers the call to the decision-maker via a previously added phone number. In some cases, agents can manually add a number to patch-through to.

There is one key variable in patch-through calling: The decision-maker. Depending on the campaign's objective, the decision-maker could be a legislator, a corporate representative, a manager, or even another volunteer. 
5 ways advocacies can use patch-through calling to drive results
Here are some use cases for patch-through calling that advocacies should know about:
Activate your community to engage with their lawmakers
We are only talking about this here because it remains the primary use case for advocacy organizations. Primarily, patch-through calling involves connecting constituents with their elected representatives so they can voice their opinions, concerns, and feedback on various issues.
Key point: Lobbyists often use legal briefs called amicus curiae briefs to influence court cases. These briefs are filed by individuals or groups who are not directly involved in the case but have the expertise or stance to share. 

Patch through calling lets you mobilize supporters to call their representatives and urge them to file amicus briefs or take other actions to support their positions. This can be an effective way to amplify the group's voice and influence decision-making.
Route calls to appropriate language speakers
When working with diverse communities, it's important to be mindful of language barriers.
According to a study by the Migration Policy Institute, around 49% of the total foreign-born population in the United States are limited English proficient (LEP), meaning they have difficulty speaking or understanding English.

Source: Migration Policy Institute
In states like California, Texas, and New York, the LEP population is particularly high, making language-specific call transfers a valuable tool for advocacy groups that work with immigrants and refugees.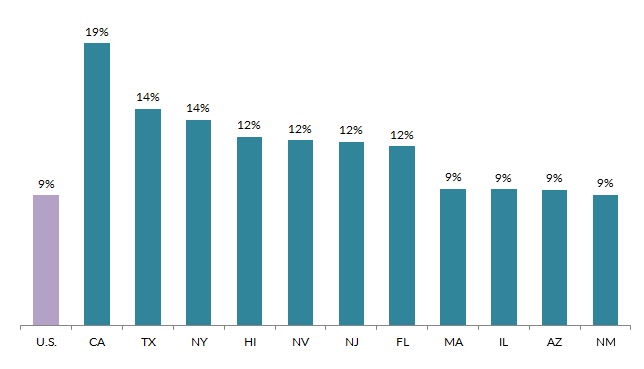 Share of LEP population in the USA. Source: Migration Policy Institute
Patch through calling lets you route calls to volunteers who speak the same language as the constituent.
This
Reduces the language barrier
Improves the quality of communication
Builds trust with the caller, and
Increases the chances of successful advocacy.
Critical reminder: Collect language information from your volunteers in advance. Then, when the call connects to a non-English speaker, enable call routing to a volunteer who speaks the language.
Collaborate with celebrity ambassadors to promote your mission
Celebrity endorsement can bring visibility and attention to a cause, and patch-through calling provides a direct and personal way for fans and supporters to connect with the endorsing celebrity. Whether it's a well-known actor, athlete, or musician, a celebrity call can generate buzz and excitement around an issue and encourage people to take action. This can be for mobilization, persuasion, and fundraising efforts.
For example, actress Alyssa Milano joined Democratic lawmakers in calling for the final state to ratify the Equal Rights Amendment to the Constitution (ERA). ERA mandates "equality of rights under the law shall not be denied or abridged by the United States or by any state on account of sex."
"Women came together, in the last year, to say 'Me Too.' We supported each other, and we held men accountable by saying 'Time's Up.' Well, I'm here today to say, the time is now to pass the ERA so that all citizens of our country have the opportunity to reach their full potential," Milano said during a press conference on Capitol Hill.
Illinois became the 37th state to ratify the ERA, leaving just one more state needed to reach the required 38.
Critical reminder: This requires a prior partnership with the celebrity and a prearranged time slot, but the impact can be significant. Ensure that the celebrity's values and messaging align with your organization's mission and that their involvement does not overshadow the campaign's message.
Mobilize a campaign from the top down with strong community ties
Patch-through calling is an effective way to reach out to individuals and groups at every level of your campaign. Targeting key stakeholders and mobilizing grassroots supporters creates a powerful movement that will get your message out and drive change.
One example of this is The Amputee Coalition.
The Amputee Coalition has a broad mission of empowering people with disabilities to the full extent they can be, and voting is a significant part of that. They invested in technology to support its Lead Advocate Program and create a nationwide grassroots presence capable of advocacy anywhere it is needed.
The program appointed six regional ambassadors working with trained leaders to participate in advocacy and grow grassroots support.
They use patch-through calling to launch high-impact phone campaigns.
They connect their grassroots supporters with elected officials and policymakers on issues related to disability rights and voting accessibility. The organization's Lead Advocate Program trains volunteers to make calls on behalf of the cause.
The combination of powerful technology and grassroots outreach helps the Coalition grow its list of supporters nationwide and its influence. They hope to build their grassroots army and eventually have a leader in every congressional district.
Enabling volunteers to escalate calls to staffers
One of the advantages of using patch through calling for advocacy campaigns is the ability to easily transfer a call from a volunteer to a campaign staffer if needed.
This can happen primarily in two scenarios:
If your contact has concerns that the volunteer cannot address, or
If your contact wants to get more involved in the campaign and needs to speak with someone with more information.
Use patch-through calls to amplify your message
Whether you're looking to make a difference at the local or national level, patch-through calling can be a valuable asset in achieving your goals. Clearly, it can be utilized in various ways. From mobilizing supporters to influencing lawmakers, patch-through calling offers a direct and effective method of communication.
At CallHub, we understand the importance of this tool and have designed our product to make it easy and accessible for any organization to use. Now it's up to you to take action and incorporate patch-through calling into your advocacy strategy.
If you're interested, here is your first step: Learn more about patch-through calling and how it can benefit your organization.
Featured image: Photo by Direct Media on StockSnap