If organically flowing, in-depth and open-ended conversations are the essence of a telephonic conversation with your supporters, why is a phonathon script necessary?
Step out of a canvassing or fundraising manager's role for a minute and step into the shoes of a calling agent. For many of them, this may be their first phonathon campaign.
You are about to call hundreds of contacts with specific requests: You don't want to miss even a single essential detail.
These contacts are strangers: You don't know if your choice of words or tonality resonates with them.
The reason for calling is an appeal: You want to set the right atmosphere to get positive responses.
These expectations can be quite daunting for an inexperienced volunteer or even a seasoned agent and ideally, your volunteers should feel good about the work they're doing. It's crucial to train them for a successful phonathon campaign. A calling script helps you raise money by acting as a blueprint for your interactions with supporters and prospects.
It helps you
Cover every crucial detail.
Set a tone that encourages people to give or support you.
Guide nervous, shy, or error-prone agents to the best possible capacity and thus, feel good about their contribution.
One of the most important aspects of a successful phonathon campaign is the quality of conversation. The more you understand your contacts before talking to them, more the chances of a positive outcome. Let's look at the essential elements of a phonathon script with samples to drive your fundraising efforts.
Important reminder: If you call your contacts at an inconvenient time, such as, during their working hours, your chances of them picking your call are slim. Even if a potential donor picks your call, they may not be able to give you the attention you hope for. Key to a successful phonathon campaign is the timing. Make sure you call your contacts at a time they are available.
5 stages of effective calling in a phonathon to increase your chances of a positive result
A phonathon script flows in five fundamental steps, starting with an introduction and ending with a dignified close, no matter the result of the call. In between these are steps that invoke conditions (interested/not interested/need more information etc.). Here's how a typical phonathon call flows: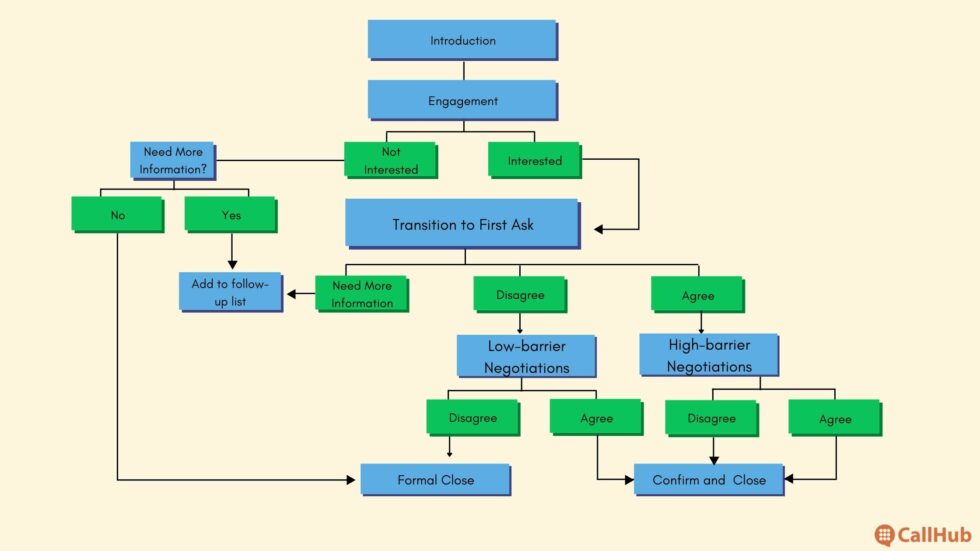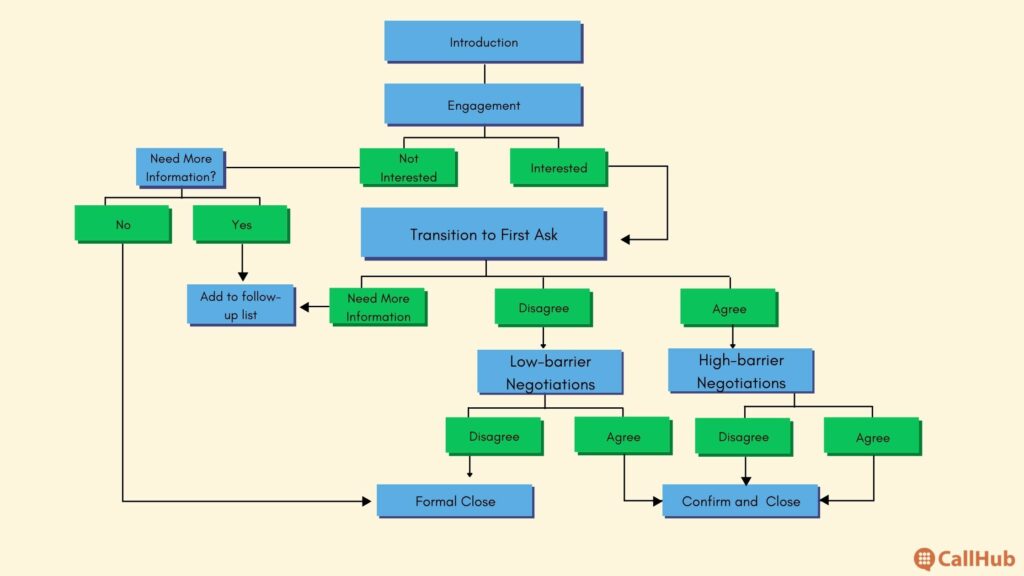 Let's look more closely at each stage of a conversation that you can use to base your script on and raise money.
1. Introduction: Introduce yourself with the necessary information
The Federal Trade Commission (FTC) mandates that all telemarketing calls, including charitable solicitation calls, inform the caller of their identity right at the beginning. Agents introducing themselves with their name and designation at your organization covers the legal purpose.
It is also polite to start a conversation with a brief but adequate introduction, so your contacts know what to expect from the call.
Technique:
Begin with the right greetings and salutations. Confirm if you have the right person– especially if you're calling a house phone. (hello, good morning, Mr/Mrs/Ms/Dr).
Identify yourself with your name and designation at your organization running the campaign.
State the reason for your call.
Average time: <10 seconds.
Sample phonathon script for the introduction:
Good morning; I am Kim, a volunteer with the Starlet Charity Foundation. Am I speaking to Mr. Jack Rose?
Morning, that's me.
Hello Mr. Rose. I raise money on behalf of The Starlet Charity Foundation for the rehabilitation of at-risk children in the Pennsylvania region. I was hoping to speak with you about the same. Is this a good time?
2. Engagement: Engage with your contact and build a rapport
Only contacts who are engaged with your organization or cause will give. This is why it is crucial to start building rapport with them in the first few seconds of the call to fuel your fundraising efforts.
The engagement part of a great script will include:
An introduction to the cause.
Ask them if they have any questions and answer them to your best ability.
Technique:
Start your pitch with the most intriguing and sticky part of the cause. E.g., the impact you hope to create, a personal story, etc. This is the driving force of your fundraising efforts and helps your donors feel good about donating to your organization.
Segue into why you are making the call to this person (their donation history with you, their support to similar causes, etc.)
State what you are hoping to achieve with this mission and give information about the impact you have created so far, if relevant.
Tell them that you are happy to answer any questions you have and encourage them to ask.
Use pauses and stress on words that need to be highlighted.
Average Time: 30-45 seconds (for the initial pitch) + 30-60 seconds to answer the first basic questions. If a supporter is highly engaged, they may ask more questions, and the conversation can flow well over 5 minutes.
Some contacts may not be engaged enough to ask any more questions. For such callers, this part of the call will not be over 45 seconds. However, these contacts require nurturing to ensure retention. Read this guide on how to retain donors so they don't stop giving: Demystifying Donor Retention & Strategies That Can Improve It.
Sample script for engagement:
The pandemic has rendered over 1000 people unemployed. A majority of them belong to lower-income groups. As they struggle to get back on their feet, their preadolescent and teenage children are at the risk of getting into bad habits. This is mostly due to unavoidable negligence. We raise money to help such families with education and livelihood opportunities. Given your long history of philanthropy to such causes, I wanted to seek your help.
Sure, Kim. Could you tell me more about the cause?
Of course. We aim to help at least 200 of such at-risk children and get them admitted to public schools while also providing part-time job opportunities for temporary sustenance. The foundation is bearing the cost of living until they each secure considerable incomes. This is generous donors like you come into the picture.
Can you tell me how exactly my contributions will help?
We currently have 16 donors contributing $100-700 for the cause. The first 3000 dollars helped us provide food and basic necessities to 50 at-risk children. The following funds will go partly towards these kids and partly towards the next batch. We have secured a total of $7,500 so far, and we hope to reach $50,000.
For a smooth phonathon, you need a calling software that
Integrates with CRMs.
Displays the script on your calling screen.
Provides you with all relevant donor data while you make calls.
Allows unlimited volunteers to work at the same time.
CallHub offers all this and more! Try for free here.
3. Transition and Formal Ask: Ask what you require them to do
This is your initial request. Without a formal ask, your potential donor may not understand what exactly you require them to do. They may feel like your ask will be too much for them, or they may volunteer an amount much smaller than you'd hoped.
The purpose of a transition from introduction and engagement to a definitive, formal ask is two-fold:
To begin the process of securing commitment towards the cause.
To set a definite promise of support.
So, how do you make the donation ask?
We've compiled a few techniques you can use to increase your chances of hearing a 'Yes' in your initial request.
Technique:
Make a gradual transition from your work to how the potential donor can contribute to this task.
State how their contribution will help you in the larger purpose. This will help them feel good about it and will help your future outreach efforts.
Make the first ask. Mention clearly what you are hoping to get from them. This could be a definite donation amount or a bracket, a vote, a request to add political yard signs, or something else.
Be confident in your speech while making the request. Your tone should neither feel demanding nor meek.
Average Time: A smooth phase of engagement and a successful phonathon campaign will demand less time during the transition stage. In such cases, you need not write a script more than 30 seconds long.
However, if the engagement is low, on the donor's side, your script needs to cover more ground for nurturing in the transition stage before you solicit a definite request. This includes additional information about your previous impact and the necessity of donors' contributions. Prospects may also ask follow-up questions in this stage, which may stretch the conversation to another 1-2 minutes.
Phonathon script sample for a smooth transition to the solicitation:
Mr. Rose, donors like you, are the strength on which Starlet Charity Foundation initiates new work and causes. You are the backbone to our fundraising efforts and your support means the world to us. Your generous and kind donations will keep hundreds of children in the safety of their home, with adequate daily meals and real income prospects. Would you be willing to contribute $200 to this cause?
Before I could commit, I had a couple of questions.
Sure, sir. Please go ahead.
What are my options of giving? And, what are your policies on receipts and tax exemptions?
There are three ways you can donate to us. I can send you a donation link via text; you can issue a check on the organization's name or visit us to make a cash payment. If you choose text-to-donate, we will immediately send an acknowledgment response and email you the receipt within three working days. For checks and cash, our receptionist will print a receipt for you directly. All contributions to Starlet are tax exempt. I'll share the details with you over text right after this call.
4. Negotiation: Offer satisfactory responses to objections
Negotiation is an important part of any solicitation call. You must offer satisfactory responses to any common objections your supporters may have. It could be that your first ask was big, or they support some other organization. Calling agents might have to improvise this part. However, you still can't skip it while writing your script. Including negotiations in the script will help volunteers:
Understand when and how to make a higher-barrier ask to donors.
How to maintain engagement even when a contact is not willing to contribute the requested amount.
Technique:
It is crucial to maintain a tone that makes contact feel valued, whether or not they contribute. Maintain the speed and tone of the speech that you held in the previous part of the call.
For supporters who agree to contribute, go for a higher barrier request (e.g., an upgraded amount, additional ways of helping, etc.) without making it feel like you are stretching your chances.
For those who are hesitant, negotiations include addressing their concerns and showing the larger purpose. Ask them how you can help to clarify doubts. Hesitation is not an outright no.
If a person gives a definite no, the negotiations include asking whether they are opposed to contributing funds and if they would like to see other options. If they are unwilling to contribute to the cause or your organization, it is still an acceptable answer. Maintain the tone of dignity and move towards your formal close.
Prepare to deal with common objections.
Average time: <1 minute.
Sample phonathon script for negotiations:
Enthusiastic YES
Maybe, maybe not
Definite NO.
Would you be willing to contribute $200 to this cause?

I'd be happy to.

Great! Mr. Rose, if you increase your gift amount by just $50, you can become part of our exclusive major member club and avail of incentives such as free event passes. Would you like to upgrade?

Sure, no harm.

Great! I'm signing you up for $250. I'll send a text with the donation link right away.
Would you be willing to contribute $200 to this cause?

I'm not sure. I am not familiar with your organization.

No problem Mr. Rose. I can address your concerns over call right now or send you an email with all relevant details so you can make an informed choice. What would you prefer?

An email.

Noted. You can expect an email within two hours.
Would you be willing to contribute $200 to this cause?

That's too much for me. I'm afraid I won't be able to help.

I understand, Mr. Rose. Would you be more comfortable donating a smaller amount, volunteering with us or spreading the message in your social circles?

I can volunteer my time.

That's great! I'll send the details of our requirements on this number via text. Thank you for your time!
5. Formal close: Close the call by helping the contact feel good about themselves
A good close to a phonathon call highlights the larger purpose, makes the supporter feel good, appreciated and valued, irrespective of the outcome. The purpose of a formal close is to ensure that the contact would want to speak to you again in the future.
Technique:
Ask contacts if there's anything they'd like your help with. If they have made special requests, repeat them to confirm.
If they have committed to contribute, thank them for their support and end the call by reminding them of the larger purpose. If not, thank them for their time.
Average time: <20 seconds.
Sample closing for contacts who won't be donating right away:
As we discussed, I'll be sending the details of our organization and this cause to your email ID. Can you confirm if this is the right ID? [email protected]
That's correct.
Great. Is there anything else I can help you with, Mr. Rose?
Not for now.
Okay. Thank you for your time! I hope you consider contributing to our fundraiser. Have a nice day ahead.
Related Reading: Political Phone Banking – The Only Guide You Need to Get Started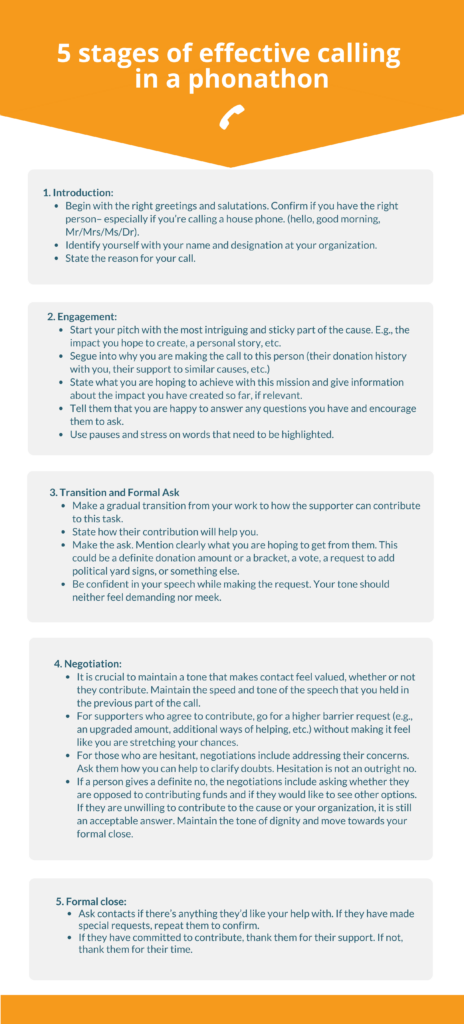 Sample phonathon scripts for different contact types
Phonathons usually target four types of donors and supporters:
Strong supporters
Lapsed supporters
On-the-fence supporters
Prospects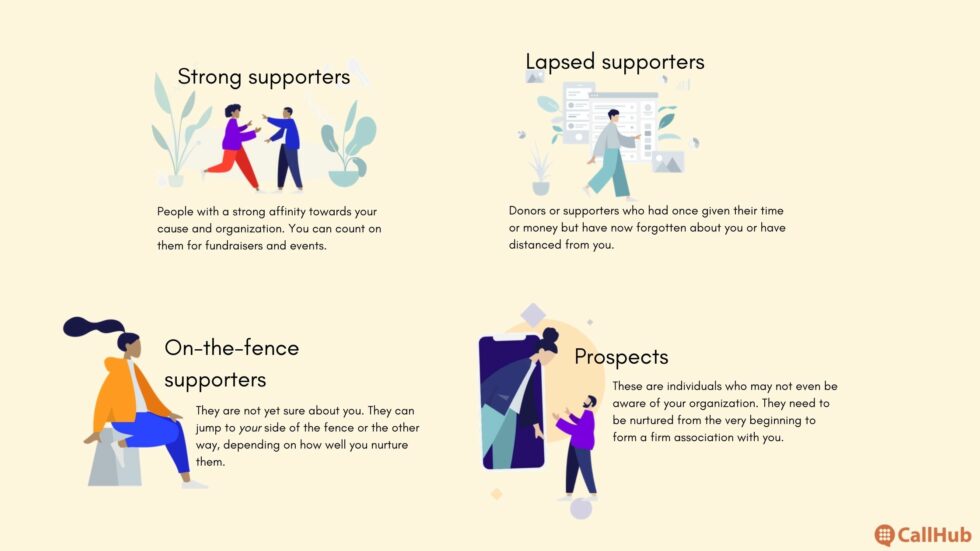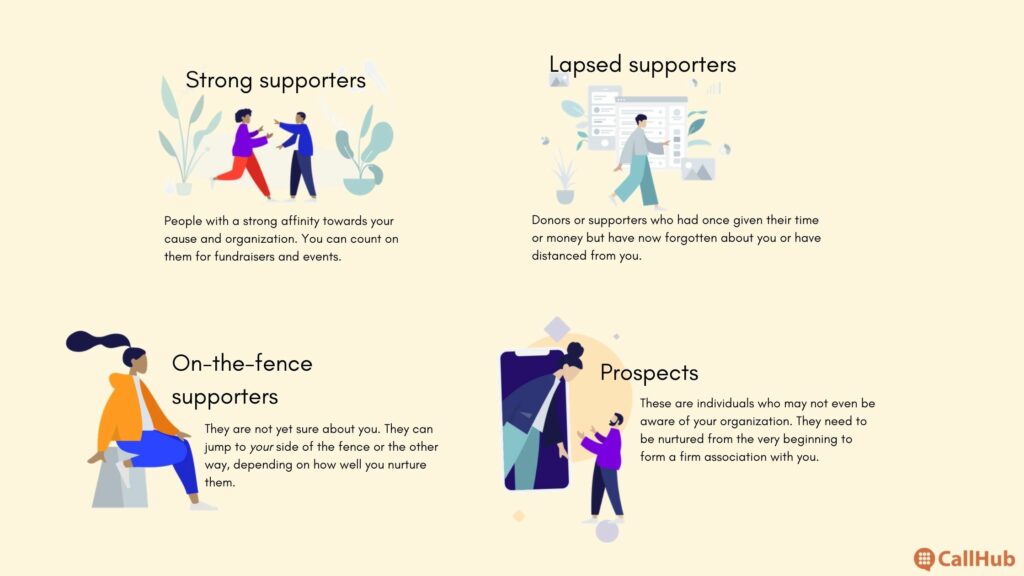 Having the same script for these different types of supporters will make the conversation feel impersonal and robotic. It is thus essential to draft different scripts for each. Let's look at some phonathon script templates that cater to each type of supporter.
Each of these templates caters to a different scenario (a mix of scenarios catering to nonprofits, political campaigns and advocacy groups). You are free to use them as is. So, choose a phonathon software that's flexible enough to accommodate your scripts, while letting you edit them as required. For alternate scenarios, you can take inspiration from other scripts or draft an original one to tweak the formal ask.
Related Reading: Only the Most Valuable 10 Phonathon Tips for Your Next Telephone Fundraiser
Strong supporters
They include people who have repeatedly donated, voted, volunteered, or attended events. They are most likely to continue this support and require special attention, so they feel valued.
Fundraising phonathon script for strong supporters:
Hello [salutations, first name], I am [name of agent], calling on behalf of the [organization name]. Is this a good time to talk?

We are running a [mission name and introduction], with the aim of raising [amount]. You have been a generous and loyal contributor to our causes in the past. We appreciate and value your association with us. I was hoping to speak to you regarding this fundraiser as well and wanted to know if you'd be happy to contribute?

Seeing that you have been comfortable making major donations in the past, can you contribute [dollar amount] for the current fundraiser?

We would also love for you to spread the word about our cause among your friends and family who would like to join you and support us. Can I share a link with you that you can then forward to your friends?

Your support is appreciated as usual, [salutations, first name]. I will keep you up to date with the progress of the cause. Thank you and have a nice day!
Lapsed supporters
The two types of lapsed donors or supporters are LYBUNT (supported Last Year But Unfortunately Not This and SYBUNT (supported Some Year But Unfortunately Not This). You want to show them that you value them and urge them to restart their relationship with you. Lapsed donors are included in phonathons with the aim of donor retention.
Phonathon script template for event invites catering tolapsed supporters:
Greetings, [salutations, first name], I am [agent name], a [designation] at [organization]. Can you spare two minutes to talk about our upcoming event?
[salutations, name], you had last helped us with [cause name] in [year]. We haven't heard from you since and I was wondering if there's a concern I can address.
[Listen to the concern, answer in the best possible capacity. If the concern is addressed and the supporter feels comfortable restarting support, follow the next part of the script]
So, we have an upcoming event on the [date]. [Describe the event]. Would you like to be a part of it and join our donors in celebrating the great work that we have done over the past few years?
I'll confirm your presence. Do you want to bring a guest?
You'll receive an email shortly with more details about the event. Glad to have you back! Have a great day ahead.
On-the-fence supporters
Such supporters have severe concerns and questions regarding your cause or organization. Texting or emailing them wouldn't be enough to convince them. They would require more in-depth conversations, so they are on the phonathon list.
Phone banking script template for undecided supporters:
Hi, I am [agent name], calling from the Turner campaign. Am I speaking with [first name]?
The elections are very close, [first name]. Are you planning to vote for Mr Turner?
[Not sure]
Do you have any particular concerns holding you back? Mr Turner has done some great work in his tenure as a Mayor [list accomplishments]. He is also taking on the cause of free markets, subsidized higher education and state social welfare for the marginalized communities.
[Listen to the concerns, address them]
Thank you so much for your time. I do hope you consider voting for Mr Turner. Have a good day!
Prospects
Cold calling supporters is tricky but a necessary part of phonathons. New prospects are added to phonathon lists so you can have a detailed, open-ended conversation with them and motivate them to support you.
Need tips on getting a list of prospects? Read List building– New inbound marketing channels you cannot ignore!
Cold-calling script template to get donations from prospects:
Good morning/evening [salutations, name]. I am [agent name], calling from the [organization name]. Is this a good time to talk?
Our records show that you have registered with us last year and I wanted to verify some information. [List contact information/address changes or other information to verify]
Thank you for confirming! You haven't yet donated time or money to [organization name], is that right?
Is there any particular concern holding you back?
[Address concerns, if any].
We are currently running a campaign for [introduce campaign with the impact you want to create]. Would you like to contribute to it?
Thank you for your time! We appreciate your relationship with us.
Phonathons are not nurturing events catering to a small group of supporters. Rather, they are a rapid-fire session that aims to cover as many contacts as possible. Great scripts help you manage the tedious hours of continuous talking and your phonathon software should accommodate that.
Of the people filtered in as contacts for a phonathon, perhaps the trickiest are cold-calls to prospects. Unlike existing donors, they have very low engagement with your organization and require the most nurturing. Conduct mock calls so your volunteers are well prepared for the live one. Mock calls let your volunteers practice these scripts a number of times and get acquainted to have a naturally-flowing conversation.
While you're at it, consider different donor personas to think of the possible questions they may have for your volunteers.
If you are stuck at writing a script for fundraising cold calls, look no further. Read How to write the easiest Fundraising Cold Call Script (Samples Included).
Feature Image Source: Wulan Sari/Unsplash.