You need church management software that can help you maintain your ever-growing community.
That means it should enable you to:
Collect and store important data points on your congregation members.
Have this data synced between multiple tools.
Segment messaging to communicate with parts of your congregation.
In addition, there are plenty of tools out there that offer specialized services for churches, such as contribution management, presentations, and event management.
Once you start using church management software along with other tools, you will find them indispensable.
We have compiled the best tools available for churches and other faith-based organizations in this list, along with key features that can help convince your leadership to get on board.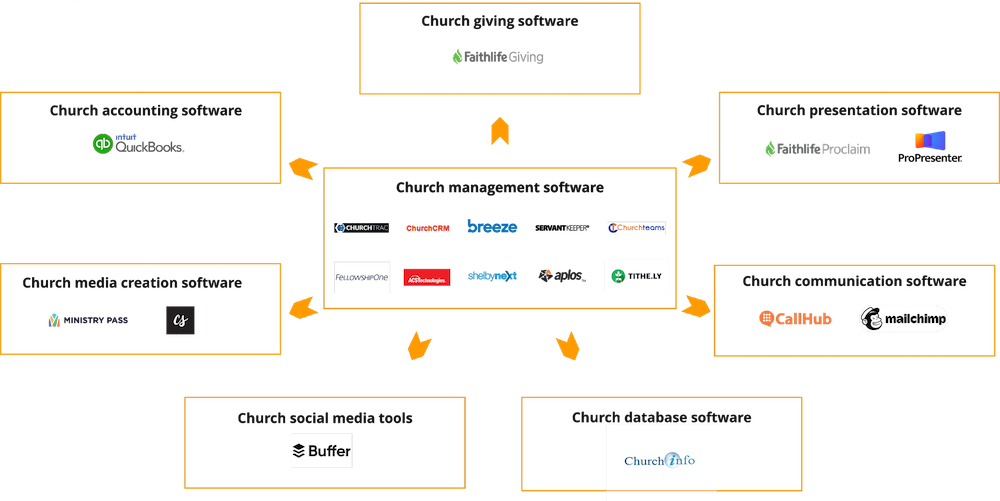 Church management software
A church management software platform is intended to provide everything you need to run your church under one roof. That means they can often handle community databases, events, presentations, accounting, donations, and membership. If you're looking for specialized tools, scroll down.
Features of church management software
Most if not all the tools we mention will help you:

– Record member data
– Schedule committees and events
– Streamline communication with your staff and congregation
– Manage contributions Assist with accounting
– Manage volunteers' schedules
– Track event check-ins
Let's take a look at these tools in detail: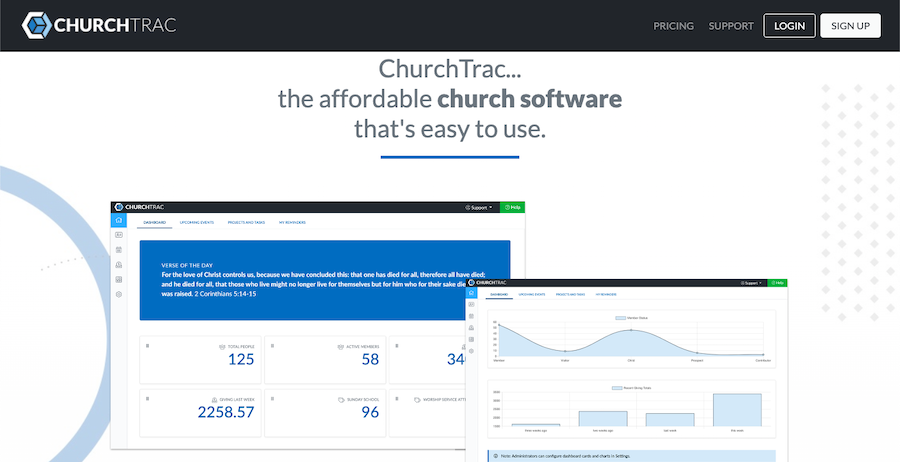 Providing software for churches since 2002, ChurchTrac aims to be an affordable and easy-to-use software for faith-based organizations. The monthly subscription comes with tools for volunteer management and scheduling, budgeting, attendance tracking, worship planning, and more.
Notable features
Share Announcements and show upcoming events with Church Connect
Manage your song library
Track spending for your ministry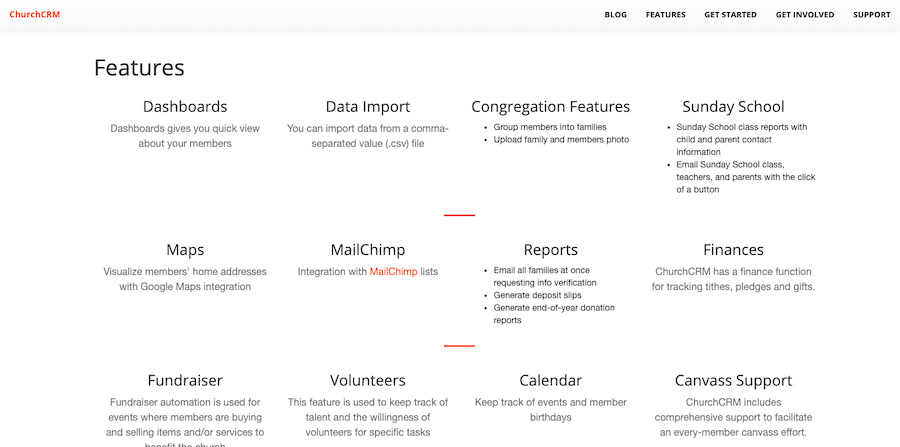 ChurchCRM is a free and open-source church management software. Since it's open-source, you will need some technical knowledge to set it up and run it. It offers membership management, calendar, finances, fundraisers, and volunteer management.
Notable features
Active developer community.
Accessible from desktop, tablet, and mobile
Integrates with MailChimp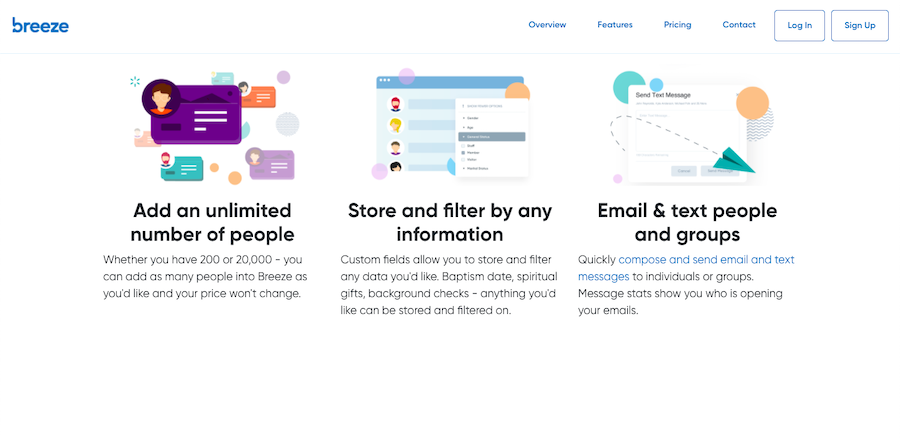 The Breeze church management software is, as the name suggests, a breeze to use. It offers an easy to use UI on both the admin and the user side. Among other features, Breeze offers database management, online and text giving, reports, and event and volunteer management.
Notable features
Online giving reports
Bulk data import for easy setup
Add tags to volunteers and event attendees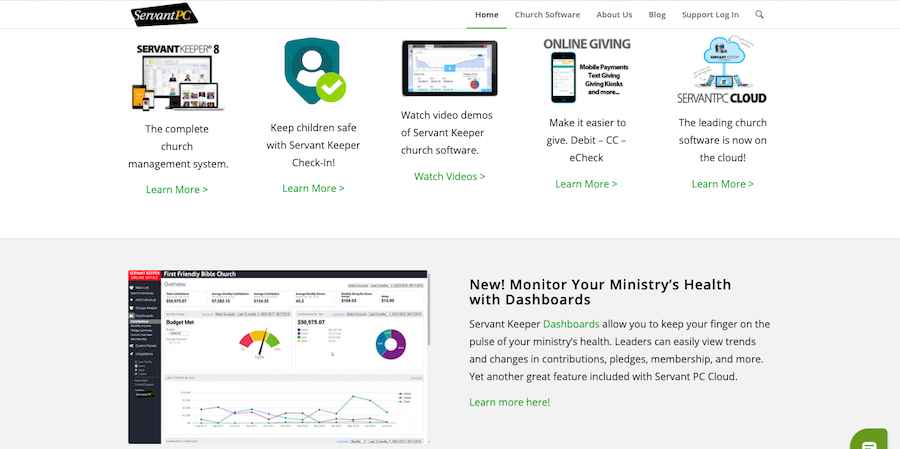 A cloud-based software, Servant Keeper offers a standard range of tools for churches such as tracking donations and pledges to managing members, groups, and visitors. The Support Desk allows for easy access to troubleshooting. Servant Keeper offers additional modules that can be installed if required.
Notable features
Multiple online giving options
Customizable interface
Automatic zip code and age calculation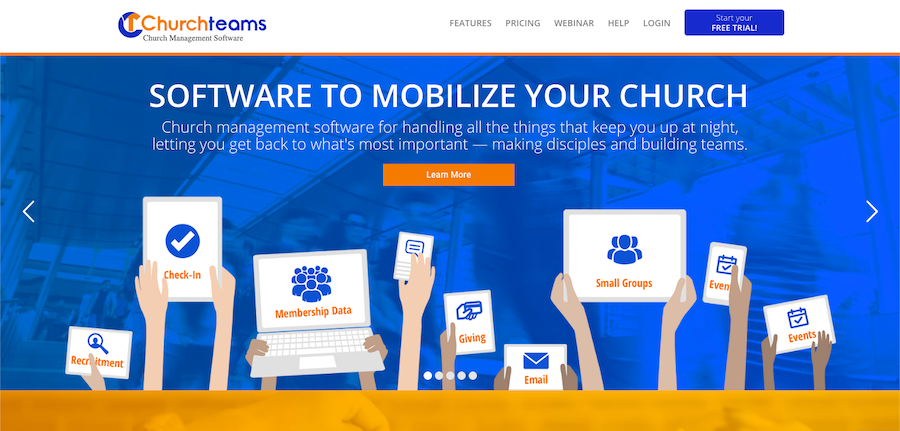 The Churchteams church management system is based on group membership. New people added to the tool are assigned to one or more groups defined by an admin. e.g., ministry team, Sunday school, event volunteer. The new contact then receives communications sent to that group.
It also offers event check-in, membership management, mass communications, and contributions management, among other features.
Notable features
Online giving and text to give
Available on mobile platforms
Custom fields for the database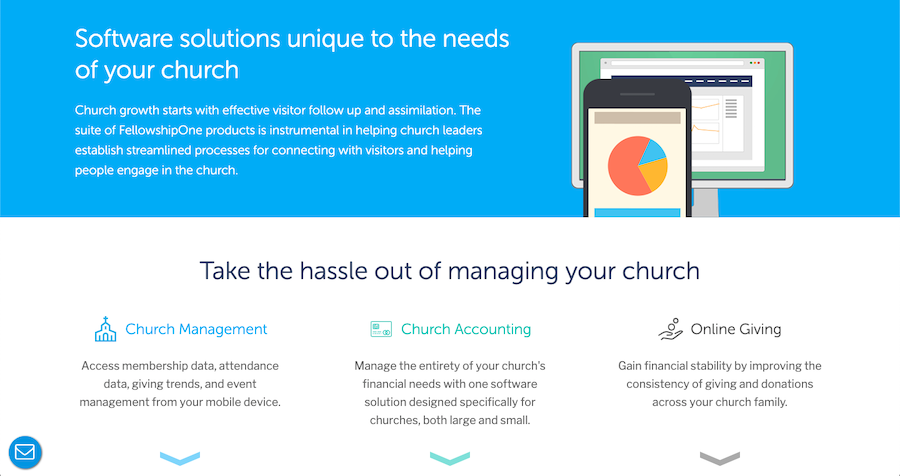 Like some others, it is a web-based church management software, meaning you don't need a server or app on your computer to use it. The tool offers custom attributes, lets you create shareable people lists, and allows for easy-to-create web forms.
Notable features
Pull customized reports
Congregant info based on visitor cards
Streamlined child check-in process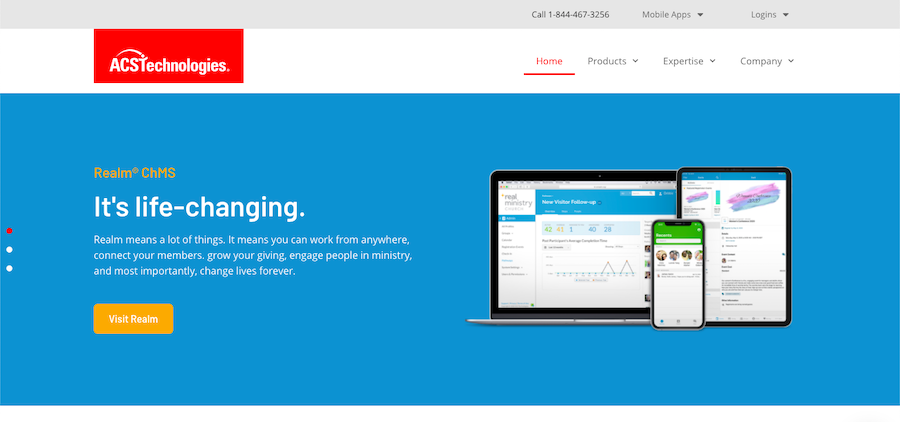 The Realm church management software from ACS keeps your database updated as your congregation interacts with you online. With the Connect mobile app, you can call members of your group from your cell phone. In addition, it allows you to track member involvement, review giving trends, manage small groups, and more.
Notable features
Pricing is based on average weekly attendance
Cross-functional platform
View check-in activity in real-time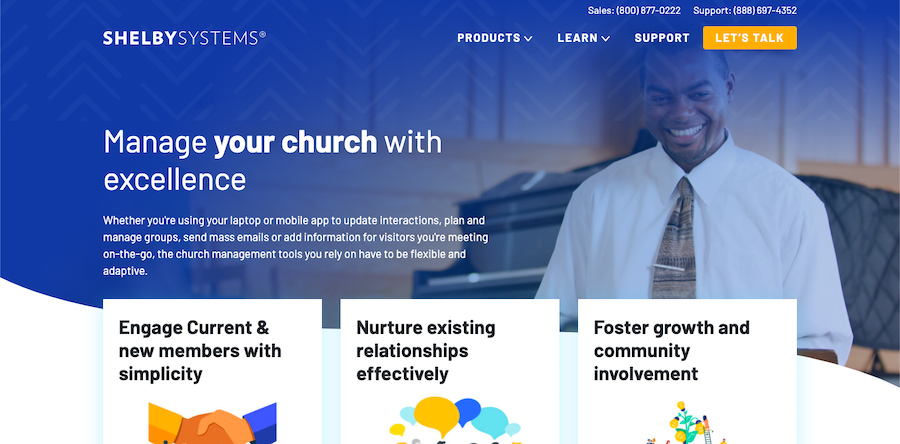 ShelbyNext lets you easily enter, edit, combine, or delete member records. That means you can create a more personalized portfolio for each of your congregants without a hitch. Track congregant attendance, giving, small groups, classes, and prayer requests in real-time. Targeted toward large churches, the solution has over 200 active members.
Notable features
Manage and communicate through groups
Flexible pricing
Communication tools include SMS and email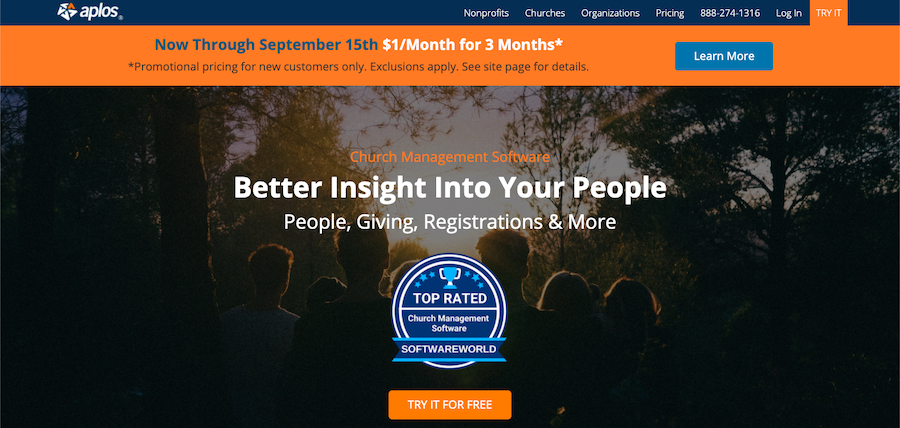 Aplos is another cloud-based church management software. That means all database entries are automatically saved and easy to correct or delete. Keeping finances for multiple user accounts and member data is simple. Since it works on the cloud, you can access it from anywhere.
Notable features
Automatic tithe tracking
Add a donation widget to your site
Online ticket sales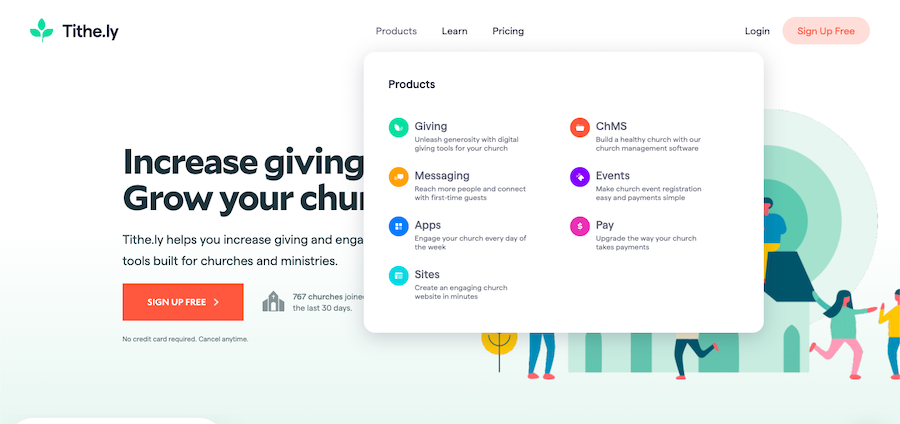 Tithe.ly has a free option for churches who are only looking to make use of minimal tools. That means it's a great option for churches that are looking for their first church management platform. The competitive pricing for it's paid subscription is also an advantage for small churches on a budget.
Notable features
Easy to set up and get running
Modern, sleek UI
Easy group management
Church management software comparison
Church giving software (church contributions software)
Since donations are such an important aspect of church management, you will find that most church management software platforms have integrated donations into their tool.
But, if you are looking for a specialized tool, take a look at: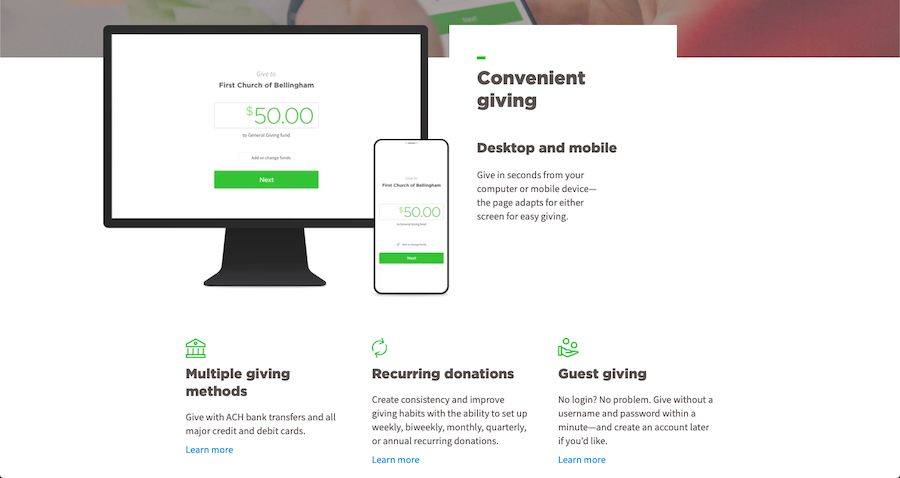 Faithlife is a church contributions software platform that offers a range of options for users and donors to customize the contribution process. It allows donors multiple giving methods
such as ACH bank transfer, all major credit and debit cards, and text to give.
Notable features
Allow giving without a username or password
Giving calculator
Set up recurring donations
Explore the top 17 donation tools for nonprofits
Church database software
The church database with all your congregation and volunteer information is another integral part of your church management process. That means all of the church management software tools listed above are going to have this functionality.
If you are looking for a tool that just offers church database management, with no other frills, take a look at: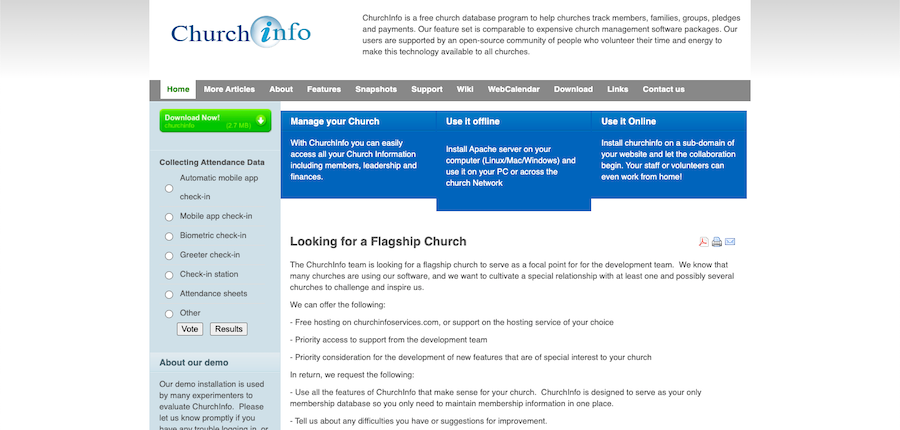 Churchinfo is a free and open-source church database program that helps churches track members, families, groups, pledges, and payments. The features they offer for database management are comparable to paid church management software packages.
Notable features
Open source developer community
Runs on any server that supports PHP and MySQL
Add permission to access financial data
Church accounting software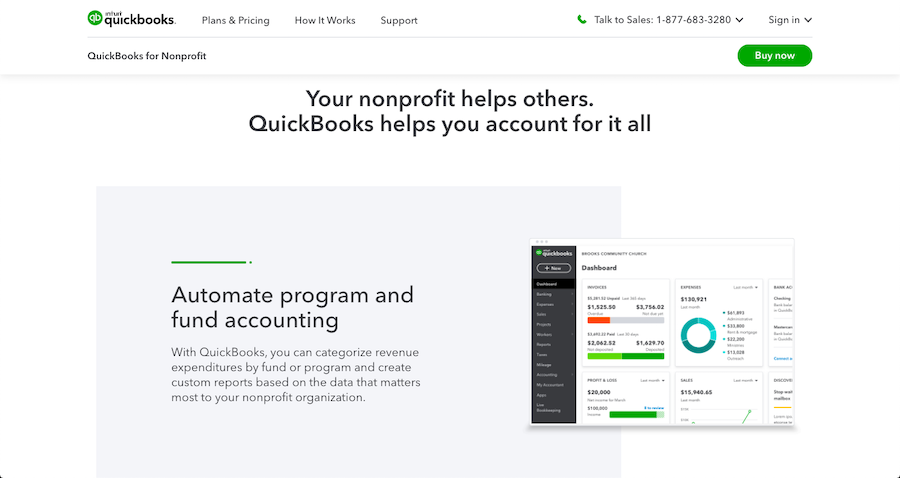 QuickBooks helps nonprofit organizations like churches keep track of donations, invoicing, bookkeeping, and all their accounting needs. You can import transaction details from other apps, such as Fundly or DonorPerfect.
Notable features
Print reports in a few clicks
Automate reports to be emailed to your team
Church presentation software
Present and conduct sermons online with church presentation software.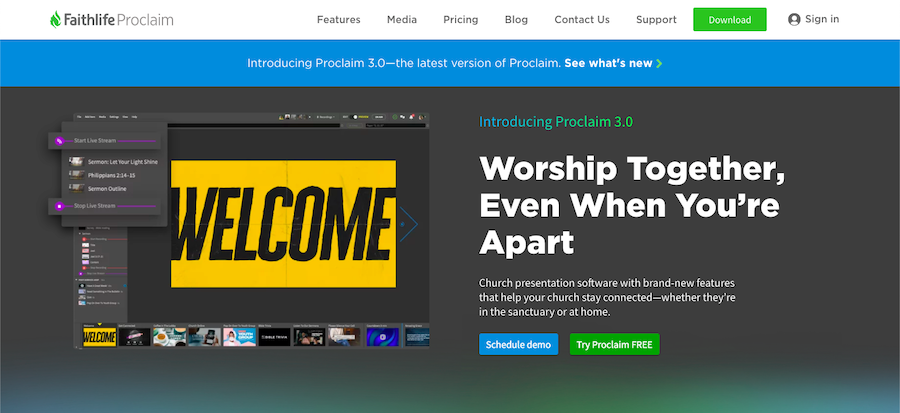 You don't have to be a tech wizard to use Proclaim for your church presentations. Proclaim combines ministry focused features with easy to use presentation designs. You can integrate your work subscriptions, Bible versions in scripture, and song lyrics within the software. Cut down the time needed to juggle tools like Illustrator, Photoshop, and PowerPoint with this integrated tool.
Notable features
An on-screen Bible
Livestream Proclaim to your live stream provider
Easy to preview changes to slides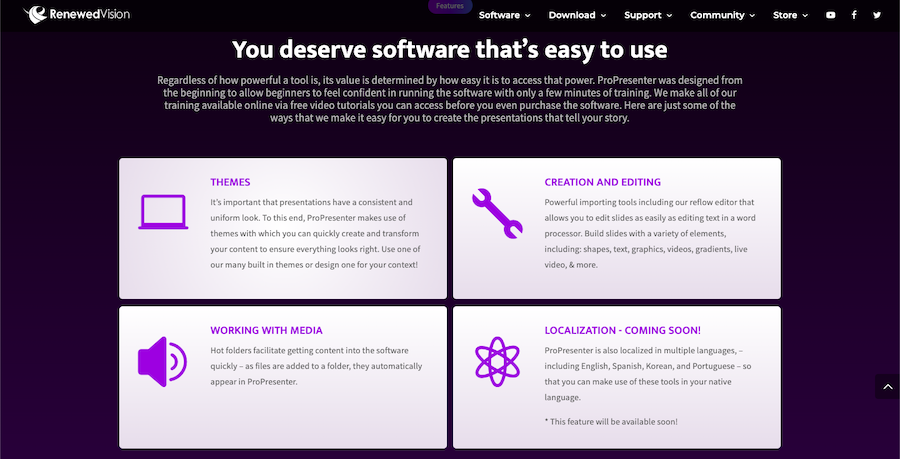 ProPresenter is another live presentation and worship application for churches and schools. You can manage and display lyrics and other media in real-time.
You can present the scripture slides through a number of output methods and control it all from a centralized interface.
Notable features
High-quality slide transitions
Access to dozens of Bible translations
Import lyrics and worship songs
Church media creation software
Searching for and creating images and other media that you want for your ministry can be a hassle. Especially when it is a large part of keeping your congregation engaged.
Here are some tools that can help you create media for your church presentations.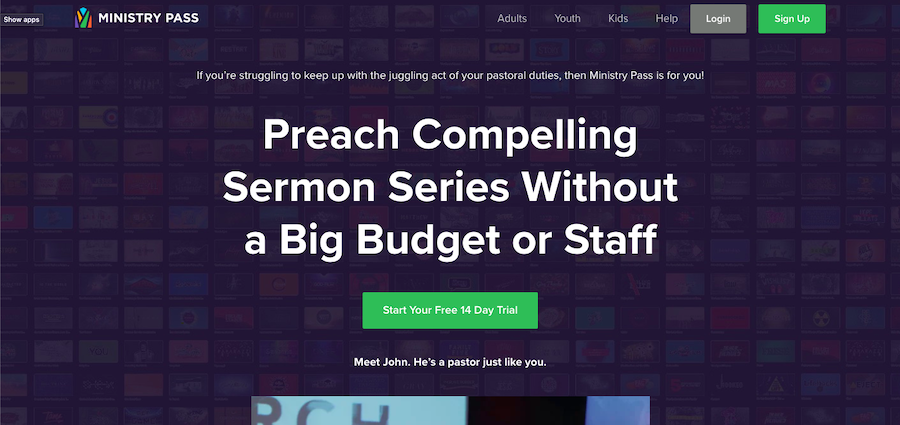 Ministry Pass is a media service that offers sermon series, Bible book series, sermon illustrations, announcements, countdown videos, and sermon calendars for adults, youth, and kids. They have over 500 completed sermon series in their database.
Notable features
Create a lesson plan with their sermon calendars
Large illustration library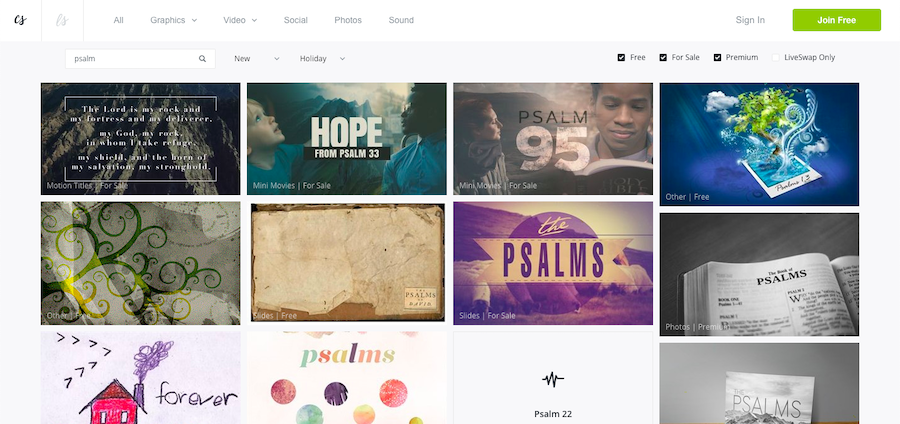 CreationSwap offers images that are ready to use for your sermons, website, or social media posts. This is a cost-effective way to save a ton of time creating graphics and make it easy to communicate with media.
Notable features
Wide collection of images, videos, and audio
Church communication software
When you want to get the word out amongst your congregation, communication software is the best way to do it. Some church management software come with communication tools, but they often do not have the range of customization you need.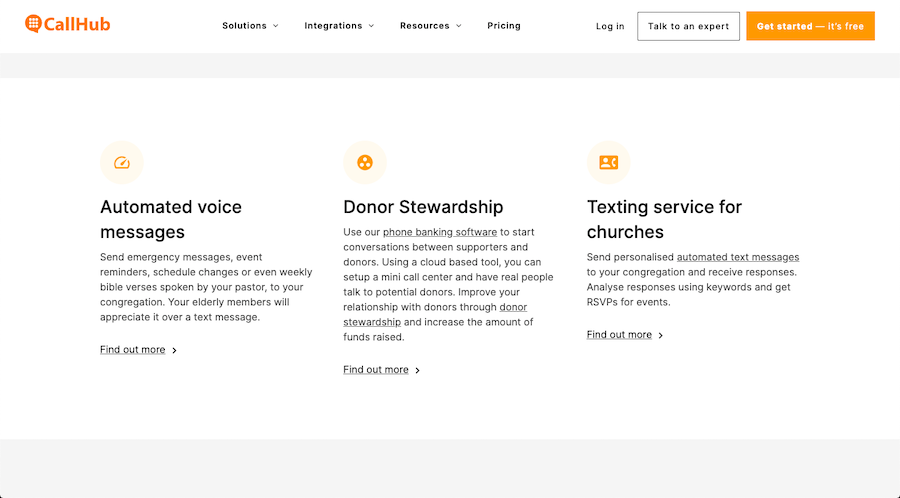 CallHub offers the full suite of calling and texting tools for your church. Run calling campaigns to cultivate your congregation and broadcast urgent updates and reminders with text messages. Personalize your texts if you want to engage members individually. And since it's pay as you go, you only need to pay for each call or text you send out.
Notable features
Peer-to-peer texting for one-to-one conversations with your congregation
Text to give campaigns with SMS opt-in
Send follow-up texts immediately after a call
Church phone tree to reach large audiences
Call center for cultivation calls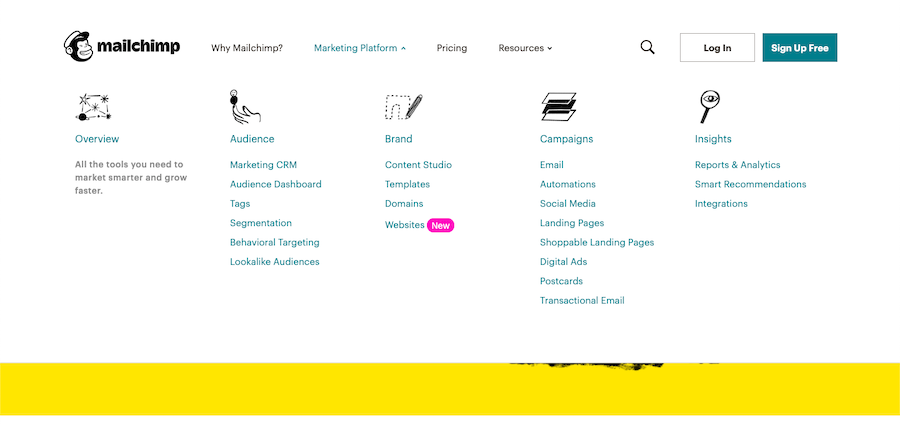 MailChimp is an email tool that allows you to show the newsletter sign-up form on your church's site and automatically enroll subscribers in the list to avoid manual entry. It's great for small organizations because it's so easy to set up a campaign and hit go.
Notable features
Customize emails with contact details
Segment emails to specific congregant groups
Create landing pages to accept donations
If you are looking for a more advanced feature set for email marketing, check out this list.
Church event registration software
Church events are a large part of bringing your community and congregation together. Chances are, your church management software has some rudimentary tools for event management, but if your a looking for a more robust tool to get people to your event, take a look at: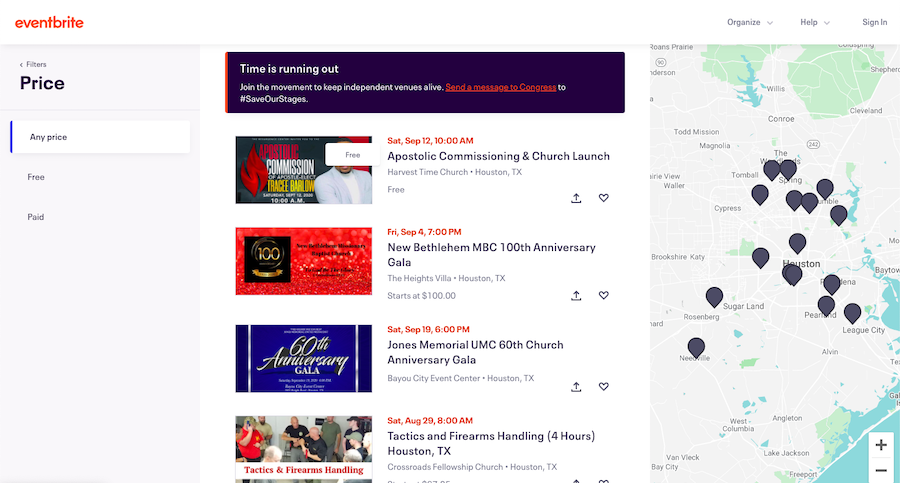 Eventbrite is a highly popular tool for event registration. Why should your church use it? One, it's an established tool, which means you will have all the features you need at your disposal and more. More importantly, it is free to use if you are hosting an event that is not charging for tickets.
Notable features
Integration with Facebook events
Responsive web platform
Send personalized email invitations
Church social media tools
Social media is a great platform to keep your congregation engaged and up to date on happenings in your church. Unlike some of the others that we mentioned, tools for social media are often not part of church management software.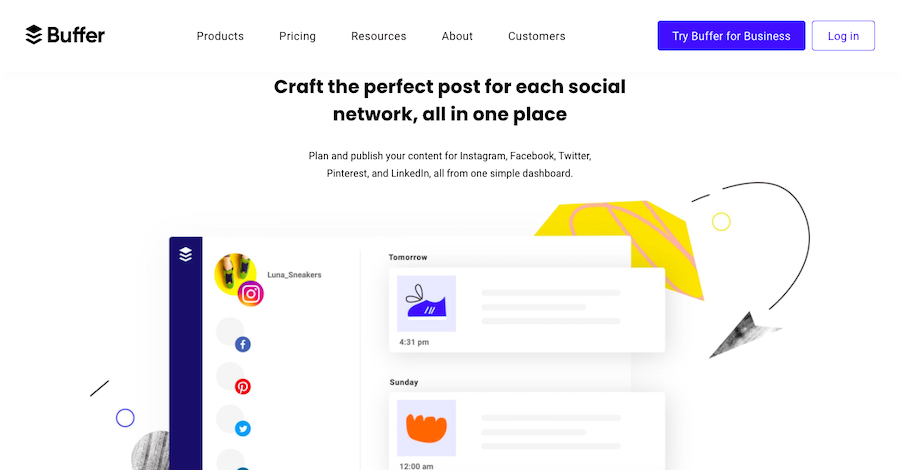 Buffer is a tool that primarily allows you to schedule social media posts in advance. In addition, you can analyze results from your social media campaigns. Your church can benefit by scheduling posts weeks or even months in advance and free up mental space for other tasks.
Notable features
Schedule posts on all major social media platforms
Very easy to get started
Free option available
Read Next: 5 Steps to Building a Fool-proof Church Social Media Strategy
Benefits of Church Software
The question might still remain. Is it worth it to invest in church management software or multiple tools?
Here are some benefits to consider to help you answer that question:
It saves time
The software helps automate multiple processes for your church, meaning you save plenty of time in the long run.
For example, if you're running a calling campaign to invite congregants to an event, a calling tool can help you by automating the dialing process. You would no longer have to manually dial numbers and use spreadsheets to keep track of who you're reaching out to.
Better volunteer management
You can keep track of your staff and volunteers as well as create schedules with the help of a tool. That means you can get the most out of your volunteers.
If you're hosting an event at your church, for example, you can send alerts to volunteers through emails, calls, and texts detailing their tasks.
Keep your congregation engaged
Consistent communication keeps your congregation involved with your church and lets you develop stronger bonds in your community. A software tool can help you manage your outreach to your congregation.
A weekly text message sharing photos, videos, and even audio clips from your pastor can help keep your congregation engaged.
Easy financial reporting
Having all contact information, member details, records of collection, financial reports, and other important files and documents in one accessible location makes it easy when tax season comes in.
Donors often want documentation when filing tax returns at the end of the year, and a church management or accounting software can help you make sure these docs are at hand at all times.
---
Once you know what you want out of your church management software, this list should give you a head start to maintaining and growing your congregation.