In 2017 16% of all total giving was contributed by Foundations. This is excellent news because it means nonprofit grants still remain a critical means of diversifying income for most organizations.
Unfortunately, receiving nonprofit grants is immensely tricky. On average, the success rate of grant proposals is around 30%, making it hard for charitable organizations to tap into the resource with ease.
One way to overcome this challenge is to have a clearer understanding of the various nonprofit grants and learn how to find them. This post can help you there.
We will take a closer look at what nonprofit grants exactly are, the advantages they bring, and how you can find the right grant for your cause.
What is a grant?
Grants are non-repayable financial aid offered by Governments, Foundations, and local bodies (grantees) to help organizations achieve their goals. It could be towards a specific program, a project, or the organization as a whole.
Grants can also be given as subsidy or in kind. However, the most popular (and widely accepted), means of charitable revenue for nonprofit organizations is a financial donation.
Grant eligibility criteria
It should be noted that a lot of grant-making organizations (Foundations in particular), award grants only to those nonprofits that have 501(C)(3) status.
The 501(C)(3) status means that the Internal Revenue Service (IRS) of the United States recognizes the organization as a public charity and gives it tax-exempt status. Typically, organizations have a 501(C)(3) determination letter from the IRS stating the same, and they include it in grant proposals.
For an organization to be classified as a nonprofit (at least in the US), it must meet the following criteria:
It should be registered with the state government to do business within the state
Does charitable work
Have tax-exempt status from the IRS
These are just the basic eligibility requirements for an organization to consider an application. Apart from this, every grant-making authority has its own set of eligibility requirements that you may have to assess on a case by case basis.
Advantages of grant funding for nonprofits
On average 2700 grant applications are made every day. Less than 200 of them get funded. Such fierce competition can make it disheartening for organizations, who then decide to stick to other sources of funding.
Despite these challenges, taking the effort to apply for grants is worth it because of the immense advantages it comes with.
When a grant is approved, yes, it helps your funding, but here are 4 intrinsic benefits it brings along:
"Free-Money" – Funding from grants is attractive because it comes with limited strings attached. Depending on the kind of grant bestowed, the condition could be using it for a specific purpose (only capacity building). This, in turn, gives charitable organizations a lot of leeway in how they can use the funds.
Visibility & credibility – Getting a grant bestowed is also a symbol of trust. It shows the world that a prestigious organization believes in the work that the nonprofit does and is willing to back it. Such a public and open gesture further helps your organization win donors trust and increases your credibility with other stakeholders.
Get one, get them all – Usually getting the first grant is the most difficult. It will mean a series of close checks by the grant-making body and a lot of failed attempts. However, even one grant is the proverbial foot in the door. It paves the way for getting more grants from the same organization (and others).
Steady/ 'plannable' income – The most significant advantage of grant funding is that it is dependable income. That is, your organization is assured that it will have $X thousand to spend towards capacity building next year. This may not always be possible with other fundraising efforts (e.g. event fundraising).
To sum up, obtaining a grant for your organization is a lot of hard work. However, in the long run, it is definitely worth the effort.
Types of nonprofit grants
There are two ways to classify nonprofit grants:
1. Based on the source of the funds
The grant could come from the Government, a Foundation, a corporation, or even be part of Federated funds.
2. Based on how the money will be used
Capital grants, capacity building grants, IT/software grants, and general operational grants determine how the funds are utilized in your project.
If you are looking for financial aid to build a new shelter in town (and better fulfill your mission), you can appeal to the local government for aid. Or, you can also approach Foundations and specifically apply for capital grants for this project.
Here is a snapshot of the classification of grants based on the source of funds:
S. No.
Type of grant
Classification details
1.
Government grants
– Federal grants
– State grants
– Local grants
2.
Foundation grants
– Family foundations
– Private foundations
– Public foundations
– Community funds
3.
Corporate grants
– Ad grants
– Organization grants (as part of corporate social responsibility)
– Personnel grants
4.
Federated funds
– Community chests
– Workplace contribution by employees
To get a clearer idea of the various types of grants, check out our detailed article on types of nonprofit grants.
The idea behind understanding these types of grants is just to become better equipped to find the right grant that suits your requirements.
It will also help you assess your eligibility requirements for a said grant. For instance, you can know right off the bat that applying for an IT/software grant from a Foundation cannot help you with your new building project.
How to know if your organization is ready for grants
In 2017, 70% of charitable donations came from individual donors – making grant funding a distant second.
For your nonprofit organization, it means that you do not have to compulsorily opt for grant funding.
Applying for grants is a tiring and resource-intensive process. So here are certain self-checks you can make before beginning.
Can you spare the necessary resources to see the grant application through?
Does your organization (or the program) meet the grant conditions?
Will the grant money come with 'strings attached' that would distract you from your primary objective?
Is the grant in line with your organization's mission and vision statements?
Why do you need the funding (for credibility? Or do you genuinely think your small-donor fundraising cannot meet your requirements?)
Do you have past experience of applying for the same (or any) grant? How did it go?
Can your organization research, apply, and track grant applications without distracting from the primary objective?
The answers to these questions will give you a good idea of where your organization stands and whether your grant application exercise will result in a net gain.
If you think grant funding may not be your cup of tea just yet, here are some other ways to diversify fundraising for your nonprofit:
Online fundraising ideas to get inspired by organizations who have nailed it
Unique fundraising ideas for your non-profit (think beyond boring events)
Bring back lapsed donors and unlock a new source of funding for your organization
Donor retention strategy to demystify why your donors leave and make them stick
Ultimate nonprofit fundraising guide for an exhaustive list of how you can improve fundraising
Telephone fundraising to reach your donors and request a donation
Where to find grants for nonprofits (grant sources)
Once you are sure your organization is ready to apply for grants, and you know which grants will benefit you the most, the source of your funding body will become more apparent.
This can help you inform your search for grants. In this section, we will look at where (and how) to find grants from your preferred funding source.
Where to find Government grants
The US Federal government distributed $721 billion (about 16% of its budget) to states and localities in the fiscal year 2019. That is the extent of resources available to you, if you decide to opt for this type of grant.
Grants.gov is a searchable database of all Government grants and helps you find what you need. It is managed by the US government. You can either do a simple search from their search box: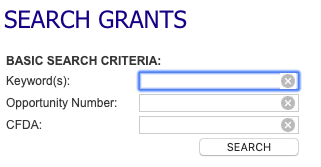 Or, do a more elaborate search that allows you to filter the search based on which agency provides it (e.g. Food and Nutrition), and also eligibility criteria.
Where to find Foundation grants
Foundation grants, in contrast, are tougher to find because 90% of Foundations do not have a website. So if you are determined to opt for a Foundation grant and are struggling to find a database, these sites can help.
1. Foundation Directory Online
A comprehensive database of the 226,000 Foundations in the US, this online directory is hosted by the Foundation Center.
Not only does it tell you about the grant-making organization, it also highlights the past grants and initiatives that have been funded by the grantmaker. This data will definitely inform your grant application process and help you improve it.
2. The Grantsmanship Center
The primary mission of TGCI is to train small charitable organizations and communities to write better grant proposals. Of course, grant writing is better served if the writer has a clear idea of which fund they are targeting.
That is where GrantDomain, their online database of available grants comes in. It allows you to search for all the possible funders and grant opportunities in one place. Using GrantDomain incurs a fee of $495/year. Unless you happen to be their alumni (taken their grant writing training courses), in which case, you can get free access up to 6 months.
3. Community foundation locator
Hosted by the Council on Foundations, this map offers a list of foundations spread over the map of the US. You can zoom in on a particular area and check out the Foundations that provide grants within that geography.
The Foundations listed here are accredited with community foundations on the National Standards for the US Community Foundations.
Where to find Corporate grants
As part of their Corporate Social Responsibility, a lot of corporations have a dedicated Foundation for donating grants to charitable organizations. Though they are in no way 'easier' to get, corporate grants can come with lesser competition (as a lot of small businesses may not be eligible to apply for them).
1. Corporate Grants Guide
Helps you find all the Corporate funding opportunities in one place. It gives you up to date information about Corporates that have started new programs (e.g. Starbucks starting a COVID-19 related funding), and also gives you a breakdown of grants by deadline.
Both these classifications can help you identify which grants to apply for (and when).
2. Google grants
Apart from Google org funding or Google Ad grants, you can also come across great funding opportunities via the Google SERP. Trite, but true.
It will show you relevant and personalized grants search results that can help you pick the right opportunity for your nonprofit.
3. Fundraiser Help
It gives a list of corporate grants sources that includes the big players like 3M and Coca-cola.
Where to find general grants
If you are unsure of which type of grant to apply for, and want to take a look at all possible opportunities, this list can help.
1. GrantWatch
When looking for grant funding for your nonprofit, your watch never ends. It needs you to keep abreast of the latest grant opportunities and deadlines so that you can diversify your income. GrantWatch has a list of (currently 4499) grant opportunities that can help you there.


You can search their database for grants based on location, or a specific category you are interested in.
2. Grantgopher
Grantgopher is a no-fuss search engine that is focused solely on grant opportunities for nonprofits, schools, and municipalities. Started in 2006, it allows you to refine your search based on county, program, and keywords (if any). It charges a minimum fee of $9/month for more detailed search information.
3. The Chronicle of Philanthropy database
The Chronicle of Philanthropy has partnered with GrantStation to showcase the various grant opportunities and criteria for organizations. It has a list of:
Private grantmakers,
International grantmakers,
Federal deadlines,
Links to state funding agencies
This database is available only upon subscription (that is free).
4. Instrumentl
Instrumentl is a platform exclusively for charitable organizations to research, discover, and track various grant opportunities they are interested in. Their online list of grants are classified according to geographic area, and also by focus area.
5. Nonprofit Expert
Gives you a list of International grants (from the perspective of a US-based nonprofit). It also gives you some necessary information on the eligibility criteria for each grant, and the type of initiatives they can fund – to help charitable organizations make an informed decision on selecting the grant they need.
6. COVID-19 specific grants
A lot of Foundations, corporates, and grant-making organizations are putting aside funds to exclusively help relief efforts for the COVID-19 pandemic. Global Giving has a comprehensive list of COVID-19 specific available grants. The eligibility criteria for each of these grants (and the grant as such) differs.
How to apply for grants for your nonprofit
The process of obtaining grants for nonprofits seems straightforward in theory.
Decide on which grant to apply for (search for it from above resources)
Apply for the grant – see if a grant writer can help you out.
Get it and use it to further your cause
In reality, it is rarely that simple and definitely not easy. Competition is stiff, and it can be harrowing to navigate the paperwork for grant applications.
That is why we have put together a few tips that can help you succeed.
5 tips to winning a grant proposal
1. Align your mission
During the research phase, check if your nonprofit's mission statement is aligned with the objective of the grant organization (or the specific grant).
2. Start local (and then apply for federal)
Local grants are relatively easier to get. As a community/organization, your cause has more visibility locally, thus enabling you to make a better case for the authorities. As we already saw, getting local funding could further boost your credibility and make it easier for you to win Federal grants.
3. Plan your budget
The idea of having a clear budget plan is so that you can earmark which projects will need funding – and then apply for grants exclusively to fit that requirement. A clear breakdown of your budget also helps you justify to the grant making bodies how, what and where you will spend the grant money (when you receive it).
4. Re-check eligibility (and other requirements)
Grant criteria vary drastically from one organization to another. So ensure that you double and triple check legal and (sometimes organizational) requirements before submitting your application.
5. Demonstrate success
The government, corporates, and Foundations insist on charitable organizations presenting them with 'demonstrable' impact of their programs. It helps the grant-making bodies understand precisely how their money will be spent and what effect it can bring. This knowledge helps them decide which organization to bestow their donation to.
Grant proposals consume a lot of your resources – in terms of time, effort, and money. It also requires considerable investment from the grant-making organization to go through every application before deciding on the right organization.
So it would be in everyone's best interests to file an application that is well thought out and is not rejected based on errors that can be avoided.
What to do after getting grant funding
Applying and receiving a grant is just the start of the process. Maybe for your fundraising team (or grant application team), the job ends there. For your nonprofit, the journey is just beginning.
Keep in mind that how wisely you spend this money makes an impact on future grant (and funding) opportunities. So, here is a quick outline of how you can maximize this opportunity and make it more than just a fiscal benefit.
1. Talk about it on social media
Get as much visibility as you can from this opportunity. Share it from your company handle, ask board members to share on social media to reach as many people (and new leads) as possible. You can also run PR campaigns on local newspapers to boost credibility for your organization within the community.
2. Meticulously track expenses
Keep a close eye on how the grant money is spent. Record every expense and ensure that your board (or finance team) has access to that information when needed. This will help you later, when you choose to apply for the same (or different) grant.
3. Keep stakeholders updated with impact information
Send updates about how the grant fund has helped you create impact for your cause within your organization. It will convince the board members and big donors about the importance of grant funding and institute organizational changes to make room for more such opportunities
4. Maintain relationships with grant-giving body
Typically a dedicated team of grant reviewers handle the application process within an organization. They are the ones who would sweat over your proposal and see if it is eligible or not. So when your proposal is approved, send them a warm note or a thank you card.
You can also send personal emails to stakeholders in the Foundation with updates on the impact their funds make for your cause.
5. Take the time to build a report
Once the funding period is over, grant-making organizations will request a report to see how the money was used and what impact it brought. Thanks to the tips we have seen so far, you already have this data on hand. You can go the extra mile in this report and add information on short-falls and funding gaps. This data will help you either apply for a higher sum later, or diversify your grant application.
Your turn
There you have it – a comprehensive list of all the essential aspects of nonprofit grants that can get you started in the right direction. Is there something we have missed? Would you like to know more about any specific aspect? Let us know in the comments.
Featured Image source: Andrea Piacquadio