"Whatever community organization, whether it's a women's organization or fighting for racial justice … you will get satisfaction out of doing something to give back to the community that you never get in any other way."

– Ruth Bader Ginsburg
This article covers community organizing strategies. But before we get to that, here's a story you must read about.
What do you do when the only coffee shop in town shuts down? Probably take Shark Tank investor Kevin O'Leary's advice and start making coffee at home, save $2.50 daily, and eventually become a millionaire.
Faced with that situation, here's how a community in Mount Hope, Ontario did better. A coffee shop in the town shut down, depriving the neighborhood of a place to have a quick cuppa and socialize. Harmony of Hope, a local nonprofit, revived that special hangout place and generated a revenue stream for itself.
The people of Harmony of Hope volunteer their time at this brand new cafe, The Coal Bucket Coffee Shop, and provide the community the same space to bond. Their small venture is picking up and now also promotes art, music, and Appalachian culture, not to mention sponsoring their local football team as an "ice-cream partner!"
With no staff to pay and on volunteer time, The Coal Bucket Coffee Shop has been able to create such an impact within two weeks of opening up. That's the power of mobilizing and bringing a community together for a cause.
Whether it is boosting the local community, bringing in critical legislative changes, or lobbying for a cause close to your heart, community organizing is a robust enterprise. This article covers community organizing strategies you can adopt to create the impact a small coffee shop in an Ontario neighborhood did.
Reiterating your purpose to develop community organizing strategies
While dealing with the daily nitty gritty of your job as a community organizer, it is natural to forget the why of strategizing cleverly. With additional stressors such as witnessing or hearing traumatic experiences, compassion fatigue (37.4% of volunteers report high emotional exhaustion on the job), physical exhaustion, and finances that are the reality of working in the public sector, you may forget why you began.
Before we lean into community organizing strategies, let's reiterate why community organizing is essential to start with.
Community organizing drives social change in a three-fold manner–
Empowers the community: Community organizing provides a clear path to take action. It brings people together to identify common problems and interests, collaborate and coalesce, and take collective action to address social, economic, and political issues that affect them.
Gives a voice and sense of agency: Power found in unity allows marginalized and impoverished communities to finally have a say in issues that matter most to them. It shifts their focus from individual helplessness and grants a sense of agency through collective action.
Improves social and economic conditions: People gain more access to decision-making processes and have improved civic engagement and a sense of community and belonging. They can confidently lobby to improve their social and economic conditions with these processes.
With these guiding lights highlighting the purpose of a community organizing effort, we are set to explore strategies.
Influential community organizing strategies
In this section, we go through a cohesive list of plans to build an effective community organizing movement.
These strategies include
Building relationships
Identifying allies
Developing a clear message
Mobilizing volunteers
Establishing local leadership
Engaging in direct action
Using digital tools
Building power
Listening to people
Let's explore these strategies in detail to understand why they are essential.
Building relationships
Bringing a community together requires expanding your network and building your roots within it. People need to know you if they are to trust you to bring change and follow the path you suggest.
You need to be an insider, get to know people, listen to them, and understand their perspectives.
Here's how you can build relationships within a community:
Show up: Go to events and meetings that are important to the community, have a large attendance, or add significant value to the community. The more you attend these events, the more people get used to seeing you around as part of the community. Important events include church gatherings, town hall meetings, and election campaigns.
Volunteer: Volunteering ensures you are in the right place with the right kind of people – people who are also driven to work towards a good cause. Not only that, you are also helping the community and making new connections.
Utilize social media: Figure out the people in your community who are key stakeholders and hold sway over the people. Connect with them through social muild friendships, and gain access to their circle of influence.
Identifying allies
Allies are the people who will be cheering from the stands when you are out there running the race of your life. You get to decide how loud you want that stand to be based on how many people you can persuade to support you.
Allies provide important resources, information, and expertise that can help your community organizing efforts succeed. Resources could include time, finance, space, or introductions to key supporters.
How do you identify allies in your community? You ask yourself these questions–
Who is working on this issue already?
Who is working on an issue closely related to mine?
What are the steps they have taken until now? What are they currently doing?
How is their journey going?
How can you collaborate with them?
Who else is influential and could support you, even if they do not work closely on this issue yet?
What do they gain or lose by supporting me?
The community toolbox has a helpful ally power grid to help you determine how much a potential ally can help your community organizing strategies:
| | | |
| --- | --- | --- |
| Type of Power | Rationale | Example |
| Members: How many members does the group have? | The more members a group has, the less likely it is to be ignored. | A group with 500 members shows up at a school board meeting. |
| Money: Will they donate money to your issue? | Donated money and other resources are always welcome in achieving your group's goals. | The local teachers' union donated money to your group. |
| Credibility: Do they bring exceptional credibility? | A group with strong positive recognition in your community will help bring credibility to your group. | A respected clergyman from a local church speaks on your behalf. |
| Appeal: Do they have a unique appeal? | Some groups of people have universal appeal. If your group connects with them, it will also help your image. | A poster child is used to promote an emotional response. |
| Network: Are they part of an extensive, organized network? | A group with many other groups in its network will have financial resources, credibility, and some political power. | The local chapter of the United Way offers staff support to your group. |
| Reputation: Do they have a reputation for toughness? | Groups with a tough reputation may discourage opponents. | The local law enforcement officers' union says they'll support policy changes for improved safety. |
| Skills: Do they have special abilities? | An ally may bring technical, business, or legal skills to your group. | Smith, Jones, & Brown's law firm donates free legal support. |
| Newsworthy: Are they particularly newsworthy? | Some groups may have a reputation or connections in the media that make them newsworthy. If they align with you, that might give positive media attention to your cause. | An activist group for children's rights that recently won a significant victory offers to provide your group with technical support. |
Developing a clear message
For a community organizing effort to gain potential results, it needs to communicate its goal easily. You need to develop a message that is–
Clear,
Consistent,
Noteworthy,
Inspiring,
Relatable
Goal-oriented
Memorable.
How do you craft such a message?
Identify the exact problem you are trying to solve. Why is it important?
Answer how the community is affected by the same.
Highlight what can be achieved together.
Try the message to your friends and family and get their feedback.
Mobilizing volunteers
There is no community organizing without the community. Volunteers lend their time and efforts to make a difference and showcase the power of many.
However, for volunteers to be attracted to an initiative, they must have solid reasons and a high emotional connection. As a community organizer, it is your job to give them that reason.
Here's how you can mobilize volunteers–
Map out what personal incentives volunteers might have to join your cause. Advertise these causes on social media platforms, posters, or other communications asking volunteers to join.
Offer support and training. Frequently, people might shy away from volunteering opportunities because they do not know what to expect.
Send out a text blast in the community asking for volunteers for your cause. You can also leverage the power of MMS texting to share additional information, posters, or HD videos explaining your movement.
Recruit through current volunteers. Ask volunteers to spread the word. An excellent way to do this is through using relational organizing tools. Through these tools, you can tap into the personal networks of your volunteers and spread the word about volunteering opportunities.
Read Also: The Most Effective Volunteer Recruitment Methods and Tools for Your Cause
Establishing local leadership
As your movement grows, you need to know that one set of leaders cannot handle enormous organizing independently.
From Kennedy to Obama, successful leaders have always encouraged the recruitment of local leaders. However, developing leadership is not easy. You must find people with the same values, approaches, and intentions as the primary leadership for harmonious coordination.
Develop a personal leadership motto and communicate it.
Indicate how you want leaders to take responsibility.
Share the philosophy behind being a leader in your organization.
Understand how potential leaders set goals, share their vision, and inspire others.
Identify what leadership roles you require and the skills required for them.
Understand what type of people are necessary for the leadership team to have a fair representation.
Engaging in direct action
One of the most critical community organizing strategies is engaging in direct action.
Actions such as protests and demonstrations raise awareness and add pressure on decision-makers to make the right choice.
Direct action involves three essential outcomes:
Winning significant results for people.
Making people realize their own power through their victory.
Bringing substantial changes in the power relations between the people, government, corporations, and other key stakeholders.
Here's how to devise a direct-action community organizing strategy:
Brainstorm ideas about what you can do, the project you want to pick up, and how you want to take action.
Establish the goals that you want to achieve through this action.
Mobilize and recruit volunteers that will help you.
Consult a legal team about the actions you will take, their repercussions, and how to safeguard yourself.
Maintain a security culture and share sensitive information only with people you trust.
Be aware of your circumstances during the event. Keep an eye out for unusual activity, such as the arrival of the police or some misbehaving members.
Plan your communications well. Always be in sync with your team members to stay abreast of the situation.
Have an exit strategy so things do not get out of control.
Using digital tools
Community organizing is made extremely easy through digital tools. These tools could include:
Outreach software tools for donor, volunteer, and community outreach. You can use calling and texting tools such as autodialers, peer-to-peer texting, voice broadcast, and more to reach out to people for volunteering, fundraising, and mobilizing.
Social media: 80% of Americans believe social media is a great platform to raise awareness about issues and build a movement. You can run advertisements on social platforms to educate the public about your community organization. Direct interactions with supporters also help build loyalty and support.
However, with social media, the fear is not to promote 'slacktivism' – a term used to describe people active on social platforms but not in real life. To avoid this issue, you can read our article 'Most common reasons for slacktivism and how to motivate people to take action offline.'
Email: According to MailChimp, an email campaign platform, the average email open rates are 27.74% – a solid number for nurturing supporters. With emails, you can set up drip campaigns for interested community members, donors, and allies to ensure they continue supporting you.
A database software: A Customer Relationship Management software ensures all your activity is centralized. From outreach to financial statements – you can keep a record of everything on one platform. From a compliance and legal point of view, it helps you avoid any issues that may crop up, such as a data leak or security breach. From an administrative viewpoint, it helps you eliminate inconsistencies in data and processes.
Website: Creating a website for your community is essential; in addition to posting images and videos of previous rallies and demonstrations, you can also post details of upcoming tasks along with their venues and timelines.
Read Also: Why You Need Customer Relationship Management Software.
Building power
To build a thriving community organizing strategy, you must build power. Building power involves using your resources and mobilizing people to achieve goals. To do this, you need a strong base of supporters, coalitions, allies, and the backing of decision-makers.
Here's how you build power:
Find friends within power ecosystems: These ecosystems include politicians, lobbyists, media persons, and influencers. They are usually people who can make many changes or compel people to bring change just through their participation.
Understand the risks and benefits of collaboration: What do power groups gain or lose by being associated with you? They are not just monetary gains or losses but can extend to power, prestige, support, loyalty, etc.
Add to your supporter base: Absolute numbers have no parallel. You need to raise awareness and bring more people into the fold constantly.
Sort your finances: No power will crumble your organization as quickly as a lack of money. Money gives you access to essential resources to run your organization. Ensure you are well-funded. Run fundraisers through text messages, social media, or your website. Get in touch with people who do not mind funding your cause.
Create exciting events that benefit your community: This step involves gathering people and taking collective action to achieve your mission. It could be staging a rally, going door to door canvassing, holding an event, or calling lawmakers to approve a bill.
Read Also: Nonprofit Fundraising: Strategies & Ideas for Success
Listen to people.
First, you should have an issue in mind that affects a community that you want to help it resolve. This involves talking to people and finding out their concerns and pain points they're facing and would like to fight for (or against). Face-to-face meetings are the most effective as they show people that you genuinely care and act (by achieving the collective end goal).
By listening and talking in person, you gain a fair understanding of the people who want to work towards bettering a situation instead of those who merely want to vent but not work (slacktivism).
Depending on the size of your outreach, use different ways to contact people: go door-knocking if you're targeting a neighborhood or if your community is scattered, use social media to attract people's attention, and set up meeting spots.
Community organizing strategies- Theories and Models through the Ages.
There is no one way to look at community organizing strategies. Over the years, different approaches and methods have gained prominence. Think tanks worldwide have pioneered and led movements that have brought about tremendous change.
This section covers three such approaches to community organizing and the campaigns that spun out of them. Let's dive in.
The Saul Alinsky theory
Saul Alinsky (1909-1972), an American activist and writer, was influential in the community organizing movement. He proposed a ground-up approach to community organizing. He suggested empowering people to take collective action to serve their interests and concerns.
Alinsky's theory emphasizes:
The importance of building relationships,
Developing leadership, and
Mobilizing people to take action.
He stressed on targeting governing bodies, corporate leaders, and decision-makers to bring change using non-violent confrontation and direct action.
Below are popular movements that emerged from Alinsky's theory:
Black Lives Matter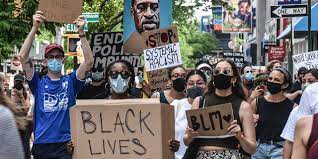 Source: PEW research center
The Black Lives Matter movement stemmed from high racial tension and unjust killings of Black people in America. It was inspired by various activists and theories, along with Saul Alinsky's community organizing theory.
The movement used Direct Action and Grassroots Mobilization, suggested by Alinsky, to fight their discrimination.
The United Farm Workers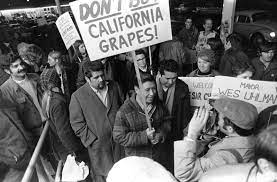 Source: Brittanica
The Founder of the United Farm Workers (UFW) movement, Cesar Chavez was a follower of Saul Alinsky. Chavez used tactics he learned from Alinsky such as boycotts, and direct action to improve the wages and working conditions of farm workers in the United States.
Industrial Areas Foundation (IAF)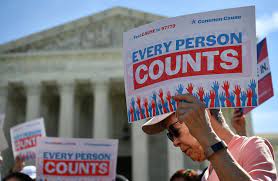 Source: IAF
This movement was founded by Saul Alinsky himself in 1940. It is a network of community organizations and organizers, built to serve movements based on Alinsky's theories.
ACORN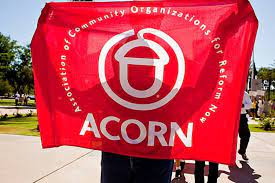 Source: CSMonitor
The Association of Community Organizations for Reform Now (ACORN) was active between 1970 to 2010. It was a national network of community organizers that used Alinsky's tactics of door-to-door organizing and direct action to fight for social and economic justice.
Community readiness model
Developed by researchers at Colorado State University, The Community Readiness Model (CRM) helps communities assess their preparedness to confront specific issues and problems.
This theory proposes that for large scale change to occur, a community must be prepared for it. They have divided readiness into 9 stages ranging from 'no awareness' to 'community ownership' and 'action'.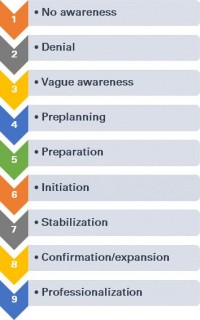 Source: CRRMH
By knowing the stage at which a community is, organizers can develop strategies which align with their current level of engagement.
Popular grassroots movements inspired by the community readiness model
Communities That Care (CTC)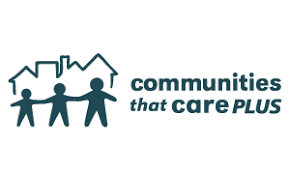 Communities That Care (CTC) was established to tackle youth problems, including substance abuse and delinquency, in the 1980s. This period was when crimes peaked in the US and Canada. CTC emphasized community readiness to tackle these issues through collaboration with the community.
Healthy Communities Initiative (HCI)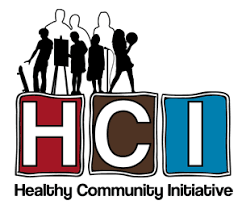 Founded by the Kettering Foundation in the 1990s, the HCI is a community development program. Taking from the ideals of the CRM, it aims to build community readiness by facilitating community conversations, fostering community leadership, and promoting collaboration among community stakeholders.
Obesity Prevention and Control Program (OPCP)
Over 70 million people in the US are classified as obese. This is why the New York State Department of Health developed the OPCP movement to tackle this grave issue. Based on the CRM model, the OPCP movement builds community readiness through policy change, environmental interventions, and community mobilization.
Marshall Ganz's theory of community organizing
A popular community organizer and social activist, Marshall Ganz developed a distinctive community organizing theory. He uses storytelling as a tool to bring people together and mobilize them for change.
He believes people can create positive social change when given the right tools and resources. The primary concept in his theory is the concept of a 'public narrative.' It focuses on creating a personal and collective narrative that addresses the core needs and concerns that uncover why an individual and community would organize.
Popular grassroots movements inspired by the Marshall Ganz theory:
The Obama Presidential Campaign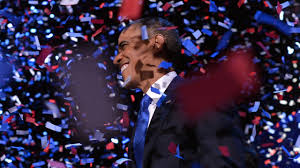 Source: CNN Business
Yes, the Presidential campaign was based on Marshall Ganz's community organizing strategies. Ganz was even called the architect of the Obama campaign. Obama used the power of personal narrative to mobilize millions of people to vote for him during the 2008 and 2012 elections.
The Dream Act Movement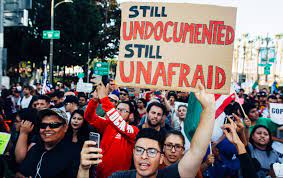 Source: Public Books
The Dream Act Movement aids undocumented students and youth in the United States. It embraces the power of building a public narrative and uses relationship-building and storytelling to change the mindset of people in favor of the youth.
The Marriage Equality Movement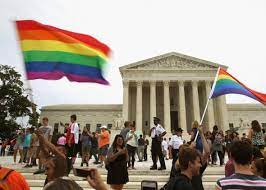 Source: Slate.com
The marriage equality movement strived to gain equal rights for LGBTQIA+ folks, same as heterosexual couples. It used Ganz's idea of shared vision and built on storytelling to mobilize support.
Plan your community organizing
Community organizing strategies are essential to ensure safety, legal compliance, financial stability, and effective community change. As organizers, a lot is happening in the background when mobilizing a people.
To help you, we've created a planning template for your community organizing. It covers everything you need to organize your community successfully – from defining your objectives, dividing responsibilities to planning your strategy.
Download our Advocacy strategy plan template today.
Featured Image Source: RF._.studio