What is distributed organizing?
Well, to put it in a few words, it's driving distributed action to achieve a shared goal.
Let's understand how this works.
In distributed organizing, a set of self-starting volunteers drive your campaign remotely to contribute to the campaign's goal.
Distributed organizing leverages the power of grassroots organizing. Although the teams are distributed and each team has a different leader, the goals of all teams align with the campaign's goal. How can you make this process easier for volunteers and teams?
Tools like CallHub's Call Center Mobile App equip your volunteers to join your campaigns and start calling from anywhere with just a smartphone. You can also set up sub accounts to give you a centralized control, allocate funds and keep data separated.
This guide is put together to help campaign managers use these tools to get up and running quickly.
Must haves of a successful distributed organizing campaign
While having a broad plan is essential, it also helps to think of the things that'll improve volunteer experience, productivity, and thereby your campaign's success.
This section breaks down the elements a successful distributed campaign should have:
A people-powered theory of change
A sense of inclusion is a primary factor of distributed organizing. Let your supporters know that they are the key to success in your campaign. Design your campaign in such a way that your supporters take initiative and drive the campaign.
It's also important to instruct them on how exactly they can take action.
Here's how ACLU People Power's home page drives this.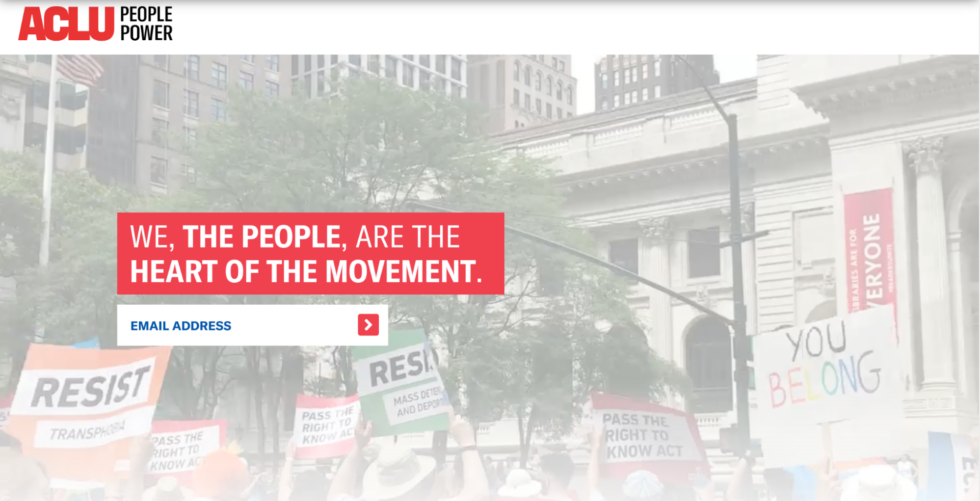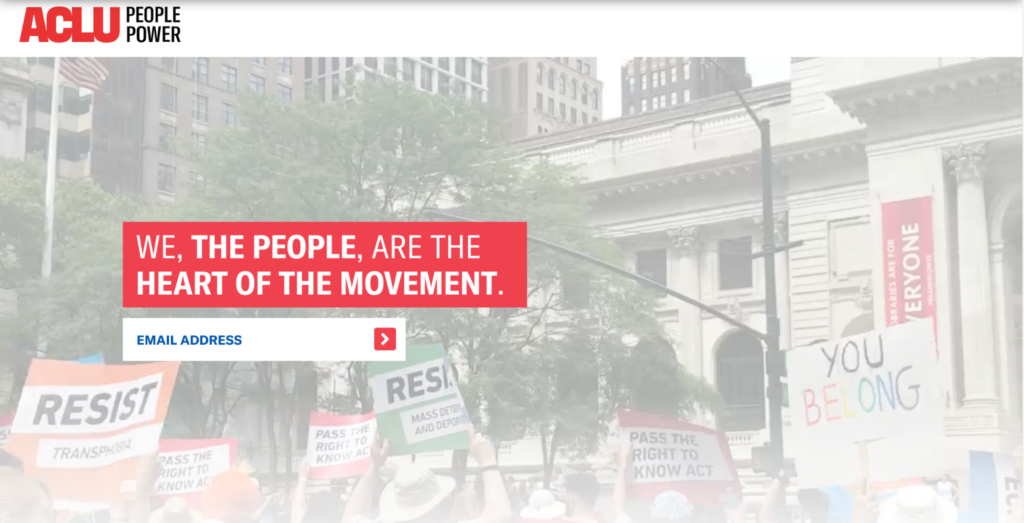 Clear path for involvement: Your volunteers need to be able to picture their role in the campaigns they are a part of. Build your campaign in such a way that your volunteers can clearly see room for initiative. Define their participation and the path ahead.
The 350.org and Hollaback does this well: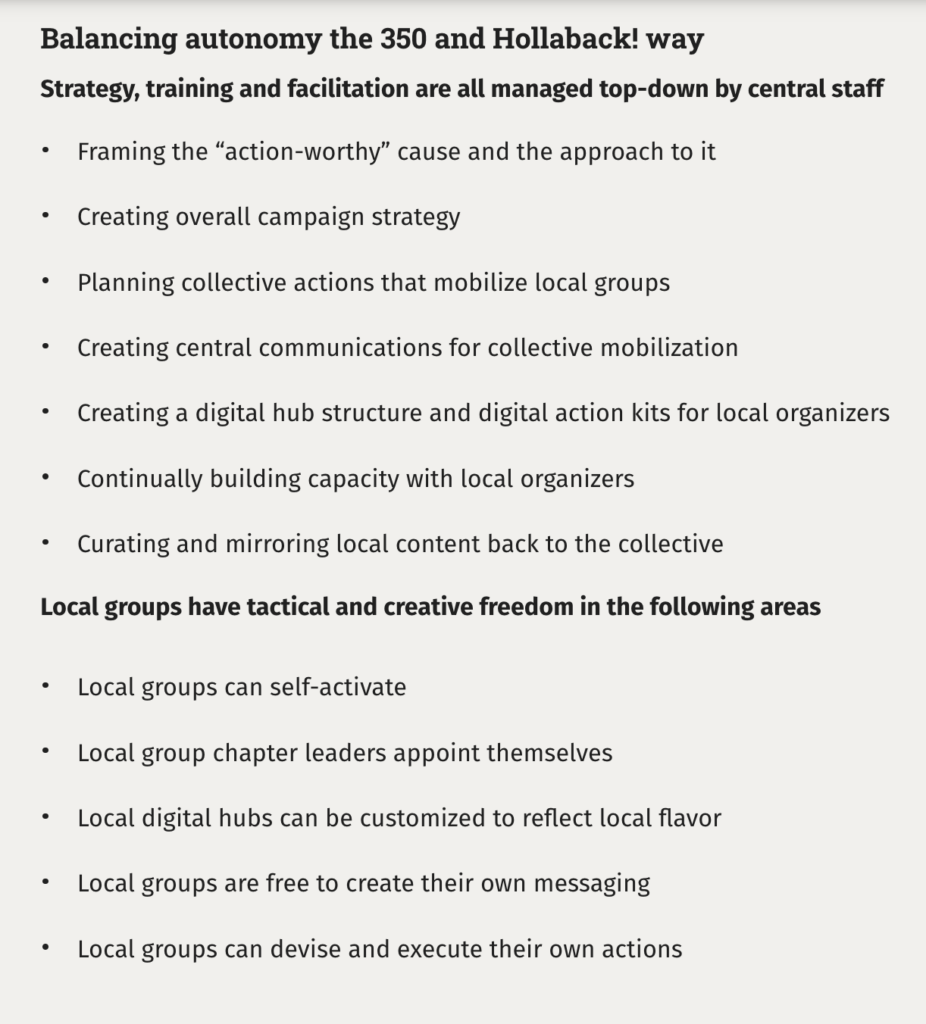 Internal alignment
A good distributed organizing campaign has a leader that manages a set of volunteers and helps them with their queries. Identify your leaders and give them specific roles. This leader can create a clear map of your volunteers' journey with their level of involvement along with defining the actions they take.
Best practice: Regular check-ins with your team members helps build morale. Regular updates and celebrating small wins is one way to keep in touch.
Digital infrastructure
You need tools and technology to manage your resources. For example, Slack for internal communication, CallHub for external communication such as calling and texting, Zoom for conferences, and so on.
Just remember that the tools you choose need to make your volunteers' work easier and more self-organized.
CallHub's call center mobile app is designed to increase volunteers' productivity.
It lets your volunteers:
Add notes related to their interactions with your contacts.
Add call dispositions to inform the subsequent action.
Add survey responses.
Access call scripts.
Look at contact history to personalize the conversations.
Onboarding kit
Your volunteers' time is one of the most important resources. The more information you share with your volunteers before they start the campaign, the less they pause to clear their queries. Your onboarding kit needs to have all the information and answer every possible question your volunteers may have in one place.
CallHub's mobile app helps you here with a complete onboarding video which acts as a guide for your volunteers, keeping them on-track.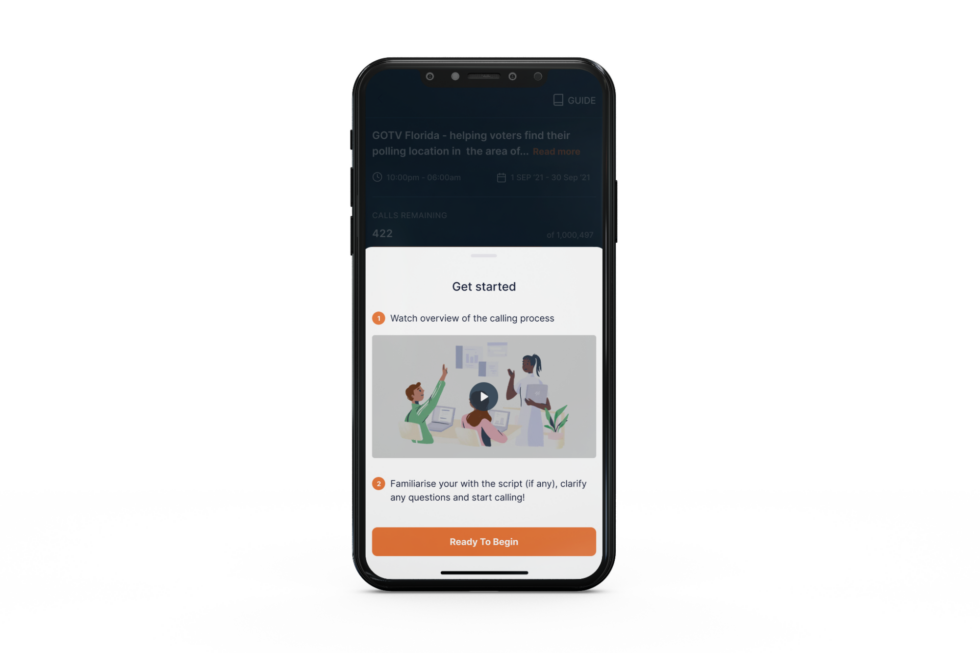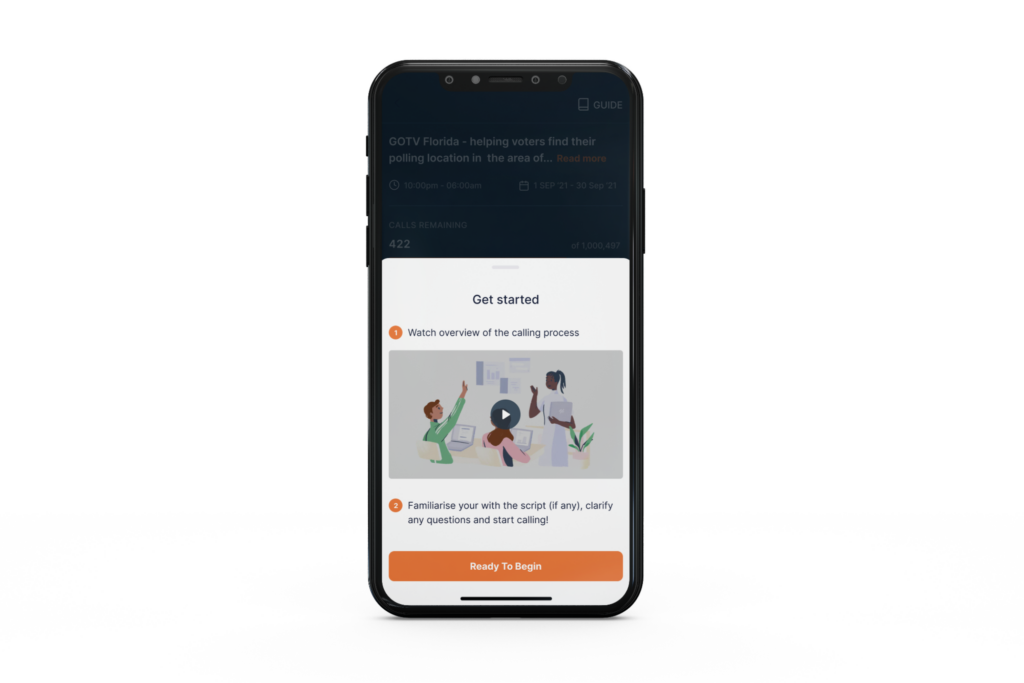 CallHub's Call Center Mobile App- Volunteer onboarding interface
A support network
Volunteers need a way to connect with someone to get answers to their questions. Slack channels are a great way for volunteers to connect with their team leads and each other.
Why do distributed organizing?
Let's see some benefits of distributed organizing.
An empowered group of supporters
Distributed organizing is driven by people who believe in your cause and want to actively contribute to it. The fact that they get a say in the strategy and execution of your campaign gives them a sense of ownership.
Gestures like giving your supporters the freedom to craft their own messaging may seem small, but it engages your supporters and increases their involvement.
Access to local expertise
Distributed organizing gives you access to the local expertise which knows the right strategy to target your audience on a regional level. For example, your team of distributed supporters may have a much better relationship with local contacts than your central team does.
Your supporters know the right influencer to engage with who is popular among the local communities. When people from different localities notice you through these influencers, it doesn't take long till you have the whole nation's attention.
A scalable supporter base
Distributed organizing campaigns are scalable. Once you've cracked the strategy of managing a few campaigns, it's a matter of multiplying it. Since not every member has to pass through you, and the teams are set up independently, it makes it easier to grow.
Our mobile app helps you scale your supporter base by attracting millennials and Gen-Z volunteers who are comfortable with using smartphones.
See how over 1 million people from different parts of the world joined 350.org for a climate movement.
More accessibility and wider reach
Since a distributed organizing campaign has a large group of volunteers, it has the privilege to accept all types of involvement from people.
Think of this.
You have about 1000 volunteers out of whom about 200 of them want to work with you regularly and the rest of them like to join you during their free time, as they choose to. With a mobile app that allows people to make calls for campaigns on the go, you unlock the full potential of volunteer hours.
Setting up a distributed organizing campaign
Distributed organizing needs a plan in place for empowering supporters as and when they join the campaign. It also takes a good amount of time to support this network of supporters.
Create an action plan
Map out the journey of your volunteer teams and have an action plan ready including for when these teams have requirements. Design standardized activities which serve as the roadmap for your volunteers. For example, run calling campaigns to get the supporters in touch with live representatives through patch-through calling.
This helps the teams work together on activities that serve the mission.
Recruit local leaders
Decide the process for setting up each team and the factors to consider to recruit team leaders. For instance, what skills they need to possess, a minimum qualification, and so on.
A good approach to recruiting your leaders is by looking at their past contributions as volunteers. You can either reach out to them with a request or conduct a survey to gauge their interest in leading a team.
Ensure you have a group of staff members that are equipped to direct these local leaders to the next steps. Setting up a call gives good room for clear communication.
Create a management plan
This management plan will guide all the teams involved in your campaign. While this plan acts as a centralized framework for your distributed teams, make sure it's not too rigid so your leaders have some level of authority to make decisions.
Remember, centralized mission and distributed strategies. Define the core values your supporters need to stick by, codes of conduct and tell them what's left to experimentation.
A list of dos and don'ts is a good way to communicate this. This can help them take the right decisions on defining tactics, training their volunteers, industries to engage with, and more.
Consider answering the following:
How will you keep the team on track?
Do you have communication methods to reach out to your local leaders regularly?
Can your supporters face the press on your behalf?
Can they organize and run events targeting your audience?
Can the teams adapt your branding and extend it with a local version to represent their team?
Do you have a plan in place to relieve a member if things go sideways?
… and so on.
Pro tip: Encourage volunteers to share their positive experiences once in a while in internal communication channels to keep the teams motivated.
Decide on the platforms and tools
Technology and tools are the bridges between you, the organizers, and your volunteers who are driving your campaign. Look for tools that are simple to adopt and are already used by a large number of organizations in your industry.
Make sure the tool you're going for handles basic functions like volunteer sign-ups and data management, onboarding and orientation, and more.
Define success measures
Setting up performance metrics to measure the success of your campaign is an important step.
Here are a few examples of these metrics:
Contacts reached
New supporters added
Total funds raised
Total bills passed, etc.
Challenges with a distributed organizing campaign and how to fix them
It's a no brainer that distributed organizing requires a good amount of planning and supervision. As a part of that, it's important you consider the possible challenges, and have a solution in place.
Oversight and lack of support
Giving volunteers control of things with no training may sometimes lead to misled executions and teams getting dispersed. CallHub's mobile app lets you train your volunteers before they start calling your supporters. This will also instill confidence in your volunteers and encourage self-starting.
Also, organize multiple touchpoints with your local leaders throughout the campaign to answer their questions and motivate them.
Multiple viewpoints
Giving creative freedom sometimes leads to 'too many cooks'. You need a set of guidelines and a process to filter out the irrelevant ideas automatically.
One approach is to let your local leaders take the call based on your core values. Then, instruct them to share the shortlisted ideas with you in a PIE (Probability, Impact, Ease) model.
Balance between local and central control
Deciding on the level of freedom to give to local teams is a huge task. You need break-downs in every aspect to label the 'free to explore' areas.
For example,
Calling scripts are uniform throughout the campaign and are provided by the central team.
The timeframe to schedule the campaigns are left to local leaders.
Central team provides the base of contacts and the teams can add more contacts during the campaign.
Get started!
As an after effect of COVID-19, using technology to empower volunteers and connect with people at scale to build relationships is here to stay.
Want to try out the mobile app before you decide to run your campaign?
Featured image: Photo by Mikhail Nilov from Pexels