FLEXIBLE. RELIABLE. CLOUD BASED
Automated Voice Messaging Software
Reach large number of people in the shortest time. Use it for promotions, updates, building closures and send information quickly.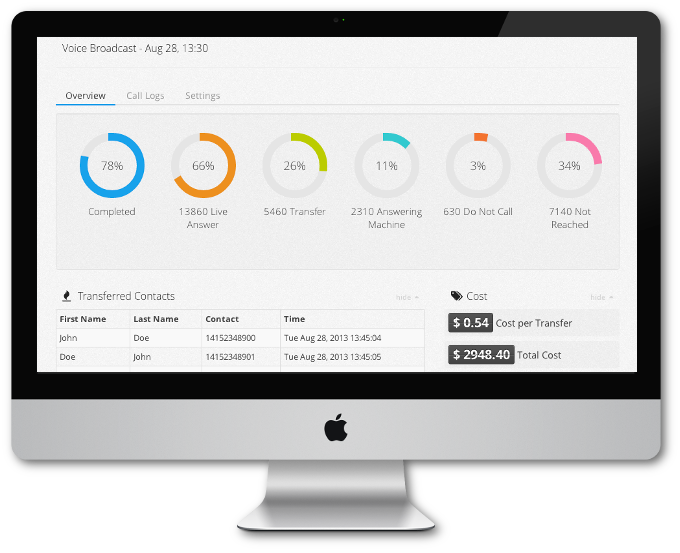 Use our advanced text to speech engine to record your own audio or upload any audio files that you already have.
Let your customers speak to a representative if they are interested in your product. Set transfer options on digits and measure performance.
Let people leave a voicemail and we'll email the text to you. We'll record the audio of the voicemail and create a transcript of it. You'll then get an email with the audio of the voicemail and the contents of the transcript instantly.
Detailed Reports and Call Analytics
Detailed reports about your automated voice messaging campaigns help you plan effectively. You'll get real-time campaign report, detailed call report and daily performance report.
Traditional phone dialers ties up your phone lines and makes you wait for the calls to complete. CallHub power dialer lets you make as many simultaneous calls as you want, without any waiting.
Create custom polls in minutes. Measure sentiment or collect feedback with automated polling questions. Analyse your conversion rate for with the daily reports.
Get detailed reports and analytics for every call and SMS you make. Track every call transfer made and measure the performance of your campaign.
Create an account for free. No credit card required.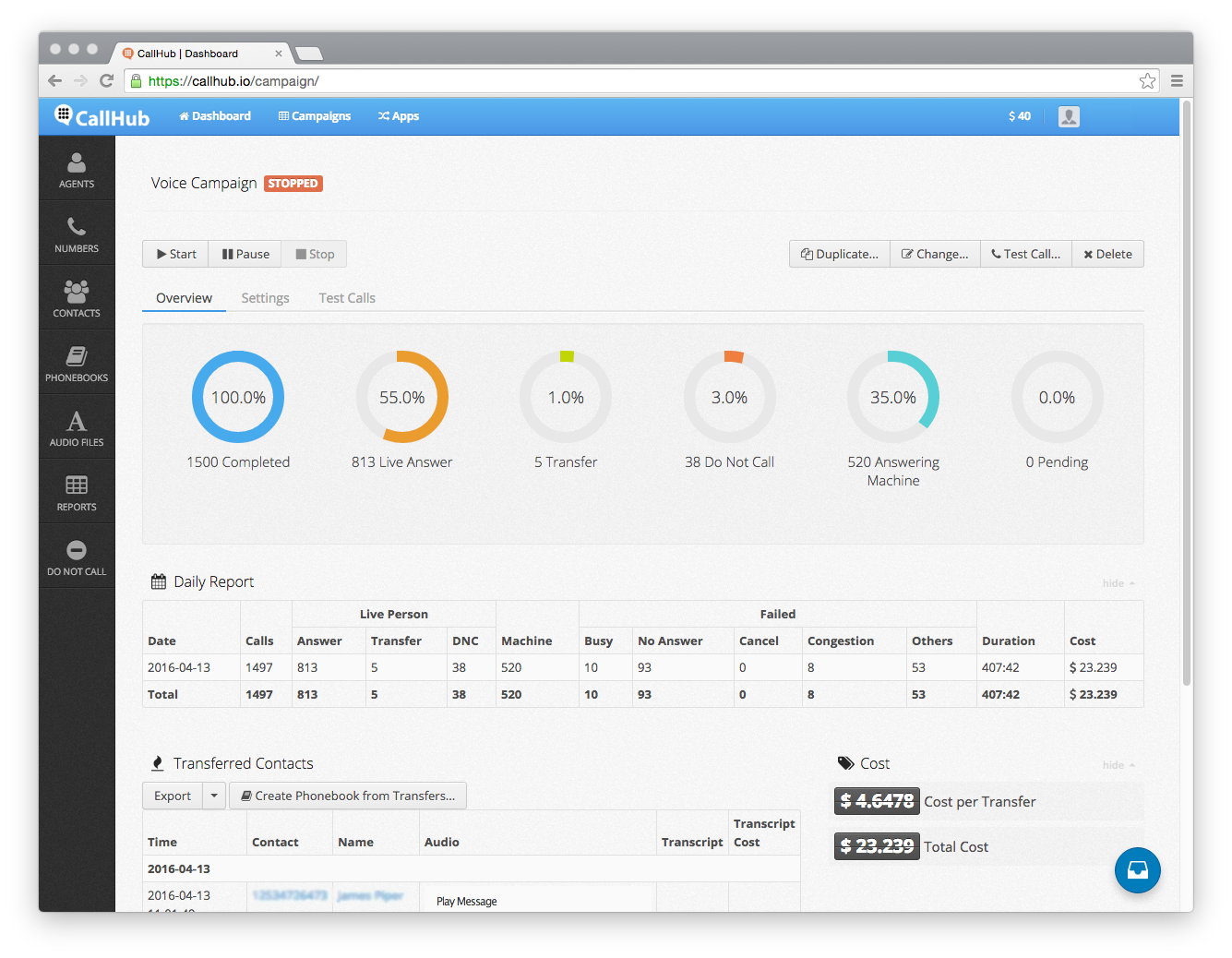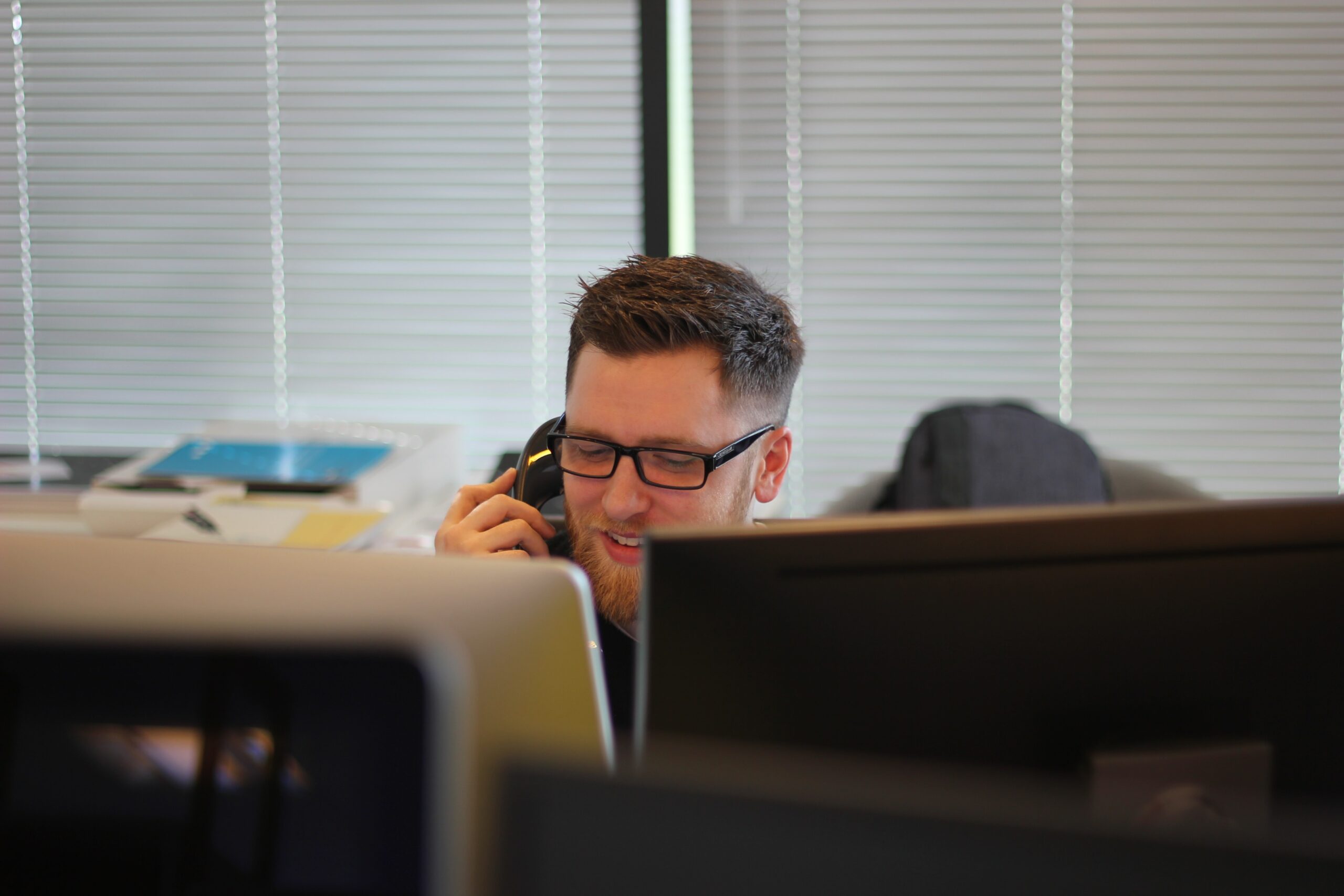 Maintaining a local presence no matter where you are calling can have a huge impact on your campaign. Improve engagement and pickup rates by upto 20% on your voice broadcasting campaign. Add dynamic caller ID to your campaign and leap ahead of your competitors.
Trusted by some of the biggest Businesses, Advocacy groups and Political parties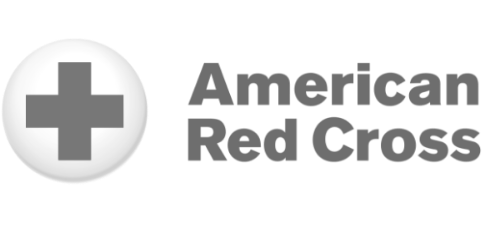 Trusted and loved by customers worldwide

"We couldn't have hit our goals without CallHub. When other platforms were struggling, CallHub was a trusted partner who could easily scale up quickly when needed. Even more, CallHub could handle our small program needs across all channels; from texting 5 people to calling 5 million, we could trust CallHub."
John Robinson, Bernie Campaign
A lot of our folks are volunteers, a lot of them are retired, they are often anxious with technology and they were able to use CallHub easily. It's empowering for volunteers who don't see themselves as very tech-savvy to be able to pick up a new piece of software and a new program and just use it, so that was great.
Celine Trojand, Organizer, Organizing for Change
CallHub has become my go-to platform for affordable phone canvassing campaigns, voice broadcasts and text message blasts. In particular, text message blasts are the single most useful tool for volunteer mobilization that I have used in recent years.
Jordan Bober, Director of Development and Election Readiness, Green Party of Prince Edward Island
I really love your team. You are just super responsive and super friendly and nothing's too difficult! It's been a really good experience.
Shaun Murray, Senior Organizer, GetUp
Cost is one. We also really liked the user friendliness of CallHub on the agent side. We had consistent feedback from all kinds of volunteers of all ages and all abilities across the country that it was just really easy to use.
James Wardlaw, Field Director, NDP
Integrations tie it all together