In terms of getting your message to your audience, texting has proven its efficacy:
Even on the organizational side, SMS marketing tools have made texting:
Accessible– volunteers can carry out texting campaigns from their homes.
Easy to implement– you can schedule and send texts at the click of a button.
Scalable– the lack of manual effort required makes it easy to reach out to an unlimited number of contacts.
There's no doubt that grassroots texting is the outreach solution you need to mobilize supporters. But how do you set it up and choose the right solution for your use case? This post will help you there.
Types of texting solutions
Before we get into the use cases, know that there are three types of texting solutions that you can use for grassroots texting:
SMS Opt-in
SMS Broadcast
Peer-to-peer texting
Let's look at how each of these works.
SMS Opt-in
An SMS Opt-in campaign entails renting a number and a keyword. You then promote these details and get people to opt-in to your list by texting the keyword to the given number.
Running an SMS opt-in campaign gives you access to:
Your SMS nurturing flow can be a single message flow or be designed to collect more information on the prospect, as in the example.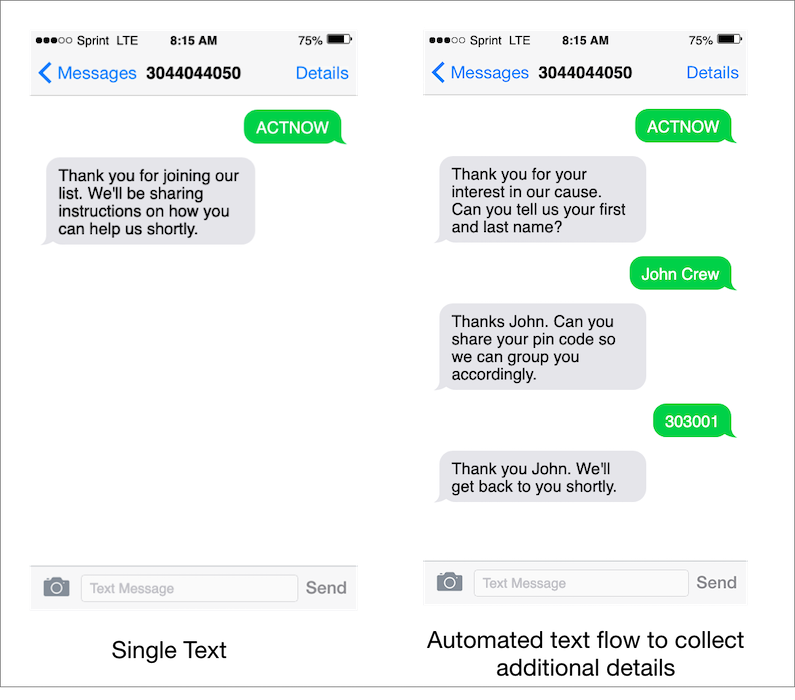 SMS Broadcast
An SMS Broadcast is a one-way text message sent out to a large group of people. Alternatively, you can use it to obtain close-ended responses (with the prompts in the text body).
For an SMS broadcast, you need to rent a number, draft the message, and schedule a time to send it to your existing contact list.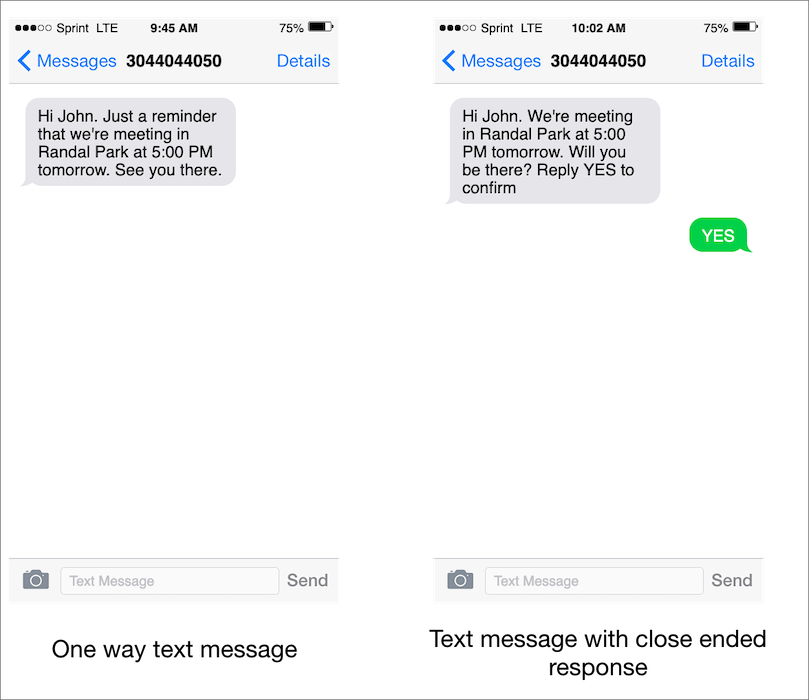 Peer-To-Peer Texting
Peer-to-peer (or P2P) texting is a way for campaigns to have personal conversations at scale.
You can send out a common initial text to all your contacts, typically ending with an open-ended prompt. As you start receiving replies, agents can respond to these people either using pre-drafted templates or typing out a custom message.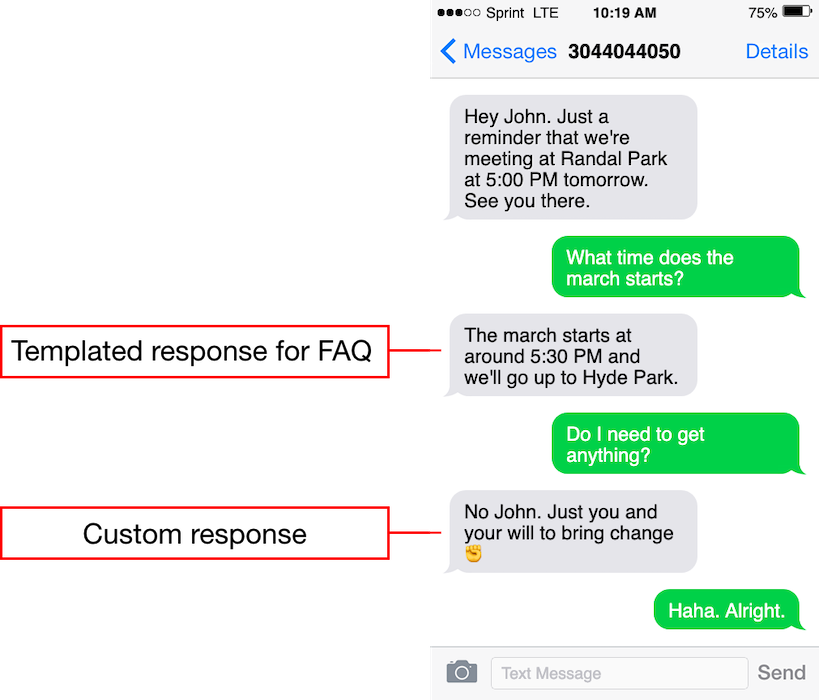 Related reading for more specifics on how these solutions work:
Next, let's take a look at how each of these solutions supports your grassroots texting efforts. We'll also be covering how to set up a campaign for each solution on CallHub.
SMS Opt-in for grassroots advocacy
An SMS opt-in campaign will be part of the initial stages of your campaign (although nothing is stopping you from using it later too). It's most commonly used for:
Fundraising
Volunteer recruitment
List building
Here's a quick brief of the process for each.
Fundraising
The process for fundraising via an SMS opt-in campaign is also known as text-to-donate. You can get a more detailed overview of the process in our Text-to-donate vs. Text-to-give guide. But here's a quick overview:
Start by renting out a number and selecting an appropriate keyword for the campaign. Something like DONATE or GIVE might work for you.
Set up an automated flow with a link to the donation page. This message goes to someone sending in the keyword.
Promote the keyword and number on your website, social media accounts, and wherever possible to get people to opt-in.
Here's an example of what the conversation flow would look like.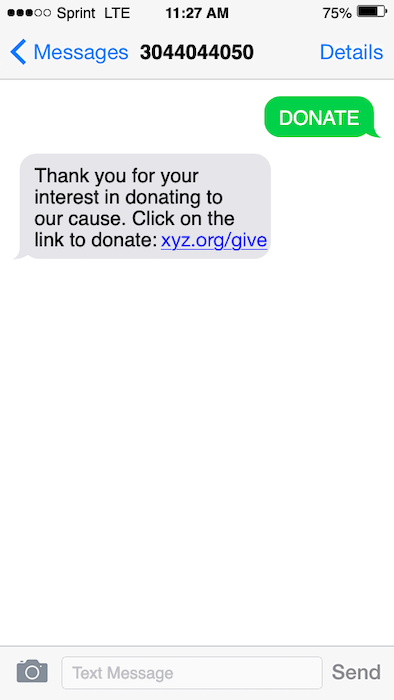 Why do you need CallHub's link shortener?
If you take a closer look at the example above, see how we use a shortened link that's distinct and easy to understand.
Why do you need this?
For starters, it saves you some characters, allowing you to add more text.
It makes your links a brand identity, assuring people that they are being directed to a legitimate site.
It makes tracking easy. You can track who clicked on the link and who didn't and segment these lists accordingly for future action.
Learn more about using these branded links in our post Link Shortener and Tracker
Volunteer recruitment
The flow for volunteer recruitment would be similar to the fundraising flow, and the only difference would be the change in the following:
Keyword– You should choose something more appropriate for volunteer recruitment, VOLUNTEER or HELP, for instance.
Link– You will be redirecting prospects to a volunteer recruitment form that asks them for all relevant details.
List Building
List building is a crucial aspect of advocacy and an essential grassroots texting use case. With an SMS Opt-in campaign, there are two ways you can go about it:
You can set up text autoresponders that redirect supporters to a link to fill out more details or
Create an automated text flow that collects all data over the same text thread.
Typically, if you need many details from a supporter (say more than three data points), it's better to direct them to a form. But the latter is better if you just need a couple of things.
Here's an example of the flow for both.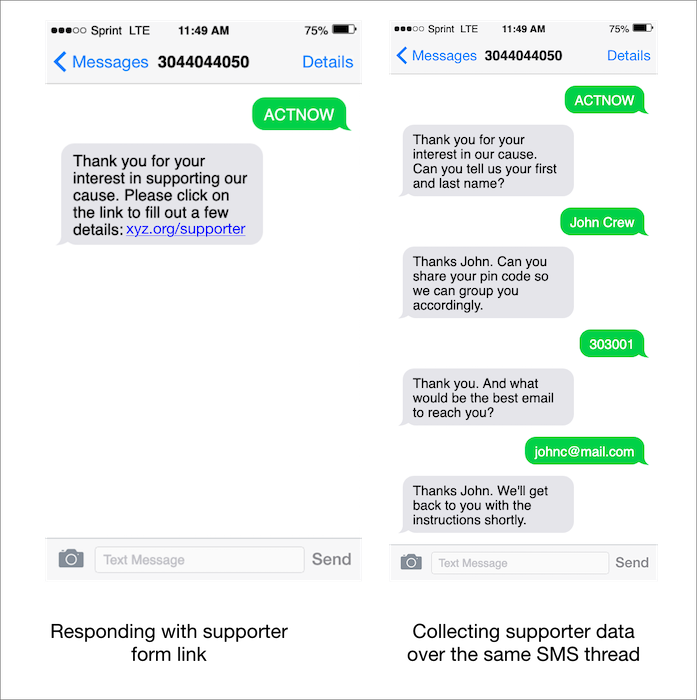 How to set up an SMS Opt-in campaign on CallHub
Here's a quick overview of the steps on how to set up this grassroots texting campaign on CallHub.
Log in to your account and select the "SMS Opt-in" option.

Step 1: Set up the campaign details
Here's what you need to do.
Set a name of the campaign (something to help you identify the campaign in the future).
Select the number you want to send the messages from. You can rent a number from the dashboard itself.
Enter the keyword you wish to use. Make sure that it's short and easy to remember. Also, keep in mind that it may take a couple of days for your keyword to be approved for use, so make sure you set up the campaign well in advance.
Select the contact list you want all the opt-in contacts to be added to. You can also create a new contact list if you don't have an existing one to save contacts.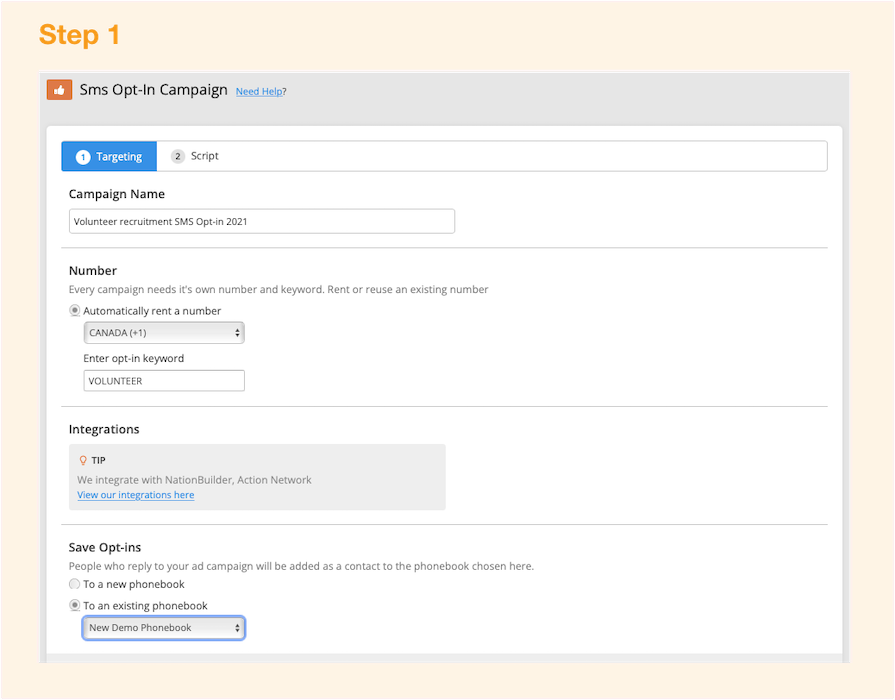 Step 2: Set up your conversation flow with automated prompts
Start by drafting the immediate response you wish to send when a prospect sends in the keyword. This could either be a single message (like a donation link) or the first message of a conversation flow.
You can set up multiple prompts in this way as needed. and even select the kind of data you expect for each prompt to import it to your CRM and start organizing data right away.
You even have the option to end the flow with a final thank you message.
Once you click finish, the campaign is live, and you can start building your list.
Start setting up your SMS opt-in campaign here.
SMS broadcast for grassroots advocacy
SMS broadcasts will be used often in your grassroots texting efforts. Generally, they come in handy for:
Reminders to get supporters to mobilize or take action.
Fundraising appeals from existing contacts.
Sharing important updates or educational resources with supporters.
Here's what you need to know to send these messages out.
The process for all SMS broadcasts will be the same:
Select a number to send out the texts. Next, you select the contact list to which you wish to send the message.
Draft your message. If you wish to collect close-ended replies (like confirmations for presence), include the prompts for the same within the body. CallHub will send the responses to your provided email ID.
Schedule the message for the appropriate time to be sent.
Reminders
To motivate maximum participation, you can set up multiple campaigns for reminders (starting from a couple of days before D-day up to an hour before it).
For reminders, message scheduling is an important feature your SMS marketing tool needs for two reasons:
To allow you to schedule these messages well in advance to focus on other tasks and don't miss the designated time.
To maintain compliance by scheduling these messages within the TCPA mandated hours.
Here are a couple of examples of grassroots SMS reminders.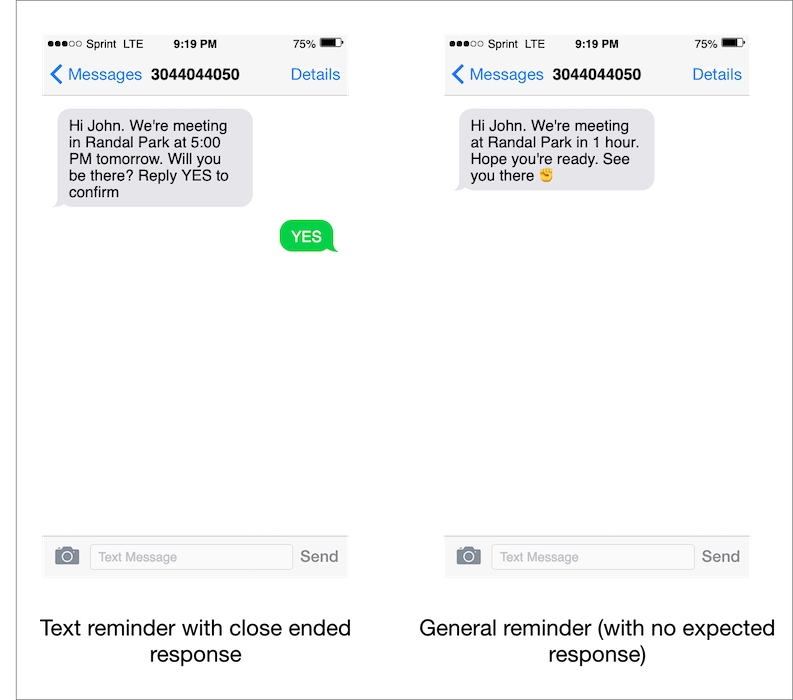 Fundraising appeals
Sending a fundraising appeal to your existing contacts as an SMS broadcast is pretty straightforward.
Just draft a message with the link to the donation page and send it out to your contacts. Here's an example.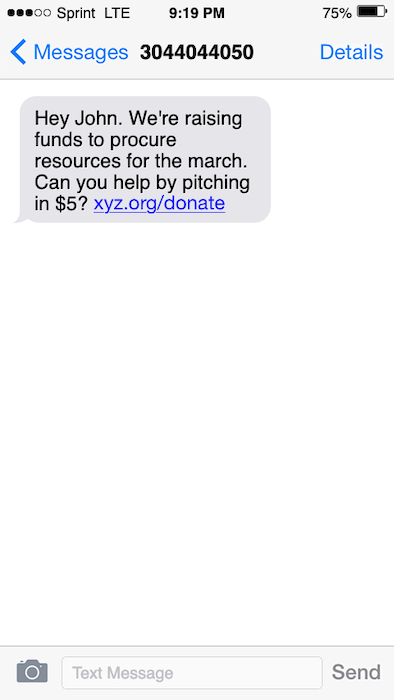 Sharing updates
Sharing updates and educational resources is an important use case of grassroots texting. No matter what stage your movement is at, keeping your supporters engaged and the motivation to fight for the cause alive is crucial.
This is where text blasts come in handy.
You can even go a step further in keeping supporters engaged by sending an MMS broadcast. With an MMS, you can attach any type of media (like files, videos, images, audio clips, etc.) along with the text body.
The advantage of MMS broadcasts are:
Higher engagement rates and share rates than SMS.
A higher character limit (1600 characters) allows you to add more details to the text.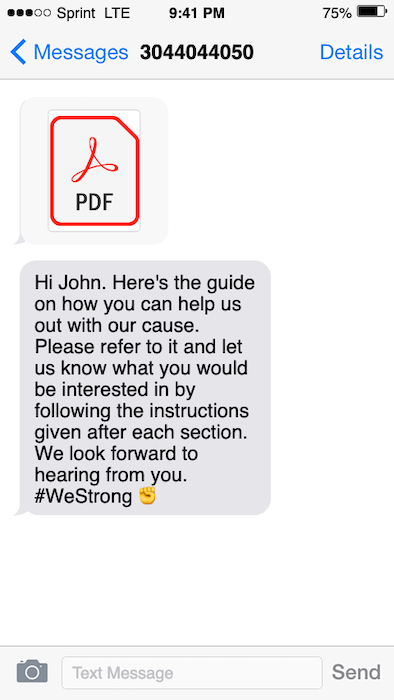 How to set up an SMS broadcast campaign on CallHub
Log in to your account and select the "Text Broadcast" option.

Step 1: Enter the basic details of your campaign
These details include:
The name of the campaign (something that lets you identify it later for analysis).
The contact list with all the contacts you want to send the message to. You can import one from your CRM or select one that you may have already uploaded to CallHub.  
Select the number you want to send the messages from. You can rent a number from the dashboard itself.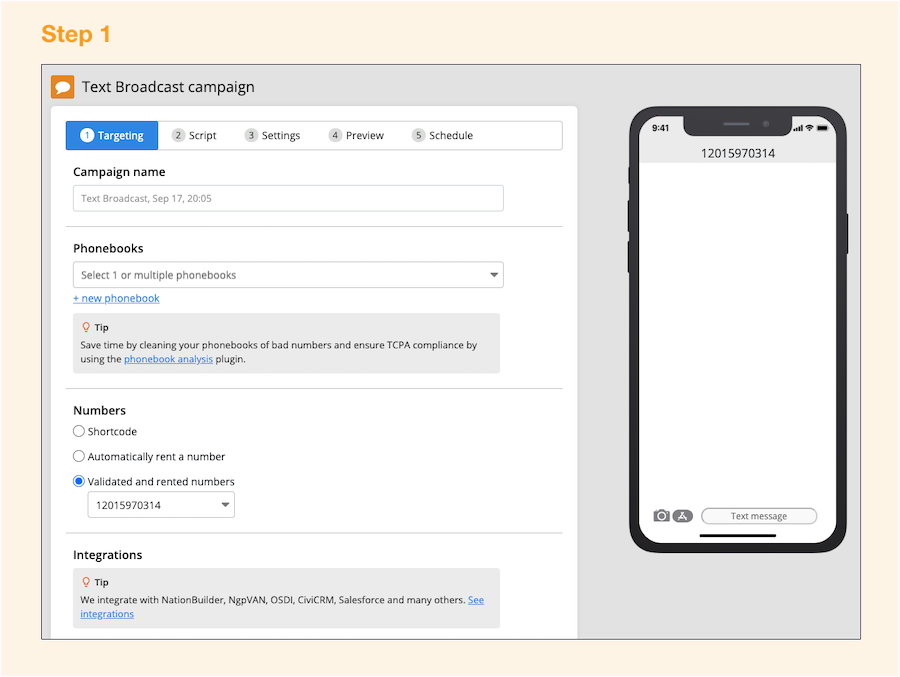 Step 2: Add your text broadcast script
Add the message script in the "Broadcast Message" text field. Select the "Personalise" option to view the default merge tags that you can add to your script. You can also create custom tags within your CRM and use them.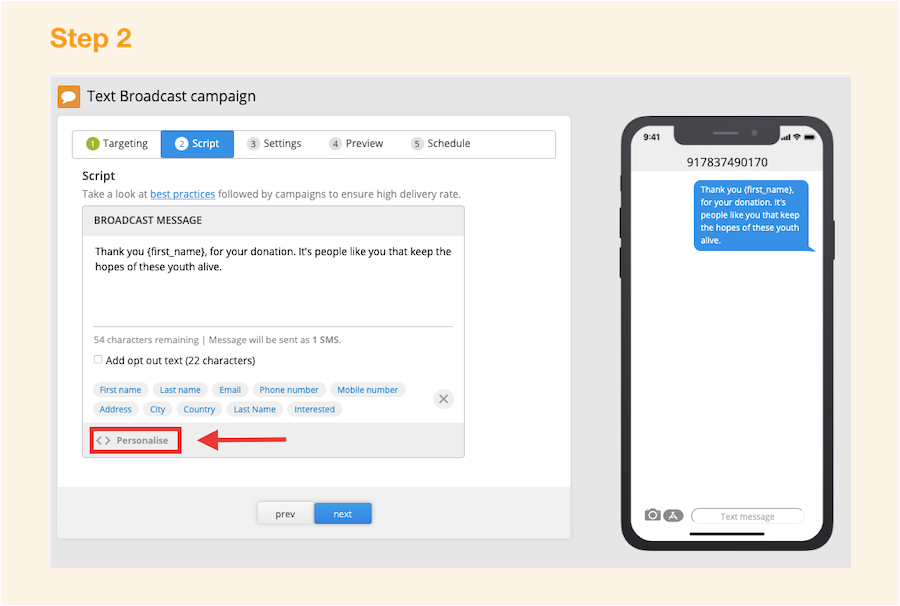 In case you want to set up automated replies, turn on the "Automated Replies" button (below the broadcast message text field), and you'll have the option to add a reply based on a trigger keyword. You can add multiple replies for a variety of trigger keywords.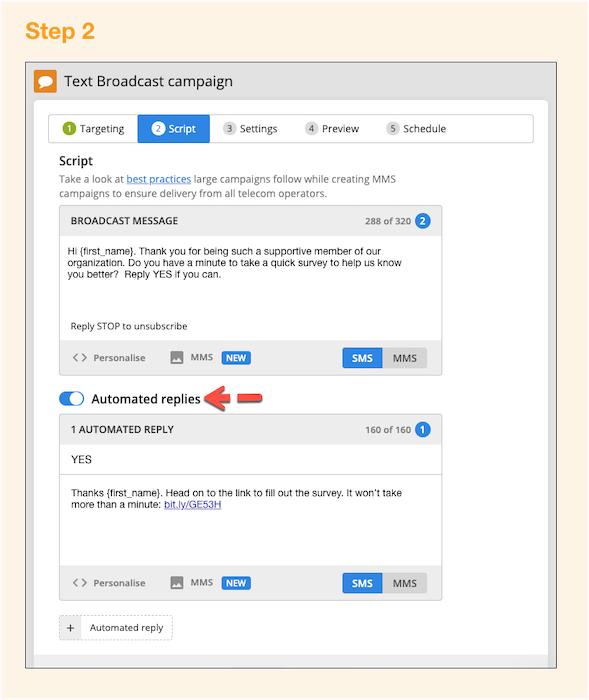 The option to send out an MMS broadcast is also available here. Just click on "MMS" (below the broadcast message text field), and you'll have the option to upload the desired media to your messages.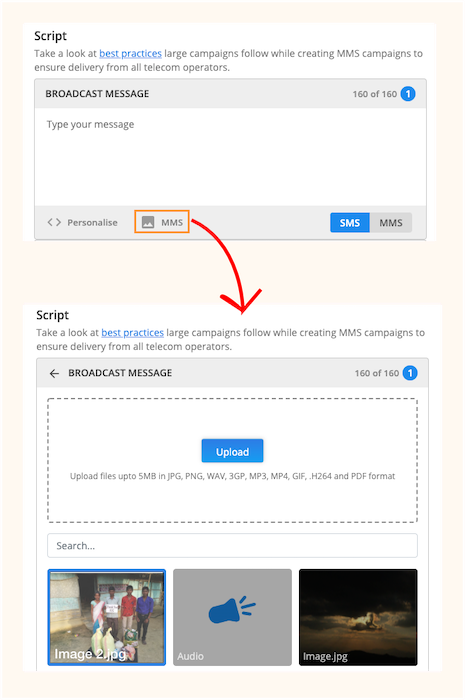 You can upload your media in advance by navigating to the Media option on the left of the main dashboard.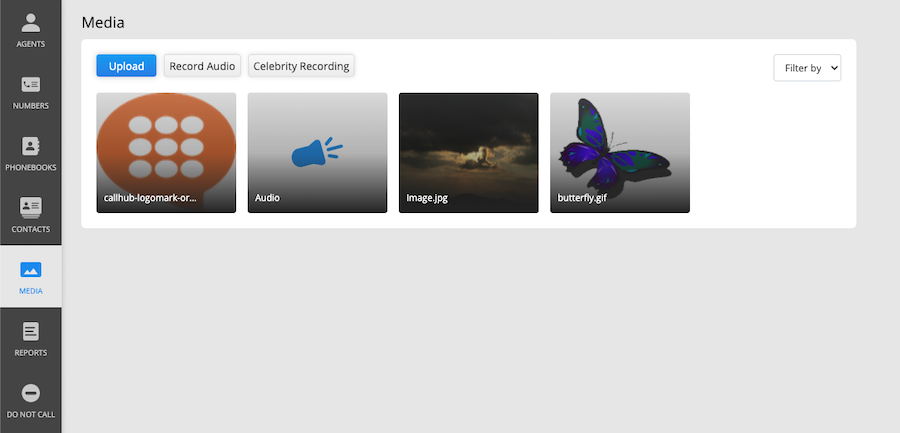 Step 3: Additional settings
Here's what you do here:
Add the email ID you want to receive notifications of the campaign on. You can leave this blank and directly check the responses in your admin dashboard.
Set the retry number and time between retries. This indicates the frequency and number of retries per contact for failed or unsent messages.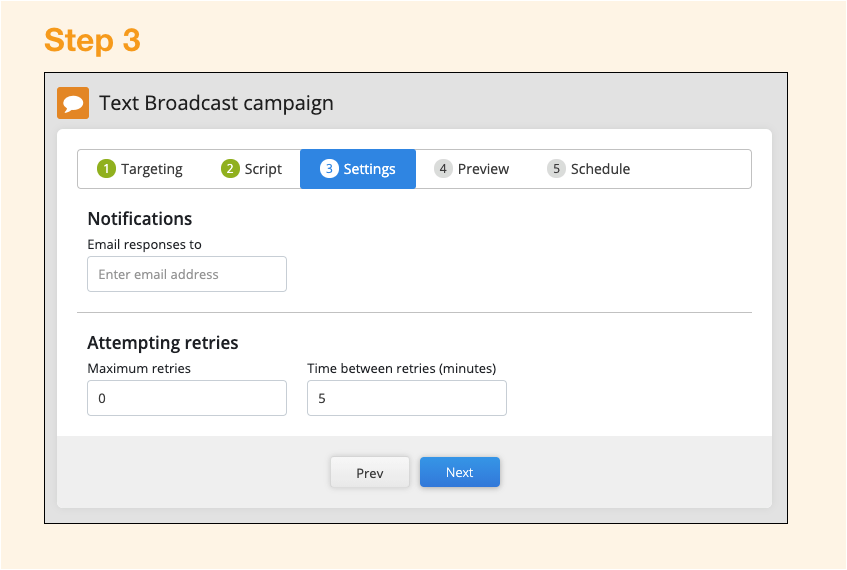 Step 4: Preview
Next, preview the campaign details to make sure everything was added correctly.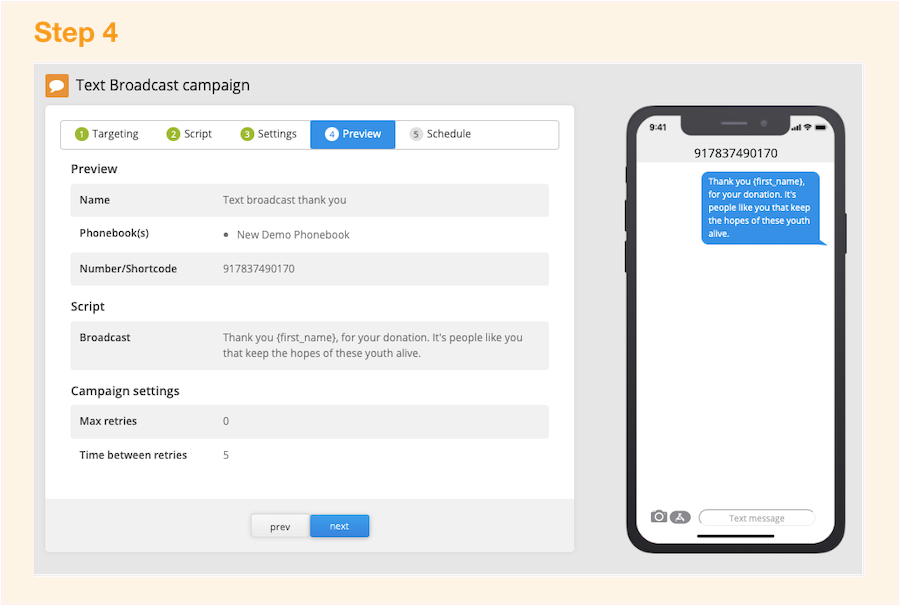 Step 5: Set a campaign schedule
Finally, set the date, days, and time you want the messages to be sent.
The text blast is sent out at the "Start On" time. If you're expecting close-ended replies and have set up responses for them, these will be sent as you receive the replies (no automated responses are sent after the "Finish On" time).
Once done, click "Finish," and your campaign is live!
Start setting up your SMS broadcast campaign here.
Peer-to-peer texting for grassroots advocacy
Peer-to-peer (or P2P) texting is an essential grassroots texting solution that you need because it helps you have personal conversations with multiple supporters at a time.
P2P texting helps your grassroots movement in the following cases:
Peer-to-peer supporter recruitment.
Driving public awareness and education by facilitating conversations between you and a community.
Collecting insights into the challenges a community faces.
Assigning people work based on their skills.
P2P supporter recruitment
Where do you think you can find a ton of new supporters? Well, try looking into the network of your existing supporters. Apart from keeping your existing supporters engaged and motivated, it'll help build your base.
Here's how you can achieve that:
Get a list of contacts as references from each of your supporters and add them to your SMS marketing tool.
Set up a P2P texting campaign and add these supporters as agents to have conversations with the new contacts.
Draft the initial message to be sent out. Make sure to personalize it with merge tags.
Schedule the campaign, and your agents will take things ahead once it's live.
Here's an example of a few conversations.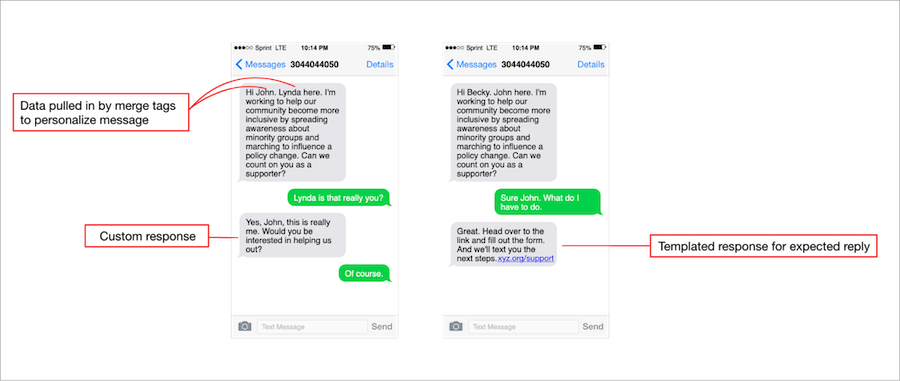 Driving public awareness
Another use of P2P texting is driving awareness about your cause. For these, you will need to educate the people of a community by:
Having full-fledged conversations with them.
Sharing relevant educational resources.
The custom responses you can send with peer-to-peer texting facilitate detailed conversations, whereas templated responses help you share relevant resources based on the conversation's direction.
Collecting insights
When reaching out to a community and having conversations over text, you can also collect insights on the issues they are facing. These insights could help inform your strategy or include anything you would have missed in your action plan.
These insights don't have to be limited to community challenges but can also be used to collect feedback, say, for an event you just had.
Assigning people work based on their skills
Apart from collecting insights, you can also assign people tasks like volunteering, fundraising, recruitment, etc., based on their skills or interests.
Start by giving people the options of tasks available.
As they respond with their choice, share the relevant details for the next steps.
Templated responses come in handy here. Here's how: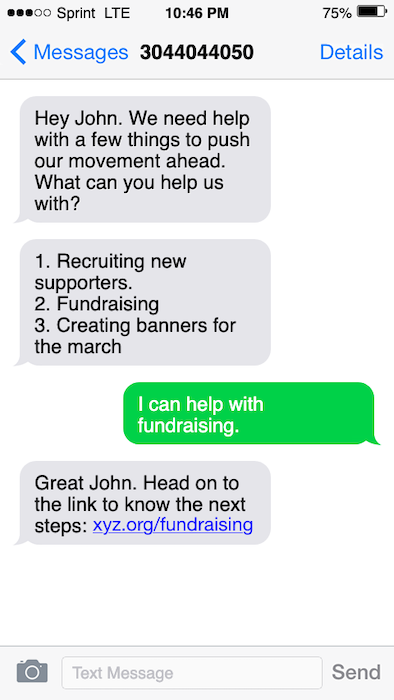 How to set up a peer-to-peer texting campaign on CallHub
To set up a peer-to-peer texting campaign on CallHub, start by selecting the option on your dashboard.

Follow these steps to set up the campaign:
Step 1: Draft the SMS scripts
Draft the script/template for the questions that go out. You have the option to add multiple choice questions, text questions, or surveys with numerical responses.
Craft saved replies for common questions, replies, etc. You can save multiple responses and add a title to each for easy identification.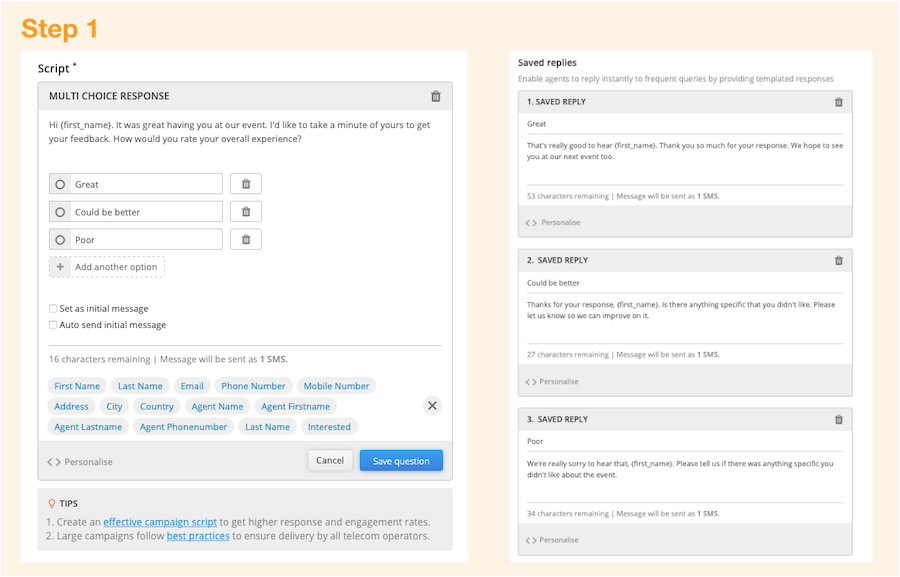 Step 2: Set the contact list and number
Select the contact list with the contacts you want to reach. 
Set the number from which your texts go out. You can even automatically rent a number if you don't have an existing validated one.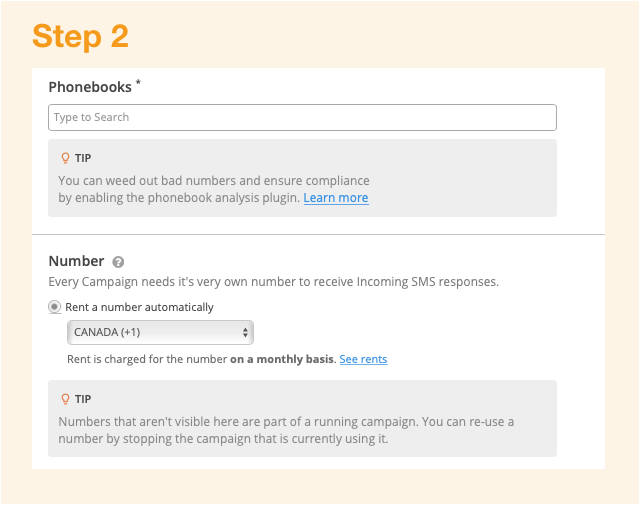 Step 3: Agent onboarding details
You can add an introductory message or a training brief for all the volunteers/agents added to the campaign (to send messages).
There's also the option to specify how you want your agents to be added. You can either add everyone that signs up or select a few from the registrants.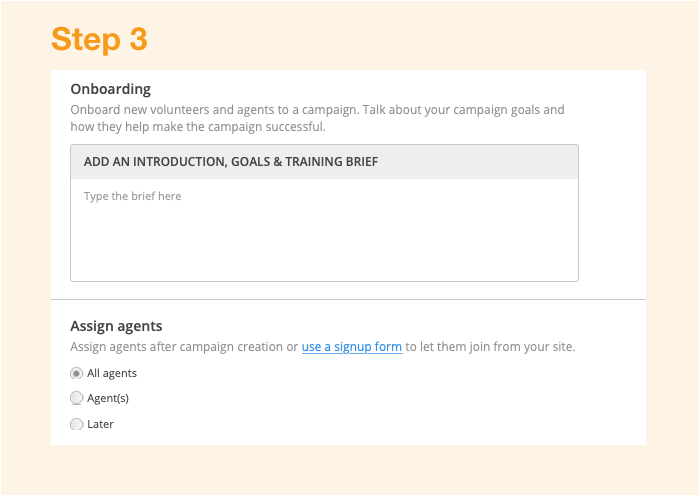 Step 4: Set a campaign schedule
Set your campaign schedule during which agents can send texts and interact with supporters.
Start setting up your Peer-to-Peer texting campaign here.
What next?
These were a few ways grassroots texting can help you drive your mission forward. The next thing you need now is SMS marketing software to help facilitate these conversations.
Sign-up to CallHub for free and take it for a test run. With a comprehensive range of features, CallHub's texting solutions ensure that your campaigns are
Easy to implement,
Personalized, and
Compliant.
Book a demo call with our experts today for a walkthrough of the product.
Featured image source: Marcus Aurelius