An auto dialer for call centers can increase the talk time of agents by 200-300%.
That's definitely hard to ignore, for any organization that is looking to increase conversions.
However, why and how does an automatic dialer system project such an increase?
Think of this scenario: Agent 1 dials 100 numbers one by one, and waits for the call to connect. 50 calls get answered, 10 calls reach a voicemail, 10 indicate a busy tone, and 40 of them go unanswered.
Now, here's the interesting part: Ring time for a mobile network is typically 30-45 seconds, while for landline numbers, it hovers between 60-120 seconds. With 40 calls going unanswered, that is 2400 seconds on an average + the time lost in reaching a voicemail and busy tones- Around 60 minutes lost for every 100 calls!
Losing out on such long hours can prove to be costly.
Auto dialer software for call centers, by auto-dialing, relieve you from these pain points, giving your agents more time to have conversations with your contacts, rather than dialing numbers.
In this guide, you'll read what an auto dialer is, how to use it, and what to look for when selecting one.
What is an auto dialer?

An auto dialer is a software that automatically dials phone numbers for agents. When the recipient answers the call, the dialer system for call center either connects the call to a live representative or plays a prerecorded message.

The purpose of using a call center auto dialer is to eliminate the need to manually dial every number from a list.

While looking for a number and dialing it manually may not seem time-consuming for one number, for organizations that need to make tens or hundreds of calls a day, an auto dialer service can be a life-saver.

Agents can instead focus on the conversation and the delivery of messaging.

Some types of automatic dialers also screen out answering machines, busy signals, no answers, etc. while the agents focus on other aspects of the call. So, it's easy to say that auto dialers work best for large outbound calling campaigns.
Types of auto dialer
Automated dialers come in different forms and various functions. On CallHub's Call Center Software, you'll find three dialers that fall under the category.
Power dialer
Predictive dialer
Auto dialer
Power dialer: A persuasive call such as the one requesting donations needs time and patience. Your agents need to carefully make notes of the conversation and tag your contact depending on how the conversation goes before they get on the next call.

For example, if they encounter a lead that's interested to take the process further, they can tag them as 'prospect'.

For such time-consuming calls, power dialer is the one to go for.

A power dialer dials one number at a time only after the agent indicates that they're ready to take the call.
Predictive dialer: A GOTV reminder call doesn't take long. At the same time, a GOTV campaign is high-volume. For such a campaign, you need a large team of agents and a dialer that can get you through a large list of contacts without hampering your productivity.
This is where a predictive dialer comes in.
A predictive dialer looks at the statistics of the
Number of calls answered,
The number of agents in a campaign,
The duration of each call,
and other call metrics to determine the calling rate for a campaign.
With such a calculation, the dialer dials numbers just seconds before a representative hangs up a call, so as soon as they finish a call, they get on the next one with minimal delays at either end. So, if you want to connect with as many contacts as possible in a short timeframe, a predictive dialer is the option for you.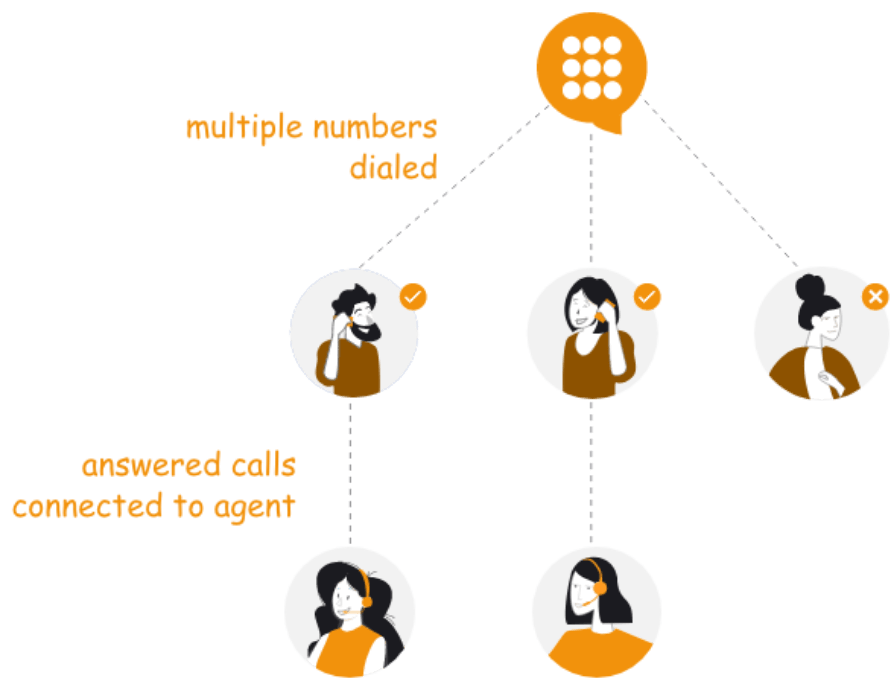 There may be instances when your call gets connected and answered but the agent joins the call after 2-3 seconds. One of the reasons this may happen is when your agent spends a little longer on the previous call than the time estimated by the predictive dialer.
Although such instances are minimum, CallHub has you covered with an option to leave voice messages in such situations.
Important note: To be able to use a predictive dialer with a minimal call abandonment rate, you need to have a minimum of 6-8 active agents in your campaign.
Auto dialer: The previous definition of auto dialer is the one for the collective term, and now, let's see what an auto dialer on CallHub looks like.

When you have a large list of contacts you need to cold call, there are one of the two things you need: Either a large team of agents, or a dialer that connects only the answered calls to you.

If you don't have a large team of agents, the auto dialer is the one you go for. The dialer immediately places the next call once the previous one is over.

For instance, an auto dialer's call ratio can go up to 3:1, i.e., for every 3 numbers the dialer dials, there is one agent available.
CallHub lets you adjust this dial rate depending on the quality of your contact list. For example, say you have a contact list with a bad answer rate history, then your dial rate can be 3:1.

Note: As per TCPA regulations, your call abandonment rate cannot be more than 3%.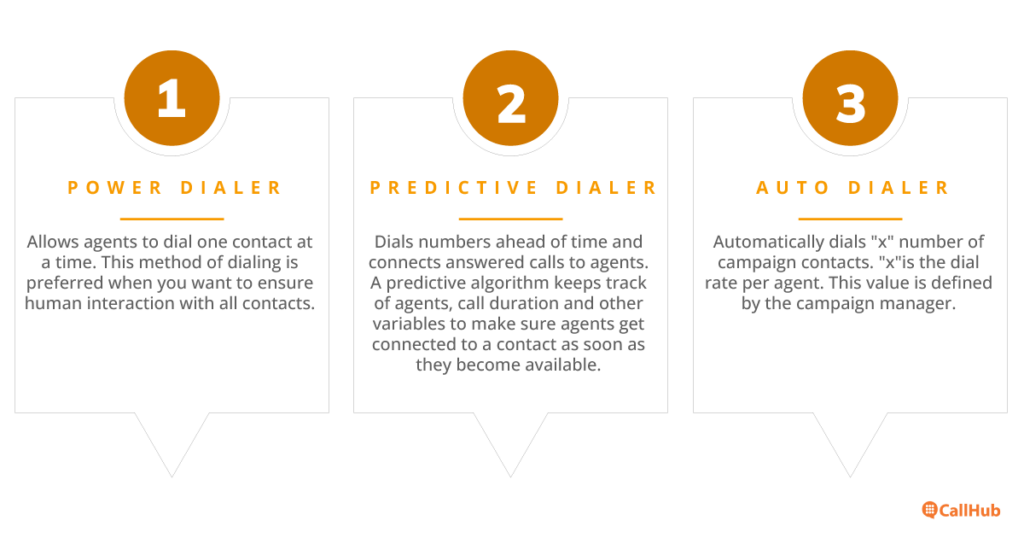 What is considered an auto dialer?
The Supreme Court, as a part of the Telephone Consumer Protection Act (TCPA), defines an Automatic Telephone Dialing System (ATDS), also known as an auto dialer, as an equipment that has the capacity to
Store numbers to be called, using a random or sequential number generator (RoSNG), or
Produce numbers to be called, using a random or sequential number generator.
"We hold that a necessary feature of an autodialer under [the TCPA] is the capacity to use a random or sequential number generator to either store or produce phone numbers to be called."
– Justice Sonia Sotomayor
Learn about the new definition of an auto dialer, and how it affects the way you use them.
Key features of an auto dialer
Starting from cold calling to sending out appointment reminders, auto dialers are used for various use cases. However, an auto dialer is of no use if it doesn't meet all your requirements- accommodating the features and functionalities that align with your use cases.
Here are 11 such features an auto dialer should have.
CRM integrations
It's crucial to have details beyond your contact's phone number.
Let's see why.
You call a supporter to invite them to an event and ask for an RSVP. They say they would like to attend and you tag them as an 'attendee'. Next, right before the event, you need to send a reminder to all your attendees.
Having a CRM integration makes this whole process smooth, by you not having to manually look for those contacts that you marked as attendees. After your call ends, any details you record on your automated dialing software sync with your CRM so your upcoming calls are more informed and targeted.
A CRM helps you keep track of your contacts' previous interactions, their preferences, their position in the buyer's journey, and so on. They can store all data required so you can analyze it later and make relevant decisions.
Answering machine detection
Making a call only to land up on a voice mail is neither a good experience for an agent nor a good sign for the campaign.
CallHub's answering machine detection feature is designed to identify if a call is answered by a human or a machine. Once the dialer detects a machine, it takes appropriate action; either leaving a voice message or hanging up the call.


This helps the agent maintain occupancy and productivity, by preventing them from wasting their time on unanswered calls.
List filtering
Some of your contacts may ask you to call them anymore. As an organization, to maintain your reputation and prevent legal repercussions, you need to respect their wishes.
A DNC list helps you make sure such contacts aren't reached out to in the future.
CallHub offers the tools you need to have a clean list for every campaign. See how to clean an existing list on CallHub.
Time zone management
As per TCPA regulations, you can only call your contacts between 8 am and 9 pm. Following this regulation is a walk in the park when all your contacts are from the same timezone.
However, what do you do when your list has contacts from different states that have different timezones, and you have an important update such as alerting them of a fraud?
Timezone management feature. This allows you to reach your contacts in their timezones, and therefore a time when they are available to answer your call. See how you can contact people in their timezones using CallHub.

Call transfer
Say you're running a voter persuasion campaign where a contact needs to get in touch with your representative. You need a virtual means to do so from your calling software.
The call transfer option in an auto dialer can do that for you.
The 'Press-1/Transfer' feature on CallHub, in addition to helping with call transfers, lets your contact leave a message after pressing a digit.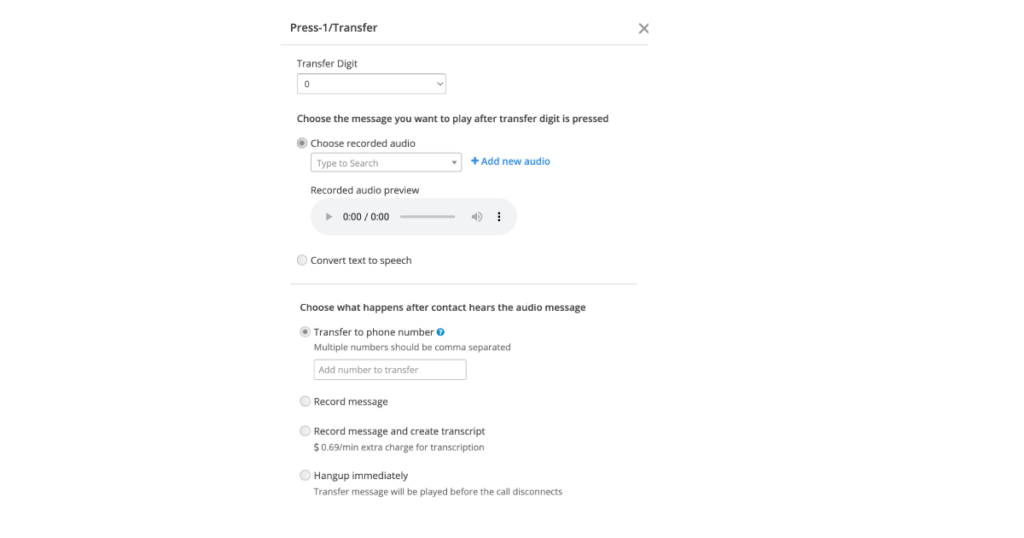 Voice message broadcasting
In the occurrence of an emergency situation such as a natural disaster, state and local governments need the means to send timely warning messages and safety instructions.
The voice message broadcasting feature in an auto dialer is an effective tool for this.
Auto dialers can deliver a prerecorded message once the contact answers the call. CallHub's voice message broadcasting feature also has a text-to-speech option, which helps you personalize your voice messages using merge tags.


For example, say you are a travel agency and the ride is delayed by an hour. The audio message you play when your passenger answers the call goes like this: "Mr. John, your train leaves at 7:00 pm instead of 6:00 pm. We apologize for the inconvenience."
Interactive Voice Response (IVR)
IVR on CallHub supplies interactive menus on outgoing calls. For example, a political organization can dial a contact and present a few questions that the recipients can answer by pressing certain keys on their keypad.
For example, your voice message can be: "Press 1 if you support <candidate_a> and 2 if you support <candidate_b>."
This acts as a good list segmentation tool helping you to refine your contact list, so you can eliminate uninterested leads and have a high-quality contact list.
Reporting
An auto dialer gives you an overview of your campaigns by updating dashboards with your campaign metrics in real-time. This will allow you to constantly optimize your campaigns for the best results.
CallHub lets you access all calls you made from your campaigns in a single place instantly.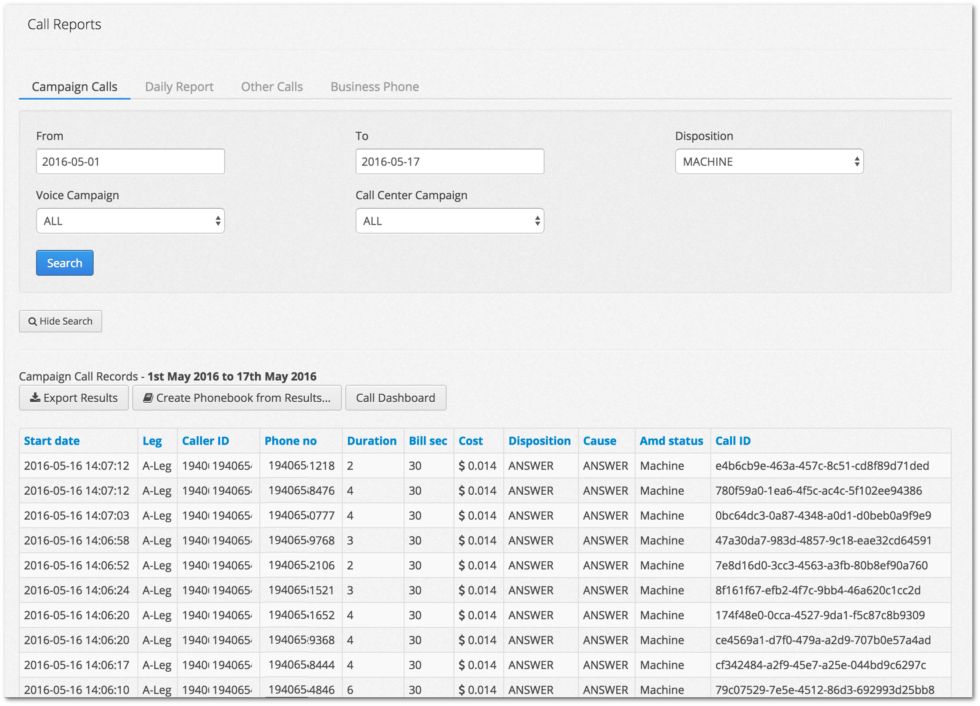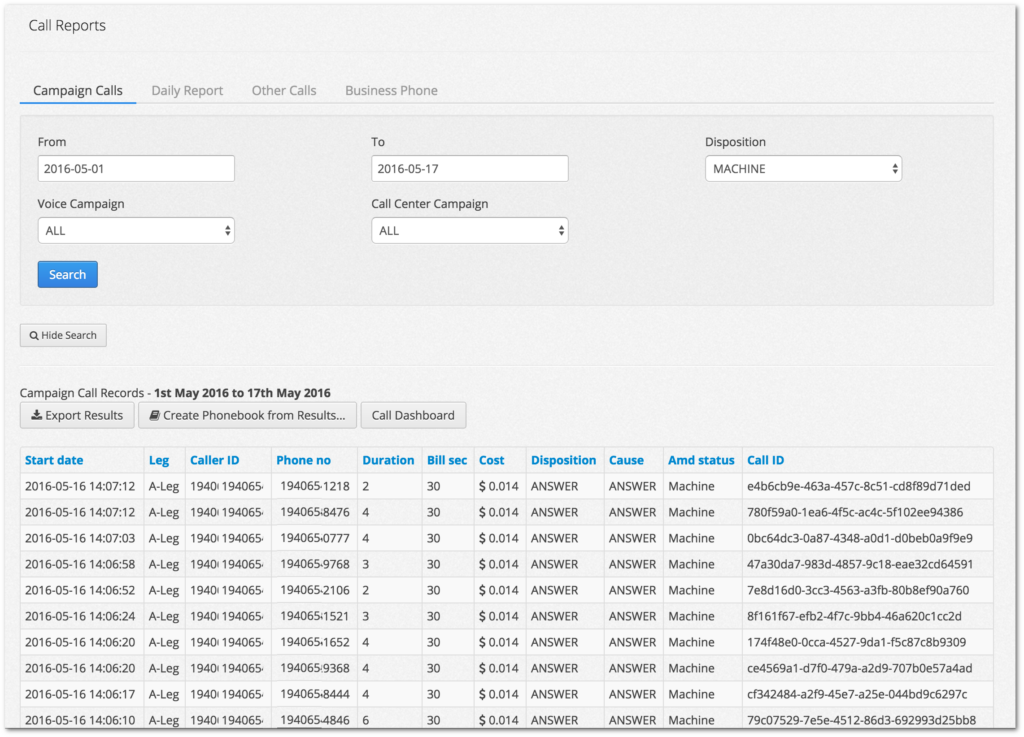 CallHub's Call Center Software report
Check out these important Call Center metrics you need to monitor to uplift your campaign strategies and performance.
Call monitoring, whispering, and recording
Which approaches are working? Which time of the day are contacts tend to be attentive on the calls? Which audience segment is the most interested in your offerings?
Call monitoring helps have answers to all these and more.
Call monitoring is used to supervise agents and the quality of their conversations by listening to the calls. This technology helps managers assess the performance of the agents, the quality of the conversations, and provide feedback.
See how you can monitor calls on CallHub.
With call whispering, a manager can speak to the agent without the contact hearing them. This makes it an integral tool used to improve the agents' performance in real-time while also enhancing the contact's experience.
For example, when an agent faces a situation they don't know how to handle, the manager can guide them toward solving the problem. This makes it is extremely useful for onboarding new agents.
Call recording is used to train representatives by yielding the necessary information from a call and turning it into actionable strategies for future calls. See how you can find call recordings of a campaign on CallHub.
Callback scheduling
The data from campaigns run on CallHub shows that 40% of calls go unanswered in the first attempt, and 15-20% of them call back. Our auto dialers accommodate these callbacks and connect them with a live agent through Inbound Calling.
Now, say your customer calls you back to ask about the status of their order and they can't get in touch with you. In that case, they get re-added to the calling list, increasing your chances of connecting with them.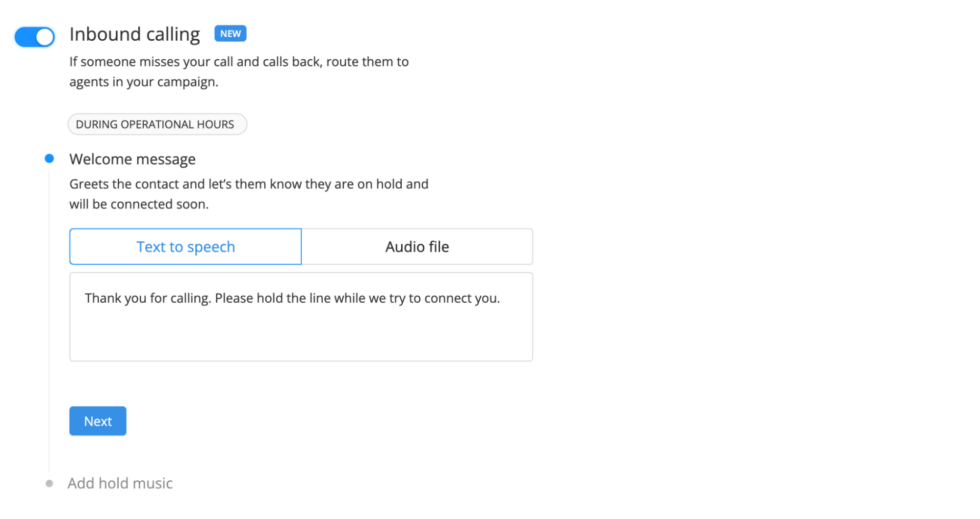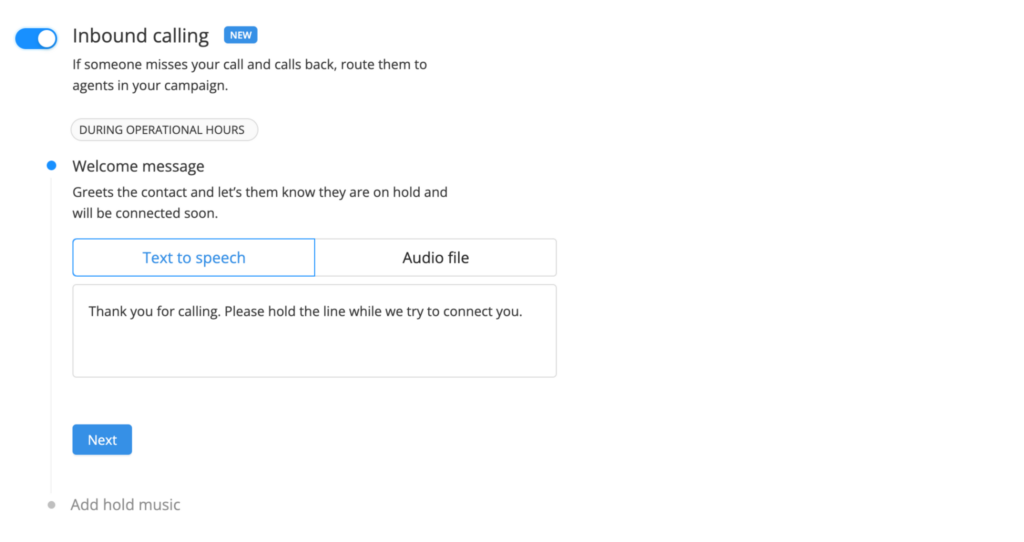 Phone numbers from multiple countries
If you have an audience across different countries, you will need phone numbers for each of those. CallHub offers phone numbers from 26 countries all from the same interface, of which you can rent one for each of your campaigns.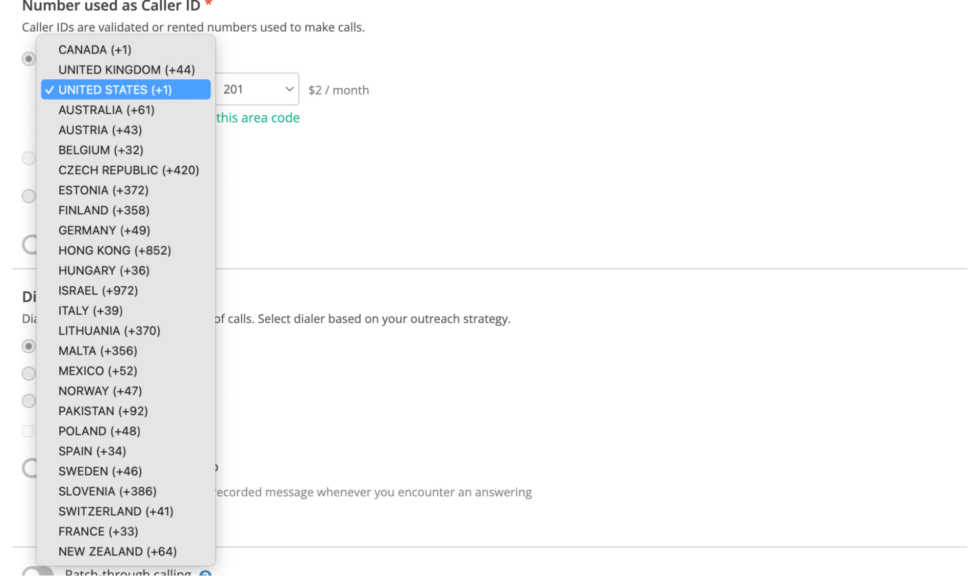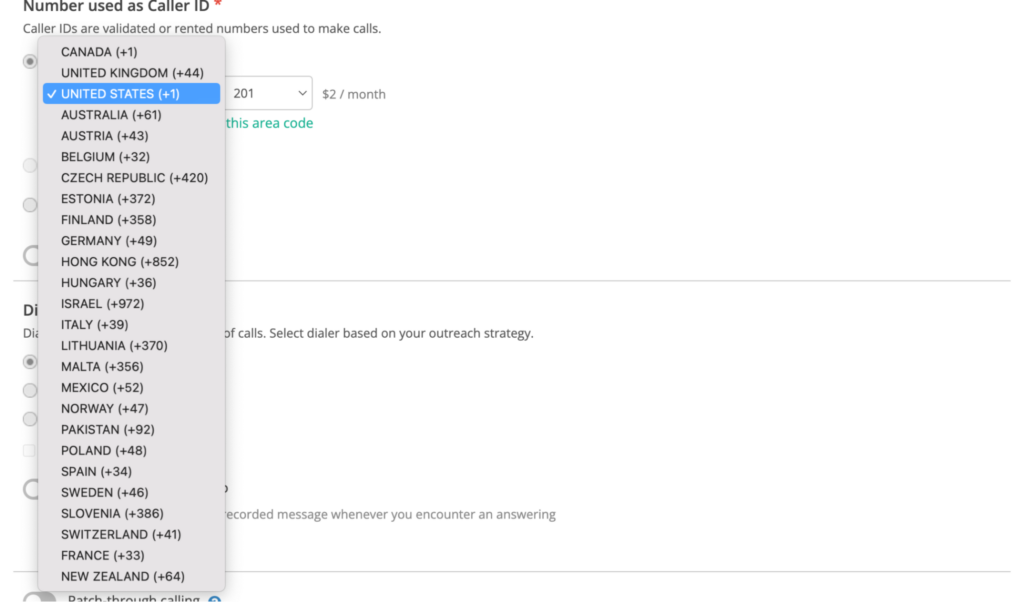 How do you set up an auto dialer?
To have an auto dialer up and running, you need to upload your contact list or import them from your CRM, set call flows, and assign agents.
Let's see the process in detail.
Step 1: Create a free account on CallHub and create a Call Center campaign from the dashboard.
Step 2: Add your call script. At this stage, you will add the campaign brief, questions that can have regular responses, multiple-choice questions, or questions that can have numbers as a response.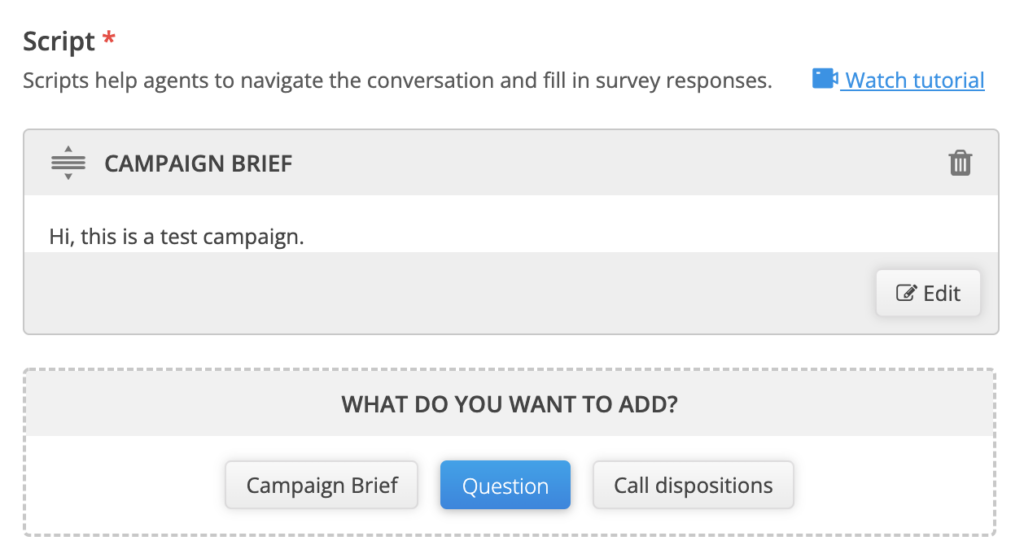 CallHub also lets you add interactive scripts that head down different paths depending on the direction of the conversation. This lets you guide your agents at every step of the conversation without you even being there.
Your agents, on the other hand, can focus only on what's relevant, and handle any direction or scenario a conversation encounters effortlessly.
Step 3: Upload your contact list in CSV format or import them from your CRM by integrating it with CallHub.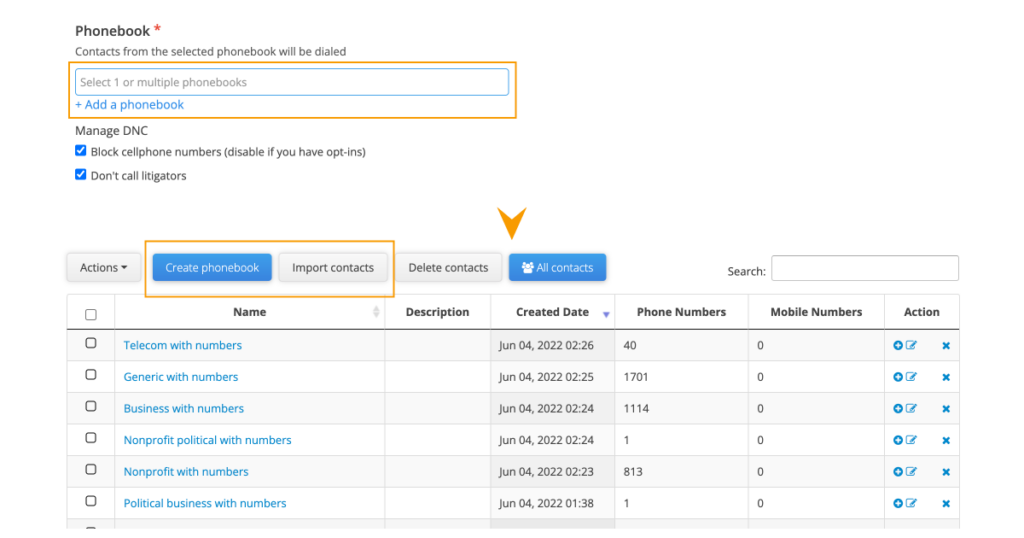 Step 4: Choose a dialer.


Step 5: Assign agents for the campaign.
Enable 'Record all calls' to record all the answered calls. You will be able to listen to the recordings anytime after the call to monitor the conversation. The 'Add notes' option allows agents to add notes after every call, which can inform your future campaigns including follow-ups.


Step 6: Schedule the campaign. This is a crucial part of the campaign, as this determines when your calls will get placed.
You will have to set a start and end date along with defining the operational days and hours for the campaign. The timezone in which your campaign will be set depends on the option you choose between the two:
Campaign's timezone: You can choose a timezone under which you wish the campaign to run.
Call people in their timezone: Your contacts will be called in their timezone. This setting works best when you have these three fields for all your contacts in your contact list used in the campaign: 
Zipcode of the contact
State of the contact
Area code of the phone number.
The automated dialing system checks these three fields in the mentioned order to determine a contact's timezone.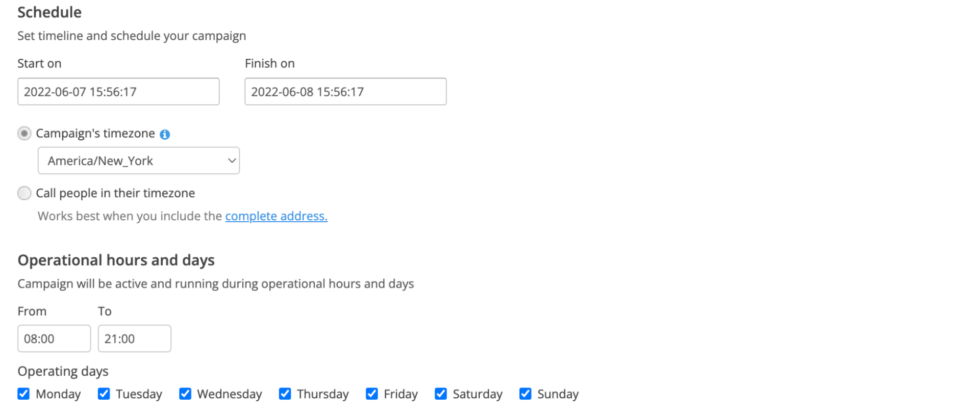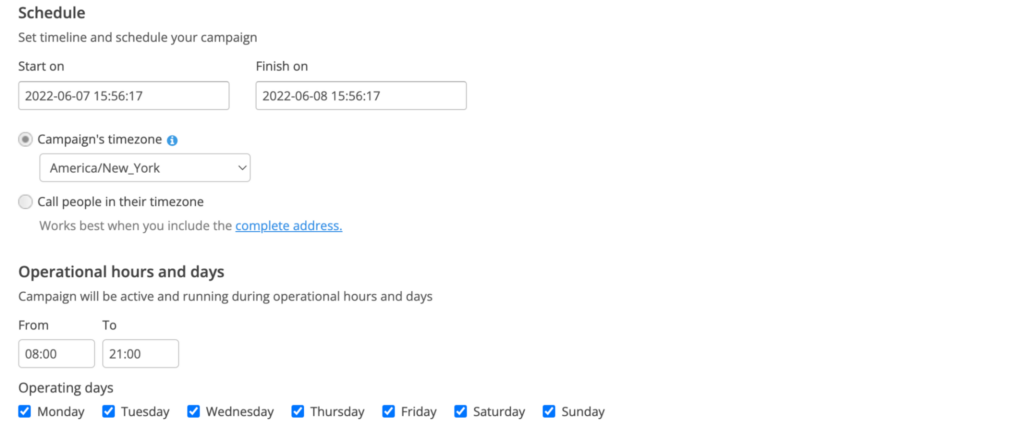 By default, the campaign will be in the pause stage once you hit 'Finish', as you may need some time to make sure your agents are ready to start. You can hit 'Start' to get the campaign rolling.
Important reminder: Add agents to your campaign using the 'Agent' tab who will make calls in your campaign.

For more information on setting up an auto dialer, refer to this guide.
What do CallHub users like
"We can make calls at about 5x the rate that we would with a manual dialer, getting through a list of 100 calls in just over an hour. This has been a huge capacity saver in our organization."Amanda Destefano, Leadership Organizer, United Workers
"Solid dialer, responsive support, and awesome CRM integrations!"Django Merope Synge, Campaigns Director, GetUp
"CallHub made my marketing program easy and also affordable. I love the dialer, the SMS marketing program and the voice broadcasts. The CallHub team is doing a wonderful job!"Wendy Mathis, Global Quest Services
In addition to all the features we discussed above, CallHub's Auto Dialer also:
Allows agents to dial remotely using our web version or the mobile app.
Has ticketing, live phone support, email support, live chat support, and an online knowledge base.
Has a built-in Do Not Call list that filters out cellphone numbers without opt-ins and litigators, to comply with TCPA regulations.
Despite all that, at the end of the day, relying solely on one dialer is not going to solve your problems effectively. Choosing a dialer that suits you depends on the dynamics of your team, your use cases, and much more.
Take this quiz to find out which auto dialer works best for your campaigns.
Featured image: Photo by Markus Spiske