Block walking, (or blockwalking) also known as foot canvassing, is the process of political campaigners and advocacies meeting and talking to voters at their doors. It involves connecting with people on a personal level, understanding their hopes, aspirations, and pain points.
Blockwalking is a predominant method of political canvassing, widely employed by political parties and advocacy groups to
Canvass,
Identify voters,
Sway undecided or swing voters,
Raise funds
Spread awareness about a cause,
Recruit volunteers,
Identify lawn sign locations, and
Mobilize voters during get out the vote operations.
Blockwalking is more than just promoting a candidate or cause; it's about forging authentic connections that inspire trust and support from the grassroots. It forms the foundation of the ground game or field efforts in political campaigns.
In this blog post, we demystify the concept of block walking and discuss the process.
What is the purpose of block walking?
Block walking serves various critical purposes within a political campaign:
| | |
| --- | --- |
| Canvassing | Block walking involves engaging directly with voters by going door-to-door to gather support, feedback, and opinions. |
| Voter identification | Campaigners engage in block walking to identify potential supporters, opponents, and undecided voters within the targeted community. Engaging with individuals face-to-face helps canvassers gather valuable data about their political preferences and inclinations. |
| Voter persuasion | One of the key aims of block walking is to persuade undecided voters and reinforce support among existing supporters. With direct conversations at the doorstep, canvassers engage in deep canvassing, address voters' concerns, share the candidate's or cause's vision, and inspire a positive change in opinions. |
| Fundraising | While block walking itself doesn't involve soliciting donations, it can lead to building connections with potential donors. Through personal interactions, canvassers lay the foundation for future fundraising efforts and cultivate meaningful relationships. |
| Campaigning | Block walking is the bedrock of political campaigning. It enables candidates and advocates to take their message directly to the people, making their presence felt in the community and building trust with voters. |
| Volunteer recruitment | Block walking allows campaigners to connect with passionate individuals who are willing to contribute their time and energy to support the cause. |
| Identifying lawn sign locations | Lawn signs are an effective way to increase visibility and garner support. During block walking, canvassers identify strategic locations where supporters are willing to display campaign signs. |
| Direct marketing | Block walking is a targeted form of direct marketing, reaching voters on a personal level rather than relying solely on mass media. This personalized approach creates a stronger connection between voters and the campaign message. |
| Get Out The Vote campaigns | The success of any political campaign hinges on voter turnout. Block walking plays a vital role in Get Out The Vote (GOTV) efforts, reminding supporters to cast their ballots and ensuring they have the necessary information to vote. |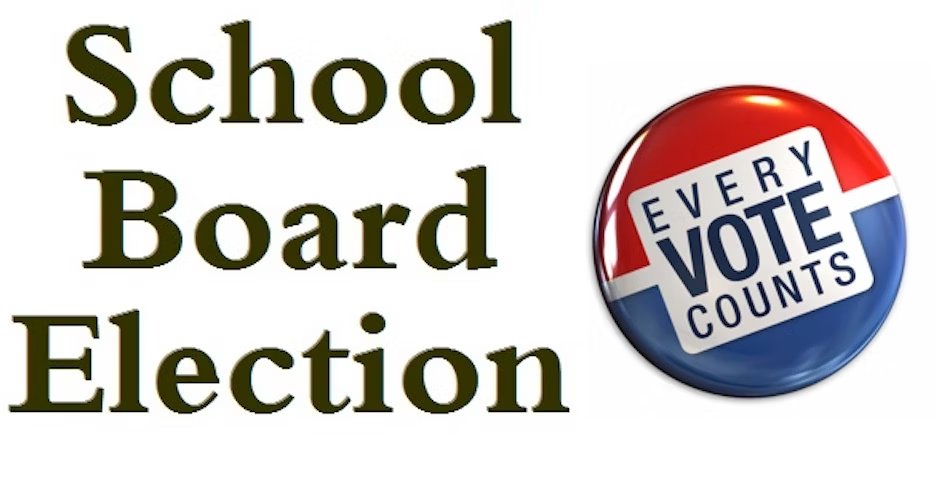 Hays Dems hosted a blockwalking event in Austin, Hays County, Texas, focused on three important elections in Dripping Springs. The goal was to secure seats for candidates who support students and public education.
The event aimed to gather support and canvass voters for the candidates endorsed by Hays Dems. Participants were urged to use the MiniVAN app on their smartphones for location and information.
Who goes out for block walking?
Block walking teams often consist of:
Campaign volunteers: These are individuals who 'volunteer' their time and energy to support the campaign's goals or, take up campaign jobs without any pay. They believe in the candidate's vision or the cause and are willing to dedicate their efforts to connect with voters directly.
Paid staff: In some cases, political campaigns or advocacy groups hire paid staff to conduct block walking.
Political activists: Experienced political activists who are part of the campaign or affiliated organizations also participate in block walking. Their expertise in engaging with voters can be valuable in driving the campaign's outreach efforts.
Local community members: Depending on the nature of the campaign or cause, local community members who are personally affected by the issues being addressed also actively participate in block walking to raise awareness and gather support.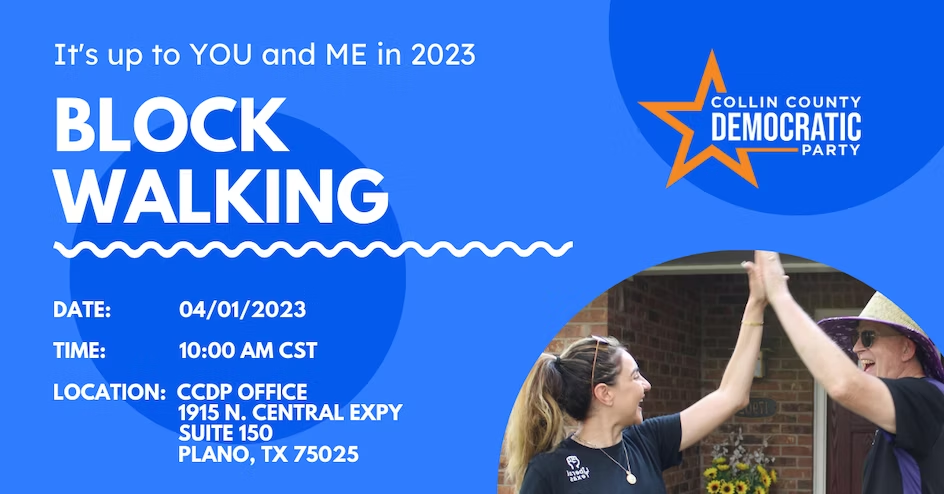 The Collin County Democratic Party organized a blockwalking event in Collin County in 2023. Led by Max Davis, the party's new Field Director, the event started with an in-depth training session before participants headed out to knock on doors. The primary goal was to identify new Democratic voters through blockwalking.
The process of block walking
Block walking involves a structured and systematic approach to effectively engage with voters and gather valuable data.
It involves 4 main steps:
Campaign managers or leaders provide a walk list or apps to canvassers
Canvassers follow the route and engage with voters
Recording information and data in the voter database
Further actions based on collected data
Here's a breakdown of the key steps in the process:
Campaign managers or leaders provide a walk list or apps to canvassers
Campaign managers equip the canvassers with canvassing apps or a walk list, which is a list of supporters with their names, addresses and other details in a defined neighbourhood. The nature of these supporters depend on the motto of that blockwalking exercise. For example, voter persuasion efforts will may have a different set of individuals than volunteer recruitment canvassing- albeit in the same neighbourhood.
Today, paper walk lists are replaced by modern canvassing software that can update, append and connect with other communication tools and provide a wholesome experience to canvassers as well as voters.
For more insights on canvassing software, check out this blog post: 17 Effective Canvassing Software to Make Your Campaign Obstacle-Free.
Types of canvassing

During block walking, different types of canvassing techniques are employed based on campaign objectives and voter engagement goals:


Election canvassing: This type of canvassing focuses on promoting specific candidates and securing votes for upcoming elections. Canvassers discuss the candidate, campaign promises, and encourage voters to support their candidate on election day.


Issue canvassing: Issue canvassing centers around advocating for particular policies or raising awareness and educating the grassroots about critical issues affecting the community.


Deep canvassing: Deep canvassing involves having in-depth and empathetic conversations with voters. Instead of simply promoting a candidate or cause, canvassers aim to understand voters' perspectives and experiences, fostering meaningful dialogue to create lasting impact and bridge divides.

Read our comprehensive blog post, Political Canvassing 101 – Methods and Messaging, and equip yourself with the strategies to make a real impact in campaigns. Learn how to connect with voters, sway opinions, and drive meaningful change.
Canvassers follow the route and engage with voters
With the walk list or the canvassing app, the canvassers visit the designated addresses.
The size of the team can vary depending on the campaign's resources and goals. Some campaigns may have smaller teams of 2-3 volunteers, while others may organize larger groups.
When it comes to knocking on doors, the time it takes to visit 100 doors can vary based on several factors, including the density of the neighborhood, the level of voter engagement, and the efficiency of the canvassing team. On average, a canvasser can visit approximately 15 doors per hour, but this can be faster or slower depending on the circumstances.
Master the Art of Perfect Doorstep Interaction in Political Canvassing. Discover the secrets to making impactful connections with voters, gaining their support, and driving campaign success. Learn the power of persuasive messaging and build authentic relationships that make a difference.
Recording information and data in the voter database
During block walking, canvassers collect valuable information about voters, such as their preferences, concerns, and level of support. This data is meticulously recorded and then transferred to the voter database.
The voter database acts as a centralized repository of information, aiding in targeted outreach and future campaign strategies.
Read our Ultimate Guide to Mastering Voter Identification with VoteBuilder! Learn how to use technology to identify, engage, and mobilize voters. Discover insider tips, best practices, and step-by-step instructions to optimize your campaign's voter outreach.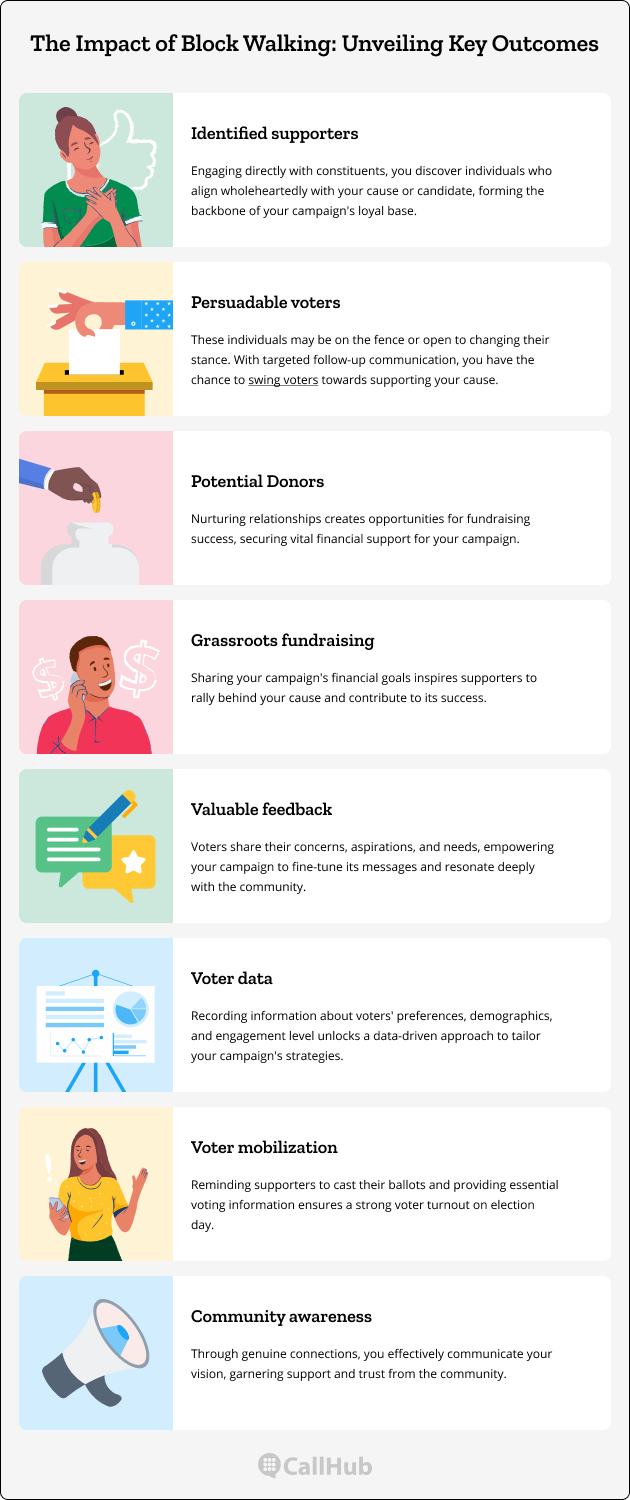 Take further actions based on collected data
The data gathered during block walking becomes the cornerstone of the campaign's decision-making process.
Campaign teams analyze the information to
Target specific demographics,
Allocate resources effectively, and
Plan follow-up communication and outreach efforts.
This data-driven approach enhances the overall effectiveness of the campaign's ground game.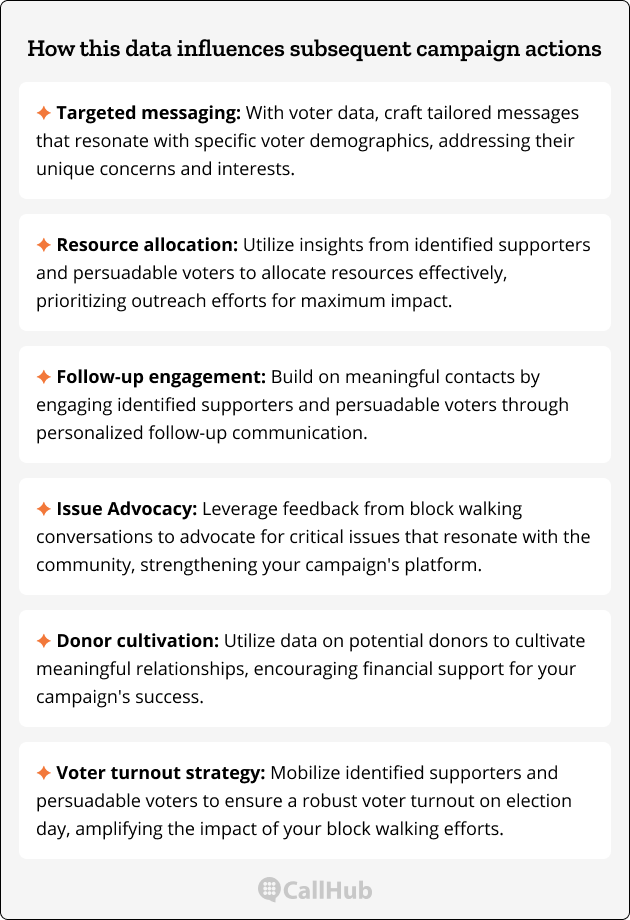 How to Supercharge Your Campaigns with Voter Data – Read our essential guide now! Use voter data to target, persuade, and mobilize voters effectively. Learn how to use data-driven insights to craft compelling messages and achieve success.
Source: Wikipedia

The Center for Law, Engagement, and Politics at SHSU organized a learning experience on campaigns for the LEAP students, a group of Political Science majors in 2016. The event involved blockwalking, where students had the opportunity to engage with campaign volunteers, staff, and US Congressman Kevin Brady.
The students split into blockwalking teams and set off to their assigned neighborhoods. The results were encouraging, with many voters welcoming and thanking them for information about the Congressman.
Goals and objectives for block walking
It's not about the sheer number of doors knocked; but about the quality of connections made.
When it comes to block walking, the ultimate goal is to make meaningful and authentic connections with constituents. Face-to-face engagement gives the opportunity to listen, understand, and address the needs and concerns of voters directly.
Building these personal connections fosters trust and support, setting the stage for successful political campaigns. Each meaningful contact strengthens the campaign's foundation and contributes to its success.
So, equip yourself with the right communication tools, embrace personal engagement, and let block walking amplify your political influence.