A solid church visitor follow-up strategy addresses the bane of churches everywhere – declining church membership and reduced attendance.
A Gallup study has found that church membership dropped to 50% in 2018.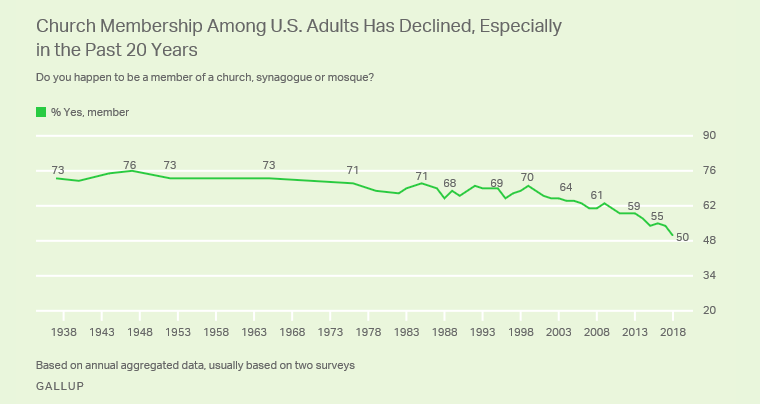 Combined with a more significant social trend of declining church attendance (dropped to 37% in 2017), you have worried churches and pastors doing their best to attract new visitors and get them to attend service regularly.
If your church is looking to solve a similar problem, then this post is for you. Not only will we look at best practices to improve an existing church visitor follow-up strategy, but we will also go through how to set up one to make maximum impact.
What is a church visitor follow-up strategy?
A church visitor follow-up strategy includes a series of messages that is sent to a visitor after they visit your church for the first time. A well-planned strategy includes details on:
What message to send
What channel to send it across
When to send it to your visitors
The objective of this outreach is simple – it is to ensure that the visitor comes back to attend your service and becomes a member of the congregation.
The messages are designed to be welcoming and personal so that the visitor is encouraged to return.
Why is a church visitor follow-up strategy necessary?
Typically to welcome new visitors, churches ensure that:
The atmosphere is friendly and welcoming
There are dedicated staff to engage with new visitors
The guests get welcome gifts and packages as a token of appreciation
However, these methods are no longer enough to retain a new visitors because they do not address the fundamental reason why visitors drop out.
Top 5 reasons why church dropouts say they stopped attending church (as per Christianity Today)
| | |
| --- | --- |
| Reason church dropouts stopped attending church | Percentage |
| I moved to college and stopped attending church | 34% |
| Church members seemed judgemental or hypocritical | 32% |
| I didn't feel connected to the people in my church | 29% |
| I disagreed with the church's stance on political/social issues | 25% |
| My work responsibilities prevented me from attending | 24% |
29% of people stop going to church because they do not feel connected to people in their church.
Now, this is the gap a church follow-up strategy tries to solve.
By combining welcoming messaging, and inviting the visitors to regular events (not just sermons), a good visitor follow-up strategy will make the visitor feel involved, welcomed, and part of the community. That is how they make them stick!
Setting up an effective church visitor follow-up strategy
Keep in mind that the visitor follow-up strategy cannot replace your existing methods of welcoming new guests. Rather, it works in conjunction with the process already in place to send personal, and customized messages.
There are 3 steps to building an effective church visitor follow-up strategy:
Collect data – Getting information about the visitor
Connect with your visitors – Setting up and executing a contact sequence
Build relationships – Offline and in-person connections
| | | |
| --- | --- | --- |
| Stage in the visitor follow-up strategy | When does it happen? | What should you do |
| Collect data | During the first visit, before they leave the church. | *Get visitor's contact information*Find out why they are attending*Additional Information about family/address etc. |
| Connect with your visitors | After they leave the church | *Follow-up via emails*Check-in using text messages*Call up to see when they can come again |
| Building relationships | Before coming to the next sermon. (OR)If they miss the next sermon | *Invite them to attend luncheons*Introduce them to fellow church community members*Make plans for Children's Sunday school (if applicable) |
Let us look at each of these stages a little more in detail.
Collecting data
The effectiveness of your visitor follow-up strategy hinges heavily on the quality of the data you collect. It will help you tailor messages in the contact sequence to better appeal to your visitor.
How do you collect the information?
From the time a visitor steps inside your church, till the time they leave, there are multiple touch points that can be used to gather information about them.
Personal conversations between the visitor and your church staff
Connection cards at the welcome kiosk
Text to join, with a keyword and a shortcode
Fill up a digital form (at the exit)
Remember to keep the forms succinct and your tone friendly to ensure that the visitors actually finish giving their information.
What information to collect?
It goes without saying that contact details are the most important information to collect. What is equally important is to understand why the visitor is attending your church. Typically, their reason for a visit could be one among the five:
Personal/emotional setback (e.g. divorce)
Death of a loved one
They have moved to your neighborhood
Trauma/disasters (e.g. accidents, illness)
Life-changing events (e.g. marriage, baby)
Knowing the exact reason for their visit can help you customize the follow-up messages to be more empathetic.
Of course, a lot of this information is rather delicate. So the best way to get them is via personal conversation. However, if you plan to ask this via a form, give them options they can select (instead of making them write it out).
Connect with your visitors
The next step in setting up your visitor strategy is to use the information above and actually set up a contact sequence. The key in this step is to connect with them via channels they prefer.
What channels can you use to connect?
The right channel will ensure that your messages have the highest chances of being read (and responded to). Keep in mind that the 'right' channel will differ according to the age demographic.
Emails – Non-intrusive. Are perfect for sending long-form messages (to educate them about your church). This is a preferred channel for millennials and the older generation
Phone calls – Highly intrusive. But, done right, adds a strong personal touch. This channel is perfect to have a meaningful, personal conversation with the visitor. It is preferred by the older generation, and baby boomers.
Text messaging – strikes the perfect balance between personal and nonintrusive. It has a higher open and response rate. It is the best way to talk to GenZs and millennials. Read our guide to get a better understanding of how to use church texting services here.
Mail/postcards – Non-intrusive and because they are so rare, add a personal touch. Can be used for all generations, as an additional channel (but not the primary method of communication).
The channel you choose will also be determined by the church communication software that you have. A tool like CallHub, allows you to connect with your visitors via phone calls and texts.
Even within texts, you have the option of sending bulk texts or having a conversation via peer-to-peer texts with your visitors.
How to best connect with the visitors
The first step in setting up a contact sequence is segmentation. Using the data you have collected and knowing the channels at your disposal, you can segment based on:
The reason they have visited (will help you craft a personal message)
Their age demographic (this will determine the channel of communication or the right time to communicate)
Whether they are working or not (help you determine when to send the message)
Using the above information, here is how you can reach John, – a family man of two kids who have recently moved to your locality.
Since John is comfortable with texts, you can have a peer-to-peer conversation with him. Here is how it can go.

You will also know to time that message during lunchtime so that John doesn't miss the texts while working.
Building relationships
Once the visitor comes back to the church, your work is still not done. You can invite them to luncheons and introduce them to others in the community.
Or, if your church has a high number of new visitors, you can hold exclusive gatherings for them to get to know each other.
These events would be the perfect way to encourage the visitors to also bring a friend along and get their whole family involved. Since 57% of churchgoers prefer to get introduced to church outside of sermons, this is an opportunity you cannot pass up.
You can send these invitations via text or email. If a visitor is unreachable by both of these channels, you can also make a call to invite them.
Read Next: How Do You Invite People to Church with Texting? (With Tips, Best Practices, and Samples)
6 tips for an effective church follow-up strategy
1. Time it right
Don't wait till the next sermon to send a follow-up message. Research shows that involvement does not start (or is limited) to Sundays. So send out a message the same day (or the very next day) of their coming to church and follow up during the week.
2. Go digital
Maintain contact information in a CRM (or a web-based church management system) to ensure that data does not get lost. This can also help you segment your members based on their behavior and give you insights on making your outreach more personal.
3. Test and adjust
There is no magic visitor follow-up strategy that you can plug and play. Regardless of which you set up, keep tweaking it based on your church's unique requirements to get the most out of it.
4. Stick to consistent messaging
The visitor should get the same message resonated across all the touch points. For example, a text message that refers to the past sermon they attended can have more impact than a generic follow-up text.
5. Simplify joining
Not all visitors have the patience to fill out a connection card. So make it easier for them by enabling other channels of registration. For E.g. they can register via your website. Or, they can text a keyword (FAITH) to your short code 33339 and get updates.
6. Make it fun
Though it seems silly, having a 'fun' congregation makes visitors more involved. It reduces their reluctance to join and motivates them to bring their families and loved ones.
Take-away
Every visitor who comes through your doors is unique. They come from varied backgrounds, and all come seeking different things.
The church visitor follow-up strategy outlined above aims to identify what they want and make them feel wanted so that they stay.
Keep in mind, however, that technology can only do so much. Approaching the visitor follow-up strategy with the right mindset is equally important.
Instead of thinking "this visitor can help grow my church", look at it as " how can I help this visitor get what they need?". This thought process will automatically make your messages more empathetic and your communication more authentic.
Featured image credits: Polina Sirotina