As an alumni relations department, do you often ask yourself, "how to network with alumni"?
The core of alumni networking is based on two pillars: value and communication.
And as studies suggest, email is an excellent method for the latter.
According to a membership marketing benchmark report, email is an effective way to improve member acquisition– second only to word-of-mouth. 52% of associations get most new members via email marketing.
If you want to employ this method for alumni outreach, look no further. We bring you tips and email samples for contacting alumni to help you with your university or college's goals.
How do you write an outreach email?
The first email you write to alumni will set a precedent for the subsequent ones. This reach-out email will dictate your open, click-through and subscribe rates. If folks don't respond to this email, it will restrict your pool for future interactions.
For this reason, it is crucial to get your timing, target audience, and wording absolutely right.
Here's how to write an outreach email, when to send it, and whom to send it to
Target audience: Recent graduates who had signed up for email updates during their time at the college/university but haven't yet opted in for alumni network updates or to be a part of the alumni association.
Timeline: Begin as early as possible– Around a month after the exams or last submissions is a good time to reach out. You can re-target students who haven't opted in after the results come out or after the graduation ceremony.
Content: The reach-out email to alumni must include:
Personalization: Based on majors, graduation year, and clubs/societies they participated in).
Value: How the alumni network will benefit them.
Ways to be part of the network: SMS opt-ins, email sign-ups, online forms, etc.
What to expect from future broadcasts: e.g., nature of the content, frequency.
Choice of the preferred mode of communication: usually email or SMS alerts.
Contacting alumni email sample:
Hey there Gwen,
Congratulations on submitting the last of your papers! Phew. Now you can relax and not worry about your studies.
As a mass communication student at Michigan State University, you are entitled to many benefits, even after you graduate. Our alumni network allows you to:
Attend annual conferences and seminars to discuss career opportunities, prospects in your field, and what to expect in the changing economy.
Get exclusive chances to interact with other alumni who have made an undeniable mark in their fields.
Get access to monthly newsletters where we interview professors, students, employers, and other experts to understand how to get started with careers in mass communication.
View weekly photos and videos from our campus so you can relive your student days for years to come!
Your batchmates have already signed up for the network, and here's your opportunity to join them.
Fill out this form and join the alumni network now!
Hope to see you in the network!
Cheers,
Peter
Pro tip:
Set a process to follow up with the alumni before you fade from their memory.
For respondents, use their preferred mode of communication (email or SMS) to send a hello (which includes a thank you note for signing up).
For nonrespondents, send follow-up emails 7-10 days after your first email.
Related Reading: Automated Text Messaging – How to Get Started
How do you cold-email alumni?
Cold emails are reserved for those who haven't opted-in for any email (even in their student years) in the case of alumni networking. However, being part of a university, you can procure their university email IDs and send out a cold request.
When they accept or respond to your cold email, request their personal email ID, and move the conversation there.
Emails are often used as the first point of outreach since they are non-intrusive and are generally favored by senders and recipients.
Follow these best practices while sending a cold email to alumni:
Send the cold email within a month of their last official day at the college or university. If you delay, the emails may bounce since universities deactivate students' emails after they graduate. Check your institution's policies before sending the email.
Open with the alum's name. Reference details like their major, and graduation year for personalization– the email should not feel generic for the risk of getting ignored.
Use a different sign-up form than the reach-out email. This form must note their personal email, even if the preferred mode of communication is something else. Emails enable you to send long-form texts (like newsletters, event invites, etc.). They stay constant even when a person's phone number changes (like when they move abroad for a job) and can be used for follow-ups.
Contacting alumni email sample:
Dear Emmanuel,
I am Peter, a former student at California State University and currently the communications manager at our alumni relations department.
Emmanuel, I see you are a Microbiology major and are set to join the list of brilliant alumni who call CSU their alma mater. Congratulations!
Did you know that CSU has a well-connected and active alumni network that
Engages in dialogue about their respective field
Connects new students with formers, and
Holds regular seminars so we can all benefit from each other's experiences and knowledge-base?
This alumni network has also helped new graduates get lucrative jobs (read all about it here). We have also contributed to key research in the field of microbiology (read success stories here).
We would love for you to be a part of this fantastic network and stay connected with CSU.
Please share your personal email ID in this form so we can send you a formal invitation.
Alternately, you can text CSUALUM to 57666, and we can take it forward from there.
We are looking forward to years of networking!
Regards,
Peter.
Pro Tip: Introduce yourself at the beginning of the email. This shows that the email isn't sent by a bot but composed by a human– thus improving click-through rates.
How do you email an alumni association member?
The right email can drive action from your alumni and motivate them to
Subscribe to receive content
Be an active part of the alumni network
Help your university be part of a global network
Help your current students with career prospects.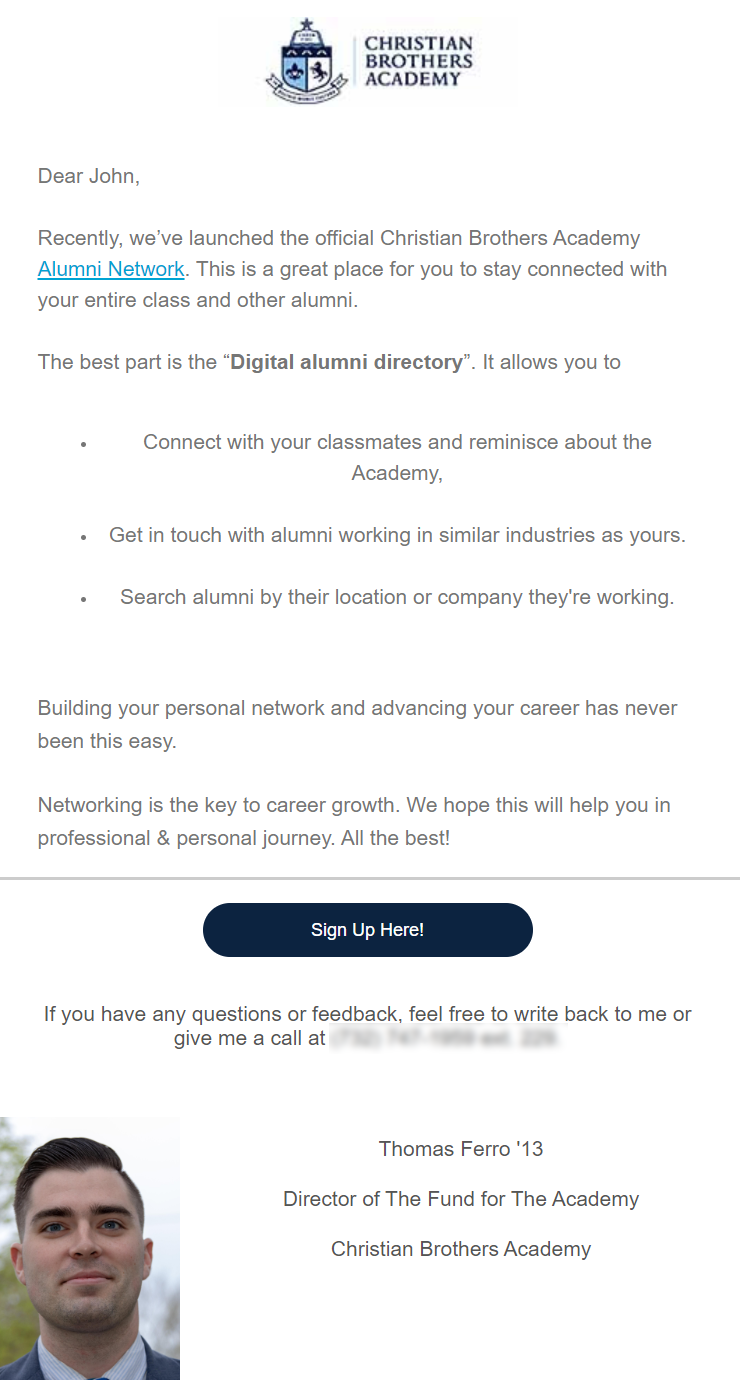 Here are some best practices you can follow when emailing alumni for networking:
Keep lists updated and target invitations according to their interests
Compose intelligent subject lines and headers
Provide prominent CTA
Each email should contain something of value
Find the sweet spot for the frequency of your emails
Follow up with engaged individuals
Let's dive deeper into each of them individually.
Keep lists updated and target invitations according to their interests
One of the biggest mistakes you will commit when sending an alumni networking email is to send out generic blasts to everyone.
Universities usually have the upper hand when it comes to sending cold emails, in that they already have an obvious connection with the recipients. However, that does not allow you to send the same generic email to everyone on the list.
Segment your primary contact list by:
Degrees: Graduates, post-graduates, doctorates, etc.
Major subjects
Interests: Clubs or societies, sports teams, cultural events, teams, etc.
When you combine all these factors, you will end up with acute segments. Compose different networking emails to target each of these categories separately.
Segmented email to alumni sample:
A child psychology graduate who played rugby for the university
A child psychology graduate who enrolled in a violin class
Hey Sasha,
Your batchmates from the Psychopathology 101 class and rugby teammates await your confirmation in the alumni network. What are you waiting for?
Hey Malia,
Your batchmates from the Psychopathology 101 class and fellow orchestra musicians await your confirmation in the alumni network. What are you waiting for?
After you begin conversing with the alumni and their engagement is guaranteed, you can further segment the list by:
Preferred mode of communication (SMS/ email for textual communication)
Career levels (keep lists updated with information on their jobs, place of stay, etc.)
Engagement levels (would they like to donate, volunteer, or attend events for their alma mater?)
Pro-Tip: Adding a line that borrows information from your previous conversation shows readers that your interactions are valued and heard out. Don't overdo it, though– just a subtle mention of a location change, promotion, changed preference of contribution or donation amount can add a lot of value to your alumni networking emails.
Read Next: Alumni Engagement Metrics: Why Responses Are a Better Success Measure Than Participation
Compose intelligent subject lines and headers
Subject lines determine the chances of opening an email 35% of the time. Composing dull, monotonous, or uninteresting subject lines will cut down your subscription rates even before the recipient reads the content.
Who wants that? Surely, not you.
This is why you must compose intelligent subject lines. Here are some types that improve open-rates:
Communicate urgency or scarcity (e.g., ⏰ Last chance to be part of the alumni group)
Include incentives (e.g., Our alumni get free passes to Dar Yasin's seminar. Join now!)
Lead with recent updates (e.g., Our beloved Students' Union gets a makeover! Join us for exclusive photos)
Add social proof to ask to be part of the community (e.g., 54 business management students join our alumni network. What are you waiting for?)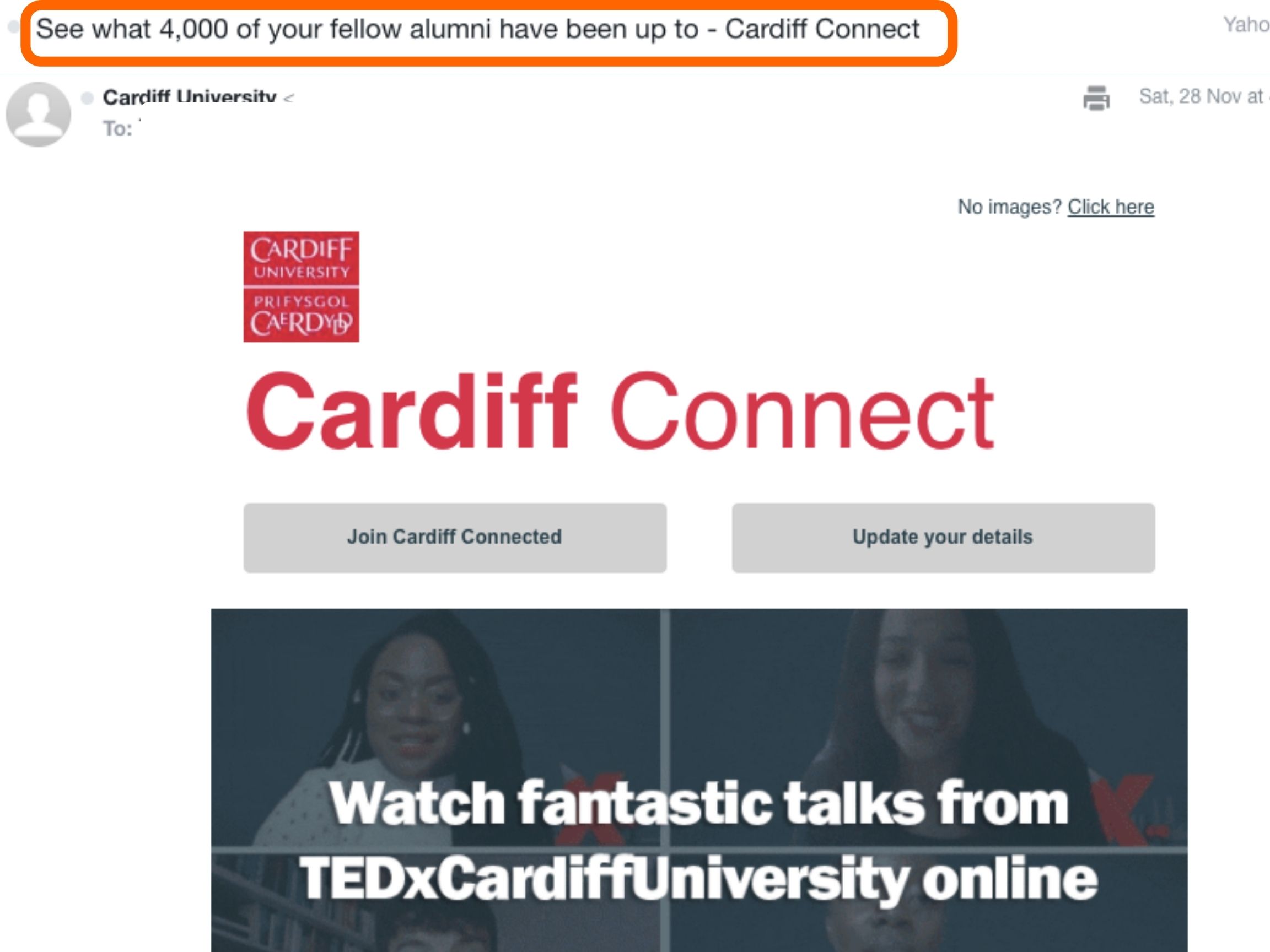 Announcements and events (e.g., Exclusive graduation party for MA Public Relations! 🎉)
Generate curiosity (e.g., What do all former math majors from CSU have in common?)
Pro-Tip: Address the alum with their first name in the subject line. This can improve click-through rates by 14% and conversions by 10%!
Provide prominent CTA
Without a prominent CTA, your alumni wouldn't know what action to take or how to become part of the alumni network. Here are some ways you can bring their attention to the action you desire:
Add anchor text
Use bright colors to drive attention to the CTA.
Personalize your asks for each segment
Use first-person phrases (e.g., Sign me up!)
Add buttons with CTA words like Join Us, Sign Up Here, or Click Here to Join.
For other types of actions (like SMS opt-in or replying with information), highlight the text using bold, or CAPITAL letters or different colors.
Pro-tip: A Hubspot study found that between 47-93% of a post's leads come solely from anchor text CTAs. Anchor text CTA (call-to-action) is a line of text that is
Linked to a landing page or website.
Is highlighted using H3 or H4 text or other such styling that makes it stand out.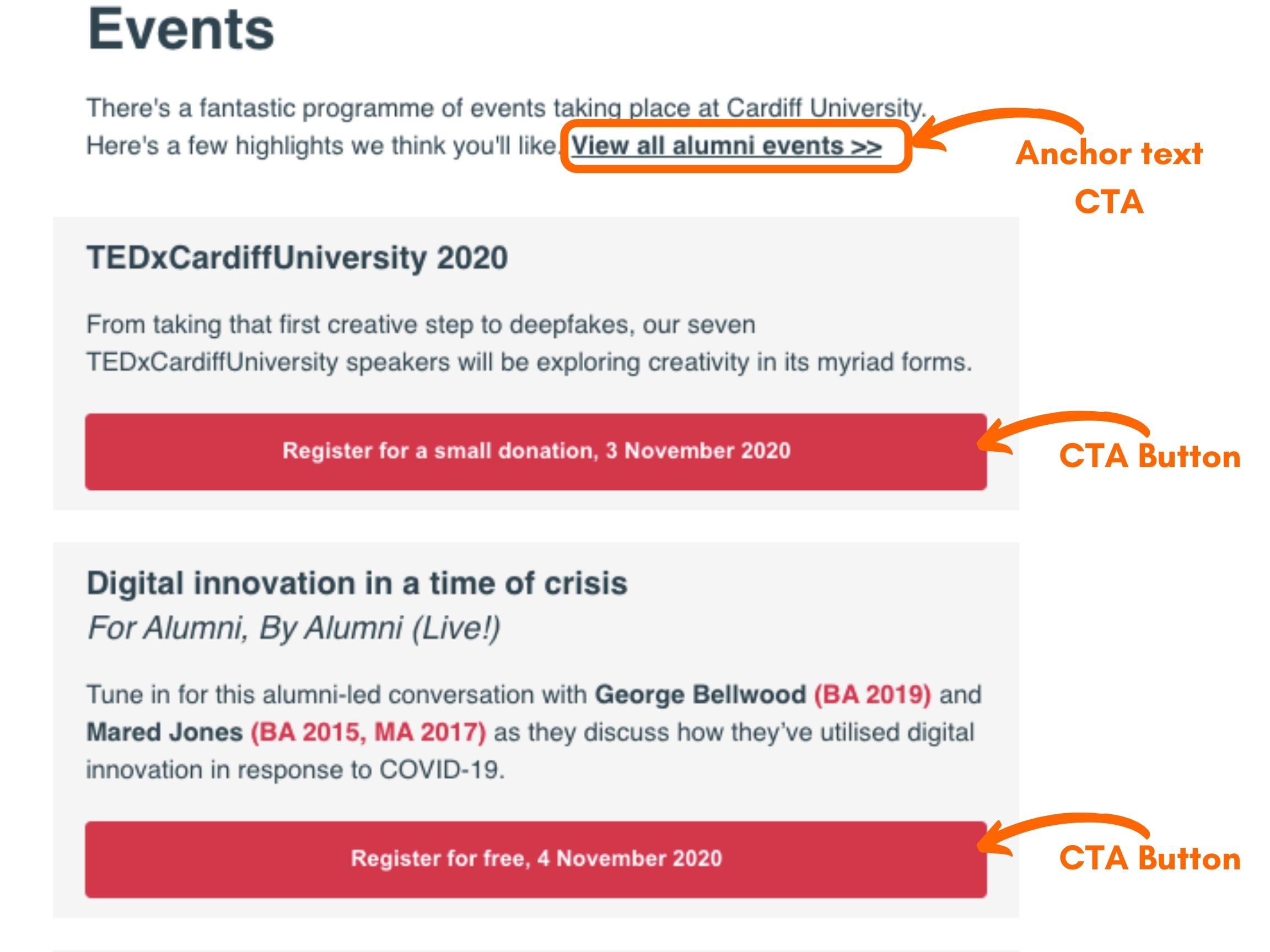 Each email should contain something of value
You need your alumni group more than they need you. So, you must provide them with value with every email you send. If your outreach ceases to create value, it will drive up unsubscribe rates and shoot down open and click-through rates.
These values could be tangible (like incentives) or intangible (like evoking emotions).
Some things that alumni find value in are:
Event invitations
Special incentives (e.g., gift vouchers, customized merchandise, free passes, campus perks)
Newsletters from their alma mater
Career panels/seminars
Nostalgic posts
Surveys and feedback
Reunions
Success stories
Pro-Tip: Two things you could do to convey value to your readers are:
Lead with how this email or your ask will benefit them.
Provide all relevant links and contact details in one place (it saves time).
Contacting alumni email sample:
Hi there Maddie,
Here's the perfect opportunity for you to relive your college days from last year. Melbourne University is putting together an alumni panel to discuss your first year away from college. We were hoping you could share your experience after college and how easy/difficult it was for you to find a job of your choice.
The panel will consist of your batchmates and moderated by Christopher Gibbons- the head of alumni relations at Melbourne University. Your professors and career counselors at the uni will be the audience.
We have planned a night of reunion, drinks, and endless talks as you take the plunge in your careers. The agenda for the discussion will be:
What did the pamphlets tell and hide about life after college?
How did the course and support departments help you with your career?
How could we improve for the next batch?
Do let us know if you'd love to join us in meeting your professors and old friends. Three from your class have already joined!
Follow this link or click on the button below to let us know you're coming.
Date: 28 August
Time: 4 pm- 6 pm- Alumni panel discussion
6 pm- 9 pm- Drinks and dinner
Address: Melbourne University Students' Union.
Waiting for your response,
Thomas Rocher.
For more on alumni engagement strategies, read: Alumni Engagement Strategy & Best Practices: 9 Top Ways to Nurture Your Network
Find the sweet spot for the frequency of your emails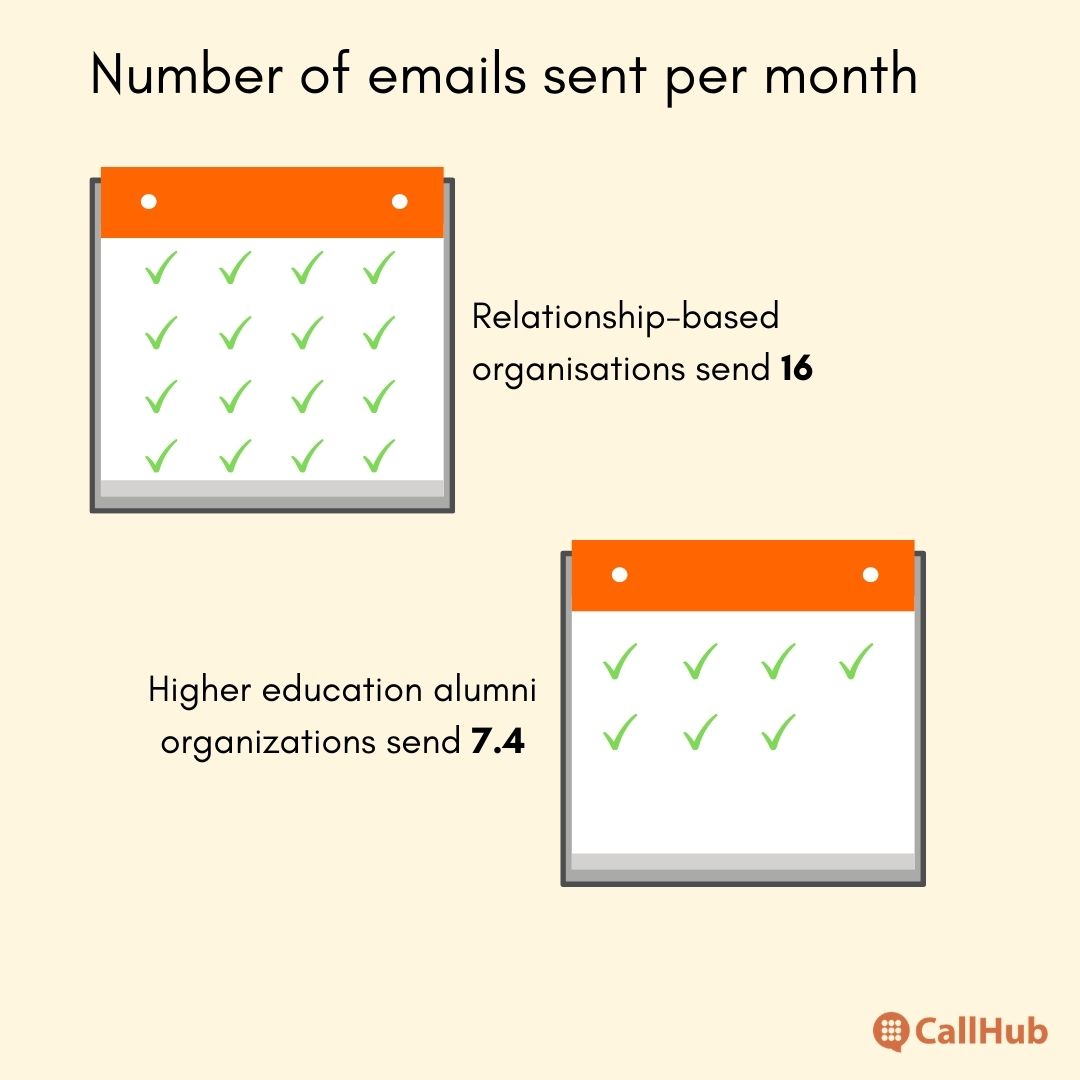 Not getting responses? Maybe your alumni feel bombarded with your email updates.
Or they are not engaged enough because the emails are too scarce.
Running A/B tests or asking alumni to fill out surveys can give you the answers. Using them as a base to schedule emails is not just a matter of respecting their choice but also enhancing your nurturing flow to increase alumni engagement.
Chances are, you will get starkly different answers to questions about email frequency. For instance, if you gave slots like 1-4 emails per month, 5-8 per month, and 9-16 per month, the preferences will be unevenly distributed. Instead of following what the majority says, segment your alumni based on how many updates they want in a month.
Someone who wants regular information can be added to a 'contact frequently' list, and those who prefer fewer correspondences to another list.
This way, you don't have to cut down on your alumni networking emails or frustrate them.
Pro-Tip: Make sure that individuals who prefer receiving fewer emails don't lose out on important information. Send them emails that compile summaries from all the other emails you send. Link these summaries out to landing pages for more details.
Follow up with engaged individuals
You have asked for an alum's preferred mode of communication in your reach-out email. In case of an email, you already have their ID, and you only have to confirm it.
In the case of SMS, create an SMS opt-in for them to subscribe to your list. Set up an automated process to follow up with the person when they opt-in to collect and add their details to your CRM.
A text messaging tool like CallHub helps you with this. You only have to select a keyword and shortcode and share it with concerned individuals. When they send in the keyword, an automatic response confirms their opt-in. You can customize the campaign to ask for more details automatically. For instance: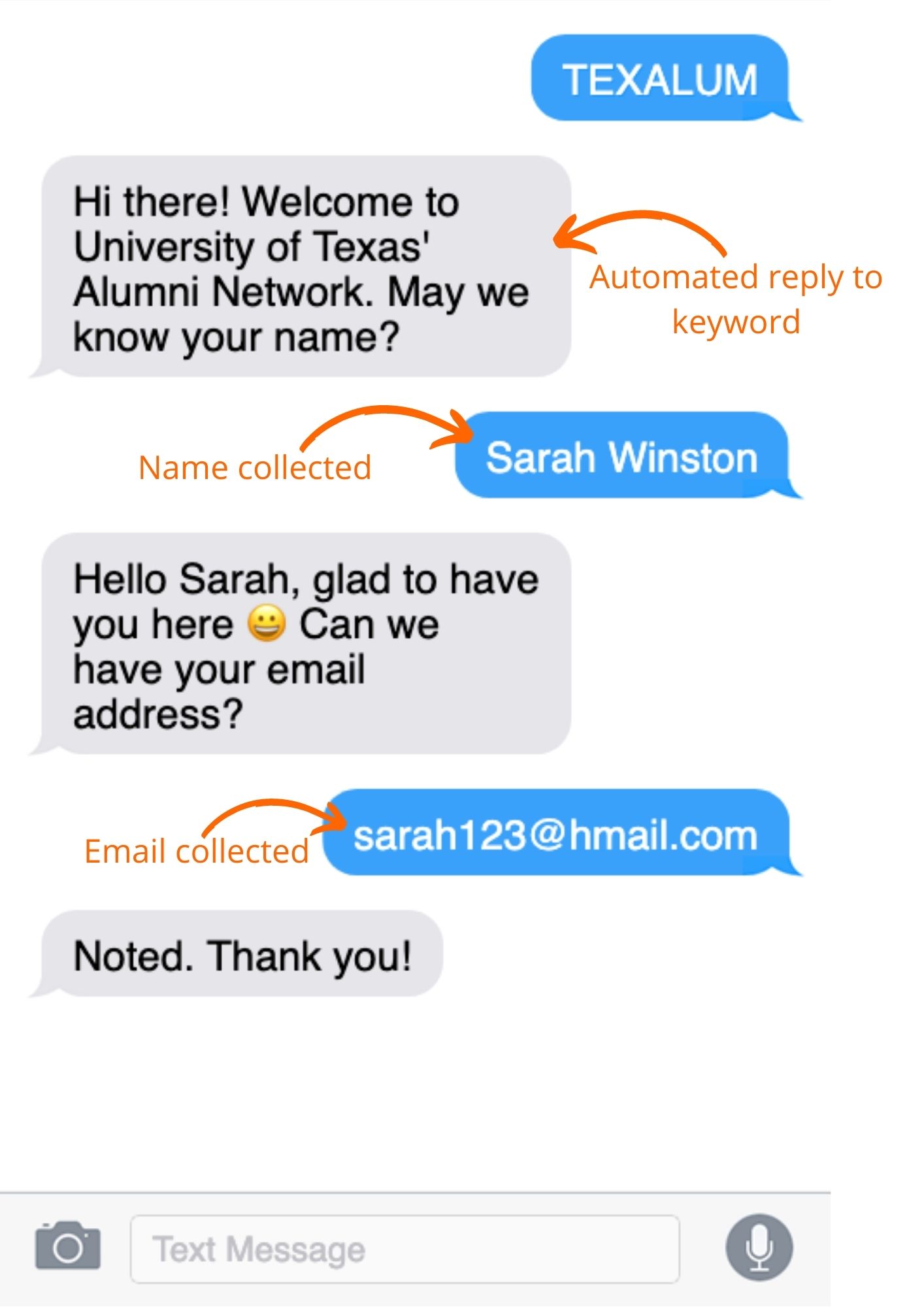 Pro-Tip: Use every conversation as an opportunity to collect more information from the individuals and utilize it for future personalization.
Contacting alumni email samples
Let's look at samples for some common emails sent to alumni. You can use them with personalized changes or compose your own emails using important elements from them.
Hello email
Sent when an alum opts in to the network.
Hello Sarah,
I am Julio Kay, the communications manager at The University of Texas Alumni Network. On behalf of the committee, I welcome you. You are now part of the exemplary alumni member network that spreads across the globe.
We offer cultural, education, social, and volunteer opportunities to all our alumni and career consultancy when you need it.
Our goal is to keep in contact with all the brilliant students who once studied here and help each other succeed in our professional fields.
We are currently a group of 5400+ alumni living in 16 countries. We plan two events and 12 e-events annually.
You can stay in touch with us and get regular updates by:
– Joining our Facebook group
– Following us on Twitter (we follow you back!)
– Following us on Instagram (where we send exclusive updates on DM!)
– Opting in for our SMS broadcasts (SMS TEXALUM to 39999)
Please let me know if you have any questions about the alumni network by replying to this email.
Warmest Regards,
Julio
[email protected]
(+1 409) 56789874
Inquiry emails
To use when making a big ask, like mentoring/holding sessions for current students.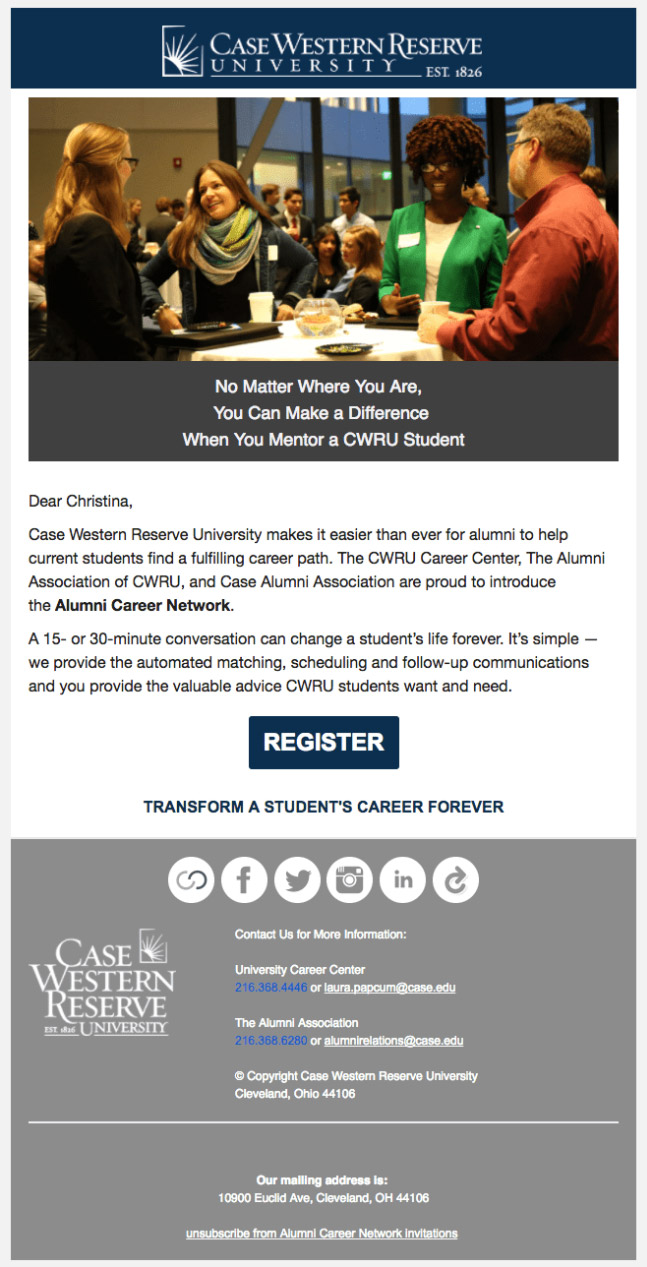 Event invites
To send invitations for events or virtual events.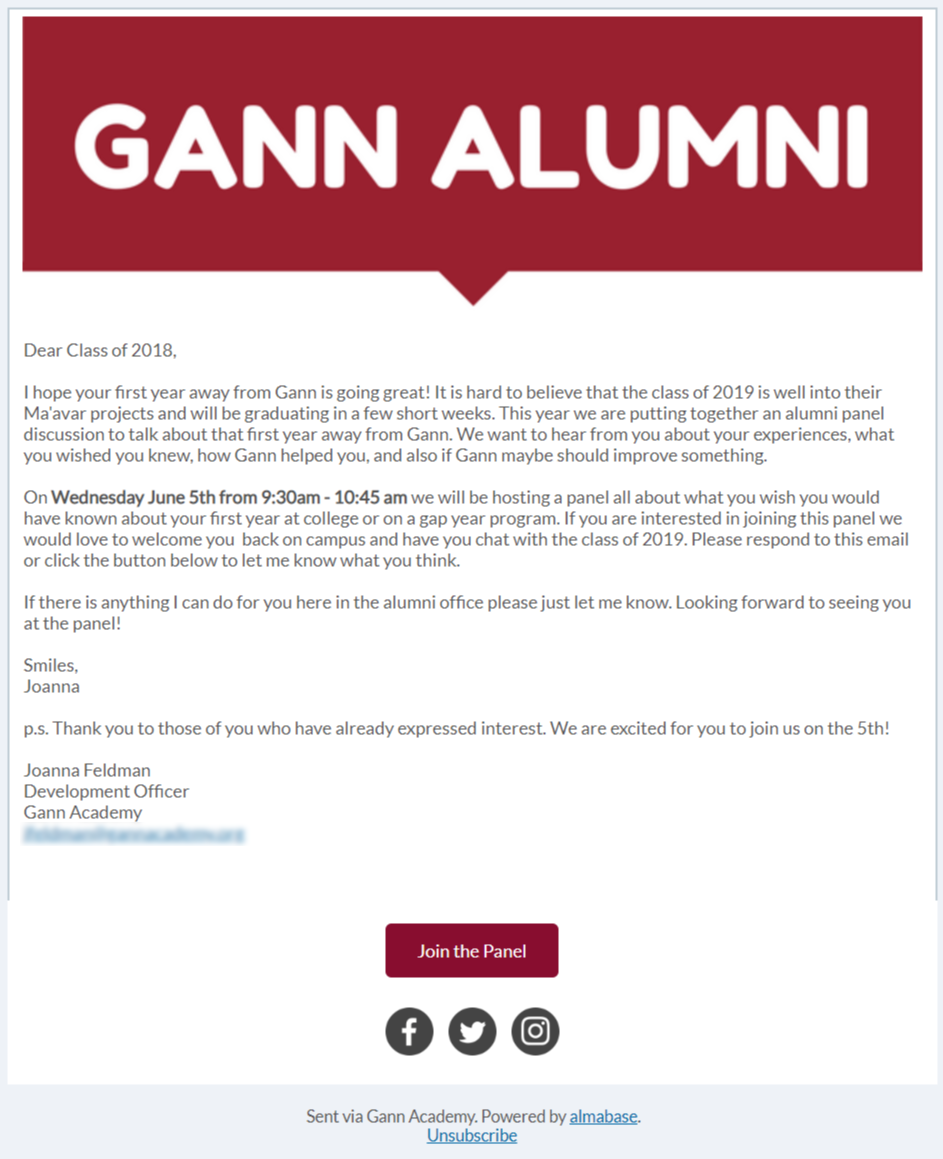 Newsletters, news, and updates
Use to send regular newsletters to alumni who have opted in.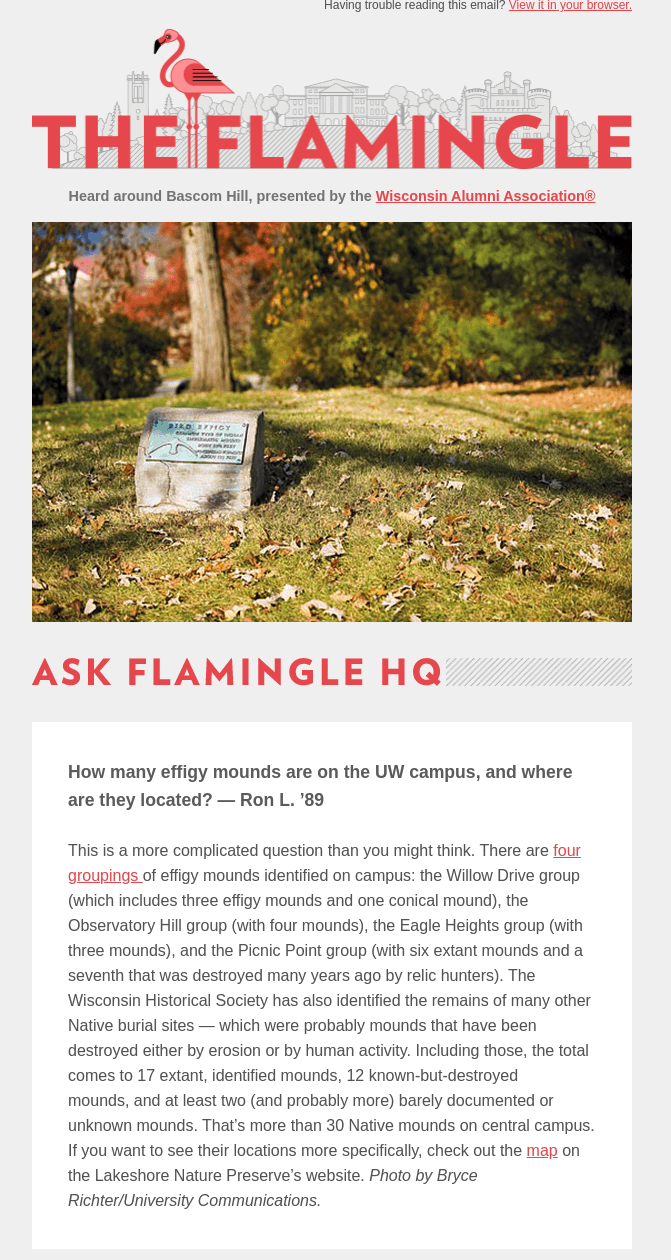 Here, we shared some best practices for contacting alumni with emails. To ensure minimum manual effort yet the most optimum results, you will require email marketing tools that automate personalization, help you build a nurturing flow, and guide you in enhancing your networking emails.
Read here for a list of fantastic tools: Email Marketing for Nonprofits: Best Practices and Tools for an Effective Campaign.
Feature Image Source: Canva.