As a nonprofit organization with funds to raise and the world to save, time and money become essential resources that you would rather spend on initiatives that are highly likely to yield the best results.
Since marketing activities to promote your nonprofit and drive donations are essential, its budget is also best when optimized. According to The NonProfit Times, in 2020, smaller nonprofits reserved 30% of their spending for digital media, while larger organizations used 7.4% – which are both a large part of your fund reservoir!
Therefore, it is essential to look into marketing strategies that are time-tested and make the most of your budget – such as email newsletters. In fact, according to The Modern Non-Profit, nonprofit newsletters give an ROI that is 3x more than that of social media marketing. Implementing a newsletter strategy in addition to your social media and other marketing efforts can give you a solid chance at growth!
Nonprofit newsletters are a great way to communicate to potential donors, volunteers, and supporters at a much lower cost. However, crafting a brilliant newsletter is the key to great engagement and ROI. This article shares some best practices and how some nonprofit organizations have implemented them in their campaigns.
Are newsletters a thing of the past?
The simple answer is – Absolutely not! Email marketing is still an effective marketing strategy – especially since the best nonprofit newsletters are 40x better at getting to your target audience than Facebook or Twitter.
Email marketing can be a great way to engage with supporters and nurture your relationship with them when done correctly. There are more reasons why email newsletters might be a good marketing strategy for your nonprofit organization:
Return on investment: The ROI ratio for newsletters is 42:1. For every $1 you spend on your nonprofit newsletter, you can expect an average return of $42
Target segment: The customer base for emails is significant, and it is only growing. In 2019, global email users amounted to 3.9 billion users. This figure is set to grow to 4.3 billion users in 2023. That's an upward curve to look forward to!
Drive traffic to your website: Newsletters are the best way to drive traffic to your website. Quickly generate organic traffic through email newsletters with helpful information about your nonprofit, charity newsletters, or promotional newsletters informing your audience about events, campaigns, etc.
Bring in potential donors: Effective nonprofit newsletters are a sure-shot way of engaging your audience and potential donors through consistent communication. Regularly engaging donors creates recall and registers your brand more effectively in their minds.
Rally your volunteers and fundraisers: Your volunteers and donors need to know what your organization is up to and how they can help. Email newsletters are a great way to keep them informed and interested. You can also promote your fundraisers through email to verified subscribers.
Position yourself as a thought leader in your field: Sharing information about your organization and your industry, in general, can play a crucial role in increasing your credibility and establishing you as a thought leader in your space. When people trust your knowledge after reading your nonprofit newsletter, they are more likely to support you.
What can you include in your nonprofit newsletter?
Before we move on to discuss best practices, it is important to know the type of content you can include inside your newsletter. Here are some ideas:
Let people know about your recent achievements: Have you won an award? Did you save a baby Koala from poachers? Hey, we need to celebrate and announce it to those who would be happy to know! Yes, I'm talking about your loyal subscriber list.
Updates and behind the scenes: Nothing gets one as excited as behind-the-scenes updates. For example, you can give your subscribers an update about your current project – building accessible water plants in a community. Send them pictures and share stories from your experience.
Events: There's a great event you've organized to get all the puppies at the local shelter adopted – send your subscribers an email and let them know. You can start sharing event updates in advance and can even ask subscribers to RSVP.
Share Stories: The most engaging and compelling form of communication is storytelling. Hook your readers onto your newsletter by sharing stories of how their contributions and your work have helped create change.
Donor Spotlight: Keeping a donor engaged is a lot more economical than acquiring new donors. Share newsletters that put your old/regular donors in the spotlight to not only nurture your relationship with them but also make new donors more likely to donate again.
Share blog posts: It could be your blogs or blogs from a third party that you respect. Share blogs that are informative and relevant to your organization/cause. It is a great way to generate value among your subscribers and educate them about your work.
There are many more subjects you can include in your newsletter: surveys, annual reports, thank you emails, a note from the founder. It is important always to be creative as well as aligned to your own organization's missions, visions, and key results when designing your mailers campaign.
Nonprofit newsletter marketing best practices
Ask for consent
As with any healthy relationship, your relationship with your subscribers must be based on consent. Ask for their permission before signing them up. Subscribers are more likely to engage with you if they voluntarily sign up.
You would rather have fewer but engaged subscribers rather than a vast list of ambivalent email IDs.
If you plan on creating an extensive mailing campaign, give your subscribers the option to select how frequently they want to receive notifications from you. Does a weekly round-up work better, or would they like to learn through daily mails? This will also help you streamline your marketing process and inform you how much effort needs to go towards this channel.
Lastly, as important as it is to ask consent and get subscribers, it is equally important to give everyone the option to unsubscribe. Why? Because if you don't, then instead of feeling the warm, mushy feelings you'd like them to have towards you, your subscribers are going to be mad! And mad is bad for any marketing initiative. You can be reported as spam from many IDs, which could lead to the cancellation of your email service.
Here's an excellent example of sign up forms by DoSomething.org:


Notice how they mention how frequently and what type of communication you would receive from them? It sets up your expectations right from the start, so you're less likely to hit the unsubscribe button. They also segment their communication based on what you want to hear, scoring more brownie points from interested subscribers: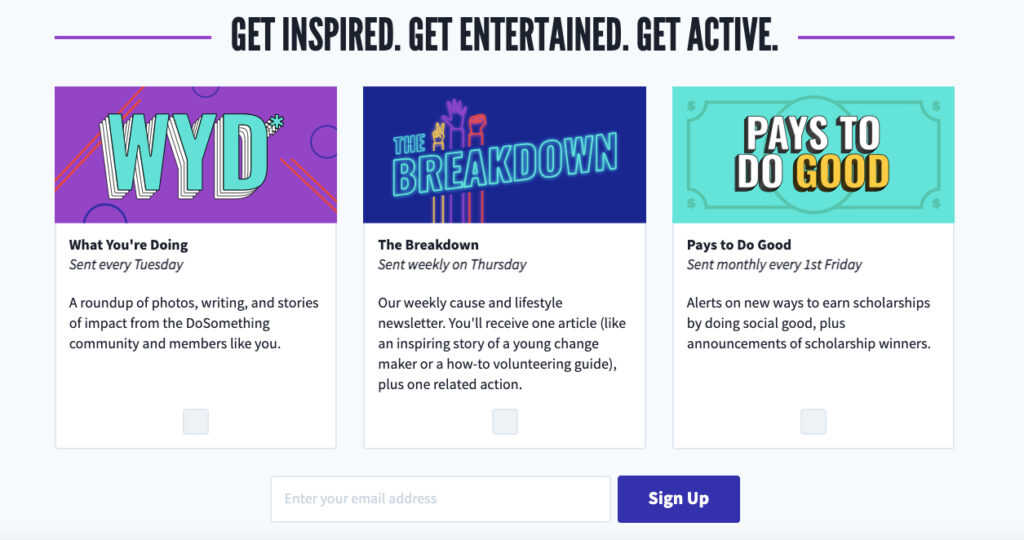 DoSomething.org is scoring high on the best nonprofit newsletter board!
What's the matter? It's all in the headline.
If there's one thing you need to spend the most time on to create the best nonprofit newsletter, then that's definitely the subject line. No matter how great your nonprofit newsletter's content is, if the subject line does not hook people enough to click on open, your entire campaign is going to fail.
33% percent of people decide whether to open emails based solely on the subject line.
Experiment with different headlines and see what are the kind of headlines that get you more clicks. Try using these formats repeatedly to see a steady click pattern.
A few good points to remember when writing headlines:
Personalize the email subject line: Use their name in the headline – do it! Emails with personalized subject lines generate 50% higher open rates.
Keep it short: Don't overdo the words. Keep it short, yum, and clickable.
Get creative: Use a current trend and make it about you!
Ask a question: Something like 'Hey Chloe, want to save the earth today?' could get your subscribers curious enough to click open.
Use action words: Help, Change, Rescue, Donate, Join – all these are engaging action words that will nudge your mailing list into reading the newsletter.
Offers: Are we saying no to good offers now? Absolutely not! Add an offer that you could budget in – a free membership, perhaps? Observe what that does to your click rate.
Leverage curiosity: Don't tell them what's inside but give them a hint. The case of the curious cat might just get you a new donor!
Keep an eye out for email campaigns that have caught your attention – what their headlines seemed like? What did they say that pulled you in? Use it!
Road Scholar used a compelling quiz to get us interested in this email:

Keep it short
The aim of the newsletter is simple – give useful information, put out a call to action, and wait for subscribers to do exactly what you wanted them to do.
Make sure your newsletter is not cluttered with dense information. The reader should easily be able to glide through the email and also get your message.
The average time a person spends reading an email is 13.4 seconds – too little time to give them too much content.
Plan your newsletter in advance, be absolutely clear about what results you expect from this mail campaign and design your content accordingly.
Call it a humblebrag if you may, but we've been keeping it somewhat short: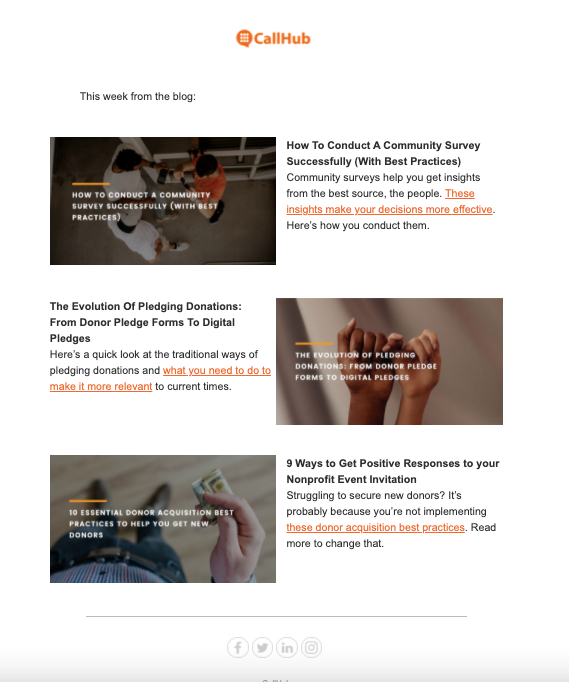 CallHub sticks to a weekly roundup of our best nonprofit resources that you can use to improve your outreach campaigns. While you're here, do subscribe!
Harness the power of visuals
Visuals make it easier for people to digest the bits of information that you are providing to them. It is a good way to showcase your brand, logo, get subscribers to associate you with your brand colors, and much more.
However, it is also important to get the visuals right. Here are some best practices:
Make sure they are in line with your brand: Include colors that align with your brand. Use images that comply with your nonprofit's branding guidelines. Do not use provocative images if you are trying to build a more conservation brand.
Make it relevant: Sure, stock images are a lifesaver when there's an email to design. But making sure it is relevant to your message and what you are trying to convey will go a long way into reaching your audience.
Different campaigns, different visuals: You can use so many different types of visuals in your campaign and experiment with them:
Illustrations
Behind the scenes pictures
Event photos
GIFs
Infographics
Image size: Ensure the image size is not too heavy as it may make the email load slowly. Really low image sizes may not look good across all devices.
Make them click: A great idea is to add links to your images so that users can easily navigate to web pages that you want them to land on. A great example of this is to link your brand logo to your website so they can easily land on your webpage.
Buck Mason came up with concise, clear visuals to communicate their Masks for America initiative.

Keep your eyes on the stats
You're using all the tips and tricks that people like me are putting out there for you but are you seeing results? Keep a close eye on the statistics – you will find no truth like the truth in numbers.
Are your email headliners giving you more click rates? Are the links inside your newsletter being visited? How many people are opting out of your newsletter campaigns? (Nonprofit opt-out percentages are 0.01% generally).
Some metrics that you might want to watch:
Open rates: Open rates let you know how many people have opened the email you sent. Lower open rates simply mean that your email subject line was not intriguing enough. Experiment with different headlines to see how it affects your open rates.
Click rates: Click rates will inform you how many people clicked on the links and the call-to-action (CTA) button included in the email. Low click rates are worrying, but they can be resolved by changing the position of the CTA button, the style, adding links to text or images, and changing the number of CTAs.
Unsubscribe rate: You've been trying to create the best nonprofit newsletter, and then you see the unsubscribe rate going alarmingly high – Yikes! Check if your content is engaging enough, the frequency is acceptable and that the content is relevant to your audience. You could run a survey campaign to find out what went wrong.
Learn how to determine why your statistics are reflecting the numbers that they are reflecting. Running successful email campaigns is also about time and patience to learn what uniquely works for your organization and what does not.
Bonus Reading: Marie Kondo-ing Your Contact List: How to Clean an Existing Contact List
Create the best nonprofit newsletters
You've been officially equipped with statistics and steps that you can take to send the best nonprofit newsletters. Go ahead, get those donors, get the bake sale going and make your next fundraiser an absolute success!
Remember – Time, patience, and statistics!
Oh, and also, subscribe to CallHub for more awesome resources that we're sure will help your nonprofit organization's outreach campaigns.
Featured Image Source: Pixabay