Motivating donors to give and stay engaged with your mission requires careful storytelling strategies, a deep understanding of their motivations, and a tight focus on impact. Plus, budgeting and logistical considerations add an extra level of complexity to the process, requiring plenty of planning and forethought.
If you handle communications at a nonprofit organization, you've also probably been busier than ever over the past year adapting your messaging in response to the pandemic. Communication has likely played a pivotal role in your organization's wins in 2020, both in general fundraising and pandemic-related engagement contexts.
But if it's time to significantly scale up your organization's capacity in new ways, like by building new facilities or investing in new equipment, you'll need to go beyond your everyday strategies.
If a major fundraising push is in the cards for your nonprofit in the next year or two, it pays to be prepared. Understanding how large-scale campaigns work and how communication plays a role will be essential as you begin outlining your strategies.
At the Capital Campaign Toolkit, we work with nonprofits to help them plan and conduct capital campaigns. We'll provide a brief overview of what these campaigns are and then hone in specifically on how communication can shape and support your strategies in their critical public phases. Let's dive in.
What are capital campaigns?
Capital campaigns are large-scale fundraising initiatives conducted by nonprofits to raise funds needed for major capital investments. These investments often involve constructing new facilities or purchasing buildings or equipment. The overarching idea is that organizations periodically need large infusions of support to grow their capacity and their footprint over time.
Typical capital campaigns occur roughly every ten to fifteen years can take several years to complete from start to finish. Nonprofits can also adapt the capital campaign model to tackle more modest capacity-building goals. This has been an increasingly appealing and viable choice for many organizations in need of increased capacity throughout the pandemic.
Since they can be so time- and resource-intensive, capital campaigns are traditionally broken down into seven distinct phases: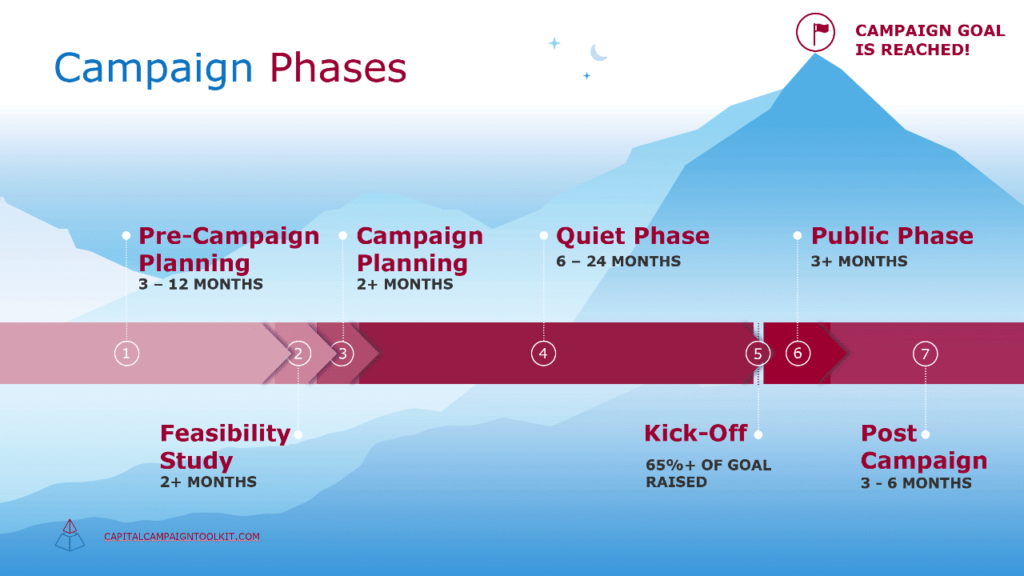 Pre-Campaign Planning – determining your campaign's core objectives and setting a working fundraising goal.
Feasibility Study – interviewing key stakeholders and prospects to gauge their opinions and interest in your campaign before diving into fundraising.
Campaign Planning – creating a complete campaign plan, including budgets, timetables, policies, and communication playbooks.
Quiet Phase – identifying prospective major donors, building your relationships with them, and soliciting gifts (which should make up at least 65% of your total goal).
Kick-Off – taking your campaign public by announcing your goals to the broader community, celebrating your progress, and explaining what's still needed.
Public Phase – promoting your campaign far and wide, engaging your community, and securing the final donations needed to reach or exceed your goal.
Post-Campaign Activities – wrapping up your campaign by thanking everyone for their support, preparing final reports, and collecting pledges.
For a more comprehensive breakdown of these phases and frequently asked questions about capital campaigns, check out the Capital Campaign Toolkit's complete guide.
By segmenting the campaign into distinct phases, organizations can plan, allocate resources, and set clear benchmark goals that will keep them on track. This practice is helpful since the activities and objectives of each phase vary drastically.
The role of communication during the different phases of a campaign is the perfect example. For instance, the quiet phase requires a tight focus on individualized communication with prospects. This phase is all about building relationships and explaining how individual major gifts will make an impact on your mission for years to come. Once you reach the public phase, though, the role of communication changes dramatically but is still strategically critical.
Let's dig into communication strategies during the public phase and how you can prepare an airtight public phase communications plan.
Communicating During the Public Phase of a Capital Campaign
During the public phase of a capital campaign, you've already secured the bulk of the funding you need to reach your goal and complete your core objective. Now, you'll broaden your scope. Rather than having highly individualized, one-on-one conversations with prospects, you'll turn to your wider audience of donors, partners, and community members.
However, you shouldn't approach this phase as a typical fundraising campaign. Your public phase strategies, particularly around communication and engagement, still need to be distinctly part of your broader capital campaign. Here are a few tips to keep in mind:
1. Understand the broader purposes of the public phase.
A successful capital campaign will grow your organization's capacity and your ability to pursue your mission. The support of major donors and the completion of your core project are important parts of this growth. Still, a bigger footprint and higher visibility in the entire community is what will ultimately make this growth stick. This is the broader purpose of the public phase.
Think of it this way: The public phase of a capital campaign will result in smaller donations that will put your campaign over the finish line, but the overarching goal is to raise awareness, visibility, and energy for your nonprofit along the way.
Anchor all of your public phase communications with this idea in mind. You'll definitely ask for donations, but remember to focus heavily on engagement and impact. Consider all the ways that donations will make a difference—on the success of your campaign, your nonprofit's long-term sustainability, and your community—and use these to guide your outreach and appeals.
2. Anchor all of your messages in your case for support.
Your campaign's case for support translates the things you are going to raise money for into the impact that those projects will have on-the-ground, in your community. This isn't a single document but rather the campaign's broader rationale, argument, and context that can be distilled into a range of different materials (more on these below).
Develop your case for support very early, way before the public phase. You'll rely on it in all stages of your campaign and can refine it over time.
For instance, your development staff will use it during the quiet phase to guide their conversations with prospects and make compelling cases for why your project is worth funding. Once you reach the public phase, your case for support will serve as an invaluable resource for distilling your appeals down to their essentials and shaping the marketing materials you create. This will keep your entire campaign on-message from start to finish and present a unified argument and image to potential donors at all levels.
3. Offer multiple ways to engage during the public phase.
During this last main stage of your campaign, driving engagement and excitement is critical. Promote your campaign far and wide, but be sure to offer more ways to get involved than simply donating. Here are a few tried and true ideas:
Peer-to-peer fundraising tactics
Social media marketing and contests
In-person, hybrid, or virtual events
Volunteering opportunities
As you outline the different engagement opportunities that will come into play during your public phase, consider exactly how you'll facilitate them. Social media and email are reliable outlets but think about text messaging, too. For many organizations, texting is an effective way to support your fundraising through text-to-give and to recruit new volunteers or pledges through peer-to-peer texting tools.
The main takeaway is to offer variety in what you're offering public phase supporters and how you're offering it.
4. Prepare a library of marketing materials and tools in advance.
The public phase is relatively short and full of energy and momentum. You'll have little time to prepare marketing materials once it's in full swing. Having a complete toolkit and library of campaign collateral ready to go will start your public phase off on the right foot. Tools you'll need may include:
A dedicated campaign website (ideally up and running well before the public phase)
Professional-grade design software
Email tools and social media schedulers
A database or CRM for creating contact lists and tracking performance
Mass texting tools for promoting events and supporting your virtual fundraising
Virtual event and live-streaming software for planning and managing your events
Using this toolkit and your case for support, you can create a range of marketing materials like:
Email and social media templates
Phone and text scripts for your team and peer-to-peer volunteers
A library of campaign branding and design collateral
Digital and printed materials to promote any engagement events you host
Brochures that focus on different angles of your case for support
A variety of multimedia content, like one-pagers, videos, interviews, and more
One important note to keep in mind: Securing gifts from individual major donors requires one-on-one conversations, not broad appeals and announcements. Marketing materials like capital campaign brochures and postcards are essential for your campaign's public phase to communicate your goals to a broad audience but don't rely on them during your earlier quiet phase. It pays to prepare these materials in advance, but keep the focus on individuals before your public phase officially begins.
5. Segment your audience for more efficient messaging.
Since your public phase involves broadcasting your campaign to a broad audience, you'll need to take steps to ensure the messages you send are targeted to the right donors. This will save you money and time while also ensuring that you're getting the suitable types of appeals and opportunities in front of the right people to maximize results.
Segmentation, or splitting your public phase into distinct groups, will help you target them more efficiently and make more compelling asks. The main idea is to determine the characteristics you're looking for, build lists of donors who match those metrics, and then craft persuasive campaign messages based on how those donors have engaged with you in the past. Example engagement markers or characteristics you might use include:
Recency of donations
Frequency of donations
Size of donations
Donor age or location
Social media engagement
History of volunteering for your nonprofit
Segmenting your audience by these characteristics can directly lead to more effective fundraising. For instance, rather than sending a blanket appeal for $20 donations to everyone, you can send different messages to different donors based on how much they give on average. If a donor regularly gives you gifts of $50 and hasn't given recently, don't leave money on the table by asking for less.
Nonprofits are increasingly turning to machine learning tools to create highly targeted mailing lists (learn more with this guide from Dataro). Using a robust CRM platform yourself can work as well, but it will require a bit more time and thought.
Having a segmentation strategy in place is always valuable for nonprofits, but it's imperative after you've put so much hard work into the first phases of your capital campaign.
---
Capital campaigns are like rites of passage for nonprofits. They help organizations take their operations and their missions to the next level, something that many organizations need after a year of simultaneous surges in both community need and support amid the pandemic.
Communication is key to the success of these campaigns at all stages. However, the public phase is when your mass communication tactics and fundraising appeals need to pull their weight. With these tips, you'll be prepared to lay out a public phase communication plan that will help you reach and exceed your goals.
Step-by-Step Campaign Checklist & Guide
This intuitive guide breaks down each step of your campaign, and the timeline allows you to visualize your whole campaign from start to finish! Download this free campaign checklist now!
Amy Eisenstein, ACFRE, and Andrea Kihlstedt are co-founders of the Capital Campaign Toolkit, a virtual support system for nonprofit leaders to run successful campaigns. The Toolkit provides all the tools, templates, and guidance you need — without breaking the bank.
---
Author: Amy Eisenstein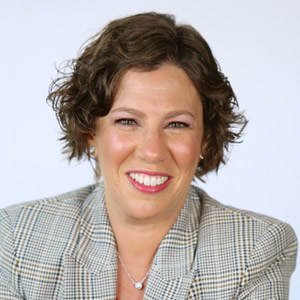 Amy Eisenstein, ACFRE, is CEO & Co-Founder of the Capital Campaign Toolkit. She is a veteran fundraising consultant. With over 20 years of experience in the nonprofit sector, she's published a number of books, including Major Gift Fundraising for Small Shops. Amy is also an in-demand keynote speaker and an engaging board retreat trainer and facilitator.