Running a political campaign is challenging. Developing a good relationship with the audience and retaining your voters and supporters requires quite a lot of effort.
​​A CRM for political campaigns helps you track thousands of supporters, donors, and voters. You can:
Capture audience data from multiple channels such as web forms, social media, phone calls, text messages, and emails.
Automate repetitive tasks such as sending emails.
Determine the contacts to prioritize based on the collected data.
Organize, store, and update contact information.
Integrate with multiple political campaign software.
Keeping these and many more criteria in mind, we have listed some of the best CRMs for political campaigns.
Best CRM for political campaigns
You spend days or even months running your campaign, acquiring supporters, persuading voters – all with different communication channels. In the process, you collect a huge amount of data from all your supporters and voters.
This data is precious, and you don't want to waste it. You need an organized way to track and maintain this data so you can improve your campaign strategy. This is where a CRM comes in handy.
There are plenty of CRMs for political campaigns. But you need the best of all, for which you will have to spend a tremendous amount of time doing research. Now, we know your time is valuable and is best spent winning over voters.
So, here is the list we promised.
NationBuilder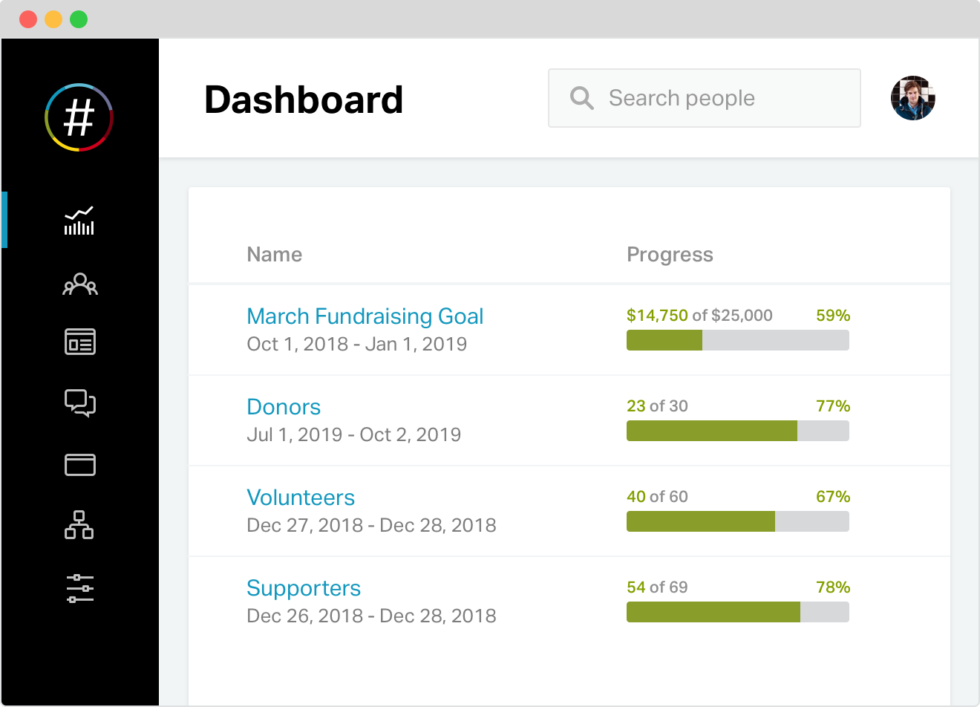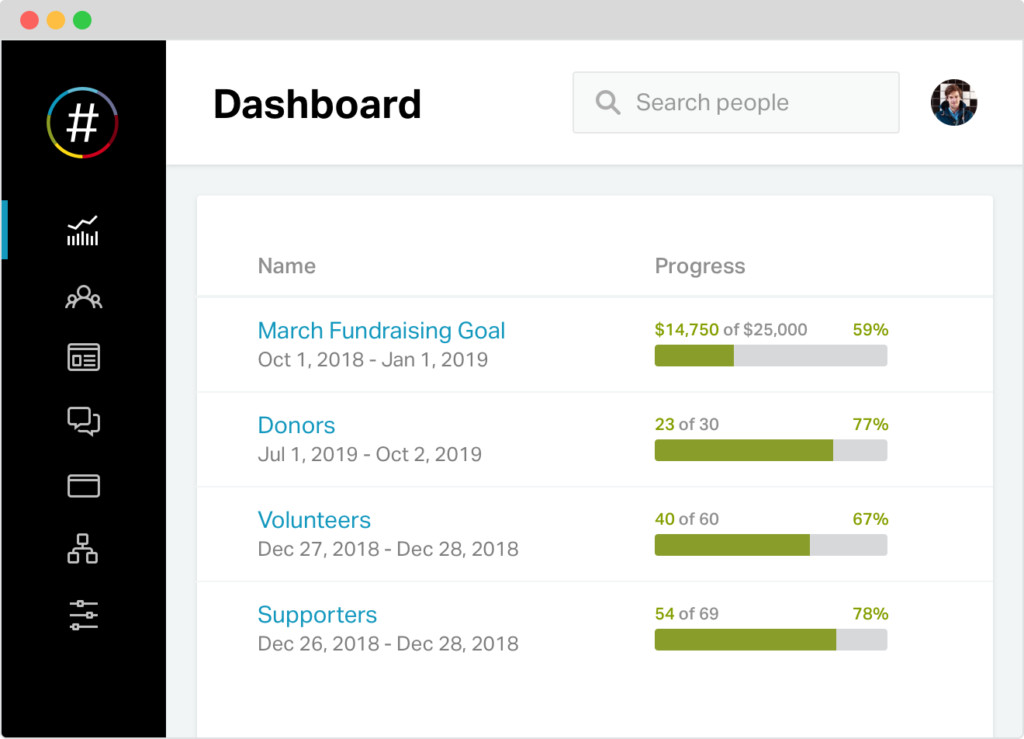 NationBuilder is a world-class CRM for political campaigns of all sizes. The CRM provides multiple tools inside the platform.
Here are some things you can do on NationBuilder:
Launch web pages that capture information, enable social sharing, and track your visitors' activity across the site.
Create lists, filters, and tags in your database to tailor the conversation with your supporters and update the database with new information.
Personalize emails and texts to your supporters based on their interests and history with your campaign.
Collect and process donations to maximize campaign contributions. Integrate this payment information into your database.
Recruit people for rallies, fundraising events, and volunteer opportunities, and collect RSVPs.
Run peer-to-peer fundraising events.
Track email metrics like opens, clickthroughs, bounces, and unsubscribes.
Set different permissions for volunteers based on their roles.
Build walk plans for volunteer canvassing by viewing your database on a map, i.e., turf cuts.
Pricing: Starts from $29/month.
Zoho
Zoho is a simple and easy-to-use CRM for political campaigns of small scale. Zoho integrates with multiple apps like Office365, G-Suite, Zapier, and more to give you an all-rounded tool/product suite.
Here are some things you can do with the platform:
Conduct webinars and get reports so you can turn attendees into supporters.
Collaborate with volunteers by sharing insights and answering questions.
Reach supporters through multiple platforms – email, phone calls, social media.
Get real-time notifications when supporters interact with you through any of these platforms.
Measure the effectiveness of your communication and find the best time and channels to reach out.
Trigger follow-up actions with workflows.
Find any information you need from your CRM with the help of a personal assistant on the platform.
Get advanced predictions, so you know which supporters are likely to turn into voters.
Pricing: Contact Zoho.
HubSpot
HubSpot is a cloud-based CRM for political campaigns that's supported on any internet browser regardless of the device type. The platform helps you with all the tracking, reporting, and third-party integrations you need.
Here are some things you can do with this CRM for political campaigns:
Build and customize lead generation forms.
Integrate with other apps and tools and sync all the data automatically.
Build views and automate actions like populating your contact records with their website activity.
View all the metrics you need, such as the total number of emails sent, with built-in reporting.
Monitor the number of new contacts in your supporter list in real-time.
Pricing: Starts from $0/month.
FundHero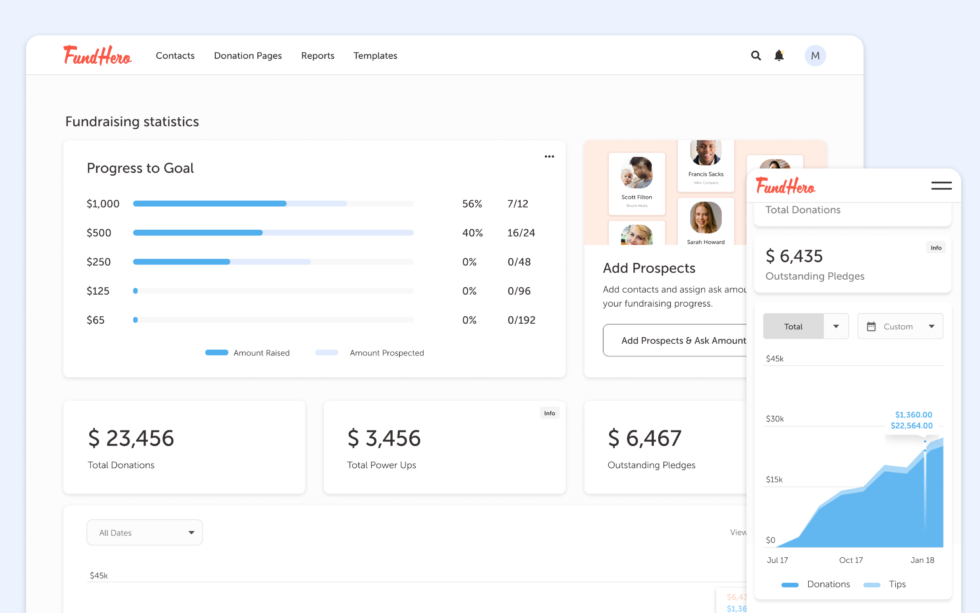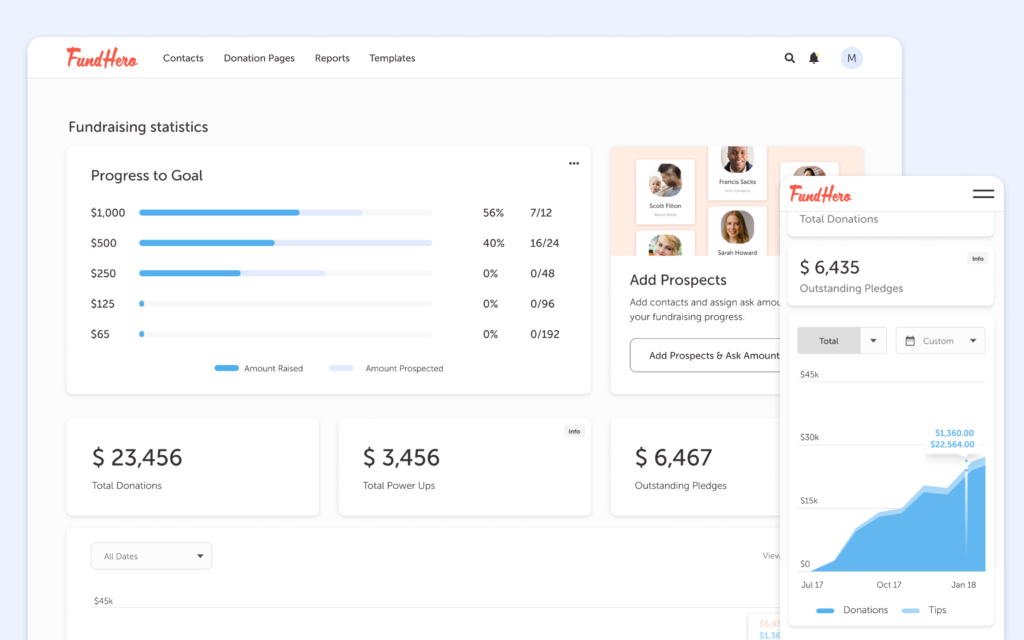 FundHero is an easy-to-use CRM for political campaigns focused on helping you create highly optimized donation pages within minutes. The CRM is best suited for small to medium-sized political campaigns.
Here are some notable features:
Track conversations with your supporters on their profiles.
Collect donations online through multiple donation pages, which you can build using easy-to-pull templates.
Assign tasks to specific members of your team and keep workflow organized.
Create your campaigns' financial reports.
Automate the workflows such as donor outreach to prioritize the following tasks.
Pricing: Starts from $8.99 per month.
Qomon
Qomon is a citizen engagement platform & a mobile app that helps political campaigns, movements and NGOs mobilize their supporters, voters, donors, constituents, etc. The tool is best known for its digital and field organising abilities (its canvassing app), easy to use mobile app, precision in territory analysis, and actionable real-time reporting. This tool for elections and political campaigns and movement is built around three major features:
A mobile app to organize the canvassing efforts, events, P2P actions while your team is on the field.
A contact management system that centralizes all the communication with your supporters and helps build strong relationships.
Mapping and analytics that help you identify profiles and prioritize areas to target using territorial analysis along with field reporting.
Qomon is one of the most intuitive and easy-to-use apps for political canvassing efforts and nonprofits.
And the plus? The company is certified B-corp and integrate with more than 3000+ apps including Nationbuilder, Zapier, Sending blue and Callhub (through Zapier)
Pricing: Starts at 49$ a month.
iDONATEpro
iDONATEpro is a CRM for political campaigns as well as a political fundraising software.
Here's what you can do on iDONATEpro:
Manage and compare unlimited campaigns, committees, and donations from a single platform.
Send email blasts.
Target donors based on their previous contributions, location, etc.
Build donation reports, pledge reports, and more.
Import and dedupe spreadsheets.
Manage and plan your events in a single database.
Send event invitations to donors.
Set event goals and track donations.
Manage seating and send event reminders.
Generate event reports and organize them by event, attendees, co-host, table, etc.
Assign and manage calls.
Build custom landing pages.
Pricing: Starts from $150 per user per month.
Datrm.in
Datrm.in is a CRM for political campaigns designed by a veteran campaign technologist. The CRM integrates with some popular tools like MailChimp.
Here are some notable features:
Encourage your supporters to take action with a built-in calling tool that can be customized to specific campaigns.
Segment your contacts by activity, transactions, and more.
Enhance your existing supporter list with social data and voter data from third-party platforms like L2, FullContact, i360, and DataTrust.
Create filters to automatically segment contacts based on the results of drip and retargeting campaigns.
Import contacts from Google Contacts, Excel, website forms, and many other sources.
Create custom permissions for volunteers based on their roles.
Track online and offline contributions.
Create call lists and monitor calls in real-time.
Segment and push your lists into Facebook custom audiences and MailChimp drip campaigns.
Pricing: Starts from $250 per month.
Salesforce
Salesforce CRM comes in different categories, including
Sales cloud
Marketing cloud
Service cloud
Analytics cloud
Data cloud
Community cloud
App cloud.
Salesforce helps you track your supporters' actions along with providing social insights. Since the software is cloud-based, you will be able to access all the functionalities without installing any hardware or servers.
Here are some things you can do with this CRM for political campaigns:
Use phone calls, peer-to-peer texting, mass texting, and voice broadcasts to reach your contacts by signing up for CallHub. Salesforce integrates with CallHub, so all your data put into the CRM can be utilized for outreach and nurturing efforts.
Engage your supporters by triggering personalized messages based on their actions.
Unify email, phone, and social media and manage every channel from a single view.
Pricing: Pay-as-you-go and monthly subscription starting from $200.
Pipedrive
Pipedrive is a CRM for political campaigns and pipeline management software.
Here are the features of the software:
Schedule emails, calls, meetings, etc., and Pipedrive helps you prioritize the actions.
Send routing follow-up emails with workflow automation.
Integrate with multiple popular applications like Trello, Asana, Slack, PandaDoc, and more.
Pricing: Contact Pipedrive.
How do you acquire supporters and voters with CRM?
Now, you may have picked or shortlisted a CRM for your political campaigns. But, how do you put your CRM to good use?
For that, you need a tool that integrates with any CRM you may have and streamlines your communication process. CallHub is one such software that helps you engage with your existing and potential supporters with personalized outreach features.
Here are some ways CallHub enables this. With the tool, you can:
Learn more about your supporters through custom surveys.
Organize phone banking with your supporters through the calling tools.
Use text messaging to communicate with your supporters and capture more information.
Send event invitations, reminders, collect RSVPs and send reminders to nudge people to attend.
Now, let's be more precise. How does CallHub help you organize and run political campaigns?
There are many ways, starting from collecting voter data to raising fundraising appeals.
Here, we list such functions you can use CallHub for:
Segment your volunteers into teams and assign them to different campaigns. You can have unlimited volunteers, by the way 🙂
Record the interactions your volunteers have with your supporters. Monitor campaigns in real-time.
Make notes during a call and sync them with your CRM. These notes can inform future communications.
Use different types of dialers (autodialers and manual dialers) based on the nature of your campaign.
Connect your supporters and voters to your representatives through patch-through calling.
Let your volunteers join from anywhere through phone OR browser.
Change the Caller ID to match the location of your supporters, and increase the engagement rate by up to 20%.
Move people who don't want to hear from you to a Do Not Call list.
Run polls and collect feedback from voters with up to 10 questions per call.
Send out voting reminders, campaign updates, and more with text messaging.
Set up keyword-based automated responses. Follow up with a series of questions to collect supporter data.
Use the smart scheduler to analyze the best time to run your call center campaigns, and increase the reach rate by over 10%.
Set performance goals and track different metrics through the analytics dashboard.
CallHub directly integrates with NationBuilder & Salesforce among the ones we have mentioned above. If you're using any other CRM for political campaigns, they can be integrated with CallHub through Zapier. Through NationBuilder integration, you can use phone calls, peer-to-peer texting, mass texting, voice broadcast, etc., to reach your supporters.
In addition to the features mentioned above, here are some things you can do when you integrate NationBuilder with CallHub.
Sync survey responses, notes made during a call, call recordings, etc.
Sync event RSVPs.
Set supporter levels based on the interaction and sync that data.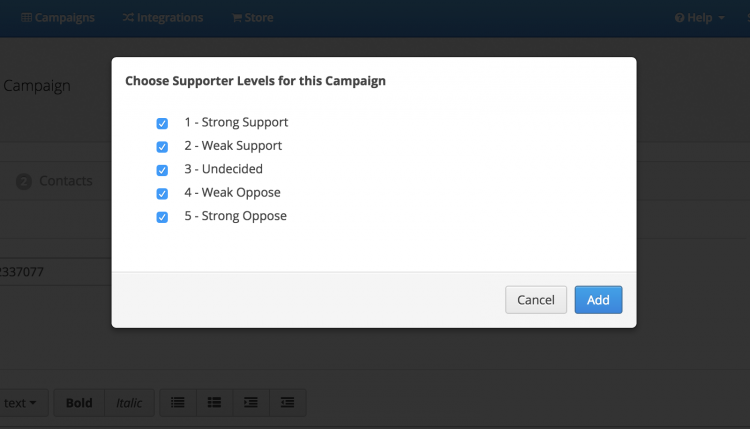 Tag people based on their survey responses, call dispositions, etc. The tags get updated on NationBuilder.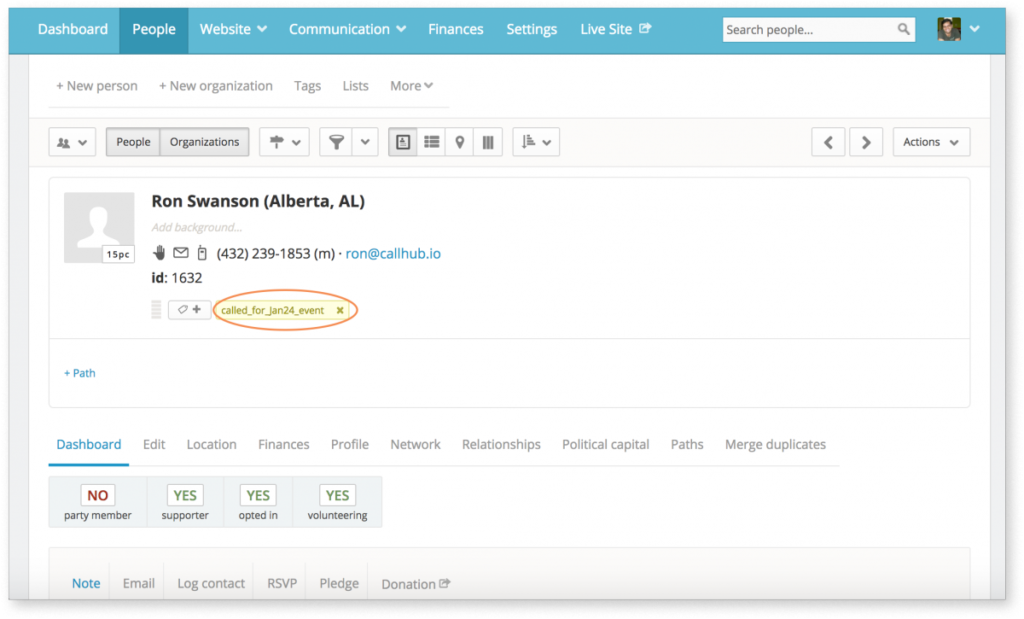 Similarly, if you use Salesforce CRM for political campaigns, here are some things you can do by integrating with CallHub:
Enforce 2-way sync of data between CallHub and Salesforce.
Configure import settings to control data sync.
Record interactions with your contacts.
Engage supporters through text messages and run calling campaigns using the data on Salesforce.
Import contact information, campaigns, and tags, into CallHub as contact lists. 
Here's a detailed guide on what you can do with Salesforce and CallHub integration.
Remember, regardless of the CRM you pick, you can integrate it with CallHub through Zapier.
Get started!
Political campaigns need to put voters and supporters first. This can be done effectively by using a good CRM to understand each of your supporters better.
Optimize communication with your supporters and strengthen the relationship with a CRM today.
Check out our CRM integrations here.
Featured image: Photo by Mikhail Nilov from Pexels