The significance of real estate social media marketing can't be overstated. Real estate businesses are selling properties and increasing their brand's presence online using social media.
In fact, 77% of real estate businesses use social media as part of their marketing strategy.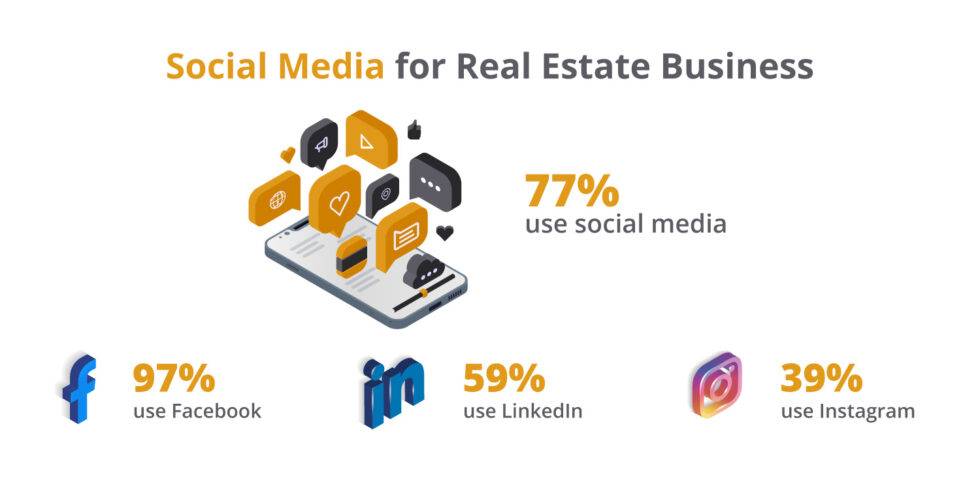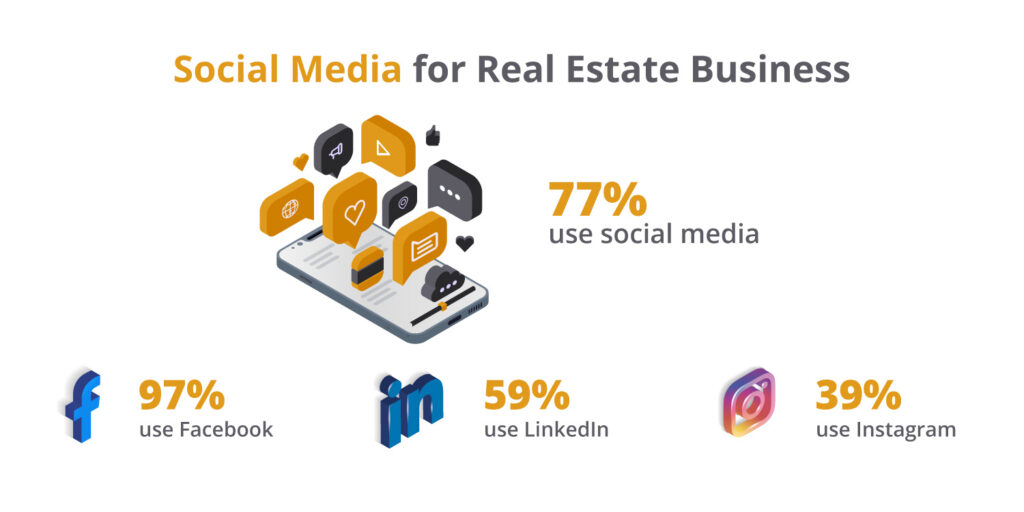 Why is social media important in real estate?
Using social media for real estate marketing is all about building relationships. Apart from that, social media brings many other benefits for real estate businesses, such as:
Highly targeted reach
Improved brand visibility
Brand reinforcement
Increased website traffic
Instant engagement.
Social media for real estate businesses is mainly about discovering a new audience and engaging with the existing audience. This, however, requires a defined strategy for content and distribution.
There's no doubt about the need to share good content to generate leads and grow sales for your real estate social media marketing. Meanwhile, it's not only about what you share but where you share it; which brings us to our next section.
Real estate social media platforms
Social media is fast-moving, and it's easy to be swamped with the number of options in front of you. This is why we have listed 4 platforms that can help you up your real estate social media marketing game.
As we saw above, the popularity of real estate social media platforms starts with Facebook, followed by LinkedIn and Instagram. We have gone a step further and added Twitter to our list due to its growing popularity among realtors.
Facebook
Facebook has a massive user base of 1.73 billion daily active users and inbuilt tools for highly accurate targeting. The platform lets you post events, collect reviews, connect with your business's WhatsApp number, and a lot more.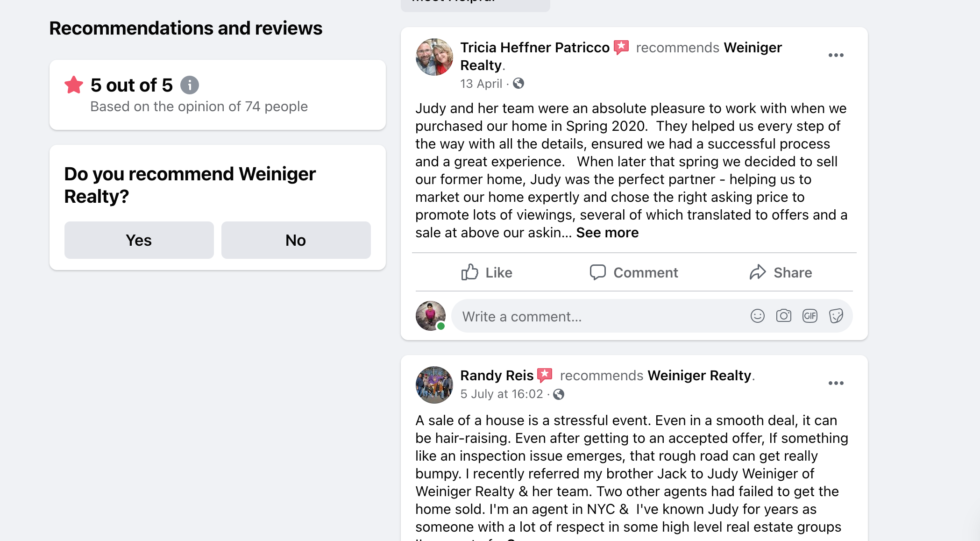 To start, you will need to set up a business page on Facebook. This gives you access to insights into your audience and allows you to run paid advertising campaigns.
Facebook ads allows you to directly target people who have shown interest in your business through your website, previous ads, etc. Moreover, with Facebook's interest-based targeting feature, you can target your ads to an entirely new audience, even if they have never visited your page before!
For instance, say you want to target millennials looking to buy a house in New York. Then, these would be your primary targeting options on Facebook:
Location: New York, USA
Age: 24-40
Interests: Buying a house.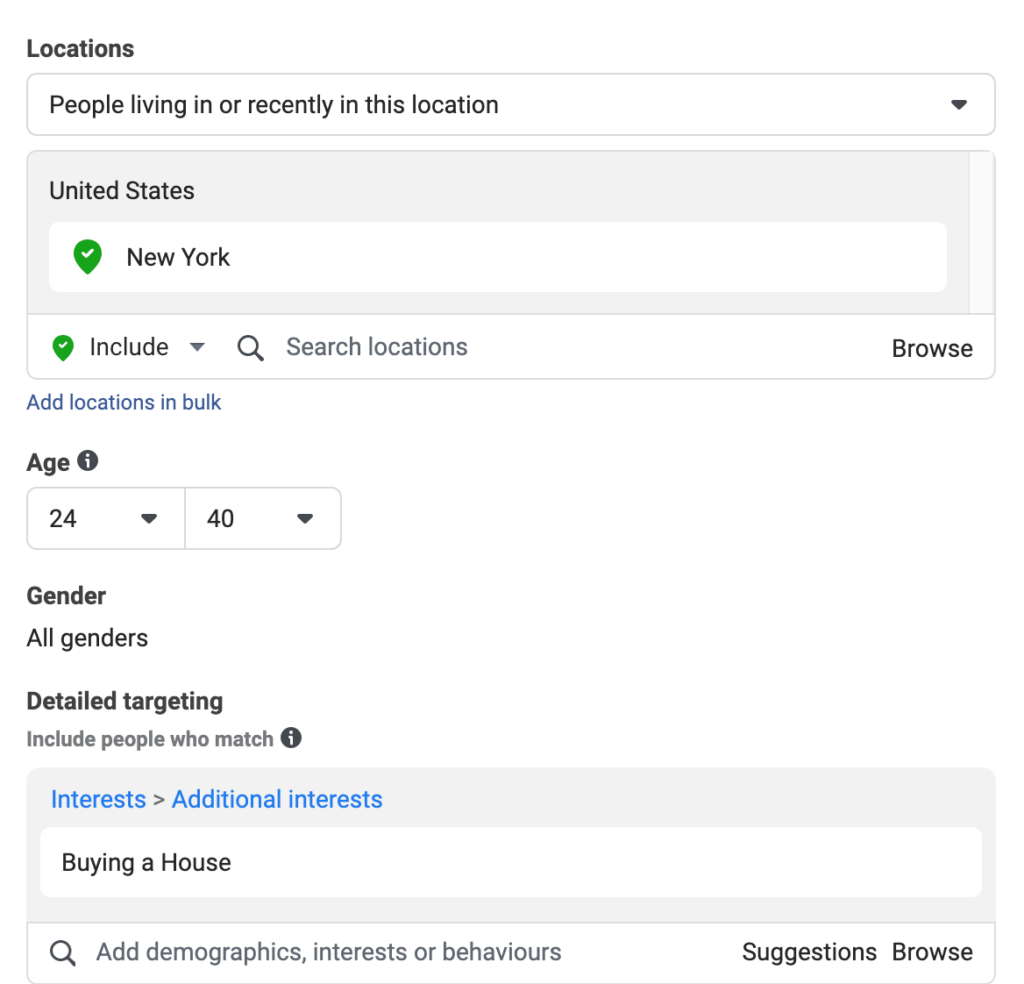 Of course, your targeting has to be way more detailed than this for the best results, and Facebook gives you the freedom to do that.
Here's another tip: Facebook updates with images see 2.3x more engagement than those without them. So make sure you add powerful visuals in your updates. Also, Facebook prioritizes posts that get high engagement, so sharing engaging content at the right time is essential.
LinkedIn
LinkedIn lets you create a business page from your personal account, similar to Facebook.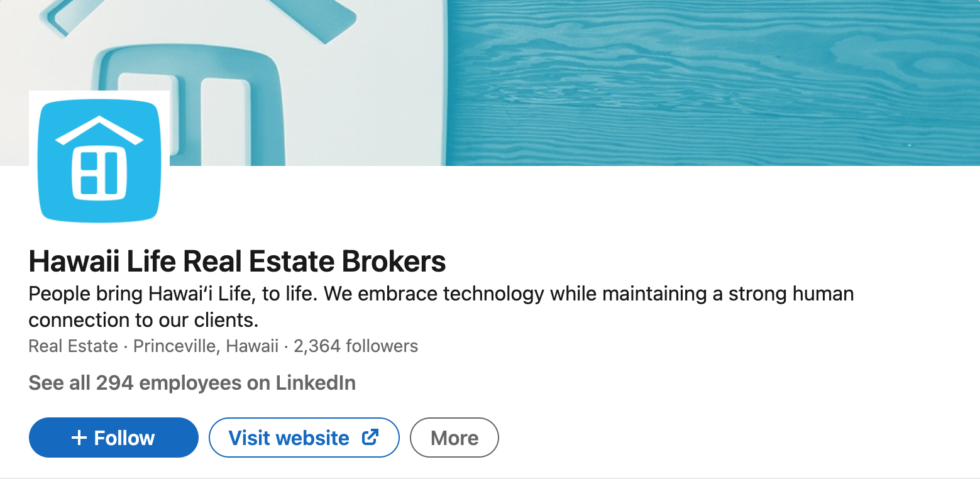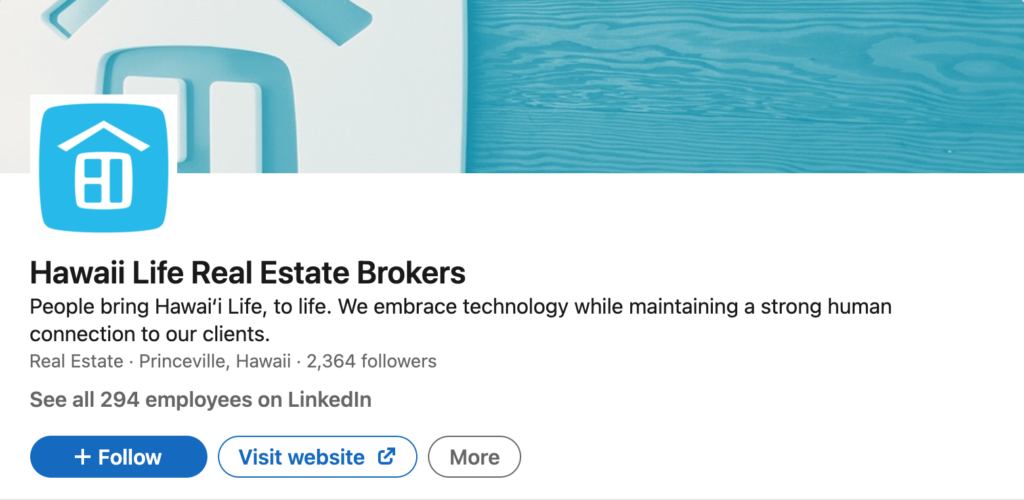 Since LinkedIn is a professional social media platform, it'll help you network with other businesses along with sharing high-quality content with your target audience. This will help you build solid relationships and establish your business as a professional brand.
Instagram
The number of Instagram users in the United States is expected to reach 127.2 million in 2023. The platform is well-known for its focus on visual content. So, this would be an excellent platform for sharing the photographs and videos of your real estate properties.
However, Instagram marketing is time-consuming. It may take a while before you start seeing results. So, it'd be wise to have a significant presence of your business on the platform by then.
We have put together some valuable real estate social media content ideas to help you, later in this post.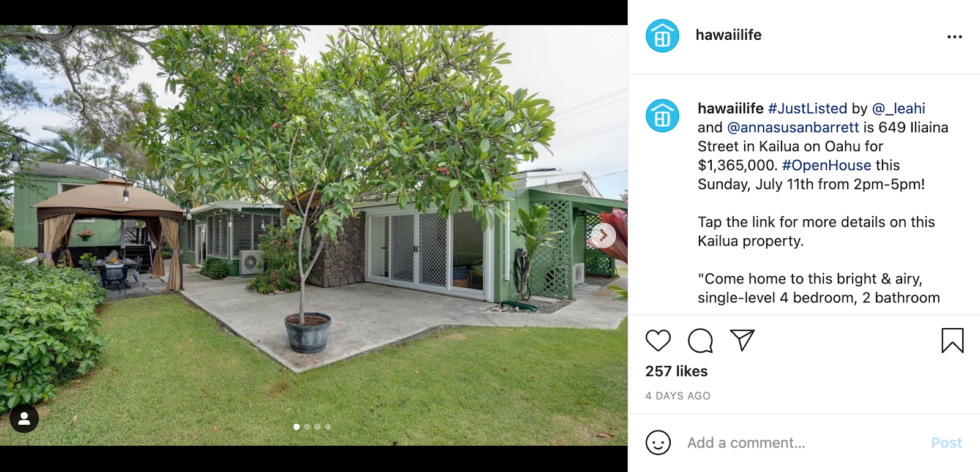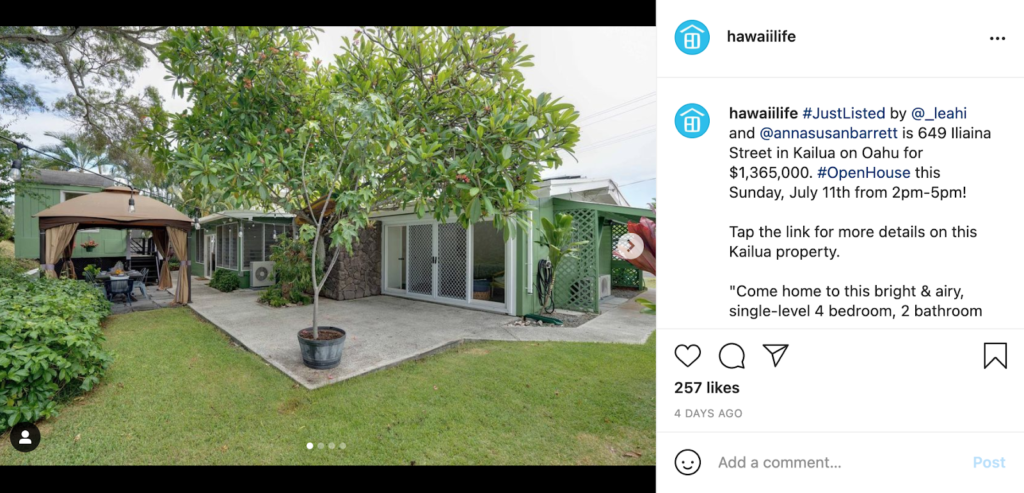 Instagram Stories feature is an excellent way to post day-to-day updates on your real estate listings. With the IGTV feature, you can even share long videos of your property and its surroundings.
Twitter
77% of Americans with an income of over $75,000 use Twitter, and first-time buyers' median household income is $80,000. This makes it an excellent platform for real estate social media marketing.
Twitter is an ideal platform for sharing short content due to its character limit. With Twitter, not only can you stay updated about your industry but also jump in and be a part of the conversation.
Both Instagram and Twitter algorithms consider hashtags to find the relevancy of your content. Use them intelligently to make your content searchable as well as to contribute to existing and trending conversations.
The universal strategy for real estate social media marketing is to provide valuable content regularly. Here's a table indicating the ideal posting frequency for different platforms:
| | | | |
| --- | --- | --- | --- |
| Platform | Minimum | Optimal | Maximum |
| Facebook | 3 per week | 1 per day | 2 per day |
| LinkedIn | 2 per week | 1 per day | 1 per day |
| Instagram | 1 per day | 1 to 2 per day | 3 per week |
| Twitter | 3 per day | 15 to 23 per day | 51 per day |
Source: Louisem
Staying consistent with social media posting will help you build an active presence and stay ahead of the competition.
Once you have your social media pages set up, it's time to create significant value. Content is the way to do that.
Real estate social media content
A successful real estate social media strategy involves consistency. You need to consistently provide high-quality, valuable content to keep your audience coming back.
Let's see some valuable real estate social media post types.
1. Buying anniversary
Social media is undoubtedly an excellent platform to discover potential clients. But, as we mentioned earlier, it also helps you build relationships and strengthen the bond with your existing clients.
You know that finding new clients is not a walk in the park. Why let your existing clients slip away then?
A successfully completed deal and a happy client is the best social proof you could ever ask for.
Stay on top of your clients' minds by reminding them of one of the best days of their lives. You may think, why bother when they already have purchased their dream house.
But, think about a whole lot of potential clients from their network – family, friends, colleagues, and many more – whose feed your posts will appear on and make them aware of your business.
Let me explain the possibilities:
Your client may share your update from their account on Facebook or Instagram.
They may simply hit a like on LinkedIn or Twitter.
Even better, someone from their network comes to them for some guidance on buying a property. Guess whose name pops up first?
Bottom line, a simple congratulations might do wonders for your business!
2. Client testimonials
A great benefit of social media is the opportunity to share your clients' success stories directly with your audience.
There are 106,548 real estate brokerage firms operating in the United States. To stand out in such a vast and populated industry, you need to show you're one of the best. What better way to do that than to show how happy your clients are?
Not only that, regular use of client testimonials can generate approximately 62% more revenue. So, request your happy clients for a text or a video testimonial and publish it on your social media pages.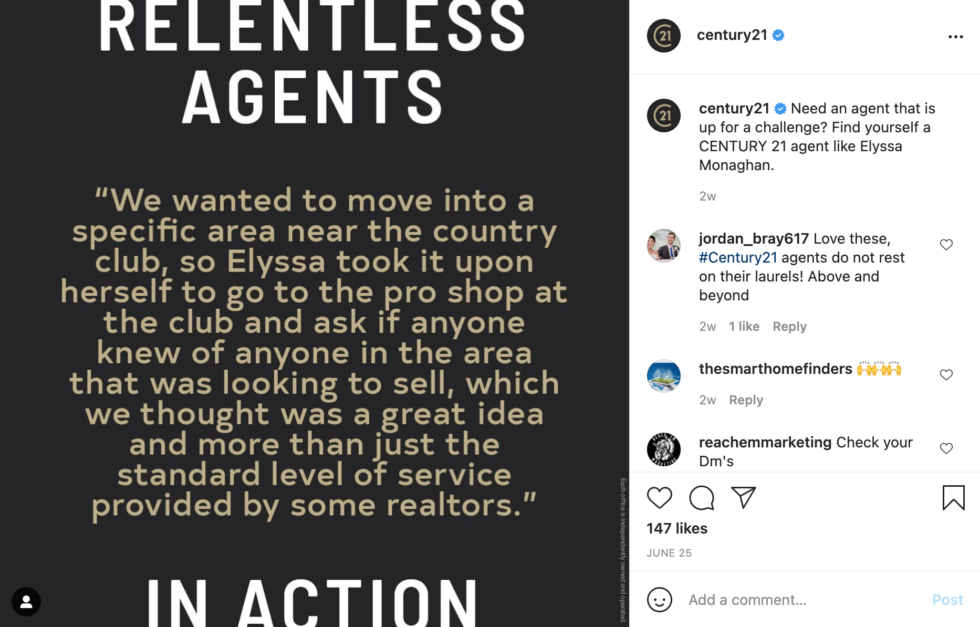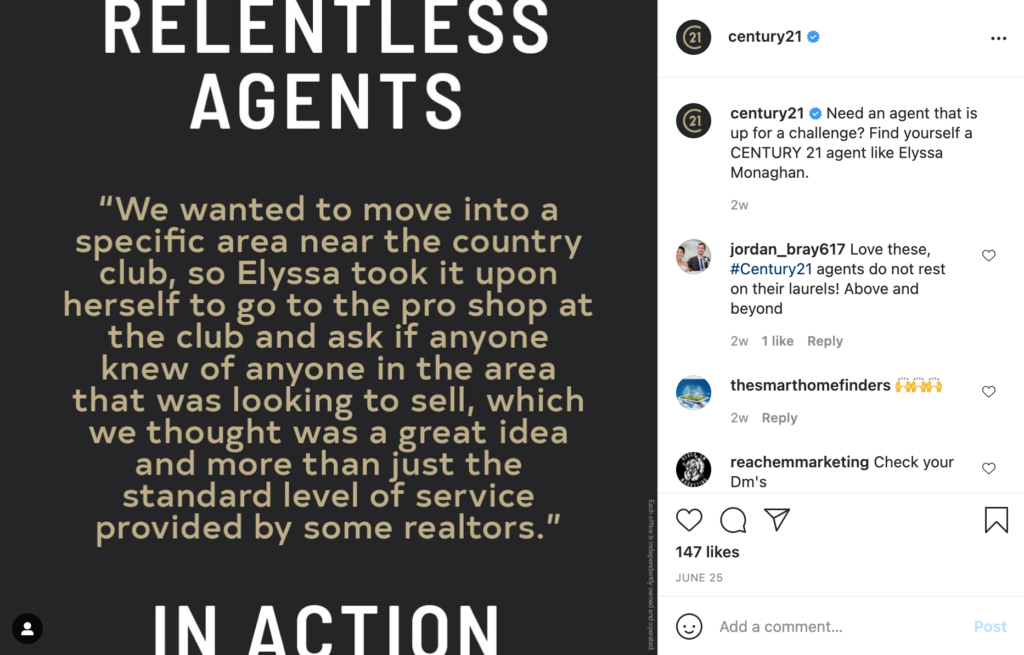 3. Open house video
60% of businesses use videos as a part of their marketing plan. Why, you ask?
Videos on social media generate 1200% more shares than text and image content combined. Videos can get as creative as you want them to be.
You can create a video showing your entire property along with the neighborhood. Sharing insights or conducting Q&A sessions are also great ways to do video marketing.
4. Neighborhood tour
When you showcase a real estate property, follow that post with a neighborhood tour. If you have any story or experience around it, go ahead and share that. Help your audience visualize themselves in that neighborhood at that moment.
Paint a picture with your words, or with pictures 😀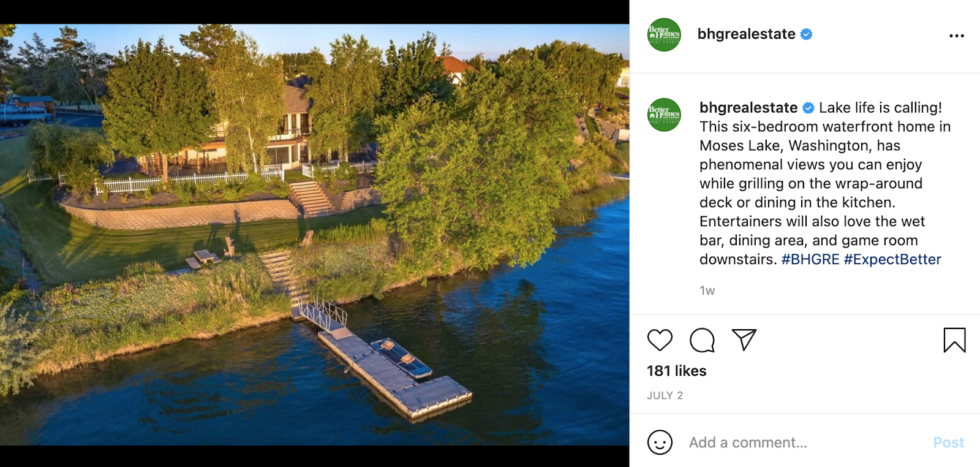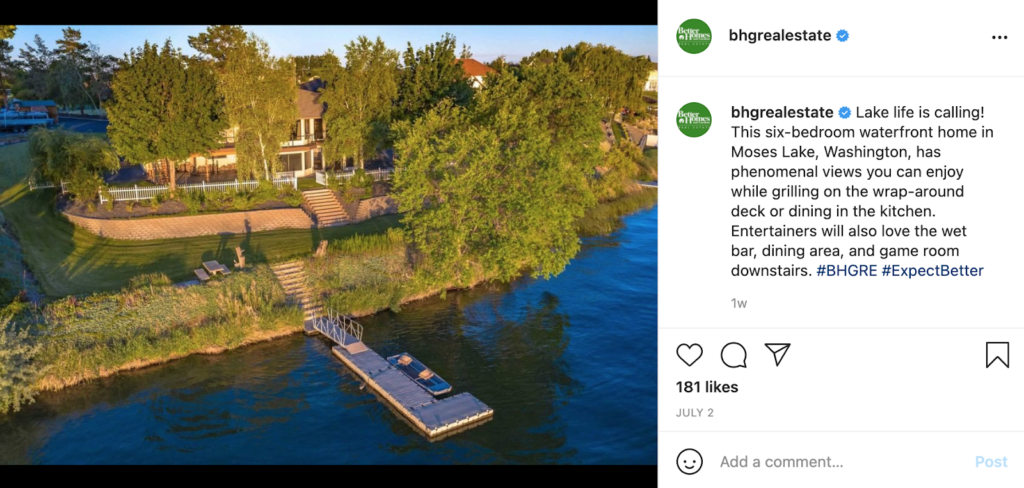 You may even update your Twitter family by posting a link to your newly listed property.
5. Property photographs
This is where you promote your properties on social media. Because of digitalization, it's become easier for people to start their buying journey by looking up a few photographs.
Gorgeous, high-quality photographs are the core of real estate social media marketing. Besides getting engagement, they stimulate interest in your target audience.
You can use Instagram's multiple photos feature to post different photographs of your property. Facebook's 360-degree feature lets you click a 360-degree view of your property and publish it on the news feed.
Make sure you include different views of your property and let your audience know what to do next. For example, mention an offer you may have or an upcoming open house event, along with your contact details. Also, accompany your photographs with an excellent copy & appropriate hashtags to make them searchable.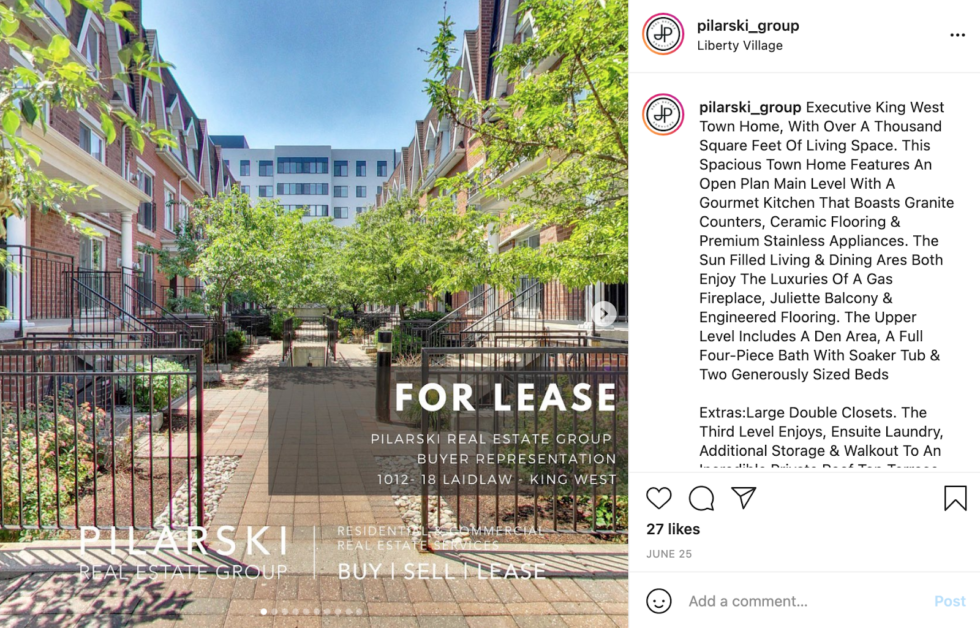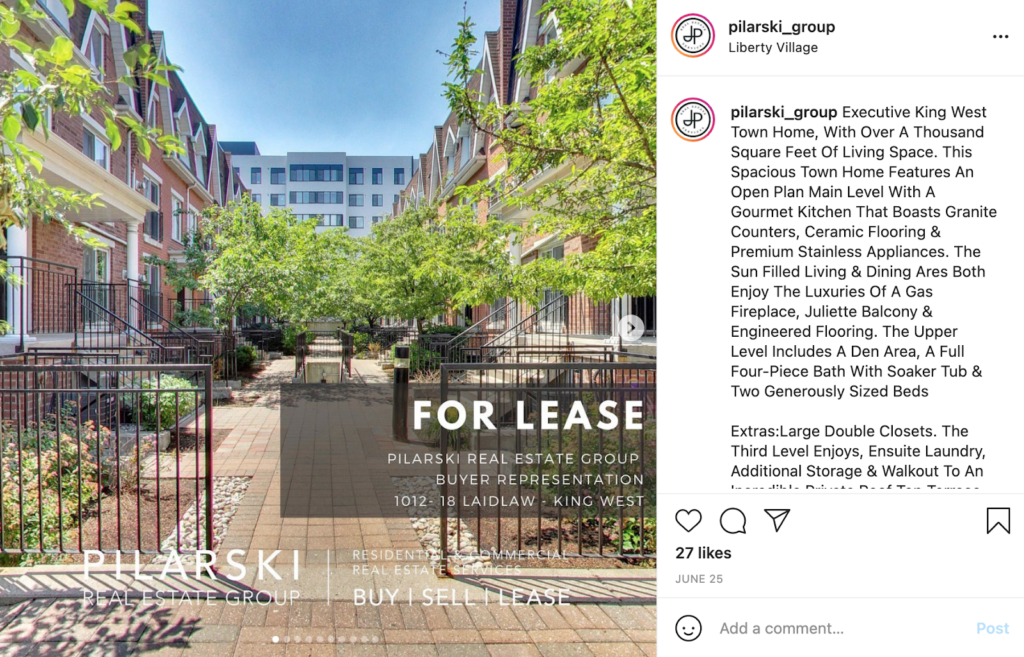 6. Buying and selling guidance
There's an immense pool of potential buyers who are looking for information. They have queries. If they are buying a house for the first time, the uncertainty is probably very high.
Now, you have the chance to be a savvy real estate thought-leader and build strong bonds with your audience by giving them insider tips.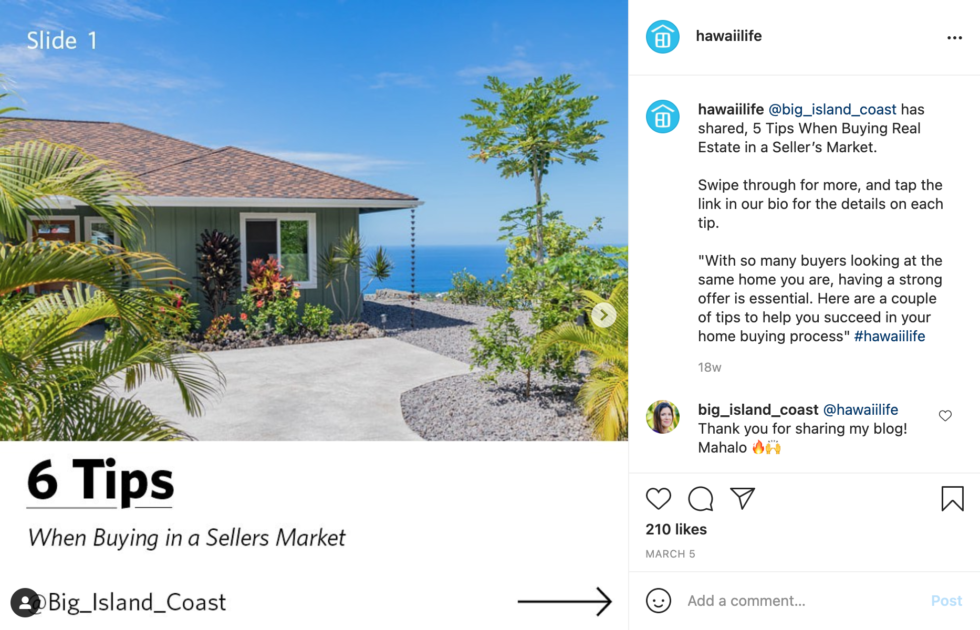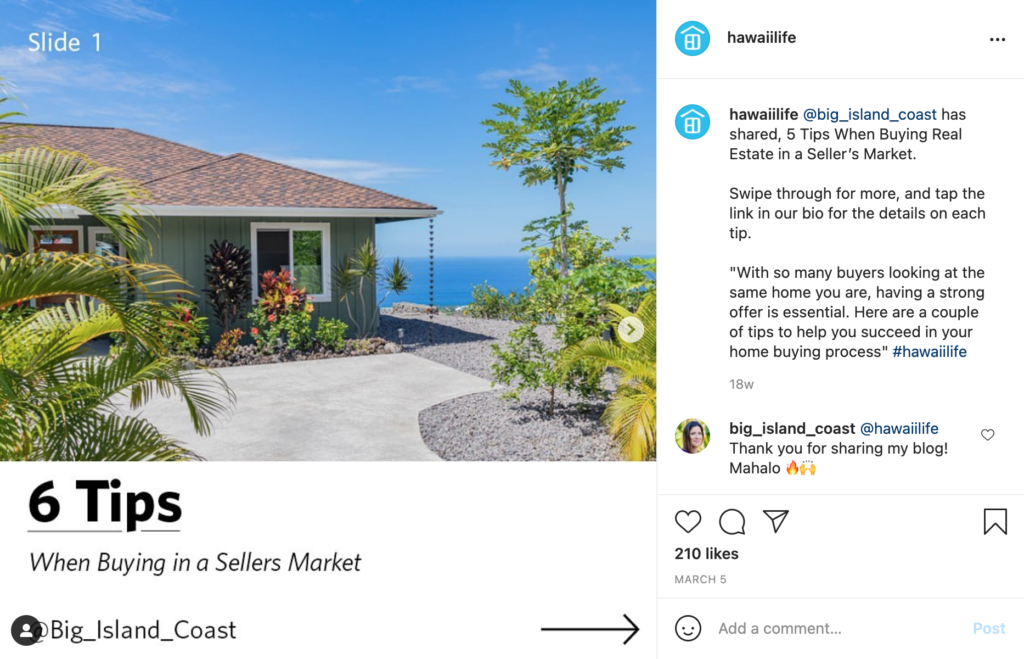 7. Business milestones
Share your business milestones on social media. It could be any big celebration like a 25th anniversary or a small victory like breaking your own sales record. Awards and accolades also act as significant milestones.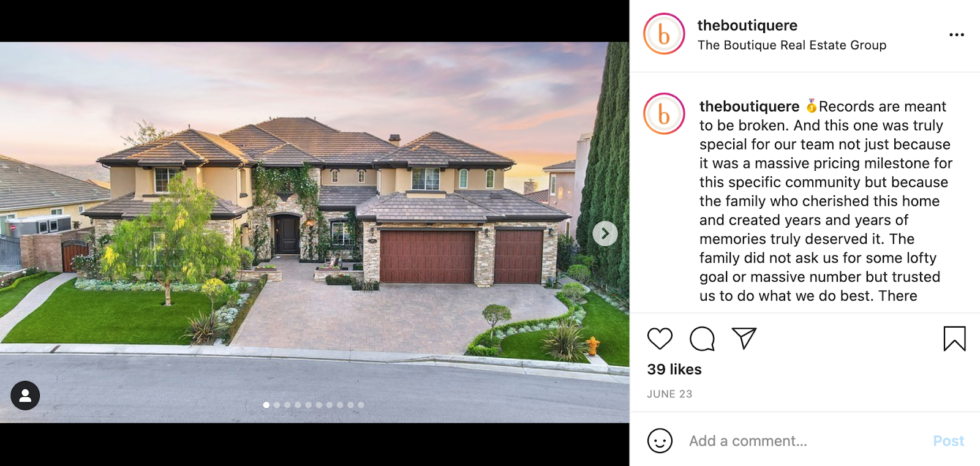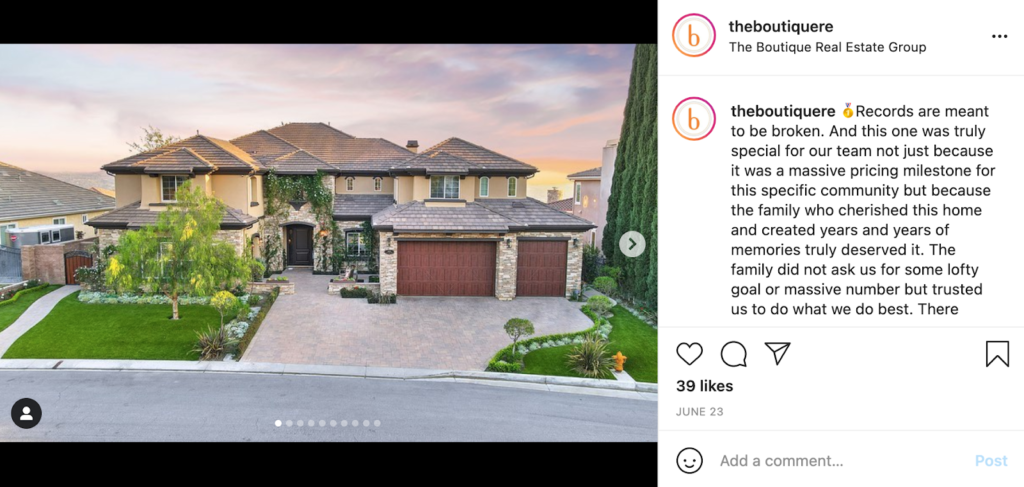 Every accomplishment matters. Sharing such milestones with your audience will let them know you're growing as a business and help you stand out from the crowd.
8. Event coverage
If you want your events to be a success, you'll have to directly invite a large audience. One of the best ways to do that is through social media.
Facebook allows you to publish your event along with details like location, date and time, etc. You can also put up a post to invite your audience to your big day. Your audience can RSVP, and this puts your event in front of more people.
Showcasing the good time you had in other events you attended is also an excellent way to show you're active in the industry.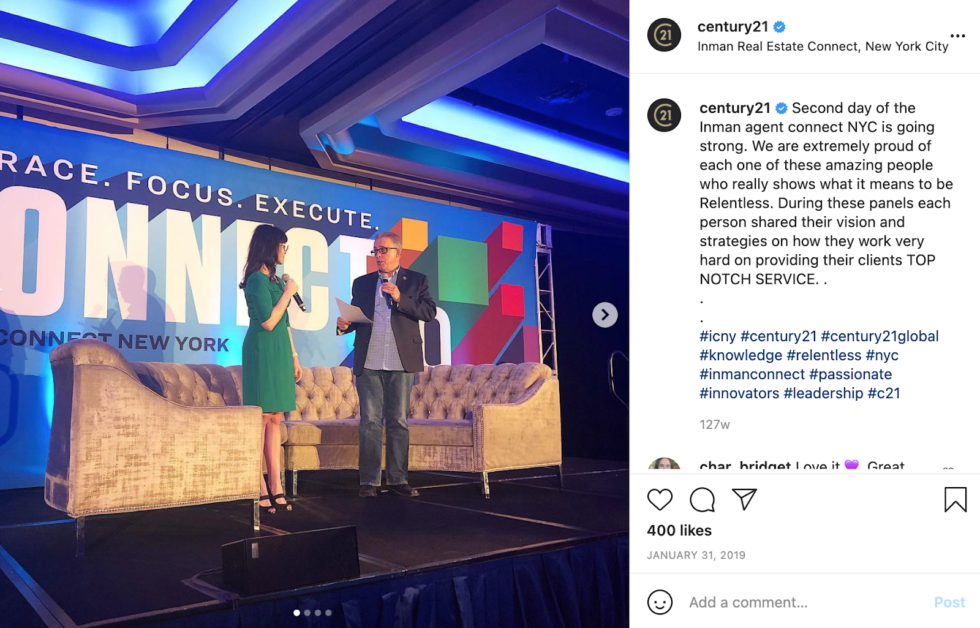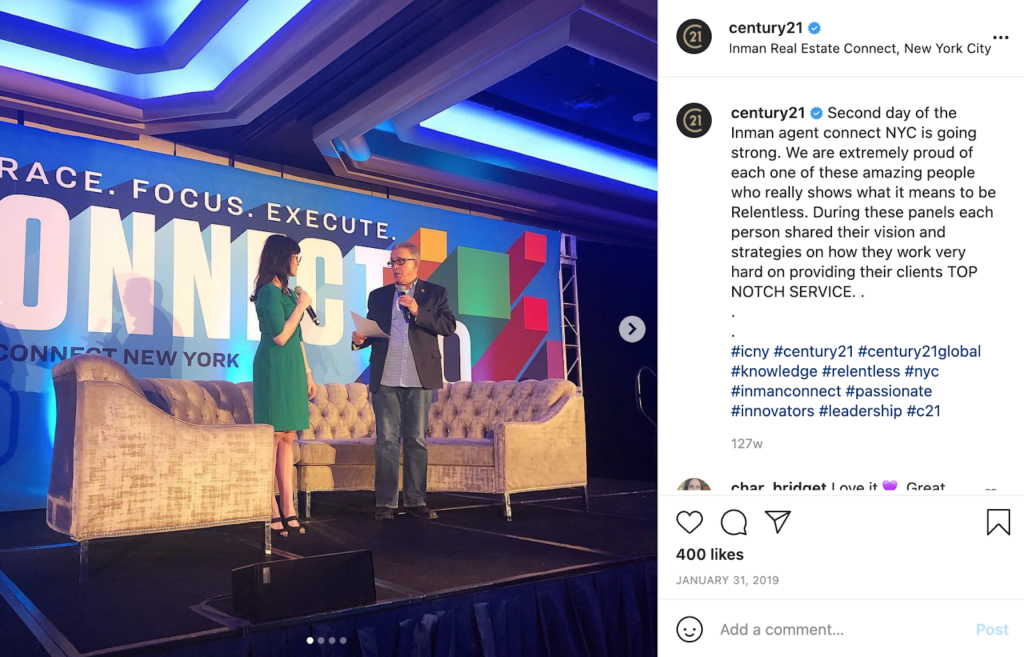 9. Behind the scenes
This may not be directly associated with real estate, but it is a good way of showcasing your brand's personality. Some ideas would be:
A sneak peek into your office.
Your employees out on the field.
Progress on a project you're working on.
This will boost your brand's authenticity, trustworthiness, and authority in the market.
10. Industry news
New trends are constantly emerging in the real estate industry. Keeping your audience informed about these shows you're a responsible business.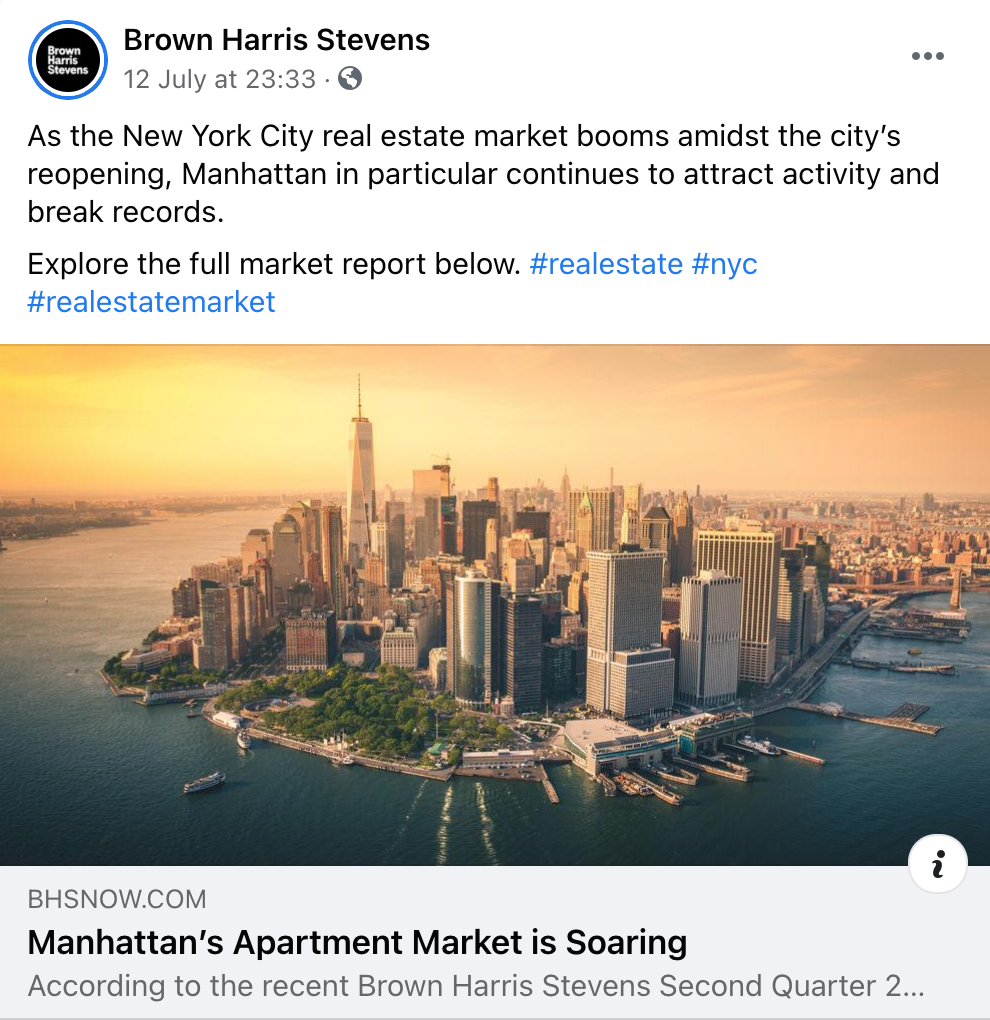 11. Snippets from the blog
If you have a blog page and create content on them, social media is a great platform to promote that content.
You can either take a snippet from your blog post or create a copy that indicates what your blog post is about. Share this along with a link to your blog on social media.
12. Tips and ideas
Engaging with your audience is vital in real estate social media marketing.
Tips and ideas on house hunting, house transformation, house maintenance, etc., are precious to your audience. Sharing such educational content will keep them coming back to you and highlight your industry expertise.
Constant feedback from your audience will tell you if you're on the right path. The bottom line is, the more value you provide, the more visibility you get.
However, you may not have a lot of time in hand to pay detailed attention to your social media marketing. How do you know which posts are performing well? Which platforms are helping you get high engagement? What is really moving the needle?
You may go with your surface-level insights, but the right way to understand this is through the tool itself. Now again, going to each platform and digging through the numbers may seem overwhelming.
What if we told you there are tools that bring together insights from all your social channels?
Let's understand how.
Real estate social media automation
There are a few social media software that help you schedule your posts in advance. This gives you the time and freedom to focus on other parts of your business while your social media is taken care of.
Here are a few tools to help you take your real estate social media game to another level.
PropertySimple
PropertySimple is a platform built for real estate social media marketing. The primary focus of the platform is to connect real estate agents with clients.
PropertySimple lets you schedule your posts on three social media platforms – Facebook, LinkedIn, and Twitter.
The platform also helps you with:
Marketing your listings.
Creating engaging content.
Building an online portfolio.
The platform also has a special feature to add people who engage with your posts to your CRM.
Pricing: Starts from $79/campaign.
Hootsuite
Hootsuite is a social media marketing and management platform. With Hootsuite, you'll be able to schedule posts on all your social media channels. The calendar view makes it easy to review the posts before you schedule them.
Hootsuite provides personalized insights on your top-performing content. The platform also helps with social listening, such as your brand mentions. You can respond to comments from different platforms through a single dashboard.
Pricing: Starts from free.
Sprout Social
Sprout Social is an all-in-one social media management platform. The social listening tool helps you understand your audience with actionable insights.
With Sprout Social, you will be able to:
Plan, organize, and deliver content on all social platforms.
Track performance and respond to messages.
Access selective details and provide personalized services.
Observe trends and gaps in the industry.
Pricing: Starts from $89 per user/month
OutboundEngine
OutboundEngine is a real estate marketing software for agents with inbuilt tools for social media marketing. The platform lets you schedule content to all your social media channels.
OutboundEngine schedules your posts at the best time to maximize engagement. The platform also offers to create highly optimized social media profiles for your business on different channels.
Pricing: The pricing they have on the website is for the complete marketing software. So, you can contact them for customized pricing.
AgoraPulse
AgoraPulse is a social media publishing platform. You can also optimize the best-performing content with the help of insights the platform provides.
The calendar view gives a visual representation of your scheduled posts. With features like image cropping, video thumbnails, and saved hashtags, you'll be able to optimize your content for each platform. There's also a feature that allows you to reschedule your posts multiple times.
Reporting, messaging and monitoring are a few more features the platform offers.
Pricing: Starts from free.
Buffer
Buffer is a social media toolkit made for small businesses.
Buffer helps you:
Schedule your posts on multiple platforms.
Measure your social media performance.
Respond to comments with hotkeys.
Pricing: Starts from free.
Get started!
As a business, your ultimate goal is to attract leads and generate sales. Social media has become an essential piece to help you with that. Real estate social media marketing involves a lot of moving pieces and keen attention to detail.

Do you have some more ideas you want to share? Tweet them to us at @CallHub.