Promotional SMS is one of the best ways to reach a dedicated list of contacts to market your brand.
It can also be used to get your audience to take action, especially when that action can be done online.
"31% of consumers said they opt-in to a brand's text messages so that they wouldn't need to visit a physical location or website or app"
That means for 31% of consumers, SMS is their channel of choice to interact with your brand.
In addition, sending multiple promotional texts can dramatically improve conversion rates, with 3 SMS resulting in a 328% increase in conversions.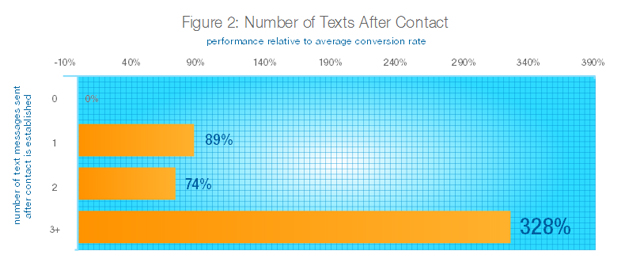 That's all the motivation you need to get started with it.
What is a Promotional SMS? (with an example)
As the term suggests, promotional text messages spread the word—about a new product, an event, or more commonly, a sale, like in this message Macy's sent to their customers: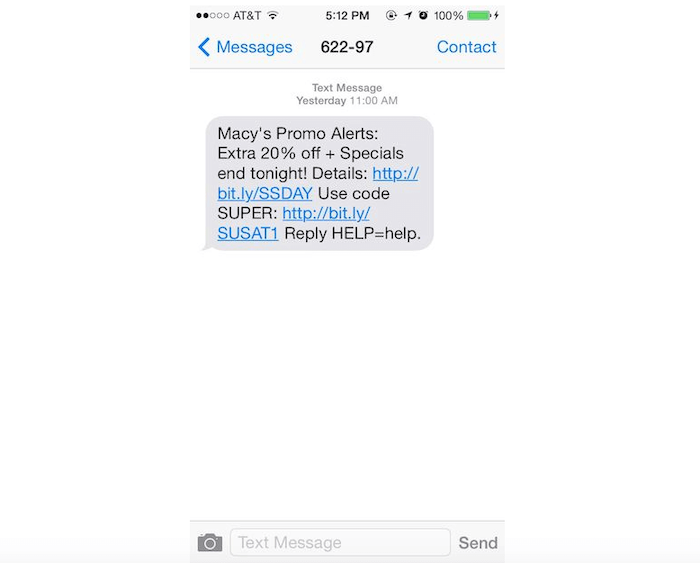 There's a lot we can learn from how Macy's crafted their promotional text message.
Off the bat, we can see that it:
Immediately lets you know who it's from
Is concise and instills urgency
Includes an actionable CTA that encourages their audience to convert
Incidentally, all text messages (even transactional SMS) can have these qualities in common. However, that does not mean you can interchange them in your marketing strategy.
The first thing to know before putting resources behind SMS marketing is the distinction between promotional and transactional text messages:.
Promotional SMS vs Transactional SMS – What's the difference?
Promotional texts are initiated by you (the business or organization) to send a bulk SMS. It could be about, say, (like Macy's) a sale promotion.
"Hey Joe, there's a 50% discount on leather shoes, this weekend only! Shop now: crocodillo.com/store"
Transactional SMS, in contrast, are inherently different. They are sent in response to an action by your receiver. For instance, it could be to confirm a booking or the status of an order.
"Mr. Smith, your credit card has been shipped and will arrive within 5 working days. Track your shipment status here: baxisbank.com/shipping"
Here's a handy overview of the main differences between promotional and transactional SMS:
| | |
| --- | --- |
| Promotional SMS | Transactional SMS |
| Used for marketing purposes | Used to move prospects along a customer journey |
| Initiated by the organization | Initiated by the customer |
| Delivered only to those who have opted in and non-DND contacts | Sent regardless of DND status |
| Can be sent only between 9 AM to 9 PM | Are sent regardless of timing |
If you're thinking about using text messages in your marketing strategy, make sure that your promotions are not being confused with transactional SMS.
How does promotional SMS fit into your existing marketing strategy?
While text message promotions are effective on their own, they work even better when you pair them with existing channels.
For example, say you're sending out a downloadable ebook in a newsletter to your email subscribers. If you also have permission to send them text messages, then you can send a quick text alert to let them know about the email waiting in their inbox.
If you have call center agents calling your contacts, they can send a relevant follow up text message, increasing conversions for your campaign.
Combine your app with SMS. For example, you can send a follow-up text to customers if they have items in their shopping cart. Provide a link to their cart in the text so they can complete the transaction on your app.
You can also use this the other way around. To help increase SMS opt-ins, you can use in-app messages to ask users to opt-in to SMS. That way you have a way to reach them if they uninstall the app.
By using a multi-channel approach, you increase the chances of your audience seeing your promotions and acting on it
Who is promotional SMS not for?
While promotional texts can add significant value to your marketing strategy, it's not for everyone.
Text messages for promotion might not be the best option for you if:
You find yourself reaching out to an audience that is older and might have a hard time dealing with texts.
You don't have the time or resources to build a list of contacts by promoting a CTA to get an opt-in from contacts.
Tips on creating a great promotional SMS
Like we saw in the text message that Macy's sent to promote their sale, there are some common qualities that are useful to implement when creating your text message:
Let the audience know who you are
The first questions people ask after receiving a text message are:
Is it for me?
Who is it from?
Is it worth my time?
By answering these questions as soon as possible in your message, you have a higher chance of keeping their attention and getting them to take action.
Combine personal and professional copy
Find the right balance between personal and professional copy for your text messages. That involves taking the voice of your brand into account and testing the messages that you send out to contacts.
Use language that fits the style of your brand
Personalize your messages with details of your contacts (ex. Their past interactions with your brand)
Avoid using caps unless it's necessary (ex. If you're sending a discount code)
Avoid using unnecessary punctuations and exclamations.
Taking care of these points will help your texts stand out from the rest. It will make your texts hard to ignore and will also encourage your audience to act on them!.
Invoke a sense of urgency
If you want your audience to take action after reading your text message, one of the best ways to do it is setting a time limit on your promotion and using words and phrases like:
Hurry
Offer ends tonight
While supplies last
Before time runs out
Shop now
Inducing urgency in your message can subconsciously push your audience to convert.
Keep the message short + be precise
Text messaging is a mode of communication that makes it necessary for you to get your point across quickly.
Going over the 160 character limit for texts means you'll need to send a 2nd message to contacts (and spend more to do it)
Keep your messages brief by:
Identifying the main point you want to put across
Recognizing the parts of your message that can be better served by linking to a web page
Brief, concise messages can reduce the load on your readers and make it easier for them to engage.
Include a convincing CTA
A great copy isn't enough when you want your contacts to take action after reading your text message.
That involves making it easy for them, by providing a call-to-action, and a link that can lead them directly to where they can:
Complete a purchase
Make a donation
Sign up for an event
A well thought out CTA improves your chance of converting your target audience.
Send at the right time
Regulations state that you can send promotional texts only between 9 am to 9 pm. You can narrow down this time slot further to encourage better clicks. The ideal time to send a promotional SMS could be based on:
The kind of promotion you want to do – e.g. coupon promotional texts are best sent when the customer is still in the store.
The behavior of your target audience – e.g. if they check their phone after waking up, send it then. Or, if you notice that app traffic is highest in the evening, send your message closer to that time.
Sending your messages at the right time makes it more likely for your audience to read your message.
Promotional text message examples
Here are a few industries that use SMS marketing to reach their audiences:
Promotional SMS for restaurants
Restaurants can use promotional SMS to:
Send discount codes
Promote limited-time offers
Promote weekly specials on the menu
Notify customers about special events (ex. A bar quiz)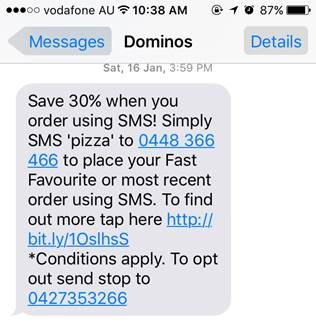 Domino's gave their customers an option to order pizza through SMS, helping them along with a hefty discount.
Promotional SMS for education
School and universities can use SMS to communicate with students and parents by:
Notifying them about elective courses
Spreading the word about campus events (ex. Book fairs) and urgent notices
Sharing fundraising efforts to solicit donations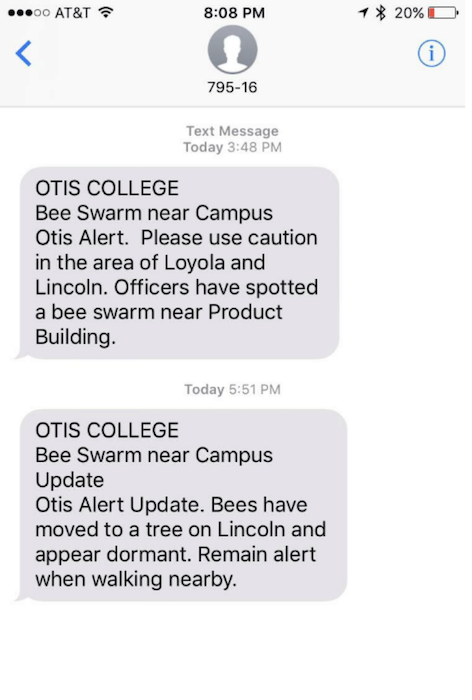 Otis College made sure their students were kept up to speed using SMS, in this case, to warn them about a rogue swarm of bees.
Promotional SMS for real estate
SMS is a reliable way to reach prospective homeowners. They can use it to:
Send property information to interested leads
Inform them about other properties nearby
Let prospects schedule a house visit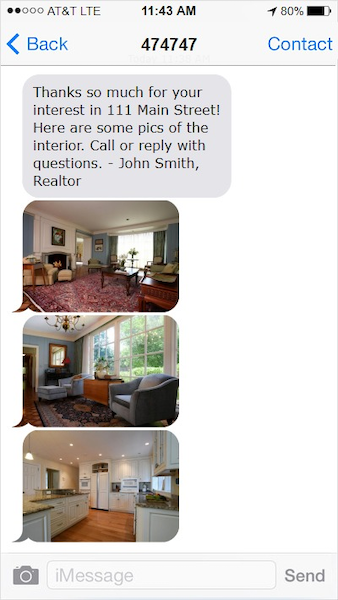 Here's one way real estate agencies can use text messages to send property information to prospective buyers, with the help of multimedia.
Promotional SMS for hotels and travel agencies
SMS is a great way to communicate with travelers before, during, and after their stay.
Sending discount codes if they have booked with you before
Inform them about hotel amenities once they've checked in
Send surveys through SMS and collect feedback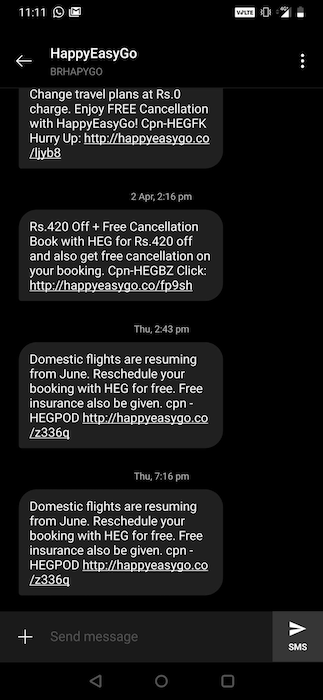 HappyEasyGo used SMS to keep its customers in the know when it came to cancellations and bookings during the COVID pandemic.
How do you send a Promotional SMS?
Sending a promotional text is as simple as
Creating an account with an SMS provider 
Adding or renting a sender ID/phone number
Uploading a list of contacts to the software
Setting up a mass texting campaign
Selecting your list of contacts and adding your message 
Scheduling the message for whenever you want it to go out
Once you hit start, you're all set.
Learn more about setting up a mass texting campaign in CallHub.
Promotional SMS service – CallHub
When you adopt a texting service, it's important to make sure that it has everything you need to run smooth SMS marketing campaigns.
Why use CallHub?
Among other features, CallHub allows you to:
Set up automated responses so you can follow up with your contacts
Personalize your texts with data imported from your CRM
Manage replies to your promotions manually in the campaign interface
Make the opt-out process automatic
You can get started and test out your promotional SMS campaigns for free by signing up.