Did you know that most text messages get read within three minutes? And that SMS has an open rate of 98%?
I'm sure you do, that's why you're here, and I won't disappoint you.
In this guide on SMS marketing practices, we have jotted down the most effective practices. As a bonus, you get clear and specific instructions on how you can implement those practices right away.
Let's get to it.
What are some best practices for SMS marketing messages?
We have got you covered, from getting your contacts' consent, so you don't face legal consequences to sending your SMS at the right time, so your contact engages with you within minutes.
Always get your contact's permission before sending the first SMS
Before you start your SMS marketing campaign, it's important to familiarize yourself with the SMS compliance regulations. Failure to comply with these can lead to legal consequences.
An important part of complying with the TCPA regulations is to get your contact's consent before texting them.
The good news is that getting their permission is super easy.
Your contact can express their consent in three ways:
Opting in by sending a text message to your number.
Submitting a web form.
Submitting a physical form.
At this stage, you must let them know:
Who you are.
How frequently you will send them text messages.
Nature of the messages.
How they can opt out.
Message and data rates that may apply.
Now, let's see how to get your contacts' consent using SMS opt-ins.
How to enable SMS opt-in on CallHub
Step 1: Create a free account and create an SMS Opt-in campaign.
Step 2: Choose a keyword of your choice and a phone number.
Step 3: Display this keyword and your number on your marketing channels for your prospects to opt in.
Now when someone texts you the keyword, they are expressing their consent to subscribe to your marketing communications.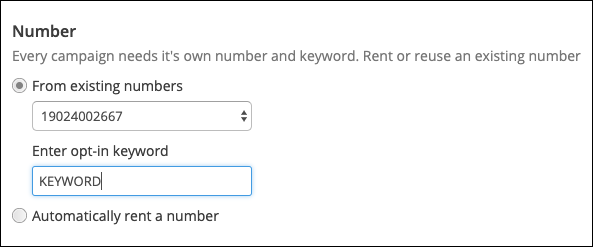 Here's a complete guide on creating an SMS opt-in campaign on CallHub.

Personalize your SMS
Every text from you needs to read like it's curated for one person. Your contacts expect personalized communication, which drives them to pay attention to your organization. (Source)
Here are some personalization techniques you can use to do that:

Segmenting your contacts: Segment your contacts based on their demography, past behavior, interests, and anything else that helps you differentiate a set of contacts. This enables you to provide an individualized experience to your contacts.
How to enable on CallHub
When you run an SMS marketing campaign on CallHub, you get access to special features like tags, notes, surveys, etc., which are designed for segmentation. The key is to integrate your CRM with CallHub and let all the data you collect sync.


Personalized addressing: There are many ways to address a contact by something unique to them—for example, their name.
How to enable on CallHub
CallHub gives you the ability to personalize your message using merge tags. These merge tags help you customize your message using dynamic fields like the contact's first name.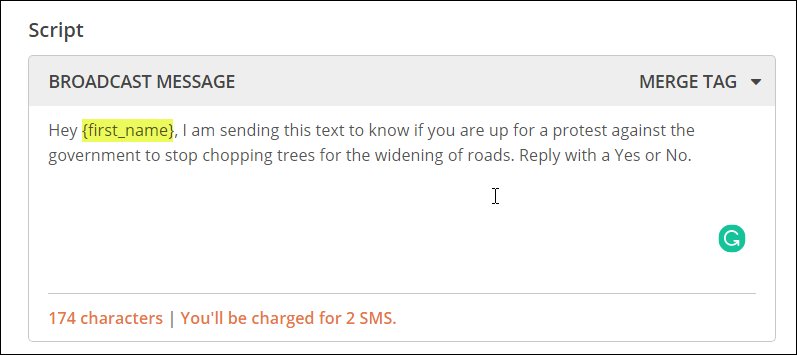 Here's a complete guide on personalizing conversations on CallHub.

Be consistent and don't flood the inboxes
One of the biggest mistakes you can make is to spam your contacts. SMS is a personal communication channel, and nobody wants to see a marketing message there every day. Then again, you don't want to be so irregular that your contact no more recognizes you.
The key is to be consistent and find a healthy frequency. This frequency may vary by industry, messaging, audience, etc. Sending 4-5 SMS per month with no more than 2 SMS per week can be a good start. (Source)
Later, you can slowly increase this number and test out different frequencies till you find the right spot.

Encourage participation
When you send an SMS to someone, you also need to consider the possibility of receiving a response. It takes just 90 seconds to reply to an SMS, and people are likely to do so. The response may be a question, feedback, and so on.
This is an excellent opportunity for you to form a relationship with your contact.
How to enable on CallHub
When you run a mass texting campaign on CallHub, all the responses you receive show up in your inbox. All you have to do is enable email notifications while setting up your campaign, and you can log in to the dashboard and reply to the messages.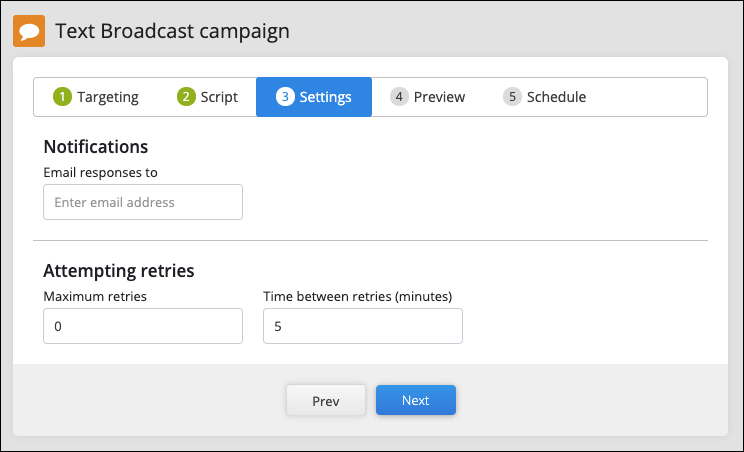 Here's a guide on setting up a mass texting, also called a text broadcasting campaign.
Now, say, your campaign needs active participation of your contacts with back and forth communication. CallHub has you covered with our peer-to-peer or P2P texting campaign for such a campaign.
With P2P texting, your volunteers will message your contacts individually but at scale. The messages here are much more personal, and your contacts will be able to talk to your agents in real-time.
Here's a guide on setting up a peer-to-peer texting campaign on CallHub.

Be clear and concise
You have 160 characters in a single SMS. If your message goes beyond that, it'll be considered more than one message, charging your campaign accordingly. So, be as concise as possible.
People prefer SMS because it takes a mere 5 seconds on average to read one. Use the five seconds to deliver a clear and direct message that draws their attention to completing your ask.
If you're adding a link as a part of your CTA, make sure you shorten it so you save character space and can track it for engagement.
How to enable on CallHub
You can type your message under the 'Script' section while creating your SMS campaign. CallHub will show you the number of characters left while you type and as soon as you cross the character limit.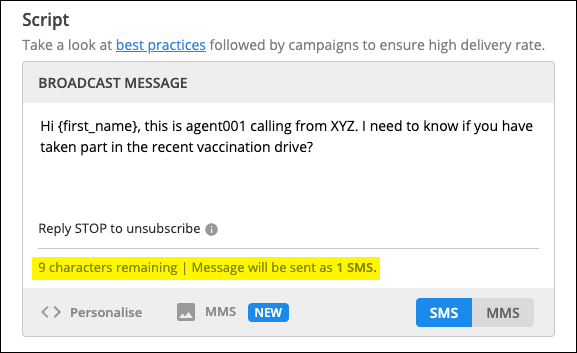 Show what's in it for them
People are tired of seeing the same message repeated over emails and social media campaigns. Your SMS should have something fresh for them. A "short" message wouldn't contain too much detail, so say something impactful instead. Think of it as something that will stick in their mind.
More importantly, show what's in it for them. For instance, the benefits they ought to receive from taking the action you ask them to.
Read Next: SMS Campaigns Analytics and Reporting: How to Measure the Performance of Campaigns on CallHub

Provide a way to opt out
The harsh truth is that there will always be people who'd want to stop hearing from you. Rest assured that it's not just you—they are not interested in marketing messages. And it's better to let them go from your marketing contact list than to annoy them.
Additionally, as per legal requirements, bulk SMS messages are required to give them an option to opt out.
The easiest way to do this is by including a message that says, "Text STOP to opt out".
The bright side is that it also serves as an advantage to you. Your contact is given a choice with the simple unsubscribe option, so those who stay onboard are interested in what you have to offer.
How to enable on CallHub
CallHub lets your contacts opt out using keywords like STOP, UNSUBSCRIBE, QUIT, END, and CANCEL. When your contact sends one of these keywords, they get added to your Do Not Contact (DNC) list on CallHub.
While you're not required to add this message to every SMS, it's a good practice to do so once in a while.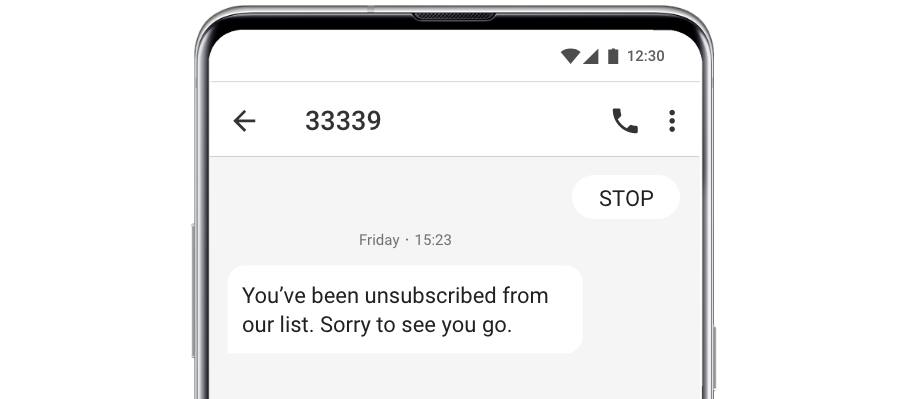 Send your SMS during regular hours
Nobody likes to have their sleep disrupted by a text message notification in the middle of the night. Keep time in mind when sending out your messages. The right message at the right time is more likely to get you the action you expect from them.
As per TCPA regulations, marketers can send messages only between 8 am and 9 pm as per the recipient's time. (Source)
How to enable on CallHub
On CallHub, you can send your messages in your contacts' timezone when you schedule your SMS.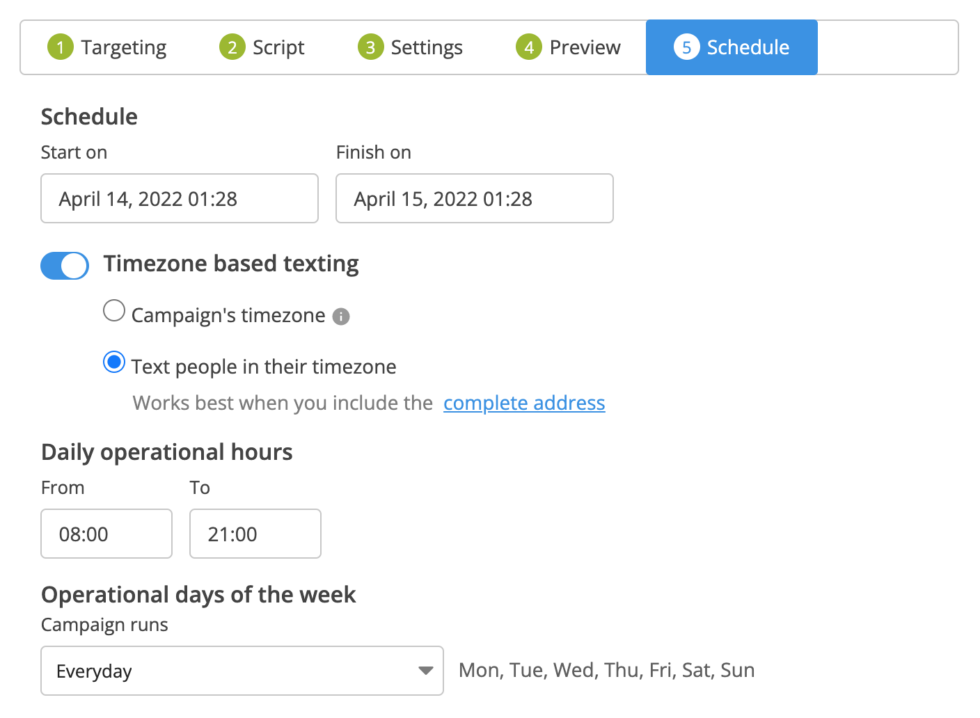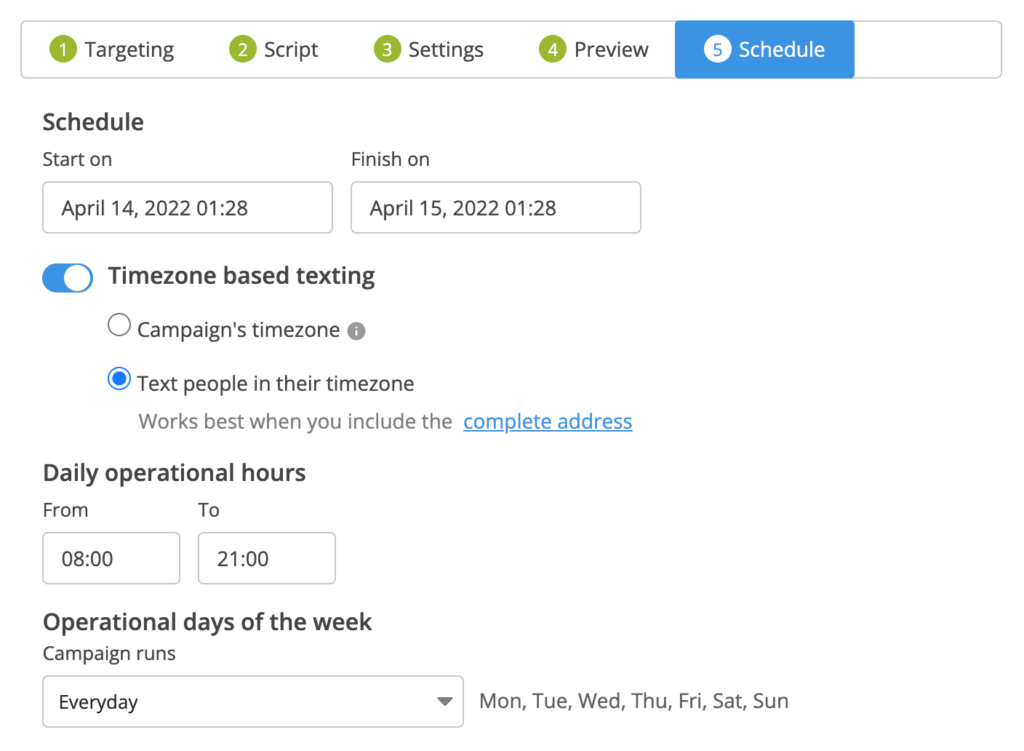 To get you an upper hand on your SMS marketing campaigns, here's a video where one of our in-house experts shares insights on the SMS best practices and how to get the best out of your SMS marketing campaigns.
Next step
SMS marketing is undoubtedly one of the best ways to get your contacts to convert. But, when you combine that with two more powerful channels, telemarketing, and email marketing, you increase your reach, engagement, and, ultimately, conversions.
With CallHub, you can run integrated marketing campaigns with automation. Instead of switching between multiple channels to run campaigns and access data, have them all in CallHub.
Featured image: Photo by Andrea Piacquadio from Pexels