In a world inundated with information and countless marketing messages vying for attention, it's essential to cut through the noise and connect with your audience in a meaningful way. Traditional marketing channels often struggle to deliver the desired impact, leaving businesses searching for more effective alternatives.
That's where SMS marketing comes into play, offering a direct and personal approach to engage your audience.
In today's fast-paced digital landscape, SMS marketing
Unlocks the full potential of your marketing campaigns,
Captures the attention of your target audience, and
Gives remarkable results.
Dunkin' Donuts, a popular chain, used an effective SMS marketing campaign to regain its market presence and drive in-store traffic. They used texts for their referral strategy, targetting the audience accurately and getting amazing results!
17% of the recipients forwarded the texts to friends, amplifying the campaign's reach. The SMS messages used a friendly tone, emphasizing sharing and benefits, leading to a 21% increase in in-store traffic.
But, if Dunkin Donuts did not use the right tactics, the SMS campaign could just as easily have gone unnoticed or fallen flat. We don't want that for you.
So, how can you make the most of SMS marketing as a strategy and stand out from the crowd?
This comprehensive guide will help you navigate the intricacies of the dynamic landscape of SMS marketing tactics. From leveraging personalization to using SMS alongside other channels, we reveal the proven tactics that can transform your text marketing efforts.
Benefits of SMS marketing
SMS marketing tactics
Let's discover the keys to success in SMS marketing.
Entice customers with instant opt-in incentives and deals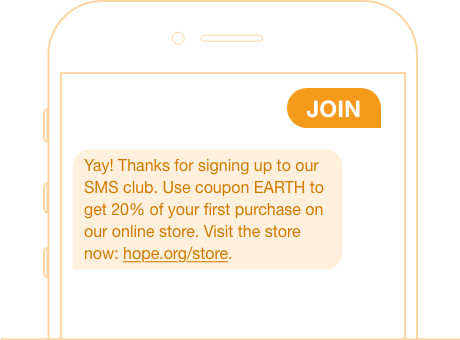 54% of consumers say they prefer receiving promotional SMS messages, making opt-ins that much more likely if you offer them a deal in return. Typically, the promotions for opt-ins go like "Text BONANZA to get a 30% off on your purchase". When someone texts in that keyword, they get a whopping offer and you get a new subscriber!
Promote and offer immediate deals post opt-ins to entice customers to opt in to your SMS marketing campaigns and engage with you.
Tailored SMS messages with behavior-driven personalization for maximum impact
According to a report by Salesforce, 84% of customers say being treated like a person, not a number, is crucial to winning their trust.
Personalization is a key SMS marketing tactic that goes beyond simply addressing customers by name. Personalize your SMS messages based on customer intent and behavior. Utilize workflows and segmentation to deliver targeted and relevant content to individual customers.
Harness the power of SMS for appointment, delivery, and payment notifications
Research shows that millennials have a preference for receiving texts from businesses for appointment reminders (62%), delivery notifications (59%), and payment reminders (48%). Leverage SMS for such transactional messages to increase engagement and customer satisfaction. Essentially, your texts perpetually add value to your customer's life, making it that much easier to engage them with your marketing campaigns.
Tie SMS with other marketing channels to enhance engagement
Combining SMS with other channels, such as email or social media, avoids silos and increases the chances of your marketing messages being seen and acted upon. It reinforces your messaging, creates a cohesive and seamless customer experience and increases engagement.
For example, research indicates that sending an automated follow-up text to customers, asking if they've read your email, can result in up to 30% increase in open rates.
Drive instant action with short-term coupons and offers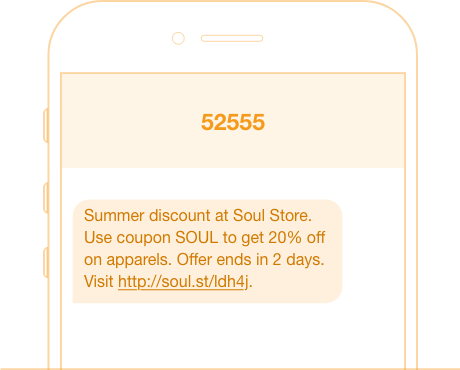 SMS offers receive a response from 32% of recipients, and texted coupons are redeemed at a rate 10 times higher than traditional coupons. Utilize SMS marketing for short-term coupons and time-bound offers to create a sense of urgency and drive immediate action from customers.
Engage with multimedia and interactive content
Research indicates interactive content, such as SMS or MMS campaigns, generates conversions 70% of the time, outperforming passive content with a conversion rate of 36%. Incorporate images, videos, and interactive content into your SMS messages to enhance engagement and conversion rates.
Strike the right balance with the right frequency and mix of SMS messages
When implementing SMS marketing, determine the appropriate frequency and mix of your messages. Finding the right balance ensures your SMS messages are well-received and positively impact customer response.
To maintain customer engagement without overwhelming them, keep the mobile messaging frequency at an optimal range of approximately 10-12 messages sent per month.
Minimize friction with clickable links in your messages
Include links in your SMS messages to reduce friction and make it easier for customers to access offers or relevant information. Providing direct links eliminates the effort of customers having to manually type in a website or search for specific offers or locations.
Research shows that 29% of recipients click on links in SMS messages, and 47% proceed to make a purchase. In contrast, average email click-through rates typically hover around 2.5%.
Establish credibility with a dedicated phone number
Use a dedicated phone number for your SMS marketing to establish credibility and avoid being marked as spam. A dedicated number adds professionalism and trustworthiness to your SMS marketing campaigns. This enhances the deliverability and effectiveness of your SMS marketing efforts.
Leverage special events to market personalized promotions
Utilize special events on the calendar to market and offer personalized promotions. Whether it's a customer's birthday or a holiday, leverage the occasion. Send them offers, coupons, or gift cards as an SMS marketing tactic (and also making them feel special!)
Acknowledging and celebrating these events strengthens customer relationships and fosters a sense of appreciation, ultimately benefiting your business.
Supercharge your SMS marketing with CallHub's texting platform
Supercharge your SMS marketing efforts and unlock its full potential using CallHub's SMS marketing software. With its user-friendly features and robust capabilities, you can easily manage your SMS marketing campaigns, target the right audience, and measure your success.
Learn more about our SMS marketing software here.
Featured image: Photo by Keira Burton