Labor union software is an increasingly essential tool in current times as the need for strong labor unions grows after years of being on the decline.
Changing workforce demographics and economic policies, among other reasons, have led to a steady decline in union memberships over the years. However, recently, labor unions have gained a lot of traction because:
There is an increase in wealth inequality. The rich are getting richer while the working class continues to suffer.
A post-pandemic world brings with it fears around job security, uncertainty around pay, and concerns around safe working conditions.
There has been increased support and endorsement for labor unions by political groups in recent years. President Biden has also promised to be "the most pro-union president you've ever seen."
In short, things are looking good for labor unions after years of declining power. To strengthen and take full advantage of this upward momentum, it is essential to organize union members as quickly and efficiently as possible. To do so, a labor union software is an investment that every union must explore.
A good labor union software helps you navigate through many issues when managing and empowering your association.
Here's how a labor union software can help you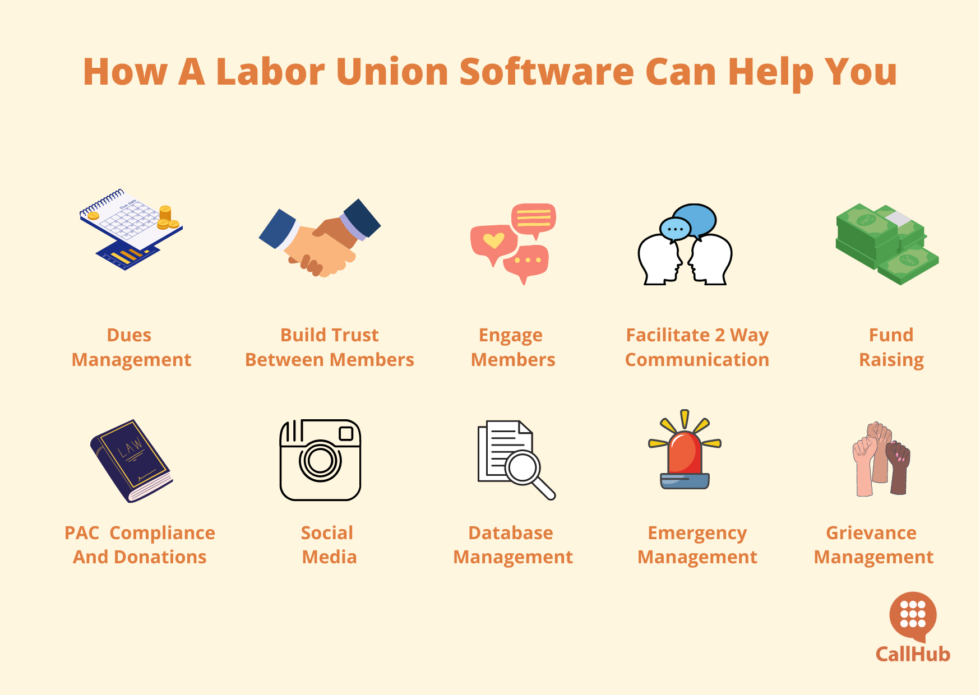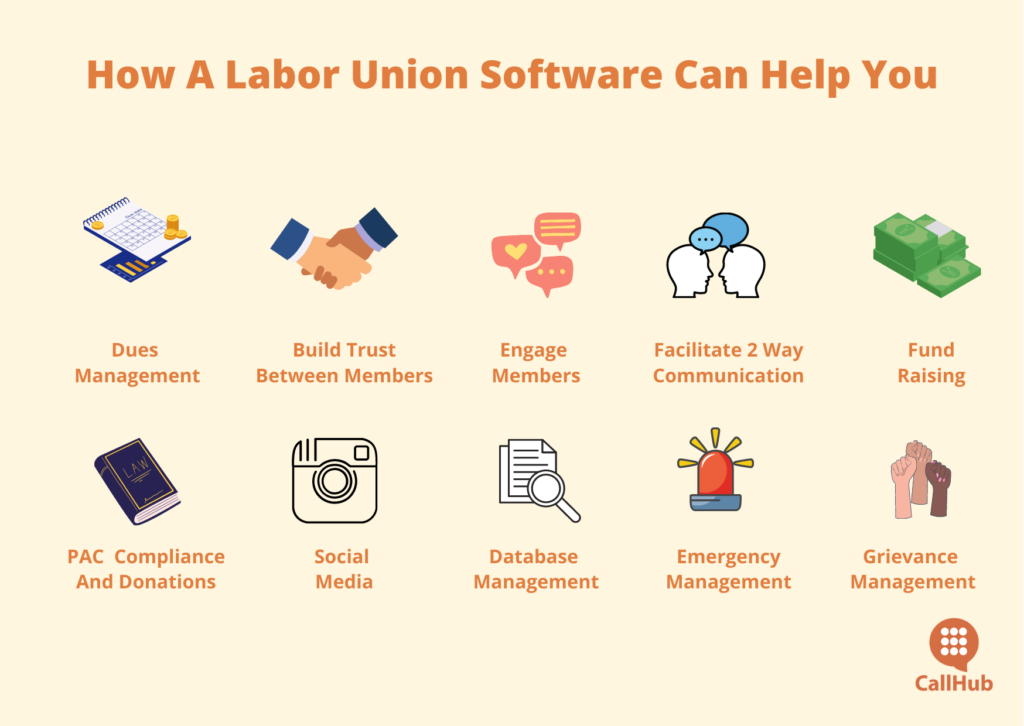 1. Labor union software can manage owed dues
Reminding members of pending dues, collecting them, and keeping a payment record becomes an easy process with labor union software. This way, you can keep your finances updated and minimize overdues without manually investing in follow-ups.
2. Use union software to build trust amongst members
Personal conversations and building relationships within the union are essential to its long-term success. Members need to feel that their interests will be advanced, they will benefit by being a part of the union, and the union will support them through bad times.
A labor union software can aid this trust-building process by providing communication outlets such as peer-to-peer texting, implementing feedback mechanisms via calls, conducting surveys on text or email, etc., which will help you reach members individually at scale. Facilitating such conversations will strengthen the union by understanding and addressing issues faced by workers.
3. Union software can engage union members
Engagement goes a step beyond building trust with members. It is regular, consistent communication that reminds members about the mission of the union and their role in it.
Engaging members through a great communications plan can be made possible through a labor union software. You can engage with existing members, understand their concerns, and address questions through calls, texts, emails, or social media platforms. Continual communications can increase engagement, helping you mobilize with less effort when the time comes.
You May Also Like: Union Authorization Card 101: All You Must Know Before Asking for Signs
4. A labor union software can facilitate two-way conversations
A large part of organizing revolves around getting members on the same page as you, understanding their concerns, and giving them a platform to express their opinions and disagreements.
Facilitating two-way communications through software communication is an excellent step towards organizing and managing members successfully.
Peer-to-peer texting is the go-to communication feature for two-way conversations. With P2P texting, you can:
Personalize conversations: Peer-to-peer texting is different from a mass texting campaign. Here, you are engaged in one-to-one conversations with hundreds of people at the same time. Conversations are personalized with merge tags. But you can also go a step ahead, tag people based on their responses and personalize communications by segmenting your lists by choices, opinions, support level etc.
Mobilize your union: You can reach thousands of people at the push of a button. Send them event invites. Receive RSVPs, share multimedia messages, identify grievances, reassure your members, and more.
Call to action: Encourage people to take action such as gather funds, invite peers to join the association, answer questions from members through a back and forth conversation.
Getting started with peer-to-peer texting is easy. Create an account on CallHub now and start a free trial. Your campaign manager can upload a contact list and assign contacts to agents. Draft your initial message, add pre-saved responses, and get started right away. With P2P texting, you can begin engaging with up to 3500 people per agent per hour.
5. Labor union software can help to fundraise
As a union driven towards success by supporting its members, funds play a vital role in advancing your cause. Interestingly, through a labor union software, you can set up fundraising campaigns that are powerful and highly effective in raising money. Here are some ways in which your labor union can raise funds:
Share a donation link via text messages, encouraging members and donors to donate to the union.
Use telephone fundraising and train volunteers from the union to call potential donors and supporters to donate.
Leverage your union software's email set-up to schedule donation request newsletters and follow-up emails.
Running a fundraising campaign on your website.
Promote your fundraiser on social media pages and direct the traffic to your website to raise funds.
Read Also: Text Fundraising: Methods & Best Practices That You Need To Know
6. Union software can help manage PAC compliance and donations
PACs (Political Action Committees) are set up by labor unions to collect funds and back political candidates who support their cause. Organizing and managing PAC funds are essential for a successful labor union to maintain power.
Your labor union software can help you manage PAC donations, separate from other fundraising initiatives or funds that you might collect.
7. Union software can help with social media outreach
Social media, especially platforms such as Facebook, Instagram, and Youtube, are excellent means of lobbying for your cause. You can gather supporters, reach out to people who are not from the same location, and promote your events and fundraisers online with these platforms.
A labor union software can support your social media outreach by helping you manage your posting schedules. It can also offer plug-ins on your website that can help you direct traffic from your website to social media and vice versa. Lastly, it can provide you with analytics and data to inform you how well your campaigns are doing and what can be improved.
8. Union software can handle database management
Database management is an essential feature of a labor union software. With hundreds, if not thousands of members to track, you need to segment and manage your database for best results.
You need to know details such as the demographic sections of your members (age, gender, location, marital status, etc.), income levels, political interests, willingness to participate in union activities actively, and many other metrics that might be of special interest to you.
CallHub, as a communications platform helping with database management across industries, has a list segmentation feature that will help you easily tag and segment contacts. Dividing contacts into different categories immensely benefits your outreach as you can devise unique outreach plans tailored for each segment to garner their support.
When your list is segmented, you can make choices that increase the success of your campaign. For example, younger members of the union might prefer to receive communications from you via text or email. Older members of the association might appreciate a call more than other means of communication.
Read Also: List segmentation in 2020 – a practical guide for your organization
9. Union software during emergencies
Sending out an urgent SOS or mobilizing your union members at short notice is all possible through a labor union software.
Here are ways in which a union software's communication features can help:
With the power of mass texting, send out bulk emergency messages such as bad weather alerts, factory closure alerts, strike notices, etc.
Use SMS opt-in to allow members to opt-in to your messaging service for specific use-cases such as event alerts.
Use robo dialers for mass calling and reach thousands of people at one go.
Work with email management systems and social media plug-ins to reach large crowds and update them about the latest news and notifications. They allow you to have broader broadcasts as opposed to personal updates via texts
10. Union software can aid grievance management
Grievance management is vital to maintain trust between members and amicably resolve issues within the union, between the leadership committee as well as between members and the board.
A grievance redressal system that takes up complaints or issues either on a group platform or anonymously through feedback mechanisms is a must.
One of the ways in which CallHub users use its features for grievance redressal is by using the SMS opt-in for registering complaints. Members can simply text a keyword such as 'GRIEVANCE' or 'FEEDBACK' and then send across any issue they might be facing. Auto-responder set-ups then acknowledge the complaint, and due process is followed.
11. Union software provides valuable data and reports
Data, analytics, and reports provide valuable insights on the performance of the labor union in terms of engagement, outreach, fundraising, and other metrics. Any good labor union software today would provide such data that helps you plan and examine the functioning of your union.
Understand and determine the type of data you would like to collate and see if the union software you are considering can provide those data points to you.
Labor union software takes away a lot of pressure from organizing, fundraising, membership management, etc., which would otherwise be a tedious manual task. Saving time and resources is the reason why an investment into a good labor union software is essential. We have a list of union software that you could explore and implement.
Top Labor Union Software To Discover
We've handpicked labor union software that would solve most of your union's needs in the most comprehensive way possible. Take a look.
1. UnionTrack

In their own words, UnionTrack® ENGAGE, "solves some of labor's biggest struggle[s]." The software is developed for the use of both officers as well as members. With cutting-edge, modern technology and solutions such as union dues payment software, grievance redressal system, etc., on the same platform, it is a power-packed labor union software.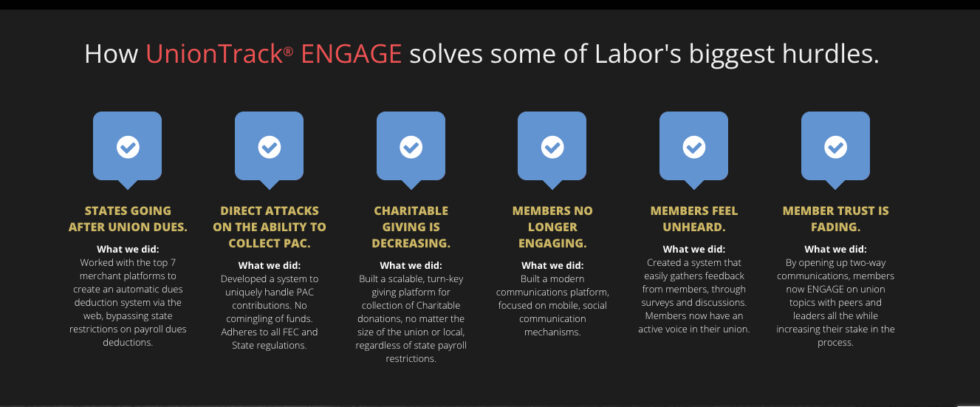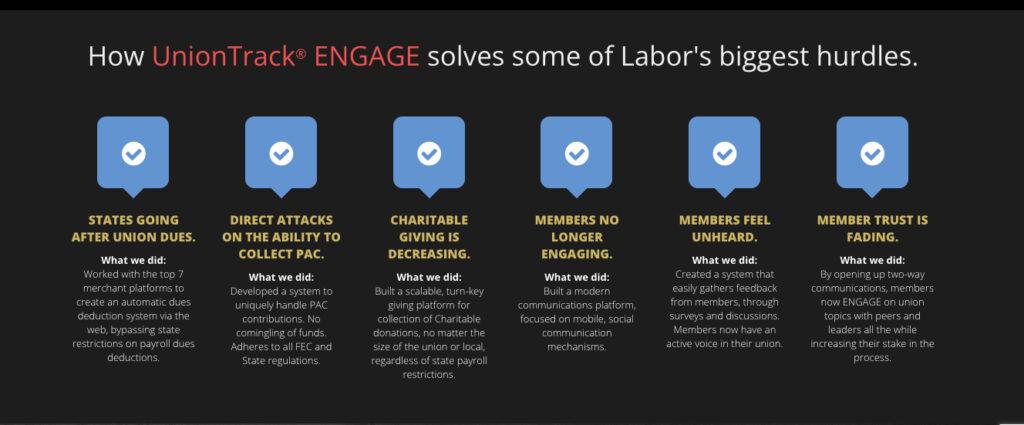 Features:
Integrated merchant accounts for dues payment and PAC management: UnionTrack Engage has primarily managed PAC funds separately from other funds.
Grievance and discipline tracking: Grievance redressal through actionable and real-time information.
Facilitate social media integration: Integrate your social media profile with your website through their platform.
Encourage 2-way communication: Build a communication link between officers and members through social media, surveys, email.
Track upcoming contract renewals: Know about contracts that will expire, saving time and legal hassles.
Set-up a website: Can set up and easily maintain a website through their labor union software.
Pricing: UnionTrack's pricing starts at $400 per user per month. They do not offer a free trial.
2. Mobilize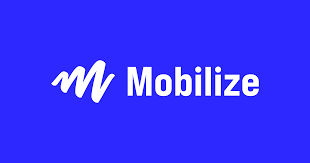 While Mobilize does not offer software specifically created for labor unions, it consists of features that can significantly aid them. As a leading nonprofit management software, Mobilize's features are worth noting. Through Mobilize, unions can have an all-in-one platform.
Features:
A range of tools to create offline and virtual events for supporters.
Post-event surveys to gain feedback and data.
Nuanced database management system to sort out your contact lists.
Peer-to-peer recruitment tools to aid members who would like to invite their friends on board.
Sophisticated data reporting methods to provide accurate data on your campaigns that help you decide your next steps.
Pricing: Mobilize starts off free for up to 500 members and five admins. It is charged at $800 for unlimited admins and tiered membership packages.
3. Union Impact

Specifically designed for labor unions, Union Impact's software is made to increase efficiency and reduce paperwork. They aim to make union software accessible and customizable for all their clients. Let's have a look at their features.
Features:
Their cloud-based computing system makes Union Impact's software accessible anytime and anywhere.
Fully customizable union software to address the unique needs of your labor union.
Unions have complete control over security and access permissions to the software.
Easy to view project journeys so that all members are on the same page about the project.
Collates and manages member information for easy access.
Tracks every dollar that the union receives in terms of payment and maintains accounts.
Organize paperwork – surveys, questionnaires, files, member data, etc. – to streamline the organization process.
Pricing: Union Impact pricing starts at $300 per feature, per month. They do not offer a free version of their software.
4. CallHub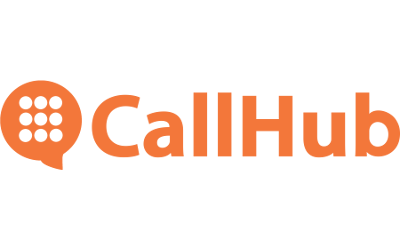 CallHub is an end-to-end communications platform that facilitates communication across the board – between the leadership committee, between members, between members and leaders, and between the union and companies.
CallHub engages directly with essential issues that labor unions face today – lower membership rates, difficulty in fundraising, mobilizing members, organizing events, etc. These are all areas in which CallHub's cloud contact center aids labor unions.
This graph highlights why CallHub's texting software should be your go-to communication tool: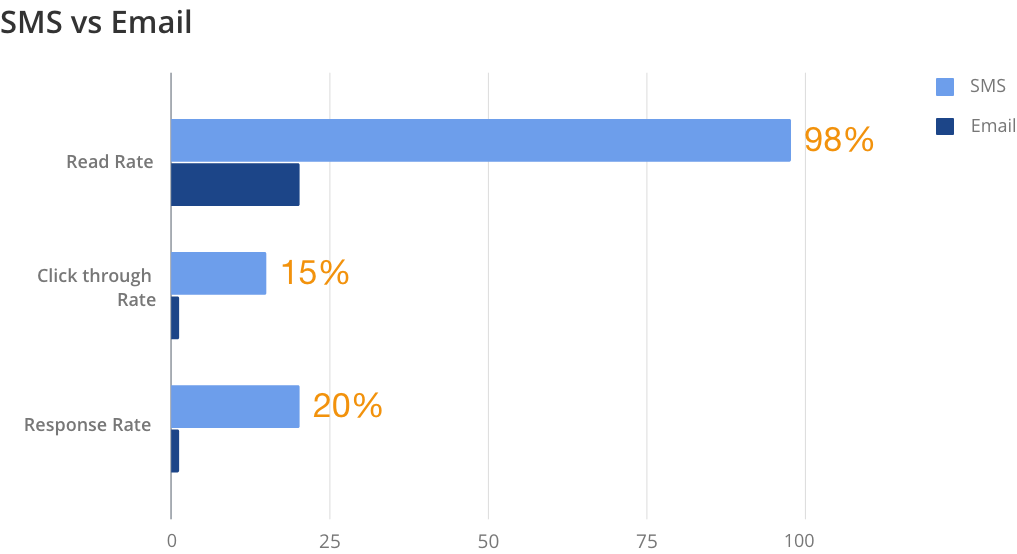 Features:
Patch-through calling enables members to directly communicate with representatives to share grievances or ideas.
Peer-to-peer texting allows members to engage their peers in conversation- a practice that sees higher conversion rates.
Autodialers allow unions to personalize their communications and reach out to hundreds of members via calls in a short time.
Mass texting allows you to send messages to a large list of people at one go. Send thousands of messages easily.
List segmentation to manage your contact lists and clean your data to stay compliant with laws and regulations.
The "teams" feature groups a large number of agents into teams and helps you manage them in a better way.
An authentic and sophisticated reporting system that gives you insight into your campaigns.
Pricing: CallHub's software starts at a $0 pay-as-you-go model and scales up depending on your organization's needs. CallHub also offers a free 14-day trial to try the software.
5. Every Action

EveryAction provides union software and CRM solutions that are specifically designed to help unions grow their memberships. Their labor union software can work with complex team structures across countries and provide union-management tools that solve most of the laborers' problems.
Features:
Enable multi-channel organizing by providing different modes of communication for a single database.
Provide PAC compliance mechanisms that help not only new organizations and members but also professionals with many years of experience.
Easily manage contributions and fundraising campaigns.
Provides latest technological and communication tools like email, text messaging, etc. EveryAction also integrates with CallHub to facilitate personalized communication.
Features that allow segmentation of members according to the causes they support and customize your outreach plan.
Payment dues management system.
Pricing: EveryAction's software starts at $134/month. They also offer a free trial.
6. UnionWare

UnionWare's labor union software helps you track grievances, members, payment dues, events, and more. Built mainly for labor unions, it is a great software to explore for your union needs.
Their software tools are divided into modules, and each module addresses the specific needs of a labor union.
Features:
Helps unions deal with everything related to grievances, arbitrations, complaints, and claims. It consists of features such as electronic signatures, pin-point plug-ins to visualize your data on maps, etc.
Easily manage your organizing needs, capture and explore data through mobile-friendly organizing tools.
Plan and manage events. Access event templates as a guide to organizing your union events.
Track member classifications, skill levels, specialties, and tickets.
Easily categorize and record the details of every call – timers automatically track calls and follow-up tasks.
Pricing: Pricing for UnionWare is accessible through a call with the organization, customizing the price for your union's needs.
Conclusion
These top 6 labor union software have a range of features that you may pick and choose from. They promise to streamline your process, acquire new members, and engage current members more with your union. Pick tools from the list that best address your challenges.
If communication needs are your pain-point, we suggest a free 14-day trial with CallHub to manage and organize your union's communication process.
Feature Image Credit: fauxels