Voice broadcasts are a great communication tool for unions- especially when it comes to organizing. Keeping in touch with hundreds of members individually or running calling campaigns for personal outreach may not always be possible – but voice broadcasts allow unions to do so.
Here are some reasons a voice broadcasting system is beneficial for your union:
Enables you to reach thousands of members in a short time.
Immediately gathers responses through Press-1 campaigns.
It dispenses information quickly during emergencies.
With many benefits to offer to unions, voice broadcast tools are an excellent investment to make. However, like any tool, the results that automated voice messages provide your union depend entirely on how it is used. We've got some tips for you to enhance its usage through dos and donts.
Voice Broadcasts for unions: what to do
A voice broadcast software calls every single contact in your contact list and plays a pre-recorded message, as we will demonstrate further in the article. Since people have become used to such calls, it becomes essential to ensure that each contact gets hooked onto the message. Here is a list of best practices to ensure your voice broadcast campaign is successful.
Know the law
The Telephone Consumer Protection Act (TCPA) (47 U.S.C. § 227) mandates specific regulations for automated calls, and it restricts telemarketers and their use of voice broadcast messages to reach out to consumers. However, there are exceptions to this law, and automated voice messages are unrestricted in certain situations such as:
When messages are purely informational: Automated calls that are made to inform your union members about meeting times, update them about your next cause or make them aware of their rights will all fall under this category. Sharing purely informational messages through automated calls is absolutely safe.
When the recipients have agreed to receive them: When recipients opt-in to receive calls, then the voice broadcasts you send to them are not illegal. Also, if you are reaching out to landline numbers using autodialers, you are in the clear and well within the law. The contacts you cannot reach out to are the ones on the National Do Not Call registry.
Pro Tip: Ensure that when your members sign up for the union, they also opt to receive messages.
When the call is for an emergency purpose: If a voice broadcast is used to disseminate important, urgent information in times of an emergency, it does not violate TCPA regulations.
Before you begin your voice broadcast campaign, there are other laws, such as legal call timings, to keep in mind. Know the laws that apply to your state thoroughly, and CallHub will help you stay compliant with regulations.
Read also: TCPA Compliance Checklist: The Do's, Don'ts and Tools That Help You With Compliance
Create a contact list
Your contact list can consist of all union members, or you could run some campaigns only for specific segments. Depending on the type of campaign you want to run or its target audience, you can segment and create contact lists.
For example, if you only want to reach out to younger factory workers for a particular cause, you can use segmentation features on your calling software to reach out only to them. Prepare your list segments and reach out accordingly.
Another good practice is to maintain clean contact lists. What do we mean by that? We mean contact lists that do not have:
Numbers on the DNC list.
Numbers of members who have left the union.
Invalid numbers.
Read our article Marie Kondo-ing Your Contact List: How to Clean an Existing Contact List to learn more about maintaining clean lists for union organizing.
Segment based on communication preferences
If you have conducted campaigns previously, you have insights into the communication preferences of union members. There might be some who prefer communication via calls over texts, while others might choose texts and emails.
An excellent way to tackle this is to segment your audience according to their communication preferences and spend your money where it will have the most impact. For example, if you want to reach out to factory workers that work from 5 am – 3 pm only, CallHub helps you segment your contact list to reach out only to them.
Read Also: List segmentation in 2020 – a practical guide for your organization
Decide on the agenda
Before beginning an automated calling campaign, it is good to decide on its agenda. Here are a few questions to ask yourself before you start:
What does this message intend to communicate?
What should the recipient do after listening to this message?
Why is the message relevant at this point in time?
Who needs to hear this message?
Once you have the answers to these questions, it will automatically enhance how you design your voice broadcast message.
Pick the right time
Like all things in life, there is also a suitable time to send out a voice broadcast. And yes, it is not Monday morning at 9 am – unless it is an emergency.
Scheduling your voice broadcast campaign right revolves around identifying the timings which guarantee:
High answer and response rate
Low opt-out rates
Increased chances of engagement.
If you are not in a hurry to send out your calling campaign, it is worth noting that Wednesdays and Thursdays between 4 pm to 5 pm are the best times to send out a calling campaign to get the best results.
These best practices will help you get the results your union is expecting from the voice broadcast campaign. There are also certain things to avoid doing while setting up such a campaign that are equally essential to know. Let's explore.
Read Next: Voice Broadcasting Campaigns Analytics and Reporting: How to Measure the Performance of Campaigns on CallHub
Voice broadcasts for unions: what not to do
Wisdom lies in knowing what to do and what not to do. You could implement all your best practices but go terribly wrong if you are still doing some of what we're about to list below. Pay attention and avoid these common mistakes during an automated voice message campaign.
Calling without permission
It is wrong and against the law to call people without their prior consent. Therefore, you need to implement an opt-in system that allows union members to receive communications from the union.
Here are ways in which you can encourage members to opt-in:
Add a communication consent form along with their membership application form. The earlier they opt-in, the better. What better time than when you are onboarding members?
Use CallHub's text messaging opt-in service so that contacts get saved directly onto your CRM system. You can use a shared short code or purchase a new one if you want it to be unique to your union or create unlimited shortcodes. Write and schedule automated messages for each shortcode and you are ready to share the shortcodes with union members.
Sharing a really long message
When listening to a pre-recorded message, the first instinct is to cut the call. Imagine making it worse by adding a really lengthy message to it?
Your message needs to be short, crisp, and put the best points forward as soon as possible. The optimum duration of a voice broadcast message should be around 30 seconds. Sticking to this duration will help you keep only the relevant points and increase the chances of members listening to your whole message.
Not designing the message effectively
A few essential pointers to keep in mind while crafting a voice broadcast message are:
The timing and length of the introduction: A short but sharp introduction would immediately hook members onto the call as they realize the call is from the union.​​
The key points to cover and the core message: ​​Key points would ensure you do not miss out on crucial information while still staying relevant to the intention of the call.
The call-to-action: The most important takeaway from the message needs careful consideration in terms of placement to ensure that people hear it even if they do not hear your entire message. A call-to-action is ideally your intended result from the call. How you want to organize and mobilize the union depends on the effectiveness of the call-to-action message.
Working on these factors will ensure you have a well-crafted message that brings you results.
Not pay attention to the pace
Yes, we did recommend that the ideal length for a voice broadcast message is 30 seconds. But, if you have more points to cover, that does not mean you increase the pace of your speaking until it is incoherent, and neither will speaking too slowly keep your audience engaged.
Maintaining a regular, steady, easily understandable pace is the key to a successful pre-recorded message. We want union members to understand what we have to say, don't we?
Launch a campaign without testing
Ever carefully written an important email only to find out a glaring typo after you hit the send button? Yes, that, but for voice broadcast campaigns.
It is especially critical to test out your automated call campaign because it reaches hundreds of people immediately at the click of a button. There is no going back once you launch the campaign.
Test your campaign with a small group to ensure you've got all the details right, pronounced everything perfectly, and not missed out on any information.
An unclear call to action
If robocalling is a race, your call to action is the finish line. We cannot arbitrarily mark where a finish line in a race will be – it is measured, marked, and made abundantly clear.
That is precisely what needs to happen with your call to action.
Are you organizing a strike? Do you want members to attend a meeting? Are memberships going down, and do you want each member to invite one person to attend the next meeting? Whatever you may want as the result of a voice broadcast campaign – make it crystal clear!
Your time, investment, and labor spent on conducting a calling campaign would only be worth it if you get the desired results.
Not checking time differences
This point applies to those unions conducting a calling campaign from a location different from where the target recipient is situated.
If you're creating a union automated call campaign for members in a different state or country, double-check the time difference. Another thing to keep in mind is to check local compliance laws regarding legal voice broadcast timings.
Avoid these common oversights, and you're all set to run a successful voice broadcast campaign! After you know these basics, setting up a campaign is not difficult. Let's look at how you can set up a voice broadcast campaign for your union.
Set up a voice broadcast campaign on CallHub
Setting up a voice broadcast campaign on CallHub is super easy. Follow these steps to set up a voice broadcast campaign in no time.
1. Set up your account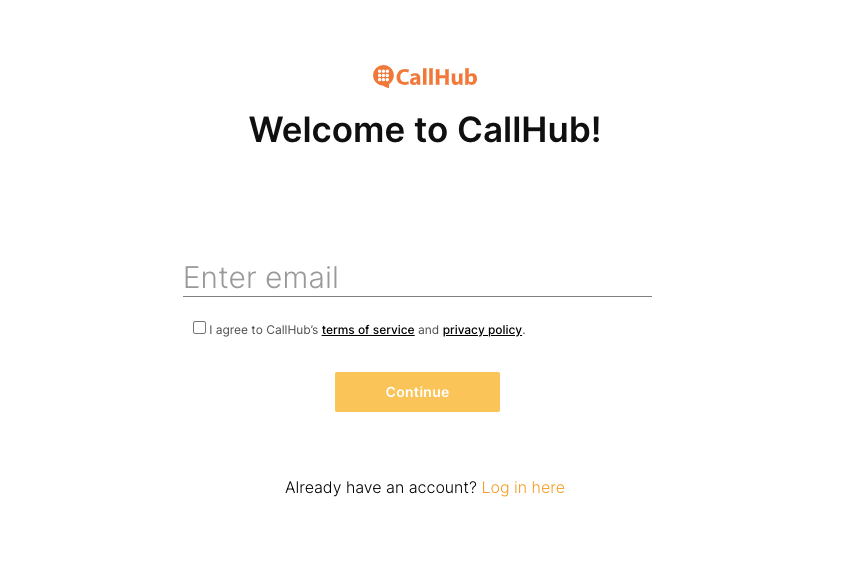 Sign up using your registered email address and you've taken the first step to set up your campaign. Next, log in and click on the voice broadcast button on the top right.

2. Upload the pre-recorded message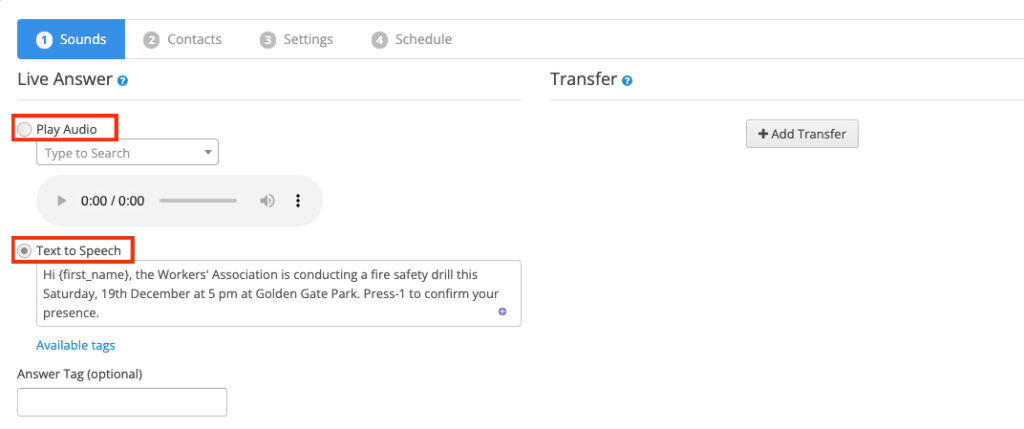 There are two ways in which you could do this. You could upload a pre-recorded audio under the 'Play Audio' section. Alternatively, you could also add a text under the text-to-speech box that will automatically convert your text to audio.
3. Add a transfer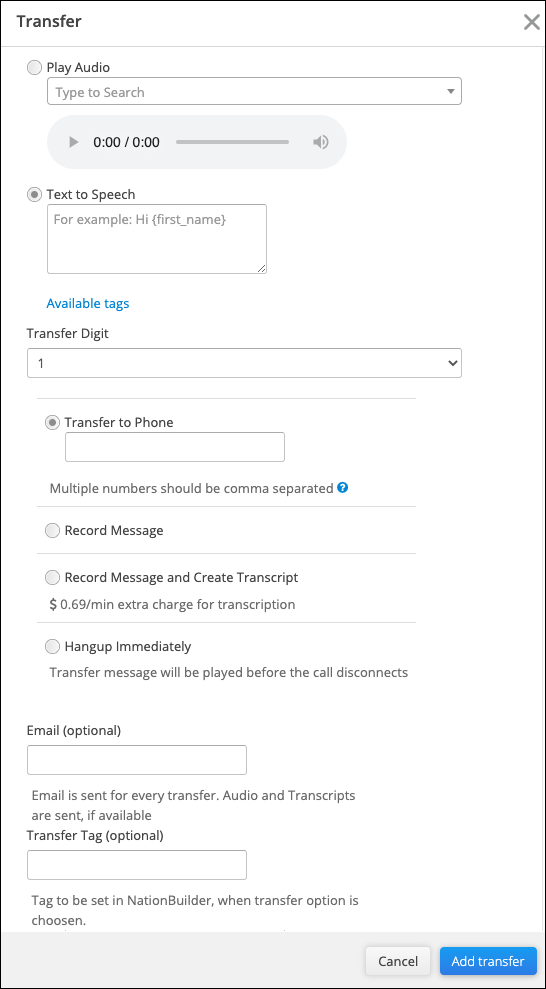 The transfer button allows you to record responses from members. They can indicate their attendance for an event, vote, etc., using the transfer or press-1 functionality feature. Members can also connect with agents through the same feature if you would like to enable it. You can then either add an audio, text-to-speech option or simply hang up the phone once they have clicked the button. You can even trigger emails using the press-1 functionality if needed. Learn more about using voice broadcast with email here.
4. Enable answering machine and do not call detection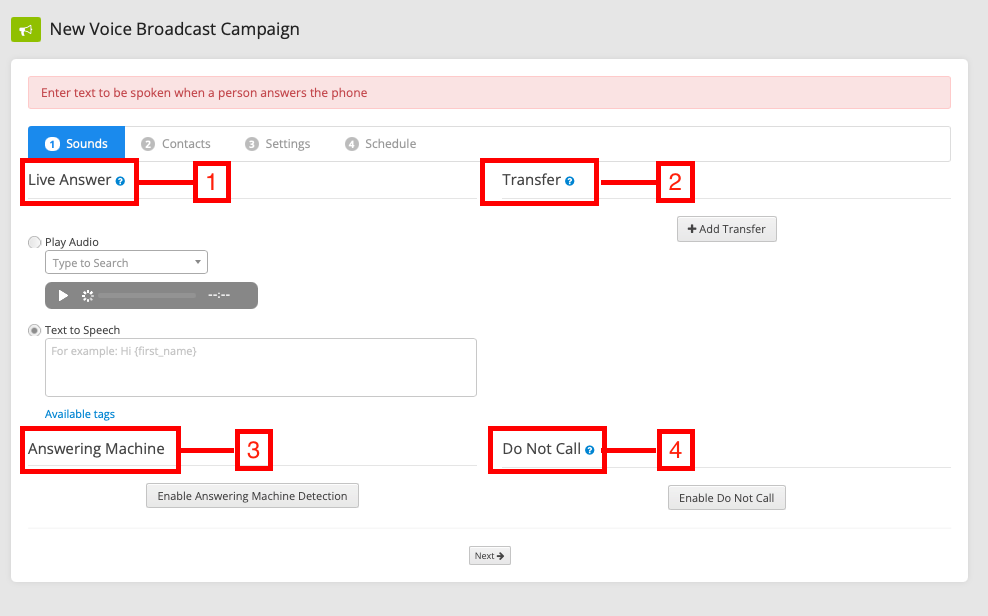 Enabling the answering machine detection and Do Not Call helps you recognize and sift out contacts that you are not able to get through. You can reschedule the call for contacts who had an answering machine at a later time, play a pre-recorded message or eliminate DND contacts from your contact book if you cannot reach them.
5. Upload your contact list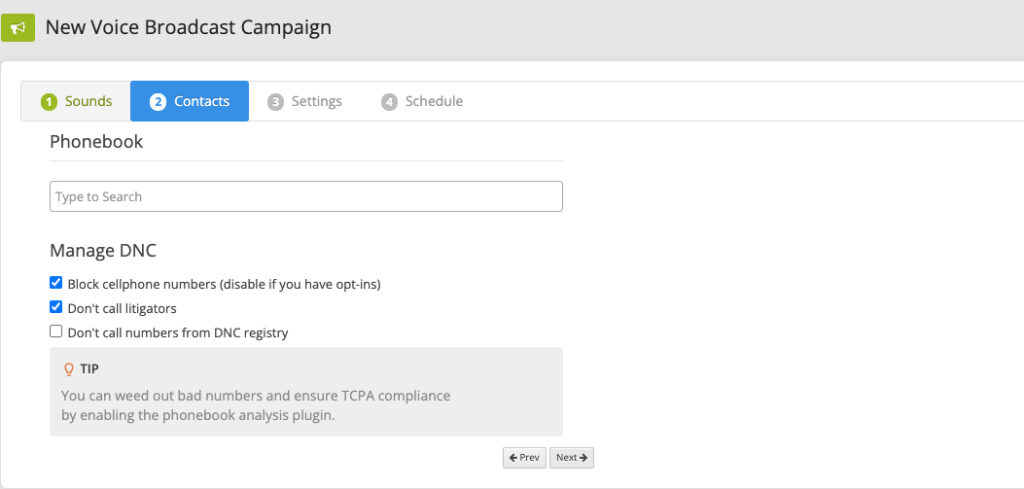 This is the list that your union automated call campaign will go out to. Select the contacts from your CRM or .csv contact list and upload them to the campaign.
6. Choose your caller ID and speed
You can choose to display your registered mobile number as your caller ID. You could also select purchase the 'Dynamic ID' feature, which displays a local number when you begin your campaign. For example, if your voice broadcast targets people living in Texas, your caller ID will display a Texas caller id.
You can also select the frequency of calls and the interval between retries. Depending on how you want your follow-up to look, you can schedule a retry a few hours from now or a couple of days later.
7. Schedule your campaign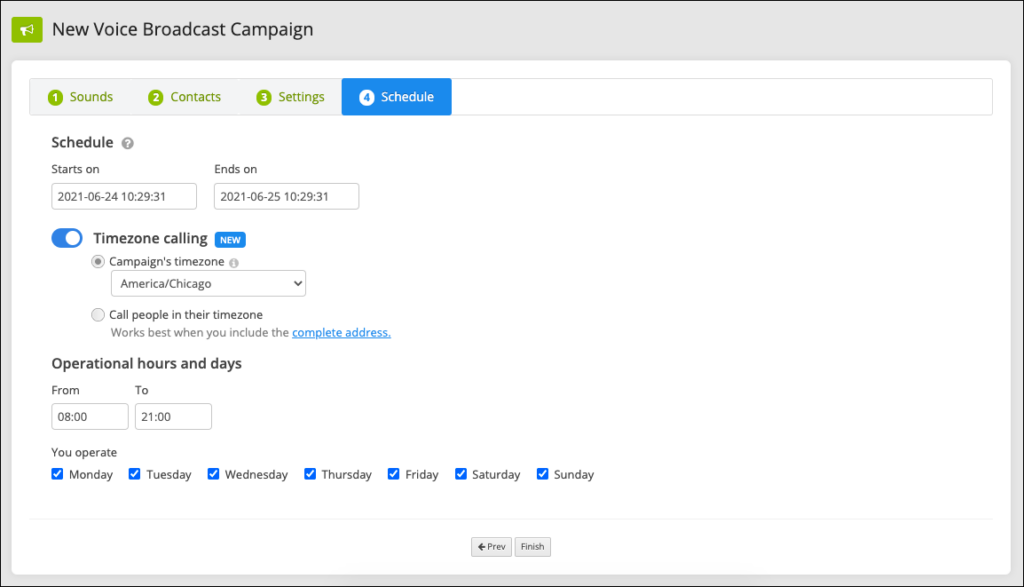 Here's the last step! Schedule your campaign according to the date and time you want it to go out and et voilà! You're all done
Conclusion
A carefully designed voice broadcast campaign can help your union engage members, alert them in cases of emergencies and serve as a very important tool in union organizing. CallHub's tools help you schedule the campaigns compliant with TCPA guidelines, helps you maintain updated lists, and more.
Get started with CallHub's robodialer today with a free 14-day free trial.
Feature Image Credit: RODNAE Productions