VIRTUAL PHONE BANK WITH NATIONBUILDER
Phone Banking with NationBuilder
Ditch pen and paper. Have volunteers call voters with a virtual phone banking tool. Add Nationbuilder surveys to your campaign and make sure details of every call is recorded and saved.
Compliant with Federal Election Commission and Federal Communications Commission regulations for calling by political campaigns and advocacy groups.
Call cell phones and stay in compliance with FCC regulations. Volunteers use on-screen contact info to manually dial contacts on cell phones and landlines. Conversations remain on the phone while voter data is displayed and collected through Collective Calling.
Collect and segment your calling data in one place. Directly import contacts, tags, survey questions, supporter levels and more from your nation. Every survey response immediately syncs back to your Nationbuilder nation.
Why should you phone bank?
Identify supporters
Identify your supporters and gather data about voter preferences and the issues they care about.
Organize for events
Recruit new volunteers for your campaign and organize them for events, rallies and other campaign activities.
Get Out The Vote
Get voters out to the polls on election day with reminders to vote.
Fundraising
Make the ask to voters to help reach your fundraising goals.
How virtual phone banking works
Step 1: Create your campaign
The campaign manager uploads the contact list and creates a phone banking campaign in Collective Calling complete with scripts and surveys. Assign as many volunteers as you'd like to the campaign.
Step 2: Volunteers making calls
Volunteers can view and join the campaigns they've been assigned to from the agent dashboard. After joining a campaign, volunteers see contact details, scripts, and surveys on the screen. They can start making calls from their phone and fill call and survey responses on their screen.
Step 3: Syncing with NationBuilder
All voter data gathered during calls is immediately synced with NationBuilder. NationBuilder survey responses, event RSVPs, and call dispositions reflect in NationBuilder instantly. Use tags to mark survey responses or call dispositions.
SEND THE RIGHT MESSAGE TO THE RIGHT PERSON AT THE RIGHT TIME TO COMPEL THEM TO ACT FOR YOU.
No software to download or install. All you need is a web browser.
Unlimited Volunteer Accounts
Volunteers are crucial to scaling up your campaign. Recruit as many volunteers as you need to make calls to voters.
Notes and Surveys
Go paperless to avoid the hassle of data entry and data loss. Volunteers can use on-screen scripts to engage with voters, fill surveys, take down notes, update contact details, all within Collective Calling.
Contact History and Profile
Improve call performance with data. Get a history of all past interactions, people in their household and details about the person displayed on the screen.
Call Center Integrations
Keep your CRM contact data updated by allowing call center agents to add new data and update existing contact data during calling campaigns. Changes made to contacts within Collective Calling are instantly synced back to your CRM.
MANAGE VOLUNTEERS, SEGMENT YOUR VOTERS, AND KEEP VOTER DATA SAFE
Managing your Phone Banks
Create an unlimited number of teams in your account and organize your volunteers into these teams. Save time by assigning a team to a calling campaign instead of individual volunteers.
Group contacts into separate contact lists based on gathered voter data. Create targeted outreach campaigns for your segmented contact lists.
Choose the contact information you want shown to your agents. The default setting displays all fields for a contact, such as phone number, mobile number, name, email address, to agents. But based on your use case, managers can limit the data that is displayed to agents.
Learn how organizations are using CallHub today
How Democrats Abroad helped drive 300% increase in overseas voter turnout with phone calls
Democrats Abroad created a distributed campaigning model for volunteers around the world to call more than 150,000 members spread across 190 countries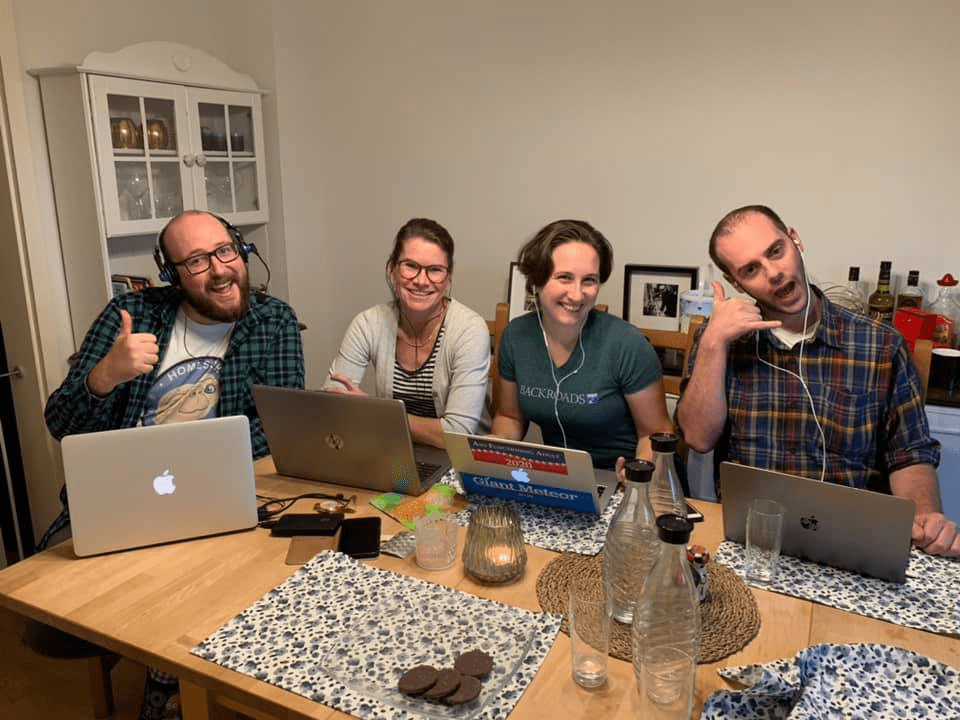 OFC personalized the calling experience and improved turnout by 70% using CallHub
3000+ of the world's biggest organizations trust CallHub for engagement