The NGP VAN Dialers have served as a fantastic instrument for Democratic and progressive campaigns for voter outreach, canvassing, and GOTV. But, if you are looking for alternatives to the NGP VAN Predictive dialer, Power dialer, or Robocall tools, look no further. CallHub offers these solutions with new and improved features that uplift your experience and get you a higher success rate.
Will the switch be easy?
The VAN dialer was a perfect solution for campaigns with their database in VAN. CallHub would be an easy switch since we have a 2-way sync with NGP VAN. This enables you to
Import all contacts and saved lists from NGP VAN.
Sync contact lists with their landline and mobile numbers.
Import and sync surveys from NGP VAN into CallHub.
Set activist codes based on a contact's survey answers and automatically sync information to your database.
The CallHub <> NGP VAN integration allows you to continue working on your campaigns without loss or manual transfer of data.
Steps to Sync NGP VAN database with CallHub
Log in to your CallHub account and click on "Integrations" on the top toolbar.
Scroll to "NGP VAN" and click "Connect".
Fill in your API Key and Application name (username). Select your connection mode (My campaign or My voter)
Once connected, map the custom fields you need to import to CallHub (e.g., first and last name, phone numbers). Hit "Save and Import Fields".
Next, you can select lists and import and sync them with CallHub to begin your calling campaign.
Read our detailed guide on integrating NGP VAN with CallHub.
CallHub as an alternative to NGP VAN dialer
"We can make calls at about 5x the rate that we would with a manual dialer, getting through a list of 100 calls in just over an hour. This has been a huge capacity saver in our organization."
​​Amanda Destefano, Leadership Organizer, United Workers.
Here are the tools that NGP VAN dialer and CallHub both offer:
1. Predictive Dialer
The Predictive Dialer is best used for rapid calling campaigns to landline numbers. It configures a dial rate (number of contacts dialed) based on your campaign activity and answer rate and connects only answered calls with available agents/volunteers.
Agents only spend time talking while the Predictive dialer handles the parts of dialing, waiting, and disconnecting unanswered calls. Dial 3x the numbers compared to manual dialing and get those GOTV and last-minute-reminder calls rolling!
Commonalities between CallHub and NGP VAN Predictive Dialer
| | | | | |
| --- | --- | --- | --- | --- |
| Script creation and import | Survey tagging and syncing | Campaign scheduling | Contact universe selection | Contact profile on agent screen |
2. Power Dialer (Virtual Phone Bank)
The Power Dialer is designed for campaigns where the cost of having a meaningful conversation with every contact is high. Fundraising asks, virtual phone banks, or surveys, for example.
CallHub's Power dialer will dial the following number only when an agent indicates they are free and ready. This gives them time to fill in details and add notes from the previous call.
Commonalities between CallHub and NGP VAN Power Dialer
| | | | |
| --- | --- | --- | --- |
| Contact universe selection | Add and sync contact information | Campaign scheduling | Record and monitor calls |
3. Robocalls
If you've used robocalls on the NGP VAN dialer, CallHub has an identical alternative for you. Upload an audio recording, record a new message or use our text-to-speech feature to create a message you want to broadcast to your contacts. Select contact lists/s, schedule the campaign and sit back.
Track analytics as the campaign goes live and tweak your follow-ups accordingly. The Robocaller/Robodialer is best used to broadcast news, send reminders, or share updates with your contacts.
Commonalities between CallHub and NGP VAN Robodialer
| | | | | |
| --- | --- | --- | --- | --- |
| Answering machine detection | Add and sync survey answers | Recording and transcripts | Live tracking and monitoring | Add tags for personalization |
Additional features in CallHub
| | | | | |
| --- | --- | --- | --- | --- |
| Patch-through calling | Text-to-speech message recording | Add digit-specific transfers | Automated retries | Timezone based calling |
How CallHub can serve you better
CallHub specializes in calling tools, allowing us to add unique features that enhance user experience. In addition to the tools mentioned above that NGP VAN and CallHub have in common, we offer the following:
TCPA compliance
CallHub offers TCPA-compliance specific features that allow you to stay within the regulations and avoid being marked as spam. Here's how we maintain compliance:
FastClick dialer: Uses human intervention to dial numbers, thus helping you reach mobile numbers that haven't consented to your communications yet.
Automated phone number verification: Identifies and categorizes landline and mobile numbers.
DNC list: Maintain an account-wide list that skips over numbers who requested to be on DNC. Complies with the request across all campaigns.
Automatic TCPA litigator scrubbing.
Read here to know more about how CallHub is currently the most TCPA compliant campaigning tool.
Automated text follow-ups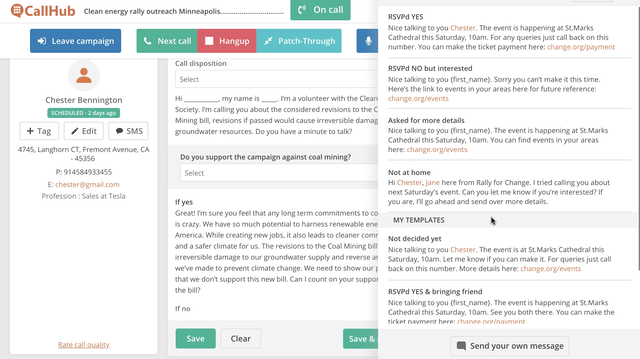 Send text follow-ups to unanswered numbers. You can set up dispositions to drop an automated text to such numbers and also add notifications for responses to such messages. We also offer manual text follow-ups if you want to send a link or additional information to contacts after a call.
Automated messages are set by the manager while creating a campaign.
Agents are responsible for drafting and sending manual texts, although managers can create templates for them during setup.
Local caller IDs (Dynamic caller IDs)
Establish a local presence with the dynamic caller ID that displays an area code local to a contact. This increases engagement by 20%!
CallHub sets the caller ID to the state OR state capital OR the largest city in the contact's state (in that order) to project a local presence.
Live agent comparison analytics and leaderboards
Gamify your campaigns by maintaining a live agent comparison and leaderboard. Track the total time spent on campaigns, time spent calling, average talk time, and more to create a healthy competition among your team members.
Live agent comparison also helps campaign managers identify the top agents and those who need more training.
Mobile App (Launched!)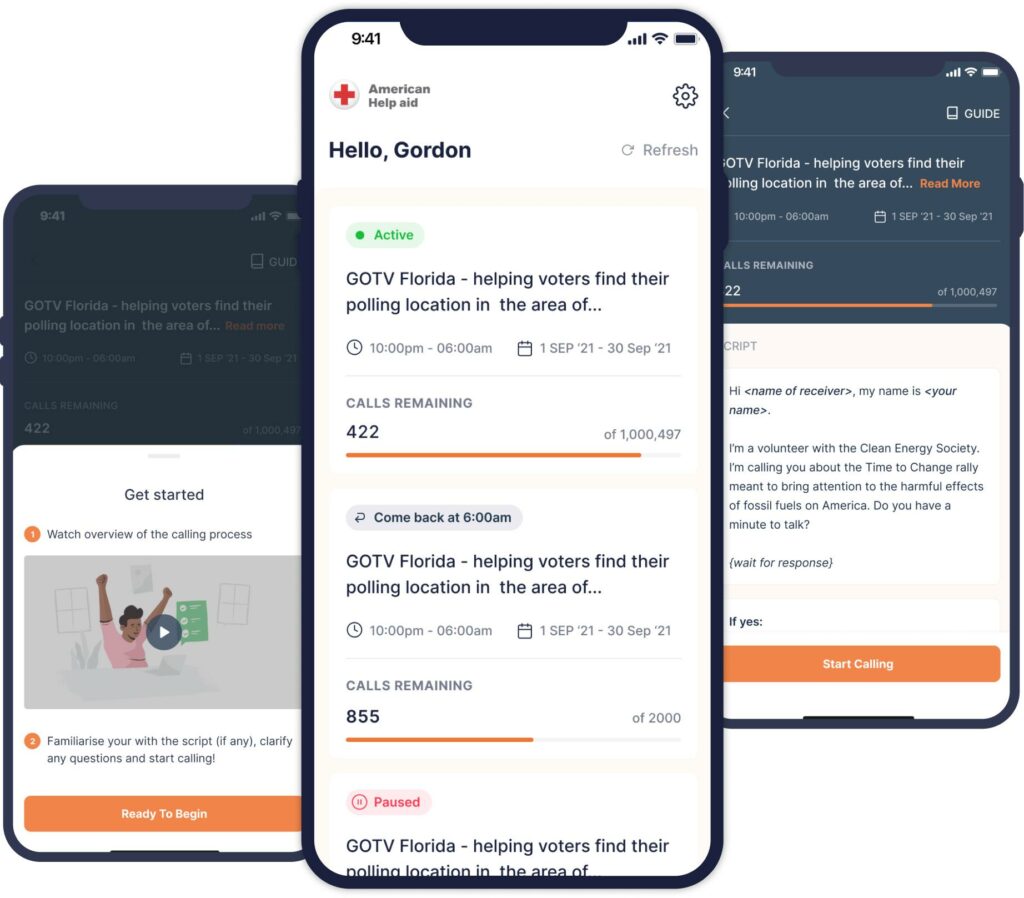 CallHub is launching a mobile app soon that allows your agents to call with a handy smartphone from anywhere. Learn more about our iOS and Android app here.
Branching scripts (Launched!)
Create branching scripts that lead your agent to a different question or statement depending on the contact's answer. Managers can set the workflow when creating a campaign and agents will no longer have to search for the next prompt manually. The tool will take care of that.
Over to you
We hope that we have covered all your questions about if CallHub can be a good alternative to the NGP VAN dialer. Book a call with our team for a demo, and we promise you won't be disappointed.
Feature image source: Maxim Ilyahov/Unsplash.