Donor prospect research helps nonprofits discover prospects' capacity and affinity to donate. This allows organizations to prioritize their appeals to those with the highest potential to give, hence improving fundraising efficiency.
The research process can often be quite time-consuming and laborious when doing it in-house. But with the right tools, it can be as easy as having pie. That's where this post will help you.
We've collated a list of eleven donor prospect research tools that will help you:
Collate donor data from several sources.
Create comprehensive prospect profiles.
Screen donors based on different criteria like giving capacity, etc.
We have segmented the list into paid tools that you can invest in if you have the budget and free tools if you don't.
Paid donor prospect research tools
While carrying out prospect research in-house can be pretty demanding, you have the option to get donor prospect research consultants or firms to help you instead.
However, consultants can be a significant cost investment. If you don't have the budget, you can consider investing in donor prospect research tools (which are relatively cost-efficient). Here are some options you can look into:
DonorSearch
GiveEffect
NPO Authority
Dataro
TouchPoints
Prospect Visual
iWave
Let's take a look at each in a little more detail.
DonorSearch
DonorSearch is probably the most comprehensive donor prospect research tool that nonprofits can invest in. It offers a wide range of resources along with screening tools and services like:
Integrated search: This feature can help you develop comprehensive profiles of your donors by providing insights like real estate holdings, income, philanthropic connections, etc. Additionally, these profiles are entirely customizable.
Prospect verification: The platform has a team of researchers who manually verify the data of the top prospects (of your choosing) to maximize screening accuracy.
Here's a snapshot of what the integrated search feature looks like in this prospect research tool.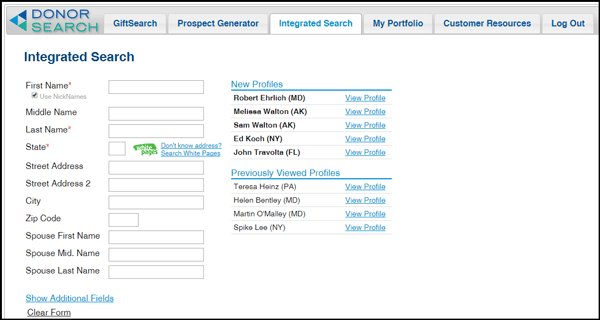 Pricing
You will have to contact the DonorSearch team to request a demo and the pricing structure. They offer custom prices based on your needs so you won't have to pay for more than what you need.
Website: DonorSearch
Giveffect
Giveffect is an all-in-one nonprofit software that offers a wide range of features like online fundraising, ticketing, event management, etc. An essential aspect of this software is the wealth screening suite that is equipped with features like:
Prospect search: The platform searches through numerous public records to collate and provide you with wealth data like past giving records, nonprofit affiliations, giving capacity, etc.
Prospect reports and segmenting: The prospect research software uses the data collated above to create comprehensive prospect reports. You can use the data in these reports to segment prospects based on giving affinity or other such criteria.
Moves management: This feature helps major gift fundraising officers develop nurturing flows to move donors through to different stages for major donor cultivation.
Here's a look at a standard prospect report generated by the tool.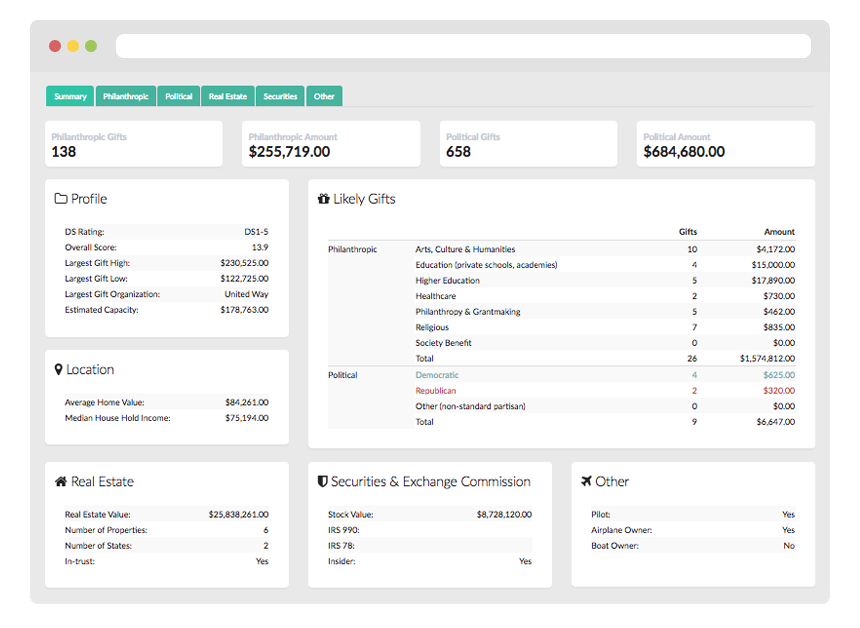 Pricing
Since the platform offers multiple features, you will have to get in touch with them for a quote if you're only interested in the prospect research suite. If you're interested in more, they offer a customized tier-based pricing structure based on your nonprofit's needs.
Website: Giveffect
NPO Authority
For smaller nonprofits looking for an affordable donor prospect research tool, NPO Authority is a great option. The tool provides screening services by comparing donor data against 20 philanthropic and public databases, including DonorSearch. Additional notable features include:
Batch screening: You can use multiple data points like wealth, giving capacity, geography, etc., to screen donors in bulk. You can add custom user fields too.
Profile customization: The in-depth donor profiles built by the tool can be customized with custom data to sort out donors based on your needs.
Free training manuals and resources: Users get access to several free manuals to learn how to obtain and use the obtained information.
Here's an example of a customized profile generated by the tool.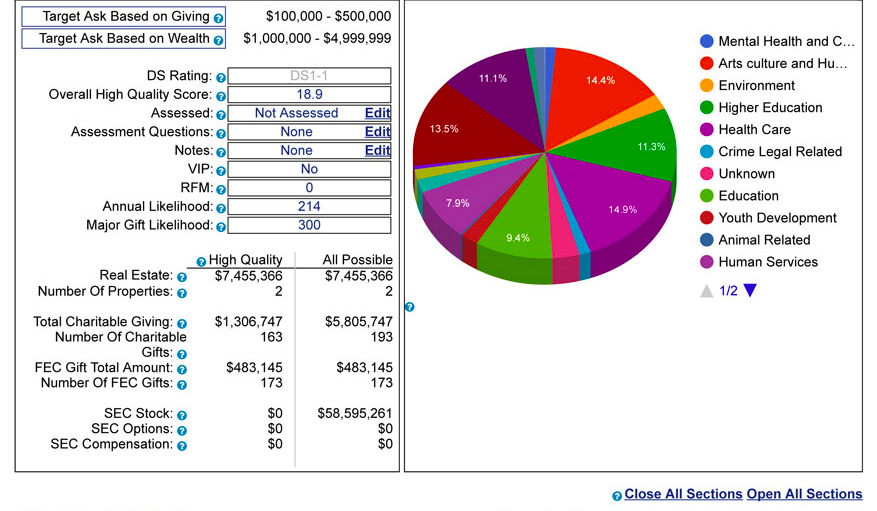 Pricing
Based on the services you need, this tool offers multiple pricing options for organizations to choose from:
Tier 1: $1695 Annual contract.
Tier 2: $1795 Annual contract.
Tier 3: $1995 Annual contract.
Tier 4: $2100 Annual contract.
Tier 5: $2500 Annual contract.
Tier 6: $3499 Annual contract.
Website: NPO Authority
Dataro
Dataro is an AI and machine learning-based research platform that can make nonprofit fundraising efficient. This platform automates a major chunk of your manual research tasks and provides predictive propensity scores for each of your donors. You can shortlist the ones most likely to respond and prioritize appealing to them.
Here's a brief of how it works:
CRM integration: Integrate the tool with your CRM. It scans through your list to analyze each donor profile and their interaction with your organization.
Campaign creation: Select the type of fundraising campaign you wish to run (like direct mail fundraising) and generate a list of prospects for it. The tool generates the list of prospects most likely to donate. It also recommends a campaign size based on the number of prospects you can appeal to for maximum ROI.
Analytics and reporting: Once the campaign is run, the tool generates pre-built or custom reports on the campaign performance. It stores this data and uses it to predict donor giving probabilities in the future.
Note: Dataro is a slightly different donor prospect research tool. It's not a tool designed to be a part of the research process; instead, it does it by itself and directly provides you with the results.
Here's what a donor profile with predictive giving capacity scoring looks like in the tool. Notice how the tool also recommends appropriate donations to ask for from the prospect.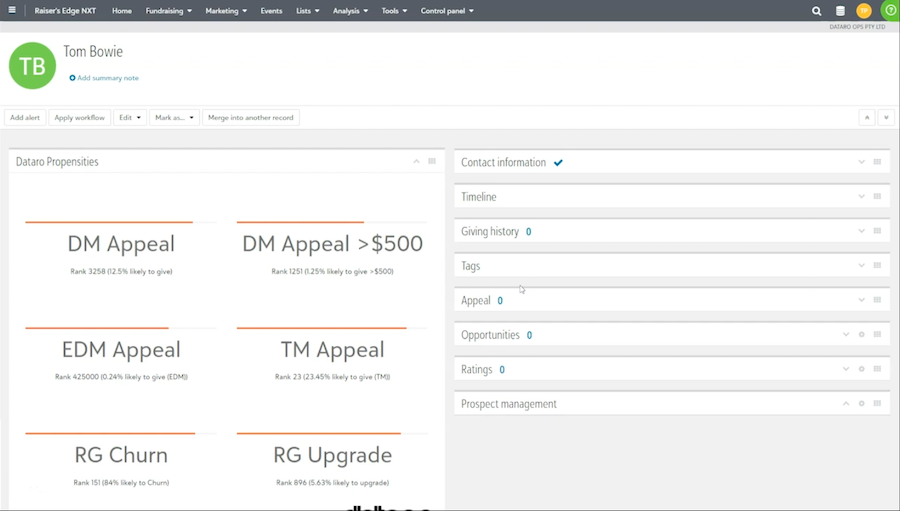 Pricing
The platform is available for use at a tiered pricing structure that depends on two factors:
Size of your database.
The number of modules you choose (the specific aspects of fundraising that you need help with. For example, appeals, recurring giving retention, converting donors to recurring givers, acquiring medium-sized donors, etc.)
| | | | |
| --- | --- | --- | --- |
| | Up to 50k records | 50k-100k records | 100k-250k records |
| 1 Module | $199/month Annual contract | $299/month Annual contract | $599/month Annual contract |
| 2 Modules | $348/month Annual contract | $548/month Annual contract | $1148/month Annual contract |
| 3+ Modules | Custom quote | Custom quote | Custom quote |
For databases with over 250k records, you will have to contact them for a custom quote.
Website: Dataro
TouchPoints
Making sure that your donor database is up to date is a crucial aspect of donor prospect research. This is where TouchPoints comes in. This prospect research tool helps you keep your donor database up to date by analyzing data from multiple sources and verifying them with existing data. Some key features of this tool that come in handy include:
"Always Accurate" Feature: This feature ensures your data is always up-to-date by notifying you whenever a piece of donor information has changed.
Major Gift Profiling: This ensures that you have all the information you need to cultivate major donors and identifies prospects who can become major donors.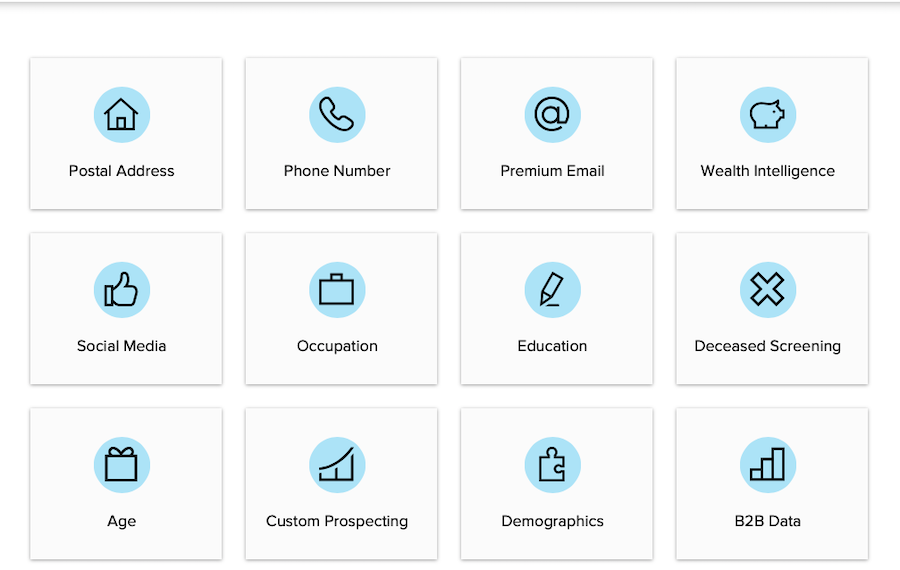 Pricing
You will have to get in touch with the TouchPoints team to get a demo of the product and a quote. But you can rest assured that the platform pricing is designed to suit the budgets of small and medium-sized nonprofits.
Website: TouchPoints
Prospect Visual
With information on over 90 million professionals, this donor prospect research tool is one of the most comprehensive databases on donor relations. Prospect Visual maps out relationships between existing donors and prospects. These maps can help you identify prospective donors you can reach out to and through whom.
Some notable features of the platform that stand out are:
Relationship mapping: This feature maps out the relationships among all professionals in your database to help you identify the most vital connections to a target donor. All of this information is presented in an easy-to-understand visual format.
Data transparency and accuracy: The platform offers the sources from where it gathered each piece of information for accuracy and legal verification.
Custom relationships: If you possess data on connections between existing donors, you can add that to your account for the platform to build on. You can rest assured that they don't show this information to any other user.
Here's an example of a relationship map for a donor list created by the tool.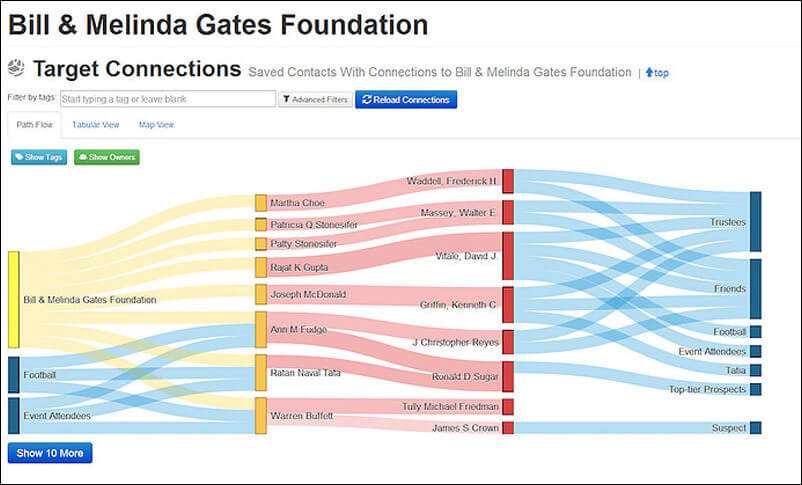 Pricing
For information on the pricing or to view a demo, you will have to get in touch with the Prospect Visual team. This is another tool that is popularly used by small and medium-sized nonprofits.
Website: Prospect Visual
iWave
Similar to DonorSearch, iWave is a comprehensive prospect research software that helps you find information on prospects and use them for donor cultivation. Key features that make iWave a powerful donor prospect research tool for nonprofits include:
Prospect search: Nonprofits can learn more about their donors or prospects using this search feature that scans for data from multiple sources. It also supports searching within an individual dataset (for example, prospect information in specific geography).
Prospect list building: You can use the platform to look for new prospects based on custom search criteria. For example, you can search for prospects ranking high in terms of affinity towards your cause.
Donor profile and segmentation: The tool builds comprehensive donor profiles and scores them on various factors like gift capacity, giving history, etc. You can segment these donors based on these factors (for example, donors with a particular interest) and target the segment for a specific campaign.
Here's a sample of a donor profile generated by the prospect research tool.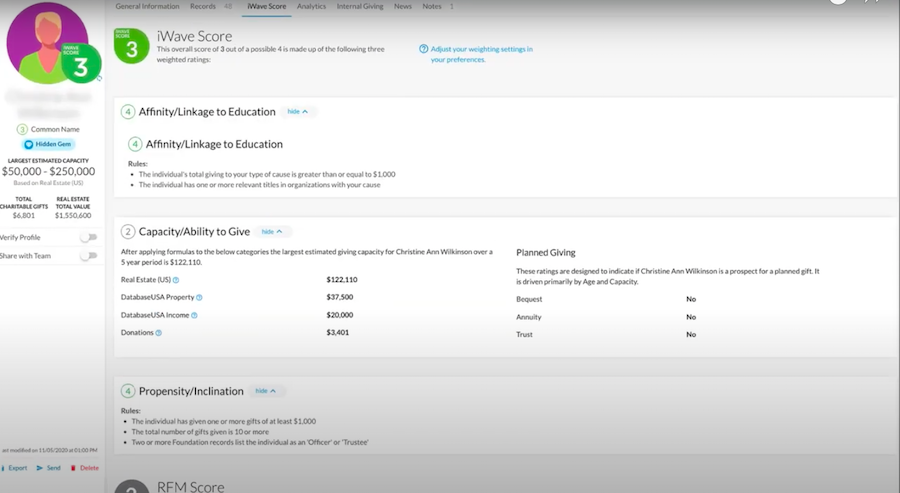 Pricing
Like most of the platforms in this list, iWave too doesn't publicly provide its pricing structure. You can get in touch with the iWave team to get a custom quote.
Website: iWave
Free donor prospect research tools
Some free donor prospect research tools that you can look into are:
SEC.gov and FEC.gov
Million Dollar List
The Chronicle of Philanthropy
LinkedIn
Let's dive into the details of each.
SEC.gov and FEC.gov
Government databases can often be an invaluable resource for savvy prospect researchers. Among those databases, the SEC and the FEC are the most resourceful. Here's what they contain:
SEC: The Securities and Exchange Commission (SEC) database contains essential financial information of all public companies that do business in the US. This includes annual and quarterly reports, budgets, turnover, etc.
FEC: The Federal Election Commission (FEC) database is a comprehensive database of registered contributions to political campaigns throughout the country.
In-house donor prospect researchers can use these data sources to gather information like:
Owners of publicly-traded stocks: This can be a critical wealth marker that can help you identify high net worth individuals who can become major donors.
Estimated value of businesses: Businesses that do well will be more open to matching gift programs. This includes small businesses and medium-sized businesses, which will be easier to approach.
Philanthropic budgets of businesses: Larger philanthropic budgets indicate a higher probability of corporate donations.
Political affiliations: These affiliations often indicate the causes an individual most resonates with and gives you an idea if they would support your cause.
Political donation history: The amount and frequency of giving can give you a rough idea of a donor's donating capacity.
Here's a snapshot of the search engines of both databases.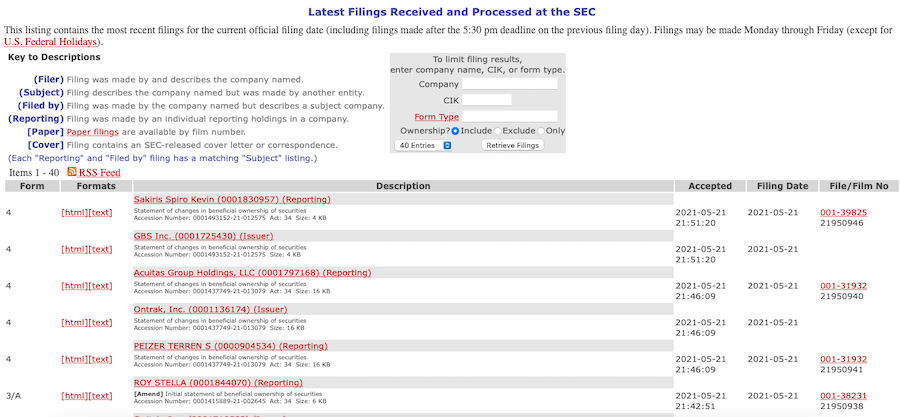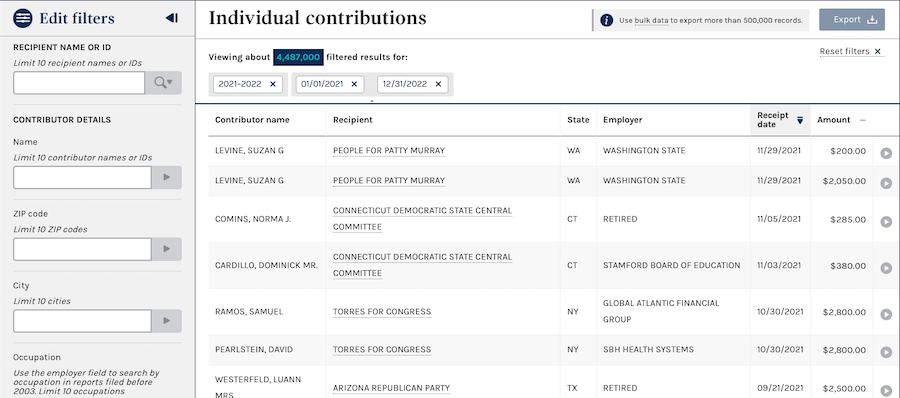 Million Dollar List
For nonprofits searching for major donors, The Million Dollar List is an exhaustive and helpful resource. This list is the hub of all publicly announced major gifts that are at least a million dollars. The available data goes back to the year 2000.
You can visit the website to access information like:
The organizations, nonprofit sectors, and base locations which have received major gifts.
Donors who have publicly made major contributions and to which organizations. You can filter out these donors based on their names and donor type (individual, foundation, family, etc.)
You also have the option to custom search for major donors by their name or any other information on the list. Moreover, you can download the entire list and store it locally to access it offline.
This is a snippet of the list of major donors and their donation details.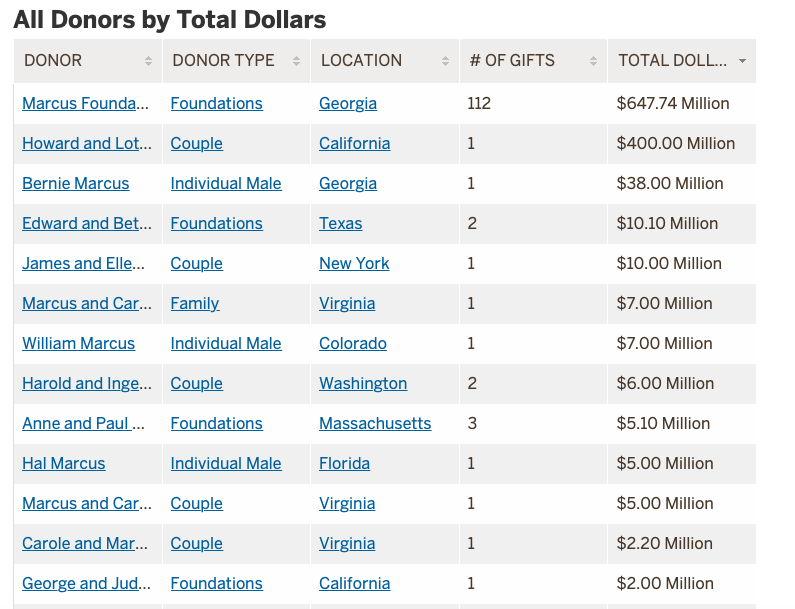 Website: Million Dollar List
The Chronicle of Philanthropy
The Chronicle of Philanthropy is an excellent resource for nonprofits who wish to understand giving trends and opportunities in different geographies.
The website has an interactive tool that gets you information like:
Average giving trends– segmented by income and geographies.
Giving characteristics of different cities (giving ratio, average giving per itemizer, etc.)
Major donors who have made gifts over $1 million and their details.
While you may have to purchase a subscription (price starting from $109/year) to access everything on the website, a lot of the information is also accessible for free.
Here's a snapshot of a section from the interactive tool on the website.
Website: The Chronicle of Philanthropy
LinkedIn
LinkedIn is a social networking channel for professionals. With over 700 million users, this is one of the largest data sources for a prospect's employment status and business affiliations.
Nonprofits can use LinkedIn to get insights like:
Current and past employers: This can help you find connections with prospective organizations to appeal to for corporate giving.
Employment status: An individual's past and existing job titles can give you a rough idea of their giving capacity. E.g., People in higher-level roles might be able to donate more than those in entry level roles.
Connections: You can also view the connections prospects have and see if any of your existing donors are in their network and can introduce you to them.
Here's a sample profile of a prospect on LinkedIn that you can get insights from.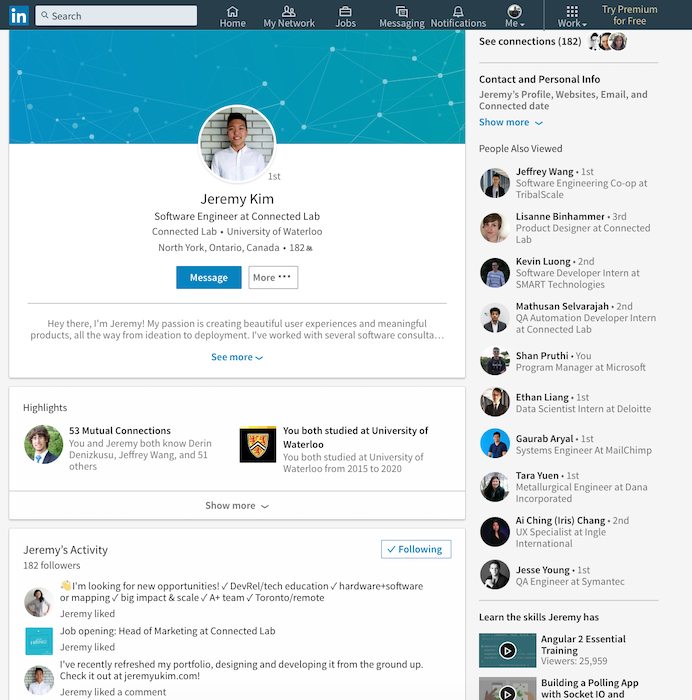 Website: LinkedIn
What's next?
Before you move forward with investing in a donor prospect research tool (or leveraging a free one), defining your needs is imperative.
List down what you want to know about your prospects and how you plan to use that information. This will help narrow down the features you want in your prospect research tool, making it easier to choose one.
Once you've chosen your tool, go ahead with the research to get the data you want. For more information on how to go about this research, refer to our Guide on Donor Prospect Research.
Featured image source: Sigmund