It costs 5 times more to acquire a new donor than to retain an existing one.
One of the best ways to keep your donors engaged with you? Donor recognition. Donor recognition levels are pivotal for nonprofit success. That's just a nicer way of saying that when a donor contributes to your organization, you should thank them and express how much you value them.
Understanding the impact of donor recognition levels:
It increases donor retention: Most donors report that they stopped giving to an organization because they did not feel valued.
Motivates donors to give again: Donors feel good when recognized and want to give more.
Gives you visibility: Reminds existing donors about you and through your donor retention efforts, new donors might also see you. It also creates social proof for new donors when they see others donating to you.
While donor recognition is essential, we need to thank donors appropriately based on the level of support they lend.  For example, some might be one-time donors, and others might have been supporting you for a long time. Sending them the same thank you message wouldn't be fair to the long-time supporter as it doesn't value them enough. Plus, it also takes away the motivation for the first-time donor to become a more consistent donor (since the incentive for both levels of donors is the same recognition). Hence, the way you acknowledge and recognize different levels of donors should also vary.
We explore different donor recognition levels so you can create a great donor recognition strategy. 
How to define different donation levels?
Lack of recognition ranks among the top five reasons donors cease contributions. The first step in recognizing different donor levels is understanding the criteria on which you are making a distinction. What defines different donation levels for your organization? If you are still unclear, you can determine donation levels based on these criteria:
The type of donation.
The amount of money donated.
Their engagement with your organization.
Type of donors.
The type of donation
Donors can contribute to your organization in different ways, but you know that. Donors can donate in:
Cash: Make direct monetary deposits to your organization.
Kind: Donate food supplies, medical supplies, stationery, etc., depending on your needs.
Time: Donors, especially those tied with corporates, can choose to devote a part of their time to your organization. They can volunteer for a few projects for your organization.
You can split donor categories based on the type of donation that donors make. 
The amount of money donated
This is one of the most popular ways nonprofits determine donor recognition levels. You can define different tiers of donors based on their contribution to your organization. Some examples can include:
Bronze donors: First time, small donors, donating between $50-$100
Silver donors: Donors donating between $100-$1000
Gold donors: Donors donating between $1000- $10,000
Platinum donors: Donors who donate upwards of $10, 000
Here is how Arizona Citizens for Arts determined their donor recognition levels:

You can also mention these donation tiers on your website or other fundraising platforms. Include how they would be recognized as a best practice.
Their engagement with your organization
Transparent communication fosters ongoing donor support, backed by studies. Clear and open communication with donors encourages a sustained commitment to an organization. The level of engagement that donors have with your organization can significantly determine how you recognize them. Here are different engagement levels to consider:
First-time donors: First-time donors need to feel special. They found out about your organization and made the first move to engage with you. Knowing that donor retention is an essential aspect of your fundraising, making a first-time donor feel good is important.
Repeat donors: Repeat donors know and trust your organization. They support you enough to regularly part with their money because they believe in your cause. While donors who donate large sums of money at one go are important, it is repeat donors who make small, consistent donations that help you predict your funds.
Major donors: Major donors donate a significant amount of money to your organization. You determine the donation amount that can be deemed significant. These donations help your organization make significant improvements to your facilities, host events and commit to new initiatives. You need to put in special efforts to make significant donors feel appreciated.
Legacy donors: They are people who decide to leave behind their life's earnings to a nonprofit after passing. Legacy donors are deeply involved with your nonprofit organization. Such donations can help your nonprofit establish long-term sustainability. Needless to say, it is a vital donor recognition level.
Type of donors
Lastly, you can also categorize your donors according to the type of donor they are. There are broadly three types of donors:
Individual donors
Corporate donors
Foundations
You cannot thank corporate donors the same way you thank individual donors or foundations. To recognize each of these donors, you need to develop different donor appreciation techniques.
Read Also: The only reason why donors leave (and what you can do about it) 
How to appreciate different donor recognition levels?
We explore different ways in which you can appreciate donors and point towards which methods work best for which donor level.
You can recognize donors through different methods.
Here are some effective strategies for different donor recognition levels.
Personal recognition
◉ Thank you letter/email
A thank you letter is a personal recognition of a donor's contributions. It goes beyond a generic template and feels more personal. Studies show that 85% of people who receive a personal thank you letter are more likely to donate again.
Want to know how to craft the perfect donor appreciation letter? Read our article Donor Appreciation Letter: Everything You Need To Know To Craft The Perfect One.
Which donor level should you send a thank you letter or email to?
Thank you letters and emails are perfect for:
Small-time repeat donors. It shows them that their continued support is valued.
High-value donors may appreciate a personal outreach more than an email.
First-time donors can receive an automated thank you email immediately after they donate.
Donors who volunteer their time to your organization.
Here's a letter from NORWESCAP Food Bank that one of the donors shared on Twitter: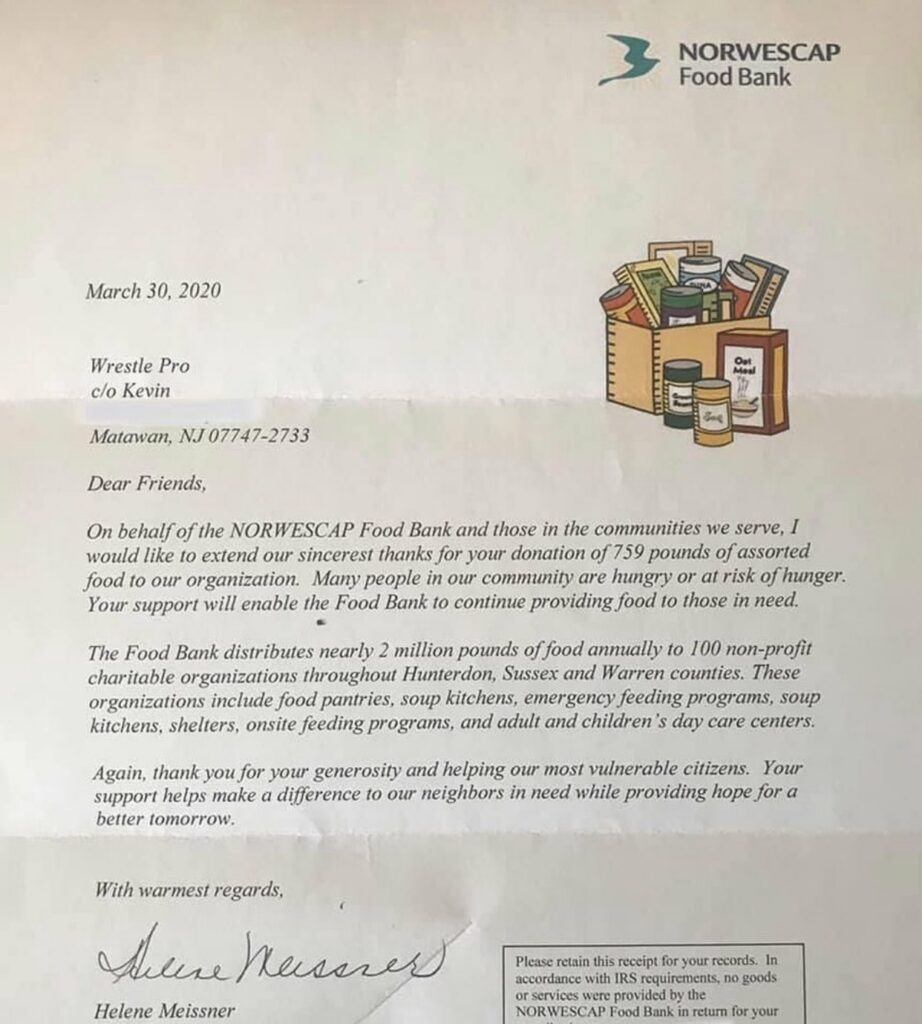 ◉ Phone calls 
Imagine this: You are just going about your day when the nonprofit you donated to calls you up and thanks you for making a difference. If you ask me, that's an instant serotonin boost!
Bloomerang's studies agree: A timely thank-you call from a board member, as advocated by Penelope Burk, boosts donor retention. Specifically, reaching out to a new donor within 24 hours of their gift can increase their subsequent contribution by an impressive 39%.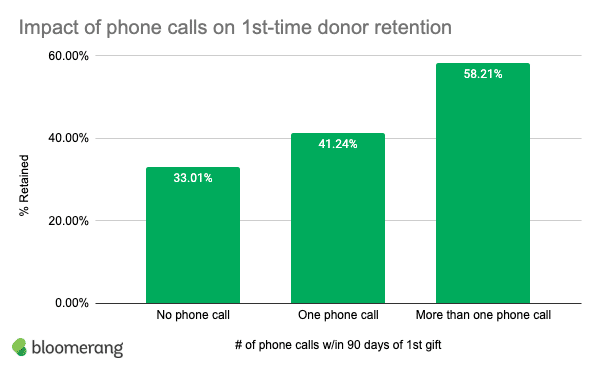 If you want to retain donors for the long-term, giving them a call seems like a great idea.
Which donor recognition level do phone calls fall under?
As the graph above suggests, give a call to first-time donors to convert them into long-term supporters.
A thank-you call to legacy and major donors will sustain their interest in your organization.
Corporate donors will appreciate a call in which you thank them and let them know how their contribution was utilized.
Donors who donate in kind.
Knowing what to say when you give donors a call is an important skill to master. We've come up with steps on  How to Write a Good Donor Thank You Calls Script (Sample Included).
◉ Text messages
Text messages boast a remarkable 98% open rate, significantly surpassing email's modest 20% open rate. Text messages work best when they are immediately sent to donors after a donation. You can automate text messages to reach donors when they contribute.
Since donors are highly likely to open text messages within a few minutes of receiving them, your appreciation will not go unnoticed.
Read Also: Texting for Donor Retention and Engagement – Strategies and Templates 
Who should you send text messages to?
A good strategy for donor appreciation would be to share a text anytime someone donated to your organization. Good candidates for a text message appreciation are:
First-time donors
Repeat donors
Any individual donors
Low to mid-segment donation amounts.
Donations in cash, kind, or volunteer time spent.
Public recognition
◉ Social media mentions 
Recognizing donors through social media has three-fold benefits:
Donors feel special because their friends and family know about the good they're doing.
You create social proof by letting other prospective donors know that people trust you with their money.
You create visibility for yourself amongst the social circles of your donor. 
Who should you mention on social media?
Donors who have donated a large amount of money that has helped you significantly.
Donors who volunteered their time to your organization and created a lasting impact.
Legacy donors when they first pledge to contribute to your cause.
◉ Recognition wall
Recognition walls come into the picture slightly higher on the donor recognition levels. 
A donor recognition wall helps you acknowledge your organization's history, mention key stakeholders, and appreciate donors who made vital contributions. Scott Wall chooses to acknowledge and honor donors by creating a donor wall.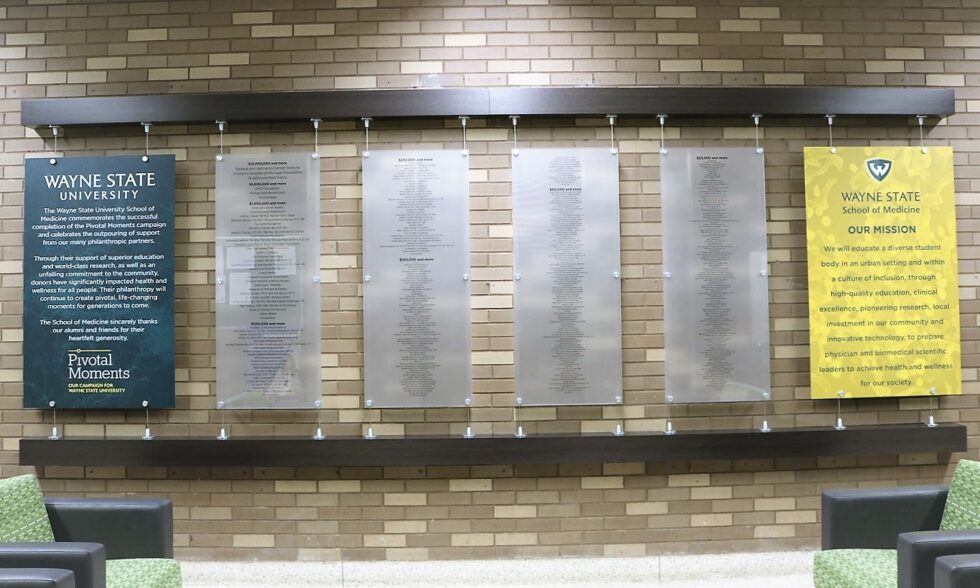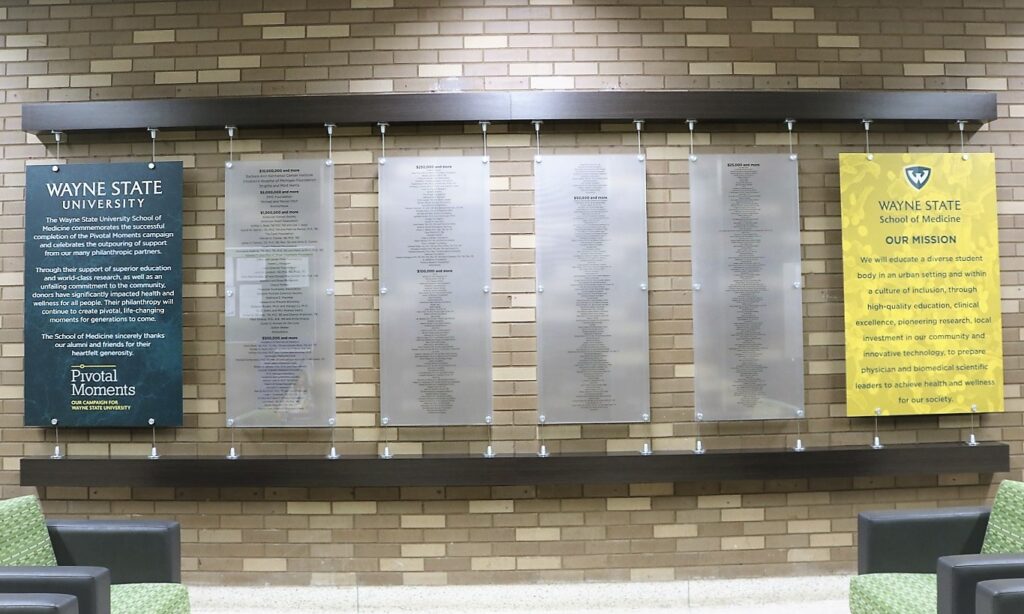 Who should you mention on your wall?
If you do not plan on implementing plaques to recognize each donor, you could mention current major donors and update the wall once every few months.
Mention legacy donors and major donors who were vital in setting up this facility.
Board members who are important contributors to the organization.
◉ Newsletters 
Newsletters that reach every donor or supporter in your organization are a great way to highlight your donors. National Philanthropy Day is an opportune time to highlight donors in newsletters.
Which donor recognition level is perfect for this sort of appreciation?
You can create a highlight section to mention this month's top donors.
Mention donors who spent their time volunteering for your organization.
Major donor of the month.
Create a highlight section for legacy donors who pledge during that month.
Corporates and foundations who donate to your organization. 
Crafting an effective donor recognition levels strategy
Making your donors feel special needs to be on top of your fundraising strategy list. Engaging and retaining donors is a skill to learn over a period of time with trial and error.
CallHub has several resources to help you better engage with your donors. Read our article Everything You Ever Wanted to Know About the Donor Engagement Cycle.
Featured Image Source: Cottonbro