Why are nonprofits exploring text-to-pledge?
The average mobile donation pledge for fundraising events is $167. 
This is a significant leap over the average online donation amount of $128.
While we can't say that one's better than the other, there is definitely a significant advantage of the former for fundraising events like galas and auctions that primarily rely on pledges to raise money.
In our post on pledging donations, we discussed how essential it was for nonprofits to adopt fundraising tech more actively to cater to tech-savvy millennial and GenZ supporters. 
Mobile donation pledges, text-to-donate or Text-to-Pledge is one such tech in pledge fundraising that nonprofits should consider adopting on priority.  
This post will talk about what it is, how to implement it, and more.
What is Text-to-Pledge?
Text-to-Pledge is a fundraising technique that facilitates the use of mobile phones, specifically texting, to pledge donations. It is a registered trademark of Sophist LLC., the organization that created the program. 
Here's how Text-to-donate fundraising works: 
Step 1: You convey the number and SMS format
You convey the instructions in SMS format and the number to which the text has to be sent. Typically, the SMS follows the following formats:
<First Name> <Donation Amount>
Example: John Smith $50
<Keyword> <Donation Amount>
Example: DONATE $50
<Donation Amount> <Custom Statement>
Example: $50 in honor of my mom – Jane Smith.
Step 2: People text in their pledges
It's pretty straightforward. People send an SMS to your number. This number could be a:
Short code: A 5-6 digit number ideally used for specific campaigns and high-volume texting.
Long code: These are standard 10-digit numbers that organizations rent out for longer periods. It's generally used for regular SMS communication outside of events too. An advantage is that you can rent out numbers with local area codes to improve your response and pick-up rates.
Step 3: Tool collects and displays pledges made
The Text-to-Pledge solution collects the data on all the pledges made and displays it in real-time on the screen that you'd be using for your event presentation. This could be in the form of a fundraising thermometer, a donation cloud (as in the example below), or simply custom statements. 

Apart from live-streaming the pledges made, the tool also exports the data to your CRM.
Step 4: Schedule follow-ups to collect donations
Once you have all pledges in place, you can send out payment information and reminders to people who pledged donations to complete the payment.
With Text-to-Pledge providers like Sophist LLC., you even have the option to send out the payment link as an auto-response to pledges.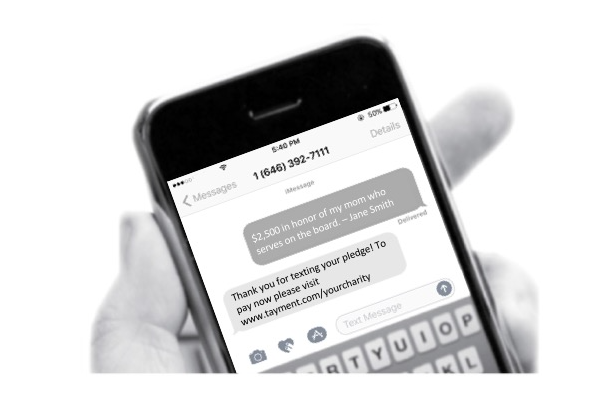 Here's an example video on what Text-to-Pledge looks like in the front-end:
What is Text-to-Pledge used for?
As of now, Text-to-Pledge is primarily used for fundraising events which include:
Galas
Marathons
Luncheons
Auctions
Text-to-Pledge is often limited to these events because an objective of these events is acquiring new supporters (apart from fundraising). And since pledging donations is a lower barrier ask than asking for money upfront, it's easier to get more people on your list of supporters.    
Can it be used for other purposes as well?
Yes!
You can use Text-to-Pledge fundraising for other fundraisers as well.
If you look closely, Text-to-Pledge is very similar to Text-to-Give fundraising. The latter is used for various campaigns like disaster relief campaigns, political fundraising, marathons, etc. 
Text-to-Pledge can be implemented in the same way for these campaigns too. Just share your number and the SMS format with prospects and get them to pledge. The only difference is that you will have to follow up with pledgers to collect the donations at a later stage.
What do you need to set up Text-to-Pledge?
If you're planning to organize a fundraising gala or a similar event and wish to set up Text-to-Pledge to raise money, here's what you're going to need.
1. Partner with a Text-to-Pledge provider
Text-to-Pledge is a trademarked service, and very few organizations can provide it to you. Sophist LLC. is the primary provider of this service. Give By Cell is another organization that can help you with it.  
2. Display real estate
During your fundraising event, the screen that you use for your presentation will also be used to display:
The number that people send their pledges to (and ideally the SMS format too).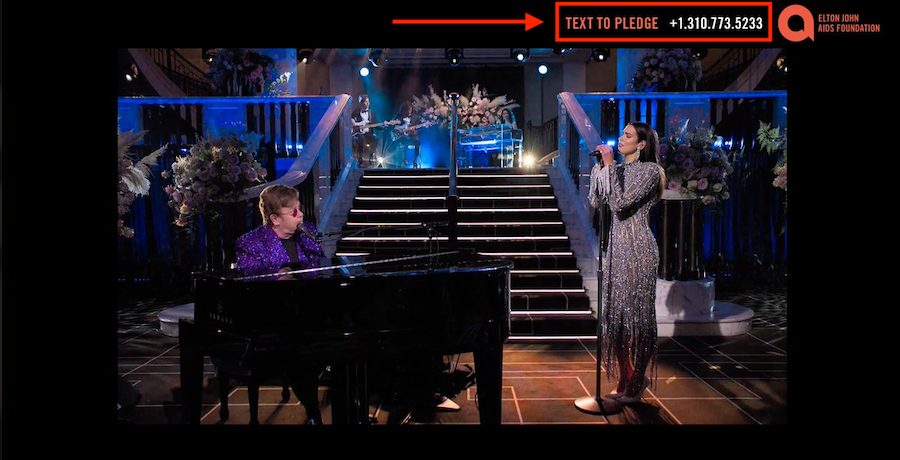 Pledges being made or the total amount pledged (along with other details like donor names).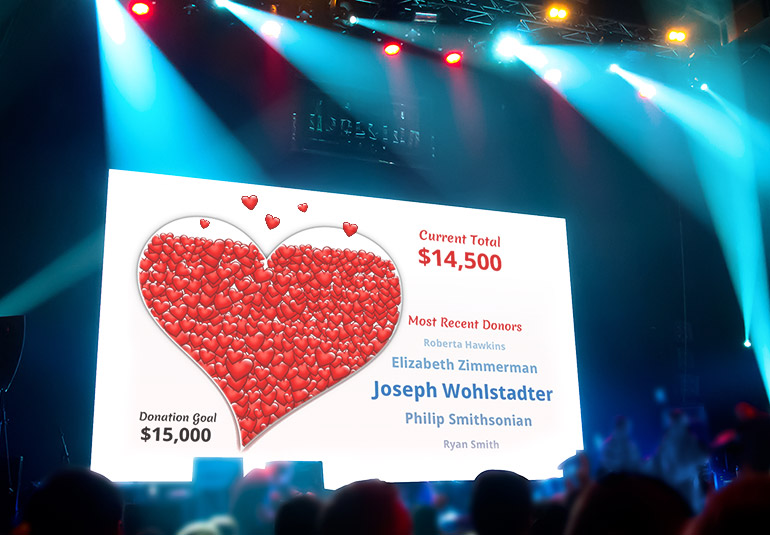 3. CRM
Your CRM is where you'll store the data for all the pledges made. This includes:
The name of the donor
Mobile number
Amount pledged
Your CRM makes donor data management a breeze. For instance, if a new supporter pledges an amount, the CRM creates a new donor profile and stores the information against it. For existing donors, it updates the relevant fields.
4. Payment gateway
You're likely to already have a payment gateway to collect online donations, but we're still mentioning it just in case.
Create a payment page (or get the link to your existing page) and share it with your supporters to complete the payment.
5. Communication software
You need communication software to reach out to people to collect donations.
Use the data stored in your CRM to schedule follow-ups with pledgers. Here are a few channels you can use for this:
Email: You can use emails as the first touch-point to follow up with donors to complete their payments. Send out the link to the payment page in emails and schedule follow-ups for those who don't interact with these emails.
Texts: You can connect over text with those unresponsive over emails or those who haven't shared their email id. Send out a text blast with the payment page link. You can even send out a text reminder to those who don't complete the payment. 
Phone calls: Reach out to your strong supporters (because they deserve the personalized approach) and those who haven't responded on the other channels over calls. A calling solution with the ability to send a follow-up text (with the payment link) from the calling dashboard comes in handy here. CallHub's text-through-call-center feature lets you do this.
Note: Communication software may not be necessary if you're sending the payment link as soon as people pledge their donations. But it still comes in handy to send out reminders to people who may not see through the process at that point.
Benefits of Text-to-Pledge
If it wasn't too clear earlier and you're still wondering, why do you even need Text-to-Pledge for pledging donations, here are a few reasons to convince you:
Ease of use: Your supporters can pledge donations in three simple steps. Enter the number, type in the keyword and donation amount, and hit send.
Low maintenance: Not much is required to pledge from the donor's side. They can support you as long as they have a phone (it doesn't even have to be a smartphone) and cell service (not even internet service, just text service). When it's time to collect donations, you can email them or call them.
Bandwagon effect: When you display people's pledges publicly, it compels others to jump on the bandwagon too. That's human nature. This, in turn, gets more people to pledge, ultimately helping you raise more money.
Challenges of Text-to-Pledge
Everything in the world has some downside, and Text-to-Pledge fundraising is no exception. While your campaign will enjoy the above benefits with this fundraising strategy, you will have to be prepared for the following challenges.
Costs: Since it's a trademarked service that only a few solutions offer, the pricing might be a little on the higher side.
Limited event support: Generally, Text-to-Pledge providers prioritize supporting high-traffic events organized for a day. This makes following up and tracking much easier for the providers. But that limits the opportunity you have to use Text-to-Pledge for a lot of fundraisers, especially for smaller events.
SMS format complexity: To successfully pledge donations, supporters have to follow the specific texting format to the dot. They have to be wary of the order of the details provided, spacing, special characters to use, etc.
Text-to-Pledge Alternative: Mobile Pledging
While the cons of Text-to-Pledge fundraising don't pull back the benefits significantly, we know there could be instances that may force you to look for alternatives.
For example, if the cost of the service cannot be accommodated in your nonprofit's communication budget. 
In such cases, mobile pledging is an alternative that you could use.
In terms of functioning, mobile pledging is similar to Text-to-Donate. This alternative leverages an SMS Opt-in solution to get people to express their interest in pledging donations. 
When they do so, they receive a form in response. They then fill out the form to complete their pledge.
Here's a step-by-step working of the process: 
Step 1: Convey the number and keyword
Your nonprofit sets up a keyword for donors to send out to a specific number to express their interest in pledging.
Typically, the keyword is one word or can be an amalgamation of two. However, since these keywords aren't allowed to have spaces, organizations stick to using a single-word keyword. Some examples of such keywords are:  
PLEDGE
VOLUNTEER
GIVINGTUESDAY
You can display the keyword and number details on a screen, put up posters, or circulate it over social media (or all!).
Step 2: People text in the keyword
Your supporters see the keyword and number and text you the same to express their interest in pledging.
Step 3: The tool responds with the pledge form link
When someone sends in the keyword, the tool sends out an automated message with the link to your donor pledge form. This form can be hosted on your nonprofit's website. Alternatively, you can also collect the details over the same text chain.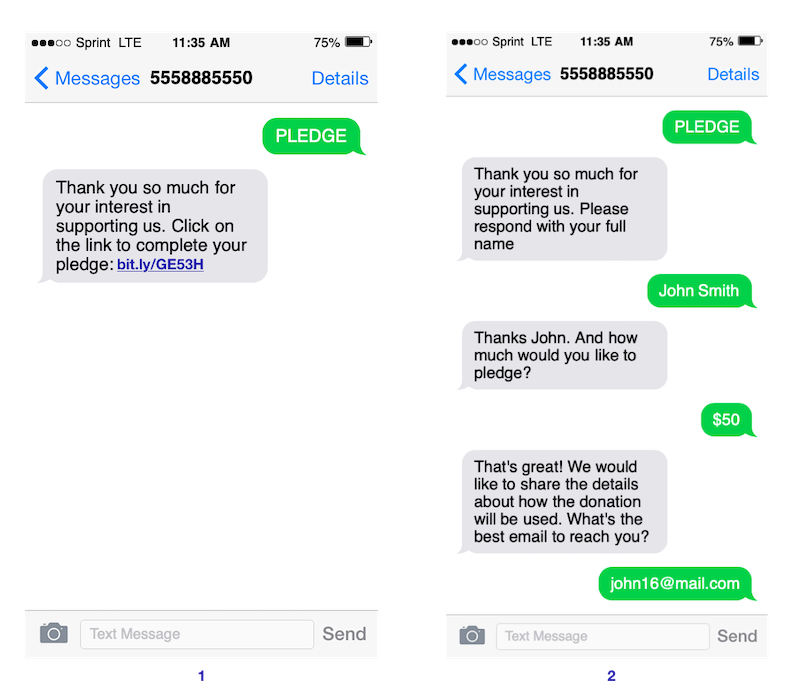 The tool also adds this data to your CRM for future communications and references.
Step 4: Schedule follow-ups to collect donations
Once you have all pledges in place, you can reach out to people to collect the payments at the specified date. You can either send them a text or email follow-up or connect with them over a call.
Note: There is no standard term for this process of obtaining pledges. We are referring to it as Mobile Pledging for ease of understanding and use.
How does it overcome the challenges of Text-to-Pledge
Mobile pledging overcomes the limitations of Text-to-Pledge in the following ways:
Cost: Mobile pledging is more cost-effective as it doesn't require a dedicated service. A good SMS marketing tool with flexible pricing and low cost/sms is perfect for it. CallHub has a great pay-as-you-go model and flexible monthly subscriptions that you can opt for. Check it out here.
Event support: There are no limitations to the type of events you can use it for. Text-to-Donate is widely adopted in the industry for different fundraisers. Since this works on the same principle, mobile pledging can be adopted for the same too. 
SMS format: The likelihood of donors making an error in texting one keyword is far less than if they had to text multiple details together. Moreover, SMS tools like CallHub even recognize the keyword if the casing isn't maintained, which reduces the error margin even more.
What do you need to set up mobile pledging?
If you're planning to implement mobile pledging for your fundraiser, here's what you're going to need.
1. SMS marketing tool
Since the process is based on the principle of SMS Opt-in, you'll need an SMS marketing tool to implement it. Keep in mind that this tool should fulfill the following criteria:
It should seamlessly integrate with your CRM for the smooth import and export of data. 
It should be able to personalize the automated responses as it collects data on the supporter (as in the example above).
It should be able to schedule text broadcasts for all pledgers. This comes in handy when you need to send out payment information and reminders.
The pricing should be flexible, so you pay only for your usage.
2. CRM
Your CRM is the central depository of donor data. Apart from storing and exporting this data, your CRM should also be able to create web forms.
You need this to create dedicated donor pledge forms for your campaigns. However, this feature won't be as necessary if you're collecting pledges over the text chain itself.
3. Payment gateway
Your payment gateway helps you create a payment page to collect all donations that were promised to you. Share the link to this payment page in your reminders and follow-ups.
4. Communication software
As mentioned earlier, your communication software helps you with reminders and follow-ups.
CallHub is a comprehensive communication platform with texting and calling solutions. Whether you want to set up mobile pledging, send out text reminders, or connect with supporters over a call, this is your one-stop-shop. Sign up here for free!
How to set up mobile pledging on CallHub
Setting up mobile pledging with the right tool is extremely easy. It takes only three steps to do so on CallHub. Here's how:
Step 1: Select the SMS Opt-in option from the campaign dashboard.
Step 2: Fill out the campaign details.
These include the campaign name, the keyword and number (you can rent a number directly from the dashboard although it takes a few days to get approved), and the contact list in which you want the contacts to be saved (this could be a new one or an existing one).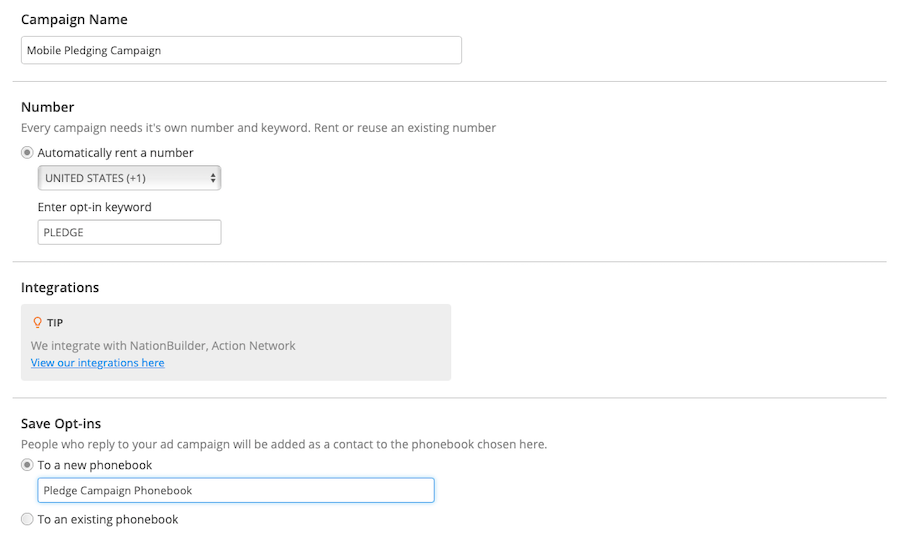 Step 3: Set up the message prompts to be sent.
You can either set up prompts to collect data over the text chain or a single response with a link to your donor pledge form.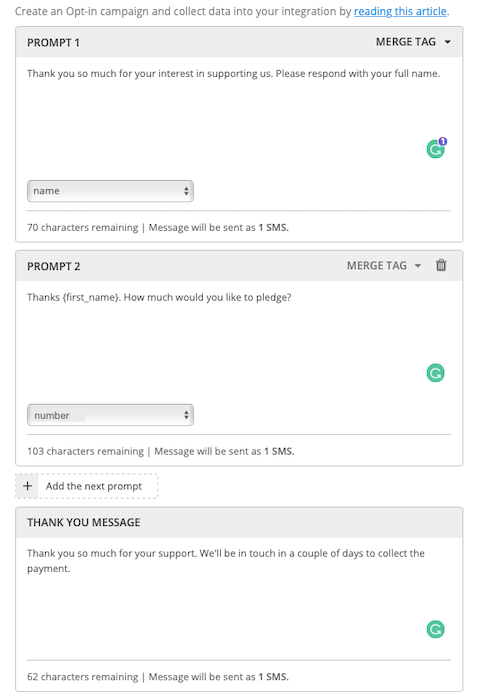 And that's it; your campaign is ready to go live!
You can now go ahead and promote the keyword and number and get people to pledge donations.
The minimal requirements and the fact that people are so comfortable texting are why Text-to-Pledge or Mobile Pledging is so convenient. They can take your pledge fundraisers to the next level while helping you get through to tech-savvy generations.
Upgrade your pledge campaign today by signing up to CallHub for free. Take mobile pledging for a trial run with our pay-as-you-go pricing. Get on a monthly subscription only if you're sure to get returns!
Featured image source: Photo by Karolina Grabowska from Pexels