Insurance marketers vigorously seek methods to drive more conversions. Fortunately, with a mix of traditional and digital marketing, this shouldn't be much of a challenge. Coming up with innovative insurance marketing ideas can be time-consuming, but you don't have to start from scratch.
In this article, we have put together 23 insurance marketing ideas to help you acquire customers effectively.
Insurance marketing ideas 2021
The best marketing ideas for agents are those that help you effectively communicate your value to your audience, engage with them, and build strong relationships.
Here are 23 such insurance marketing ideas that you can use to stand out in the industry.
1. Referral program
One of the strongest marketing tools is your customer base and referral programs are one of the most popular insurance marketing ideas.
The lifetime value of a referred customer is 16% higher, on average, than that of a non-referred one. To increase your customer base, you need to encourage your existing customers to support you. Of course, they'd benefit from this.
In a referral program, your customers get an attractive reward for every new policyholder they bring in. The reward can be a cashback, a discount, a gift card, a free event ticket, or anything else that's valuable to them.
2. Social media marketing
Social media marketing has moved from a 'nice-to-have' to a 'must-have' for every business nowadays. From getting in front of your audience to closing a deal, social media covers all the steps of a buyer's journey.
Besides publishing organic content and engaging with followers, insurance businesses can use social media to reach new audiences through ads. Social media ads help you improve your brand awareness, generate leads, and do much more based on your objective.
Most social media platforms also help you reach your website visitors and people who have engaged with your social media updates, using retargeting ads. The purpose of retargeting ads is to remind your audience of your business and motivate them to come back.
In addition to that, you can target specific audiences based on their demographics, interests, behaviors, etc. You can even use your current customer database and target people that have similar characteristics.
Influencer marketing through social media is also one of the popular insurance marketing ideas these days, which would get higher exposure and reach for your brand.
3. Online reviews
Putting review into play helps you magnify all the nice things your clients are saying about you. This helps in building your online reputation.

Reviews have an enormous impact on your audience. 93% of people say online reviews impact their buying decisions. So, focusing on acquiring a persistent flow of reviews on your website, your business listing on Google, Facebook, and other industry-specific websites can help you establish credibility and pull in leads.
Request your customers to review you. A phone call, an SMS follow-up, email, etc., are some mediums to request and follow up on the same. Platforms like Trustpilot help you send bulk review invitations to your existing customers and set up automated review requests for the new ones.
Keep track of your reviews and respond to both positive and negative reviews professionally. This gives you a competitive advantage. An ideal way to execute this insurance marketing idea is to follow up with customers that had a negative experience and address their issues. Once you resolve their issues, acknowledge them online, so your audience knows you care about your customers.
4. Website
Your website is the first thing your prospects look up when they are looking to know about you. Therefore, your website must create a great impression. For this, you need a clean website with quality content.
Here's an example: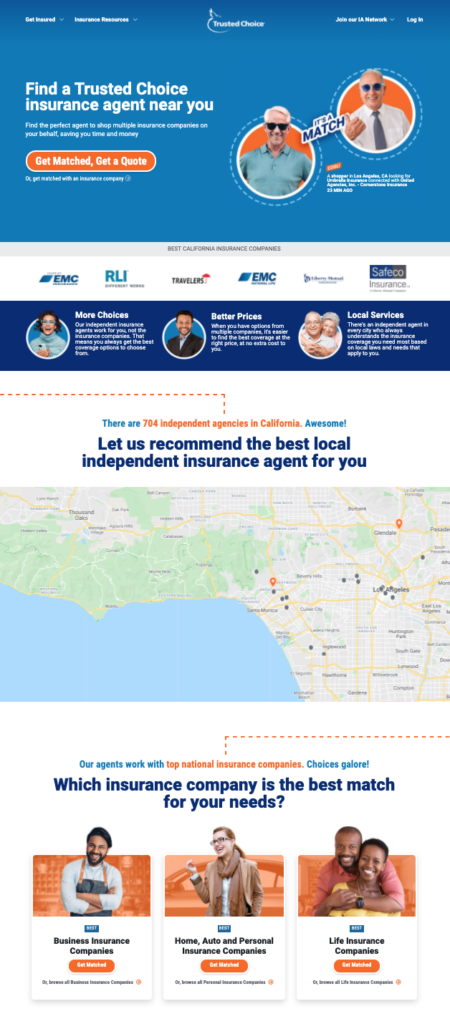 Attune your website to your audience's journey to improve their experience on your website. When we say experience, we mean:
Ease of access to the most relevant and sought-out information
Seamless navigation
High page load speed
Responsiveness, etc.
Good insurance marketing ideas focus on offering value to the audience.
Most of your audience may know insurance on a surface level. Your website should aid the requirements of even a beginner-level policyholder or who is entirely new to the world of insurance. When they want to understand it on a deeper level, they take it to the search engines. By incorporating the right keywords and information on your website, you can save the day.
Also, include case studies and testimonials on your website to establish trust. Nothing can convince your audience like a customer of yours can. They can be either text-based or video-based. Place testimonials near your call-to-action to persuade your audience into taking the desired action.
Pro Tip: Here's how to target your audience more effectively using your website – Build dedicated landing pages for each type of policy you provide. For example, property insurance, life insurance, etc. This way, your audience can land on exactly the information they were looking for. Also include other essential details like the policies, insurance limit, an option to request a quote, a means to contact you, such as email, text, phone call, etc.
Choosing the right website builder like WordPress is the key to building a professional website, and a website is the basis for your content marketing strategy.
5. Content marketing
Today, people dig through the internet to find the right solution to their requirements. 42% of consumers are less interested in a brand's products and services if the content the brand provides is not personally relevant.
Bottom line: Put your audience's needs first.
When you provide value, you earn people's trust. Provide helpful information to your audience through blogs, whitepapers, email newsletters, social media posts, and more. This makes you a trusted source of information and helps you stay on top of your audience's minds.
Complete your content marketing strategy with some videos in the mix. Infographics are also an excellent way to offer valuable information and thereby are considered a part of great insurance marketing ideas.
Here's one example of an infographic:

Monitoring your content's performance from time to time to discover the content with the highest traffic is essential to up your content game. Build on this content to deliver it in a way that's most useful to them.
Content also poses an excellent opportunity to generate leads through a marketing tactic called lead magnets.
6. Lead magnets
A lead magnet is a marketing tactic used to gather a lead's contact information in exchange for a free giveaway. You can also get your audience to sign up for email newsletters.
As an insurance provider or agent, here are some ideas for lead magnets:
Insurance policy checklist
Insurance calculator
Case studies
Whitepaper
Ebook
Webinar
Online courses, etc.
It's a no-brainer that most people who acquired these resources by giving their details are high-intent leads. So, you can now start nurturing them throughout their buyer journey.
7. Business cards
Business cards are one of the traditional and tried-and-tested insurance marketing ideas of taking your business' contact information to your audience.
Here are some ways you can distribute your business cards:
Leave your business cards with your clients when you meet them.
Partner with local magazines and newspaper vendors and staple your card in between the pages.
Network with people at events and exchange cards at the end of conversations.
Leave some cards with businesses you collaborate with, so they can give them to your prospects when they refer you.
Industry-specific places such as car service centers.
8. Sponsor events
Sponsoring events in line with your insurance business is an excellent way to get exposure to a new audience. For example, if you are a car insurance provider, you could sponsor an auto show.
You can also sponsor your local charity events and attend them. Subscribe to their newsletter, so you know when they have an event coming up.
Networking paves a strong path to executing these insurance marketing ideas. Regardless of the event, make sure you attend the event and network with your prospective policyholders. Also, speak at these events and share your knowledge of the industry. This also helps you place yourself as a thought leader.
Pro tip: Hand out goodies with your branding to the event attendees. For example, at an auto show, you can hand out keychains.
9. Video marketing
A video is a quick and effective way to communicate your value proposition to your audience. Publish your videos on your website and promote them through social media, email, and other marketing channels.
Over 99% of people who use video marketing say they'll continue using videos in 2021, which makes it one of the 'must-have' insurance marketing ideas.
As an insurance provider, you can create the following types of videos:
Client testimonials
How-tos/tutorials
Tips and best practices
Promotional

10. Partnerships
Collaborating with local businesses that cater to your audience is one more way to promote your insurance business. For example, an accounting firm can lead its clients towards you and vice-versa. You can also use your marketing channels to promote them by recommending their services to your audience.
Some strategic partners for insurance businesses and agents include accounting firms and mortgage lenders.
If your business only focuses on a specific type of insurance, your partner would also change accordingly. Remember, the partnership is a give-and-take. So make sure you are providing value too.
You can also partner with a charity. The partnership can be referral-based, and for every referral they bring in, a certain percentage of the quote could be a donation to the charity.
Pro tip: Collaborate with your partner organization and set up a booth at local events to expand your community.
11. Guerrilla marketing
There are many insurance marketing ideas to increase your brand's visibility in your community.
Consider guerrilla marketing strategies such as utilizing billboards, footpaths, etc., to get your business's name out in the community. Promoting your business through flyers, stickers, posters, etc., are some more insurance marketing ideas.
Pro tip: Create a conversational piece that's aligned with your insurance business. For example, if you are a car insurance provider, a wrecked car posed as a showpiece could effectively convey an insurance policy's value. Brand this car with stickers of your logo and contact information.
12. SEM or PPC ads
One of the fastest ways to take your insurance business to your target market through search engines is using ads. Both Google Ads and Bing Ads help you push your landing page/s to the top of the search results page for the keywords that closely align with your offerings.
Similar to social media ads, search engine ads allow you to target a specific audience. It helps to target keywords based on your budget. For instance, if you're only starting and have a small budget, focus more on long-tail keywords with relatively low search volume and competition and thereby cost less.
For example, if your audience is looking for 'best insurance provider agencies in Georgia', your insurance agency ad would show up, given you're promoting for the said keyword.
Best practice: Create dedicated landing pages and ad copies for every product you promote.
13. Networking groups
In-person or virtual networking events are still a powerful way to form relationships. Of course, you'd have to be proactive and step beyond just exchanging business cards.
Some popular networking events include business meetings, workshops, conferences, etc.
While you are at one of these, you'd have to focus on establishing thought leadership, forming relationships, and earning referrals.
BNI is one of the most popular business networking groups.
LinkedIn groups, too, provide an excellent podium for networking and reaching folks beyond your direct connections.
Before you are a part of such a group, here are a few practices to follow:
Populate your profile and business page with all the relevant information.
If you are trying to get in touch with your group members through direct messages, personalize them.
94% of B2B marketers distribute content on LinkedIn. Stay active on both your personal profile and business page by publishing quality and engaging content.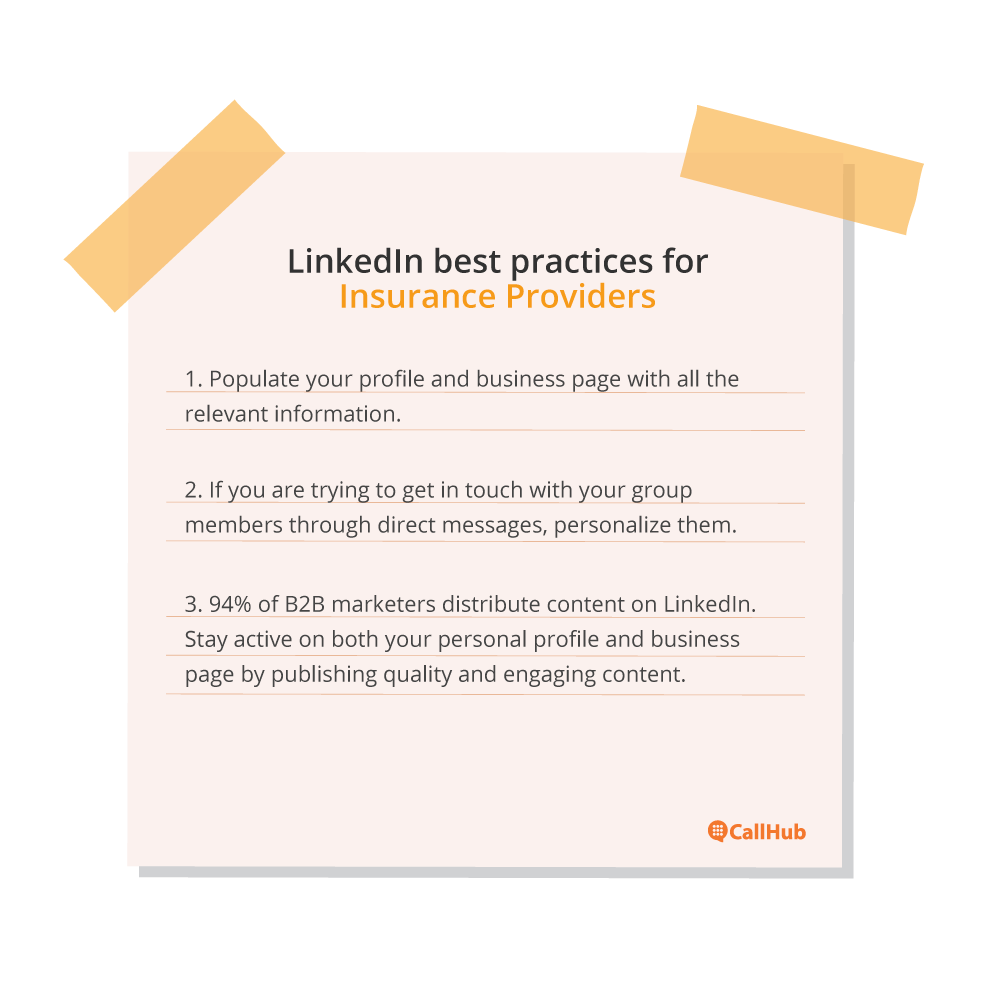 14. Press releases
Have something interesting happening? Let the world know.
Networking and building a relationship with the right journalists for your business takes time. Consider hiring a PR professional who already has access to a list of contacts in the media or take an agency's help.
Write high-quality articles covering noteworthy events where your business was involved. For example, a new business partnership, an event you held or sponsored, etc. However, if you hire a PR professional, they will write this for you!
In addition, check out Help A Reporter. This platform connects reporters that are looking to interview industry professionals.
15.Email marketing
Crafting your email messaging based on the data you have on your audience can increase the chances of engagement with your audience. As you launch your first campaign, your audience's behaviour will unlock more paths to better target and personalize your emails.
Send newsletters with helpful information while you subtly promote your business.
Note: Remember to craft a compelling subject line because that's the first step to grabbing your audience's attention.
Pro tip: Create an email signature with your contact information and links to your website and social media handles. Include these in all your emails.
16. Webinars and podcasts
Webinars and podcasts are part of the most up and coming marketing ideas for insurance agents. They are great tools to educate your audience on your offerings. Furthermore, you can share valuable information around the insurance industry. For example, "Things to look for while choosing an insurance policy".
17. Live videos
Live videos are getting popular day by day due to their authenticity. It's always a great idea to show the face behind your brand.
Here are a few ideas for your live videos:
Organize a Q&A session.
Share your industry expertise.
Share trending industry news.
Host a quiz session.
Share tips such as 'How to buy an insurance policy'.
Here's a list of tools you can use:
Facebook Live
YouTube Live
Instagram Live
LinkedIn Live
18. SEO
Search engines are the most common platforms for people to inform their purchases. Optimizing your website to draw in prospective policyholders is valuable to your business.
Using the right keywords, gaining backlinks, building a solid social media presence are all ways to optimize your site for search engines; and if you need your prospects to find you efficiently, you gotta do this.
To get your website to rank higher on search results, you need to acquire a mix of on-page and off-page SEO techniques. Here are some:
Write blogs on specific insurance types that stand valuable.
Add meta titles and meta descriptions to your landing pages and blog posts.
Make your website device responsive.
Publish well-researched and quality content consistently while incorporating the right keywords.
Ensure your website load speed is high at all times.
Add backlinks.
Even if your agency or company is location-independent, it helps reach your local community through local SEO. For example, by optimizing your website for local search results, you'd be ranking for keywords such as "insurance companies near me" or "insurance agents in Bloomington."
Here are a few local SEO strategies you can implement:
Optimize your 'Google My Business' profile by putting in your complete address and service details.
Incorporate location-specific keywords as a part of your keyword strategy.
Add your business on different industry-specific listing sites.

19. Blogger outreach
This marketing strategy involves collaborating with other relevant blogs to get backlinks. To execute this idea, you'd be creating a high-quality article for their website while incorporating links to yours.
This is a mutually beneficial tactic because the website you collaborate with gets a high-quality article free of cost, and your website gets referral traffic.
This is a long-term strategy because reaching out to people, building connections, and finally seeing results takes time.
20. Postcards
You can send out postcards to your contacts with the help of a professional printing company. Direct mails are still effective, and 41% of Americans of all ages look forward to checking their mail each day.
21. TV ads
If you get an opportunity and have the budget, consider marketing your insurance business on TV. It'd be valuable to do this as a part of related programs. For example, if you are a house insurance provider, advertising your insurance policy in the middle of a house makeover program.
22. SMS marketing
Surveying your customers to know their opinion on certain things can be beneficial to your business. This also shows your clients you give them importance. CallHub's SMS marketing tool lets you conduct surveys effectively.
There are two methods:
Using our SMS opt-in tool: Here, your contacts send a unique keyword to take the survey, and the survey takes place through automated follow-ups.
Using our peer-to-peer texting tool: Your agents send questions to contacts and manually fill in survey forms in the agent console.
SMS marketing is used for many other use cases, such as sending reminders and updates.
See five ways you can use SMS to win more leads for your insurance business.
23. Telemarketing
Reach out to your contacts and build relationships while giving them value. A strong customer relationship is one of the most powerful marketing tools. See how our automated insurance dialer helps you with marketing and lead generation.
Also read: How to craft the perfect cold calling script for insurance and ten tips to sell insurance over the phone successfully.
For any business, every valid lead counts. Implementing well-researched and highly relevant marketing ideas like the above can help you increase your reach, generate leads, and improve your sales.
Get started!
So there you have it! 23 insurance marketing ideas to take your insurance business to the next level! With these insurance marketing ideas, you can get your brand in front of prospective policyholders.
One idea may give better results over another, depending on multiple nuances.
Getting your business in front of your audience is the first step, and these 23 insurance marketing ideas help you do that and much more. It definitely won't happen overnight, but if you dedicate your time and resources to executing these effectively, you will start embracing results.
Featured image: Photo by Scott Graham on Unsplash