You already know that phone banking is an effective way to connect with voters, especially during elections.
NGP VAN's VoteBuilder, as you may also know, is a fantastic tool for organizing calling campaigns. It is quick, easy to use, and lets your volunteers manually dial voters and talk to them.
However, what's not so good is the time you'll waste manually dialing the voters and waiting for them to answer. What if your campaign is extensive, and you have hundreds of thousands of voters to reach out to? A manual dialer like the one on VoteBuilder, where your volunteers manually dial each voter's number, will only slow you down.
That's where an automated virtual phone banking system becomes necessary.
An automated calling tool automates all the slower-moving parts of your calling campaign and helps you reach 3x the number of voters in the same timeframe!
Such a phonebanking system can,
Assign voters to volunteers
Automate dialing numbers
Connect only answered calls to agents.
CallHub-VoteBuilder integration brings the best of both worlds: A solid voter list and a robust phonebanking system.
Using CallHub's phone banking software with VoteBuilder helps volunteers
Not miss out on campaigns by logging in from the convenience of their own home.
Run highly targeted campaigns and increase the chances of turnout by recording data directly into your records and accessing up-to-date data whenever required.
Improve voter satisfaction by guiding volunteers through the questions to ask, and
This results in
More effective calls
Quicker and more accurate recording of the outcome
An easier way to build a larger team of volunteers who chip in by making as few or as many calls as they can.
In this article, let's see how you can phonebank with VoteBuilder and CallHub together for your next phone banking campaign can help you uplift your results.
What is VoteBuilder: Brushing up the basics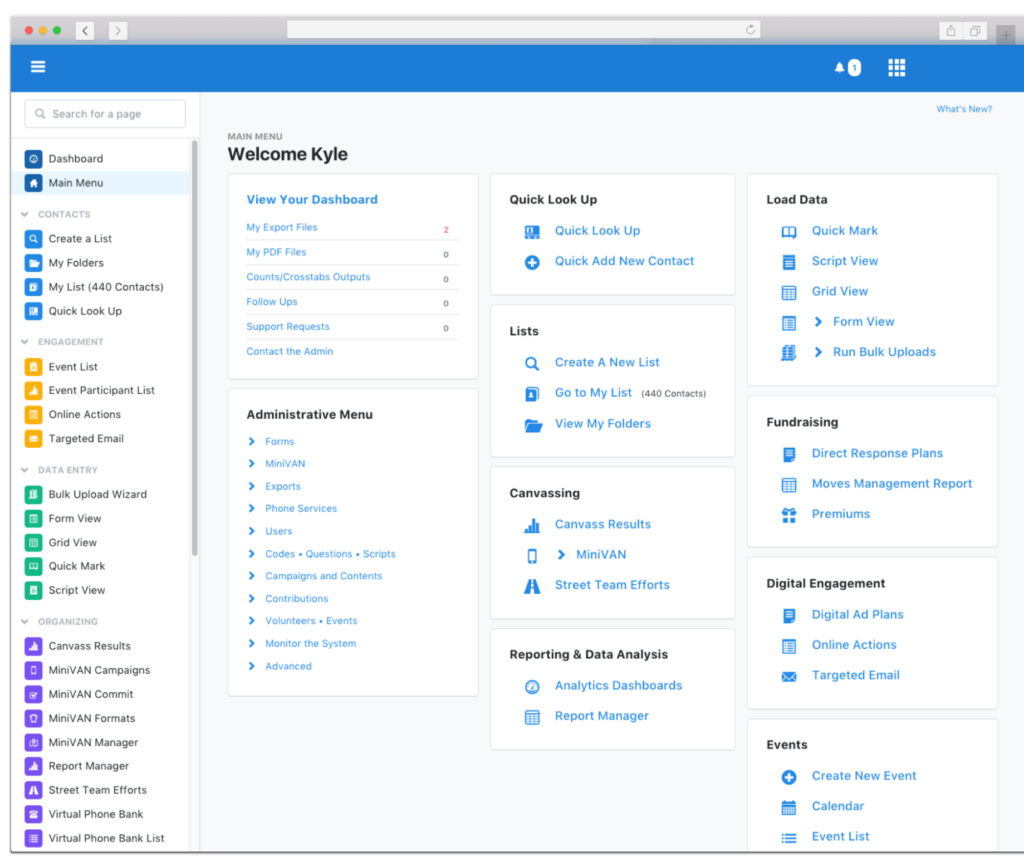 VoteBuilder is a voter database owned by the democratic party, supported by NGP VAN, and used by democratic candidates and committees to identify voters and recruit volunteers.
With over 20 million individual survey responses, 50+ targeting models, and other demographic data, VoteBuilder helps you enable better targeting, making your campaigns highly efficient.
What data is included?
* Voting history
* Demographics
* Contact information
* Likely party affiliation
* Survey results
Where does the data come from?
* State-certified election results
* National change of address registry
* Social security dept. of deceased list
* USPS verified address
* Consumer databases
How to use CallHub with VoteBuilder
CallHub's phone banking tool integrates with VoteBuilder, making it easy for you to run calling campaigns.
Let's see what that process looks like.
Login with ActionID
To access the VoteBuilder platform, you must have an ActionID or an account name. If you don't have one, here's how to create it.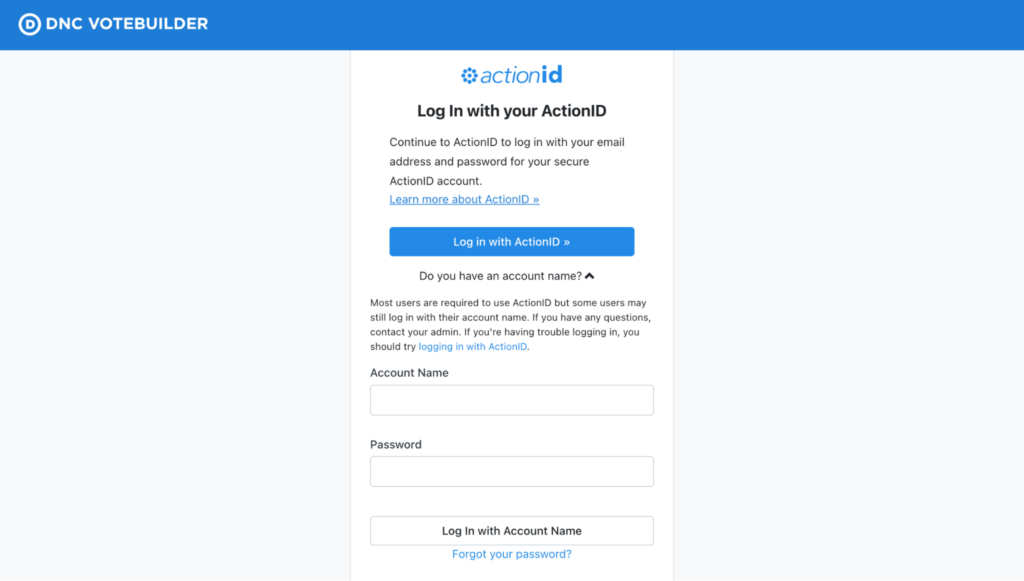 Access your voter list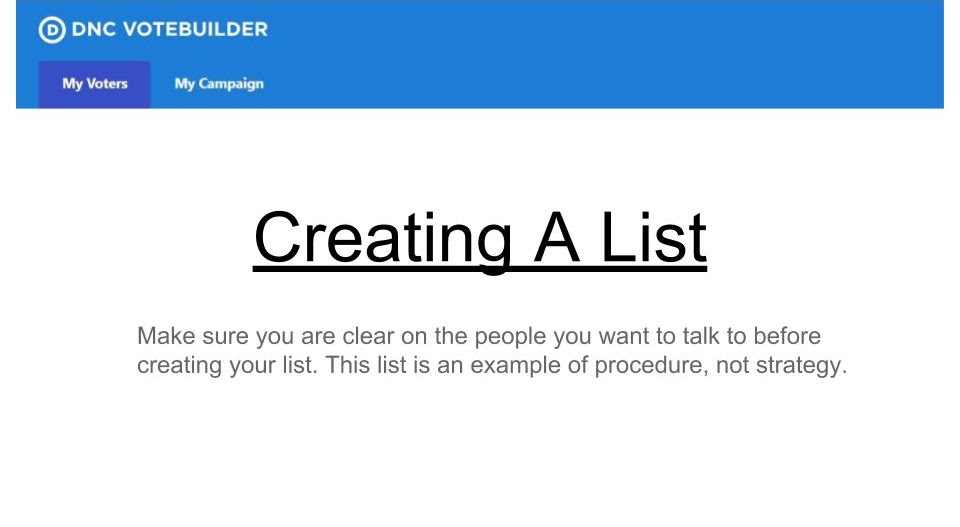 Once you log in to VoteBuilder, you'll see two tabs: My Voters and My Campaign. My Voters contains a list of registered voters, and My Campaign includes a list of past volunteers.
The list in My Voters is a permanent record of registered voters from a particular district which is updated based on the most recent certified results from the State Board of Elections. It also contains information collected by volunteers during the previous phone banking and door-knocking campaigns and indicates each voter's preferences based on data availability.
My Campaign is a temporary record of the volunteers in your previous campaign. This tab is empty by default and gets populated every time you recruit a volunteer on VoteBuilder.
Understand voter records
Every voter listed on VoteBuilder has a profile in the database. All the information available is stored under various categories.
Here are some of the most important categories:
Activist codes
Identifies past actions a voter has taken. Campaigns use this to identify voters as supporters, volunteers, etc.
Also in Household
Shows if two voters in the database share the same address.
Contact history
Shows all the contact attempts to a voter, including how they were contacted (Door knock or phone), the volunteer's name that contacted them, and how the data was collected and entered.
Voting history
Displays the voting history of each voter- when they voted, and which party primary they participated in, depending on the availability of information.
This also shows how they voted:
P- At polls
E- Early
A- Absentee
M- Mail
Q- Provisional
Y- Vote method unknown
VAN ID
A unique identifier attached to each voter.
Vital stats
Shows when the voter was first registered and their party affiliation, if they have one.
Polling location
Shows the voting location for the person. This includes their address with the city and ZIP.
Early voting
Shows the status of a voter's early voting activity- if they have requested the ballot, mailed the application, or returned it.
Address, email, phone number
Shows the current contact information of a voter.
Survey responses
Indicates the past responses of a voter along with the timestamp for each survey response.
Create your calling list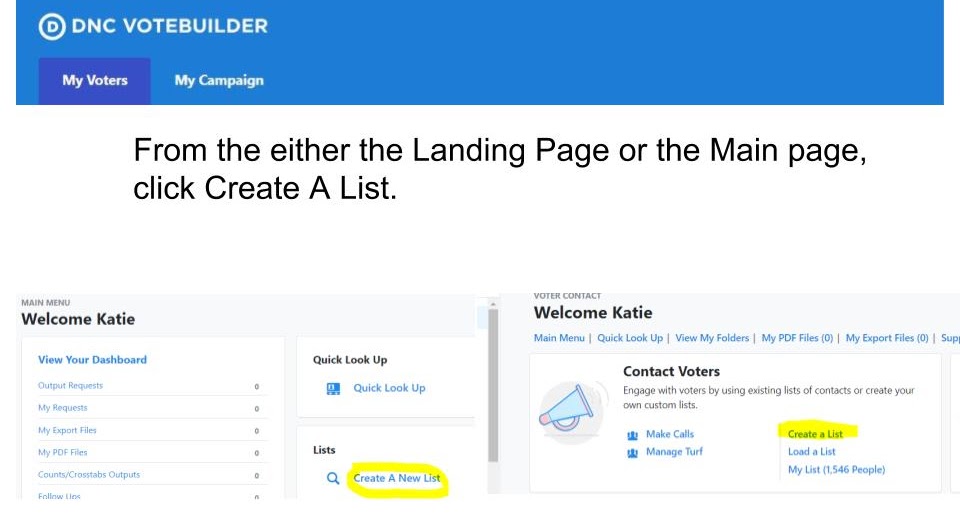 Once you find the voter list, you need to create a calling list containing the voters you want to call.
Let's see how to do that.
Creating a new list
To create your voter list for the phone banking campaign, click Create a New List under the Lists section from the My Voters tab.
Creating new searches
Select the Create a New Search and make your selection.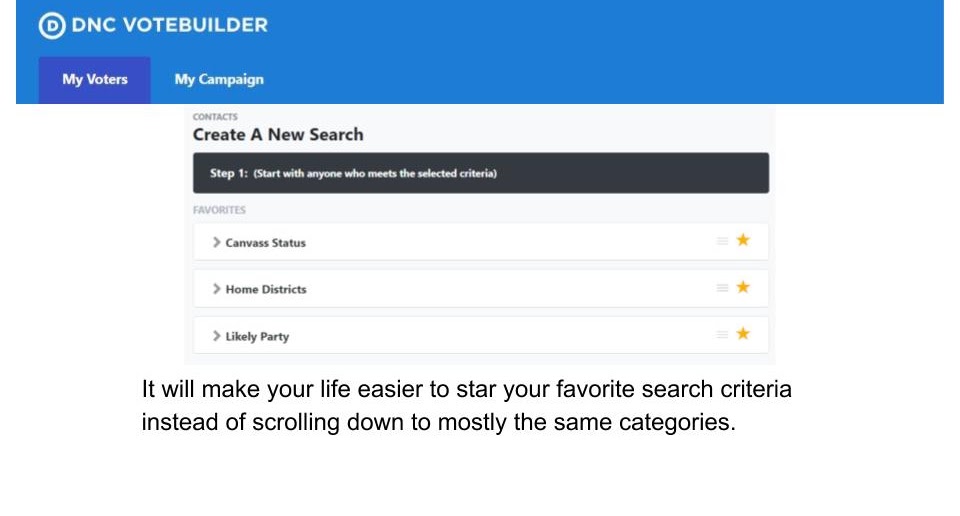 You can create highly targeted lists by refining your search using various data points on VoteBuilder. For example, to access a list of people that are strong Democrats, choose Strong Democrats under the column Likely Party.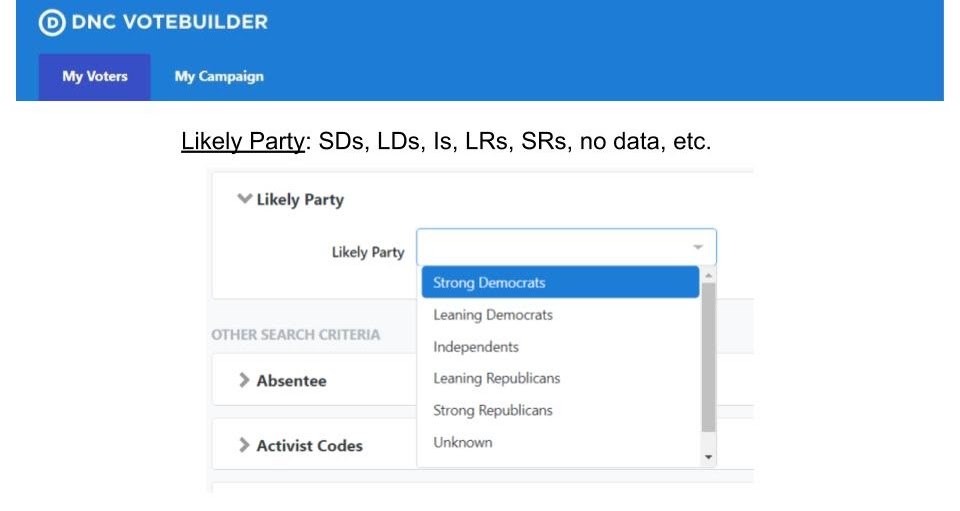 Here are some other searches you can make to refine your list:
Unknown Likely Party, so you can persuade them further.
Inactive registered voters to focus on getting them to vote.
The location from the Addresses tab using state, city, zip code, address, etc.
Canvass status, so you don't call a person that you'd just contacted in a canvassing campaign.
Survey question, by selecting those who have given a specific answer to a particular question. For example, said 'Yes' to vote for your candidate.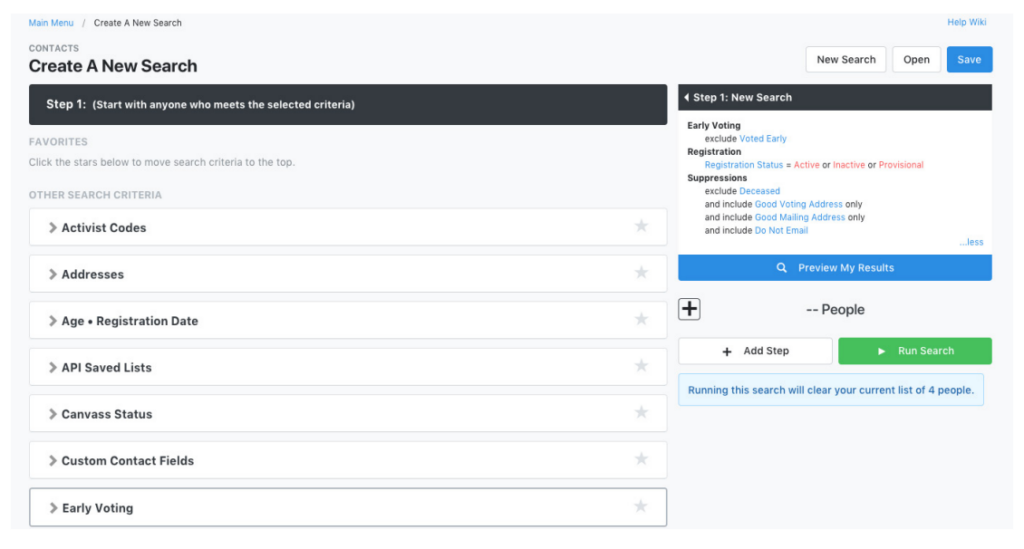 Selecting multiple options
Many fields from this search feature include the ability to select multiple options from the dropdown menu. These features appear with a blue text indicating they are clickable.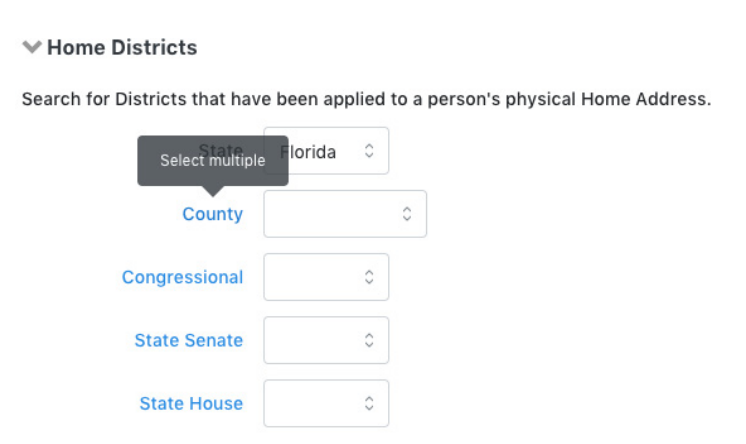 Tracking your list
As you build your list, you'll see a summary of the same on the right-hand side.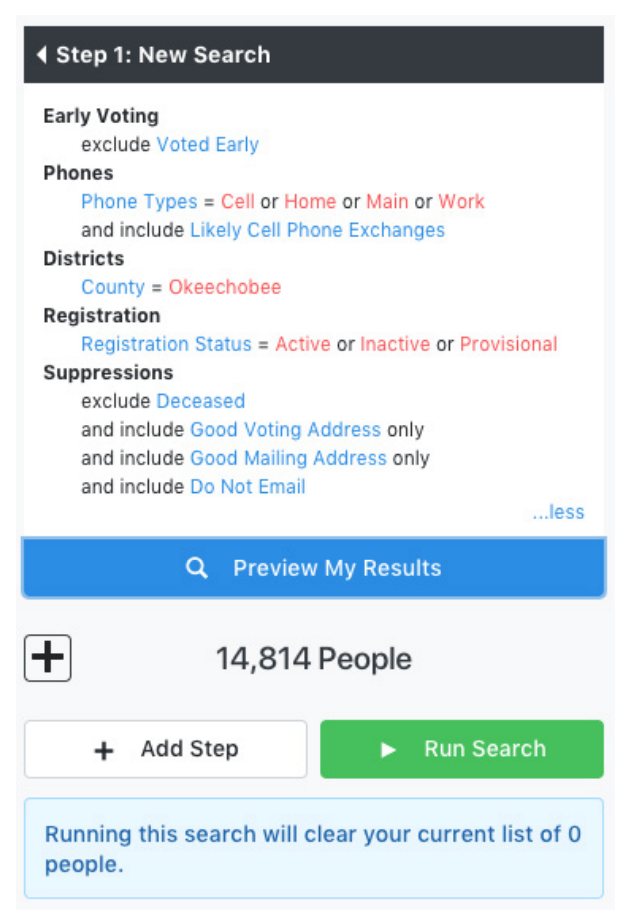 The 'Preview My Results' button will show you a preview of your final list. When clicked, the plus sign below this button indicates the number of phone numbers, doors, and mailboxes on your list.
Editing the list
You can further edit your list by clicking on the 'Add Step' button. This will give you a list of options to narrow down or expand your list using different criteria.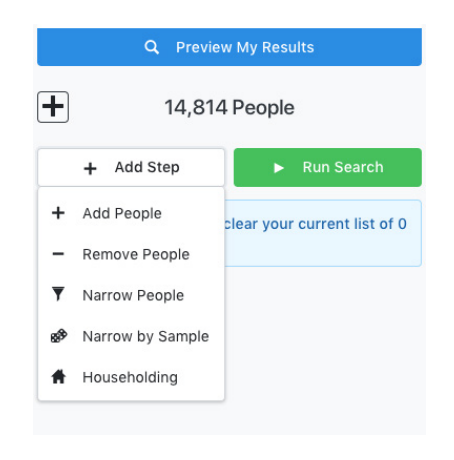 Viewing the list
After performing all the searches and finalizing your list, hit the 'Run Search' button. Then, the 'My List' page on VoteBuilder shows you your entire voter list with options to perform different actions.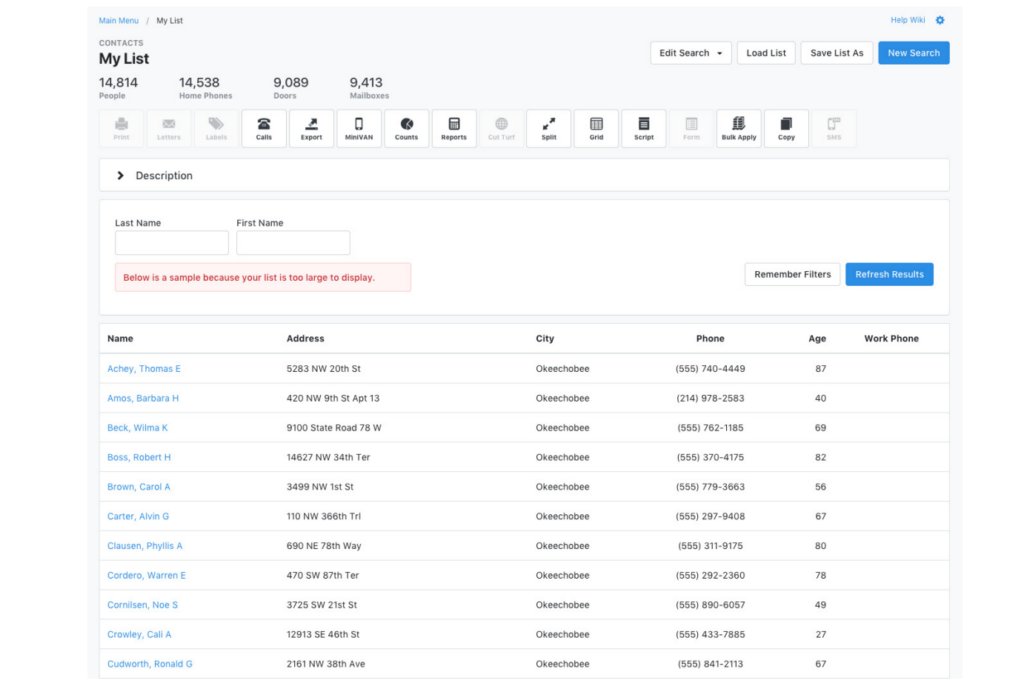 Saving lists
Select 'Save List As' from the top right corner of the My List page. You can save a list as a fixed list or a dynamic one. In the latter, your list gets updated when the voter information changes in the database.
Important reminder: Ensure you include the voters' primary contact information on the list so that when you run a phone banking campaign on CallHub, all the details are readily available. You can choose to import any additional information, such as the address, email ID, notes, polling information, and more. We recommend importing as many details as possible, so your calling campaigns are highly targeted and personalized.
Integrate with CallHub
To integrate VoteBuilder with CallHub, you will need your VAN API key. If you do not have the VAN API key, here's a guide to help you.
Next, go to the 'Integrations' tab from your CallHub Dashboard, and then click on 'Connect' under NGP VAN.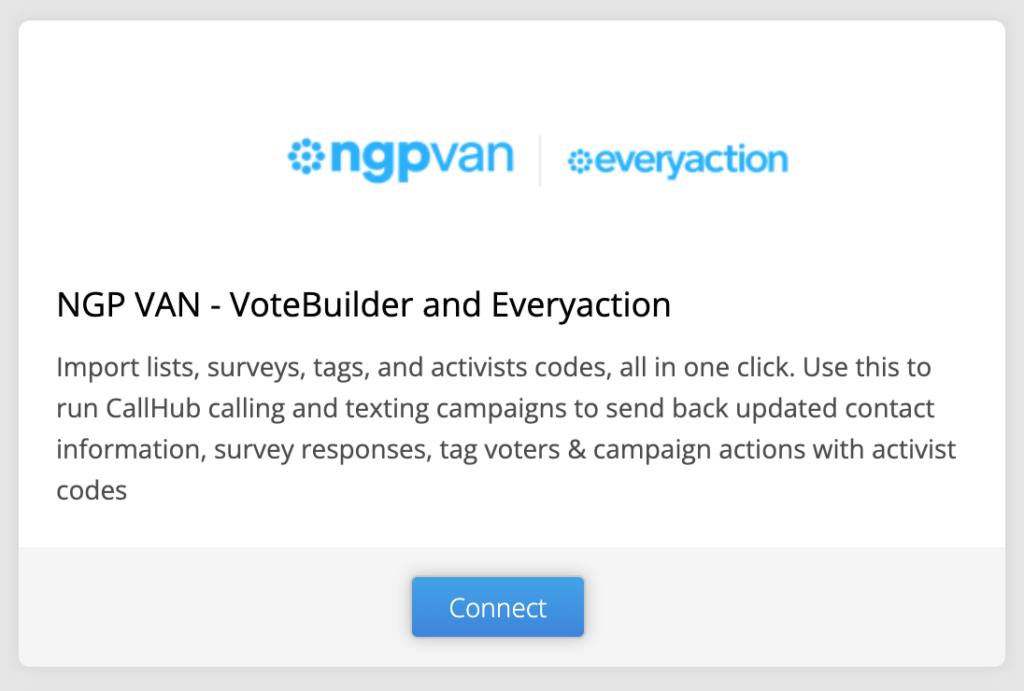 You can connect using My Campaign or My Voter mode. So, to import your voter list, you use the My Voter mode.
Note: Your API key used for the integration should have the permission to import data from NGP VAN to CallHub. You can do this by reaching out to VAN Support (

[email protected]

)
After your connection is successful, you'll see an option to import your saved voter lists into CallHub.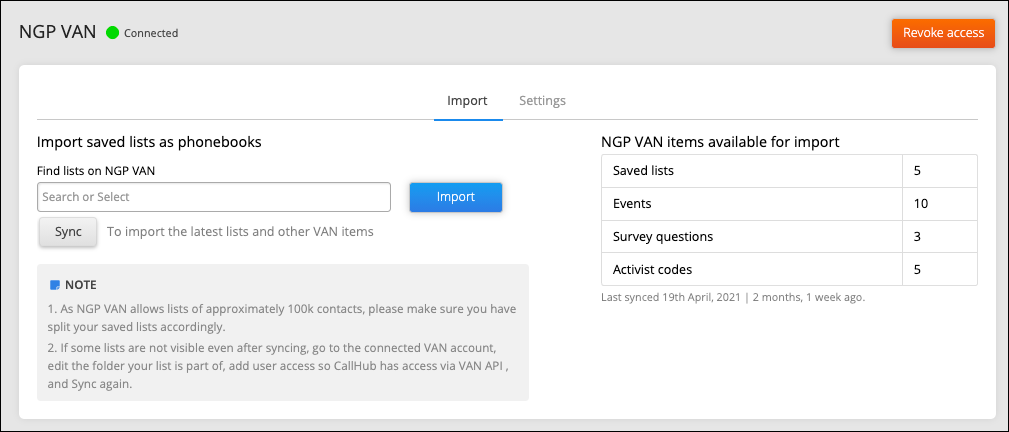 If you don't see your saved lists on CallHub, you will need to grant permission for the same on VoteBuilder.
Next, map the fields you wish to import against those of CallHub.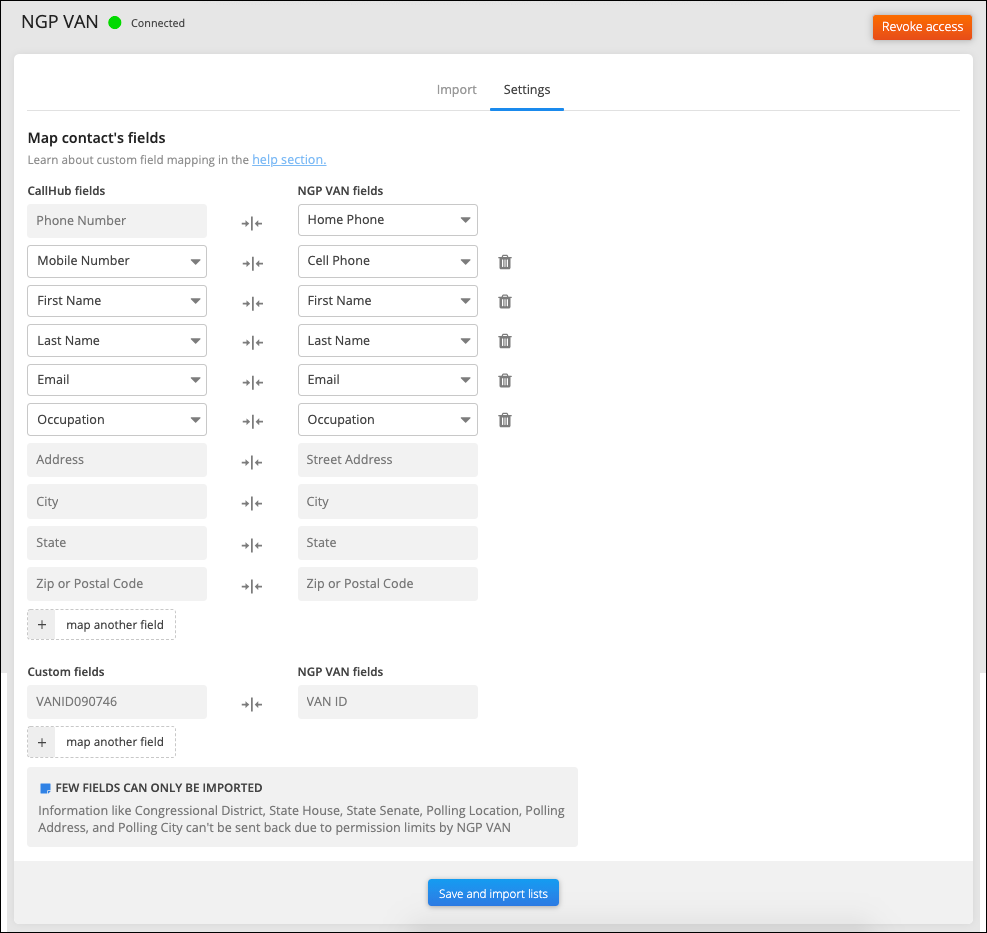 A few fields are read-only, implying that you can import them into CallHub, but the system cannot sync the data back into NGP VAN. These include Congressional District, State House, State Senate, Polling Location, Polling Address, and Polling City.
To see all the other nuances involved, check out this guide to integrating CallHub with VoteBuilder.
Integrate with VoteBuilder here.
Create your campaign
CallHub lets volunteers make calls from anywhere in the world with an internet connection. All they need is either a smartphone, laptop, computer, or tablet. We also have a mobile app for volunteers to make calls.
Step 1: Rent a number from the 'Number' tab from your CallHub Dashboard for the campaign or use an existing number. This will be the caller ID for your campaign, meaning your contacts will see this number when they receive your call.
Step 2: Your voter list imported from VoteBuilder gets added as a contact list on CallHub. You can edit each contact in your contact list anytime by clicking the pencil icon at the right-hand corner of every row.
Step 3: Create a Call Center campaign from your Dashboard.
Step 4: Add your phone banking script. CallHub allows you to add both linear and branched scripts into your campaign. A linear script helps you get through simple conversations, and a branched script is ideal for complex ones.

Using linear scripts
Here, you have three options.
Campaign brief: Use this to add an introduction or campaign-specific information for your agents.
Question: Add different survey questions. You can also import them from VoteBuilder. On CallHub, you have the option to record three types of responses to survey questions.
Multi-choice responses
Numeric responses, or
Regular responses.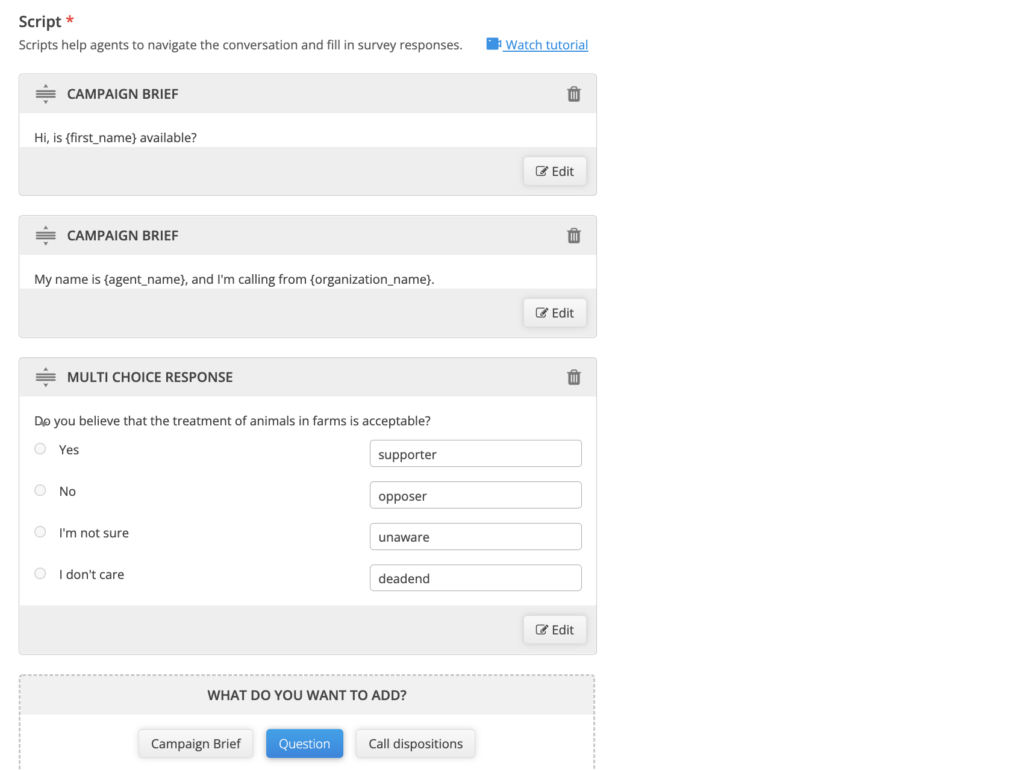 You can edit your scripts anytime by clicking on the 'Edit' button on the bottom right of each script. If your campaign is live already, then you can pause the campaign to make edits.
Call dispositions: These are tags that describe the outcome of a call, so your next step is clearly understood. The image below shows the default call dispositions available. You can also add custom dispositions.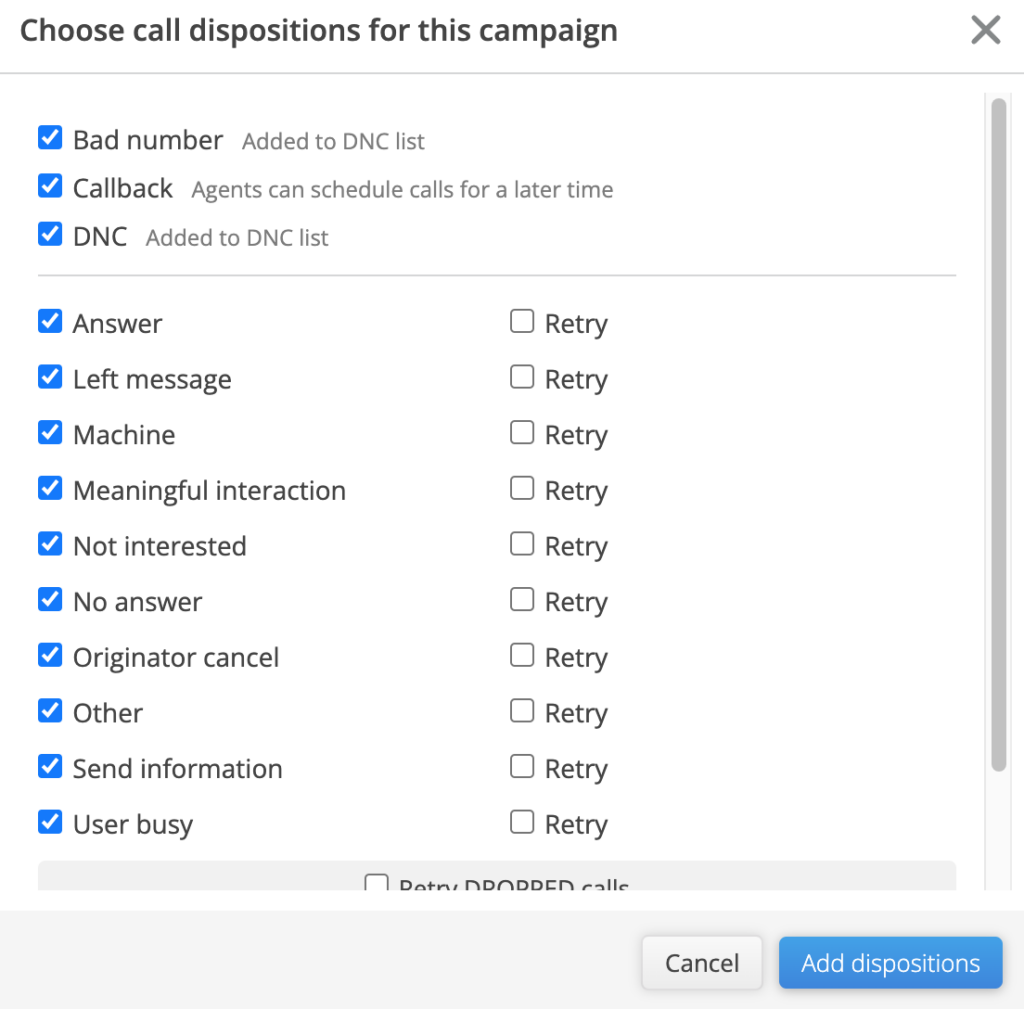 Using branched scripts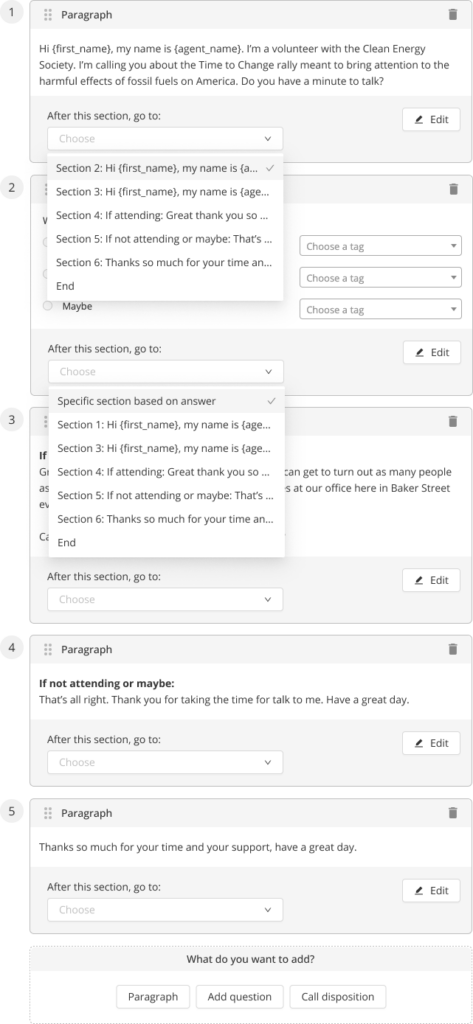 Branched scripts are responsive to the answers your volunteers receive on calls. That is, each of your voter's responses will inform the next question.
For example, if a voter's response to one of your questions indicates that they're a strong supporter of your candidate, the next question could prompt to ask if the voter would like to volunteer on behalf of the candidate. For the same question, if the voter says they are not yet sure, the next question will prompt a question about a cause they care about.
CallHub will direct agents to responses based on the contact's answers to previous questions. Agents will not have to scout through a static script to look for appropriate responses. You can draft the scripts and their branches when creating the campaign.
To link each response to the next question, use the dropdown menu under the question to select the next one in the sequence.
This makes it easier for volunteers to adapt to every situation they encounter during a conversation.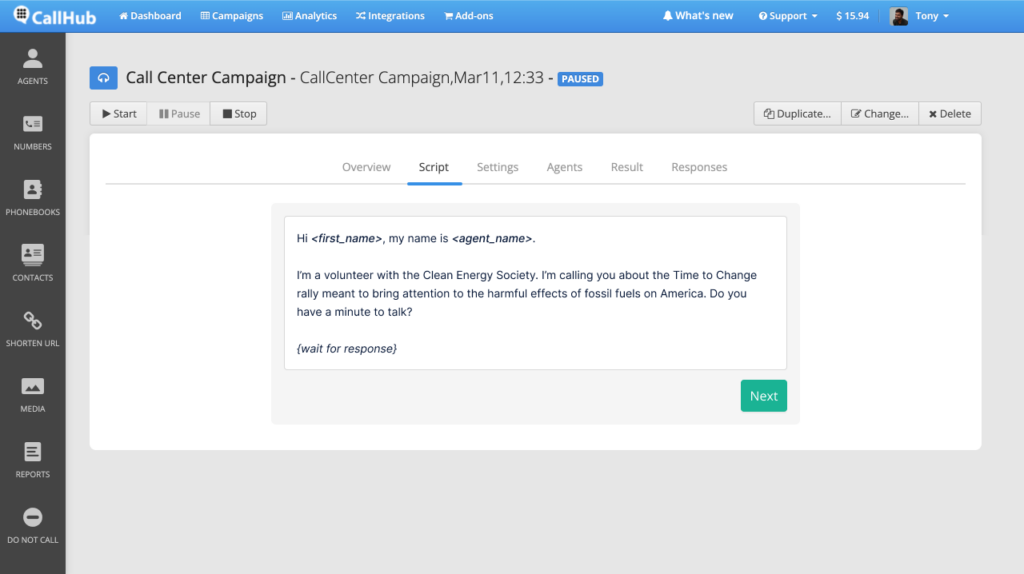 Branching Scripts also let you use Call Dispositions which are accessible throughout the call.
Note: All the survey responses and tags you record on CallHub during your calling campaigns get synced with your VoteBuilder account, updating all the information in real-time.
Step 5: Choose a dialer depending on the use case. CallHub offers a Power Dialer, Predictive Dialer, and Auto Dialer. They offer unique benefits, and their fit depends on your campaign specifics like the calling team's size, contact list size, nature of the campaign, and so on.
Step 6: Enable 'Answering Machine Audio' to play a pre-recorded message whenever you encounter an answering machine.
This ensures your volunteers don't waste time reaching voicemails and your voters get your message even when they're not available.

You also have the option to enable 'Patch-through Calling' to connect your supporters with decision-makers in your party during the call.
Step 6: Enable Inbound Calling so if a voter misses your call and calls you back, they get connected with a live agent.
Step 7: Assign agents for the campaign. Then, you have the option to
Enable 'Record all calls' to record all the answered calls.
Enable 'Add notes' to allow agents to add notes after every call, so they can record important details from the conversation which get synced with your VoteBuilder account, letting you access them in your future campaigns.
Step 8: Schedule your campaign in either a timezone of your choice, for instance, America/New York, or your voters' timezone. Remember that scheduling your calls as per your voters' timezone works the best when you have the State ID of your voters.
Pick a start and end date and time between which you want your campaign to run. Your voters will receive calls only during this window.
CallHub allows you to call your voters in their timezone, so you stay compliant with the TCPA guidelines and reach them at an appropriate time.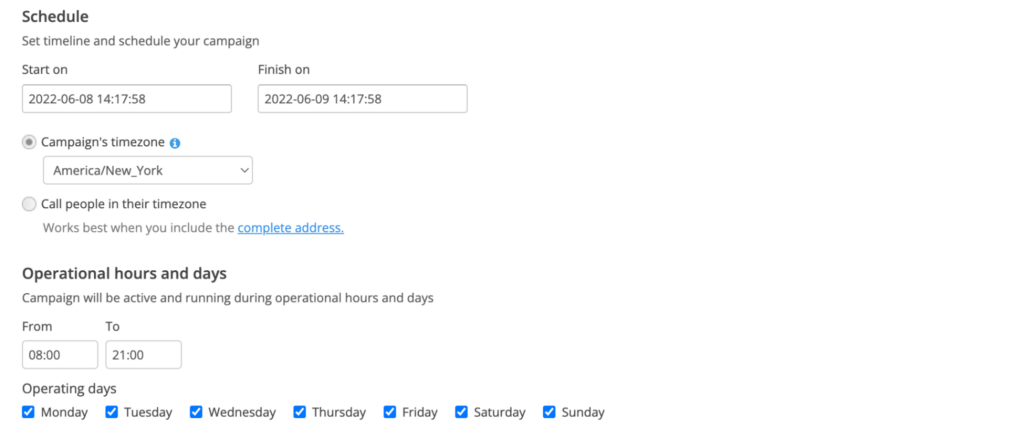 Here's a simple guide to starting phone banking on CallHub.
Reach out through texting
CallHub's Texting from Call Center service lets you instantly drop a text for unanswered calls or follow up with additional details through a text. You have the option to add a set of text messages that your agents can choose from depending on the conversation.
Introducing yourself through a text when they don't answer your call increases the chances of them answering your call the next time you call them.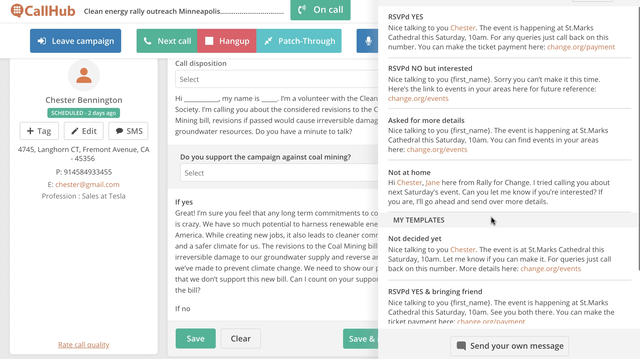 Invite volunteers to the campaign
You can either import your list of volunteers from VoteBuilder using the 'My Campaign' mode or add volunteers directly on CallHub.
Let's see how.
To add volunteers as 'Agents' on CallHub, head to the 'Agent' tab from your CallHub Dashboard.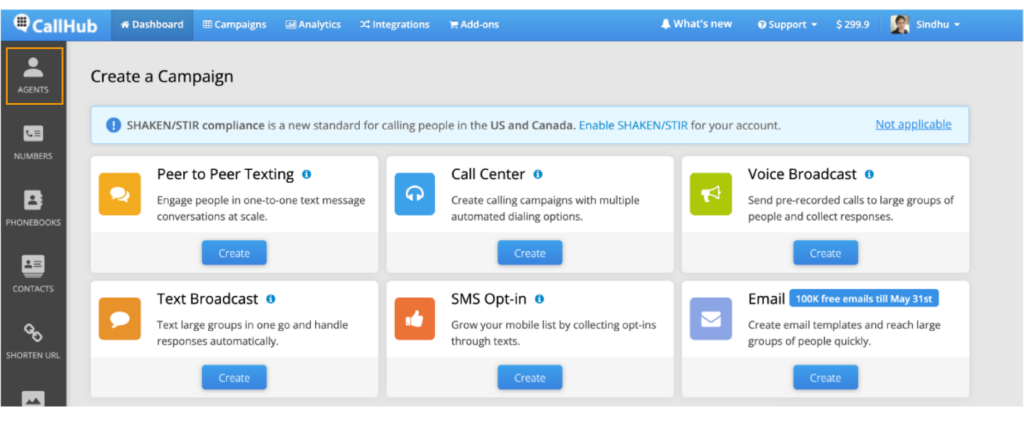 Once you've clicked on '+New Agent', you will see the option to add a username and the email address of a volunteer.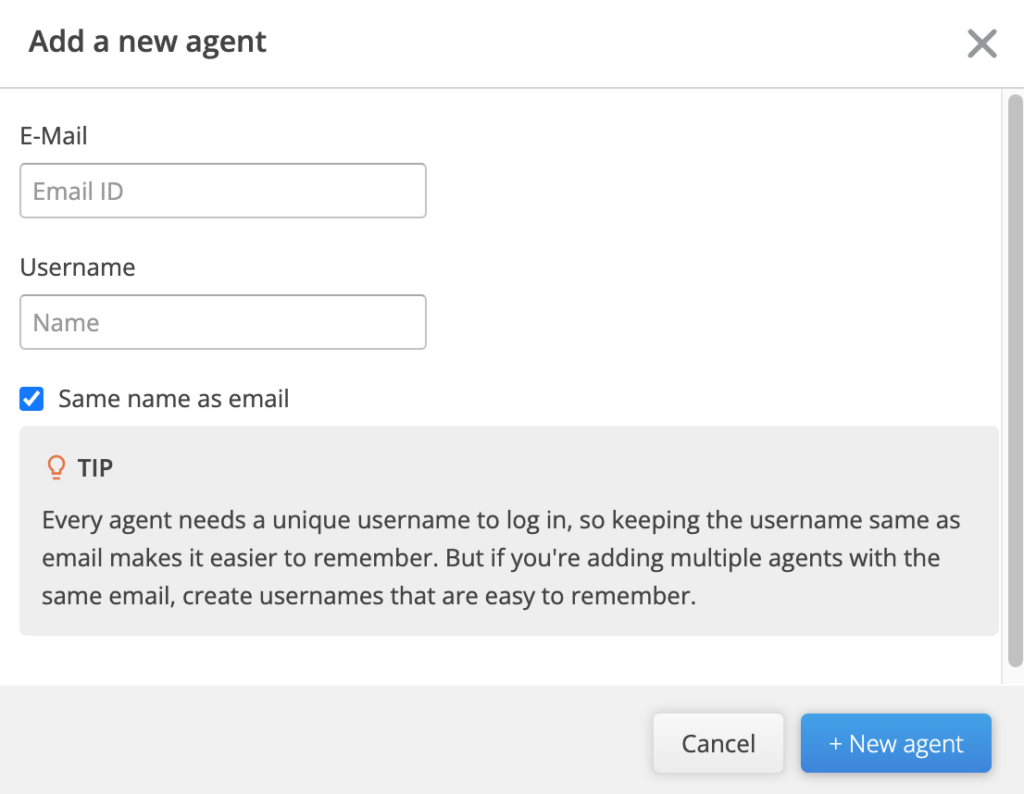 Make sure the email ID you add here is accessible to your volunteers as a validation link will be sent to this email address.
CallHub also lets you recruit volunteers using a sign-up form that you can use on your website and other marketing channels. Go to your profile>Settings>Embeddable Forms to access this form.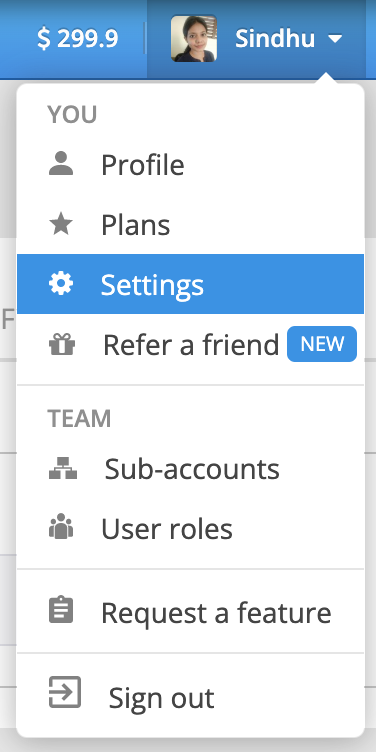 When you embed this form on your website or any other channel, any volunteer that signs up through the form gets added as an agent for your campaigns on CallHub.
The agent will receive an email with an account activation link, which they can use to activate their agent accounts on CallHub. You can also group volunteers into teams and assign this team to the campaign you created.
Once you create the agent accounts, assign them to the campaign you just created. When they log in, they'll be able to see the campaign you added them to and start making calls.
Logging in to your campaigns from anywhere, anytime, is easy with CallHub's mobile app. All your volunteers need is their smartphone with an internet connection, and they're good to start.
Track your campaign
The manager can monitor the progress of your campaign through a detailed dashboard and use it to optimize campaigns proactively.
Here are some important actions you can perform using our reporting tool:
Gamify campaigns and reward agents by comparing their performance against one another with an Agent Leaderboard
Understand the working patterns of your volunteers by looking at when they sign in to your campaigns.
Understand the quality of your contact list by looking at the answer rate.
Identify the best days and times to make calls by observing the answer rate patterns.
See your voters' engagement level using the 'Average call duration' metric.
See the campaign's progress with the 'Number of calls made'.
Check out this guide to see how you can improve the performance of each metric in your phone banking campaign.
Why CallHub
You need a calling tool that is easy to use; A tool that is highly cost-effective, and whose pricing can be in sync with your campaign. CallHub is known for its ease of use among all age groups and its highly flexible pricing plan.
Create an account now for free and run a campaign.
Featured image: Phone conversation photo created by wayhomestudio