Even the most established realtors and brokerages need a real estate marketing plan to keep their business and listings growing. The planning involves:
Developing an overview of the year ahead.
Pinning down your target audience.
Setting goals to overtake the last cycle's results and
Using strategies that have numbered in success.
So, how to market your real estate business? This post outlines a practical template for a realtor marketing plan.
What should a real estate marketing plan include?
A good marketing plan for realtors attracts buyers, sellers, and lessors and puts considerable faith in them about your proficiency and expertise.
Building such a real estate marketing plan involves ten steps:
Studying existing marketing channels.
Analyzing marketing strategies of competitors.
Defining your target clients.
Determining your goals Vs brokerage goals.
Consolidation of these elements into your messaging.
Choosing marketing channels that work.
Planning open houses.
Using personal communication for nurturing.
Mapping out your marketing calendar.
Regularly reviewing performance.
Let's look at each point in detail.
Study your existing marketing channels
Real estate marketing can never be a static exercise. It evolves continually and demands consistent auditing to ensure no strategy, channel or messaging becomes redundant. For a marketing strategy that is up-to-date and fruitful, you must review your existing channels.
It's a no-brainer that realtor marketing strategies involve the continual leveraging of successful channels and letting go of those consistently failing. To determine whether a channel is worth continuing, audit the following:
ROI: If a channel's primary goal is to bring revenue, audit whether the investment–return ratio follows the desired trajectory. For newly employed channels, the balance may be tipped. However, if it shows the desired growth rate (comparable to market standards and influences), it is worth continuing. If the projections show less than expected returns consistently, best to nip the channel in its bud.
If a channel is giving results desired apart from revenue: The end goal of your real estate marketing plan will always be revenue. But some channels aim to drive that goal in indirect ways. For example, billboards on highways are usually put up not to bring business but as a memorable touchpoint to prospects. So, even if that billboard isn't resulting in new clients directly, keeping it intact in high-traffic or slow-speed areas is worthwhile.
Affinity shown by target audience: Do your clients mention they appreciate your broadcast texts about real estate news? Or did they fleetingly mention they saw your billboard and felt happy to do business with such a prestigious company? These are signs that your marketing is working– irrespective of the ROI. On the flip side, if clients consistently ask you not to put up their property details on social media, it is time to bid that strategy goodbye.
Consistency in branding and messaging: Consistency in branding and messaging allows folks to identify your literature easily. Eventually, regular viewers start associating the colour palette, iconography and messaging with your brand almost instinctively. Century 21, a real estate company, redesigned its brand identity and flooded marketing channels with the black and golden logo and clean font. With sufficient touchpoints, a viewer can easily associate the logo and colour scheme with Century 21.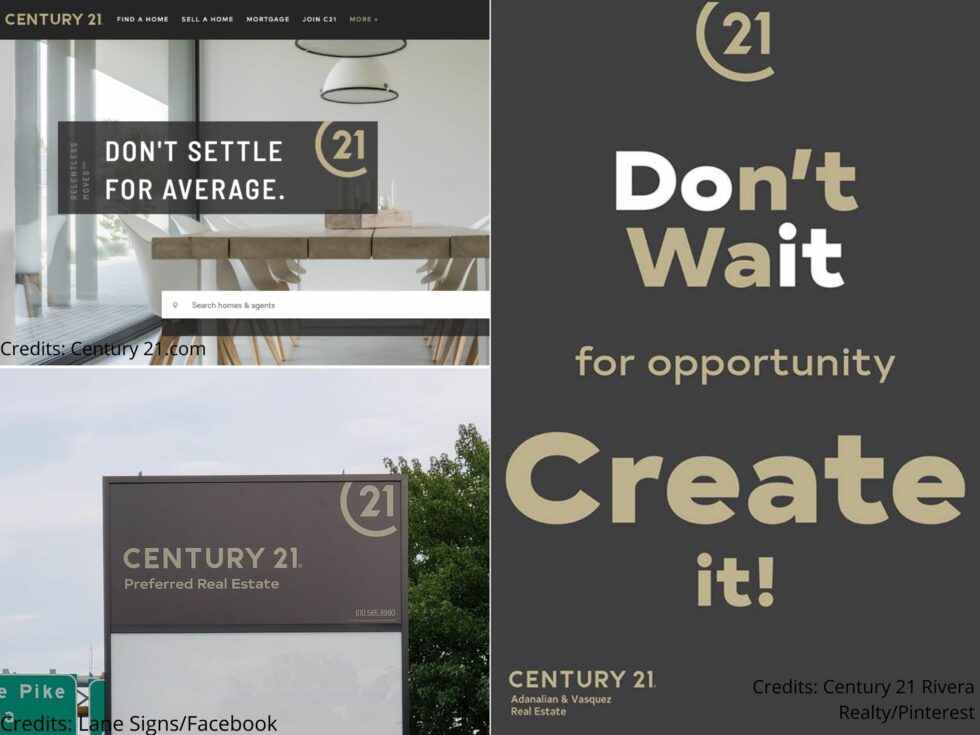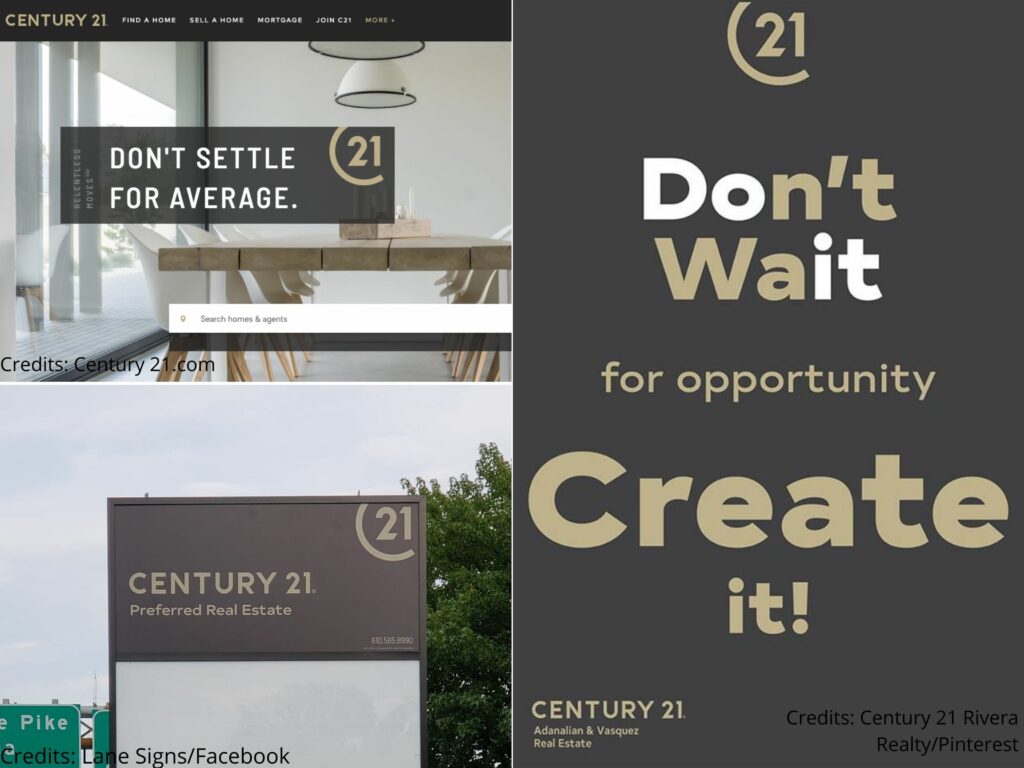 Study the marketing of your direct and biggest competitors:
In a nutshell, you must ask, What are they doing better, and how can you implement that?
Successful marketing of your real estate business depends on two things:
How you adopt trending strategies and technologies.
What you do uniquely.
Studying your competitors will give you an understanding of the former. To ensure you don't "copy" their unique strategies, make sure to investigate several competitors and mark unique strategies as "learn from, but don't replicate."
Here's a quick categorization of your real estate competitors. Basic research involves researching only direct competitors. But for more advanced research, you can tap into the strategies of indirect and distant competitors (in that order).
| | | | |
| --- | --- | --- | --- |
| | Identical property | Similar property | Very different property |
| Same locality | Direct competitors | Direct competitors | Indirect competitors |
| Neighbouring locality | Direct competitors | Indirect competitors | No competition |
| Similar locality, different geography | Indirect competitors | Distant competitors | Distant competitors |
| Very different locality | Distant competitors | Distant competitors | No competition |
Define your target clients
Defining your target clients includes studying your current regular clients, identifying common or desirable traits and creating client personas based on their characteristics.
The pointers include:
Age
Location (of residence and professional operation)
Income brackets
Asset listings
Family size
Buying experience
Online and offline search criteria.
Psychographics such as interests, aspirations and activities.
Here are two sample personas: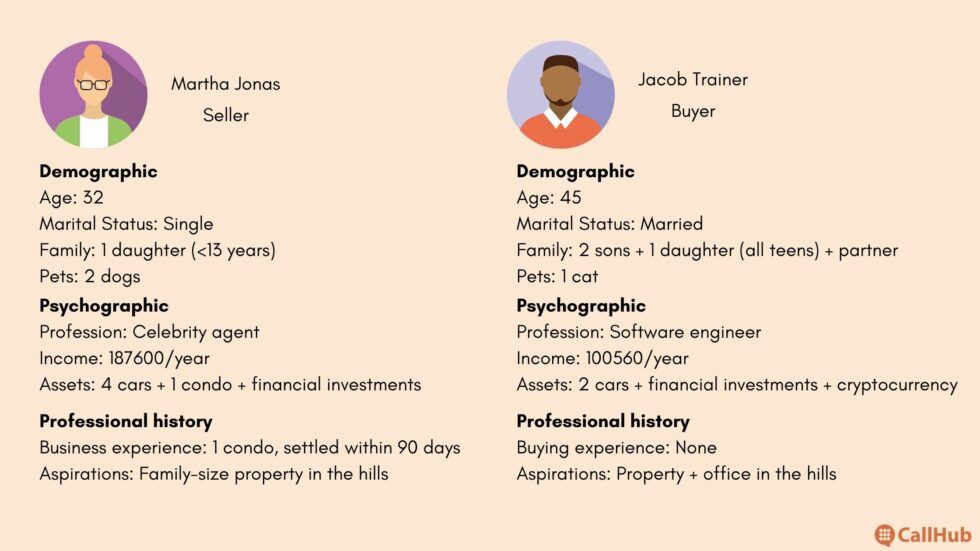 Since you will be marketing to such personalities, it is not enough to only mark their traits. You must closely study what made similar personalities do business with you, their expectations, and what they would like to improve. The easiest way is to reach out to existing clients and ask them to fill out a survey over text, call or email.
Base your real estate marketing plan and targeting on the answers of each personality type.
For instance, if female house owners above 30 years appreciate social media updates and male owners above 50 years prefer phone calls, segment and target your marketing efforts accordingly.
Determine your goals and brokerage's goals
Study and write down the trajectory of brokerage and those of your employees and agents. Where do the two goals align? Where do they sunder? Such a definition of overall goals for the next cycle will help track your course and market your services accordingly.
For instance, say your brokerage is based in the city, and the market there seems down, forcing the company to pull down on its financial goals. You can either
Bring down the KRA expectations of your agents or
Market your services in unchartered territory (the suburbs, perhaps?) and launch a new campaign.
Realtors will ideally be looking at a constant growth in their GCI. By aligning your real estate marketing plan with agents' goals, you ensure synced efforts to grow your business.
Consolidate the above elements into your messaging
Your past records, target audience and goals should determine the messaging of your real estate advertising. They should reflect
The USP of your services.
How it fits with the worldview of your target audience.
This may sound complicated. But the messaging can be super simple, and yet check all these boxes. Take an example from Canada-based Frank Leo. His tagline, which shows up prominently on his website, reads, "Your home sold or I'll buy it! My guarantee promises results."
It gives you the confidence that his services will yield results, and even if not, rest assured, you won't incur losses. The tagline:
Shows that most of his past properties were sold in time.
Appeals especially to sellers who do not possess multiple properties (and can thus afford some laxity in selling this one).
Shows the focus on attracting sellers more than buyers.
Choose marketing channels that work consistently
Your choice of marketing channels, of course, includes those that have worked for you previously. Additionally, pick from the ones below if you haven't tried them already:
Advertisements on traditional media (e.g., television, radio and newspapers).
Billboards and giant public posters.
Direct mail and yellow letter marketing.
Email and newsletter marketing.
Bandit signs and yard signs.
Social media content.
Blogs and expert articles for websites, magazines and news channels.
PPC advertising and website squeeze pages.
Referral programs.
Plan open houses irrespective of other marketing channels
Open houses are non-negotiable for real estate agents. They provide an opportunity to show off a property to potential buyers and introduce yourself to prospects who may be interested in other listings. For effective real estate marketing, plan these two types of open houses regularly:
Buyers' open house: To display a particular property, hook potential buyers and introduce yourself to other potential clients.
Brokers' open house: To show off a property to other realtors and for networking.
Make sure to distribute your business card, booklets for the visited property, and brochures for other properties that are similar and in the same locality during the event. Marketing is about finding the right opportunity to promote as many prospects as possible, and an open house can act as that opportunity.
Pro-tip: A marketing plan is not just about how you market your listings or services but also informing your current clients about the same.
Why?
Because sharing this information shows your prospects how thorough your plan is, enabling trust in you. They will see that you are taking the best steps to ensure business for them. If there's no success, they will also be ready to bargain further on your terms since sharing your marketing plan shows that you did try your best.
Use personal communication to nurture leads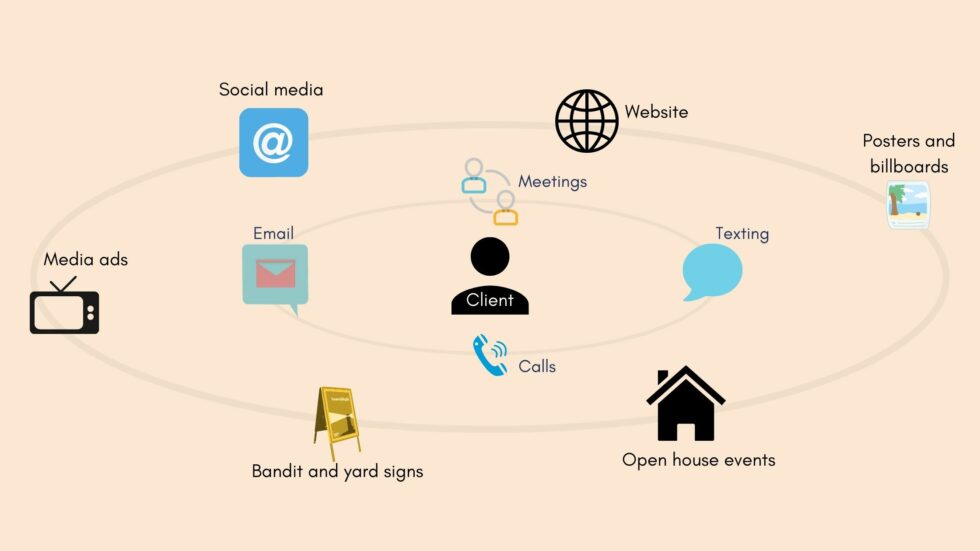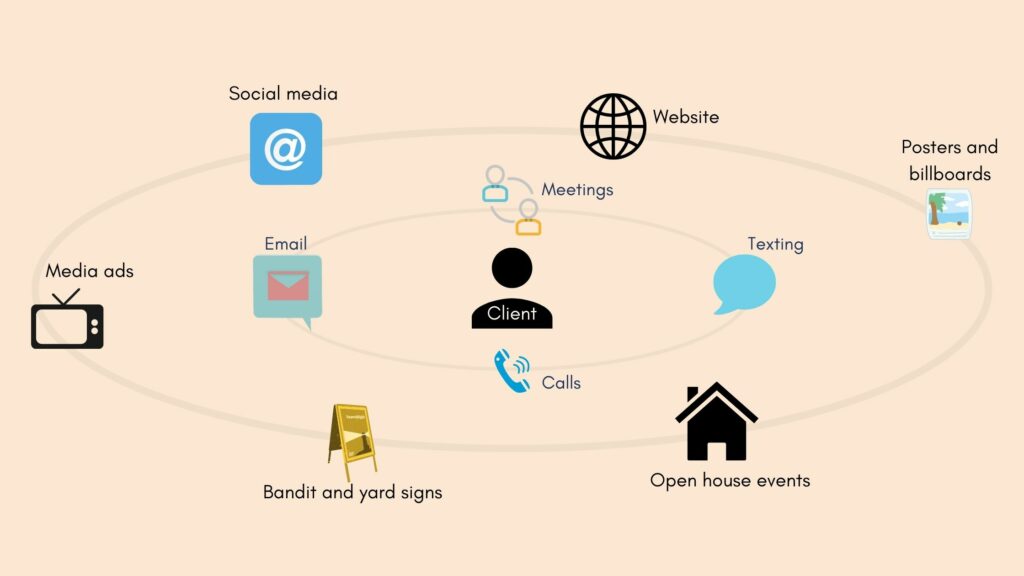 Marketing channels like media advertisements, posters and billboards, and social media campaigns attract prospects on a large scale. They are necessary to spread the word about your business. However, for regular conversations, like conveying a price offer or notifying about a visit, you need more personal and quick channels.
The four primary methods of personal marketing are:
Emails
Personal meetings
Text marketing
Calls.
Emails are a must for realtors to send and receive official documents. Meetings are reserved for showing properties or discussing serious updates or business communications.
However, for regular conversations, like conveying a price offer or notifying about a visit, you need more personal and quick channels. These typically include calls and texts.
Calls: It's a no-brainer that calls are an essential part of bargaining and confirming offers. But, they also need to be part of your marketing plan. How? For one, you can request the phone number of leads visiting your website or ask interested parties to drop a missed call via advertisements. Once you have their number, call them to begin your nurturing process.
Texts: In 2020, 65% of clients said it is important for their realtors to send listings and communications via text. This shows the importance of this communication method once a lead has turned into a confirmed client. By starting text communication early on, you show them that their needs and expectations are met with you.
Texts work two ways:
When you need to talk about something particular related to their property.
When you want to share general news and updates with multiple contacts.
For the former, personal texts from your phone will suffice. Here are some compelling real estate text scripts for your reference.
However, the latter requires sophisticated text marketing tools. Get the leads' permission to send broadcast messages by asking them to opt-in with a shortcode and a keyword.
Once they send in the keyword, begin the nurturing process by requesting their personal details (e.g., name) and business requirements (e.g., buying/selling). To learn more about how to use SMS opt-in, follow this link.
Map out your calendar
The last step in creating a real estate marketing plan is to lay out a calendar for the upcoming cycle. This includes pinpointing various events and targets and mapping marketing strategies around them.
For instance, say a new listing has a target of selling in three months. What events do you plan to ensure maximum interest and the most relevant offers in that time?
Additionally, what events or marketing strategies do you plan for the next year that are listing agnostic? Some examples include festival parties and observances that have traditionally resulted in increased leads.
Map them out in your calendar to strategize your marketing plan around them.
Carry regular reviews of your marketing practices
When crafting a real estate marketing plan, you study your past cycle and determine what to take and what to trash. However, this study shouldn't be entirely retrospective. Even when the cycle is in progress, regular reviews help you understand the trajectory of your on-going strategies.
The review must consider factors such as placement of advertisements, product description and price range. Overall, these factors can be counted as the 7 Ps of marketing, namely:
Product: Are your marketing strategies doing justice in portraying the kind of properties you deal with?
Price: Do they reflect your typical price ranges and target audiences suitable for them?
Place: Have you defined your geographies and adopted strategies that suit your target audience situated there?
People: Are your strategies and channels attracting the right audiences?
Promotion: How frequently have you planned your marketing and advertising campaigns? Do the campaigns cover all bases (e.g., different property types)?
Positioning: How are each touchpoint and ad location performing?
Packaging: Does the packaging (i.e. branding and messaging) align with your goals and identity?
The way forward:
Creating a real estate marketing plan gives direction to brokers and realtors about how, when and where to market your business. It also gives you space to iron out creases in the strategies in time.
Your end goal, after all, is to drive more leads and nurture them to do business with you. Calling and texting software makes this easy by:
Integrating with your CRM and allowing personalization of conversations.
Scheduling touchpoints.
Sharing broadcasts via text on scale.
Try CallHub's calling and texting tools, tailored for real estate businesses for free here.

Feature image source: Isaac Smith/Unsplash.