Text blast marketing got Starbucks into the good books of their customers. In light of Starbucks taking the flak for its pollution, the coffeehouse chain started the "Green Lid" campaign in 2018. Their coffee cups had a shortcode and keyword so people could learn about the campaign by joining their texting list.
Just like that, Starbucks could use text broadcast marketing to talk about their efforts towards sustainability with thousands who opted in.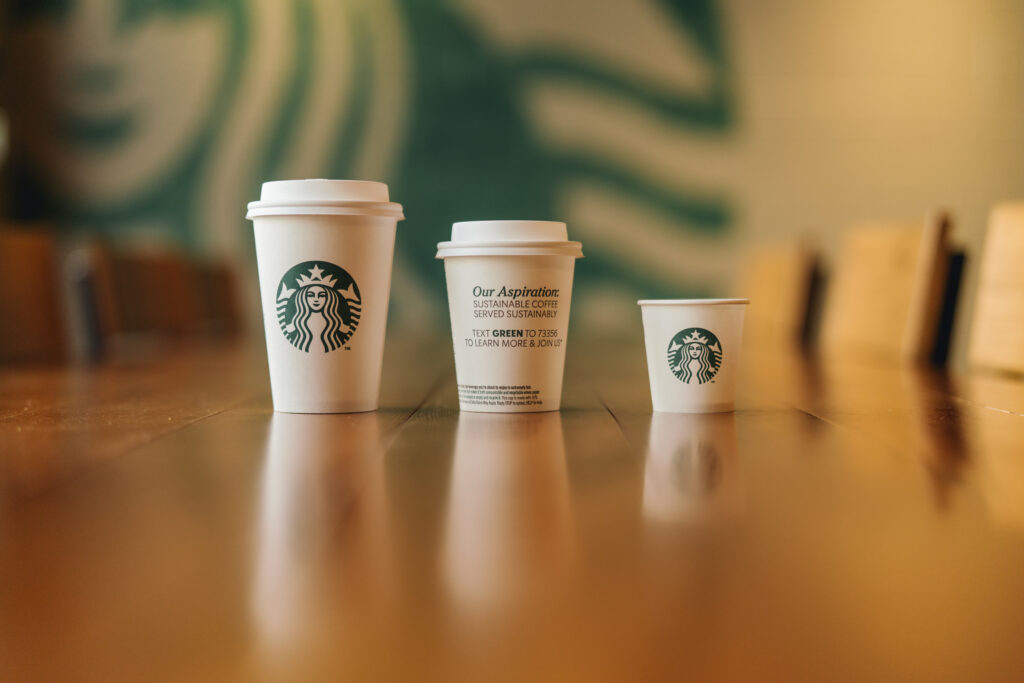 Image Source: Starbucks
This isn't the first time that Starbucks has used text blast marketing to its benefit. And it certainly isn't the last.
Is mass texting for marketing so beneficial that the world's largest coffeehouse chain uses it actively? Absolutely! Read on to know how you can use it too.
Why should I use text blasts for marketing?
Whether you are a small or a large organization, you want to keep in touch with your customers and supporters. Text blasts provide a quick way to remain relevant to your audience even from a distance. The advantages of mass texting for marketing include:
Texts have a high open-rate
Customers prefer SMS for promotions
Text blasts help you reach many people in no time
They have high deliverability
With texts, you can allow your audience to reply
Let's look at each point in detail.
Texts have a high open-rate
In 2019, the average American spent 3 hours and 43 minutes on their phone every day, marking the first time when more time was spent on mobile phones than on TV.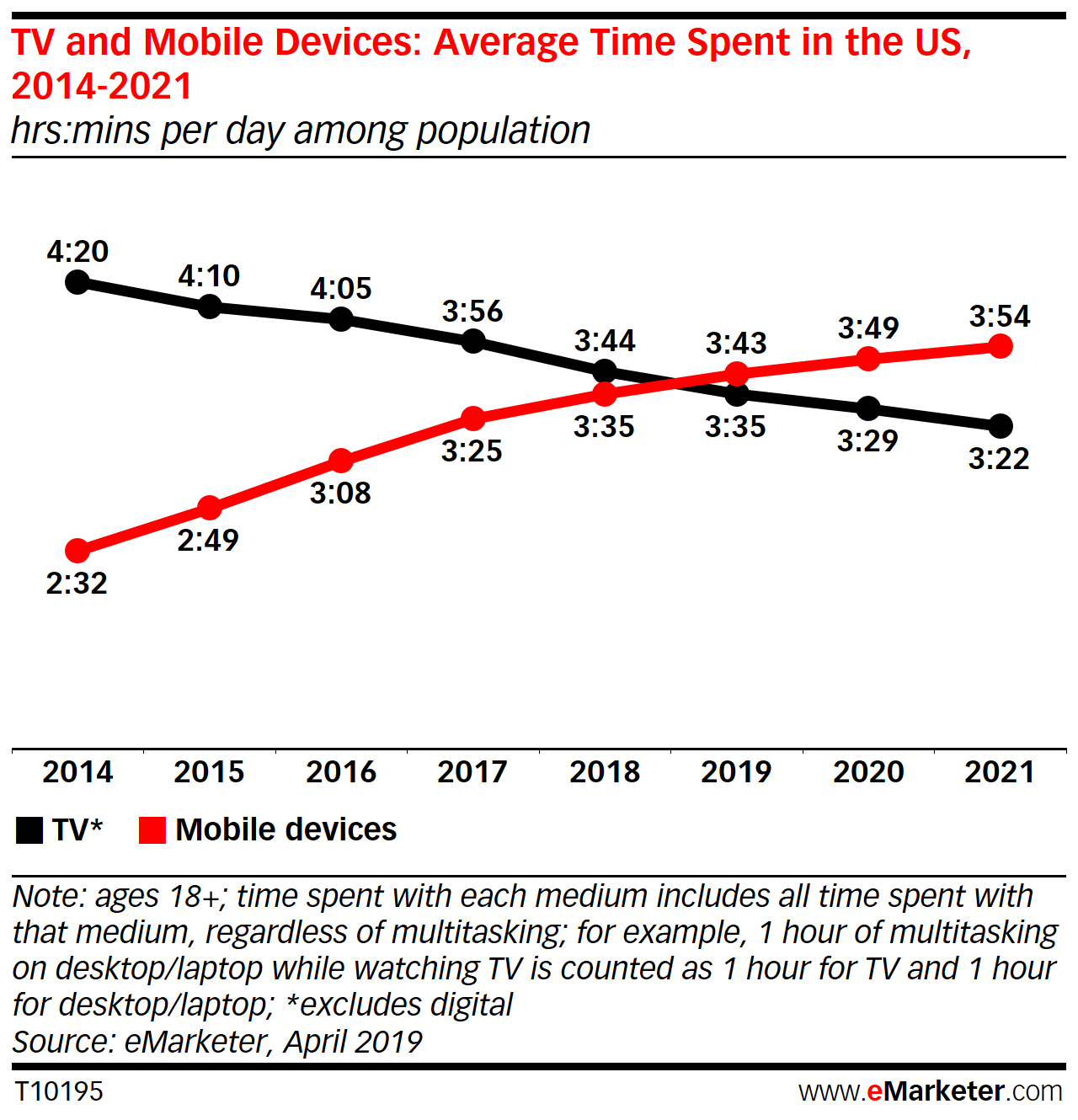 Is it a wonder then that almost all text messages (98%) are opened?
In comparison,
Customers prefer SMS for promotions
When it comes to advertisements and promotions, 54% of consumers prefer to receive updates via text messages. By using mass texting for marketing, you listen to their choices, thereby increasing the chances of your text blasts getting the expected results.
Related Reading: Email Vs. Text – Which to use for your nonprofit?
Reach many people in no time
By definition, blast text messages or mass texting is a way of sending one text message to many people simultaneously and at the click of a button. While messaging apps like iMessage, WhatsApp, Telegram, or Facebook Messenger enable you to send messages to multiple recipients simultaneously, you are often restricted by two things:
You need to form a group or a "broadcast list" with intended recipients
You can only send messages to users of the same app
On the other hand, mass texting software lets you send a text blast to every mobile number on your contact list. Such text marketing software can send 3600 messages every hour! (360,000 per hour if you choose a shortcode instead of a phone number)
High deliverability
Last year, 96% of Americans owned a mobile phone.
Of these, 81% were smartphone owners.
Pew Research discovered that in 2019, 10% of Americans do not use the internet.
This is where text messages sprint ahead of other messaging platforms.
Unlike emails or social media, texts do not require a smartphone or internet connection to deliver. With text blast marketing, you can capture the entire market of phone users.
Allow readers to respond
Your audience cannot reply to advertisements on television, radio, or print media directly. However, text blast marketing allows you to reach a broad audience quickly and lets them respond directly.
True, emails and direct messages on social media also allow replies. But considering the low open rates on these platforms, advertisements via mass texting yield better communication with your customers and supporters.
These encouraging advantages of text blast marketing make it highly desirable. However, the channel is not without its challenges. Let's consider the obstacles to blast text messages to help you plan and overcome them.
Challenges of text blast marketing
The main challenges of mass texting are:
Strict regulations forbid you from texting without consent
Text blast messages cannot be entirely personalized or conversational
Building a customer database is time-consuming
How do we overcome these challenges? Here are some ideas:
Strict regulations forbid you from texting without consent
You require written or digital consent from your recipients for you to send text message blasts legally. According to the TCPA regulations, if you don't, your business or organization may incur a fine of up to $500.
To ensure compliance, you can start an opt-in text messaging campaign wherein you ask your customers and supporters to opt in to your marketing text messages.
Rent a shortcode and keyword from a text marketing software and request people to send that keyword as consent to your text blasts. You also required, by the TCPA rules, to send an acknowledgment or confirmation text reply. Like so: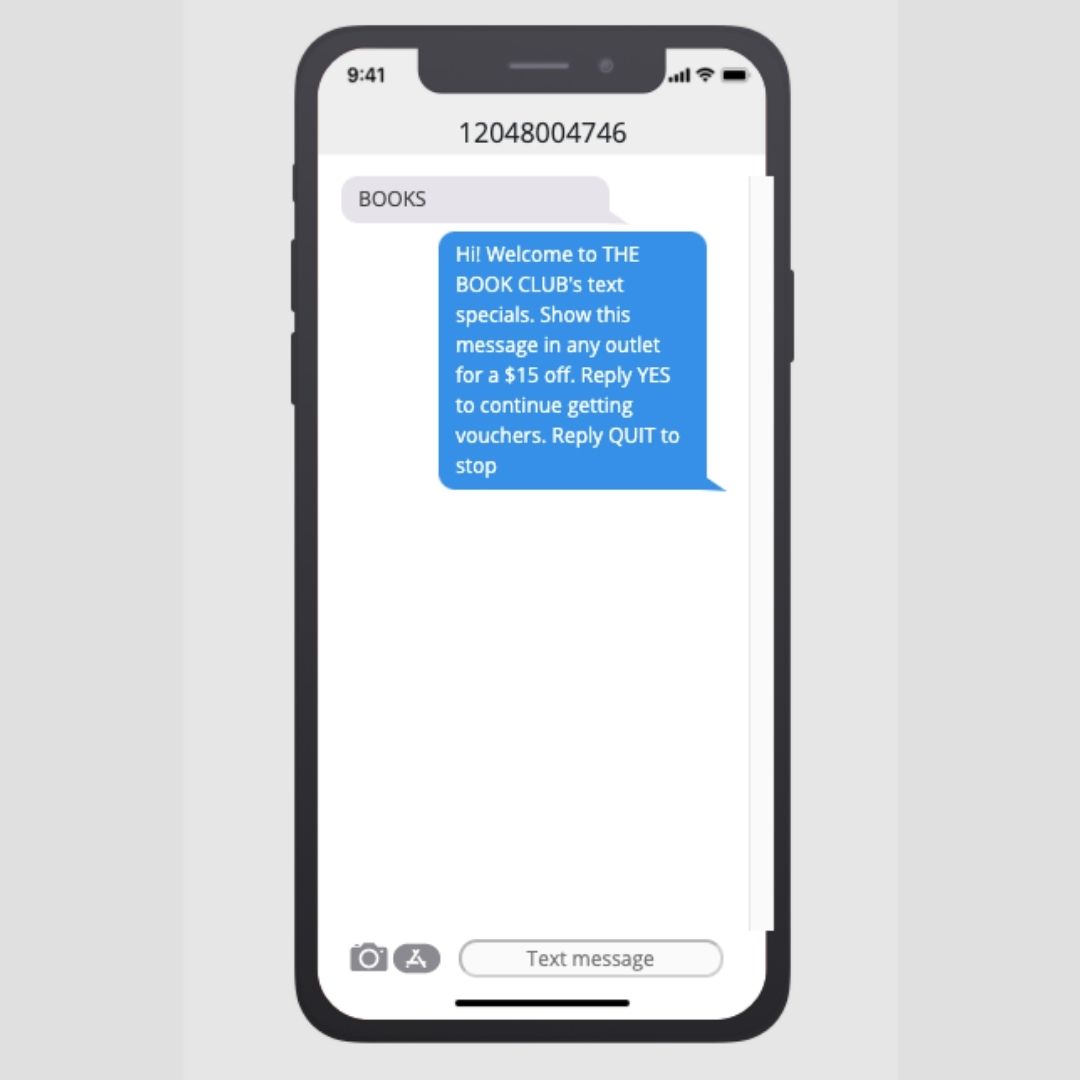 Text blast messages cannot be entirely personalized or conversational
Since you send out a single text to a large number of customers, the message content cannot be entirely personalized. But consumers demand personalization in marketing:
In a 2019 US study, 90% of respondents said they find personalized marketing messages somewhat or very appealing.
Another research suggests that 72% of consumers engage only with personalized marketing messages.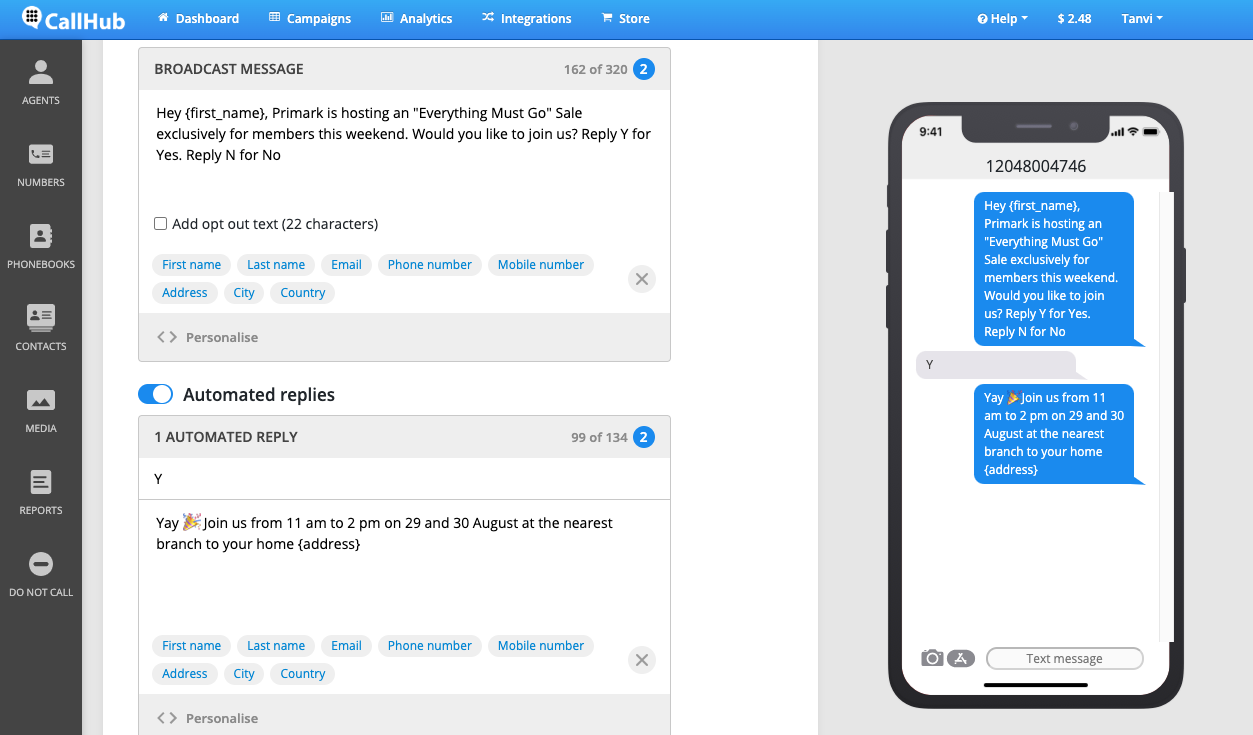 A mass texting software, like CallHub, can help you with this. CallHub allows you to personalize your text blast marketing messages with the name, phone number, and address of the recipient. You can add trigger keywords and send automated replies to them.
The use of first names, emoticons, text abbreviations, and such personalization makes your message more engaging and helps your audience stay connected.
The alternative to text blasts is peer-to-peer texting, where texting agents can have one on one conversations with contacts.
Building a customer database is time-consuming
To stay compliant with texting regulations for businesses and organizations, you need to build a customer database. This includes mobile numbers of customers and written or digital consent from them agreeing to receive text blast messages from you.
This process is time-consuming.
But the good news is that you don't have to wait until you have a complete database. Your contact list will grow over time. In the meantime, you can start text blast marketing even with a few consenting mobile numbers.
Use cases for text blast marketing
Mass texting is excellent for marketing purposes if you know just the right uses for it. As a preferred mode of communication and receiving promotions for many customers, text blasts add value to your marketing efforts. Popular use cases include:
Sales promotions
Coupon or incentive distribution
Service or product launches
Sending invites or reminders
Collecting feedback
Here's each use case in further detail:
Sales promotions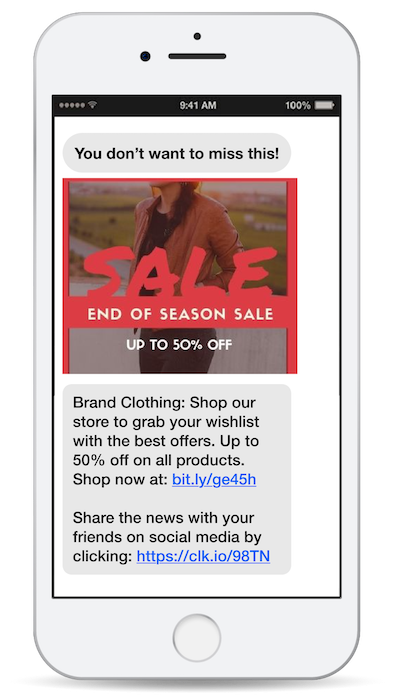 Use text blast marketing to notify your customers about upcoming sales. By going for MMS texting, you can add posters, images, or videos and make your advertisements pop.
However, it is important to remember that not all phones support MMS. Phones without the facility or those not connected to the internet may receive blanks or illegible symbols. In MMS marketing, it is a good practice to include all critical information about the sale in a text format instead of just adding it to the media file.
Coupons or incentive distribution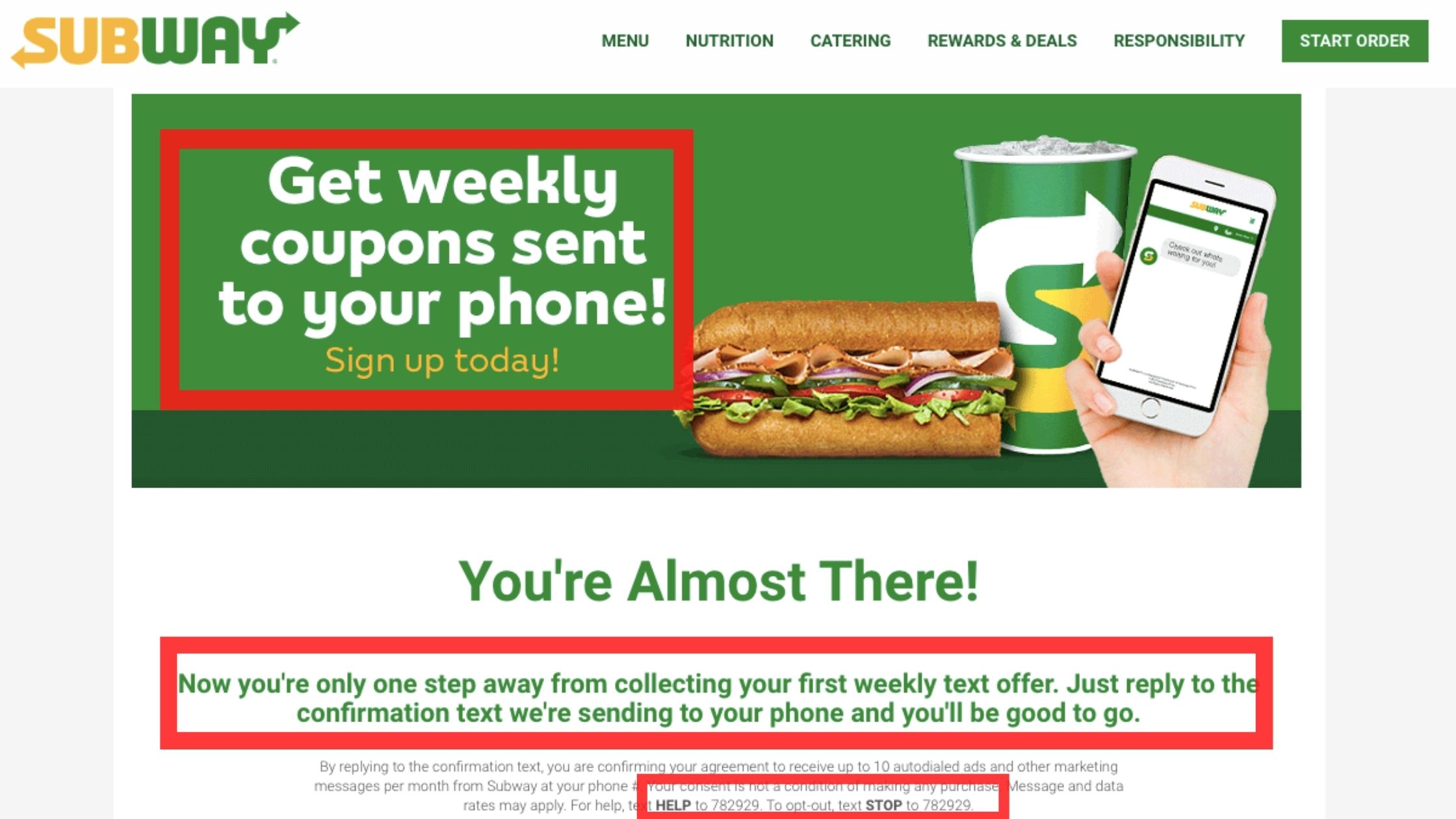 Image Source: Subway
People love receiving discount coupons or gift vouchers from their favorite brands. They look forward to these incentives when they sign up for your text blast list, these incentives.
Distributing coupons or gift vouchers is not only an excellent way of getting people to opt-in to your broadcast list but also to keep them from unsubscribing.
Service or product launches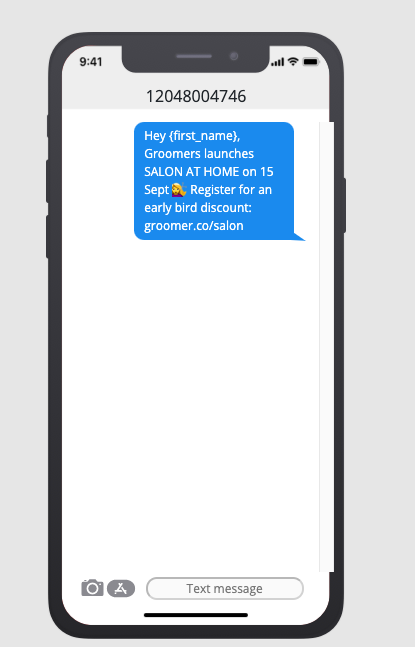 72% of respondents to a study confirmed they are more likely to purchase from a brand communicating about their products in real-time and via text messages.
Even with social media gaining popularity worldwide, texts remain a popular way for customers to communicate with businesses. When launching a new product or service, prioritize your loyal customers and let them know in advance.
Send invites or reminders
Text messaging makes it super easy to send invites and reminders to a large number of people with a single click. You can use bulk sms services to send a text to customers for:
Events
Fundraisers
GOTV efforts
Add RSVP trigger words to your text invite campaign. Your customers/supporters can confirm theirs by replying with the designated keyword. This way, you can filter out those who can't make it and get an estimate of the footfall.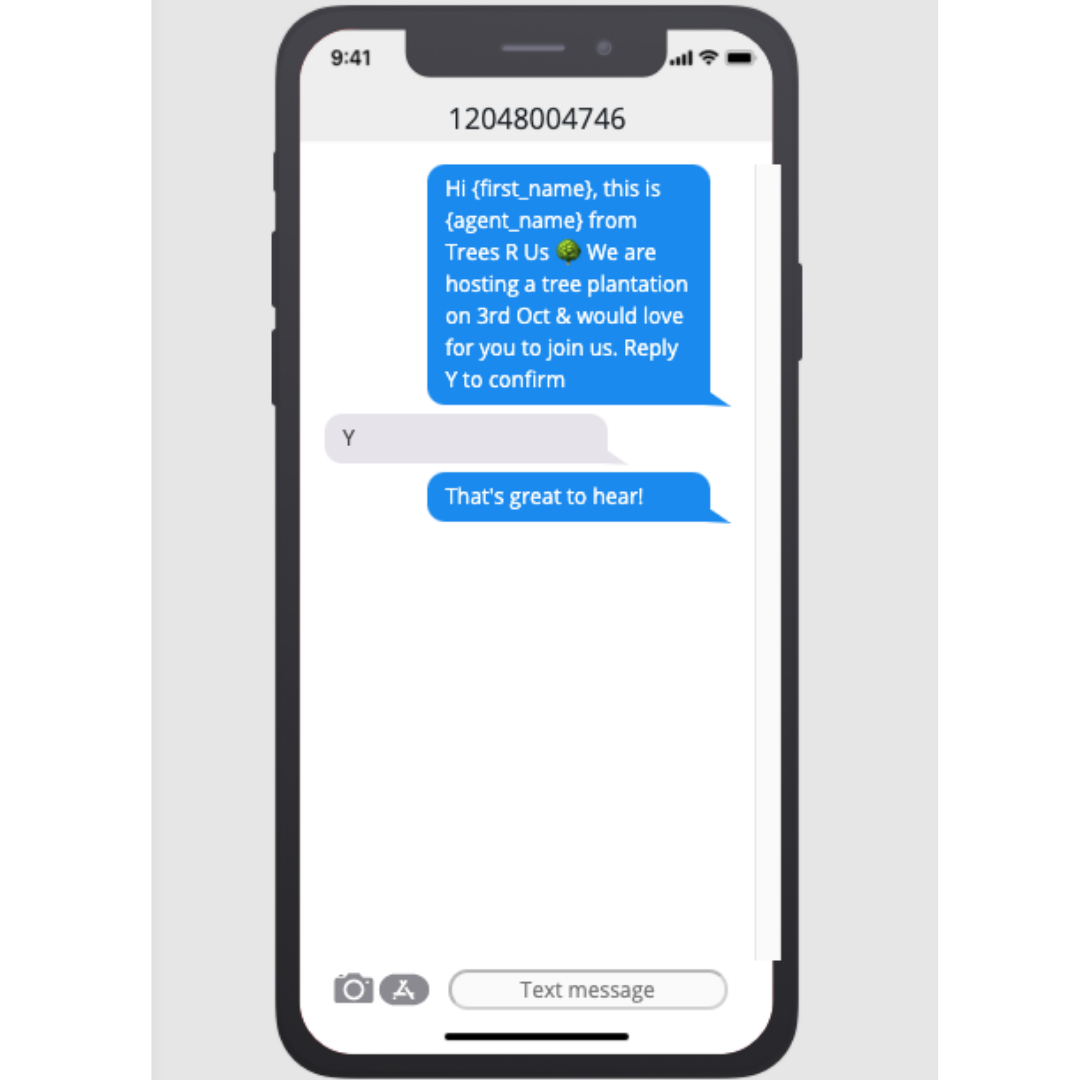 Collect feedback
Text messages are an excellent way of gathering feedback from your customers. One way of doing it is to send a survey text right after purchases.
The other way is to send text blasts to all your opted customers to request feedback on
Their previous experience
How to better your services
What they expect from you in times of the pandemic
If they will recommend your services to a friend
Related Reading: How to send a text blast (with best practices & examples)
How to choose the ideal text blast marketing service
Your bulk SMS service should ideally:
Integrate with your CRM.
Allow personalization of messages.
Offer automated responses.
Enable you to schedule campaigns.
Rent phone numbers and shortcodes.
Let's consider each point in detail.
Integration with CRMs
An SMS marketing platform that integrates with popular CRMs like SalesForce, NationBuilder, or Zapier helps you:
Easily import contact details, addresses, and other information about your customers.
Update records with new information.
Segment your contacts for better message and follow-up targeting.
Personalized messages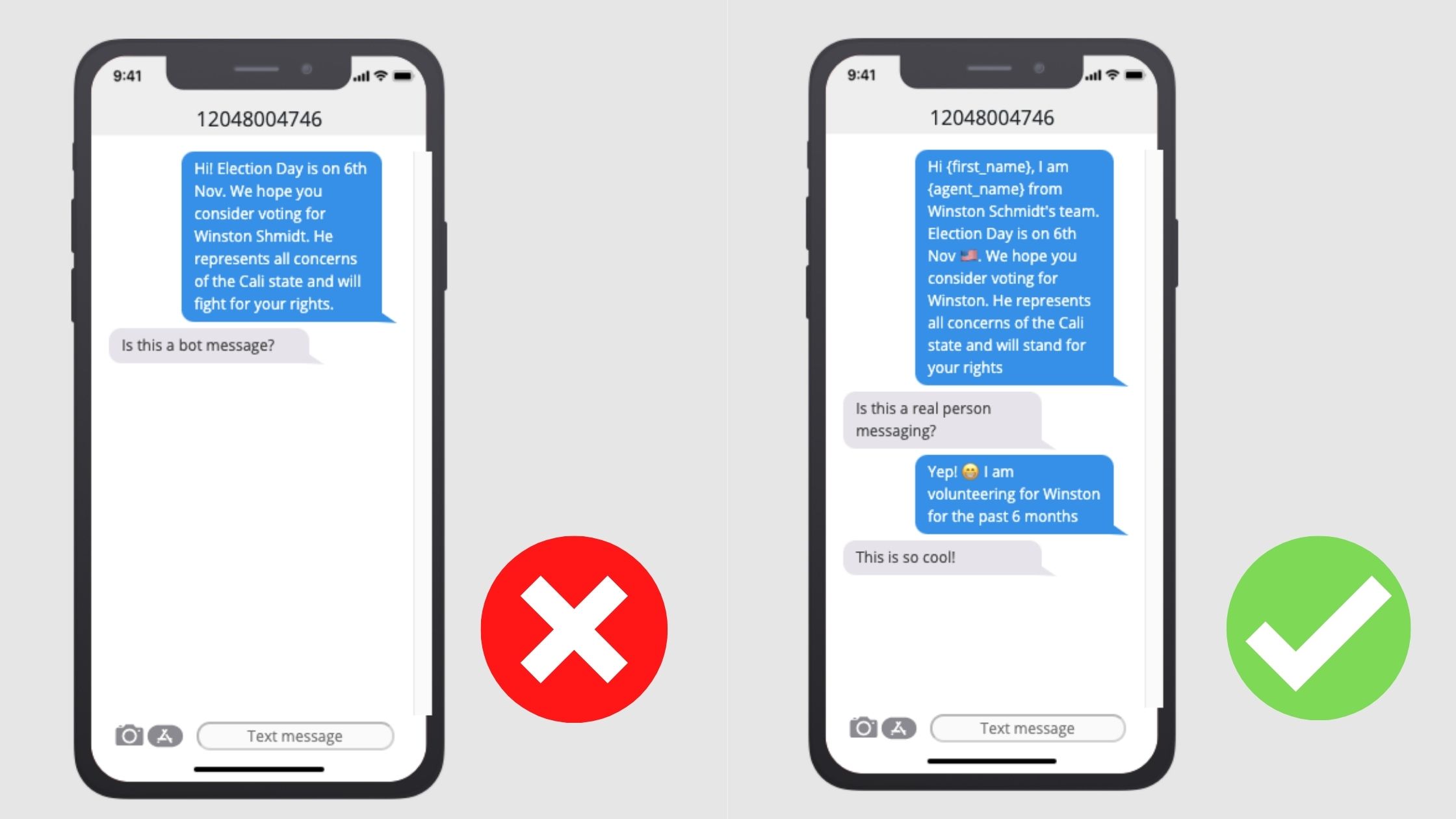 By now, customers have gotten used to getting mass texts from businesses and organizations. So, they tend to ignore generic marketing messages.
When your text messaging software lets you personalize your messages with names, addresses, or other details of a recipient, it makes your message stand out. This can help your open and response rate too.
Automated responses
You have sent the initial text blast, asking people to respond either with a keyword or an RSVP. What happens after you receive the reply?
Your acknowledgment or confirmation of such a response is vital while communicating with your customers or supporters.
A text blast software that enables automated responses makes this job easy.
All you have to do is set a trigger response and script a reply when you receive it. This helps in:
Keeping the response rate fast. The software will automatically send the reply.
Maintaining uniformity in the replies, you send for queries or requests.
Ensuring all necessary information is sent to the desired audience.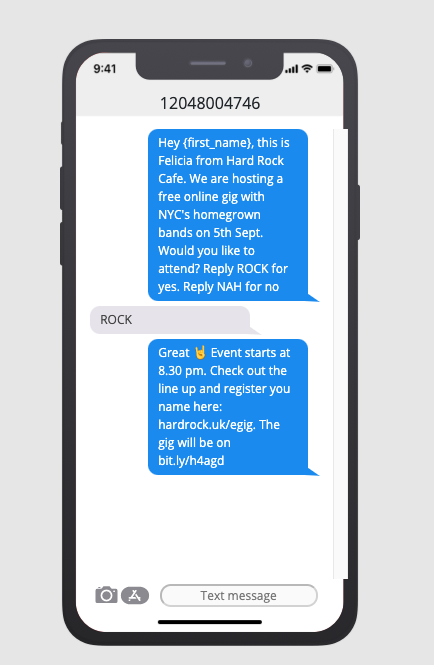 Here, the date, location, registration link, and time are all critical factors to communicate. By setting an autoresponder, you eliminate the risk of missing any crucial points.
MMS text blasts
Add some color to the black and white texts with an MMS. This feature on CallHub allows you to add images, videos, gifs, audio files, and other media to your text blasts.
An MMS adds not just color but also value to your text because:
The click-through rates are 50% higher for texts with images or videos.
People are eight times more likely to share an MMS as compared to plain texts.
The character limit for MMS is 1600 characters (160 for SMS)
Click here to know more about how to use MMS for text blast marketing.
Rent phone numbers and shortcodes
When you have a team of staff members handling your text blast marketing campaigns, a single number maintains uniformity. Look for SMS marketing platforms that rent shortcode and local numbers. How do they help? Here's the breakdown:
Local 10-digit numbers-
A random number is more likely to be marked spam as opposed to a local 10-digit number
It can increase your open rates
You can send one text message per second with a 10-digit number
Perfect for small scale text blast campaigns
A five or six-digit shortcode-
Is memorable
Can add to your brand identity
Can send up to 100 messages per second
Ideal for large scale text blast campaigns spread across geographies
Best practices to adopt with text blast marketing
So are you set to start a text blast marketing campaign? These tips on best practices will come handy:
Get written/digital consent
Provide an easy exit
Mention the intent of your messages
Do not message at odd hours
Be clear about the frequency of marketing text messages
Allow replies
Every message must carry some value
Here's the breakdown of these tips:
1. Get written/digital consent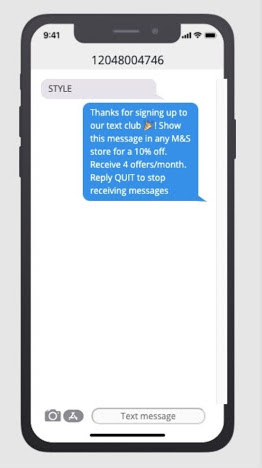 Keyword STYLE acts as digital consent.
Sharing a keyword relevant to your brand or campaign is an excellent way of getting people to sign up. This way, people voluntarily give their number to you.
Start with a campaign to get people to opt-in to your text message updates. Remember, having phone numbers is not the same as getting consent for text blasts.
2. Provide an easy exit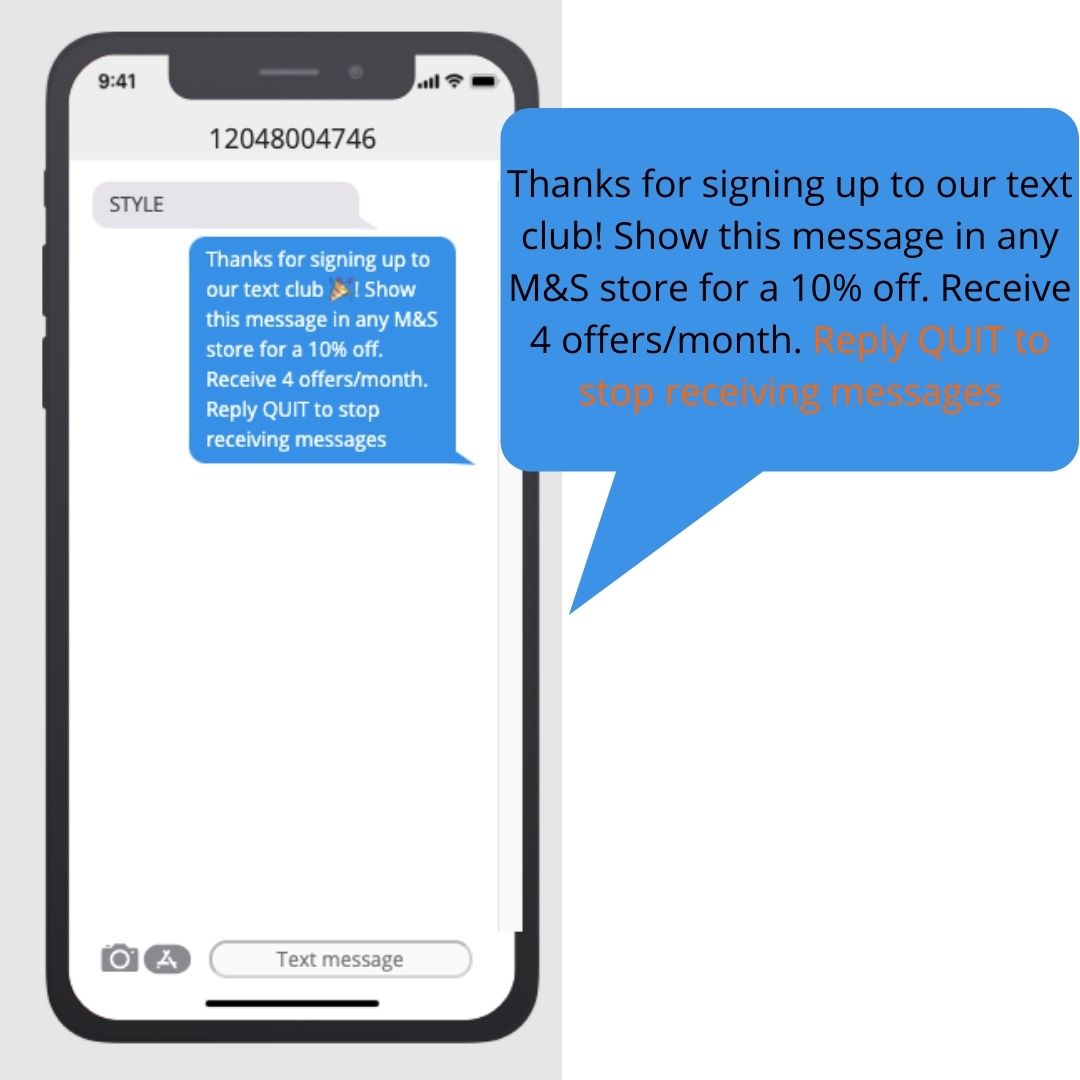 Easy to opt-out with the keyword QUIT
Provide an easy way for people to opt-in to your text messages. The most common keywords are QUIT, UNSUBSCRIBE, or STOP.
Your mass text messaging software will be alerted when you receive such keywords. It will then add the number to a 'Do Not Disturb' list. This way, you avoid getting marked as spam (or getting a lawsuit filed against you).
3. Clearly mention the intent of your messages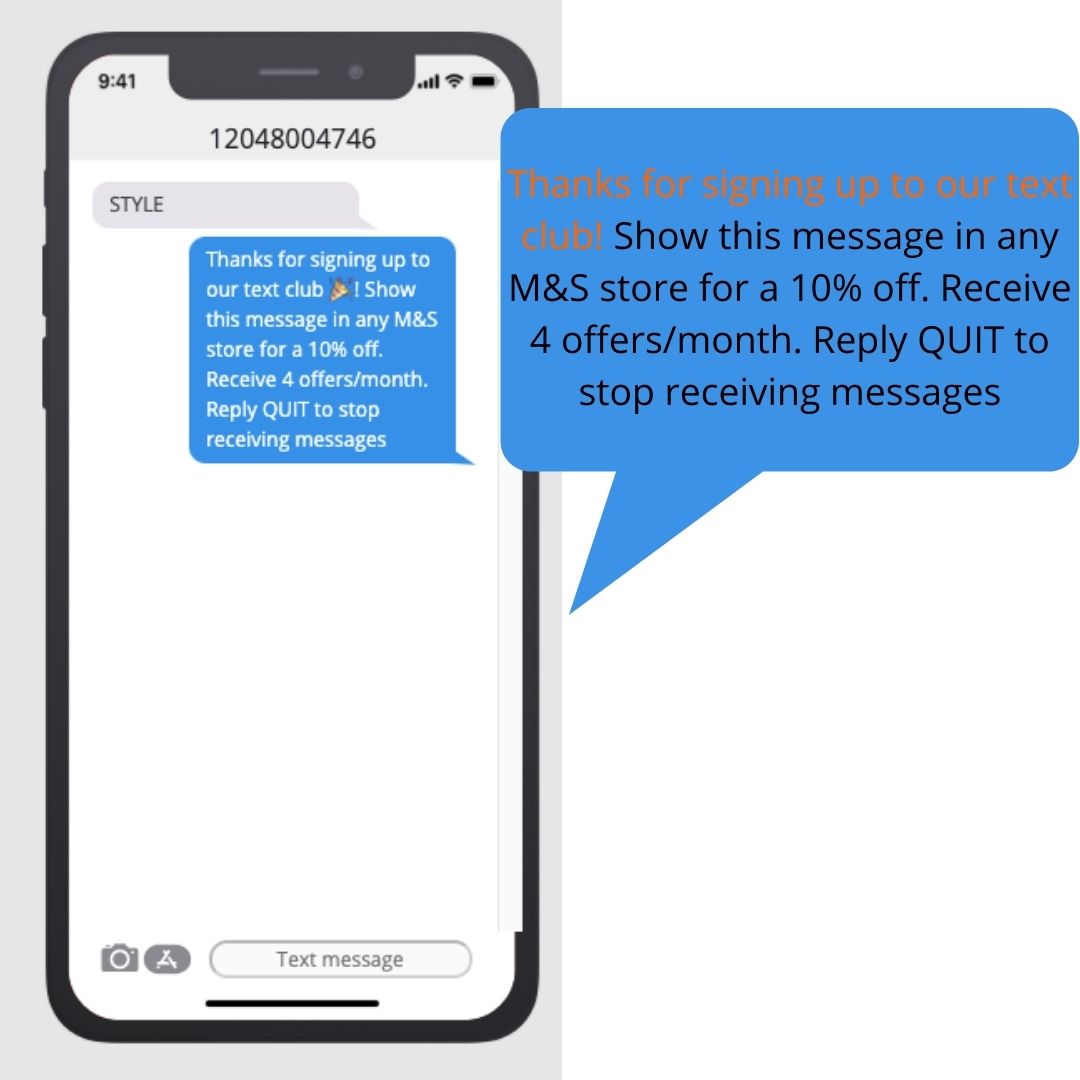 The first line of the acknowledgment message clarifies the intent.
The first line of the acknowledgment message clarifies the intent.
Are you going to send text blasts with coupons?
Will your messages contain invites to events?
Do your messages intend to collect feedback?
Or will they be a mix?
People who opt-in must be informed about the nature of your text blasts. Be transparent with your intent to avoid unsubscription or spam marks.
If you haven't made the intent clear in the campaign stage, do so with your acknowledgment message.
4. Do not message at odd hours
If the phone buzzes at odd hours- like late night or early morning- and it is a marketing message, it usually spells doom. People will not respond, unsubscribe, report spam, or, worse, do all three.
Be professional when it comes to text blast marketing and message only when people are likely to be awake and open for business communication.
5. Be clear about the frequency of marketing text messages
An acceptable number of messages per month. Transparency is key.
Your customers shouldn't find the number of messages you send in a week or month surprising or worse, annoying. When sending the first acknowledgment message, make sure you add this point in the message too.
Also, make it a point not to send too many messages in a week. An average person receives between 75-130 messages daily. You don't want to add to the chaos. Between two messages weekly and five messages monthly should keep you relevant and not spammy.
6. Allow replies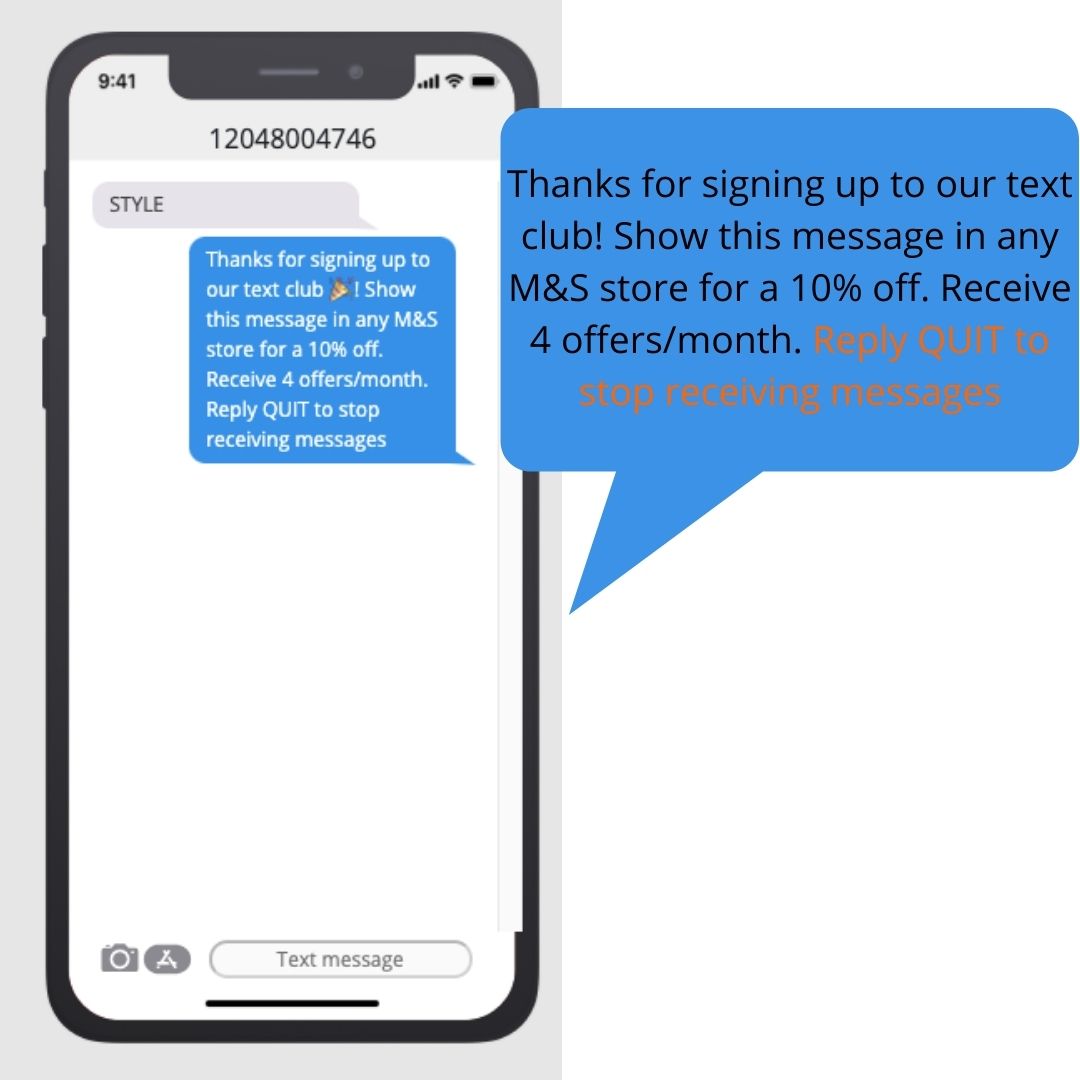 Replies enabled to make the conversations two-way
Your intent for text blast marketing is not just to advertise your products or services. It is to initiate conversations with customers.
Customers, too, want to have two-way communication with businesses. 75% of respondents in a study said they get frustrated if they can't reply to marketing messages.
Choose a text message software that allows replies to the rented number and helps you act according to the responses.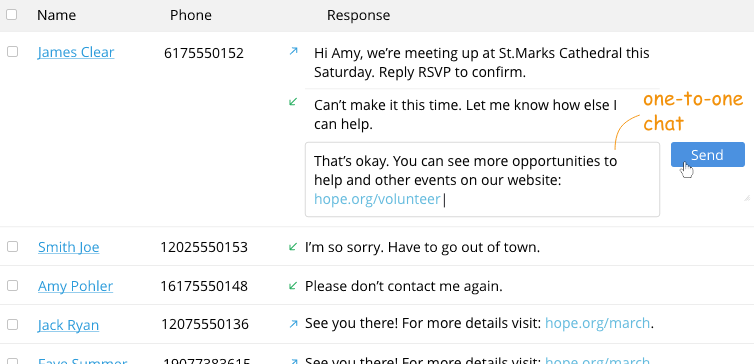 If you don't want to send manual replies, CallHub's mass texting tool allows replies with trigger keywords and enables automated responses for them. You can assign multiple trigger words for every message.
7. Every message must carry some value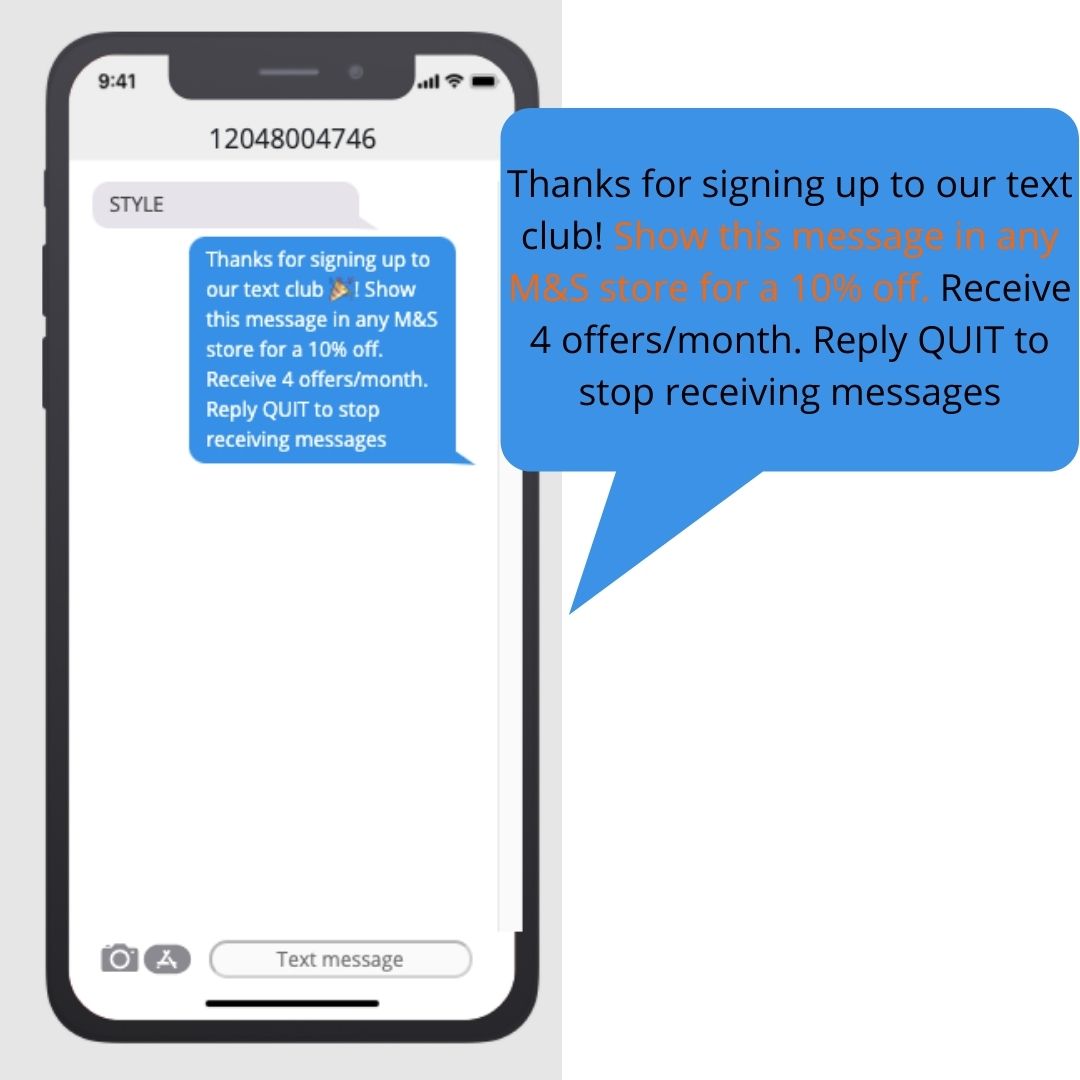 The offer conveyed in this message is clear. Similarly, all your messages must have something of value.
Avoid having your text blast messages just be a body of text that benefits neither the recipients nor you. Whether it is an invite, a coupon, or feedback, every text message you send must carry some value to either party.
Sending valuable messages will steer you clear of getting marked as spam and keep your audience from hitting that "unsubscribe" button.
Mobile carriers have rolled out major changes affecting who can send texts and how they send them (A2P 10DLC). These changes will result in better deliverability and response rates. Know more about 10DLC here.
Some more good practices for text blast marketing:
| | |
| --- | --- |
| Do | Don't |
| Keep the message crisp and clear | Do not send too many messages in a short time |
| Always include your brand/company name in the message | Do not use complicated or uncommon abbreviations or jargon |
| Have a Call to Action in your text blasts | Refrain from using multiple exclamation or question marks |
| Personalize messages wherever possible | Do not always "sale" your brand. Include a mix of sales, offers, surveys and keep your text blasts conversational |
| | Never use the same message for text and emails |
---
Solicited text blasts are a quick and easy way to reach a large number of people in a short time.
CallHub's integrations, automated responses, and personalization options allow your broadcasts to provide value to you and your customers. Now that you know the tricks use this win-win tool to wow your customers and expand your supporter circle, Click here to sign up now!
Feature Image Source: Markus Spiske/ Unsplash