If your union is looking for ways to–
Ease dialogue between management and members.
Promote communication among people within the organization.
Produce and deliver messages for collective action.
Resolve internal conflicts and consider members' opinions.
Then this is the article for you. We're discussing union communication strategies that will help you master internal communications.
Why? Because internal communication ensures high engagement, retention, satisfaction, and unity among union members. It keeps people informed about your initiatives, builds your union's culture, and helps calm nerves in crises.
Union communication strategies
Before we dive into union communication strategies, it is essential to identify the type of communication you want to undertake. Understanding communication areas where your union excels or lacks is critical to forming an actionable improvement plan.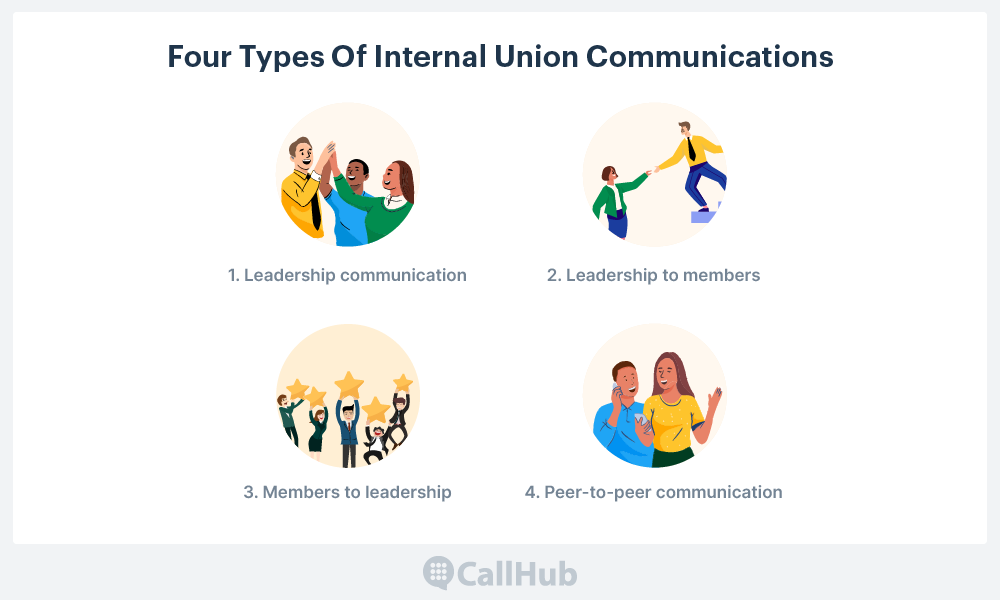 Considering these communication types, we list eight actionable union communication strategies, including-
Invest in training
Identify influential leaders
Host events and community activities
Create a safe space for union members to speak up
Provide regular updates
Diversify your communication channels
Harness the power of the youth
Celebrate the achievements of your members.
Let's explore these pointers in detail below.
Invest in training
Unions are a place for workers to network and grow in their careers as much as they are about demanding better working conditions. Unions can invest in training and upskilling members to build stronger relationships with them. Some areas where you can conduct training include:
Negotiating or collective bargaining* with their workplace management or getting a signup majority on union cards.
Networking to engage with and recruit new members or get employees to sign union authorization cards.
Conflict de-escalation and resolution.
High-value technical or core skills for job growth – such as Excel or accounting.
Collective bargaining is the process through which workers in a union negotiate with their employers on agreements such as their compensation, working conditions and policies, benefits, and workers' rights.
Training programs for union members should be first on your list of union communication strategies. Studies have shown that unions that invest in upskilling and training programs have more engaged members. The impact of training is also more substantial on workers when supported by unions.
Identify leaders who can increase union membership and engagement.
Union leaders are much more than simply people who would ask members about grievances. They are responsible for keeping members engaged, informed, ready for action, and actively working to improve their union. They are the ones with an understanding on the steps unions use to organize.
You must identify union leaders for different branches and locations as your union grows. These influencers hold sway over other members, and when they talk, people listen.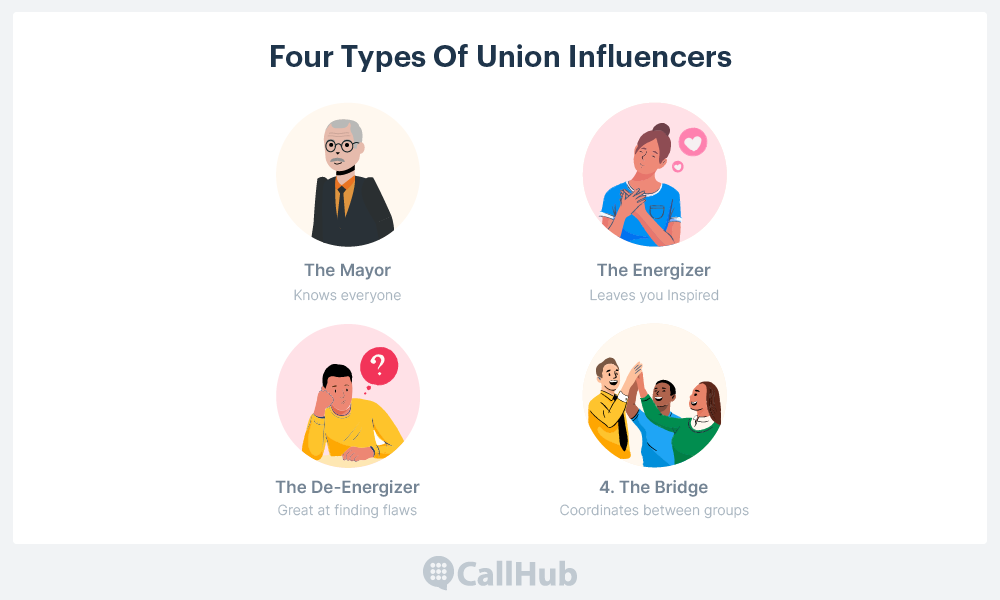 Here's how you identify potential leaders for the union:
Conduct a union-wide survey and ask prompts that might reveal who members look upto. You can ask, "Who do you turn to when you want information about the union's activities?"
Look for members actively engaged in the union's activities and volunteer their time to improve the union. Think to yourself, "Who is a person I cannot imagine any initiative without?"
Identify members who genuinely take an interest in what others have to say. A good trait of leadership is active listening and compassion. Do these words paint a picture and remind you of someone?
Adding good leaders to your union management team will ensure that they act as "force-multipliers" and amplify positive communication within the union. These influencers will understand member motivation and know how to direct it for continued engagement and increased membership.
Read Also: Mobilize the Workforce: How You Can Use Calling for Unions
Host events and community activities.
Having fun and interacting outside of serious union business can significantly improve communication between union members.
A strong sense of community is essential to foster a collaborative and supportive environment within the union. Think about it; 80% of employees feel stressed due to ineffective communication, and many complain about stressful work environments and lack of support and collaboration.
To build a strong union, you must ask yourself what you can do to associate your union with destressing and community. Events and community-building activities provide that solution.
Hosting events provide a pressure-free environment for members to interact with one another and develop strong bonds and memories that will reflect in their collaboration within the union.
Create a safe space for union members to speak up.
The unfortunate truth about leading a large group of people is that there are bound to be internal politics, popular cliques, and disagreements. However, this should keep the fact that your union must be a safe space for members to express themselves.
More than ever, young people are turning to unions to express dissatisfaction with the card they are being dealt – a pandemic, recessions, high cost of living, student debt, and decreasing wages. In addition, unions serve as an outlet for their political expression in an environment that suppresses them.

The question is, how do you create a space that is safe for voicing opinions and ensuring everyone is heard – from the top management to the newest joined members?
Here are union communication strategies to create a safe space for conversation:
Create a buddy system and connect a new union member with a senior member. A buddy can guide the member through the union's functioning, exchange ideas, and voice opinions.
Ask for feedback from all members on a monthly or quarterly basis. Understand what works and does not work for members or if there are some steps you can take to bring change.
Add a suggestion box to every union meeting. Members can choose to drop suggestions, grievances, and complaints anonymously. At the end of the session, open up the box and go through these concerns to show accountability.
Make ground rules for meetings. Ground rules could include no interrupting, silence when another member is speaking, and dedicated time for each member to speak during a meeting.
Provide regular updates
One of the most essential union communication strategies for effective communication is to provide regular updates. It ensures everyone is on the same page and knows the direction in which the union is headed.
Sharing regular updates also ensures that any obstacle or concern is identified and addressed in advance.
There are different types of updates that your union can give to members. They include
Negotiation updates: These updates include informing union members about negotiations with employers, status updates on contractual conversations, discussing offers and proposals made by the employer, any breakdown of talks, etc.
Contract updates: Provide members updates on any new contracts and their rules and regulations. Inform them about wage changes, benefits, working conditions, or work hours.
Workplace issues: As a union, it is your duty to discuss with members about problems at the workplace they may not be aware of. These could include health and safety concerns, staffing issues, workload issues, and unequal wages.
Political advocacy: Frequently, unions lobby for new laws or legislation that benefit workers. Inform members about any political advocacy activities the union undertakes and how they can participate.
Training and education: If your union is providing training and upskilling opportunities to members, conducting seminars, workshops, or signing up for online courses, then you must inform members. Members can only take advantage of and participate in these activities when informed at a reasonably advanced date.
Union events: If you are conducting events to increase engagement and foster a sense of camaraderie among members, then you must share updates about it in advance. This ensures that members make time and free themselves to attend such events.
Other union activities: There could be a wide range of activities a union may engage in on behalf of its members. These activities could include legal battles, grievance redressal, staging protests, and undertaking direct action. These updates keep members informed and actively engaged in the union's activities so that they can participate if need be.
Since there is a wide range of updates to send to members, you need to have a sophisticated communication channel to send them. Here's how you can regularly share updates with your members:
Use your union's social media pages to update members about activities or new initiatives. Share posters about upcoming events and even create RSVPs for them.
Share sensitive information only during meetings to avoid any leaks.
Send out text messages to members and encourage them to respond to you if they have any questions. Use peer-to-peer texting tools to help you engage in two-way conversations with members.
Share voice broadcast messages as reminders for events. You can even enable press-1 campaigns on them to get a quick RSVP.
Start a monthly newsletter that updates members on the events of the month and any upcoming dates they must be aware of.
When significant changes are on the horizon, it would be wise to run calling campaigns and have conversations with members about it. Calls ensure a high engagement and allow members to discuss their concerns or ask any doubts.
Diversify your communication channels.
With time, unions have also started paying attention to technology. It could be CRM tools, mobile apps for their union, social media and digital advertising, or using sophisticated communication tools for outreach.
There's a wide variety of communication platforms available for a reason. Different people like to communicate in different ways. Several studies discuss millennials preferring texts over calls, but Gen X and Boomers prefer speaking with someone. While generational communication differs, other factors could also play into it.
Take, for example, The Public and Commercial Services Union (PCS). During the pandemic, they lobbied against unfair wages earned by essential workers, especially government workers.
They ran calling and email campaigns to mobilize their supporters and collect a targeted 100,000 signatures. Within a few weeks, they collected 60,000 signatures on their petition, but the campaign plateaued. With 40,000 signatures to collect and time running out, they turned to peer-to-peer texting, and voila – they succeeded!
To know how PCS strategized and ran its outreach campaign, read our case study "How PCS Used P2P Texts to Reach 100,000 Petition Signatures." But the story's moral is that quick adaptation to technology and diversification of communication channels was crucial to their success—and could lead to yours too.
Harness the power of the youth.
The youth have been at the forefront of social movements for quite some time. Whether it is Parkland students protesting school shootings or climate activists like Greta Thunberg conducting strikes like Fridays For The Future.
The youth are ready to make a difference, take action, and they have ideas. They are the future leaders, and union communication strategies that include them will succeed.
Encourage the participation of young and new members in the union. Identify youth leaders and make them responsible for essential tasks within the union. If you want a fresh perspective on issues, you now know whom to contact.
Celebrate the achievements of your members.
Celebrating the achievements and successes of union members is essential for communication since it boosts morale, increases engagement, and motivates them to participate.
If you want union members to be comfortable sharing their opinions, voicing their grievances, or taking up more responsibilities, appreciate what they do.
Here's how to celebrate milestones:
Highlight successes in your monthly newsletter or social media posts.
Congratulate them with gift cards or heartfelt gifts.
Bring members forward during union meetings to appreciate their accomplishments.
Grow union memberships with clear communication.
Communication is an essential tenet in improving union relations and increasing memberships. With persuasion and empathy, more and more workers will be enticed to join the union.
However, there is also more to adding new members. With 2022 witnessing a record low in union memberships, it is time to strategize and improve your methods.
If you want well-researched strategies for increasing union membership, read our article 'Your guide on how to increase union memberships in 8 ways'.
Featured Image Source: Andrea Piacquadio