A preview dialer is a great tool for campaigns where conversations need to be in-depth and are generally follow ups to previous conversations.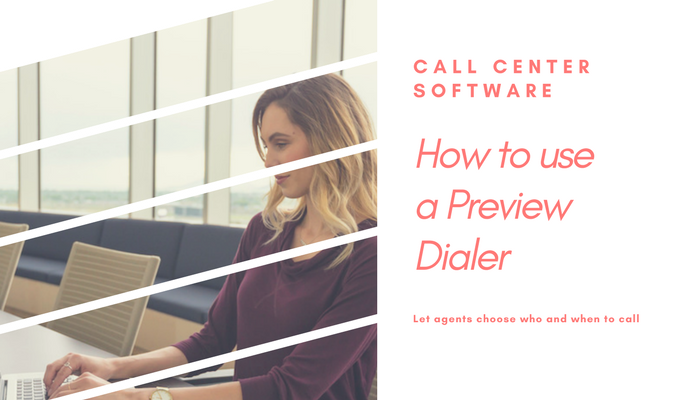 How does it work?
The dialer is available to your agent on their agent console. They have access to your entire contact list. They can search through it and view information about the contact. The agent can even swap a contact with someone else from their household. When an agent is calling a contact, they can see the entire contact history including calls that were made through a campaign. The agent sees all calls made to this contact and by which agent. All the notes associated with calls to this contact are visible too. The agent can choose which contact to call and decide when to call them too.
Where do I use it?
During call center campaigns, an agent faces numerous situations which would affect the success of that call. The contact may not be available at the time and may want to be called in 5 minutes or the agent spoke to a contact and now needs further information to be verified or updated. During these situations, having a preview dialer at hand is perfect. The agent can leave the campaign and choose to independently call this contact. They can update the notes and then choose to join the campaign again. A preview dialer is ideal for these campaigns:
Donor Stewardship
Customer success
Volunteer management
Voter ID
How would you use the preview dialer? I'd love to know. Reach out to us through the chat window on the bottom left :).
How to enable the preview dialer
The preview dialer is one of the free plugins we offer through the CallHub Store. Here is a tutorial on how to use it for your campaign.