7 Ideas for Effective Voter Outreach
November 2, 2018 - 8 minutes read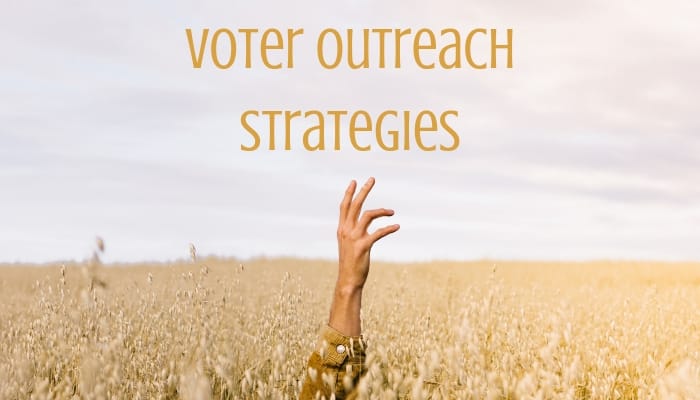 Voter outreach is an essential part of increasing voter turnout and actively spreading information about the voting process; whether it's about voter registration process or the different ways in which constituents can vote. By actively reaching out to voters through a targeted and personalized approach, campaigns or organizations can ensure that they are well-informed and remain civically engaged.
But of course, coming up with these strategies isn't very easy, so in this article, we've talked about seven helpful voter outreach strategies to keep in mind during your outreach campaign.
Strategize in Advance
Having a firm idea of your objectives and planning well in advance is essential for your voter outreach plan. You are not only able to achieve your goals within the desired timeline but are also able to implement new strategies as you progress with your voter outreach campaign. Research indicates that organizations planning their activities five months before election day, and beginning their voter activities four months before the big day were more successful in reaching out to and engaging with voters as opposed to organizations who did otherwise.
So when you set your goals, make them clear, attainable, and deadline-based so that you have a clear marker to go by. Examples of some objectives would be: educating people about the importance of voting, and spreading information about the voting process, right from voter registration to polling venues and important dates.
Use the Right Voice and Tone
The way you phrase your message when reaching out to voters can have a huge impact on the success of your voter outreach campaign. By encouraging people to "be voters" as opposed to asking them "to vote", you can boost turnout: people associate the latter with a tedious task or chore, while the former phrasing appeals to their self-image and has a more positive effect.
Also, use social pressure to boost voter turnout, by telling people that their vote is a matter of public record and that voter participation is expected to be high this year.
You have a good chance of increasing voter participation because people usually want to confine to the social norm. For instance, if you tell them their neighbors would be voting, there's a good chance they'd be influenced in doing so too.
Canvass
Face to face conversations through canvassing is arguably the most compelling method of voter outreach. When you go canvassing, it is important to talk about why voting is so important and to have an open-ended discussion, instead of being forceful with your opinions. While the former is an open-minded approach, the latter is just annoying.
Since you may have several houses to cover in a canvassing session, optimize your time and efforts by using tools like ECanvasser which help you locate houses you want to target while helping organizers track canvassers in real-time.
Leverage the Right Tools
Some of the necessary tools you should be using while reaching out to voters would be:
Promote Volunteering
Volunteers are surely an important part of your voter outreach efforts. So, recruit volunteers and train them so that they have the complete know-how of the benefits of voting, the procedures surrounding voting, and the different voter outreach tactics. You should also focus on recruiting youth volunteers by visiting colleges and through the aforementioned tools, not only because they are full of ideas and energy, but also since they are an important vote bank. By encouraging them to volunteer, you're helping them be aware of their civic duties because of which they are likelier to actively participate in the future.
Host Festivals
An effective voter outreach strategy is to make voter participation a fun activity by organizing community festivals near polling sites. You can invite everyone for live music, good food, and a welcoming atmosphere, while spreading voter awareness and other activities. This is an impactful way of seeing voter turnout increase and at a cheaper price than sending direct mail or going door-knocking. With an approximate increase in turnout by a significant 4%, community festivals are a fun way of celebrating citizens' place in the democracy, while infusing a sense of inclusiveness.
Create Voters who are Well-Informed
A complex voter registration process and a lack of information on election dates, polling locations, and deadlines all result in low turnout rates. A sizeable number of people are still unaware of the processes relating to early voting, absentee ballots, or voter registration. So what your campaign or organization should do is use modern voter outreach tools like peer-to-peer texting and friend-to-friend outreach to create well-informed and are fully aware of their rights and responsibilities as citizens.
By dispelling misconceptions about the voting process and answering queries patiently, you are convincing people to vote so that they can play an active part when it comes to matters affecting their day-to-day lives.
Voter outreach is an important factor in educating and involving people to play their part in the electoral process. By planning well and carrying out your efforts sincerely, your organization or campaign can make a concrete impact in creating well-informed and responsible voters.
campaign strategy
,
voter outreach