The pandemic has affected election campaigning, particularly challenging direct contact between candidates and voters. The restricted contact results in changing norms of election canvassing by:
Restricting outdoor movement.
Increasing reliance on remote communication tools.
Bringing about a change in election canvassing rules for medical safety.
There was a murmur about these heavy restrictions preventing elections from being free and fair for a brief while. However, in light of the reduced number of cases, the UK government tweaked regulations to warrant that voters' rights are not infringed upon while ensuring that political door-knocking doesn't spread the virus.
So what do the new election canvassing rules say? Let's have a look:
Election canvassing rules during the pandemic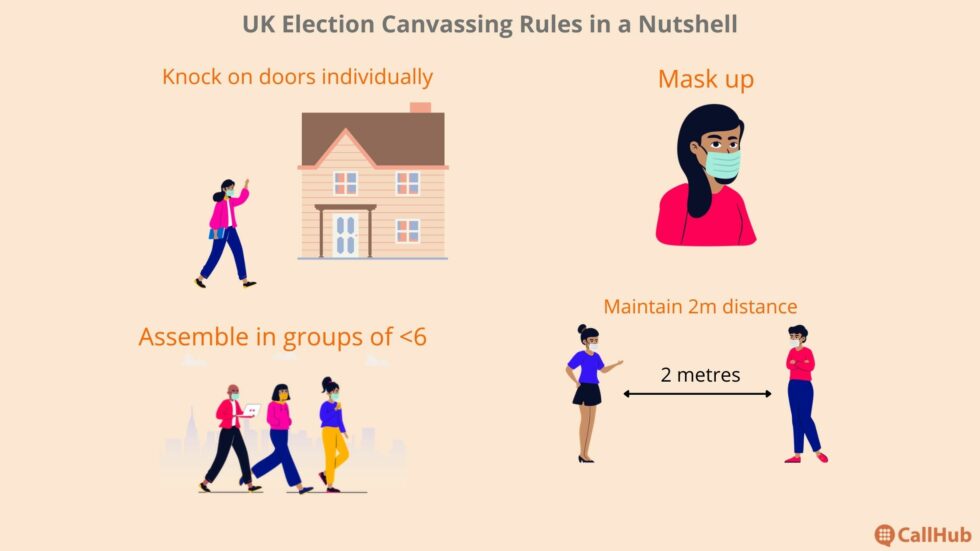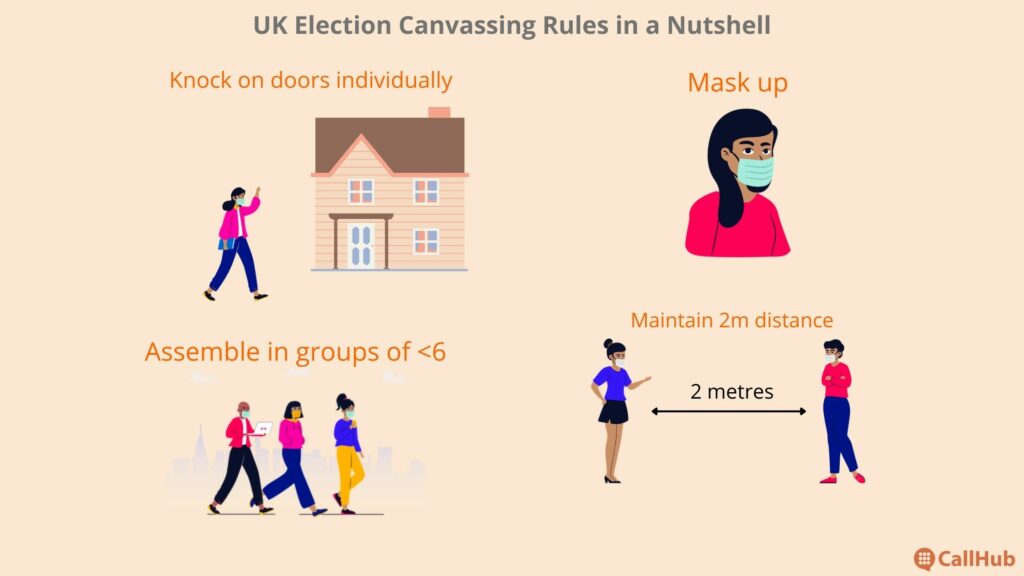 The UK election campaigning (canvassing) started on March 8 this year, ahead of the English local elections beginning May 6. In Wales and Scotland, this part of election campaigning started on April 12.
Election canvassing rules in England
The following rules, mandated by the UK government, are specific to political canvassers operating in England. They are most relevant to campaigners working for the local council elections, London mayoral election, and the police and crime commissioner elections (all scheduled for May 6, 2021).
An individual canvassing agent can engage in doorstep canvassing. Remember, the keyword here is individual canvassers. So, unlike pre-COVID times, canvassers cannot approach a supporter's home in a group. This may put non-seasoned canvassers in a tricky position. Here's a helpful guide to ensure their doorstep interactions go smoothly.
Persuasion conversations and leaflet delivery are both allowed as part of the canvassing.
Canvassers must maintain social distance from voters. They must not enter homes.
Canvassers must wear a mask, sanitise their hands regularly, and follow other personal safety measures.
Starting March 29, the UK government allowed assembling in a group of not more than six individuals or two households. This allows a small canvassing team to organise in neighbourhoods before dispersing for canvassing individually.
Election canvassing rules in Wales
The following campaign canvassing rules apply in Wales from April 26 2021. They must be followed for campaigns for the police and crime commissioner elections, Senedd general election and local government by-elections (all scheduled for May 6).
In Wales, no more than six campaigners can operate on-field together.
Agents must follow the "The Health Protection (Coronavirus Restrictions) (No. 5) (Wales) Regulations" when assembling inside a house, in gardens or other parts of a neighbourhood.
Campaigners are allowed to enter domestic premises when absolutely necessary to reach supporters (like a shared hallway of an apartment building.)
Here, they must prioritise their own safety and enter an overall premise in pairs. One agent speaks to the supporters while the other stays away but well within sight.
Only one campaigner is permitted to speak with a supporter at a time. Do not enter the house and maintain a distance of two metres from the canvassed person at all times.
Even when forming a group away from houses, canvassing agents who don't live together or in a support bubble must maintain 2 metres' distance.
Leafleting must be undertaken with minimal handling and personal contact.
All canvassing agents must familiarise themselves with the definition of close contact. They must take necessary steps should a canvassed indicate they have tested positive or are isolating.
Travelling between Wales and England is allowed for cross-border campaigning. Campaigners must be mindful of the election canvassing rules applicable in that particular part of England and Wales.
Election canvassing rules in Scotland
Scotland permitted door canvassing from April 12. The following rules apply for the Scottish Parliamentary elections due on May 6 2021.
Leafleting was permitted nearly a month before door knocking campaigns (March 15). No definite rules apply for leaflet distribution, although the general norms of social distancing and minimum contact do.
Doorstep canvassing is permitted only in local authority areas with an infection rate of <100 per 100,000. Clackmannanshire could not allow canvassing before April 16 (they got a 7-day infection rate of 91.2 on April 12, following which door campaigns were permitted).
If the infection rates go above 100 in an area that has started door-knocking, the campaign will be suspended immediately until the numbers go below the threshold.
Canvassing agents must maintain a 2-metre distance from fellow canvassers and supporters.
No more than two individuals can canvass together. Only one is permitted to stand on the doorstep at a time.
Street stalls, physical husting and other activities with physical contact and assembling are not permitted.
Campaigners can operate only in the local authority area where they reside. Candidates, agents and other staff can travel to other regions only if the canvassing activity cannot be undertaken from home or residential areas.
On election day, volunteers and agents cannot give lifts or facilitate vehicle sharing among voters.
Campaigners are not allowed to collect or deposit postal ballots physically.
How to enhance canvassing while minimising contact
While the rules restrict the movement and assembly of canvassers, campaigns are looking for alternatives to reach out to supporters. While remote canvassing is marginally less effective than in-person canvassing, the current situation demands adaptation.
Here are three ways you can have personal interactions with supporters and encourage them to step out and vote besides or in lieu of door knocking:
Email
Texts
Phone canvassing
Let's have a brief look at their respective use cases.
Email
With a 14.2% click-through rate, politics was among the top-performing industries for email communication in 2020. During the canvassing phase, emails can be helpful to:
Send campaign literature and newsletters.
Request donations and attendance to online events.
Send links and guidelines for proxy and postal voting registration.
Emails are great tools for transactional and informational interactions. However, they are generally considered to be more formal forms of communication, and so, one drawback is that they are not entirely conversational.
Texts
Texts have an average open rate of 95% in the UK. They are relatively casual, non-invasive, and the preferred mode of communication for many. For these reasons and the fact that with text marketing software, you can easily personalise conversations and have them at scale, a texting strategy is a must for campaigning.
Use text messages to:
Nurture supporters by having meaningful conversations using peer-to-peer texting.
Send links for fundraising, events and remote voting registrations via MMS broadcasts.
Use mass texting as a buffer between two long duration touchpoints (e.g., phone and in-person meetings).
Follow-up with supporters and those absent during door canvassing using mass texts.
For actionable tips on combining text marketing with door canvassing, read Texts & door canvassing: A powerful combo for your GOTV strategy.
Phone canvassing
After door canvassing, phone canvassing is known to be the most effective way of campaigning for votes. After all, it enables detailed open ended conversations without in-person contact.
With a phone banking tool, you can fast track outreach. Such software automates the process of manually dialling numbers and waiting for an answer. Thus, you can spend valuable time speaking with more supporters.
Phone canvassing is best used to:
Have detailed conversations with individuals who require nurturing and persuasion.
Act as a significant touchpoint when you can't meet them in person.
Facilitate GOTV efforts.
Although the election canvassing rules have put certain restrictions in place, your campaign need not suffer. As we mentioned, remote canvassing methods such as texts and phone calls can be valuable additions to your canvassing efforts.
You will require automation tools that:
Get you the required consent from supporters.
Fast track your calling and texting efforts.
Enable personalisation and nurturing tools throughout the campaign.
Try out CallHub's SMS marketing and calling tools here:
Feature image source: rupeshtelang/Pixabay.