"A healthy church is a community of Jesus followers with shared vision, thriving ministry, and trusted leadership"

– Jim Kitchens, Center for Healthy Churches
The COVID-19 pandemic spells disaster for church attendance across all faiths. Half of US adults who attended church before COVID-19 are unlikely to return to church right now, even after public health officials deem it safe.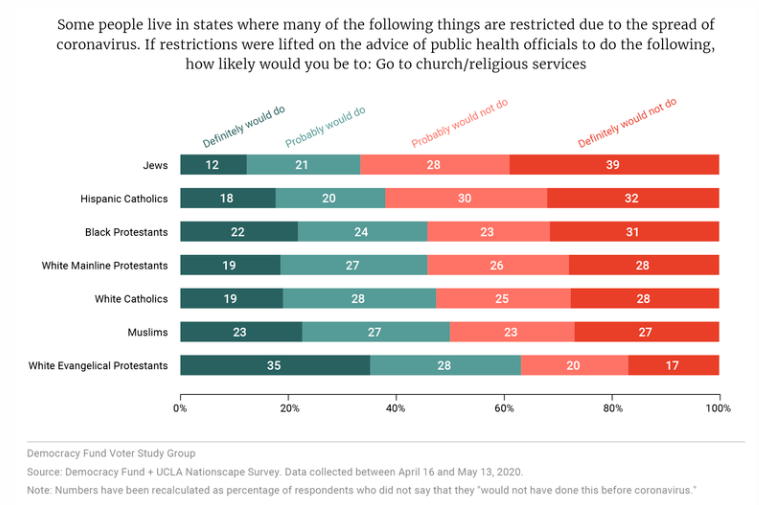 The same could hold for your church as well.
One way to handle the situation would be to strengthen your communication using these church communication best practices.
Whether you are a small church or a big one, these church communication best practices will help you bring your congregation closer and communicate more effectively.
Church communication best practices: Align your communication strategy with your objectives
Check if your church communication strategy is aligned with the 'driving purpose' behind your church. This, in turn, will inform what you communicate and how you communicate it.
The driving force behind any church can be broken down into 3 fundamental aspects:
To spread the message of God
To build and grow the church
To provide and care for one another
Now the most pressing need for your church could be anyone among the three. For instance, say your church needs to fill the empty pews and get more members in. Then the second objective takes precedence over others, and the communication strategy is built around it. You would focus more on church visitor follow-up strategy and external communication.
The Saddleback Church in Lake Forest California posts full-length sermons on Instagram TV every week. It also has a "Daily Devotional" post for everyday worship.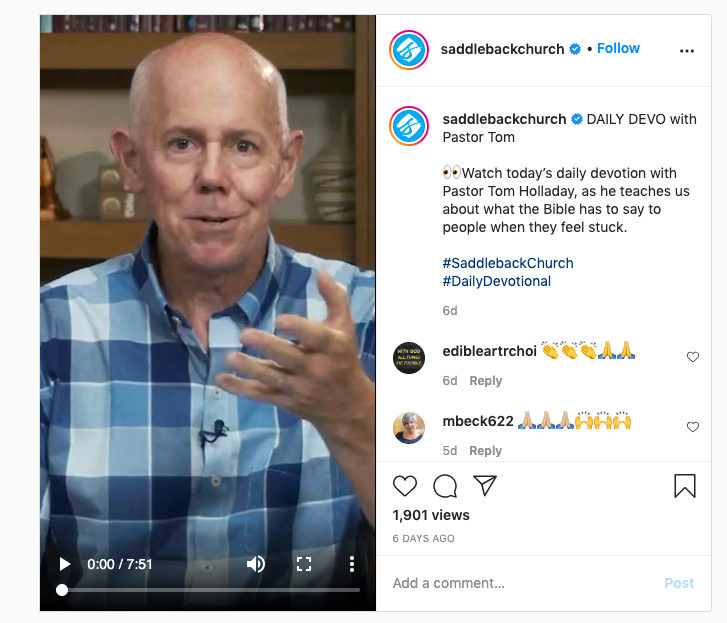 This is an excellent example of achieving two objectives – spreading the word of God, and bringing the congregation closer.
2. Keep up regular (or weekly) emails
Emails are still a part of everyday lives for many people in the congregation. Here is a comparison between email marketing and social media statistics:
| | | |
| --- | --- | --- |
| | Email | Social Media |
| Total users | 3.8 billion | 3.4 billion |
| Preferred channel for promos | 60% | 20% |
| Conversion rate | 6.05% | 1.9% |
| CTR/Engagement rate | 22.86% open rate; 3.71% CTR | 0.58% ER |
| ROI | 4400% | Tough to estimate |
So even if social media is an excellent channel for engagement, it cannot replace emails.
For your church, that means including a strong email contact series in your church communication strategy. If you were using emails to send only fundraising requests, now would be a good time to revisit it.
You can also use emails to:
Share inspiring stories of people in your congregation,
Keep your members up to date on how you are tackling the pandemic
Send updates on how you are contributing to help people affected by the crisis
Detail your reopening efforts and the protocol you take to maintain social distancing etc.
Take a closer look at the timing and frequency of your emails. Sending weekly updates when you cannot reach all church members personally is one of the recommended church communication best practices. Also, the time it right – so that they have the maximum chance of opening it.
3. Communicate using text messages
Less than half of the churches today use text messages for communication. Given that text messages have a 95% chance of being read, and have an open rate 3X higher than emails, this is a grave oversight.
Here are some ways you can combine text messages in your existing church communication strategy: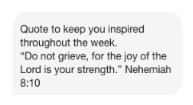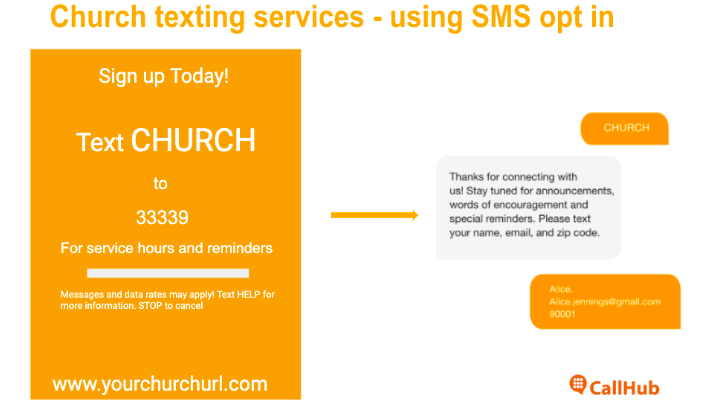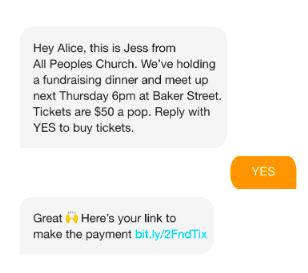 If you are not already using text messages in your church communication strategy, it would be tough to implement all of the above. So get a reliable church texting software that can get you started easily and scale with your requirements.
4. Build a high-converting church website
Websites are the way new members can find you online and also get to know you a bit better before visiting. Go back to your church website and see if it gives a great user experience. Check if it:
Loads fast and render well across all devices
Allows for visitors to engage with you (promote a shortcode to chat via texts or have chatbots)
Shares your church's story and the lives it has touched
Outlines your mission, vision, objectives, and goals
The Friendship Community Church is an excellent example.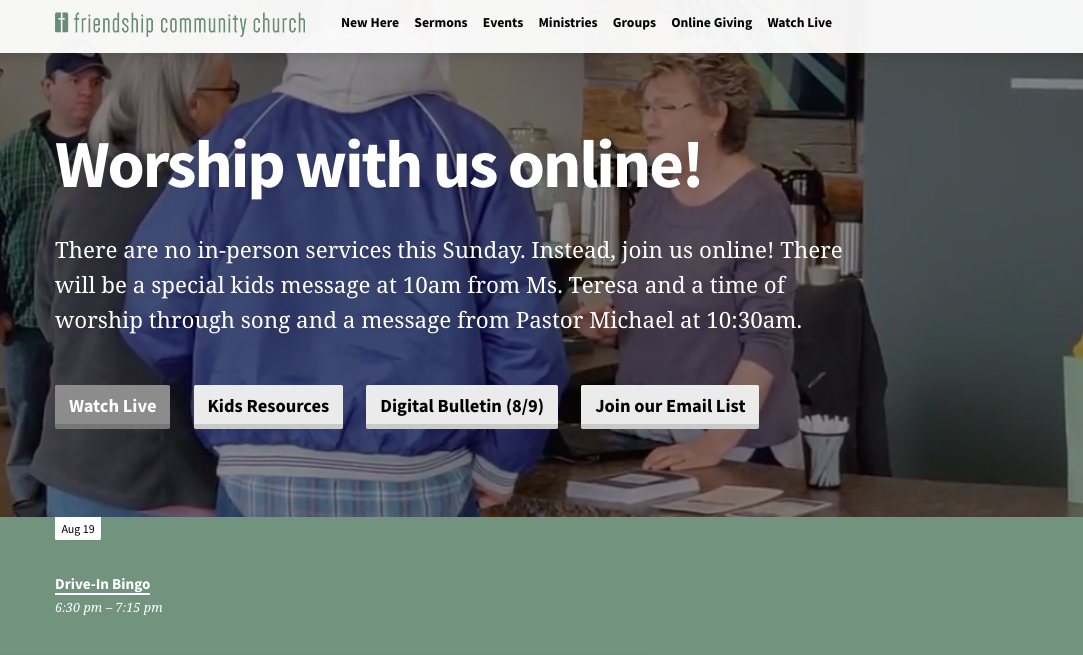 The subtle video in the background doesn't distract from the main message (of worshipping online). It also gives a sense of life at the church and the various activities they do. The quick CTAs in the section enable the visitor to engage with the site and quickly find what they are looking for.
Read Next: Church communication cards – A quick guide for growing churches
5. Consistent messaging across all platforms
The more you explore new channels of communication, the higher the importance of being consistent across all of them.
Consistent messaging does not mean repeating the same message – it means re-iterating the point in different ways. This is among the top church communication best practices.
For instance, say you want to share details of reopening your church to your members. Then, right from your message boards to your website and emails, the messages can form a cohesive story on how members can participate.
Social media messages can promote the new church timings (and create excitement about re-opening)
Your emails and website can give in-depth detail on the measures you are taking to ensure the safety of churchgoers
Text messages and follow-up reminders can be sent to members before the opening
And finally, you can reach out to regular members (or the older generation) via peer-to-peer texts and see if they are planning to attend.
In the entire process outlined above the members get information that encourages them to take the next step.
6. Make social media a prominent part of your communication strategy
Social media represents a unique opportunity to reach a new (and wide) target audience. It also is highly shareable content that can generate engagement among your existing and new members alike.
If you are already using social media, here is how you can improve it:
Explore more channels – while 84% of churches have a Facebook Page, less than 20% use Twitter or Instagram. If you are among the latter, you are missing out on a valuable opportunity to reach a new audience and engage a younger demographic.
Combine social media with other channels – The average CTR for emails is 115% higher for church emails that include at least one social media link. So in your next email, share the IGTV video of your latest sermon or the top comment that won the most engagement.
Post regularly (daily) – Unfortunately in social channels, out of sight is out of mind. To cut through the noise, posting regularly is the first step. 51% of churches have a staff member who posts daily on social media. You can make everyday social posts a part of your communication strategy.
Ensure that you are also present and responsive to the queries you get on social media. Otherwise, it will fast devolve into a one-way communication channel, and your members will stop feeling listened to.
7. Personalize, and target your messaging
Personalization does not mean simply adding the member's name to the email. Rather, it is about following their behavior pattern and demographics to communicate with them better. Here is an example of an event invitation email template by Snowball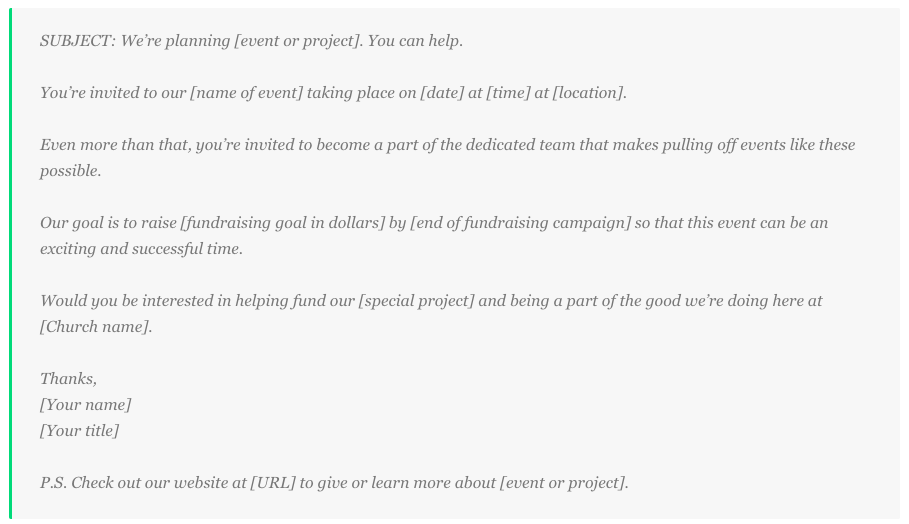 At the outset, this is a good email. It touches upon why the funds are required and how the member can help. If this is how your regular fundraising emails read, then good job.
But you see, it is obvious that it is a bulk email sent to a huge list of contacts because of the absence of personal connections.
That is how you can improve it further.
The same email can be made more targeted by mentioning the member's past fundraising efforts for the church.
If the member is relatively new, this email could begin with a "welcome to your first fundraiser with us (and we look forward to many more)".
That is what we mean by targeting. It is about segmenting your congregation so that the messages are highly relevant to them.
Here are a few different ways you can segment the members of your congregation:
Visitors to church (who are not members yet)
New members
Members with children
Young members (millennials and GenZ)
Older members (the older generation)
Members who have missed attending the congregation in the past
Members who engage with you regularly outside the church (e.g., on social media)
This segmentation will help you determine the message and also the channel of communication. For instance, the older generation can be reached via phone calls and posts. The younger generation can be asked to participate in an online event (and asked to share the message across their handles).
Of course, the way your congregation engages with you will determine how you segment them. The above is just a guideline to get you exploring different options.
8. Don't forget storytelling from church communication best practices
Humans are designed to retain stories better than facts (I would give you numbers to back that up – but that defeats the purpose right? :)).
Storytelling for your communication strategy goes beyond just pastoral communication. It involves:
Sharing inspiring stories about your members to others,
Stories on how your church has shaped many lives, and
Talking about how God helps members find meaning in their lives
Ensure that your communication strategy prominently features stories across channels. Here is a beautiful example from Elevation Church. In its IGTV, it talks about the story of Juan – how he ended up changing the lives of so many people around him.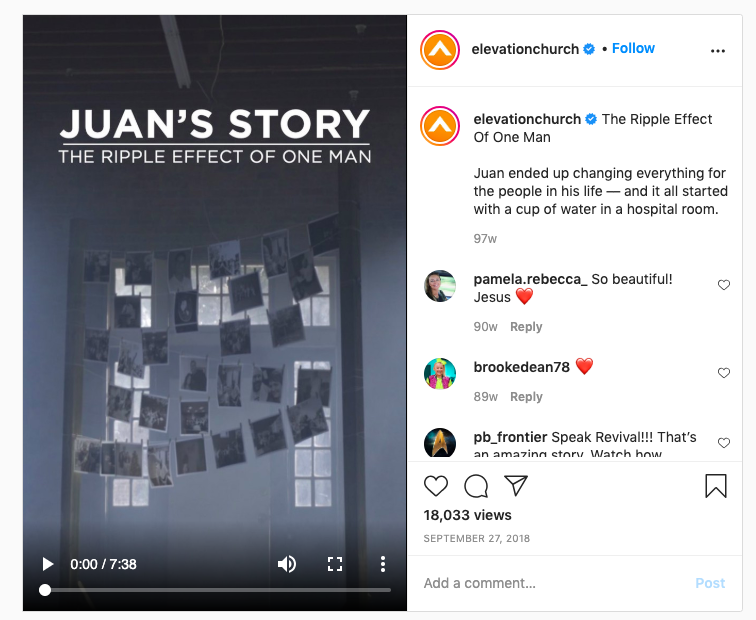 Notice the date on the post. Even though it is more than two years old (and Juan is no more), this story still inspires countless people to do better.
More importantly, it shows them the way to Jesus – and isn't that your objective?
9. Church communication best practices: Get regular feedback
Listening is the biggest part of any in-person interaction. It helps you identify the gaps in your church's communication, know how to help your congregation better, and finally also evolve to meet your members' needs.
So send feedback surveys to your congregation members or run sms polls. It could be after an event, after a sermon, or simply a request combined with the newsletter.
Keep in mind that segmentation and targeting is crucial here as well. For instance, asking a member "How would you rate our fundraising event?" when they have not attended it would be quite futile.
You May Also Like: How to Write a Great Phone Script for Ministry Fundraising (Sample Scripts Included)
10. Create opportunities for small group interactions
46% of people attend churches with 100 people or less. That is because smaller churches are perceived to be more community-oriented and foster better relationships.
The takeaway here is that churchgoers are looking for more than just spiritual guidance from your church. They want to form genuine relationships and feel connected to the community.
You can help them realize the same by connecting people together in small groups. E.g., People within the same neighborhood can attend a church-sponsored event and get to know each other better.
Christ's Church of the Valley fosters such a small group community and encourages its members to participate in it.
By sharing the initiative on social media, they also encourage new visitors in the same locality to participate in the groups.
Small groups do not threaten the unity of the church. In contrast, having smaller groups within your congregation helps different members find people whom they can interact comfortably with.

To implement a lot of these church communication best practices (e.g., segmentation), you need digital technology to support. Using a web-based church management software that can help you track member activities and keep track of communication is your best bet.
Which of these church communication best practices are you going to implement? Have we overlooked something we should mention? Leave a comment and let us know :).
Featured image credits: Pixabay