School notification systems have become an integral part of school administration in recent years. Let me tell you why with an example. In 2018, a school at East Tennessee State University (ETSU) found itself in the middle of a controversy when it went under lockdown, but none of the parents received any notifications. Panicked students contacted their parents to be picked up, resulting in a complete atmosphere of chaos.
Only once the issue was resolved and the lockdown lifted did parents receive an "all clear" message. But that alert was too little, too late, stressing out both students and parents. In the school's defense, the issue was resolved by the time they were in the process of sending out the lockdown notification. However, this incident highlights the need for an effective, quick and reliable school notification system.
A sound school notification system will alert schools and all their stakeholders of emergencies, give daily updates, and automate processes such as the hourly bell, which makes life smoother for the school and its administrative staff.
An average school in America today consists of a few hundred students. Communicating to all in an effective and timely manner is why many schools are turning towards automated school notification systems.
Let us explore how school notification systems benefit K-12 schools and universities.
What can a school notification system do for a K-12 school?
While coming to the aid of a school during emergency situations might be the first thing that comes to mind when we think of the benefits of a school notification system, emergencies are (thankfully) very few and infrequent. This could lead a lot of schools to prioritize other expenditures over investing in a good alert system– especially schools with already tight budgets and many needs.
However, school alert systems have more everyday uses that ensure their smooth functioning and justify the cost. How valuable is it? Let's explore:
1. Bridges the communication gap
First and foremost, a school notifications system bridges the communication gap between teachers, students, parents, staff, and the school.
Parents can easily communicate with the school, reach out to teachers, receive notifications about attendance, report cards, field trips, and more. Students can receive assignment updates, exam alerts, event notifications.
Essentially, it makes the network of parents and students with the school more open and more strong.
2. Multi-channel notifications
Considering that notification systems are helping you coordinate with a wide variety of people, it is only obvious to assume that these groups have different sorts of communication needs, roles and responsibilities, and communication preferences.
For example, students might respond more positively and actively to text alerts, while parents, especially those working, might be more prone to responding to calls and email alerts. Figuring out which style works for which group, how to execute it, and if your school notification system allows for the integration of multi-channel notifications is imperative to implementing it.
Different channels that you must consider are:
Automated and personal text messages
Email alerts
Social media
Mobile app push notifications
Phone calls
Direct mail
You can prefer one or two key channels over the others, depending on how you aim to use the alert system.
3. Mass outreach
With increasing school sizes, the stakeholders that need to be communicated with also increase. It is counter-intuitive to opt for traditional communication methods like individual calls and texts over newer outreach methods that make work easy. The former does not optimize time and exponentially increases your administrative staff's efforts. But with automation, even traditional communication methods have undergone a much needed transformation.
CallHub is one such text marketing solution that automates your outreach. It is designed to send out personalized texts to a large group and enables open and close-ended responses. If your school only occasionally needs such a mass texting solution, we have a pay-per-use model that ensures you don't overpay for the tool.
Using a school alert system that reliably and securely sends alerts to hundreds of people in a short period is extremely effective and beneficial, especially in the case of a 911 emergency or lockdown situation.
Read More: Unplanned Off-Day? Here's How You Can Send Urgent School Closing Text Alerts
4. Encourages two-way communication
For the most part, alerts sent by schools, such as attendance notifications or school closure alerts, are informational and do not require a response from the recipients. However, there are times that two-way communication channels are a necessity. These instances could be feedback messages, permission forms, bullying helplines, etc.
Allowing your audience to reach out to you in case of an emergency expands the scope of security that the school can provide to individuals. Schools can promote an emergency number that anyone related to the school can use to reach out for help.
Through texting features such as CallHub's peer-to-peer texting, administrative staff can respond to these messages immediately, at scale. CallHub can validate phone numbers in advance for inbound calls and text messages to your emergency number.
Additionally, communication with schools can also suffice with close-ended requests and replies. Some examples are result announcements, lunch money balance, anti-bullying hotline, etc. This can be done using SMS opt-in or mass texting, which we will discuss later in the article.
5. Data privacy
School data is extremely sensitive, considering the age range with which the school operates. Data privacy and security are non-negotiable aspects of a school alert system.
A good school notification system will have a good track record of data security, proven by their previous clients. Ensure that the tool has taken up the Student Privacy Pledge that mandates the protection of student data and is a requirement that you could ask for from school service providers and vendors. Note, however, that it is not a legal requirement yet.
The pledge is a set of commitments that service providers specifically working with schools and students can undertake. These commitments can be enforced by the Federal Trade Commission and state attorneys general.
6. Location mapping and geofencing
While we're hoping that emergencies are very few and far apart, location mapping ensures that the administrative staff can locate the area on campus most in need of aid. They can mark a virtual fence around the area of emergency and specifically send alerts to students and staff in the line of fire. The school can also send across instructions for the people stuck in such situations to ensure maximum safety.
Leveraging location data to increase security in high-risk situations is a great feature that you must look for in a school notification system.
7. Emergency attendance
In the case of an emergency evacuation due to unfortunate events such as a fire or intruder within the school, it becomes critical to determine how many people got out and their last seen status is. Emergency attendance helps you quickly identify the number of people yet to be evacuated and the count of people who have safely escaped the threat.
There is a lot of value that a great alert system brings to a school. But if you're still wondering about how your school can maximize the benefits of a school notification system, we have you covered.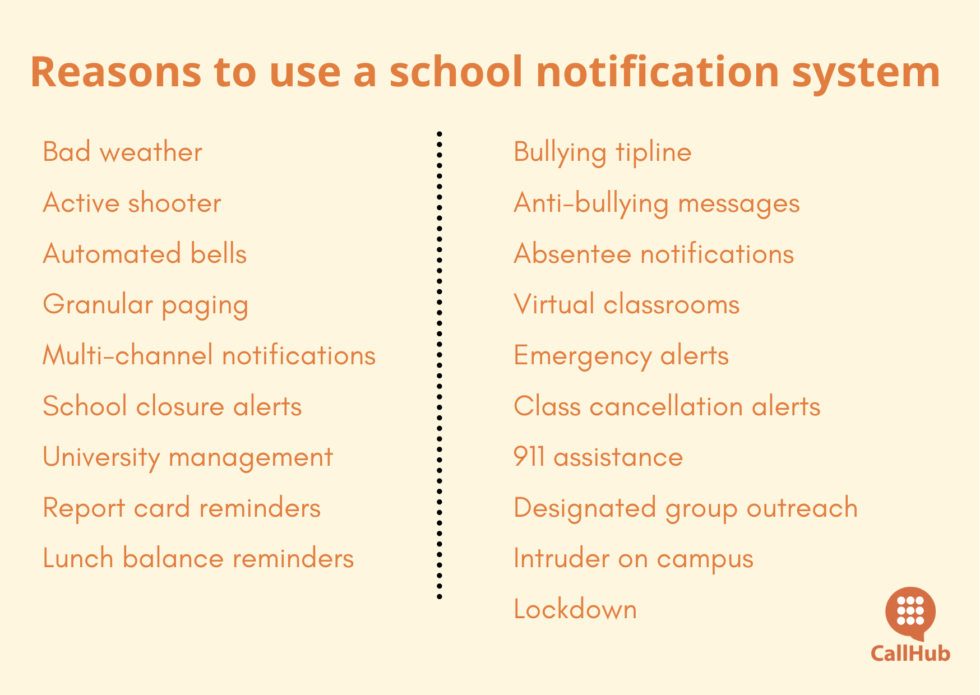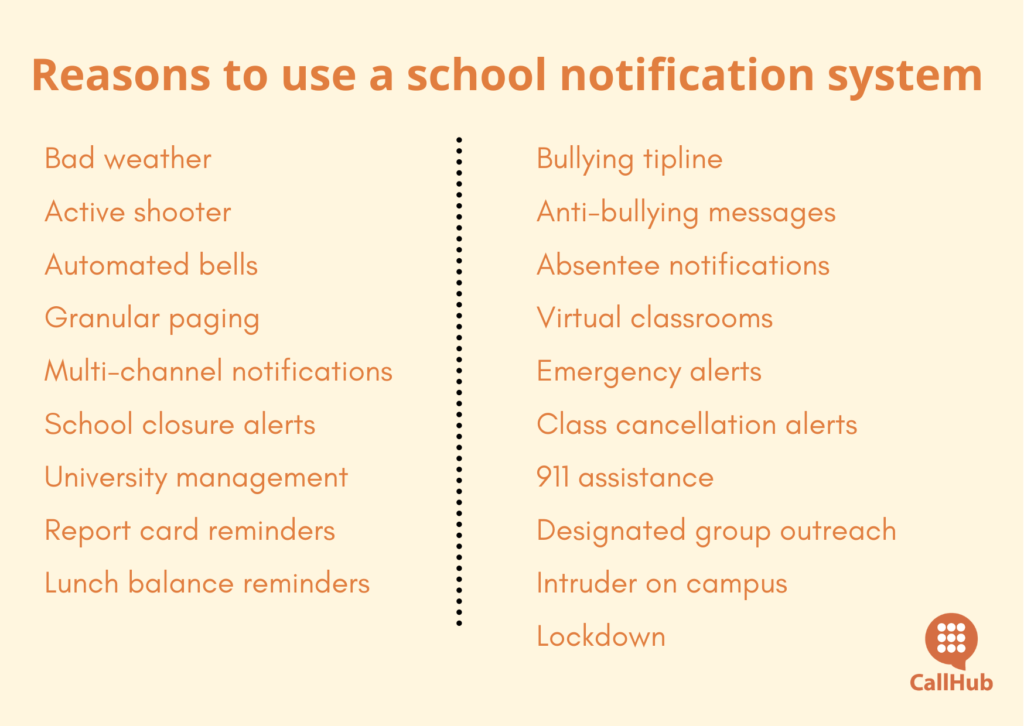 Luckily, at CallHub, we've discovered ways in which your school communications system can work efficiently and securely to ensure all your alerts reach quickly to their intended recipients. Let's explore some features you'd love to have on your school communications system.
How CallHub's texting and calling features aid school notification systems
Callhub's range of autodialers, texting methods, and other auxiliary features are perfect for a school notification system. Here's why:
1. Texting
Texting has an incredible open rate of 91% within the first five seconds of delivering a texting campaign! Try texting if you want a guarantee on it being read.
CallHub's texting features offer you different ways in which you can launch a text alert that enables both one side as well as two-way communication, such as:
SMS opt-in: Perhaps one of the most valuable features for a school communication system, SMS opt-in allows schools to create keywords that parents, students, and staff can use to confirm their opt-in to receive notifications from the school. CallHub will enable you to create automated responses for each keyword that reduces the time your team spends on responding to each message individually.
For example, if one wanted to know about your admission process, they could simply text 'ADMISSION' to your registered phone number. They get an automated response with files that might aid them in their decision.
Peer-to-peer texting: A valuable addition to any school communication system, P2P text messaging enhances your internal communication strategy. It is excellent for conversations around admissions and recruiting but also for involving students through school communication.
Especially since many schools are discovering and trying to implement a hybrid learning model, where classes will be conducted online and offline, staying connected via SMS enhances class participation. Real-time, informative text messages from real people (teachers or school staff) can improve their engagement with the educational institution, increase motivation and serve as a great channel to clarify doubts and ask questions.
CallHub's P2P texting feature allows your staff to send up to 3500 texts in an hour with data collected from conversations instantly syncing with your CRM
Mass Texting: Schools have used mass texting for a while now when sending out text blasts that do not require a response (or require only close-ended and prompted responses). You can use this feature by CallHub to reach out to thousands of recipients within a matter of seconds. We also offer an MMS plug-in for notifications that are best sent with images, videos or gifs (an event invite, for instance).
2. Voice broadcast
Voice broadcasts allow each recipient to receive messages in the form of a pre-recorded phone call. Voice broadcasts will enable schools to relay messages without worrying about the character limit – one drawback of SMS notifications.
CallHub's voice broadcasting software will be a great addition to your school alert system. You could record a voice message and send it across to hundreds of recipients.
Voice broadcast messages are best used for school closure alerts, bad weather updates, class cancellation notice and other emergency alerts.
3. Autodialers
Autodialers address all your calling requirements. By using autodialers, you can make 5 times more calls than you can with manual dialers. Does your staff have to reach out to each student or parent in the school individually, through personal phone calls? Autodialers are perfect for such occasions.
If you prefer live conversation between staff and parents (or your use case is such), CallHub offers a range of auto dialers. These dialers can do the job of dialing numbers and skipping over unanswered ones, connecting your staffers directly to answered numbers.
The auto-dialers come with several features such as a referring script, automated merge tags, callers history, etc to enhance your calling experience.
CallHub offers 3 types of autodialers: Power dialer, fast click dialer and predictive dialer. All 3 dialers have their own advantages depending on your needs.
A power dialer connects an agent to one call at a time, lets them fill in notes after the call and when an agent indicates they are ready, connects them to the next person automatically.
A fast click dialer is TCPA compliant and ideal for lists that have a mix of both landline and mobile numbers that haven't consented to your communications since they operate through human intervention. This is best used for outreach to prospective students (or their parents)
A predictive dialer increases efficiency by automatically dialing contacts ahead of time. It then connects them to calls that are answered, skipping through calls that weren't answered. This dialer is best used in high-volume campaigns and with at least six staffers available to make calls.
Calling parents seeking their child's admission to school is a great use case for autodialers. With the volume of admission requests, and the need to represent the school's brand, calling is an excellent way to provide personal attention.
Teachers can also use dialers to speak with parents, talk about results, enquire about the well-being of their students and provide any feedback.
You May Also Like: Use School Calling Software for Easier Parent Outreach
4. Database management
With CallHub, you can attach 'tags' to each contact – a feature that helps you sort out your list. You can tag contacts as 'student,' 'parent,' 'staff' or 'teachers.' You could also further divide these groups by labeling the class, section, subject, etc., they belong to.
This helps in instances such as, when sending messages to Grade 8 students, you can simply filter your contacts, select tags corresponding with Grade 8 students, and send messages only to them. Similarly, if you only want to alert parents, you can filter them out through the 'parent' tag.
Targeted outreach is now easier than ever.
5. Integrations
CallHub integrates easily with CRM systems. You can connect your CRM system with CallHub, and all your data collected through text and calling campaigns will automatically sync with your management system. This will inform your future texting and calling campaigns, ensuring you have updated information every time you communicate.
6. Maintain updated lists
Maintaining updated lists helps your school ensure data security and better open rates. When you have updated and clean lists, you know that any alert you send out through your school notification system is reaching the intended recipients and reaching them on time.
There are two ways in which CallHub can help you maintain quality lists. They are:
Plug-ins that detect 'bad' or invalid numbers. They can also divide your list by identifying mobile numbers and landline numbers so that you can plan your outreach to each (text or call) accordingly.
Tags to identify contacts that have been unresponsive or turned out to be wrong numbers and delete them.
Read Also: Marie Kondo-ing Your Contact List: How to Clean an Existing Contact List 
7. Share links
Sharing links is an interesting way to use text messaging to engage with parents. From fee payment to lunch balance – imagine if all of that payment could be made online!
Through Callhub's text features, you can send parents a link to click and pay fees or refill lunch money. Alternatively, most forms such as event RSVPs, field trip permission slips, admission forms, etc., can all be sent via links directly to the parents' messaging app.
Conclusion
There are many more exciting features for you to discover on the CallHub software that will make a great addition to your school notification system. If calling and texting are your preferred modes of communication for a school notification system, start your 14-day free trial with CallHub today!
Feature Image Credit: Cristian Dina