School communication systems have revolved around emails, direct mail, and phone calls for years now. However, text messaging has quickly caught up and is shifting how schools communicate with key stakeholders: the board, trustees, admin, parents, and students.
Why has text messaging become so popular? Two concepts: instant communication and easy accessibility. A text message can instantly reach thousands of contacts at one go. Also, since people read texts within the first five seconds of receiving them, you are more likely to receive a response (in fact, texts do get a 45% response rate while emails lag at 8%)- what a relief from constant follow-ups!
The power of text messages for schools is thus evident.
There are two ways in which schools can leverage text communication. The first way is to send out personal 1-on-1 text messages to each stakeholder individually. The second is to implement a text messaging service that could easily reach out to hundreds of people with the push of a button. To save time and effort for mass communication, the latter has been gaining popularity within schools over the years now.
This article focuses on the latter aspect and explores two text messaging features that schools can use to improve their communications: SMS opt-in and mass texting. Let's learn more.
SMS opt-in and mass texts
SMS opt-in and mass text messaging work on the same lines but diverge at the point of data collection. While SMS opt-in allows you to collect data, mass texting serves as an information outlet. Let's explore both.
SMS opt-in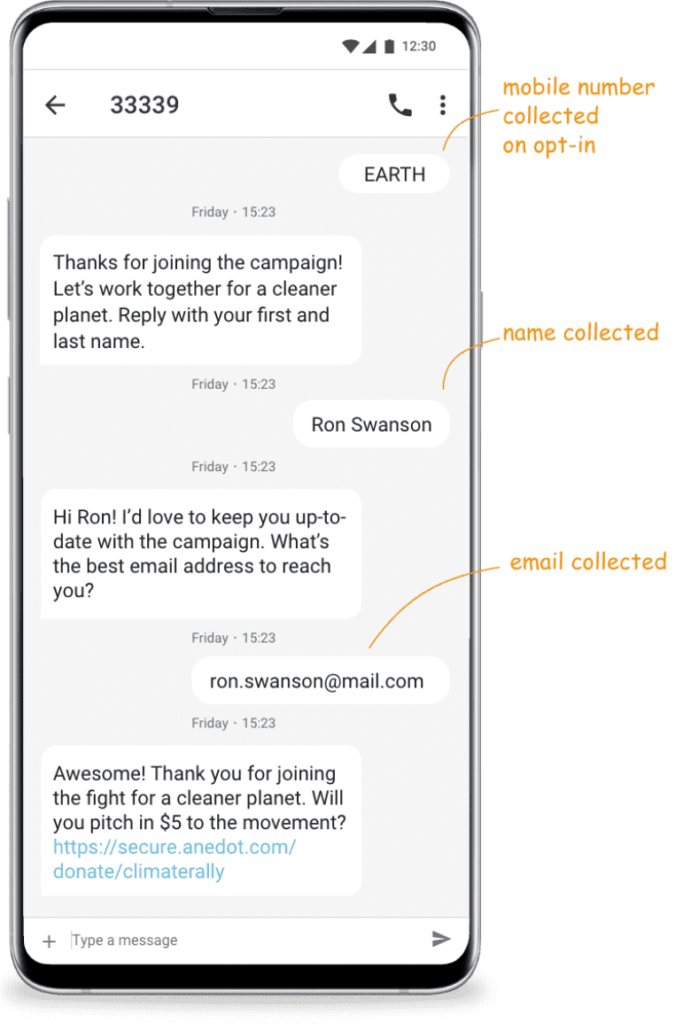 SMS opt-in allows schools to collect phone numbers, email addresses, and more through text messaging. More importantly, this is a sure-shot way of collecting consent from parents and students for your school to text them and to populate your list organically.
If your school's text messaging campaign aims to either elicit responses from the receivers (parents, students, or admin) or collect data, then SMS opt-in should be your go-to feature.
Setting up an SMS opt-in system is easy. You can create a free account with CallHub and rent a keyword of your choice. When someone texts you that keyword on your rented long code or short code number, they have opted-in to your SMS subscription. And you've begun!
When you are running more extensive communication programs, such as sending text messages to all parents or the entire student body, you could get a dedicated 10DLC number and get to choose unlimited keywords for different use cases.
Here's what it can do for you: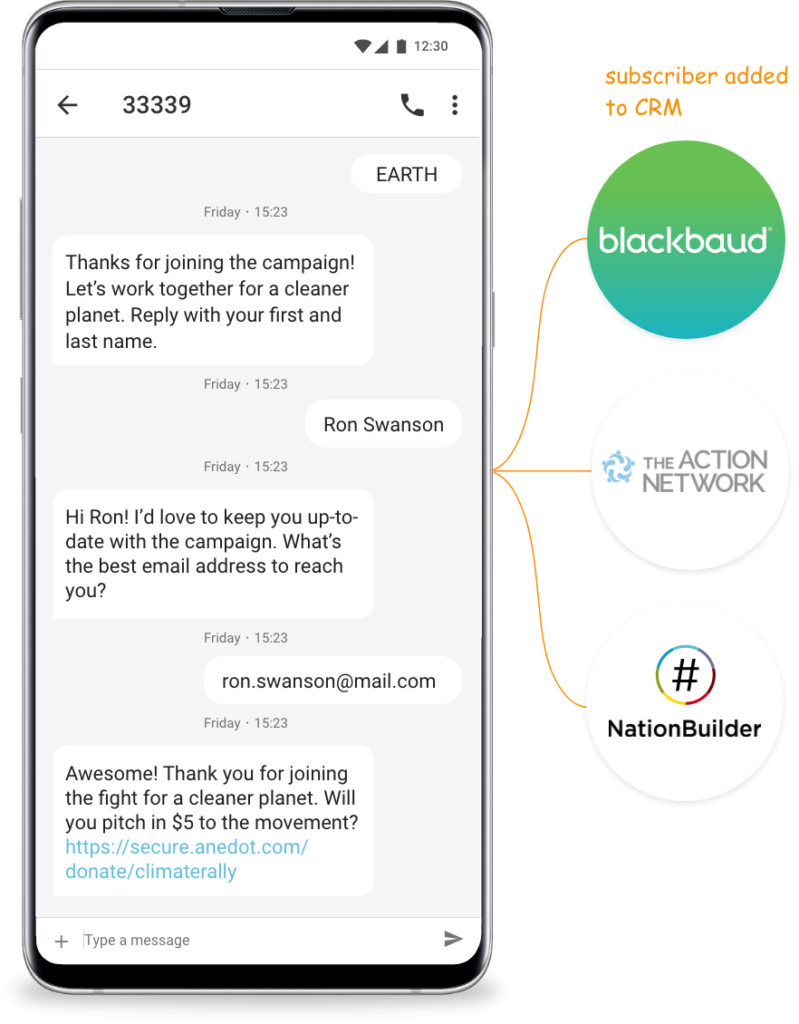 Allows you to set up automated follow-ups for each text message. Once a parent or student opts into your SMS list, you can send automated follow-up messages to glean more information like email addresses, location, etc.
It lets you personalize your outreach. Once you have collected the first name of your intended recipient, you can set merge tags accordingly, and the system will automatically add the name corresponding with a mobile number from the next message onwards. Thus, hundreds of messages can go with optimum personalization without manual effort.
Sends nudges to remind recipients to respond to your message and thus increases the response rate.
CallHub's SMS opt-in tool allows you to direct your data collected from the SMS campaign directly to your CRM. We integrate with Blackbaud, Databank, Salesforce, and hundreds of other CRMs. What's more, you can even use Zapier to integrate with us if your CRM is not already on our list.
Allows users to unsubscribe from the SMS list, thereby maintaining clean lists. Recipients can text trigger words like END, STOP, CANCEL, UNSUBSCRIBE, to opt-out from your list. Especially useful to allow parents to unsubscribe after their children have graduated from school.
As a school, your communication varies depending on the people you reach out to, the message you want to convey, the occasion (events, result announcements, emergencies, etc.). You must assign different keywords for different use cases for such varied uses to sort out contacts in your lists automatically. Create new contact lists for each use case (or class) and you have an automatically segmented list ready to receive text communications!
We'll be discussing the different use cases for text communications in the section below.
Mass texting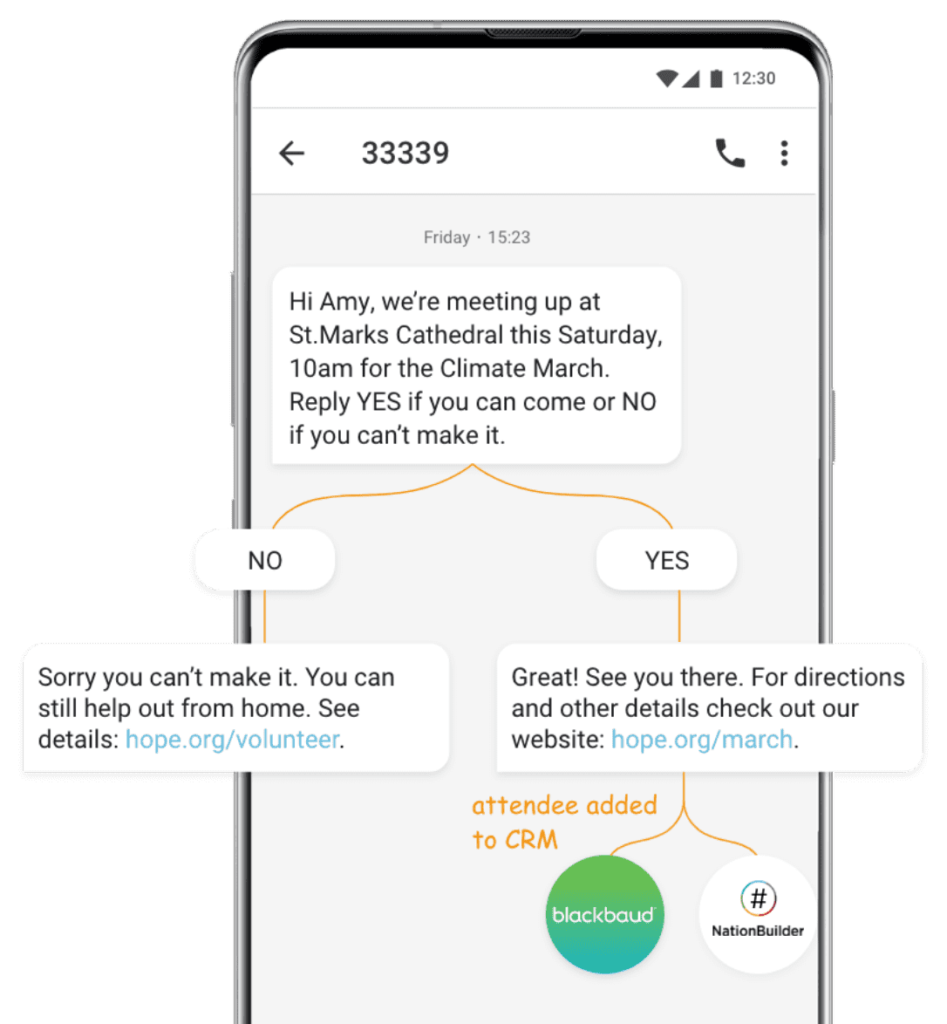 Mass texting allows a school to send a scheduled, personalized message to an extensive list of recipients in one go. Scheduling a mass text is easy and saves you time and effort- no logging in during a weekend to send texts to an entire class individually!
Here are some benefits of mass texting:
It helps your outreach tremendously. 98% of text messages are opened and read– far more than one can claim for emails or calls.
Maintains connections with your audience by sending out a mass text message campaign regularly.
Saves time by scheduling texts and saves money by using our pay-as-you-go model.
Now that we know more about these two features let's explore how you can use them in your outreach methods.
How schools can leverage text messaging for communication
A sound school communication system allows for better synchronization between the school and parents, eventually impacting the academic success of a student. Let's explore different ways in which text communication can help your school.
1. New parent sign-ups
The admission season is upon you, and there are so many new students and their parents to capture as leads and nurture! An easy way to gather information about parents and get them onto your school communication system is by making them opt-in to your SMS pipeline.
Get parents to text JOIN to your registered mobile number and direct their responses to your CRM system – and you're done! Hassle-free data collection.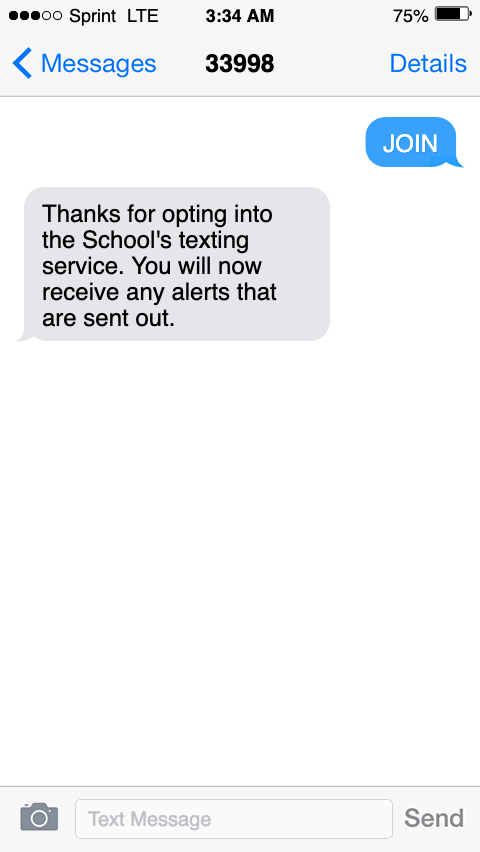 Read Next: Use School Calling Software for Easier Parent Outreach
2. Admissions
Parents are always on the quest to find the best for their children. It could be the best products to use or the best school in the locality for them to attend. They do this by looking through your website, searching for you on social media, and reading reviews on Google.
This is where your school can gain an advantage over competitors by allowing parents to opt-in to your school's text messaging service. You can ask parents to send a keyword such as FAQ, INFORMATION, etc., to your school's registered phone number, and your admissions department can take the conversation forward from there.
In this way, you also build a list of verified phone numbers for future use.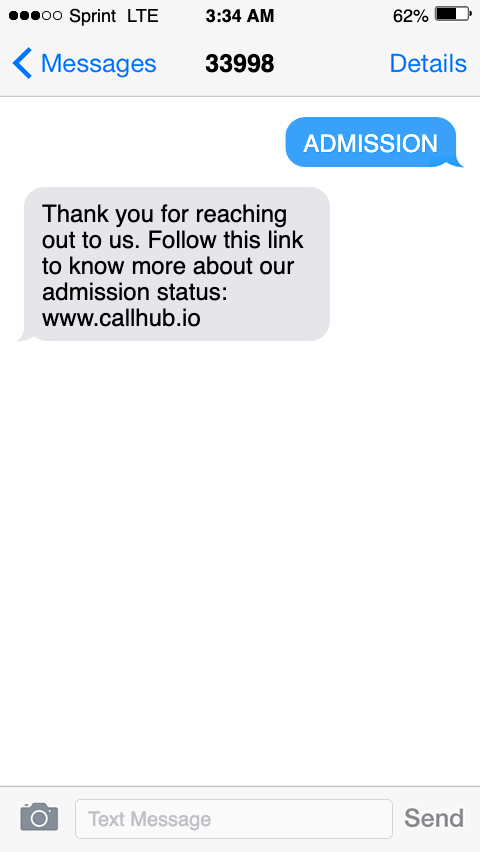 3. Permission slips
Every year, the school outing is the most exciting and entertaining. As fun as it is, it is a coordination nightmare. Kids eventually forget to get parents to sign the permission slips. Teachers do not know how to get everyone to bring back their permission slips on time before the travel logistics are finalized. The travel coordinator is left wondering how many kids to accommodate and how.
SMS opt-in can make this process so much easier for all parties involved. Parents can simply text TRIP to the school's registered number, and you can acquire their permission and other details via autoresponders. Furthermore, one autoresponse can send the link to pay for the trip.
Inform them that more details on the trip will be sent to them soon. CallHub allows you to create a new contact list with an SMS opt-in campaign. Since you have this contact list ready, you can send mass texts to all parents informing them of details or notifications at a later point.
4. Attendance information
Knowing their child is regularly attending school is essential for parents. An absentee student can be a problem for teachers, parents, and other students alike. You can set up an automatic SMS alert system to inform parents about their child's absence.
You can allow parents to keep a weekly/monthly tab on their child's attendance record by asking them to opt-in for attendance notifications. They could simply text ATTENDANCE and receive regular attendance updates.
It eliminates the need for teachers to play an active role in keeping track of student attendance and shifts the onus onto parents for ensuring that their child is regular to school.
5. Notification to parents
School notifications for parents can range from an off day to information about changes in the fee structure. You could inform them about any safety drills scheduled to take place in the school, phone lines not working, or system outages. Mass texting allows you to send scheduled and unplanned notifications in minimum time.
Read more: Unplanned Off-Day? Here's How You Can Send Urgent School Closing Text Alerts.
6. Fee balances and updates
Different schools offer different payment methods – yearly, half-yearly, or quarterly fee payments are the standardized ways in which fee payment is divided. Regularly following up with parents or sending home fee slips with a student may be time-consuming for your admin staff while also being ineffective in ensuring timely fee payments. Alternatively, parents might also want reminders and information about the fee structure and balance payment.
Setting up text alerts for fee payment or a keyword such as FEES cuts out additional administrative tasks and notifies parents about upcoming payments in advance.
7. Lunch money balance and updates
Having a child run out of lunch money balance and realizing it at lunchtime at school is an unfortunate scenario. Keep parents informed about lunch money balance using SMS and set up nudges to remind them about payment dues.
8. Results
Coordination on the result announcement day is a serious affair. Getting all parents to turn up and collect their wards' results, ensuring parents receive report cards handed over to students, and many more concerns surface around this announcement.
A paper-free, hassle-free experience to declare results through text messaging is possible. Ask parents to text RESULTS to your registered phone number, and et voila, the school can send personalized report cards for each student.
9. Events
Do you have the yearly talent show coming up? Is prom around the corner? How do you inform students and parents about it and ensure everyone has received the notification?
Yes, set up an automated text message campaign full of details, including the date, time, place, and dress code. What's more, parents and students could RSVP through text – your event attendee list is sorted!
10. Assignment updates
Set an assignment deadline that now needs to be pushed? Does the assignment need additional resources that students need to go through?
Assignment updates, reminders, important project deadline notifications, test information – all of it can be sent to students at the click of a button. It saves teachers from answering the same type of questions time and again, individually through email.
11. Emergency information
The most important use of a text messaging system is during emergency situations. Whether it is to send out a bad weather alert or inform parents about a safety threat – a quick SMS blast is the most accessible and most reliable form of communication.
You can even share safety tips and other helpful information to ensure everyone is on the same page and doing the best they can. Get parents and students to opt-in for such alerts at the start of the academic year. Keywords such as ALERT or NOTICE can help you curate contact lists of those interested in receiving urgent notifications.
Read More: How To Use Text Alert System At Your School
12. Hotline for questions from parents and students
School office administrators have several things to look out for – ensuring fee processing to coordinating events – it's all a part of their job. However, answering phone calls from parents and students all through the workday can hamper productivity. Especially if the information required could have been shared via text. This is when text messaging can help them.
Setting up an FAQ system for parents and students and regularly updating the information according to upcoming events in the academic year will ensure they receive immediate updates. Shifting from calls to mass texts can ensure the admin staff's output is directed to other important, manual tasks.
13. Bullying/mental health hotline
As much as a school is an environment of learning and growth, it can also become a space for bullying. Apart from that, during volatile years of a student's life, they might also need mental health support depending on their life circumstances.
When no one is immediately available to assist a student in distress, an automated system that can aid them within seconds can be a lifesaver – literally. Set up a system that can send instructions to students about coping techniques, emergency helplines, and more through SMS. Make keywords such as HELP, AID, etc., well known around the school so that it becomes easy for students to access them.
14. Alumni relations
School alumni networks have gained even more popularity since the inclusion of tech in this space. From helping out their alma mater, donating to the school, helping out students from the same school – there's a lot that the alumni association can do for their school.
Maintaining and nurturing relationships with this segment becomes more manageable when a school cuts through the clutter of emails and reaches directly to their phone. Nurture alumni relationships by updating them about school events, hosting alumni events, asking them to RSVP, etc.
Read More: Alumni Engagement Strategy & Best Practices: 9 Top Ways to Nurture Your Network
15. Feedback system
Feedback systems are important reminders that there is always room to grow and improve. There are different topics on which you can collect feedback from students and parents. They are:
Feedback on new teaching hires.
Feedback on infrastructure, health, and hygiene.
Opinions on new school policies.
Polls before introducing new rules and regulations, changing fee structure, etc.
Through engaging with SMS, it becomes easy to collect feedback on all these aspects of school functioning and improve school performance. Guess who is winning the best school in the district award? Yes, you!
Setting up an SMS opt-in service
Setting up an SMS opt-in service with CallHub is as easy as it gets! You can get started in a few simple steps. Have a look:
Create a free account: Head to CallHub's website and sign up.
Choose a keyword that you would like to use.
Market the keyword through word-of-mouth, social media, your website, forms, etc. Once your intended audience uses the keyword to text you, they have automatically opted into your SMS subscription, and you can contact them in the future.
If you are planning to run a larger, more regular SMS campaign, you can subscribe to any of CallHub's plans. Once that's done, you can choose an unlimited number of keywords to serve different purposes.
Set up auto-replies to ensure you do not have to message manually. Auto replies will take care of the conversation for you.
Create follow-up prompts for expected replies to your auto-responses. An opt-in keyword will trigger auto-response A. "A" will prompt your contact to send in reply "B"– which triggers auto-response "C"– so on and so forth until you get all the required information in this first conversation or the contact has taken the desired action.
And that's it! You've successfully set up a text messaging service for your school!
Let's begin? Log onto www.callhub.io and start today.
Feature Image Credit: Solen Feyissa