$75 million on digital advertising.
That's the amount democratic strategists plan to spend this year to counter President Trump's campaign, which has already spent $26 million on digital advertising so far.
American Media has undergone significant changes in the past few years, enabling digital media to become a more powerful political marketing tool.
For instance, there has been a major shift from traditional television to online sources for those seeking political information.
As per a survey by the Pew Research Center, In 2016, 57% of the public often got news on television compared to 38% who used online sources.
From 2016 to 2017, television's regular audience declined to 50% of the population whereas the online news audience grew to 43%
The rising trend of digital platforms is driving campaigners to spend more and more on digital ads.
The WSJ reports that the total political spending on digital ads in 2018 was nearly $1.9 billion.
This number is expected to grow up to $2.8 billion in the year 2020. Here's a graph showing the exponential growth in digital ad spending over the years: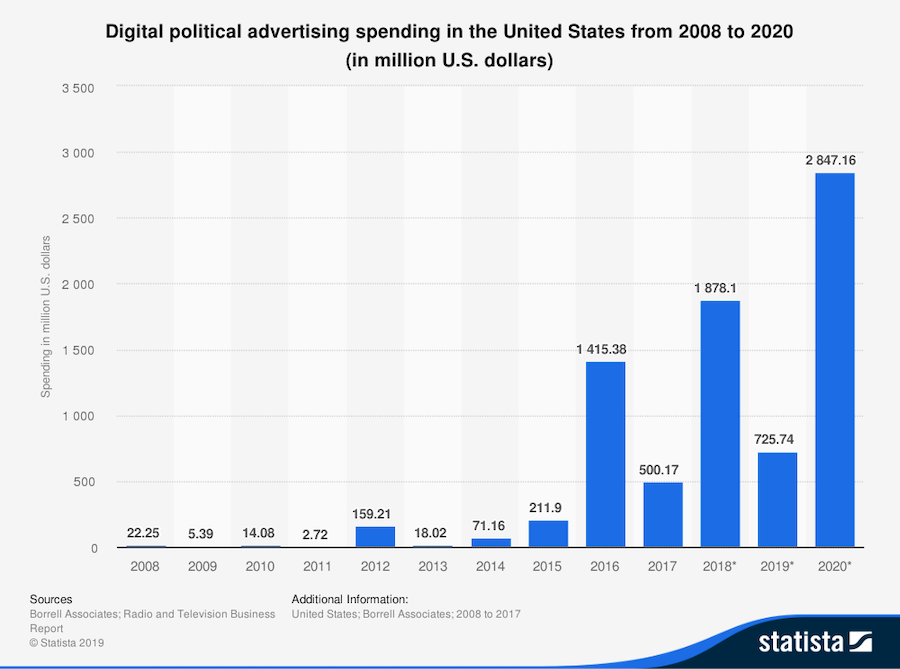 Advancements in digital communication have forced campaigners to innovate.
However, they have also provided organizers with a myriad of opportunities for outreach and voter persuasion.
Given below are five campaigns leveraging these opportunities and setting benchmarks of success.
1. Bernie Sanders: Rallying and engaging virtually
As social distancing rules come into effect, campaigners are being pushed to look for new ways for political marketing.
With this in mind, Bernie Sanders's campaign organized its first virtual rally, which was live-streamed on multiple channels, including Facebook, Periscope, and Twitch.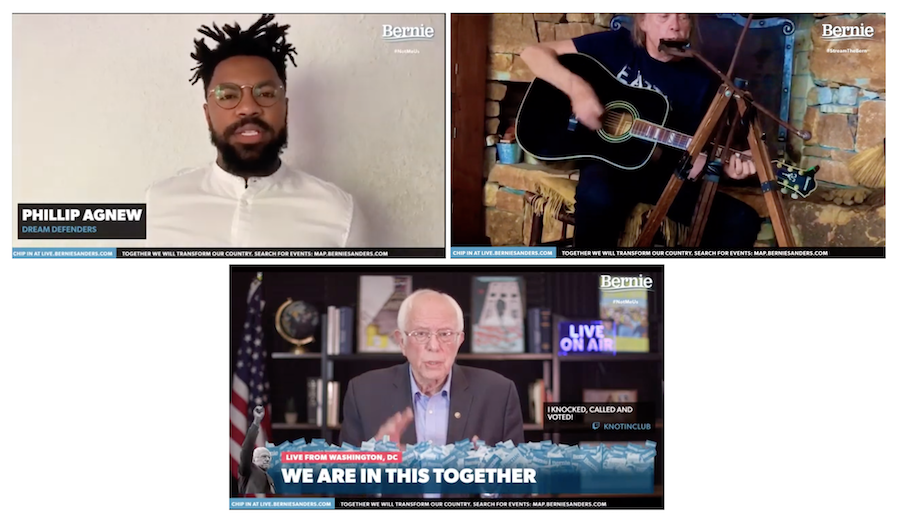 The rally featured pre-recorded performances from musicians, Jim James, Neil Young, and the Free Nationals. Jim James and Neil Young also gave speeches persuading the public to support Bernie.
The event also featured recordings of campaign surrogates, including Phillip Agnews, Brianna Westbrook, Rep. Chuy Garcia, and Nina Turner, speaking about why they supported Bernie.
Lastly, it featured Bernie Sanders talking about medicare and his plan to improve the country's medical facilities.
A day before the virtual rally, the campaign also live-streamed a fireside chat. It included Bernie Sanders discussing his vision for the country and also taking questions from the public through the comment section.
The objective of these virtual events was to reach voters while following the rules of social distancing. The campaign successfully engaged with a huge community online and collectively drew over 4.4 million viewers for these events.
Takeaways
Leveraging influencers to draw crowds.
Campaign surrogates have a positive impact on elections. If used right, these influencers can help campaigners persuade and mobilize voters relatively easily.
Break the monotony during online rallies
Listening to hour-long speeches can be dull. Plus, the absence of social pressure in online events can make it even more tempting to disconnect.
By alternating between speeches and musical performances, Bernie's virtual rally ensures that the audience is hooked throughout the event.
Additional Resources
2. Alexandria Ocasio-Cortez: Connecting over Instagram-Live
Alexandria Ocasio-Cortez leverages social media to connect with her voter segment, using Instagram as her go-to social channel.
She frequently uses Instagram's live-streaming feature to engage with her audience and answer questions. She even adds a unique touch to them by conducting these streams in a very casual manner.
For instance, she recently conducted an AMA session with her followers while assembling IKEA furniture.
The scope of the questions ranges from her view on various political issues to general questions about her life.
Alexandria Ocasio-Cortez's Instagram stories and live streams help her engage with young tech-savvy supporters, a segment that has been crucial for her past victories.
The casual, gaiety posts also reflect her as an average person, thereby positioning her as a relatable candidate.
Congresswoman Alexandria's strong social media presence has helped her gain over 4 million followers on Instagram. Her Twitter account also saw a 600% increase in followers since June 2018.
Takeaway
Choosing live streaming over other forms of engagement
82% of viewers prefer viewing live streams over social media posts. While candidates can express their opinions through posts (tweets, blogs, website copy), mixing it up with live streams improves reach and nurtures a sense of community with voters.
Live streams also let candidates convey their message directly and with the intended intent It eliminates the possibility of the message being tainted and spread by others with biased commentary.
Positioning yourself to appeal to your target audience
Alexandria Ocasio-Cortez targets her message at young voters, a group increasingly disillusioned by the idea of politicians as corporate stooges.
To appeal to this segment of voters, she portrays herself as an average person (through the different casual setup of her live-streams) trying to bring change.
To top that, she also does that through a channel her supporters are comfortable with. In doing this, she appeals to her niche rather than seeking approval from the masses.
Additional Resources
3. Jagmeet Singh: Canvassing and phone banking for persuasion
For the NDP leadership in 2017, campaigners for Jagmeet Singh organized their outreach in three phases.
The first phase focused on onboarding as many new members for NDP as possible.
To achieve this, organizers utilized supporter networks for face-to-face contact and canvassing efforts. Volunteers then followed up with these contacts over phone calls or digital media to encourage them to register.
The second phase of the campaign was to classify existing members of the party as supporters and non-supporters of Jagmeet Singh.
Volunteers called these members (who were not engaged earlier during the campaign), filled up surveys based on their interactions, and classified them accordingly.
The final phase of the campaign was getting new and existing members who supported Jagmeet Singh out to vote.
To achieve this, volunteers followed up with all supporters over phone calls, emails, and social media encouraging and guiding them to cast their ballot.
At the end of the campaign, volunteers had brought in 47,000 new members, which was 38% of the total 124,000 members eligible to vote.
The personalized canvassing and GOTV efforts led to an overall turnout of 52.8%, which led Jagmeet Singh to his victory.
Takeaways
Leverage personal connections for more impact
While door-to-door canvassing in itself is quite beneficial for voter outreach, leveraging personal connections add to the impact.
Volunteers from within the community have a better chance of reaching and persuading voters.
Would you rather listen to a campaign volunteer you've never met or a neighbor from across the street about your voting preferences?
Have an omnichannel approach for voter contact
Omnichannel contact in political marketing is key to converting prospects into strong supporters. While face-to-face contact is a great initial touchpoint, additional touch points are required to nurture and motivate prospects.
98% of Americans switch between devices every day and it's easy for your message to get lost in the digital noise. An omnichannel approach reinforces your message ensuring that it's delivered and retained.
Additional Resources
Political marketing isn't just about the channels of communication, but also about the communication itself.
To mobilize overseas votes during the 2018 midterms, Democrats Abroad ran remote phone banking campaigns. The objective of the campaign was to increase voter turnout overseas.
The primary reasons for low voter turnout earlier were lack of information and guidance.
Moreover, each case was different. While some supporters were unaware of the voting process, others were unclear about updating their information, and some weren't clear about the documentation needed.
The CallHub call center solution allowed volunteers to note down these details (issues voters were facing) during their interactions. With this information at hand, volunteers could follow up with these voters with more resources and a complete plan of action.
For instance, a voter had moved to a new district and was unclear about the state laws on updating his information.
During their first interaction, a volunteer noted this down. The next time, a volunteer called, she had all the details that the voter needed to update his registration information.
With a complete picture of the voter, volunteers were able to make each interaction more valuable and personalized. They were able to better navigate voters through the barriers that were keeping them from voting.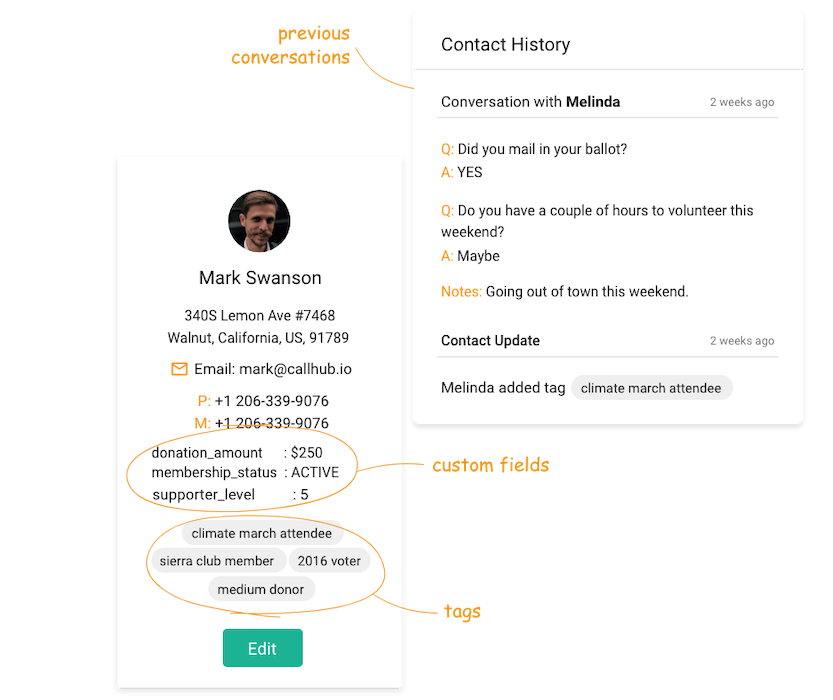 The result; Democrats Abroad was able to reach out to over 150,000 members abroad and drive a 300% increase in overseas voter turnout in the 2018 midterms.
Takeaway
Have personalized conversation for greater impact
Democrats Abroad volunteers collected all details about the voters in the first interaction itself. This allowed them to craft their follow-ups with a plan of action that voters could actually go through.
With more actionable data to work with, each interaction became more valuable. This, in turn, got voters to be more invested in the campaign.
Wouldn't you rather be more interested in conversations on how you can bring change rather than just the importance of change?
Leveraging the right tool for campaigning.
52% of people are frustrated when callers don't have the information they provided earlier while 59% of people are irritated by generic pitches.
Democrats abroad were able to avoid both by using a tool that allowed them to take down notes during a call that reflected in the membership database in real-time.
With this information at hand, any volunteer could craft a follow-up for the same voter with exactly what they wanted to know. This helped eliminate dependencies and made the process faster and more seamless.
Additional Resources
5. Barack Obama: Texting to mobilize voters
While the Obama campaign understood the importance of digital communication in political marketing, they wanted to expand their reach to new channels.
Thus, watching the growing trend towards mobile, they decided to use texts to enhance communication.
In order to entice people to sign up for text updates, the campaign used a variety of tactics. They offered free campaign ringtones, wallpapers, and even bumper stickers to those who signed up.
One of their most successful SMS marketing tactics was when Obama stated that he would announce the vice-presidential choice to his supporters via text.
The campaign also engaged with the community deeply, by allowing them to text questions over the same thread and receive answers.
For example, if someone texted a question about the Iraq War, everyone would get back a response with Obama's position on it along with the link to his website for more specific information.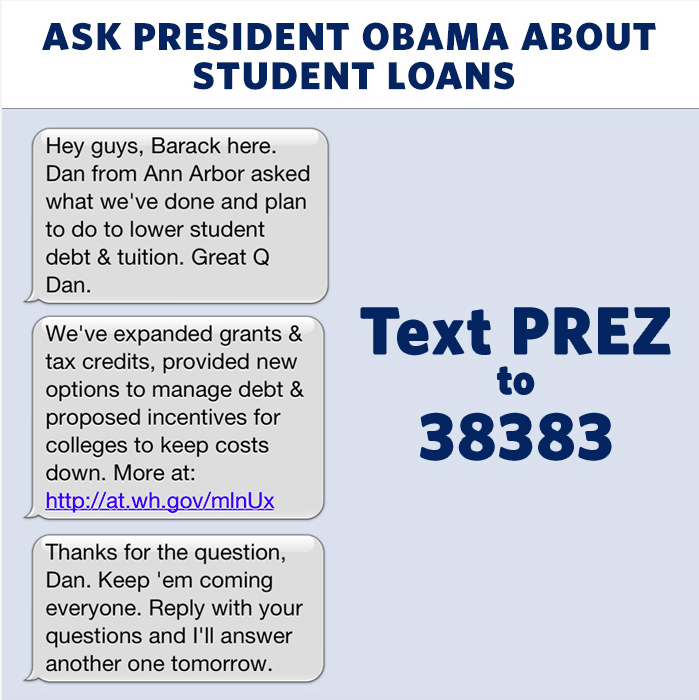 Obama prioritized his followers by conveying information to them before informing the general public through mass media.
By making them feel part of an exclusive community that was closer to the candidate, he made his supporters feel more appreciated and valued.
With these strategies, the campaign was able to drive over 3 million sign-ups and mobilize them during the campaign.
Takeaways
Offer incentives to build SMS lists.
Buying lists don't get you in front of the right audience. However, by properly incentivizing sign-ups, you'll draw in a more targeted and authentic user base.
Make supporters feel appreciated to mobilize them.
The campaign ensured that supporters were recognized by establishing a dialogue with them and prioritizing them for updates.
By building a relationship with the voters as an exclusive community, they were able to mobilize them with relatively lesser effort.
Additional Resources
To conclude
A strong digital strategy for political marketing has become a necessity rather than a good-to-have option.
The time individuals are spending on digital media is on a steep incline and declining quickly for traditional media (like newspapers, television, radio, etc.).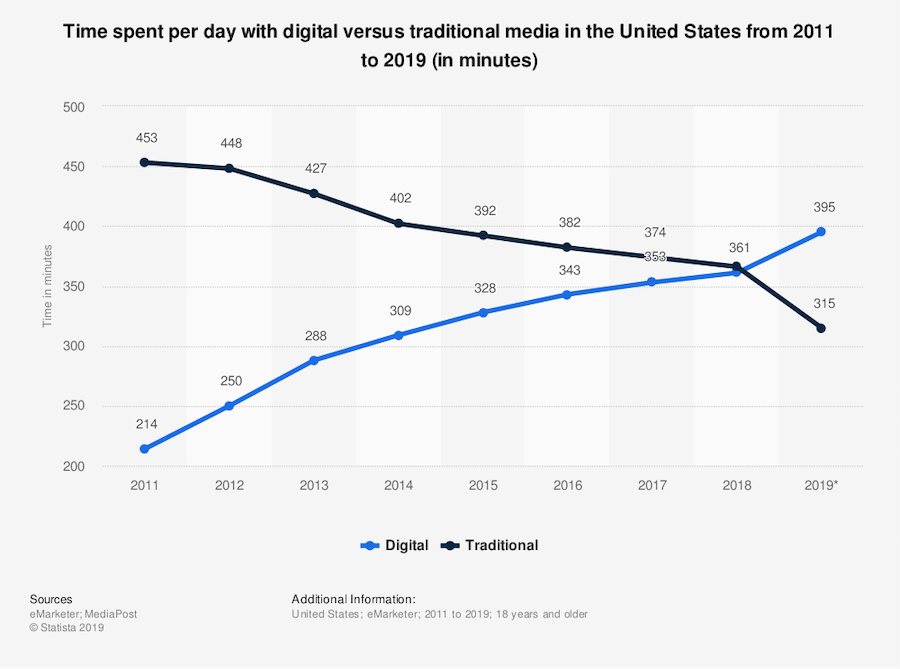 So why do you need to be more present on digital media? The answer is simple because all your supporters are there.
The longer you spend off of digital mediums, the more voters you lose to candidates leveraging the opportunity and reaping the benefits of digital engagement.
Plus, in times of crisis like these, digital engagement is turning out to be the only sustainable method of outreach.
While making a switch to a digital-first political marketing strategy might seem daunting at first, you can start with simple steps.
Using Alexandria Ocasio-Cortez as inspiration, conduct a live-streaming Q&A session for your supporters