Rapid Response Program using Text
March 7, 2018 - 6 minutes read
Texting is a quick and easy way for people to reach you. Everyone has a cell phone and in times of chaos, when certain sections of society are targeted or during a natural or forced calamity, texting tends to be more reliable than a call as calls may not get through as quickly. When people are in trouble or need help as soon as possible, there isn't enough time for an email or tweet.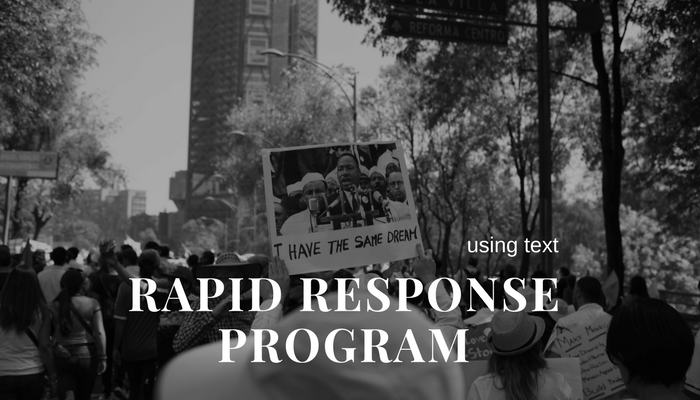 Advertising a number for people to text into when they're in trouble is a great way to open a channel of support for them. How do you advertise this number? The best ways to promote it are:
Add it to your website
Your website is your primary channel of communication. You must certainly include the phone number on your website and ask people to text to this number if they need help.
Promote it on Social Media
Some people are more active on social networks. Including the number in your social media posts keeps it on top of their minds. Encourage your followers to save this number and share it with their friends too.
Add it to flyers, cards, stickers
Print a large number of flyers, cards, and stickers that you can pass around during  meetings, events or rallies. Include the phone number on them.
Ask people to text in any way
To get people into the habit of texting, you may want to run a campaign beforehand that encourages people to text into this number to share some information. For eg: Text into subscribing for event updates, or text into share your story. You'll achieve two things, they'll have your number of their phone and two, you can continually send reminder texts asking them to text back if their in trouble.
Ok, perfect. You now have a lot of people texting in, conversing with you. Now how do you automate it so that you make sure you do not miss a single text? Anything can get overwhelming when it scales quickly. The smartest way to manage this is to use a text-based data collection service like CallHub.
There's a lot more you can do with a tool like CallHub. It helps you focus on helping people rather than wasting time on managing incoming texts.
Promote a keyword along with the number
How do you streamline responses so that the system can automatically parse and store incoming texts? By asking them to text a single word or phrase. Promote a keyword like "Help" or the name of your organization, to include in the text. When they're in trouble or need help quickly, text in with the word and will invariably expect a response with follow up instructions. Otherwise, you'll have people texting in with freeform messages that will be hard to standardize.
Maintain privacy and sanity
Don't advertise a number you own. That would make it hard to manage when the campaign is over. You can rent numbers from CallHub and unrent them when your campaign is complete.
Ask for information and store it
A tool like CallHub can not only help you streamline your messages but also help you gather data. You can configure CallHub to create a contact in your CRM for every incoming text and store responses as specific fields, eg: Ask for the first name and we save the response as the person's name; ask for the zip code and we do the same.
Set up automatic replies
For better streamlined text conversations, yes or no answers to questions are the best. Configure your responses to ask questions and prompt for answers as "Yes" or "No". Based on their response, you can trigger a customized automated text.
Sync with your CRM
You won't have to worry about manually moving new contacts from CallHub into your CRM, that because we integrate with them. Any new contact created in CallHub is created in your CRM too along with all the new information gathered.
Measure effectiveness
How can you tell if your campaign is working? We use natural language processing algorithms to classify every response you get for an SMS sign-up campaign. We identify sentiment in the message so that you can easily weed out the not so good ones. We also create in-depth reports to understand how your campaign is performing.
Get started with your campaign
It's easy to get started with CallHub. Create an account using your email ID and setup your first campaign. That's all it takes. Some of our customers are Siren-Bay Area and Amnesty International. 
Tags:
rapid response
,
sms data collection