A telephone fundraising campaign where volunteers play a rapid-fire with an extensive contact list asking for funds, votes, or support may look like an insuperable mountain. But with valuable phonathon tips, you can get more enthusiastic YESes than disappointing NOs.
For instance, imagine you are a philanthropist and hear the following pitch:
Hello, I am John Lennon calling on behalf of the Imagine Heaven Foundation. We are collecting funds to rehabilitate 150 underserved children from the Fairhill neighborhood of Philadelphia and providing them with education, healthcare, and social services opportunities. We were wondering if you would be willing to donate $100 to Imagine Heaven.
What are the three things that irked you the most? For me, they were,
The pitch was obviously scripted.
It was too long.
It did not contain adequate information to intrigue or compel me to respond positively.
But changing the course of this script is easy.
Similarly, the organization and structuring of a phonathon can determine whether your campaign succeeds or fails. For instance, segmentation of donors can help you personalize conversations, and personalized conversations are more likely to keep contacts engaged.
So, how do you organize a successful phonathon? We discuss the ten most important tips.
What is a phonathon?
A phonathon is typically a fundraising campaign that involves volunteers calling a long list of people quickly, asking them to donate to a particular cause and organization.
Phonathons can also entail calling constituents and confirming their vote.
A typical calling campaign of such nature includes a large team of calling agents and lasts about three hours. The team can be divided into different shifts, so no agent has to speak continuously for long periods
How do you organize a phonathon?
The nature of a phonathon is such that you require the best organizational skills to make things easy for your agents and your agents require the best call center skills. At the same time, your conversations should feel neither forced nor scripted to the people you call.
For this, you must systemize the back-end so the phonathon campaign is quick, efficient, and successful.
1. Segment and prioritize donors
You have limited time and calling agents but an exhaustive list of donors and prospects. Segmenting and prioritizing donors will give you the highest call potential, eliminating or "posteritising" (keeping on the back burner) those who are least likely to give.
Here are the donors who must be on your call list for a phonathon, starting from the highest priority:
Major donors who require special, personal appeals.
Donors who respond positively only to telephone fundraising.
New prospects who are yet to know the full details of your organization or cause.
Lapsed donors who can be retained with in-depth conversations.
Donors who haven't yet responded to other channels (like email or text).
Once you compile all donors who fall under these categories, segment them into different lists based on their history (e.g., recency of giving, last interactions, method of giving etc.). This history is also a good reference as a reason for calling and will help you segue into a conversation.
2. Invest in phonathon software for ease of functioning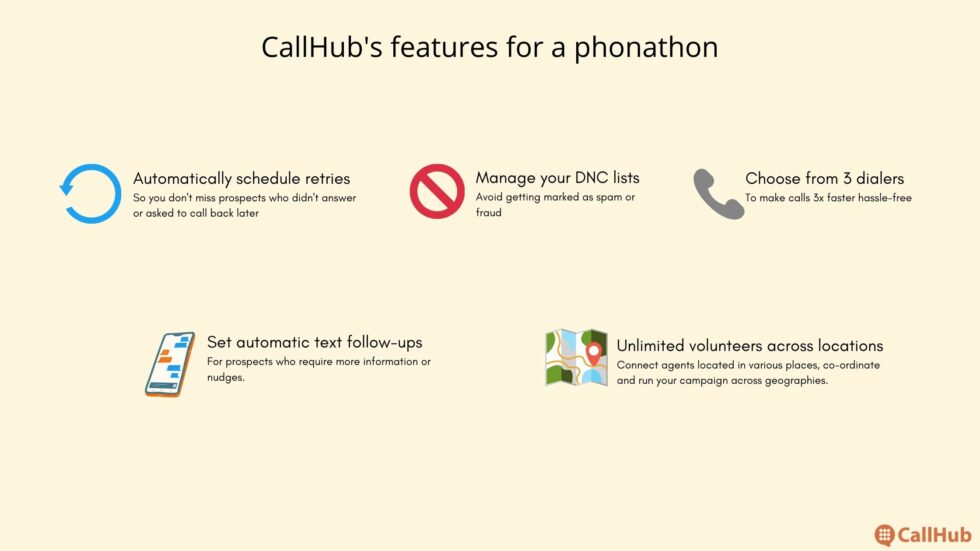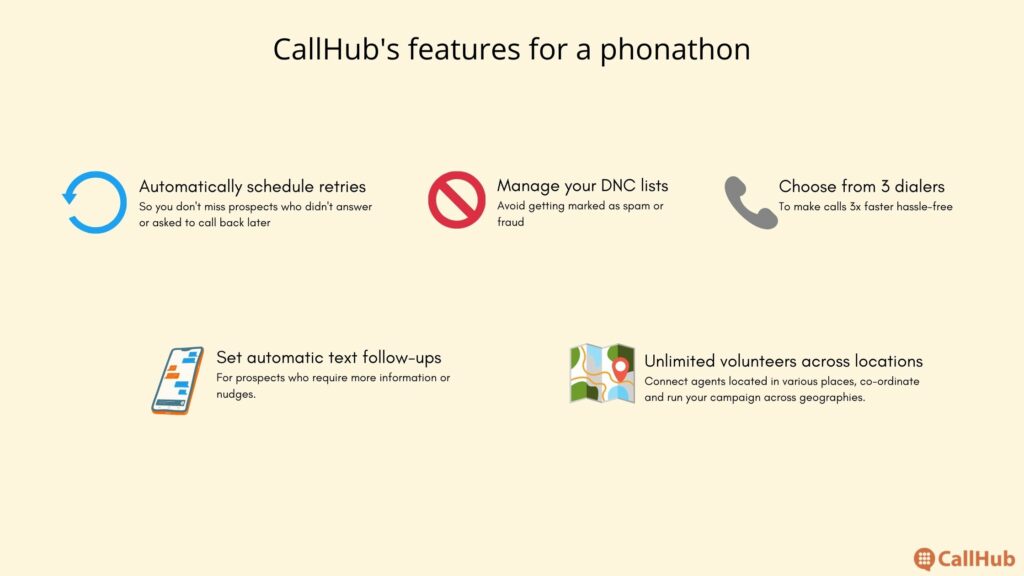 Manual distribution of lists is neither desirable nor efficient. A phonathon software will help you import lists from your CRM and automatically distribute them among your volunteers.
A good calling software, like CallHub, manages several admin tasks automatically, so you only have to worry about the success rates of your campaigns and skip the paperwork. To finalize a phonathon software, look out for features:
Automatic call dispositions: Automatically add called contacts to Do Not Contact lists or schedule retries depending on the response. On CallHub, you can set dispositions for
You can also set up additional instances and call dispositions for them.
Manual and automatic text follow-ups: In several instances, the caller expects you to get back with additional information, or you need to drop a text for no answer. Manual follow-ups are prone to forgetfulness.
Instead, a software that allows you to send text follow-ups from call center campaigns can do the job for you. When setting up a campaign, prepare text templates (or let your agents type a text) that can be sent with a click of a button through the calling dashboard itself.
Managing DNC lists: One of the most crucial phonathon tips is to have a clean contact list. That includes contacts that can mark you as spam (e.g., non-opted cell phone lists, litigators, and those added to DNC.) By enabling you to add contacts in DNC lists, even when the campaign is running, CallHub allows you to contact only the highest potential contacts in the present and future campaigns.
Nonprofits are exempt from TCPA regulations. To know how to stay compliant with the rules during your phonathon campaigns, read Staying Compliant in your Calling Outreach.
Add unlimited agents across geographies: If interested volunteers can't make it to your office, connect them from their locations. CallHub allows volunteers to connect remotely through their browser or even their phones. All relevant data is still available on the CallHub application to omit manual paperwork.
Choice of dialers: The most suitable dialer for your campaign depends on how exhaustive your contact list is, how many agents are available and what the interaction with the donor entails. CallHub offers two dialer options that let you make calls in the fastest and the most efficient manner.
Dialer Types
Features
Best used when
Predictive dialer
Dialer predicts how many contacts to dial ahead of time depending on the number of agents, average ring time, and talk time. Only answered calls get connected to agents.

Agents spend time only talking to donors/supporters.
You have an exhaustive list of contacts but limited calling agents and limited time.
Power Dialer
Power dialers dial one number at a time in a sequence from a contact list, and are used when you want to spend more time on a call. For lists with low answer rates, managers can manually set the dialing rate to 2:1 or 3:1. The dialer will ring the set number of contacts simultaneously and connect answered calls to free agents.

If no agent is free, the dialer will play a prerecorded message for calls in the queue.
Power dialers are best used when your contact list is long but the cost of not making contact is high.
Common features for all dialers
– Get all donor data on your system. Add notes or update data as required.

– Managers can monitor and record calls for future use.

– Schedule callbacks, text follow-ups, or drop a voicemail for unanswered calls.

– Pick from local verified numbers for higher pick-up rates.
Excited to try CallHub? Set up a free trial here.
3. Schedule calls when people are most likely free
People are more likely to engage with you and respond positively to your appeals if you catch them when they are free. For working professionals or students, this restricts calling times to evenings and weekends.
Schedule calls in the following periods to connect with donors outside of office hours:
Monday-Friday, 6 pm-9 pm: While offices tend to close around 5 pm, you want to give donors some time to reach home and relax before you call. The 6–9 pm timeframe also ensures calling compliance as per the Federal Trade Commission (FTC) regulations.
Saturday-Sunday, 5 pm- 9 pm: You get an additional hour on each day of the weekend to call donors. However, you can call them anytime during the day if you know they are likely to be busy in the evenings.
Legally, you are allowed to make telemarketing calls after 8 am and before 9 pm on all seven days of the week. If your donor history indicates positive trends in time frames other than those mentioned above, your best bet would be to follow those trends.
4. Aim for high barrier asks but keep low barrier asks as viable options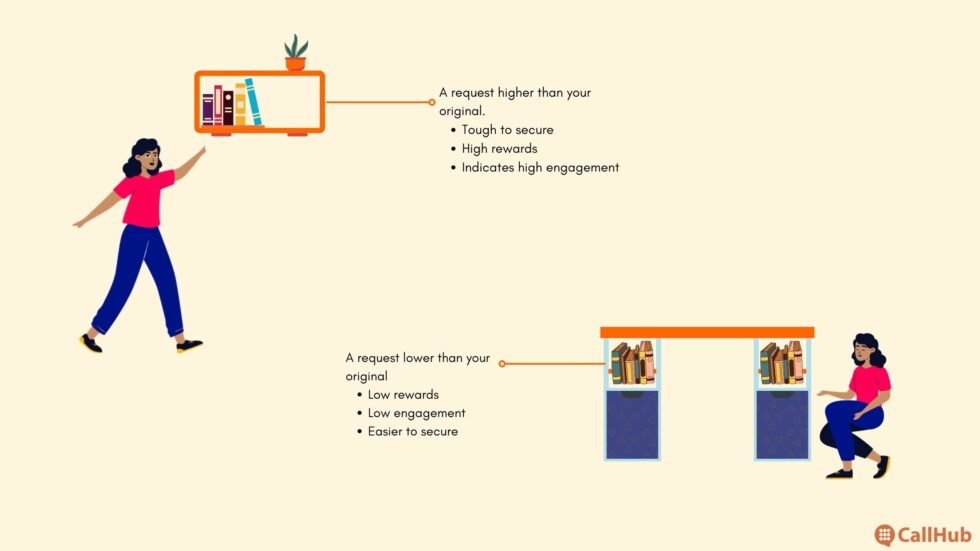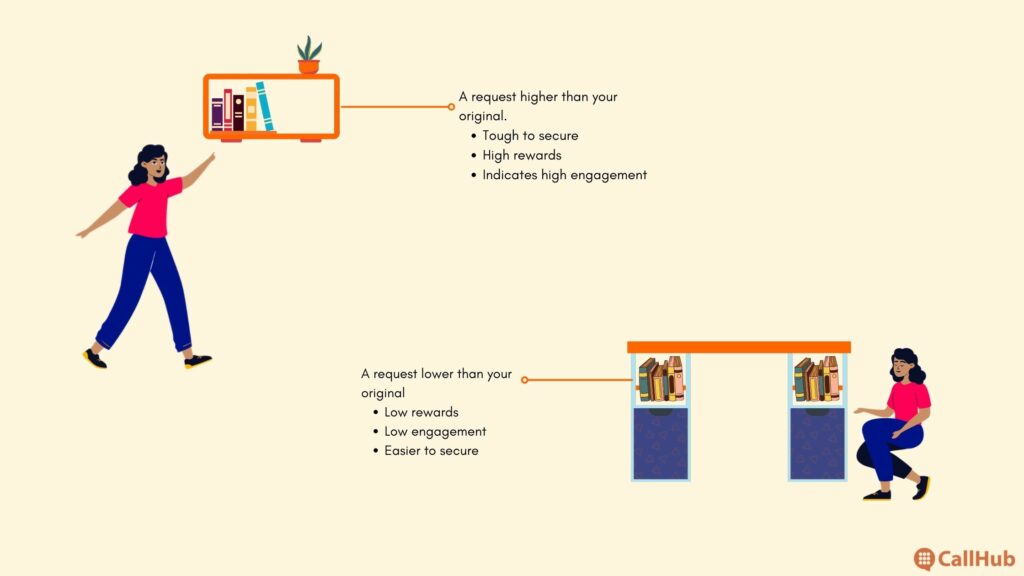 Your agents need some amount of flexibility when making calls to donors to drive the conversations more naturally. One of the most crucial phonathon tips is to explain to them how they should aim for high-barrier asks, but, if they miss, they can land among low-barrier yet essential returns.
High-barrier appeals: These are appeals you make when the contact is happy to oblige your first ask. E.g., asking if their employer has a matching gift program, asking for a higher donation amount, or volunteering or peer-to-peer fundraising requests.
Low-barrier appeals: These requests are negotiations that agents make when a contact can't accept your first request. Low-barrier appeals can be in the form of a smaller amount if a contact can't make a major donation or other ways of contributing to the cause. (e.g., sharing the fundraiser among friends, filling out a survey, etc.)
Adequate training for a phonathon caller will help them understand when to reach higher, negotiate lower or stick to the first request. For a detailed guide on volunteer training and management, read Manage New Volunteers To Run An Efficient Phonebank.
5. Maintain clean, automatic records
Phonathon managers often add tasks for volunteers to report the number of contacts contacted, total dollar amount pledged, unspecified pledges, etc. While this is a crucial task in any campaign, manual paperwork is a time-consuming, tedious process. It also leaves room for error when transferring that information to your database.
This makes it all the more important to invest in a cloud contact center that syncs with your CRM. It helps in four ways:
You get all relevant information about every donor on your system. This makes your conversations personalized and human.
Agents can fill out forms and add notes during or after conversations directly on the system. The information is still fresh in their memory, so your records are precise and complete.
This data gets synced to your CRM directly. No need for a manager to oversee the process.
Managers get a detailed analytics report on the calling performance.
6. Keep the motivation high with phonathon competitions
Scientific research has shown that
Competition increases management quality.
Improved management quality increases productivity.
By the theory of transitivity, healthy competition can boost productivity. And you have the perfect setting for it too!
You have a group of competitors (calling agents), a task to perform (call everyone from the assigned calling lists) with a calculable aim (fundraising/canvassing).
Why not use the opportunity to make the phonathon more interesting?
Set fundraising goals for every agent/team.
Track the best-performing agents (metrics may include most calling time, most people contacted, largest pledge, most donations collected, etc.)
Provide incentives and rewards for daily/weekly/overall winners.
Apart from helping you keep the motivation high, healthy competition can also help refine your training. The best performers can share their experiences and insights, whereas others can talk about why they thought they performed poorly, and you can retrain everyone with this new data in light.
How do you ask for donations over the phone script?
A phonathon script acts as a safety net for calling agents. It
Keeps them from getting overwhelmed.
Assures all details are in place and covered.
Sets a uniform tone to conversations.
Here's how to solicit over a phone call successfully.
1. Keep your focus on the mission, not the target amount
You aim to raise a certain amount of dollars for a cause. However, your conversations and requests should be such that the highlights are
The donor (mention how their contributions will help).
The cause (reinforce the importance of your mission).
In a typical phonathon conversation, the first ask follows right after introducing the caller and the cause. You are likely to ask for a fixed amount (or bracket) in this request.
Do not repeat the solicited amount except when the donor asks to ensure your focus stays on the mission.
Instead, keep your focus on the cause and how the prospect can get involved in the mission. Remember this phonathon tip, especially when the contact expresses hesitation or unwillingness to donate money.
Keeping the focus on the mission and not the target amount when the purpose of your call is to raise funds can be tricky. One way to get better at this is to rehearse and perfect your choice of words. As a fundraising manager, arrange for mock call sessions with volunteers, so they set the tone right and perfect their solicitation calls.
2. Set a flow that makes a compelling case for your appeal
A good flow ensures that your contact knows why they are called, they are engaged, and you have a dignified exit whether or not you secure a donation. Here's an ideal flow for a phonathon caller to follow.
Introduction: Mention your name and designation at the organization you are calling from. This not only gives a good opening but is also required by FTC regulations.
Explain the cause: Next comes an introduction to your cause. Make a case for your fundraising (or other) appeal. In this part, you must cover:
Why are you asking for donations?
How will the contributions help?
What do you want the prospects to do? (The ask must be specific and inspired by the prospect's history with the organization.)
Make the ask: Make sure you take an oath from all those who respond positively.
Set dispositions: Set particular dispositions and add notes for a successful call, objections, unsuccessful call close, and for when you need to send out more information.
Dignified close: No matter what the outcome, end the call by thanking the contact.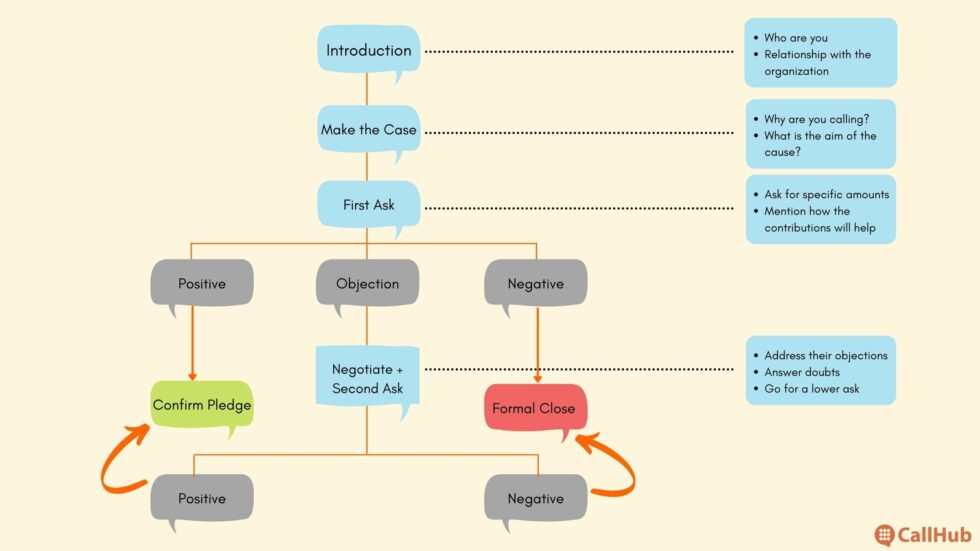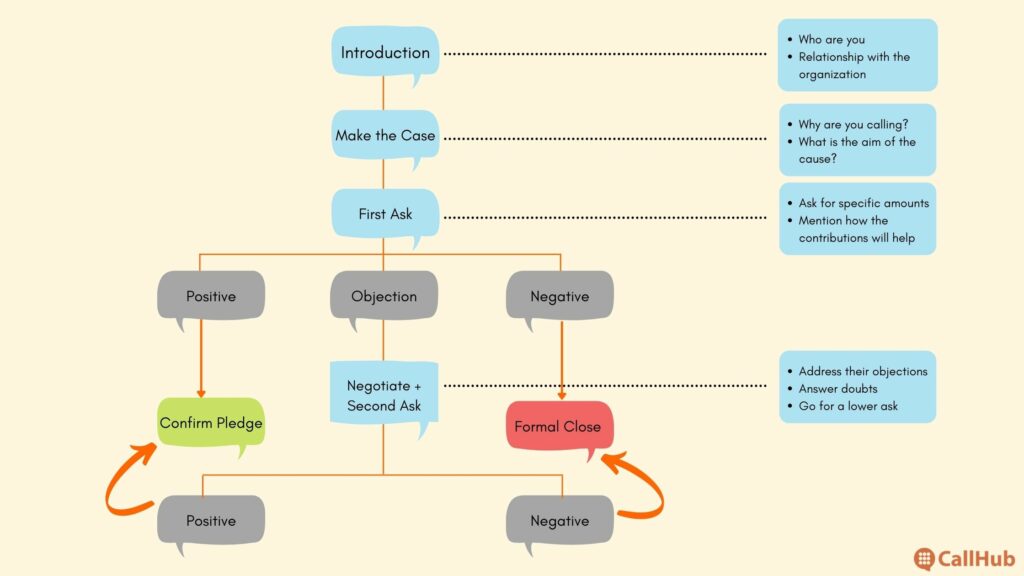 3. Keep the script crisp
The main script must be short and shouldn't feel dragged. Of course, if the prospect has questions, volunteers must engage in in-depth and long conversations. However, a standard call with minimum diversions (which can either mean a firm yes or a hard no) should not last over a couple of minutes.
A recent study about fundraising calls revealed that nearly 75% of all calls last less than three minutes. Of them, 55% were 90 seconds or less. Of course, there are exceptions when the conversations flow, and about 10% of calls went beyond 10 minutes.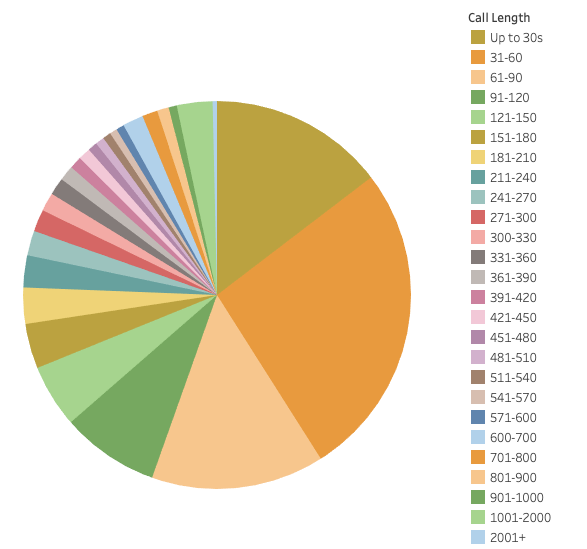 However, these long-lasting conversations are not scripted but improvised. When drafting a script, make sure it takes no longer than 90 seconds. Organize a mock discussion to check its duration.
Depending on the contact's responses and questions, agents can drift away from the script and have in-depth conversations. Limiting the script's duration gives agents a safety net to rely upon but don't make them solely dependent on it.
4. Answer two questions: "What's in it for me?" and "What are my options"?
Let's see how you can best answer these questions without explicitly mentioning them overcall:
What's in it for me: The three main reasons donors give are ego, passion, and altruism. Understand your donor's motivations (by tracking previous data or asking what drives them during the call) and leverage them to explain how contributions to your cause will benefit them and satisfy their reasons to give.
What are my options: A prospect unable or unwilling to contribute right now doesn't mean the call was unsuccessful. Rather, it is an opportunity to nurture the contact and show them that you are not in touch with them only for their wealth.

If they object to contributing money, ask them what their reasons are. If the reason is that they can't afford to right now, ask them if they'll be willing to help in other ways. This second appeal is usually a low-barrier ask. Still, if the donor's history suggests strong engagement, you could go for non-financial high barrier asks (e.g., volunteering, peer-to-peer fundraising, etc.)
In most calls, donors expect you to answer these questions– irrespective of whether they ask the questions or not. Answering them shows donors how they can be a part of your cause without demanding a rigid appeal.
In Conclusion
These phonathon tips are designed to make the volunteers' and managers' work on the back-end easier. There is no denying that competent calling software can reduce the agents' burden and be a facilitator towards success.
If you are looking for a tool that reduces paperwork, makes calling campaigns more efficient, and maximizes productivity, try CallHub. Sign up here for a free trial.
Feature Image Source: Vinicius "amnx" Amano/Unsplash