This week I received an email from a nonprofit I gave to sometime last year. The email asked for a donation for a fundraiser concluding the same week.
I had seen no social media posts and received no communications from the nonprofit prior to this solicitation email. There was no doubt that the nonprofit had sent the request without proper planning.
I decided not to give as I couldn't trust them entirely, given that I had no idea about how my previous donation was used or what they were up to since the last campaign.
This is precisely why a nonprofit communications calendar is a must for correspondence with donors and prospects. You don't want to miss out on donations because of poor planning.
Let's look at some nonprofit communications calendar templates and how you can draft one to benefit your organization.
How to create a nonprofit communications calendar
By failing to prepare, you are preparing to fail." –Benjamin Franklin.
Planning a nonprofit communication calendar is about taking several steps back from the primary goal and building milestones towards it. As a communications head at your organization, you know what outcomes are expected of you. Drawing a calendar is just building up to those outcomes in intelligent, careful, and strategic ways.
The steps to creating a nonprofit communications calendar involve:
Mapping significant dates in the calendar year.
Penciling in the events scheduled for these dates.
Determining communication channels.
Setting communication objectives and outcomes for said events.
Deciding your target audience.
Finalizing your messaging.
Creating a communications calendar.
Let's look at each step more closely.
Map all important dates in your calendar year
Any good content or communication calendar requires you to pinpoint important dates in the year as the first step. These dates are holidays, festivals, special days for your nonprofit (e.g., anniversaries, foundation day), and other events that are relevant to your cause and organization.
Whether you follow the January-December calendar or financial year, this bird's eye view of the months to come helps you fill in the gaps (uneventful days) with appropriate communications. But we're getting ahead of ourselves. At this stage, you only mark the critical dates in the year.
Google Sheets and Excel are great tools to map events. They give you the freedom to alter specifics, add notes and share the overview with relevant people. You can also create a standard template to be reused year after year.
Here's a nonprofit communications calendar template marking nine US national holidays: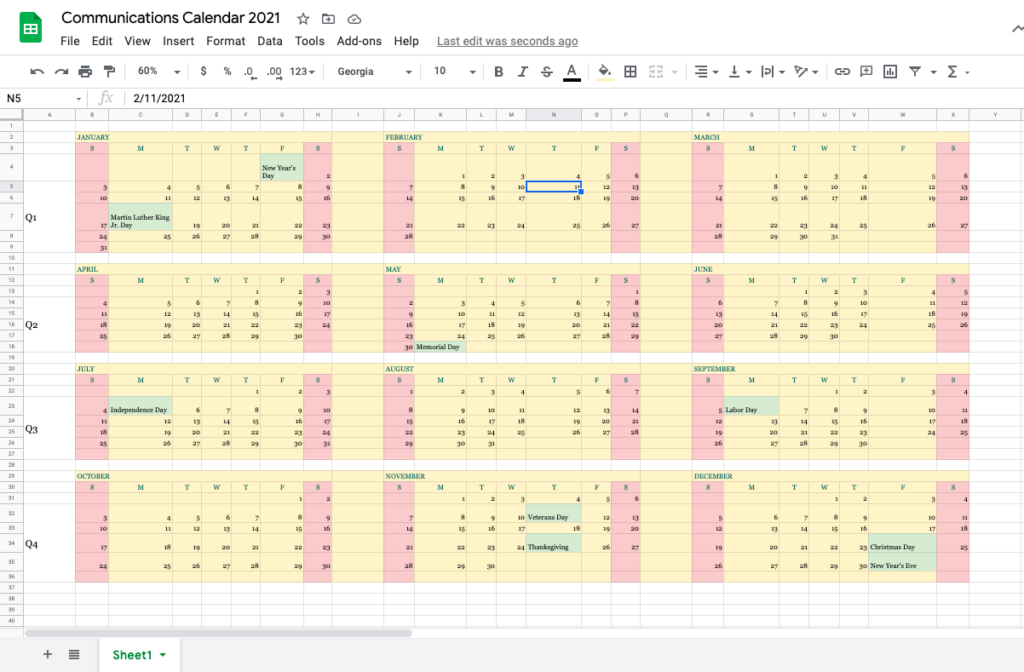 Determine what events you will schedule on these dates
Why must nonprofits start planning their events and corresponding communications months in advance?
These figures indicate that donors start researching causes and organizations at least a month before they finalize whom to give. This is also a good time to check in with existing donors and remind them why they chose you in the first place. Take the opportunity to reignite the relationship and build up to the ask when nearing your campaign.
If you haven't planned outbound and interactive communications to fit this timeline, you lose precious time and funds.
Of course, you may not be able to finalize the specifics of your events at the beginning of the year. However, having a rough idea about the events based on previous experiences and donor history suffices at this point.
At this stage, aim to create a communications plan around the event and generate a buzz around it.
You can take inspiration from the following nonprofit communications plan template: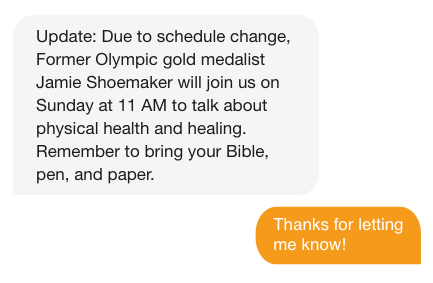 Determine your communication channels
When you pencil in a rough communication plan surrounding your nonprofit events, you will have a rough idea of what channels to employ. Then, detail the specifics of these channels like subscription plans, budgets, software, and tools.
To get started, answer these questions about your communication channels:
What has worked well for you in the past?
Do the channels guarantee personal and personalized communications?
Do you have the budget to use these tools?
Typically, nonprofits rely on these channels for different communications:
Use cases
Communication channels
Type of communication
Marketing and promotions
– Social Media (Facebook, Instagram, Twitter, YouTube, LinkedIn, etc.)
– Texting for SMS opt-in
Outbound, one-way communication. The goal is to spread awareness and get people to sign up for further communications.
First touchpoint and follow-ups (for no responses)
– Mass Texting
– Emails
Outbound communication. This is the first personal touchpoint for communications about a cause or event.
Follow-ups (for those who need additional support or information)
– Peer-to-peer texts
– Phone calls
Two-way or interactive communication. At this stage, you have personal, 1-on-1 conversations.
For special donors and supporters
– Fundraising letters
– Phone calls
One-way and two-way.. You aim to please the special donors and secure their support.
Segment donors by the channels they are most likely to respond to. For instance, millennial donors are more likely to be comfortable communicating via texts. On the other hand, a mass text will not cut it for repeat donors. They need something more personal– like a donation letter, for instance.
Not only will such segmentation help make communications more personalized, it will also help you narrow down your channels and give you a specific action plan in terms of communications.
Set objectives and outcomes for your communications
Communication goals are typically two-fold.
Objectives: Targets for the number of people to reach out to or the channels to employ. For example, deliver 3500 text broadcasts to lapsed donors before 3 July.
Outcomes: The second phase comprises getting responses from people you have initiated communication with. For example, get 250 SMS opt-ins by 31 July.
Set milestones throughout the year to achieve these targets. Accelerate efforts during campaigns to increase the chance of growing your contact list and also nurturing new opt-ins to support your causes.
Your communications calendar should account for changes in these objectives and work around them. For instance, if you aim to get 200 positive responses by Q2 but fail, the calendar should be flexible enough to let you expand the outreach target to get to that outcome.
Decide your target audience

As a nonprofit looking to raise funds or increase donor lists, you wouldn't want to exclude anyone as a prospect. However, setting the target audience as anyone and everyone does not solve the purpose you want it to.
Demography, behavioral patterns, and other factors of individuals determine:
Which campaign you will target them for.
Communication channels to employ.
Frequency of touchpoints and messaging.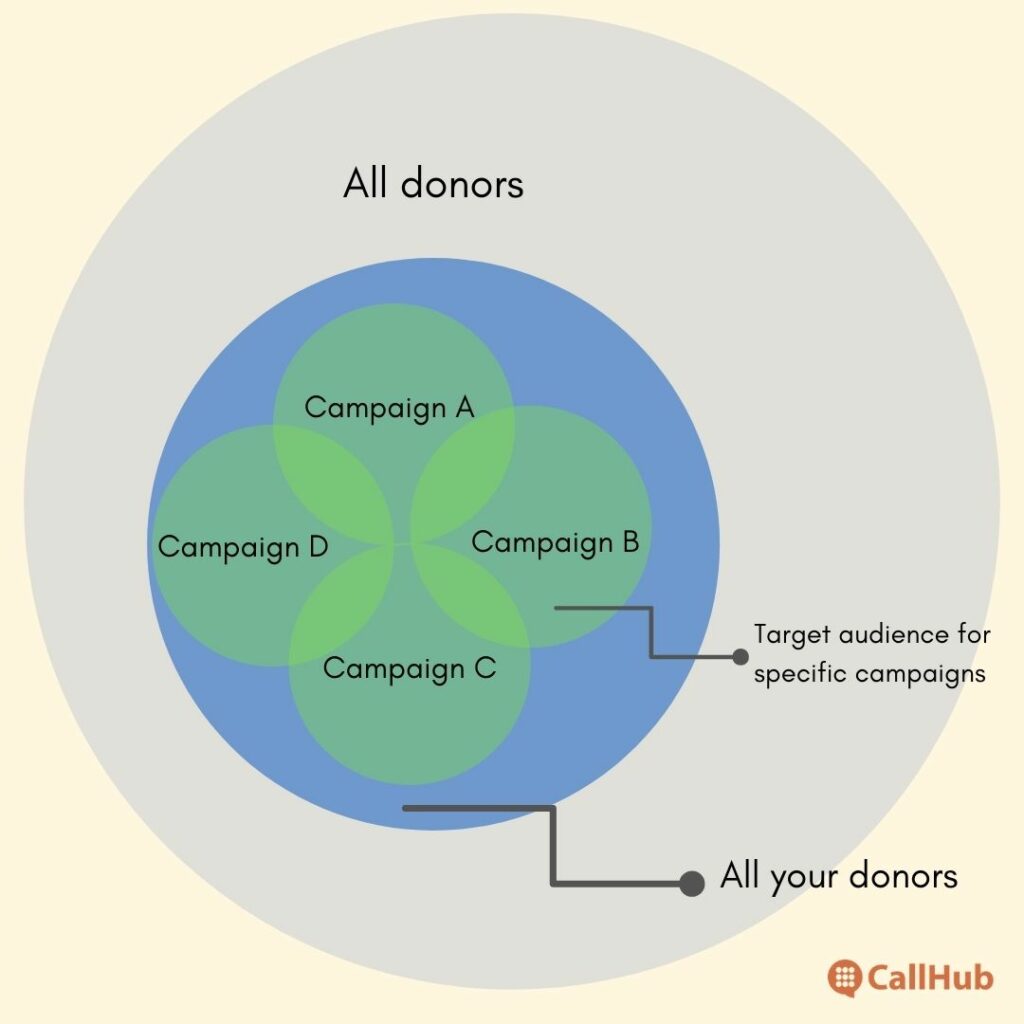 It is a good practice to pencil in your target audience while crafting your communications calendar and revisit it when a campaign is approaching. The nature of campaign-specific target audiences depends on your objectives. For instance, if you are planning a bake sale, your target audience is supporters living in a neighborhood. If you are planning a fundraiser, target audiences include everyone from prospects to repeat major donors.
Determining these audiences will also carve niches for your communication channels and save you time, money, and effort. For instance, if you pay staggering amounts of money for Facebook ads, narrowing your target audiences will reduce the ad spend as the competition for a niche audience would be lesser.
Finalize your messaging
Betteke van Ruler identifies the quadrants of a communication grid as:
Information: To make people aware of your nonprofit, causes, and impact.
Persuasion: This involves targeted advertising and promotion of your organization to convince people to support you.
Consensus building: Used for negotiations or clearing differences if conflicts occur.
Dialogue: Enables two-way communication for discussions, revealing more information, and finalizing actions.
The communication grid: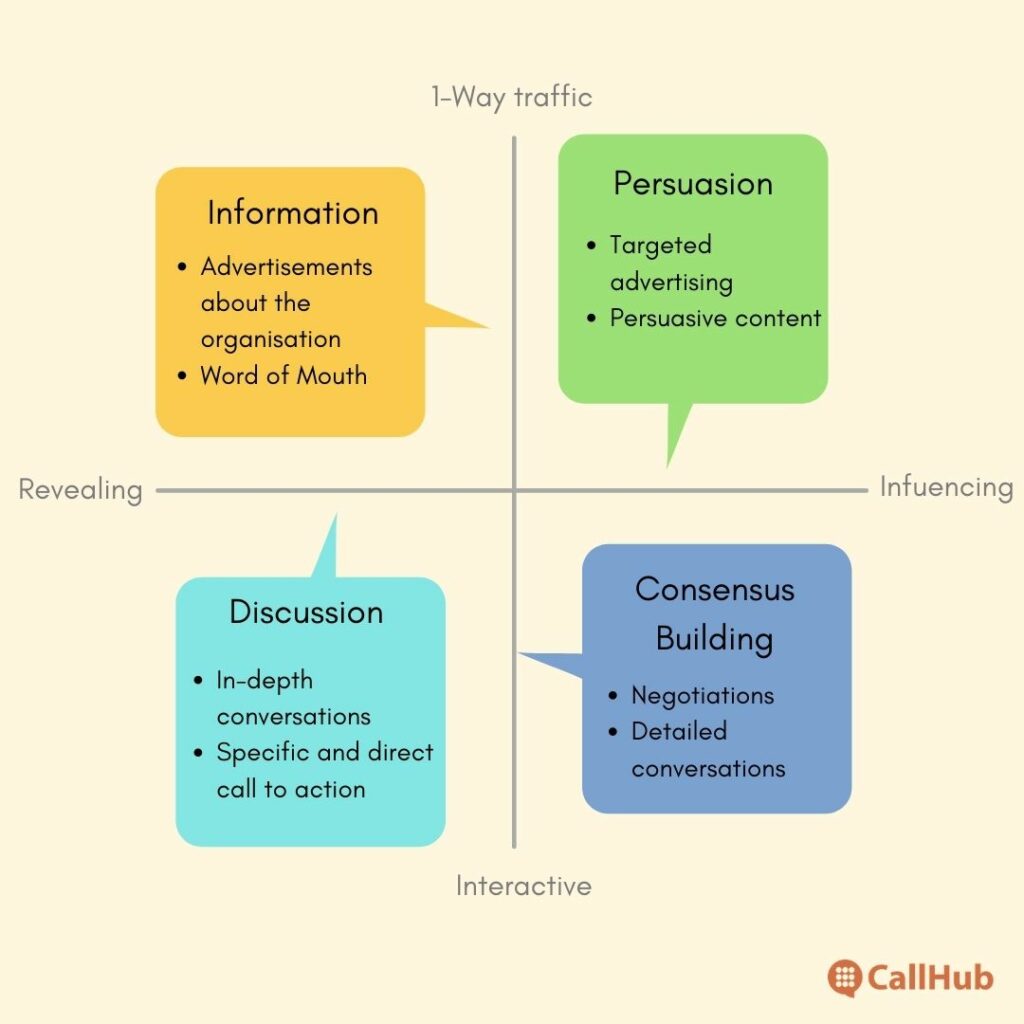 To finalize messaging for a campaign, segment your audience lists and regulate what messages to communicate for each segment. For instance, television and radio advertisements take the role of giving information to unfamiliar audiences. Personal phone calls or text messages can build consensus to lapsed donors, and dialogue employs repeat donors to discuss continued support.
While the campaign messaging remains consistent throughout the quadrants of a communication grid, the specifics alter based on your recipients.
When creating a nonprofit communications calendar, look out for common themes among the messaging of various campaigns. If you find it, create a master grid that binds all of these campaigns together. This makes your nonprofit's causes look consistent to supporters and show your dedication to them.
Related Reading: 6 Easy Steps to Craft the Perfect Major Donor Cultivation Plan
Create a nonprofit communications calendar
The final stage is pinning down your communication methods to specific dates and timelines. This stage entails ensuring:
There is no significant gap between any two communication touchpoints: Communication with supporters should not be only for solicitation. If there are long breaks between two campaigns, fill them up using communication that nurtures supporters for donor retention.
You can include surveys, feedback forms, newsletters, impact updates, and volunteer/beneficiary stories as part of your nonprofit communications plan.
Campaign communications don't overlap each other: If campaign communications overlap, there's a chance of one overshadowing the other. To avoid this, you can find a common rhythm between the campaigns and use messaging to accommodate both. Or make the hard choice of dropping or postponing a campaign (if possible).
Here's a nonprofit communications calendar template for you:
Since this is just an example, the calendar is only for November and December– two of the busiest months for nonprofits.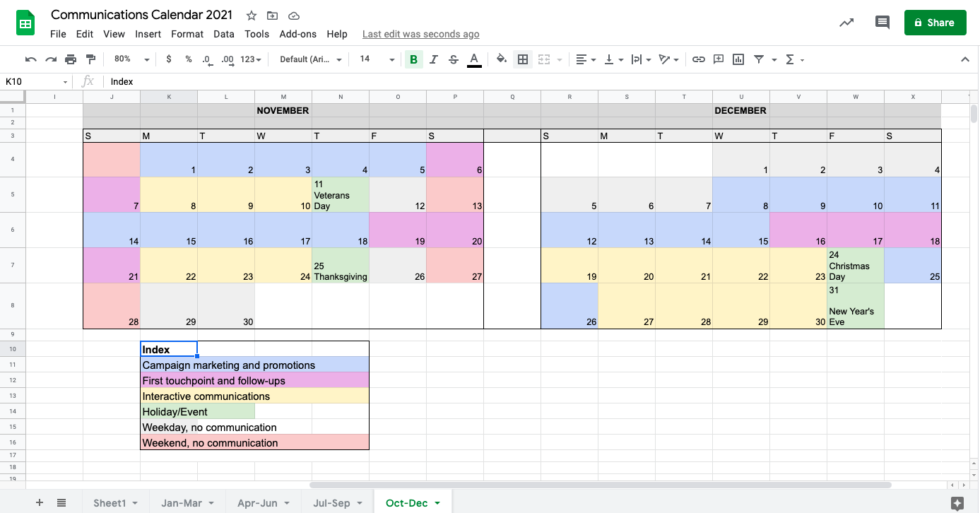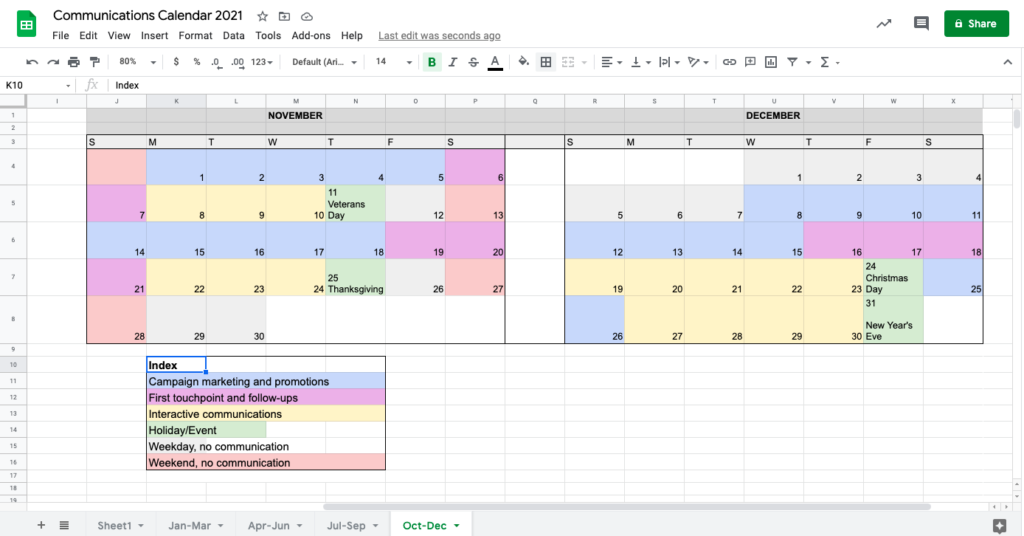 Your nonprofit communications calendar should be able to give you an overview of what channels to employ, what messaging to portray, and how far the next campaign is. Once you have these pieces in place, the next step is to put the plan in gear.
If you are struggling to meet targets or to make the most of your resources, read this article on nonprofit communications best practices. It will guide you in making your content more compelling and your strategies more efficient. Nonprofit Communication Best Practices To Make Communications More Impactful.

Feature Image Source: Estée Janssens/Unsplash.