Friendraising solves two problems:
A disconnect between prospective donors and your organization.
Diffusing the impression that an organization only shows up when they need something.
In a world full of transactional messaging, friendraising is a much-needed disruption, carrying with it authenticity and genuine connection. Even though controversies and misconceptions surround it, friendraising, in its true essence, aims to cultivate meaningful relationships that go beyond financial end goals.
Friendraising focuses on building a fundraising funnel that addresses human connection, motivation, and the will to give by forging a shared vision. This article explores friendraising, its controversies, and the best practices to friend raise.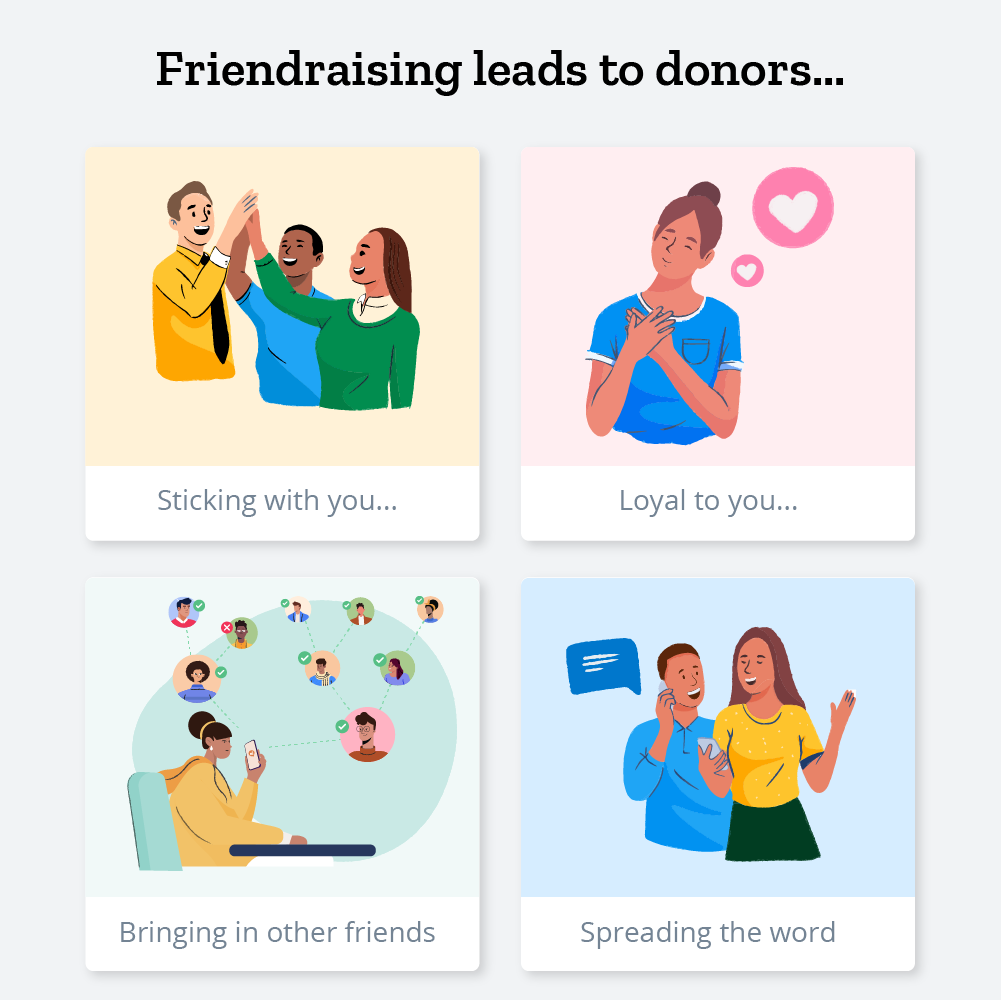 Friendraising controversies: What happened?
On the surface, friendraising seems innocent – we're just making friends. Right? So what if the end goal is a financial contribution of any kind?
But here's what many organizations discovered: the line between a friendraiser or fundraising professional and a close friend became increasingly blurred. It was difficult to determine the morality of enmeshing a nonprofit representative in the lives of donors and the extent to which this happened.
It might be easy to dismiss this concern, but so many questions arise. Is it ok to offer a ride to the Church to an elderly donor? Can you invite yourself to their homes for tea on a Saturday afternoon?
Friendraising operations like this ended up in lawsuits. Why? Kathy Johnson Bowles explains perfectly:
Employees began exploiting friendraising for personal gain. They preyed on vulnerable people and convinced donors to invest in their business, add their name to the donor's will, and do other such favors.
Employees got unfair leverage over nonprofit organizations. They used their personal connections with donors as leverage while avoiding their other roles and responsibilities. In order to retain donors, nonprofits had to retain such underperforming employees.
Donors and employees engaged in illegal or unethical activities. These included quid pro quo, violating policies, evading tax, and more. This was enabled by the deep connections the donor and friendraiser shared.
However, these controversies are warning signs and not a reason to give up on the concept of relationship fundraising. Take these lessons to develop a foolproof process emphasizing professional integrity and boundaries while friendraising. You can also add measures to combat such situations if your nonprofit ever finds itself in one.
Friendraising definition (the original)
Friendraising was originally coined in 1992 by Ken Burnett in his book 'Relationship Fundraising.'
Originally, friendraising involved befriending an organization or individual in the hopes of long-term financial gain or charitable donations. It focused on building a unique relationship between a donor and a nonprofit organization.
Burnett was of the opinion that fundraising should be looked at through the lens of a donor's past donation history and motivations.
Friendraising definition (now)
Once friend-building activities encountered problems and controversies, there was a need to shift the definition. Friendraising has to encompass ethics, morality, and professionalism.
Today, friendraising is looked at from the lens of peer-to-peer fundraising. It is about building a network of like-minded individuals who believe in your cause and support your organization.
Friendraising now describes getting your friends onboard to raise funds for an organization. Similar to peer-to-peer fundraising or relational organizing, friendraising taps into the personal networks of employees, volunteers, and supporters to gather more supporters and funds.
Read Also: The 10 Best Peer-To-Peer Fundraising Software For Nonprofits
While the goal of friendraising is raising funds, there is a difference between friendraising and fundraising. Let's explore it in the table below.
Friendraising vs. Fundraising
| | |
| --- | --- |
| Friendraising | Fundraising |
| Authentic relationships irrespective of end goals. | Transactional relationships with funds are the end goal. |
| Long-term connection building for donor cultivation and retention. | Short-term financial goals to fund the organization, initiatives, etc. |
| Emotional engagement by building a shared vision. | Lack of emotional engagement. |
| Success is measured by supporters engaged. | Success is measured by dollars raised. |
Now that you know the difference between friend building and nonprofit fundraising, it is time to explore how you can implement friendraising in your organization.
Two ways to implement friendraising for your nonprofit
You can implement friendraising in one of two ways:
Donor cultivation
Relational organizing
Donor cultivation
The concept of relationship fundraising, as proposed by Ken Burnett, involves making friends who would, in the long term, support and fund your nonprofit organization.
Donor cultivation helps you learn about, engage with, and mobilize supporters when needed. It is about interacting with donors when you are not running a fundraiser.
53% of donors leave an organization due to a lack of communication. You can make sure you are not faced with this scenario by friendraising. Here's how you can cultivate donors:
Find your ideal donors and engage with them. Your organization would have outlined the type of donors that are most likely to engage. Identify them and find ways to communicate with them on a regular basis.
Learn more about donors. Find out their educational qualifications, location, age group, income levels, profession, etc. to connect them more deeply.
Ask yourself why they should support you and how. When you engage with donors, it will help you to answer these questions before they are asked. This encourages transparency with the connections.
Try different methods of outreach. Use methods such as calling, texting, direct mail, email, and social media to engage with donors on different platforms. FYI, fundraising calls help you raise 41% more funds than other methods.
Find occasions to engage. Avoid overcommunicating at bad times. Sending a Christmas or birthday wish or using other such occasions for outreach will be a subtle reminder to donors.
Relational organizing
On the lines of peer-to-peer fundraising, the new way of friendraising, is relational organizing.
Relational organizing helps you tap into the personal network of your board members, employees, volunteers and supporters. The idea is that our social circles are made up of people more or less similar to us. They share our interests and concern for similar causes, might have the same educational backgrounds, income levels, etc.
Added to that is the fact that 83% of Americans would follow a recommendation given by a close friend or family member. Relational organizing stands on the foundation of these two irrefutable facts.
To friendraise through relational organizing, here's what you can do:
Begin with tapping into the networks of board members. Considering their position, they would be in contact with high-value individuals that you can nurture.
Encourage volunteers and employees to reach out to their friend circles during fundraising events or initiatives.
Explore relational organizing tools to amplify your outreach efforts. These tools enable volunteers and employees to reach out to their friends and family on your behalf.
Design fun target-based games for supporters and hand out a prize to the person with the highest referrals to your nonprofit. Friendraising can be rewarding and thrilling for both sides.
Prepare a plan for the aftermath. Once supporters reach their social circles, what comes next? Have a plan ready for outreach and nurturing once you have warm leads. Use workflows to plan, design and automate your outreach efforts via email, calls, and text messaging to ensure you take advantage of every opportunity to convert.
When does friendraising work?
Friendraising works when:
Your goal is donor retention.
You want to nurture a culture of philanthropy.
You have high-intent friends without a cause.
Your cause aligns perfectly with their passions.
Your board members are "onboard."
Need more clarity? Let's explore each of these friendraising gateways in detail.
When your goal is donor retention
Nonprofits have a donor retention rate of 19% and new donor acquisition is falling ever faster at 24.7% in 2022.
Donor retention is not only a good to have at this rate, but it is also an absolute necessity when only 19 out of 100 donors are likely to stay with you.
Friendraising offers an opportunity for long-term donor engagement, giving donors a reason to stay. It helps donors feel emotionally connected to your organization, remember you when you need it, and give you a gateway to count on them in the long run.
When you want to nurture a culture of philanthropy
A culture of philanthropy keeps donors at the center of the organization. Treating donors as highly valued members of your team sends a message to everyone in the organization about the place donors hold.
After all, donors place their faith in your organization and invest in your cause. They must be treated as appreciated partners in the endeavor.
Friendraising is an excellent initiative if you want to treat donors as individuals, not merely as someone funding your cause.
When you have high-intent friends without a cause
Do you know your friends who share the latest news about political reforms on their Instagram stories? The ones always trying to see good in the world but unsure how to create it?
These high-intent individuals would like to contribute if they find a good opportunity. You can offer them this opportunity through friendraising.
When your cause aligns perfectly with their passions
When passionate individuals get involved with your cause, it can boost how your nonprofit performs.
Not only will they be willing to support your nonprofit through fundraising and friendraising initiatives, but they would also derive a sense of fulfillment from it. These are cheerleaders who want to see you win and win you will with their efforts.
When your board members are "onboard"
No one loves hitting people up for money. It feels like the single most mortifying thing. If you are a fundraising executive, you already know how difficult it is to convince board members to call up people for fundraising.
Friendraising tends to soften the blow. Board members would be more willing to help you make friends who you can convert in the long run as compared to making calls for donations.
Removing the business of money takes away the pressure of reaching out to your social circles for favors. Besides, you can also count it as a win since board members are likely to have social circles consisting of high-net-worth individuals that you can befriend and nurture.
If you feel you have some or all of these points covered, then friendraising is surely going to work for you. However, in the next section, we also list best practices while friend building.
Best practices for friendraising
Here are our top 5 best practices for friend raising that you can follow:
Know your "friends" well to curate your ask and relationship
Start with your board members' friends
Keep in touch, like friends do- selflessly
Help them out more than asking for their help
Encourage referral programs to build your pool of friends
Know your "friends" well to curate your ask and relationship
While it would be lovely to add Susan from grade 5 to your friendraising list, it would help if you remember how likely she is to support you.
Understanding what motivates and drives your friends will help you customize your conversations and asks while building a relationship for your nonprofit. Even after you build a relationship, keeping tabs on their interests, hobbies, etc. would enrich your relationship.
Start with your board members' friends.
Call a board member meeting and invite board members to list down names from the top of their heads for friendraising.
Once all of them have a list of atleast 5-10 contacts, begin by reaching out to these people. Strategically plan your outreach through social media, phone calls, text messages, event invitations, and more.
Keep in touch, as friends do- selflessly.
The essence of friendraising is to move beyond transactional, fund-based relationships. Foster genuine connections with contacts by reaching out to them even when you don't need them to take action.
The easiest way to do this is to–
Give them a call or send a birthday wish,
Send Christmas cards or other holiday outreach,
Update about your nonprofit's progress and initiatives.
Let them know how funds are being used.
Send regular newsletters with behind-the-scenes activities
Send them text messages with updates.
Help them out more than asking for their help
Believe in the philosophy of givers gain. If you come forth and present opportunities to help, your friends might feel inclined to help you later.
Find out ways in which you can help them. Would it help to get regular updates about your nonprofit? Are they particularly interested in some initiatives and need someone to tell them about it?
Please remember, while helping out your organization's "friends" can help foster a stronger bond, it must adhere to ethical limits. Please do not go out of your way to help them with personal chores, for example, since it blurs the line between professional and personal.
Encourage referral programs to build your pool of friends.
Thought leaders have repeated it often. We are the average of 5 people we spend time with the most. While this is often used negatively, it does not have to mean so always.
On the positive side, if we are charitable and supportive of causes, it is likely that the people we spend time with also share these qualities.
This is why reaching out to your supporters' friends will likely help you reach similar supportive people. Encourage referral programs amongst supporters and volunteers to expand your friendraising network.
You could offer gifts, prizes, or special mentions in your newsletter in exchange for referring friends to your nonprofit.
Friendraising is made easy with relational organizing.
Can friendraising work if you have a cold list of thousands of contacts to reach? What if we tell you, you absolutely can?
CallHub's relational organizing tools help you go through cold lists with thousands of contacts and match them with the contact lists of your supporters. This means you never have to deal with cold calling or outreach again.
You are guaranteed the highest pick-up rates – because who will actively avoid their friend's call? (Unless you've loaned them some money). Not only that, relational organizing on CallHub offers–
A mobile app for outreach on the go.
Social media integration to spread the word online.
Real-time insights to tweak your campaign for the best results as it is running.
Multiple outreach mediums such as calls, texts, and email.
Multilingual support to be inclusive of all our friends!
The best part is, CallHub offers relational organizing tools for free, so you can try it out today to understand how you can amplify your friendraising efforts. Sign up today to begin your long-term donor engagement journey.
Featured Image Source: Julia M Cameron