Why is nonprofit advertising important?
The world has a common misconception that nonprofits don't need to spend on advertising. That being said, charitable organizations often find themselves in a difficult situation trying to provide a clear answer to it but often fail to do so.
In his Ted talk, social entrepreneur and activist, Dan Pallotta, highlights the importance of advertising with a real-life scenario.
He raises the question:
If you were working for a Breast Cancer Research Foundation and raised $350,000, would you give researchers the money or use it to raise more and give them $194 million instead?

Dan Pallotta
This is what his organization for Breast Cancer Research had achieved. They used the $350K raised to advertise and grew their donations up to $194 million.
Advertising is crucial for nonprofits but is often neglected. The lack of experience leads to charities being unable to come up with effective & scalable strategies for advertising and grow themselves.
This post can help you change that.
So before we dive into building a strategy, let's take a look at the current state of nonprofit advertising.
How much do nonprofits spend on advertising?
Online giving has been on a constant rise for the past few years. In 2019, it grew by 10%. Moreover, people are increasingly preferring to donate online, which is resulting in a shift to a digital-first nonprofit advertising strategy.
Given the benefits, numerous organizations nowadays are prioritizing digital nonprofit marketing, specifically in three areas:
1. Facebook
Facebook has been the most effective fundraising social channel for nonprofits generating 3.5% of the total online revenue in 2019.
The credit for this goes to the intuitive donation features it offers, like the donation button on pages, birthday fundraiser features, etc. The major contributor, however, was the peer to peer fundraising tool that generated 97% of all the revenue from Facebook.
2. Website
Apart from SEO and other website optimization efforts, nonprofits have also been leveraging digital ads to drive traffic to their website and nurture them into being donors or volunteers. In 2019, 56% of all nonprofit website traffic was from paid ads.
The reason why organizations are doubling down on paid efforts to drive traffic to their website is due to the fact that only 0.17% of organic visitors made a donation.
Another important point to note here is that even though the share of mobile users grew by 11% last year, desktops still make up a majority of the donation transactions (61%).
3. Digital Ads
Online ads typically include social, search, video, and display ads, among others. In 2019, Nonprofit spending on these ads was up by 17%,
Of these ads, direct fundraising ads accounted for 44% of all spending. Branding, awareness, or education ads accounted for 24%, and Lead Generation for 23%.
Another interesting point here is that view-through revenue accounted for 43% of all digital ads. View-through conversions are those in which people see your ad but don't click on it. Instead, they search for you later.
Getting to the division in ad spend, it was seen that:
Large nonprofits: They balanced fundraising ad spending between Display ads (35%) and Social Media ads (54%). 
Small nonprofits: They focused most of their fundraising digital ad dollars on Social Media (96%).
Given these statistics, you may ask, "How much should I spend on advertising?"
All organizations are different. These differences among nonprofits of varying sectors are reflected in their ad spending (as shown in the graph below), which makes it a little tricky to come up with a specific figure.
Nonprofits have spent an average of $0.07 for every dollar raised online.
Note that this figure means for every dollar at their disposal, they had spent $0.07 or 7% on digital ads.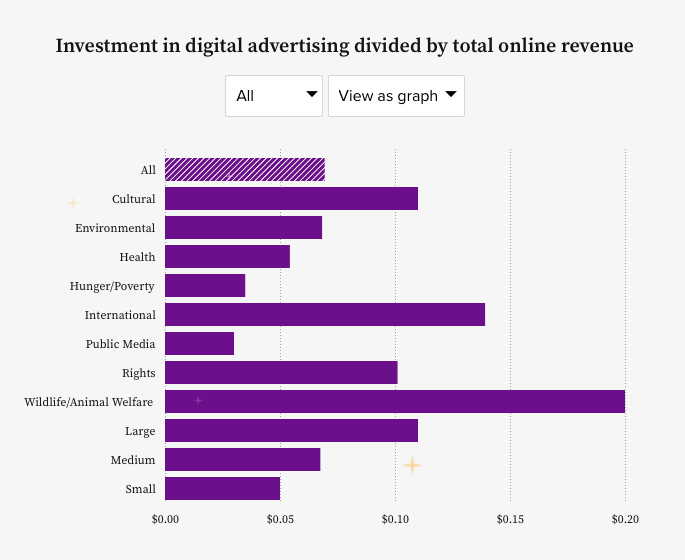 However, Alyssa Conrardy, CEO of ProsperStrat and nonprofit marketing influencer, suggests that:
Nonprofits must allocate somewhere between 5-15% of their total revenue on advertising.

Alyssa Conrardy, CEO, ProsperStrat
This range also gives you the flexibility to adjust the spending as per your revenue. So even if times get tough and your revenue dips, you can adjust the spending to ensure it's not too much of a burden. The same rule applies if you grow bigger.
The challenges of nonprofit advertising
Nonprofits function quite differently than other organizations, which means that their challenges are unique too.
There are three main challenges in nonprofit advertising that you need to prepare for:
1. Budget limitations
At least 56% of nonprofit marketers say that the lack of budget for marketing and advertising is a serious problem for them. Unlike for-profit organizations, nonprofits are not too keen on spending a chunk of their revenue on marketing. The next point is part of the reason why.
2. Negative perception about nonprofits that advertise
Dan Pallotta states that a common attitude among donors is that they don't like it when nonprofits use their donations for themselves, specifically in advertising. They actually consider it wasteful, which is why nonprofits try to steer clear of it.
3. Disconnect with the target audience
Connecting with potential donors in a way that inspires action is also a challenge in nonprofit advertising. Organizations are heavily reliant on effective storytelling to appeal to people's emotions. However, almost 76% of them admit that the messaging doesn't resonate with their audience all the time and impacts donations.
Most nonprofits don't have a dearth of stories but just have a hard time conveying them well to people. However, this is something that the post above can help you fix.
That leaves us with the first two challenges. A quick fix for both is to have a healthy balance of inexpensive advertising options and ones that require higher investment. This helps you in two ways:
It reduces the budget requirements for advertising since you're not too reliant on costly methods.

The varying advertising options ensure that you don't compromise on your overall reach due to a lower budget.
That being said, let's take a look at the various nonprofit advertising options that you can employ.
How can you advertise your nonprofit?
Here are some of the most popular ways to advertise your nonprofit.
1. Search and display ads on Google
Cost: $
You may be wondering, "Search Ads are expensive. So why do we claim that the costs are minimal?"
Well, search and display ads are definitely expensive. But thanks to the Google Ad Grant provision for nonprofits, you can employ this option for no cost at all. The ad grant provides nonprofits with an advertising budget of $10,000 per month to advertise on Google.
However, keep in mind that it is not that as easy to apply for this grant. Here are the steps you need to follow:
Step1
Check for eligibility: Only organizations (non-governmental) with the charity status can apply for the grant. There are also certain website standards that you must fulfill to be eligible.
Step 2
Register for TechSoup: TechSoup is a third-party partner that verifies your nonprofit status. Sign up with them to receive a validation token that you'll need while applying for the grant.
Step 3
Fill out the application: This entails an assessment form that asks you more about your organization, work, beneficiaries, etc. After submission, the form is reviewed (in 3 working days) and further instructions are emailed.
Step 4
Get started: After the completion of the above steps, credits will be added to your account and you can start putting out your ads.
Best practices
Leverage retargeting ads to reinforce appeal: People who visit your website may already have some interest in supporting your cause. Retargeting ads engage with these prospects who are more likely to convert, thereby making your ads cost-effective.

Make a mention that the ad was paid for with a grant: This is a simple hack to avoid the negative image people may develop seeing your ads. It reassures them that none of their precious donations are "wasted" for it.
2. Social Media ads
Cost: $$$
Social media ads are quite popular among nonprofits of all sizes. 96% of small organizations and 54% of larger charities rely on social media for advertising.
However, not all channels get the same traction. The most popular social media for nonprofit advertising are Facebook, Instagram, and Twitter. These channels provide some of the most intuitive features to support numerous types of ad campaigns.
Social targeting ads on Twitter, for example, allow you to show ads only to followers of nonprofits similar to yours, or to people who recently tweeted about your cause.
Another example is sequential targeting ads on Facebook and Instagram. People are shown these ads in a particular sequence allowing you to promote yourself with a storytelling structure.
The targeting options, ease of sharing, number of active users, etc. collectively contribute to the popularity of social media for advertising.
Example:
Here's a sample ad from Feed The Children on Twitter. The objective of the ad was to drive traffic to their website, which was further optimized to convert them.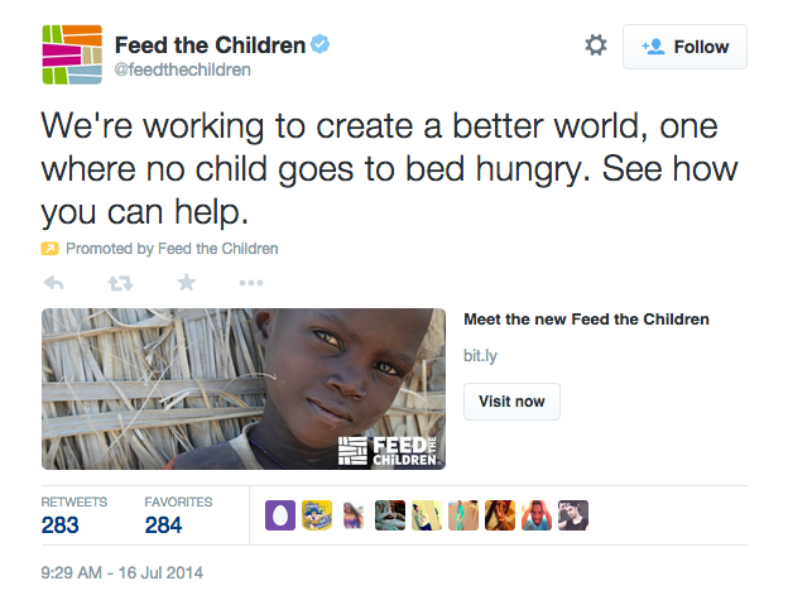 Best practices
Experimenting with multiple ad formats on social media: These include static sponsored posts, video ads, etc. Social media algorithms are updated constantly, and you never know which ad format would work wonders for you. So split the budget among different formats (and channels) to make the most out of it.

Leverage lookalike audiences to target relevant audience groups: Exclusive to Facebook and Instagram for now, lookalike audiences are lists created based on an existing database you upload. The algorithm looks for people with matching behaviors and shows them ads. It allows you to target only people who are most likely to convert.
You May Also Like: Social Media Fundraising: The All-in-one Guide
3. Community radio
Cost: $
Did you know that your nonprofit can qualify for free public service announcements on radio stations?
The Federal Communications Commission rules that a certain amount of a radio station's airtime needs to be devoted to nonprofit organizations.
Although you have to keep in mind that these are announcements and not advertisements, so you can't directly solicit money, use the word "fundraiser," or make a reference to cost or pricing.
However, this airtime on the radio can be used to spread awareness about your cause and bring people to your website. Once they visit your site, you can convert them, or the retargeting ads we spoke about above can keep engaging them.
Example:
Here's an example of a PSA from CTIA creating awareness about the usage of phones while driving.
Best practices
Leave details of your website or contact info: Make sure to include ways for people to get in touch with you (preferably visit a website) to get involved. A PSA will not be helpful if it does not start off listeners on the donor journey.
Leverage powerful and familiar sound effects to grab attention: Since there are no visual elements, sound effects are what you will have to focus on. Use powerful sounds (like the crashing of the car in the example) to grab people's attention and connect them with familiar sounds to help them visualize the scene.
4. Viral advertising through word of mouth
Cost: $$
Word of mouth is the oldest and most effective form of marketing. Research shows that 70% of people trust brand recommendations from friends and family since they are more likely to be seen as a trusted source.
But how does this fit into your advertising efforts?
Well, in the internet era, viral advertising is a strategy that is fueled by social media. This virality is triggered by word of mouth (or social sharing) on these social networks.
To drive this virality, you'll have to give it some initial traction using social media ads or influencer marketing.
Once it gains some momentum, it leads to a ripple effect driven by word of mouth (or social sharing) that provides you with low-cost advertising for your cause and organization.
Example:
The Ice Bucket Challenge is the most popular example of viral advertising through word of mouth on social media. The ALS Association launched the Ice Bucket Challenge to raise awareness about Lou Gehrig's disease. Initially, they started off with ads and challenged influencers like Bill Gates, Mark Zuckerberg, etc. to be a part of it.

A while later, everyone jumped on the bandwagon and began sharing the challenge, thereby raising awareness and funds for the nonprofit.
Best practices
Make social sharing easy with social media plugins: Leverage plugins on your website, posts, etc. that allow people to share content on their social handles with the click of a button. By reducing the time and effort required to share, you increase the chances of people going through it. A longer process may put them off.

Partner with influencers to boost your word-of-mouth marketing: Influencers have more reach, credibility, and influence over the actions of their followers. You'll see more success in getting people to take action (share your message) if influencers ask them to do so.
5. Get ad agencies to donate their services at a reduced cost.
Cost: $$
Almost every ad agency, PR consultant, or freelancer either has a special discounted rate (sometimes even a set amount of free services) for nonprofits. It usually is a part of their corporate social responsibility.
While in most cases it may not be completely free, getting even a 50% discount would be helpful. Since you'll have professionals helping you out with promotions and advertising, the investment would be worth it.
Keep in mind that more often than not, agencies or freelancers will not make this offer public. Therefore, you will have to shortlist a number of agencies or professionals near you and reach out to them inquiring about it.
Example:
Here's an example of a marketing agency, ThirdMarble Marketing, offering Google Ad management services for a 50% discount to nonprofits. They usually charge $1000/month for others but $499/month for charities.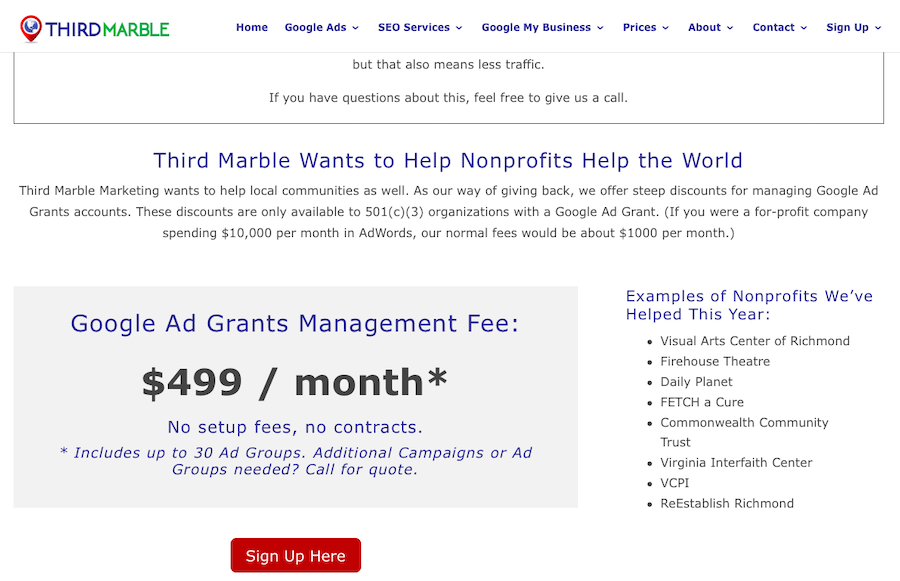 Best practices
Start looking for partners from your nonprofit's inner circle: These include supporters, volunteers, board members, etc. They may be able to get you in touch with the right partners and reduce your efforts to look for one.
Make sure to publicly thank the partners: Promote their services in return among your target audience to build a stronger and mutually beneficial relationship. The next time you approach them, they'll be more welcoming to work with you.
6. Partner with local businesses to put up your posters
Cost: $$
Research shows that people are 70% more likely to remember a brand they see in print compared to online. But for this to work effectively, you need to put up these print ads (posters) in prime locations with a lot of foot traffic.
Local businesses and organizations are perfect for this. They put up promotional posters regularly, so there's nothing stopping them from putting up yours if you ask nicely. These businesses include restaurants, grocery stores, pharmacies, etc. The notice boards of community halls are also good real estate.
The only costs involved with this type of nonprofit advertising would be designing and printing costs for the banners.
Example:
Here's an example of a local clothing store putting up posters for the Salvation Army. Notice how they made the promotion quite unique and relatable for people visiting the clothing store to buy new clothes.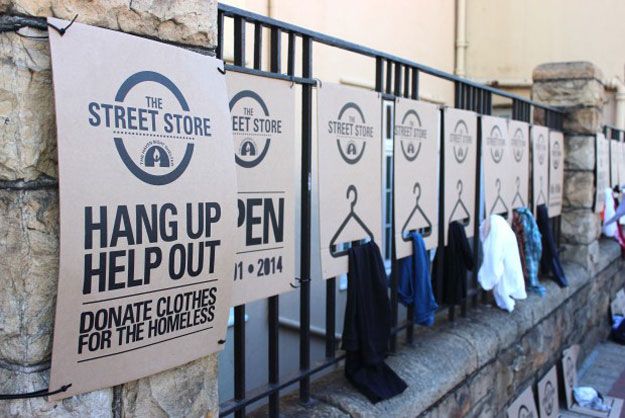 Best Practices
Look for businesses that are relevant to your cause: For example, a restaurant or grocery store would be perfect for a food charity, a pharmacy for a health charity, etc. It increases the chances of the business, letting you put up the poster.

Add a relevant call to action encouraging people to take action: For example, adding a website name and asking people to visit it for more details. A better option here would be to use an SMS opt-in system. Ask people to send in a keyword to shortcode for more information to get involved or make a donation. This process is easy, seamless, and is perfect for growing your SMS list.
7. Video advertising
Cost: $$$
A video is a powerful medium for nonprofit storytelling and can help you generate awareness and increase donations exponentially.
While initially, video ads were big on most video streaming platforms, they are becoming increasingly popular on social media too. Social media algorithms are even prioritizing video content (given their high engagement), which is why this is something you should definitely try.
The visual elements of videos make them highly effective for advertising. Plus, not a lot of nonprofits are making use of this as extensively, which gives you an opportunity to get an edge over them.
The main costs in making a video for a nonprofit are the prices for video making and editing software and hiring someone with the technical skills to make it. However, you can reduce these costs by getting someone to volunteer to produce your video instead.
Example:
Save The Children uses a video ad to make a powerful statement about the Syria crisis. See how they include a link and an SMS opt-in system for people to get more details and get involved, respectively.
Best Practices
Keep the video short (between 60-90 seconds) for ads: People have a short attention span and may not stick around for longer videos. Keep the video short and concise and end it with a call to action. Although, if you have a very compelling storyline, you can experiment with longer videos as well.

Ensure to add subtitles to the video ad: For social media ads, adding captions to videos is a must, especially on Facebook. People tend to watch social media videos with the sound off and videos autoplay without sound. So, captions can help enormously with catching viewer attention.
Remember, to get the maximum benefit from your nonprofit advertising efforts; you need to employ a good mix of all the options given above.
Tips to enhance your nonprofit advertising efforts
While each advertising method has its own best practices (that we spoke about above), there are a few general hacks that you can use to boost the effectiveness of your efforts.
Tip #1: Spread your advertising budget throughout the year
What should you know?
Data shows that nonprofit digital ad spending in 2019 was concentrated towards the end of the year, with almost a third of all spending occurring in December. This shows:
People give more at the end of the year, and nonprofit fundraising campaigns are more successful then.

Competition throughout the year is lower since most efforts focus on their efforts at the end of the year. This can get you a better cost-per-click rate.
What should you do?
Given the data, you should try to:
Reserve some experimental budget (say 10-20% of your entire ad budget) for the rest of the year and spread your ads throughout the year.

If direct fundraising ads don't have high conversions, focus on branding, and lead generation ads to get people involved with you. It'll be easier to convert them later.
Tip #2: Avoid focusing on a single channel that seems to work
What should you know?
Here are the major trends in digital advertising for the nonprofit sector in 2019:
Large nonprofits balanced fundraising ad spending between Display ads (35%) and Social Media ads (54%).

mall nonprofits spent nearly all fundraising digital ad dollars on Social Media (96%).
What should you do?
It may seem like nonprofits split their ad spending in this way because it worked for them. However, you shouldn't be following in the same footsteps because you never know what would work better for you. Instead, you should:
Split the ad spend equally among display, social media, search, and video ads to start.

Gradually increase the budget on the channels that are working better. But don't eliminate the others. Continue using them for retargeting to reinforce your message.
Tip #3: Put more effort into impression-based advertising
What should you know?
In digital ads, there is always an added cost of clicks that don't result in anything. Generally, this increases your ad spend and reduces the return. In 2019:
Return on ad spend (return per dollar spent in advertising) was $3.59 for search ads, $0.74 for display, $0.70 for social media, and $0.53 for video ads. Apart from search ads, other channels mostly ended up costing more.

View-through revenue accounted for 43% of all digital ads giving. This indicates what a good job impressions can do on their own.
What should you do?
While it would be unwise to eliminate cost-per-click ads, making the full use of the impressions you're getting to reduce the number of irrelevant clicks is something you should think about. What you can do is:
Leverage display and video ads that drive people to take action by opting in to an SMS list rather than clicking on the ad.

Use a memorable short code and keyword for people to take action. The view-through revenue indicates that people may not act immediately but later. Therefore, it's important to ensure that it's easy to remember the shortcode and keyword.
To conclude
Going back to Dan Pallotta's example, do you know what happened next?
Well, the board decided that the advertising budget was too much, cut back on it significantly, and the next year the net income for the cause went down by 84%.
A good advertising strategy is what you need to put your nonprofit on the path of consistent growth. It is only with this consistent growth that you will be able to bring about change. Hopefully, the tips above put you on that path.

Feature image source: Paweł Czerwiński