As for picking the best real estate software, businesses have different requirements. For example:
More leads for startups.
More assets to manage paperwork for a growing business.
Scaling up marketing for a firm that recently acquired funds, etc.
What works for one may not work for others. This is why we have structured some of the best real estate software by categories – making it easy for you to pick the software that best suits your needs.
What is the best real estate software?
Real estate software mainly help you operate smoothly. In this article, we'll go through 14 best real estate software that will help you enhance your business efficiency, from generating leads to managing properties.
Jump into a category of real estate software that interests you the most.
Real estate software for lead generation
A lead generation software helps you capture people's data when they engage with you on one of your channels. Here are the four best real estate software for lead generation that will help you complete the job:
CallHub
CallHub helps you drive leads with its texting tools. Here's how you can generate leads and collect their details through texting:
Step 1: Create an account on CallHub (You can try it for free, we credit a sum of $3 to your CallHub account to run a trial campaign). Create an SMS opt-in campaign.
Step 2: Auto-rent a 10-digit long code or verify a specific number and a keyword. The idea is to get people to send the keyword to the number as the framework to begin your engagement with them.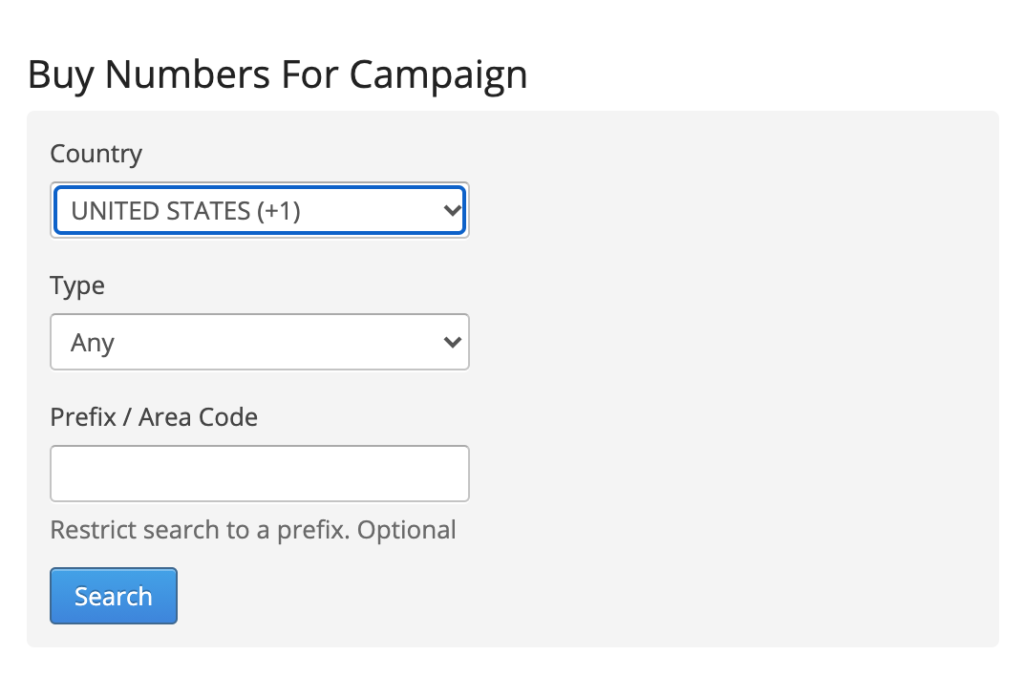 Step 3: Create follow-up auto-responses prompts to collect further information from your leads.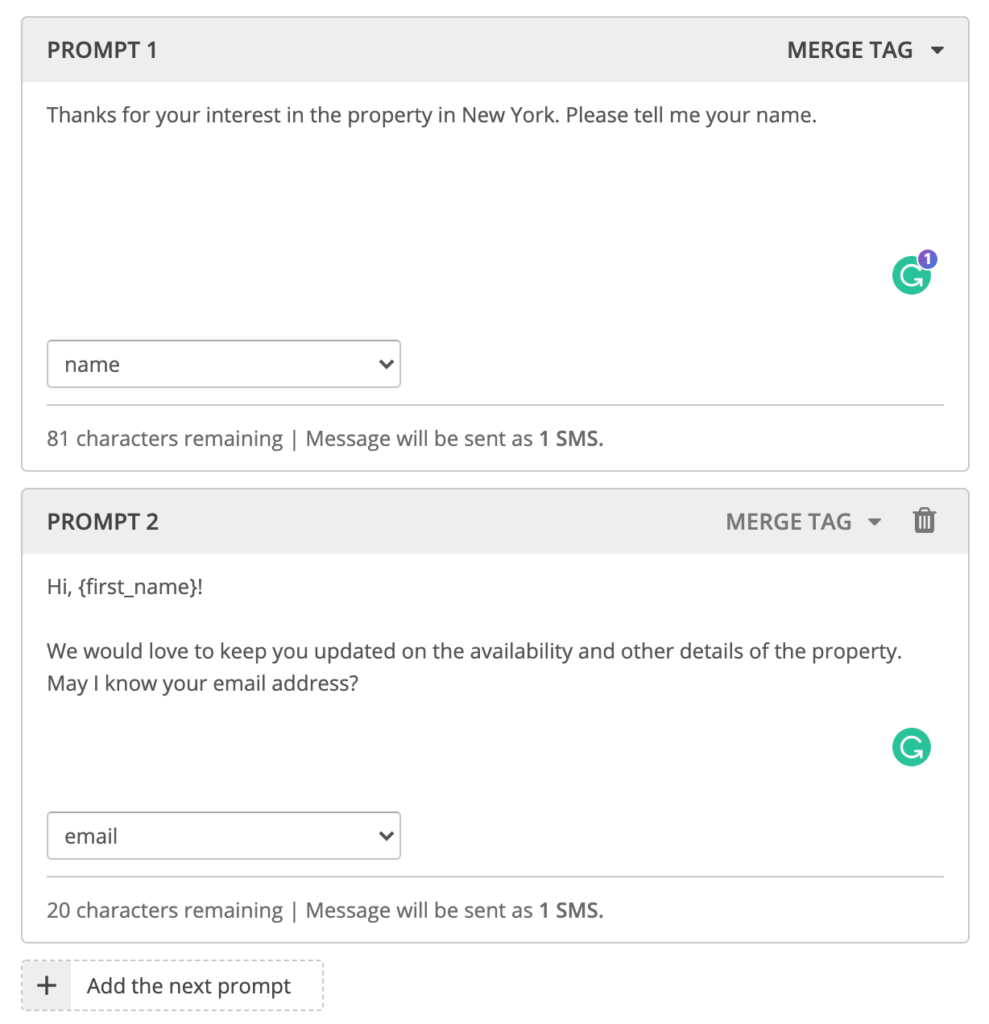 Step 4: Promote this number and the keyword on different promotional channels, including classifieds, listing sites, etc.
Step 5: People text in the keyword to show interest in your real estate business.
Step 6: The follow-up questions lead them to share details like name, email, etc.
When someone texts the keyword to your specified number, they are added to your CRM. (We have integrations with multiple tools, check them out here). The following information is also synced with the database, making future conversations progressively more personalized.
Pricing: CallHub has a pay-on-the-go pricing model. The plans start from $0/month with credits worth $3 – up to 750 texts.
BoomTown
BoomTown is the perfect real estate software to generate leads locally as well as nationally. The software offers multiple ways to market your real estate business and generate leads. For example:
Paid advertising
WordPress powered website
Automated email drips and alerts.
BoomTown also has an in-house team that can generate leads for you.
With paid advertising, you'll be able to get your ads on Google, Facebook, and Instagram. Your team will have control over the budget, performance, and messaging. The platform allows you to promote your current and sold listings along with remarketing capabilities.
With the WordPress-powered website feature comes a block editor that lets you create custom landing pages without coding. Here's an example of a website built on BoomTown: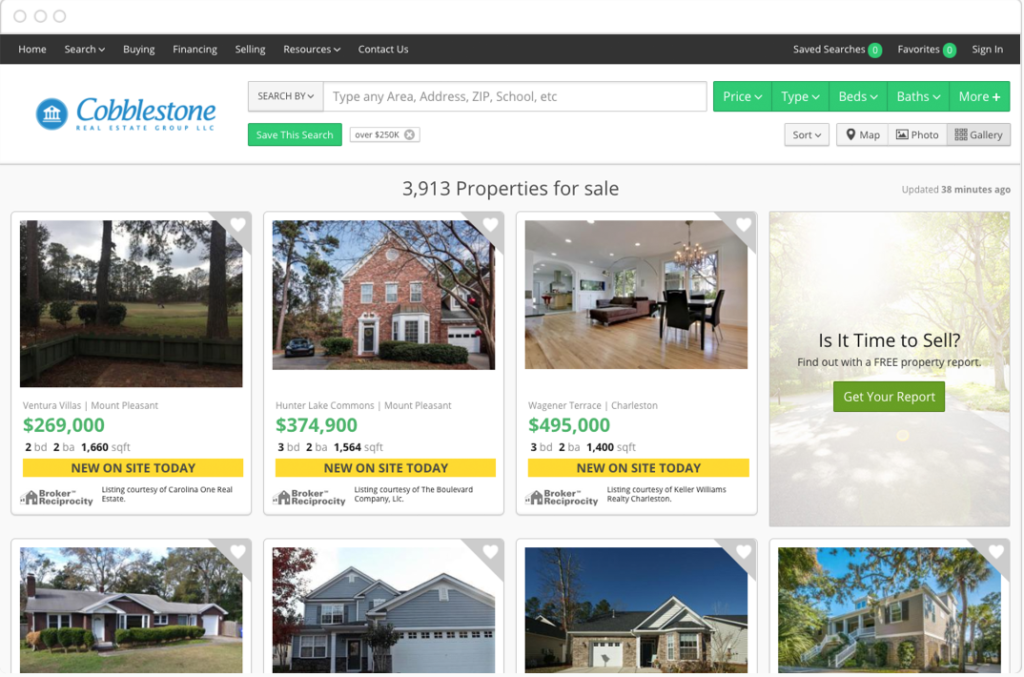 You can also automatically import leads from real estate listing websites like Zillow, Realtor.com, etc. The following screenshot shows how this auto-import feature looks on the dashboard: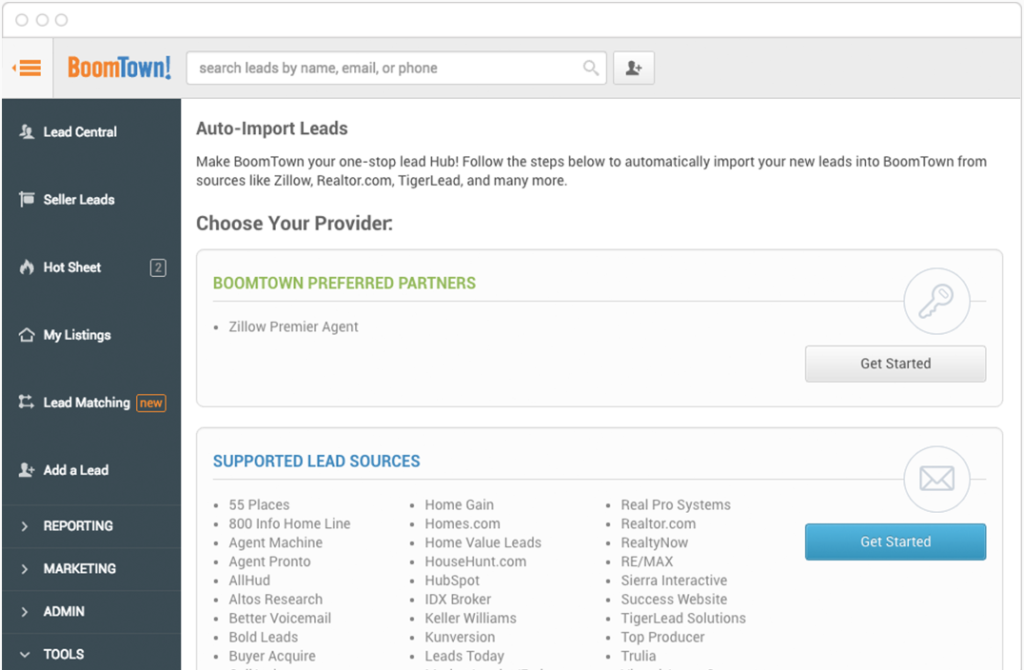 Pricing: Contact BoomTown.
Chime
Chime is a lead generation software with multichannel online advertising tools.
Here are the things you can do on the platform:
Distribute your ads on Facebook with intent targeting.
Work with AI to automatically optimize your advertising strategy.
Get accurate information on high-frequency bidding, keyword selection, and creative planning.
How does the lead generation work on the software?
Step 1: You publish your ads on different channels the platform accommodates.
Step 2: Prospects see your ads and do one of the following:
Register via Facebook's lead generation form.
Visit your IDX website and register via the form on the site.
Step 3: Lead information gets registered on the CRM.
Step 4: Automatic welcome emails are sent to leads, and notifications are sent to agents.
The software also offers retargeting features to help you reach your audience that's shown interest in your business. For example, clicking on your ad, visiting your landing page, etc.
Pricing: Contact Chime.
Propertybase
Propertybase is a real estate lead generation software focusing on local home buyers and sellers. The software offers:
Digital ad campaigns with copy, imagery, and targeting.
Landing pages to associate with the campaigns and drive leads.
Automated email nurtures to engage your leads as soon as they sign up.
Clustering, segmentation, and demographics of your target audience.
You can place your ads on Google, major social networks, and across the web. Propertybase's professional marketing team constantly takes care of the campaigns and the landing pages. Your sole focus will be on following up with your leads.
Pricing: Contact Propertybase.
Follow Up Boss
Follow Up Boss is a real estate software well-known for its abilities to get your business in front of prospects.
The Follow Up Boss pixel can connect to your website, and you'll be able to view your contacts' website activity right from the app. These activities may include:
Listings they're looking at.
Pages they're on, etc.
The tool features also inform you when they're active on the site.
These details help you follow up with your prospects when they're showing interest in your business. For that, the platform offers a few communication channels such as email, SMS, etc.
Follow Up Boss has a mobile app that integrates with best-of-breed tools like G-Suite, MailChimp, Zapier, and more. The platform lets you automatically import leads from 200+ sources, including Zillow, Facebook, Realtor.com, etc.
Pricing: Starts from $69 per user per month.
Real estate software for back-office management
A real estate back office management software helps you manage multiple business operations like transaction management, agent onboarding, etc. Here's our best pick.
Brokermint
Brokermint is an automated real estate back office management software. It's a single modern consolidated system that offers:
Transaction management with visibility into every transaction and the ability to handle it from a single dashboard.
Commission automation for sponsor fees, referral fees, sliding scales, disbursement forms, and more.
Accounting with real-time G/L posting.
Agent management with onboarding and tracking features.
Reporting & analytics with custom dashboards.
Pricing: Contact Brokermint.
Real estate software for agents
Many real estate software are explicitly designed for agents, and we've assembled two of our favorites for you. Want to stand out from your competition in the market and close more deals? You'll want to take a look at these tools.
Dotloop
Dotloop is one of the best real estate software for agents to accelerate transactions and close deals. This real estate transaction management software provides the following features:
eSignatures
Forms
Text tracking
Storage
Document management
Easy sharing
Push notifications
All these features are also a part of a mobile application.
Pricing: Starts from $29/month.
Virtual Tours Creator
Virtual Tours Creator is a virtual tour software for real estate agents and property managers. Here's how it works:
Step 1: Shoot photographs of your property with a 360-degree camera for 7 minutes.
Step 2: Upload the photographs to the Virtual Tour Creator.
Step 3: The software will create a 3-minute video virtual tour of your property using the photographs.
Step 4: Publish the tour to any listing portal, your social media handles, your website, or share it with potential buyers.
Pricing: Starts from $9.95 per tour with 30 photos.
Real estate software for marketing automation
A few CRMs provide marketing automation features, which are usually on a fundamental level. A dedicated real estate software for marketing automation, on the other hand, offers robust features.
LeadSquared
LeadSquared is an end-to-end marketing automation software that lets you automate multiple parts of your marketing activities, like:
Understand intent with insights into user behavior, activity, etc.
Build workflows for user engagement.
Build responsive landing pages with ready-to-use templates.
Capture leads with landing pages, connectors, APIs, etc.
Segment your lists for targeted communication.
Communicate effectively with your prospects and customers on the choice of their channel.
Design emails with drag-and-drop templates.
Send relevant content to potential clients at the conversion stage.
Track and trigger engagement actions in the buying process.
Measure performance across lead sources, engagement campaigns, user journeys, and more.
Pricing: Contact Leadsquared.
HubSpot
HubSpot is a marketing automation platform offering integrated workflow tools for your marketing activities. The platform lets you:
Run email drip campaigns for lead nurturing.
Visualize, customize and personalize your workflows with advanced segmentation logic.
Automate even the simplest of tasks like updating your properties, copying values, and more.
Trigger internal notifications for every noteworthy action from your leads so your sales team can do the needful.
Pricing: Starts from $45/month.
Real estate software for building landing pages
What can real estate businesses do to have a robust online presence? One of the primary steps is to have a top-notch landing page.
Placester
Placester is a real estate software to help you build custom landing pages for your business. It's a codeless website builder with hundreds of integrations, including IDX.
The platform is known for its highly customizable blocks and its color selector feature to apply your brand color throughout the website. Placester also offers logo design and site migration, so you have a wholesome landing page.
You can add area pages and agent profiles to your site with aesthetically pleasing and highly functional designs. You can also share your listings on social media with the help of IDX integration. There are custom templates to:
Onboard agents.
Showcase testimonials.
Create blog posts.
The on-demand in-house team offers SEO services for your website along with providing built-in SEO tools.
Moreover, if this all seems overwhelming, you can hire an in-house expert or a team of experts to help you with every step of the process.
Pricing: Starts from $64/month.
Real estate software for lead nurturing
Lead nurturing software help businesses to turn prospects into customers through constant nurturing via communication channels.
CallHub
CallHub is a marketing software with calling and texting tools to reach your leads at the right stages to lead them towards a sale. Here are a few ideas to nurture your leads:
Try CallHub now for real estate marketing.
Pricing: CallHub has a pay-on-the-go pricing model. The plans start from $0/month with a credit worth $3 – up to 23 minutes of call or 750 texts.
Real estate software for property management
Property management software help you automate particular functions, such as payment collection or maintenance management. Here are two such software:
Buildium
Buildium is a property management software with tools to process lease applications, resolve maintenance issues, and handle financials. You can also find other properties in your locality to expand your portfolio.
Some of the notable features include:
Automated payments to and from vendors, residents, and owners.
Bookkeeping helps you track and manage payments and accounts.
Maintenance management with different media submission options like videos, images, and documents.
Communication management to help you send emails, direct mails, and text messages.
Pricing: Starting at $50/month.
Appfolio
Appfolio is a property management software built for different markets, including residential, community associations, and commercial.
Here are the features of this real estate software:
Online portals for your residents to access the information they need on payments, maintenance requests, etc.
Accounting and reporting tools with insights into the portfolio and smart process automation.
Streamlined work orders to resolve maintenance issues.
Marketing tools to focus on lead generation.
Pricing:
| | |
| --- | --- |
| Sector | Price per unit per month |
| Residential | Starts from $1.40 |
| Community associations | $0.80 |
| Commercial | Starts from $1.50 |
Get started!
There's no all-in-one tool in the market yet that'll take care of all your business and marketing needs. However, with a set of real estate software that best fulfill your business requirements, you'll be better prepared to handle every aspect of your business smoothly.
To simplify your process, you need a tool that integrates with others. CallHub is one such tool that helps you organize your communication with prospects through integrations with 1000s of applications. If an application you're using is not found there, you can still integrate with it through Zapier.
Check out our list of integrations here. Do you have more suggestions for our best real estate software list? Let us know in the comments.
Featured image: Photo by Binyamin Mellish from Pexels