Use Social Media To Enhance Your Election Campaign
May 30, 2017 - 7 minutes read
It is a no-brainer that social media would play an important part in any election campaign. Be it a local election or a national one, it gets people talking. Most of these conversations happen over social media these days. Plus if you are already here, you know the importance of going digital with your campaign. In that case, you are well aware of the need to build a social media presence.
Social media can get you to directly reach out to the people in your constituency with relative ease. However, it is a tricky track to follow.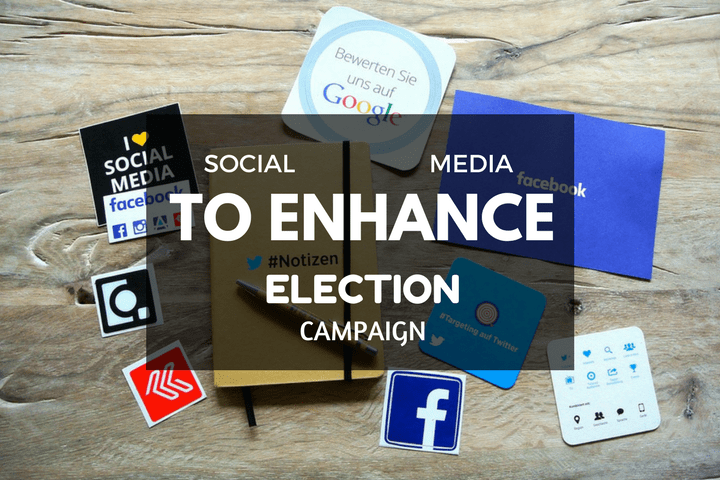 How do you know the messages you send out are being heard by the right audience? Are you able to grasp the reaction of the general public over the cacophony of your opponent's supporters?
We are going to line out some good social media practices that you should follow to fire up the campaign.
Get your candidate website up
This should happen right around the time you announce your candidacy. Get a domain with your name if possible. In case that is not available, try to come up with one close enough like JohnDoeForGovernor.com to appear official.
Your website should be simple to navigate and regularly updated so anyone searching can find the most recent updates on your campaign there. List your other social media profiles on the site so people can find the right groups to join and extend their support.
Create a Facebook fan page
You may have a presence on Facebook and a lot of people from your constituency already connected to you. Fan pages, on the other hand, let anyone become a fan at the click of a button. The administrator of the page can then send updates to your fan base and build a healthy line of communication on the fan page wall. Ask your friends and constituents on your email list to join the page. Promote it on your website and vice-versa so that anyone who comes across one can find the other.
Stay active on Twitter
Twitter has proved itself to be a prolific tool for political candidates to broadcast themselves. Considering it takes a mere minute or less to send a tweet, the candidate doesn't need someone else to manage Twitter, like in the case of the website or Facebook.
This gives the public a feeling of genuineness. You have to maintain a strong personal voice that the supporters can recognize. Considering that Twitter is also fast-paced in comparison to other social networks, you should aim to post more on Twitter as well.
Share videos of your campaign trail
Videos are rapidly being preferred over textual content because of better internet access. People who are turned away by a wall-of-text would be willing to click on a two-minute video with the same information. Give your public video updates from the campaign trail in the run-up to the election. Videos are good to be shared on Youtube, Facebook, Twitter and your website. You can even get your volunteers to promote videos directly as instant message broadcasts.
Reach constituents directly through Reddit
Reddit, while one of the largest social media platforms, might appear to be tough to crack. That is because the audience there is adverse to promotional content. Instead, you should focus your efforts on finding people in your area and get your message directly across. A few tips to get started:
There is probably a subreddit dedicated to your city or state. Search for your local subreddit where the audience would be small but all relevant to you. Participate in conversations or set up a thread so people know who you are and address you directly.

Using keywords that are the focus of your campaign or relevant to your constituency, find other subreddits where you can find voters and monitor them.

Whenever you notice a post you can share input on, join in. That is much better appreciated than promoting yourself.

Respond to claims made about you by your opponent if they get shared.
Gather feedback at regular intervals
Now, this may, very much, be the primary focus of bringing social media into your campaign: starting a two-way conversation with the public. You have to understand people's opinion of you and aim to improve it. Get a feedback form up on your website or set up a poll on Twitter about specific issues being discussed. Share it on all other platforms for better outreach. You can even set up a calling campaign to collect voter feedback. Remember that anyone outside your constituency or your opponents might skew the result of an online poll. That is why a survey conducted by volunteers or a calling campaign is better at giving definite voter outlook.
Conduct the same feedback collection at regular intervals to know whether the campaign is giving positive results.
So using the proper approaches, social media can be another tool in your inventory to gain an edge over your opponent. Make sure to keep your online presence consistent throughout the campaign (even if the public voice negative remarks), focus on addressing your supporters instead and maintain a distinct voice that they come to associate with you.